Online Marketing Review #4: hardtofind (SEO review)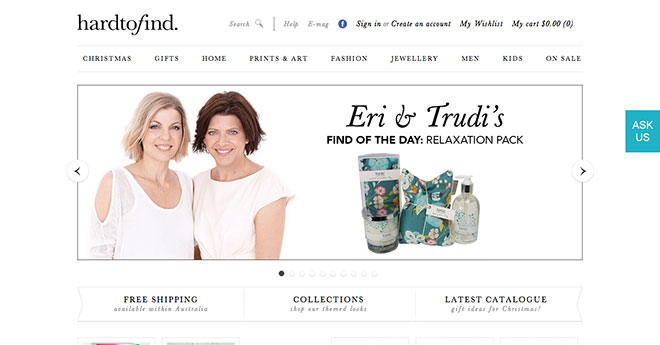 In this online marketing review I'll be analysing the SEO of hardtofind.com, a company that "sells unique and handmade gifts, homewares, prints, jewellery and fashion from the best boutique brands and small creative businesses".
In this review I will be focusing exclusively on the hardtofind SEO strategy including what they're doing right, and what they can improve.
hardtofind is ideal for SEO because it has a unique offering, which is great for content, and it's an ecommerce website, which opens up a lot of unique opportunities available only to ecommerce sites.
So, let's get into it…
SEO Strategy
Keywords
I always start with researching the top level transactional keywords I would want to rank for – keywords that drive buyers to the website – based on what they do:
"We specialise in sourcing unique and handmade gifts, homewares, prints, jewellery and fashion from the best boutique brands and small creative businesses. We offer a diverse range of thoughtful presents for women, gifts for men and the coolest gifts for kids as well as on-trend items for the home, garden and office. So whether you're looking for stylish Mother's Day gifts for mum, gadgets for your tech-savvy brother, gourmet hampers for your foodie sister or Father's Day gifts for dad, we have thousands of great gift ideas at a price to suit all budgets. From Christmas gifts to birthdays, weddings and baby showers, the perfect gift is at hardtofind."
Here's are the top 10 keywords I identified for hardtofind using the Google Keyword Planner:
christmas gift ideas – 6,600 searches per month, $2.17 CPC (estimated cost-per-click)
wedding anniversary gifts – 6,600 searches per month, $1.17 CPC
gifts for men – 8,100 searches per month, $1.24 CPC
gift ideas – 5,400 searches per month, $1.55 CPC
gift ideas for men – 5,400 searches per month, $1.52 CPC
baby gifts – 2,900 searches per month, $2.72 CPC
mothers day gifts – 2,400 searches per month, $3.19 CPC
anniversary gifts – 5,400 searches per month, $1.34 CPC
gifts for her – 3,600 searches per month, $1.80 CPC
gifts – 2,900 searches per month, $1.82 CPC
Note: the search volumes and estimated cost-per-click prices are calculated as at 20 November 2014 – these metrics change throughout the year. The estimated cost-per-click prices are based on Exact Match targeting on Google Adwords.
Why did I include the estimated cost-per-click in my keyword research?
Because every keyword has a cost when advertising on Google Adwords, based on how many advertisers are bidding on that keyword. The more advertisers that are bidding on a keyword, the higher its cost.
Importantly, if a keyword has a high CPC, it's because advertisers can afford to spend more per click and still make a profit. And when we're conducting keyword research for SEO purposes, we want to find the most profitable keywords in that market.
So it's not enough to just look at search volumes… you also need to look at the estimated cost-per-click and multiply the two to get an estimated value. And that's how I've come up with the top 10 keywords listed above.
Here's a link to the top 100 keywords I've researched for hardtofind, sorted in order of estimated value per keyword. And note that the value will change throughout the year as keyword demand changes (eg 'mothers day gift ideas' doesn't have any value now as it's 10 months away, but that will definitely change closer to the date).
We'll now use these keywords to optimise the Title Tags of each page of the website, to monitor their keyword rankings, as well as to develop a content and link building strategy.
Here's where hardtofind currently ranks for the top 50 keywords in that list:

They have two top 5 rankings (ie 'gifts' and 'gifts for him') but they don't have top rankings for any of their top 10 most valuable keywords, which means there's a lot of opportunity to increase revenue with SEO.
Competitive Landscape
Generating sales from SEO is all about ranking in the top 3-5 spots on Google for transactional keywords, which means we need to outrank the websites that already rank in the top spots.
You can generate sales by either ranking for long-tail keywords, which happens as a result of your content and how you structure your website, and by ranking for popular keywords (ie the keywords identified in our keyword research).
The latter is achieved by implementing a link acquisition strategy designed to beat the websites we're competing against. So let's take a look at what we're up against…
For the purposes of this competitive review, I am going to use the keyword that best describes the entire website, not just a category of the website. That means that I won't be looking at the websites ranking for 'christmas gift ideas', 'wedding anniversary gifts' or 'gifts for men' (which are all categories within the website). Instead I'll be looking at the competitors ranking for 'gift ideas'.
Here are the top ranked websites in Australia for 'gift ideas':
https://www.etsy.com/au/browse/gifts
http://www.gifts.com/ideas/her
https://www.redballoon.com.au/christmas-gifts
http://www.incrediblethings.com/unique-gifts/
http://shop.davidjones.com.au/djs/en/davidjones/gift-ideas/gifts-for-her
http://www.yellowoctopus.com.au/
http://www.asos.com/au/Women/Gifts-For-Her/Cat/pgecategory.aspx?cid=16095&r=2
http://www.pinterest.com/heather410/good-gift-ideas/ (Social Network)
http://www.homelife.com.au/how+to/seasonal+ideas/christmas+gift+ideas+,577
http://www.makeuseof.com/tag/gadget-gift-ideas-geeks/ (Google News)
And at the time of writing this review, hardtofind is ranking #15 for 'gift ideas'.
Now let's take a look at how hardtofind compares against its competitors:
etsy.com – 356,248 referring domains
gifts.com – 5,951 referring domains
redballoon.com.au – 5,062 referring domains
incrediblethings.com – 4,481 referring domains
shop.davidjones.com.au – 1,445 referring domains
yellowoctopus.com.au – 247 referring domains
asos.com – 54,047 referring domains
homelife.com.au – 3,271 referring domains
hardtofind.com.au – 796 referring domains
Note: Majestic was used to find the number of referring domains.
When I'm conducting a competitive landscape analysis, I always look for anomalies in the rankings because it means there's an opportunity to beat stronger competitors using a smarter strategy.
In this case, Yellow Octopus stands out because it's ranking on the first page with just 247 domains, so my focus will be on how they achieved their ranking.
Yellow Octopus is the only competitor that has its home page ranking for that keyword – the rest are ranking one of their category pages. Digging a little deeper into Yellow Octopus and we can see that it's a direct competitor to hardtofind.
So the first clue is that hardtofind can outrank the competition because their site is all about the keyword they want to rank for (ie gift ideas) rather than it being a category within the site (plus their home page is the page that is ranking #15). That's good news.
Let's also take a look at Yellow Octopus' backlink profile, to see what tactics they're using to achieve their top rankings. For this part of the review I used Cognitive SEO.
Number of links acquired per month

From this chart we can see that Yellow Octopus started implementing SEO around June 2013, and they've been consistent in their activity since then. That's just over a year to get on the first page (although they may have started ranking sooner).
Where the links point to

From this chart we can see that the majority of links to the Yellow Octopus site are pointed to the home page (ie the biggest cluster), and there aren't many links pointed to the internal pages. This might be okay but it's also the sign of an SEO strategy in place, so it's important to look at what kind of links they're building to their home page… and whether or not they are above board.
What the links say in them

From this report we can see that 44% of their links have their brand name in them, 39% have a commercial keyword in them, and 17% are miscellaneous. This isn't a bad ratio but usually I like to see a much higher ratio of branded links, so I'll investigate the links that include popular keywords in them (ie keywords from our keyword research list).
The quality of the links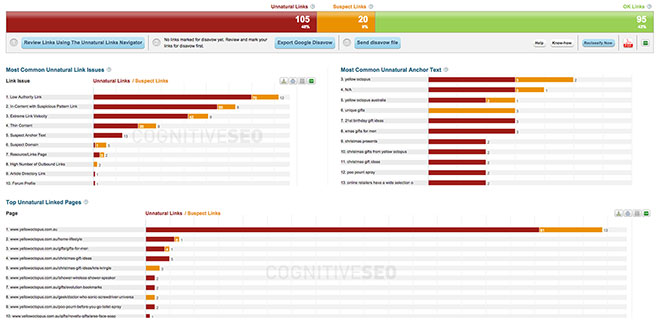 Woah!  I went through every single one of their links one by one and found a lot of unnatural links pointing to their site (almost 50% of their total links).
Maybe they have already disavowed most of these links, but based on the quality of the rest of their links and where they're currently ranking it's likely that the unnatural links are the reason why they are ranking so well.
Most of the unnatural links are within content on various low-quality blogs around the web. I have classified them as 'unnatural' because the link makes little or no sense in context of the article. Here are some examples of the worst offenders (I won't link to them as I won't support low-quality sites with a link).
http://www.fourseasonsfloraldesign.com/articles/buying-flowers-for-special-occasions.php – this is an article about buying flowers, with a link that says 'Christmas Gifts by Yellow Octopus'
http://www.miraclebabyblog.com/guides/clothes-for-your-children-the-essentials/ – this article is about clothes for kids, with a link that says '21st birthday gift ideas'
http://jameswhiteeducation.com/hair-styling/popular-bridal-hairstyles – this article is about hairstyles for brides, with a link that says 'unique gifts for men'
http://www.isaywhatever.com/business-and-finance/gift-incentives-for-your-best-employees – this article is about gift incentives for employees, with a link that says 'online retailers have a wide selection of corporate gifts'
http://www.daisychain-nursery.com/children-care/child-care-benefits.html – this article is about child care centres, with a link that says 'anniversary gifts for men'
Note: this is the full breakdown of their backlink review.
I often see unnatural tactics working from time to time but, in my experience, it's just a matter of time before Google catches on and penalises the site.
The good news here is that we know that getting in-content links from blogs really helps you rank well. And we can use this information to create a link building strategy based around content.
Aside from the unnatural links listed above, they have a number of websites linking directly to interesting products, and they're listed in shopping and coupon directories. We can use both of these tactics in our link acquisition strategy.
And, of course, we'll try to acquire as many of their good links as possible.
Size of website
The size of the website plays a big role in how well a site ranks. The more pages a website has, the more PageRank it controls, which means it can rank itself higher by improving internal linking.
Here's a quick review of the site size of hardtofind vs Yellow Octopus. I've used the 'site:' search operator to quickly see how many pages are indexed in Google.
Yellow Octopus has 4,680 pages indexed in Google…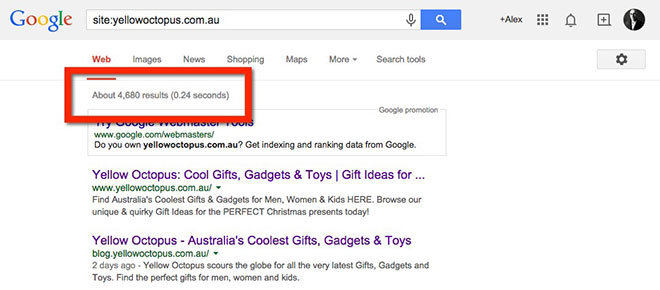 And hardtofind has 173,000 pages indexed in Google…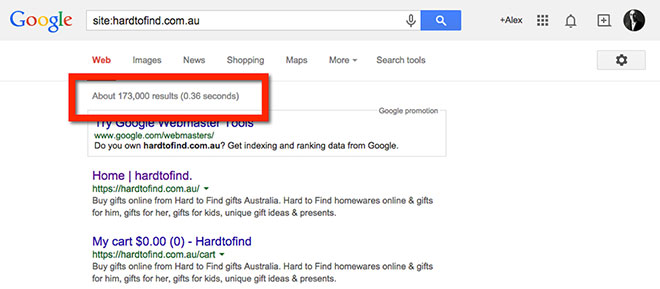 hardtofind's website is very large, which bodes well for any improvements we make to its internal linking structure.
Note: I usually use Screaming Frog SEO Spider to get a more accurate breakdown of the website, but that's outside of the scope of this review.
Onsite SEO
Website speed
Google has stated that website speed can affect website rankings. So here's a breakdown of the speed of the website on both desktop and mobile, using Google PageSpeed.
Desktop
Here's a speed analysis of the website on a desktop: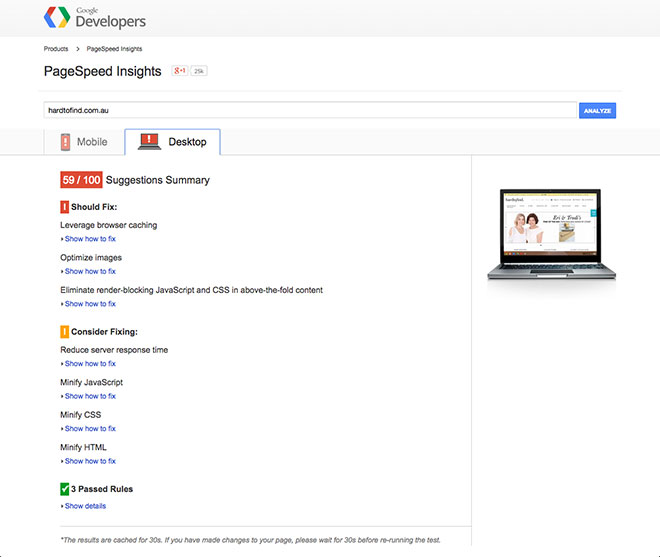 59/100 is not good. I would highly recommend implementing as many of the suggestions provided by Google as possible. Click here to view the full report.
Mobile
Here's an analysis of the website on a mobile: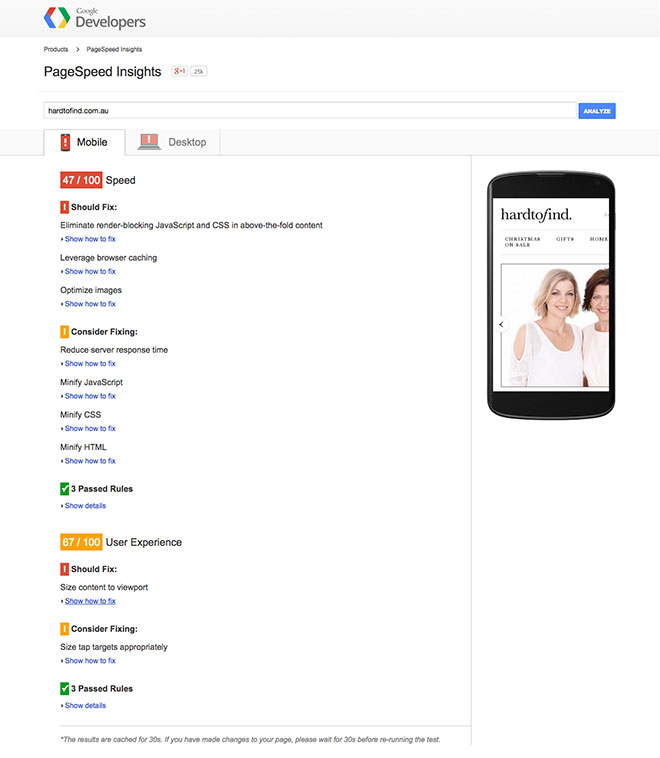 47/100 is even worse. It's likely the score is so low because the website is not responsive, which means it loads slowly on mobile because there are too many things happening on the page. Click here to view the full report.
And with Google recently stating the importance of mobile optimised websites as part of their mobile user-experience focus, it's critical to make the website responsive to mobile users so that any mobile rankings are maintained. Currently the user experience score is 67/100, which can be fixed if the site is made responsive.
Internal linking
The hardtofind website has a good internal linking structure.
Navigation
The website has a page for many of the top level keywords we identified at the research stage, and it uses those keywords in the navigation links to each page…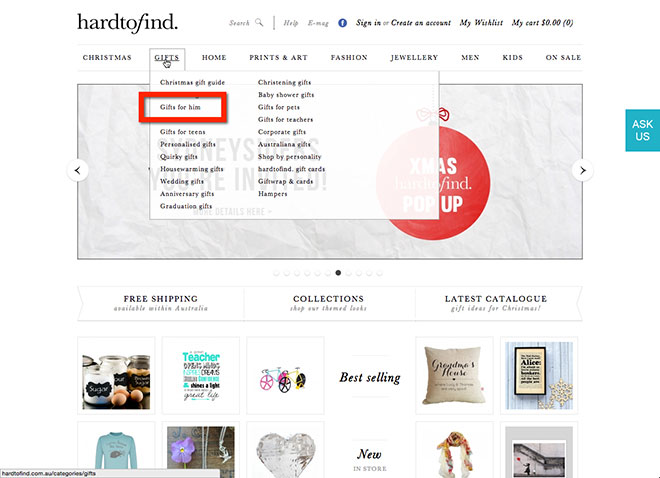 Smart linking
The category and product pages link to the brand pages, which is a stroke of genius as brand pages will certainly drive a lot of SEO traffic to the site…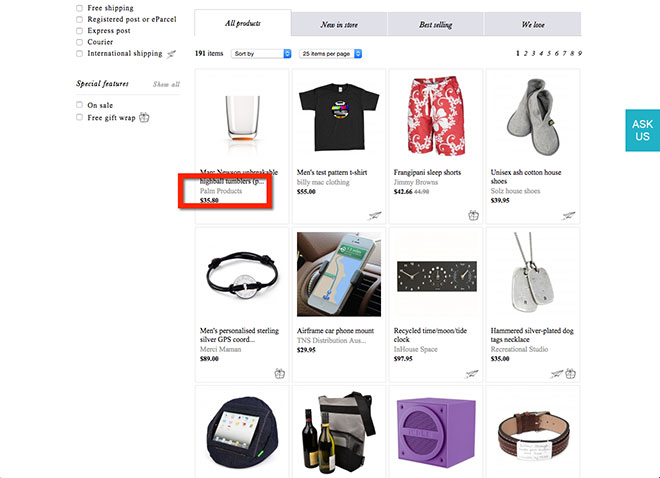 Breadcrumbs
The breadcrumbs link to the category and the sub-category pages using keywords we identified during the research stage…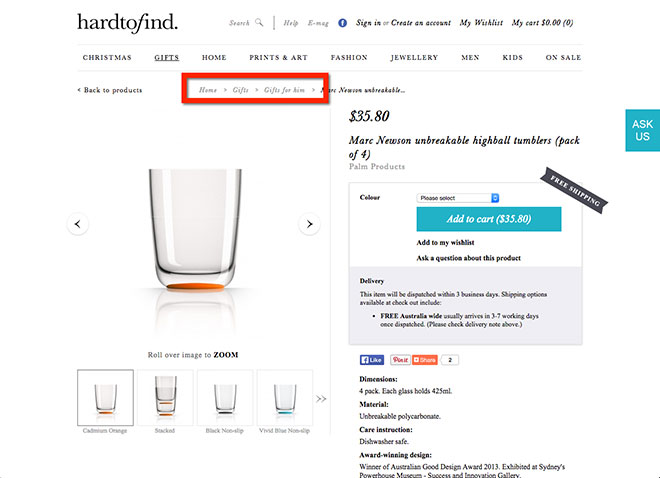 The one change I would make is instead of using 'Home' in the breadcrumbs, I would use 'Gift Ideas' because that is the highest value keyword that best describes was the website is about. Although you would need to update the CSS to get around first link priority.
URL structure
The URL structure is good. hardtofind uses SEO-friendly URLs that include the category and sub-category titles in the URL: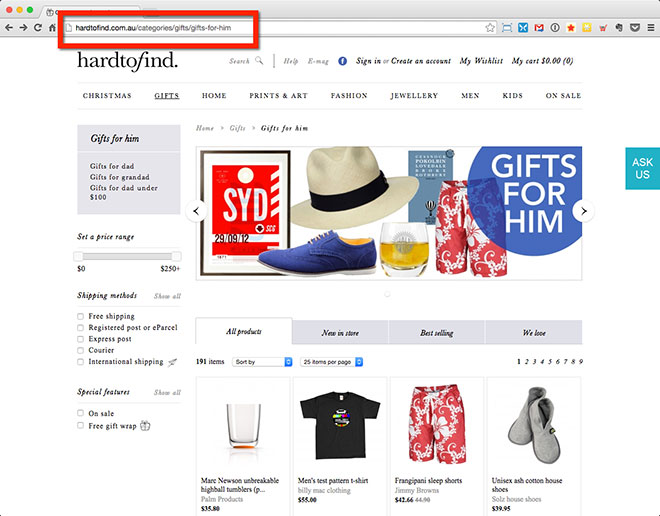 The one change I would make to the URL structure would be to remove the '/categories/' part of the URL entirely, as it adds no value to the search engines or to the user.  Just make sure to setup 301 redirects so you don't lose any rankings.
Canonicalisation
Many ecommerce websites have canonicalisation issues, where multiple versions of the same page are accessible because of filters that help shoppers. This can cause SEO issues.
It's always good practice to add a canonical tag to each page (via the template) to ensure all SEO value is focused on the URL you want ranked in the search engines, which is exactly what hardtofind has done. Great work!

Title Tags
Title tags are one of the most important SEO components of a web page as they tell Google what the page is about, and they often appear as the headline in your search results, like this: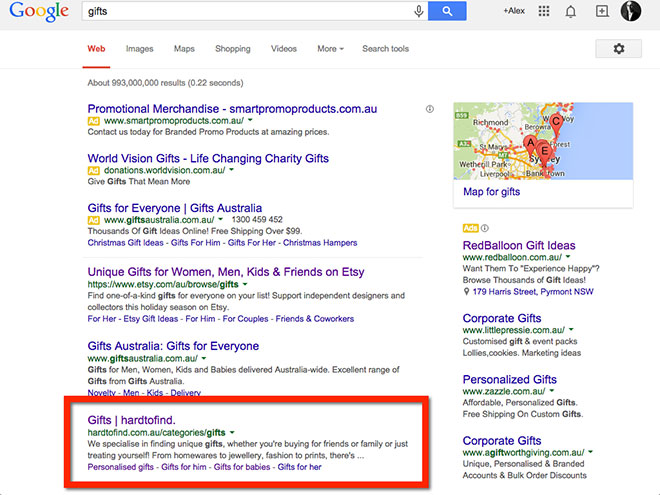 Here's where you can see the Title Tag in your browser: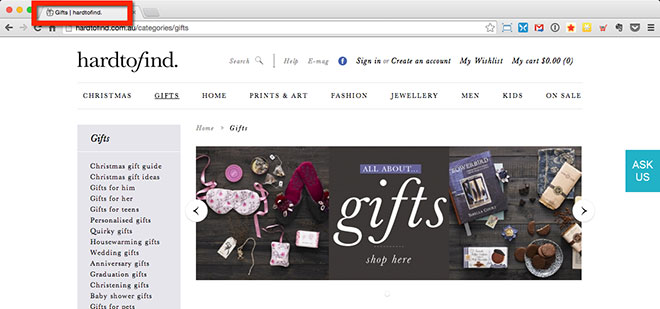 Best practice is to put the keywords you want the page to rank for, within the Title Tags.
hardtofind uses a rule based Title Tag structure as follows:
SUB-CATEGORY NAME | CATEGORY NAME | SITE NAME
That's a good way of doing it across such a large website, especially because they've named their pages well.
The only issue I see is that the Title Tags of the home page say:
"Home | hardtofind."
I recommend adding the keywords they want the home page to rank for (eg 'gift ideas' or 'unique gift ideas') within the Title Tags of the home page. I'd expect a jump in rankings as a result.
I would also consider updating the title tags of the category and sub-category pages that match the keywords we identified during the research stage, to try to rank those pages higher. That would mean that most of the site uses automated Title Tag creation, but the most valued pages are custom.
Category page content
One of the challenges with ecommerce sites is that the category and sub-category pages don't have any (or enough) content on them to differentiate them from the rest of the pages on the site.
What ends up happening is that the search engine doesn't have a way to differentiate the pages from one another (and the headings, Title Tags and URLs are usually not enough).
One of the best ways of increasing the traffic and rankings for a category page is to add unique content to the page, usually below the product listings.
If we look at the pages that are ranking in the top 5 spots on Google, we can see this in action.
Here's the page that ranks #3 for 'gifts':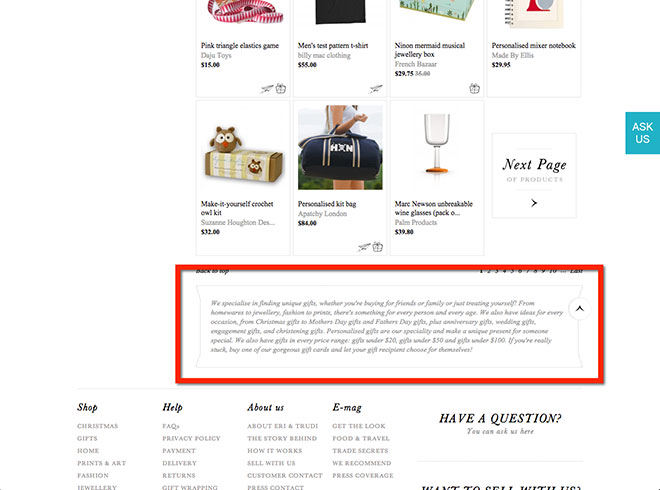 And here's the page that ranks #4 for 'gifts for men':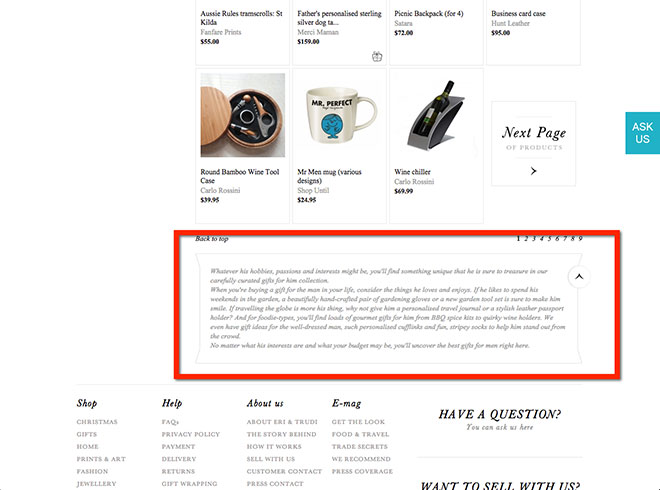 As you can see, both of these pages have unique content on them that separate them from the rest of the pages on the site.
A quick review of some other pages within this category, for example:
Quirky Gifts – http://hardtofind.com.au/categories/gifts/quirky-gifts
Anniversary Gifts – http://hardtofind.com.au/categories/gifts/anniversary-gifts
Gifts For Her – http://hardtofind.com.au/categories/gifts/gifts-for-her
and we can see that none of these pages have unique content on them, and none of them are ranking on the first page of Google.
My recommendation here is to go down the keyword list, one by one, and add unique content to every category and sub-category page on the website. Doing this give a big boost to rankings, traffic and sales.
Offsite SEO
Regardless of what you may hear, SEO is still very much about link building. The major difference between the past and now is that now it's all about quality links… but it's still about links. So in this section, I'll share how I would build quality links to hardtofind.com.au
But first let's take a quick look at hardtofind's SEO to see if there are any issues we need to fix.
Backlink review
Number of links acquired per month

We can see that hardtofind has been online since about 2009, with a bigger SEO push (or more marketing) starting in January 2013. The number of links built per month is consistent, which is good.
Where the links point to

This is what a healthy backlink profile should look like. There are a lot of links to the home page (as you would expect) but there is also a lot of links pointing to different pages on their site.
What the links say in them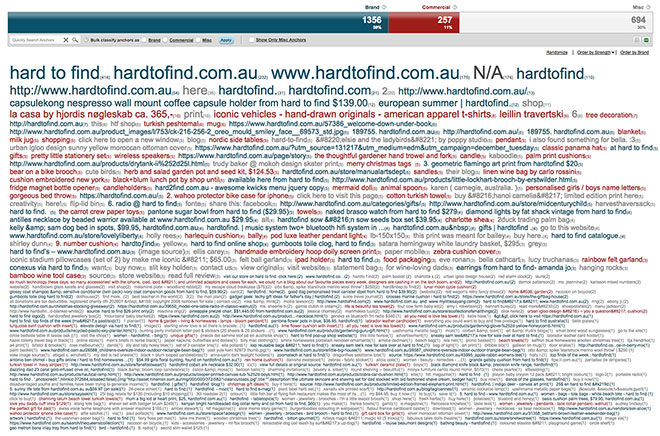 Most of the links pointing to their site contain their brand name, which is excellent. There are some commercial keywords, which you would expect. And the rest are keywords related to specific content on the site. Overall a very health anchor text ratio.
The quality of the links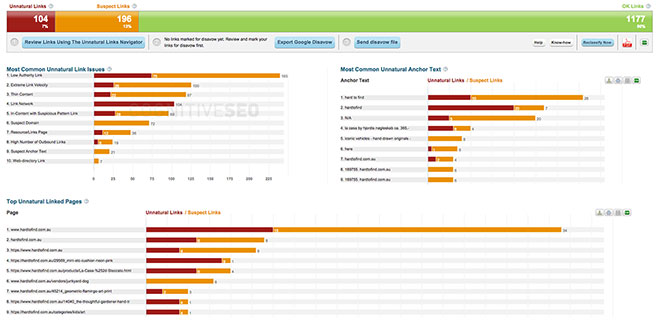 This is also excellent. As you can see, the majority of their links are natural (ie green). The rest of the chart focuses on the Unnatural links (just 7% of their total links) and Suspect links – links that require further investigation (just 13% of their total links).
My recommendation would be to go through all of the Unnatural and Suspect links and disavow any that are of such low quality that they could hurt rankings.
Link acquisition strategy
hardtofind can significantly increase revenue from SEO rankings by ranking in the top 5 spots for their target keyword list. And the best way to do that is to increase the number of quality websites linking to them. Here are a few tactics I would use:
Leveraging interesting products – we know that one of the best ways to rank highly in this industry is to be featured in articles on blogs, so I would make a list of all of the influential blogs in the industry and send them a really interesting gift – something they would be compelled to write about.
Coupon sites – if hardtofind offers coupons, I would add them to all of the top coupon websites in Australia. I've seen this work a treat for other ecommerce websites.
Non-linked brand citations – hardtofind is getting a lot of airplay online, and I'm sure that not everyone who writes about them links to their site. So one of the things I would do is find all the brand mentions that don't have links, and contact them requesting them to link to us.
Existing lists – there are thousands of (quality) lists online about unique gift ideas for different occasions. I would research as many of them as I could, and contact them direct offering a suggestion for their list. I would even go as far as sending them as sample if needed.
Partners – I would contact every supplier they use (eg radio station) and ask them to link back to the hardtofind site to help them increase sales even more. They're often very happy to do so.
This is where I would start, but there are a lot more tactics I would use as the SEO campaign progresses.
Summary
hardtofind is doing a lot of things well when it comes to SEO. Their website is structured well, they have a lot of pages on their site, and their link profile is both solid and healthy.
And like any website online, there is always room for improvement, starting with the recommendations outlined in this article.
I would certainly be very happy to discuss how we can help hardtofind take their SEO to the next level. Eri & Trudi… feel free to get in touch direct.
Disclaimer
I have not been in touch with anybody from hardtofind, so I don't have the full picture of what they are doing online, what they have already tested, and what their current challenges are. The advice I have provided in this article is based entirely on what I can see online, and how I would optimise their web presence based on what we've found successful for other clients.
Would you like us to review your business as well?
If you'd like us to review your SEO, please send an email to [email protected]. Or if you simply want to discuss your online marketing with us, then click here to get in touch.