Are you overwhelmed every time you open Google Analytics? Does the thought of being confronted with so many graphs and numbers deter you from looking at your Google Analytics account on a regular basis? You're not alone.
Google has recently released Google Analytics v5; their new version of the Analytics product, offering a more intuitive user interface and promising a completely new user experience. It still contains an enormous volume of powerful information, just presented with a fresh look and feel. Whether you're sold on the new version of Google Analytics or still traversing the old, the point remains…if you don't know where to look to find the key data that will inform your business decisions then its usefulness is immediately devalued.
A good strategy when first starting out with Google Analytics is to keep it simple. Think about what you're trying to measure and the information you need to do this. Here are 6 of the most common questions businesses might ask themselves about their online marketing efforts and the reports available in Google Analytics to help answer them.
1. Who is visiting my site and how did they find their way there?
Google Analytics Navigation (New): Traffic Sources > Incoming Sources > All Traffic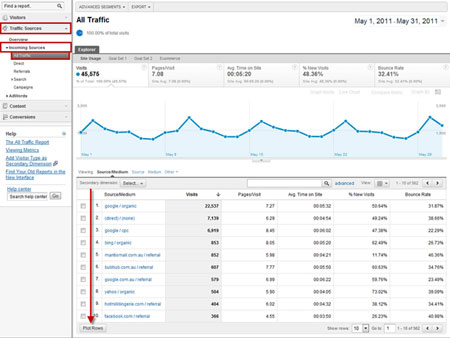 Most, if not all, businesses would be interested in the answer to this question; even if the sole purpose of your website is to have an internet presence and nothing more. This report can reveal a lot about where your visitors are coming from. For example, you might realise that:-
The majority of your traffic is generated organically through Google, reinforcing your marketing spend on SEO and Google rankings; or
Your PPC campaign is working effectively to drive more visitors to your site; or
A large proportion of your traffic is being generated directly by visitors typing your site URL into their browser indicating perhaps the success of an offline marketing campaign or an increasing brand awareness of your business online (TIP: You can use the Google URL Builder to track offline advertising performance).
2. What keywords are visitors searching for to find my site?
Google Analytics Navigation (New): Traffic Sources > Incoming Sources > Search > Overview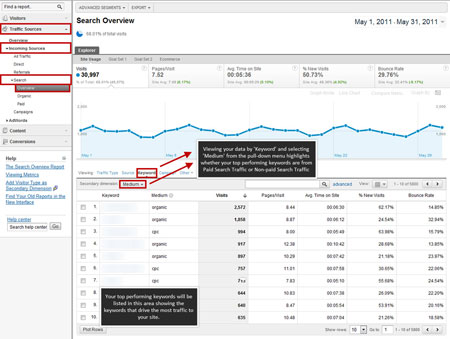 This report highlights the keywords generating the greatest amount of traffic to your site. This information provides valuable insight into what keywords you should be targeting in your SEO or PPC campaign. Further segmenting the data in the table by Medium, allows you to easily isolate which keywords are performing the best for organic search and which have the highest click through success for PPC Advertising.
3. Which of my online marketing strategies is generating the most traffic to my site?
Google Analytics Navigation (New): Traffic Sources > Incoming Sources > Search > Overview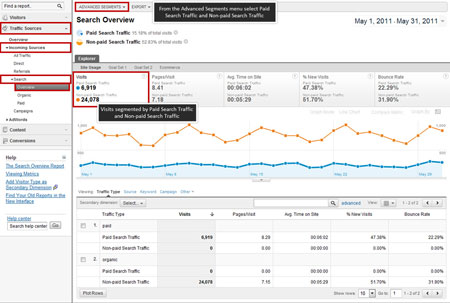 It is often useful to assess the performance of your SEO and PPC campaigns by looking at the proportion of traffic being driven to your site from each strategy. Adding two segments to this basic report (Paid Search Traffic and Non-paid Search Traffic) gives you even more flexibility to filter your data and analyse the behaviour of your visitors from each of these sources. This can be quite revealing; where SEO may generate more traffic to your site, Paid Search Traffic (PPC) may have a higher goal conversion rate making it a profitable strategy to pursue in the short term.
4. Is my site doing a good job of converting visitors into customers?
Google Analytics Navigation (New): Conversions > Goals > Overview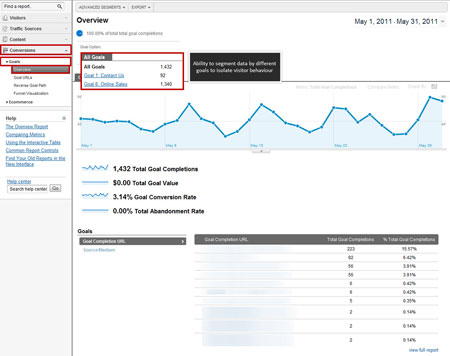 This should be the key question being asked by any lead generation or Ecommerce site. Regardless of the amount of traffic being directed to your site, if you're not converting this traffic into sales leads or closing an online transaction, then your site is not generating income for you. The conversion rate (number of conversions divided by number of visits) of your site is the best measure of your online profitability.
It is important to keep in mind though that whilst online sales might be the main goal you are interested in; your website actually delivers many more business opportunities. What about tracking enquiries submitted, phone calls made, and even newsletter registrations? All of these goals can provide you with further valuable data on the performance of your site.
5. What are my visitors interested in when they get to my site
Google Analytics Navigation (New): Content > Site Content > Pages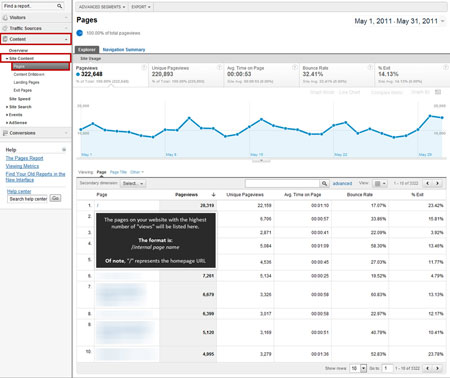 This report identifies the most commonly viewed pages on your site. These pages offer you the greatest opportunities for split testing and the potential to maximise return from advertising spend. Information in this report is particularly useful to blog sites; providing an instant listing of the most popular posts and what topics resonated with their readers.
6. What could be causing visitors to leave my site
Google Analytics Navigation (New): Content > Site Content > Exit Pages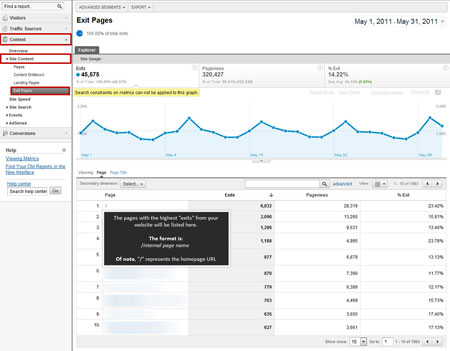 No one wants to think that their site might be losing business for them. In reality though, this is often the case. This report allows you to consider what areas of your site might require additional work to help retain visitors. There are many reasons why people might leave your site from a particular page:-
Perhaps the content on the page isn't speaking to your visitors;
Perhaps the design of the page is cluttered and confuses the message being delivered; or
Perhaps the page doesn't contain clear call-to-actions
All of these reasons can be easily addressed; turning a non-performing page into one which converts well.
This article has only begun to scratch the surface of the information available in Google Analytics. It demonstrates though how even the most simple reports have the power to measure the effectiveness of your online marketing efforts.
Are you using Google Analytics? If not, it's time to get started.