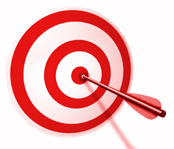 If you're thinking about building a website for your business I hope you follow the suggestions outlined in the report on 'designing an effective website'. And if you already have a website, I urge you to make the suggested changes to your site and let the results speak for themselves.
Identifying the Primary Objective you want your website to achieve is critical for online marketing success…

… for some businesses that may be building a database, for others it might be selling products and for others it may be generating sales leads for a business.
You must identify the primary objective for your website BEFORE you begin building the actual site. And the primary objective must be reinforced throughout your website for the best results.
Think of your website like a team of people working together… the team will produce much better results working towards a single goal, rather than each team member doing their own separate thing.
Designing a website WITHOUT the primary objective in mind will end up costing you 2x, or even 3x as much as designing it right the first time. Not to mention the loss of potential revenue.
Why?
Because the designer you're working with will design the website based on what, in their (and maybe your) opinion 'looks' good, rather than what will produce a result. What usually happens next is the website goes online, nothing happens and you decide to revamp the website to produce a result.
That's when businesses usually come to us… when they're tired of spending money on their website without seeing any results. We sit down with you, work out what you want your website to achieve, then redesign the website to produce the desired result.
At Web Profits, we also design websites from scratch. We sit down with you, determine what you want to achieve, and build you a website that will produce a result.