How to Introduce Big Data to Your Digital Marketing Campaigns
Before digital and big data, a marketer's job was largely creative. It was very difficult to measure the impact of a billboard, a direct mail campaign, or an ad in a magazine or on TV. Marketers would have to rely on tools like consumer surveys and focus groups to gauge what was likely to work.
Sure, you could attach offer codes to campaigns that would give a general idea of their impact, but even this was highly inaccurate.
Thankfully, things have changed.
Today, most marketers' roles are as much technical and analytical as they are creative. The digital revolution has equipped us with more data – and more powerful data – than we've ever had before. Much of it can be classified as "big data."
If you're not already leveraging big data in your digital marketing campaigns, you really should be. We'll talk about how to do that very shortly, but first, let's get something clear.
What exactly is big data?
Big data is data that is so expansive, we've only recently been equipped with the tools to understand it.
Think of it like this: big "groups" of data that require collation and segmentation in order to analyze said data and draw conclusions.
"Big data is a collection of data from traditional and digital sources inside and outside your company that represents a source for ongoing discovery and analysis." Lisa Arthur, CMO at KCura, writing for Forbes
Do you use Google Analytics? Then you already have access to – and are probably using – big data.
Google Analytics provides detailed insights into the actions of your website's visitors, including:
How they reached your site
The pages they visited
What they bought
How long they stayed on the site
What page they were on when they left
And much more.
In isolation, the data from each visit is of limited use, yet when it's collated and turned into "big data," it becomes invaluable.
For instance, Google Analytics can tell us:
If certain pages of our site have higher than expected exit rates.
Which pages of our site keep visitors engaged the longest (we can use this in collaboration with exit data to compare our best and worst performing pages and make changes accordingly).
Which devices your visitors are using (and aren't using) to access your website. This allows developers to prioritize optimizing the functionality of the site for the devices your visitors are actually using.
Let's see some examples
As illustrated in an article by Nicole Laskowski from SearchCIO (that's well worth reading in full), these are some of the more interesting ways companies are using big data to their – and their customers' – advantage.
Macy's uses big data to adjust pricing in near-real time in accordance with current demand and inventory.
An as-yet-unnamed company is linking cameras at drive-through fast food lanes to digital menu boards in order to change the options shown in accordance with how busy the restaurant currently is.
Prescription fulfilment service Express Scripts uses big data to power products that remind patients to take their medicine.
While these aren't all examples of how big data can be used in marketing campaigns, they do help demonstrate just how powerful data at scale can be.
Let's talk about how you can use big data to empower your digital marketing campaigns.
Tap into your website's analytics
As above, this is something you're probably already doing.
If you're not, it's time to start.
If you are, it's worth checking if you're tapping into the tool's full potential.
Exactly what information you can access and use is dependent on your choice of analytics platform. However, since most site owners at least have Google's Analytics code installed on their site, whether or not they actually look at the data, that's what I'll talk about here.
If you're not already using Google Analytics, you'll need to add GA's tracking code – a small piece of Javascript that looks something like this – "UA-292313-16" – to every page of your site that you want to track.
To be on the safe side, I recommend adding it to every page of your site – period.
You'll also have to create an Analytics account and link it to your website. You can read how to do that here.
Once both of these steps are complete, you'll start seeing data appear in your account.
The data in Google Analytics is organized into six categories, as seen here: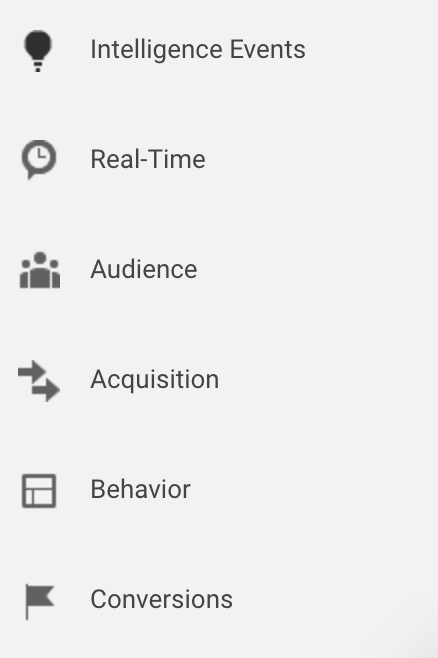 I'm going to talk about Real-Time very shortly, so here's a quick rundown of what the other five categories mean to you:
Intelligence events – alerts to help you catch anomalies in your traffic. Google creates some automatically, but you can create your own by clicking on the "Custom Alerts" tab.
Audience – data pertaining to the people who are visiting your website. Their age, gender, where they're located, what device they're using, whether they're a first-time or returning visitor, and much more.
Acquisition – where they came from. This could be a direct visit to your site (i.e. they had your site bookmarked or typed your URL into the search bar) or a click from a search engine's organic results, a paid search campaign, another website, social media, or a campaign you've created and tracked – i.e. an email campaign.
Behavior – what's happening once people are on your site. For example, which pages they're visiting, which page they landed on initially, and from which pages they're exiting your site. This section also provides detailed site speed data that's broken down according to page and browser.
Conversions – where your conversions are coming from, the pages users are visiting on their way there, and how much money you're making.
These are the basics, though that's not to say this isn't really valuable stuff. It's big data that can provide priceless insights into the performance of your website, but Google Analytics can do so much more.
Let's look at a few ways to get even more out of Google Analytics.
Create goals
Goals are vital if you're not running an e-commerce site. You'll need them if you want to be able to track conversions.
Even if you do run an e-commerce site, you can still leverage goals in order to track micro conversions – for example, a visitor completing a contact form or signing up to an email list.
You might think you don't need this information – you know how many people are signing up to your email list or completing your contact form because your CMS and email marketing platform tells you.
That's where big data comes in.
Numbers alone aren't that useful. If you're tracking these numbers in Analytics however, you can segment the data and draw conclusions that can actually help you in your marketing.
For example, you can see:
Where visitors that are completing a certain action (goal) are coming from – can you invest more resources in targeting these traffic sources, or do you need to change how you approach traffic sources that aren't converting?
The path they're following through the site before completing a goal – is there a familiar pattern? And is there a way you can drive more visitors to follow this path?
When they're completing goals. This can help you spot a drop in conversions that could signal a problem with a page of your site or the form itself.
To create a goal, click on Admin > Goals > New Goal. You can read a detailed explanation of how to create goals here.
Create custom/advanced segments
Google Analytics allows you to segment data according to any dimension or metric that you choose.
To create custom segments, you can go to Admin > View > Segments. This will save the segment for you to use later.
You can also segment your data from within any data set in the main section of Analytics. Just look for the "Add Segment" button towards the top of the page.

From here you will see something that looks like this: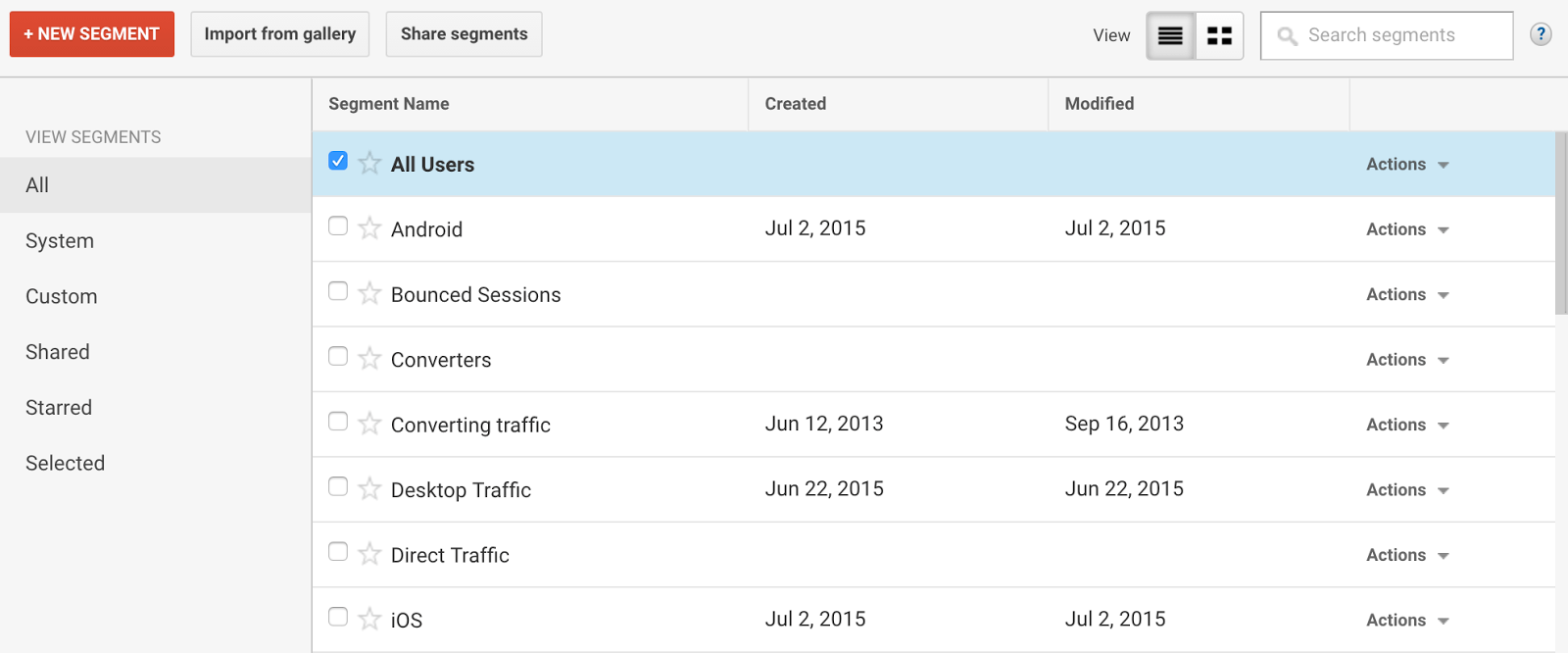 You can either create a temporary segment using the options you see right in front of you, or you can create a saved, custom segment by clicking New Segment (this will bring up the same menu you can access via the admin panel).
Let's just quickly run through how segmentation works in practice.
Let's pretend I want to see how many people have visited my site via organic search. I click on Acquisition > All Traffic > Channels, and I select "Organic Search."
The default is to always show you all users from that data set.

That means I'm currently seeing data for every single visitor who has landed on my site via organic search, within the chosen time frame.
However, let's say I want to only see data for returning visitors who have landed on my site via organic search.
I can do that simply by clicking Add Segment > Returning Users.
It's worth noting that by default Analytics retains the initial segment, so you can compare the data with your new segment. That can be really useful, but if you want to view the segmented data in isolation, you can. Simply click this drop-down arrow, and select "remove."

Alternatively, make sure to unselect this box when you're creating a new segment.

You can also add and compare additional segments, up to a maximum total of four.
Use advanced filters
You can filter any data set in Google Analytics according to keywords, using this search bar:
So, let's say I want to view how many people have landed on a page of my blog.
First, I go to the Landing Pages section of Analytics by selecting Behavior > Site Content > Landing Pages.
I then write "blog" in the search bar highlighted above, and click the search button on the right of it.
The Landing Pages section will now be filtered to show me only pages that contain "blog" in the URL.
Easy, right?
Now let's say I want to find out how effective my blog is at funneling visitors through to other pages of my site.
To do this, I can click "Advanced," then select "Add a Dimension or Metric":

Next, I choose "Site Usage," and finally, "Pages/Session":
I then select "Greater than," type "1" in the box, and hit "Apply."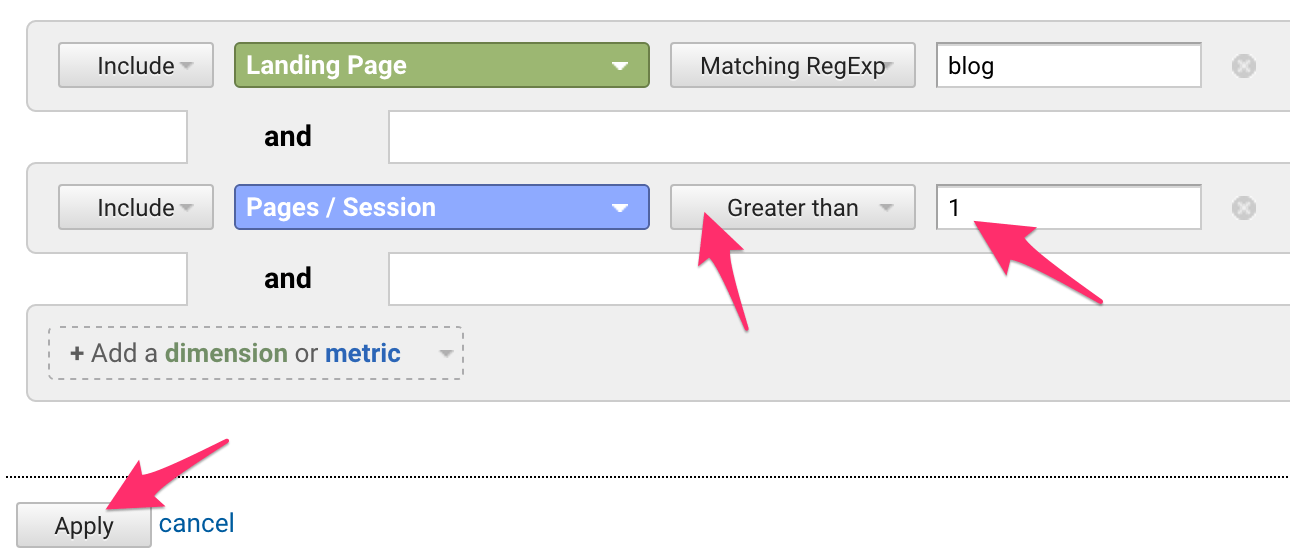 This will show me how many visitors have landed on my site via the blog, and then gone on to view other pages of my site.
This is, of course, only one of many ways to filter your data in Analytics, and get more useful, personalized takeaways from the big data it provides.
Set custom alerts
You probably don't have time to check Google Analytics for unusual activity every day, but thankfully, you don't have to.
Go to Admin > View > Custom Alerts > New Alert.
From here, you can create an alert that will notify you when certain conditions are met – for example, if traffic levels fall below a certain point, or your revenue decreases by more than a particular percentage.

You can also create segmented alerts so only certain types of traffic will count towards a condition and trigger an alert.
Use real-time Analytics data to monitor the impact of your campaigns
In the main menu of Google Analytics, you'll notice a "Real-Time" link. This is where Google displays what's happening on your website right now. This data includes:
How many people are on your site
What pages they're viewing
Where they came from
What kind of device they're using

It's powerful stuff.
It can allow you to understand whether your audience is responding to a campaign as it happens. This is especially valuable if you're spending money to send traffic to these campaigns.
If people are landing on your content and leaving right away, you can pause any paid traffic campaigns while you identify the problem.
Real-time data is also extremely useful for figuring out what traffic, if any, a recent social media post is driving, or to make educated adjustments to one-day campaigns before your time's up.
Use customer demographic data to create detailed customer personas
Understanding your customers is key to being able to market to them effectively – something you might assume is obvious. It isn't. I've come across many businesses that struggle to create detailed and accurate customer personas.
If you're unsure whether you're one of those businesses, ask yourself this: what do you say if someone asks you to describe your typical customer?
If it's anything remotely similar to "female, middle-aged, and college educated," you don't know enough about your customers.
Those are vague statements, that while they may very well be true, give you very little to go on when it comes to reaching your target customers through digital marketing.
Thankfully, big data can help you create more detailed customer personas.
Most analytics tools will provide you with, at the very least, the following customer data:
Age
Gender
Location
Language spoken
Likely interests
Google Analytics, for example, creates a picture of searchers based on the websites they are visiting. This information is then passed on to marketers and webmasters in the form of "In-Market Segments" and "Affinity Categories." You can access this data by going to Audience > Interests.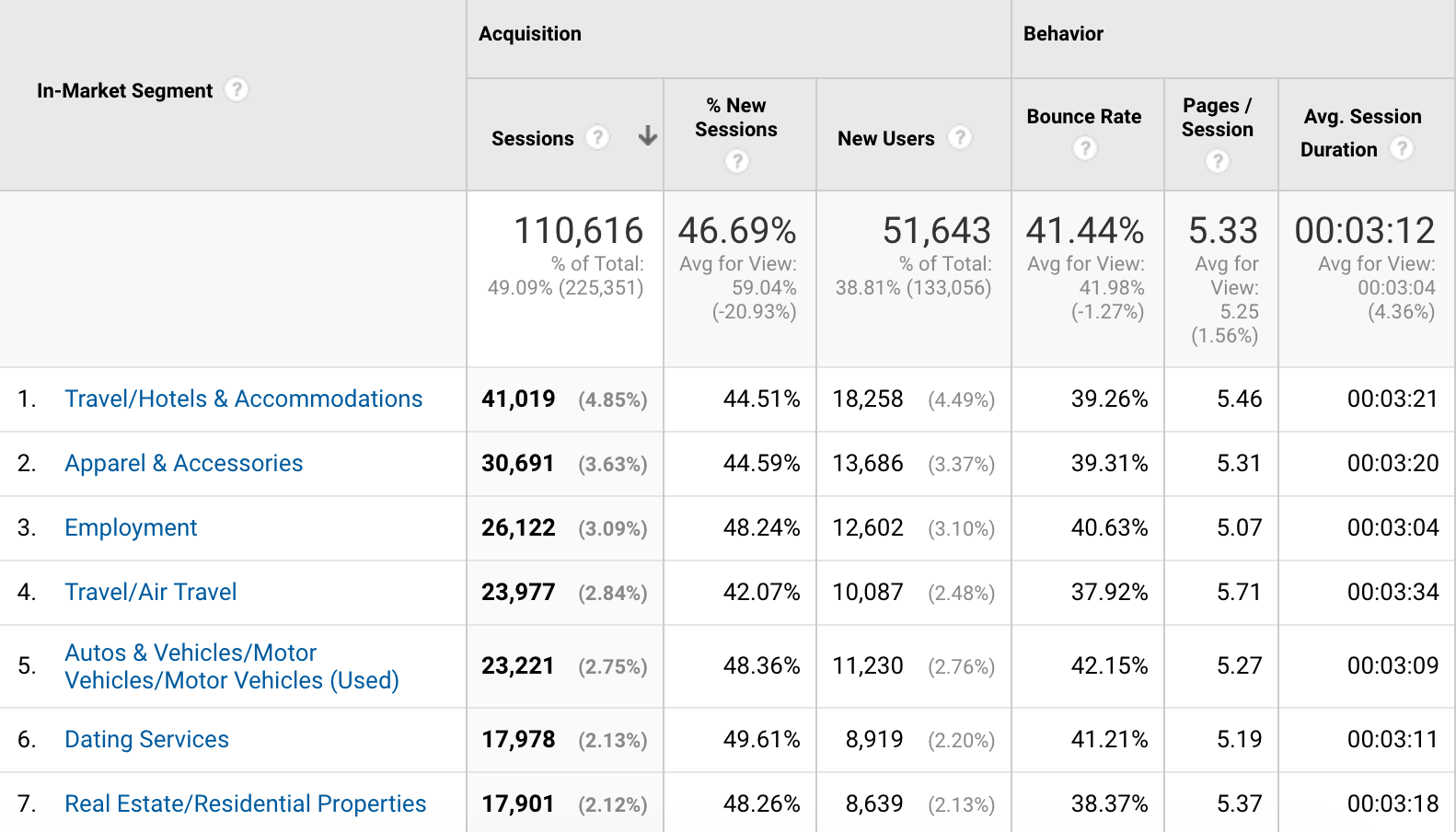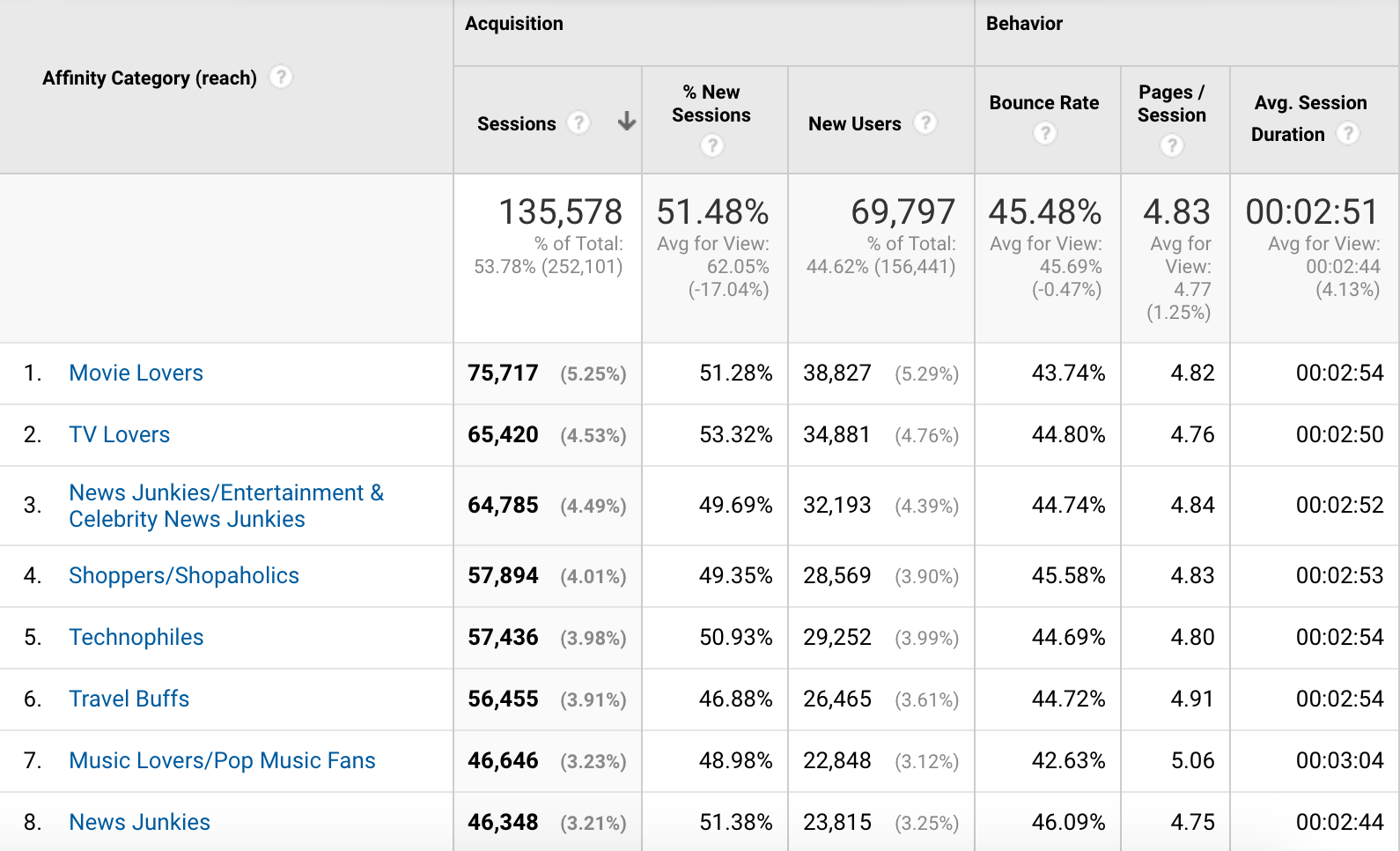 While this information is great, especially since it's so readily available, it's not the full picture. Far from it.
By far the best way to create customer personas is to talk to your customers.
Utilize customer surveys to get answers to questions you're never going to get through an analytics tool. Then, find common trends that many of your customers share, and use these to shape your customer personas.
There are many, many questions you could ask, but some of the most important things you may want to find out include:
What their occupation is
Their level of education
How much they earn
If they have a family to support
Their financial priorities
How they like to spend their disposable income
Why they have/haven't bought from you
What they were looking for when they came to your site
Whether they found what they were looking for when they came to your site
To read more about creating detailed customer personas, I recommend reading this post by director of marketing at Buffer, Kevan Lee.
Use keyword data to increase visibility of content campaigns
Keyword data is a form of big data. Search engines collect and aggregate search queries in order to estimate how many people are searching for particular terms.
This data is crazy valuable for digital marketers.
We can (and should be) using it to optimize landing pages for search, but we can also use it to optimize and boost the search visibility of content campaigns.
Needless to say, as the biggest search engine globally, Google holds the key to the greatest amount of search query data.
To access this data, you can use Google's own Keyword Planner.
Unfortunately, Google has an agenda – to sell clicks. Google's goal is to sell these clicks for the highest possible price, so it makes sense that it would adjust this data to its advantage.
"AdWords is omitting data to bias advertisers toward certain keywords." Rand Fishkin
This means if you want to maximize the amount of data you're able to exploit, you should look at using a third-party tool in addition to Keyword Planner.
Keyword Tool, Long Tail Pro, and Moz's Keyword Explorer are all good choices.
Better yet, most third-party tools also offer up another form of big data – competition data – in addition to search volume data.
How competition data is aggregated can differ from tool to tool, but it generally involves assessing the authority of the top-ranking sites for a given keyword.
For example, Moz uses its own website ranking system, domain authority, in order to assess the competitiveness of a search term.
Moz looks at the domain authority of the top ten results for each term. The higher the domain authority of the sites that rank in those ten positions, the more competitive that term will be.
Use big data to send more targeted email campaigns
Do you want to send better email campaigns that target your audience more effectively to generate more clicks and sales?
Then you need big data.
All email marketing platforms will collect big data for you, but you have to be the one to use it.
At its most basic, this data includes open rates and click rates (the number of people, and percentage of subscribers that clicked a link in the email). However, open and click rates can do a lot more than simply tell you how successful (or not) an email campaign has been.
When used in split tests, open and click rates can help you establish:
The effectiveness of one subject line over another
The effectiveness of one CTA over another
The best time of day and day of the week to send an email
You can also (and you really should) connect most email marketing platforms to Google Analytics.
This will allow you to track what happens once someone clicks a link in your email and visits your site. It's the only way to be certain whether your email campaigns are converting.
If you're a MailChimp user, you can hook your account up to Google Analytics in a few clicks. You can read how to do that here.
Once that's done, you just need to remember to check the "Google Analytics link tracking" box when you're creating a campaign, and give your campaign a name.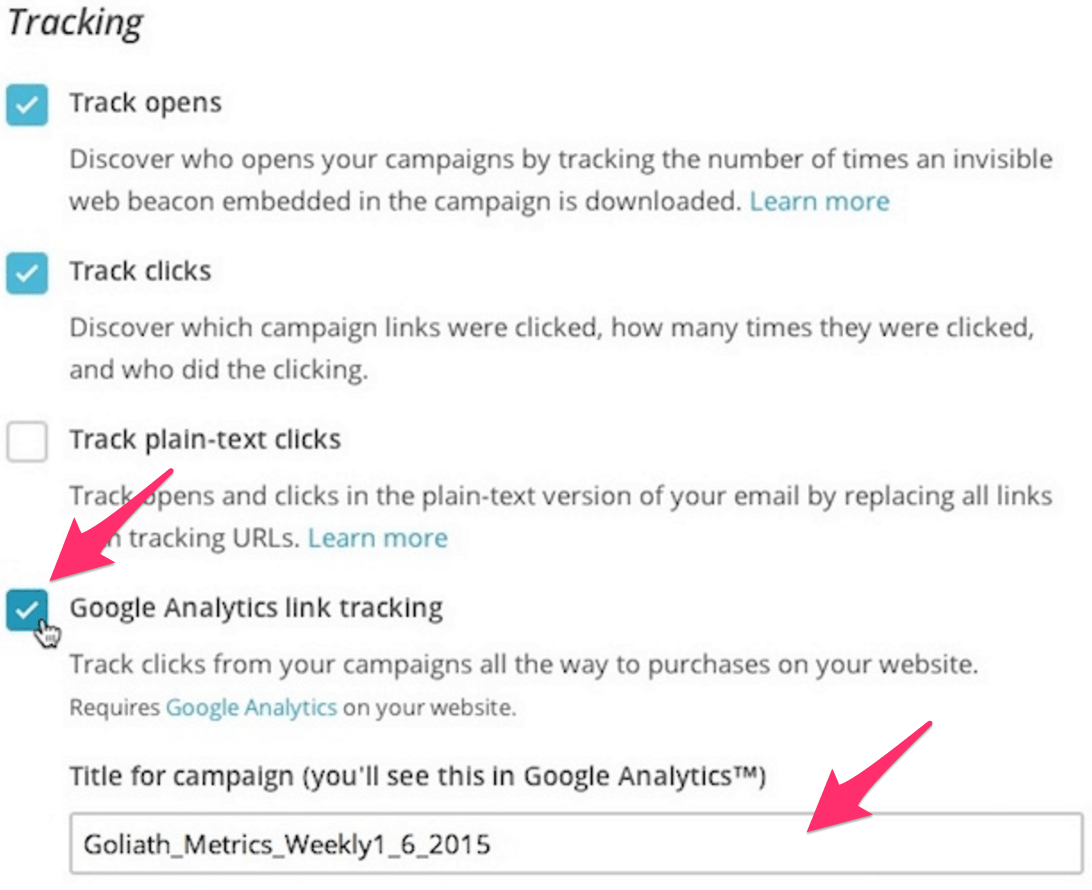 Segmentation
Do you want to make this data even more valuable? Then I encourage you to segment your email lists according to particular customer demographics.
Mailchimp studied this and found that segmented email campaigns saw a near-19% increase in open rates, and a 22% increase in click-through rates.
It's easy to see why segmentation is so effective.
For instance, we can assume stay-at-home parents will behave quite differently than young professionals, and we know for sure that time zones are going to impact when emails get opened.
Segmenting your email lists in accordance with this information can help you get more accurate results from split tests (and more useful takeaways). The fact that the winning variable in a Send Time split test was 8 a.m. is irrelevant if some of your email list subscribers live in New York, some in California, and some in Alaska.
You can also leverage your customer demographic data by segmenting email lists and targeting email campaigns according to interests.
For example, a holiday company might send out customized campaigns in line with the customers' favorite holiday destination, or type of holiday.
Use purchasing history to predict and exploit your customers' next moves
Purchasing histories don't just tell you what your customers like to buy – they also give you a pretty good idea of what they're likely to buy next.
Let's say you sell mobile phones. When someone buys a new phone from you, there's a good chance they're also going to be interested in accessories, like a protective case.
Clothing retailers can paint a picture of each customer's personal style based on what they've previously purchased.
Video game retailers can learn what type of games their customers are most interested in.
See where I'm going with this?
Supermarket loyalty cards are a great example of purchase history being exploited to a company's advantage.
By monitoring their customer's buying habits, stores are able to encourage repeat purchases and brand loyalty by tailoring offers and vouchers to each individual.
However, this information can do so much more than that.
UK supermarket chain Tesco uses loyalty card data to tailor the lines each store stocks to the buying habits of the store's customers.
"Tesco uses Clubcard to track which stores customers visit, what they buy, and how they pay. This has enabled the retailer to adjust merchandise for local tastes and to customize offerings at the individual level across a variety of store formats, from hypermarts to neighborhood shops." Harvard Business Review
You can replicate this online by exploiting sales data in your marketing campaigns. Are there patterns to when particular products become popular and who's buying them? Use this information to guide what you promote and the campaigns you use to promote them.
Have you started introducing big data to your digital marketing campaigns? Let me know how you've used it, and what results you've seen, in the comments below.