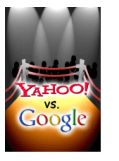 Pay-per-click (PPC) advertising has been the most profitable revenue stream for search engines, with Google and Yahoo! generating multi-billions of dollars every single quarter… and growing!
For the quarter ended June 30, 2006, Google reported recorded revenues of $2.46 billion, an increase of 77% compared to the same time just one year ago!
In 2003 Google's arch nemesis, Yahoo!, bought Overture, the pay-per-click service, in an attempt to capture a share of the huge advertising dollar spent on pay-per-click advertising every year.

Since its purchase, the Overture system remained unchanged for more than 3 years, until now…
The massive profits earned by Google has obviously made Yahoo! stand up and take notice… more importantly it has forced Yahoo! to take a serious look at their current PPC services, now re-branded as Yahoo! Search Marketing, and improve their service offering so they can compete on the same playing field as Google.
Some of the biggest benefits that Google had over Yahoo! Search Marketing were:
– Setting up and having an account online within minutes
– Split-testing PPC ads for maximum response
– Specifying where in the country you want your ads to be shown
– Scheduling the days of the week and the times of day you want your ads to be shown
– Automatic insertion of keywords into title and descriptions
Yahoo! Search Marketing is now releasing its new PPC platform, offering all the services that only Google previously offered.
They expect to fully rollout in the United States by early 2007. And although there is no mention of when it will rollout to the rest of the world, I'm sure it won't be too far behind.
Is this the return of Yahoo!?