The customer journey
Transcript
Hey, I'm Alex Cleanthous, Chief Innovation Officer at Webprofits, and today I'll be talking about why you should be optimising for the customer journey and not the "last click". And I'll be doing it by showing you the path one person took in becoming a client of Webprofits.
I don't know about you, but I've been trying to figure out the impact of different marketing tactics for years.
Like what kind of content works better? What offers? Which emails? Or where should I be advertising?
And I'm not talking last click.
I'm talking about what role it plays towards the final sale.
Well, about a year ago we decided enough was enough. We needed to understand our customer's journey a lot better. And with a combination of Mixpanel, Clearbit, Drip, Pipedrive, Segment and BigQuery, we were able to come up with this.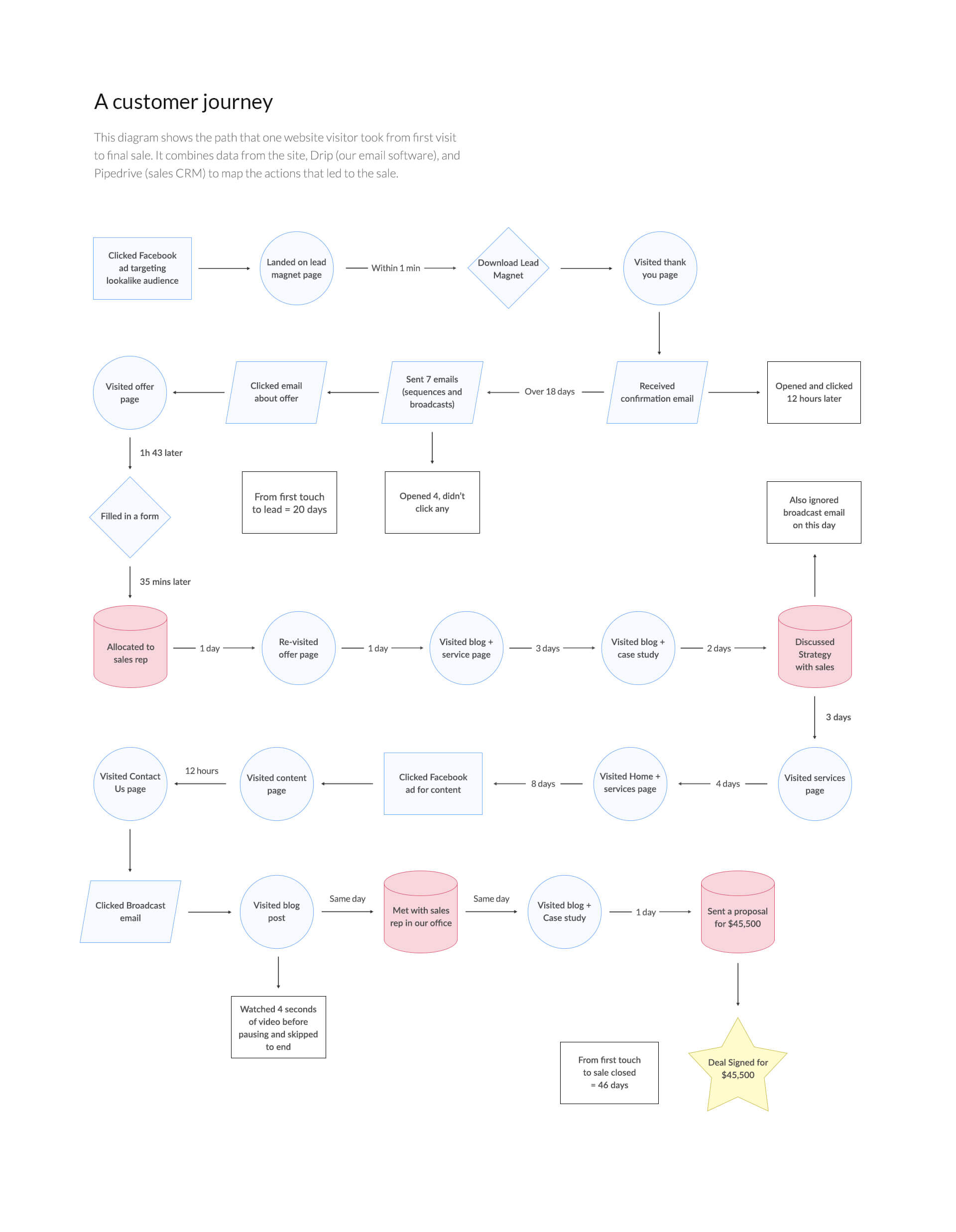 It's the customer journey of one of our new clients.
Now, I'm not going to go through every single step, but what you can see is that the process is not a simple one. This journey took 43 days, from the time they first visited our website to signing the contract.
One of the big takeaways for us is how much research someone does during that process. It's a lot.
They're reading our articles, they're watching our videos, they're downloading lead magnets, converting on different offers, and engaging with us through different channels and different devices.
And it's not the same for everyone.
Each person has their own journey, but there are overlaps between what different people do during that process, and that's what we're looking for. Before we had this data, we knew that content played a big role and that email marketing was important, but we didn't know just how important it was.
Now we do.
And this is just the tip of the iceberg. The thing to keep in mind is that your customer's journey is likely a lot more complex and drawn out than you might think. And definitely more complex than your standard "last-click" marketing reports are showing you.
By understanding the steps someone takes to becoming a customer you can start to optimise the journey, not just the "last click". And that's when things start to become really exciting.
That's it for today, thanks for watching.
Talk soon.