How a better understanding of behavioural marketing could help 'recession proof' a business?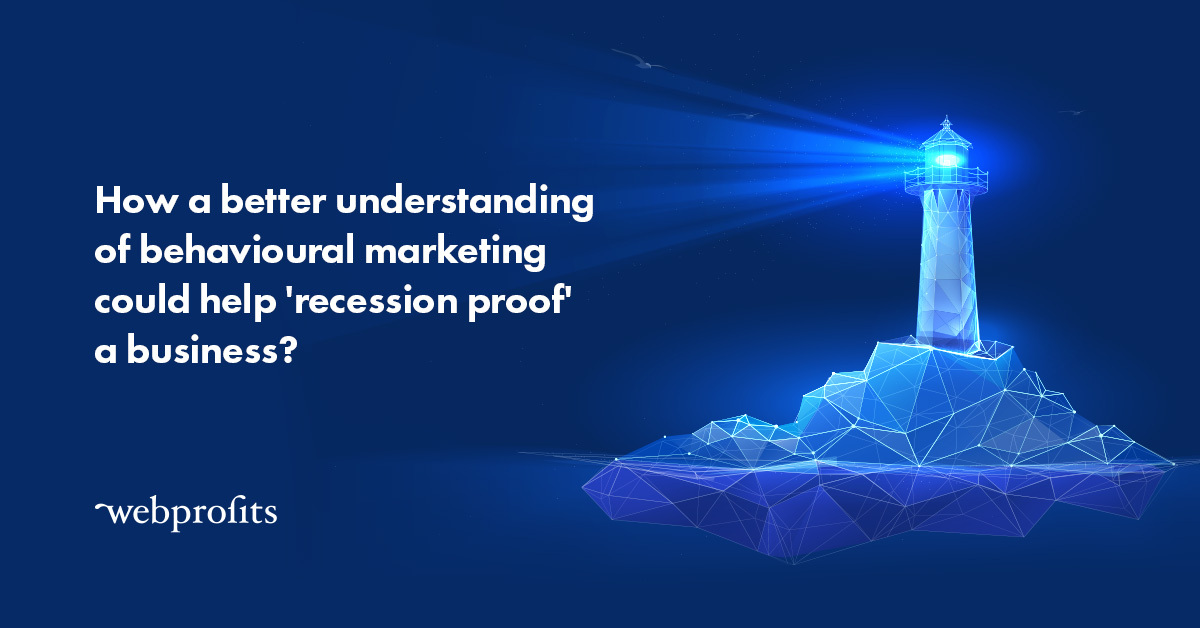 One of the biggest mistakes facing businesses today is making strategic decisions based on incorrect data and taking survey and focus group data as gospel.
It's likely that 62.5%+ of answers in any given survey are erroneous.
A recession will influence your audience to have fundamentally different buying behaviour, motivations & emotive responses.
How can you be better prepared to navigate this? The answer is behavioural marketing.
What is behavioural marketing?
You may have heard of the different terms: Behavioural Economics (BE) , Behavioural Science (BS) and Behavioural Marketing (BM). So, what's the difference?
Behavioural Economics is primarily concerned with debunking the myths created, predominantly, by marketing economists, i.e. the theory that humans are rational and we respond to linear funnels. The problem is: we don't.
Behavioural Economics integrates insights from psychology, neuroscience and market economic theory. The study of BE includes how market decisions are made and the mechanisms that drive public choice. So it's able to look at these micro-trends and tribal impacts at a macro-trends level.
Behavioural Science is more the experiments that we're using. So you're going to see this, especially, through the research phase that Behavioural Science looks at the way that, for example, human beings are deeply affected by context. The way that our decisions change based on who we're talking to.
As the mercurial Rory Sutherland, SVP of Ogilvy Worldwide, head of Ogilvy's behavioural science branch Ogilvy Consulting & the brainchild of Nudgestock says:
"Behavioural Science is crucial for business growth. Not only does it bring us closer to understanding our consumers but it also provides the opportunity to test counterintuitive ideas that appeal to our evolved minds.

The trade-off we make by ignoring human psychology is that we're blinded by an enormous number of solutions and interventions, which would only be possible with how we think, feel and act. As marketers we have to recognise we're behavioural change makers."
So how can businesses weather the coming storm?
If the value of your product or service outweighs the fee you charge for it, then through a recession, it's about translating that into a language that will resonate with your audience.
Your segments / cohorts / personas will have fundamentally different motivations & drivers in response to the external pressures of an economic downturn.
For example, your product features or rational benefit may be similar, but what's the emotional, real-life advantage you're offering?
How do you be 100% sure of that?
And how can you ensure your advertising messaging connects with them in a hyper-relevant, tone appropriate way?
The answer: behavioural science (BS) research & understanding cognitive biases inherent, per the study of behavioural economics (BE).
Using BS qualitative interview techniques to understand what truly matters to your ideal customer(s).
And identify the BE biases and principles that stand in the way of your ideal client making an objective decision about the merits of your offering.
Nicholas Mason, Head of Behavioural Marketing at Webprofits says

"So while this field won't single-handedly recession-proof your business, it will help you to position yourself as essential with your ideal customer, which will go a long way to helping ride out the storm."
But before you waste ad dollars 'testing & learning', aka creating negative brand equity with the ads that don't hit emotional chords, are a little tone deaf, or just miss the mark; do BS-backed research, first.
If you're interested to learn more, you can watch our Behavioural Marketing webinar here.