Performance Highlights.

1,822%
revenue growth in 5 years

554%
increase in connections

53%
increase in broadband service provision

1
Award-Winning campaign
Case study at a glance.
When we started working together in 2016, Aussie Broadband was a regional underdog telco that did limited digital marketing. After applying our Digital Growth Framework, over the years that followed we helped the business hit and exceed ambitious growth goals, increase revenue by 1,822% (from $18m to over $350m) and they also successfully listed on the ASX in 2021.
And results continue to build. Today, Aussie Broadband has grown to become Australia's fifth-largest provider of NBN services, offering affordable and premium internet services in a highly commoditised and competitive market.
Aussie Broadband has reached $350m ARR
Aussie Broadband has never been afraid of pushing boundaries, which has allowed us to achieve big results.
1,822% revenue growth in 5 years (2016-2021)
ASX listed in October 2021
5th largest NBN provider in Australia
554% increase in connections (2016-2021)
50% website leads from organic search
53% increase in broadband service provision (FY21)
To find out more about the digital strategies that got us there, read on…
Looking to break your performance records?
Exponential digital growth is what we do best. Let's talk about a tailored strategy to take your business to the next level.
Tell us how we can help

The passion and dedication that Webprofits brought to our business, I hadn't really seen before. It didn't feel like working with another supplier, we are absolutely marketing partners.
Their experience, the talent and breadth of the team they can offer has been a massive benefit to our business.
We're pushing the boundaries and Webprofits is also, every step of the way, behind us with that. They are just as invested in that end result as we are.
Matthew Kusi-Appauh
Chief Operating Officer
THE CHALLENGE
In 2016, after making the bold business move to invest heavily in their own NBN, Aussie Broadband came to Webprofits looking for a marketing agency that could help deliver a significant uplift in business, with the goal of doubling recurring revenue from $25 million to $50 million in one year.
With limited in-house resources and little experience with digital marketing, they needed help and they chose Webprofits to build their marketing from the ground up to hit their ambitious growth goal.
THE APPROACH
We quickly developed a collaborative partnership and our team instantly became an extension of the Aussie Broadband team.
We hit the ground running with our Digital Growth Framework; a proprietary 3-stage continuous process for shaping and refining digital marketing strategies to ensure that businesses can effectively and efficiently achieve their campaigns at every phase of growth.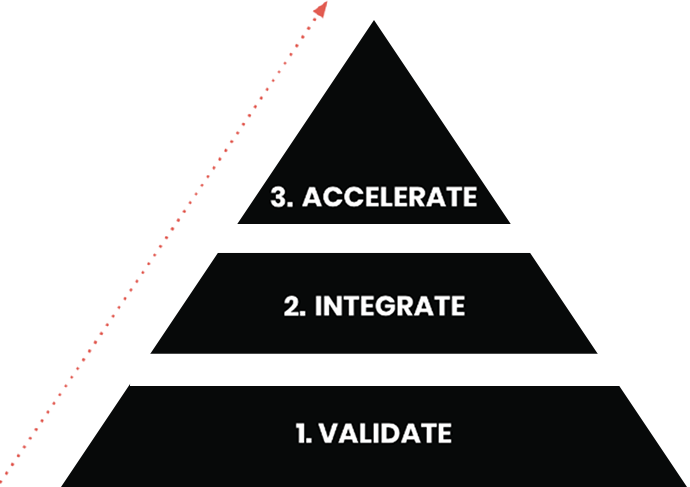 1. VALIDATE
Assess the current state of play. Providing an in-depth digital analysis to map out the right mix of audience, message and digital channels to achieve the growth goals.
2. INTEGRATE
Applying now proven effective growth activities to more areas, such as new audiences, upsell and cross sells.
3. ACCELERATE
Focusing investment on the most effective growth activities and channels to scale rapidly and maximise impact.
First steps, validate to accelerate
Before we could scale, we needed to Validate that Aussie Broadband's growth ambitions could be achieved cost-effectively using digital marketing.
We set out to create our first campaign and needed messaging that would resonate in a market where many Australians were experiencing NBN congestion issues, as most providers were unable to deliver on their promised NBN speeds, especially during the evening peak. This was going to be Aussie Broadband's opportunity to be the exception.
And so we created the compelling digital campaign "Say no to the 6pm slowdown" (awarded SEM Rush's award for Best Integrated Campaign in 2018).
We were competing with Telstra's $200m marketing budget so, to make sure the limited budget worked as hard as possible, we initially targeted those audiences for whom congestion was the biggest challenge - tech enthusiasts and gamers - and focused on three core aspects of the customer experience:
Free trials
Super quick and super simple online signup
No contracts
The campaign included paid search and paid social, email automation, conversion rate optimisation, link building and community reach.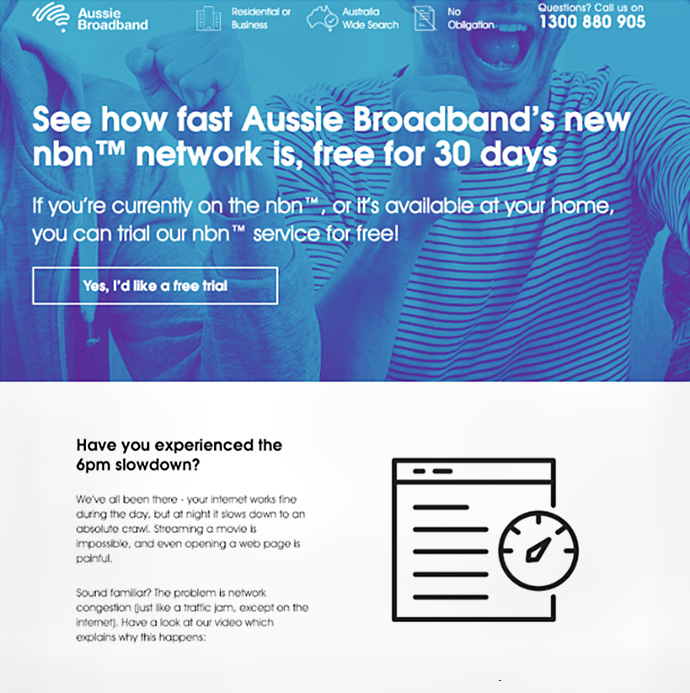 5,000 enquiries in 4 weeks = a good problem of way too many leads!
Within one month we had successfully validated that we could generate cost-effective scale using digital channels with over 5,000 enquiries in just four weeks, but there was too much traffic coming through the Aussie Broadband call centre and it wasn't set up to handle the increased volume.
We spent time working closely with their call centre team to get a better understanding of how their systems worked and what questions people had that could be addressed more efficiently through automation.
This allowed us to restructure lead-generation and the customer journey to create a more streamlined workflow for processing and converting leads while building trust and delivering the premium experience Aussie Broadband wanted to be known for. The campaign then rolled on with:
SEM
Blog articles based on search volume and the most highly linked and shared content in the category;
Repackaging Aussie Broadband's extensive FAQs as hundreds of optimised individual pages to reduce the volume of queries that had to be handled by the call centre teams;
Paid search, comparison sites, link building and community marketing.
Email marketing
Fine-tuning the structure and flow of automated emails that were triggered by specific user activity.
Facebook Ads
Facebook ads were run from 5-7pm during 'peak congestion' times, targeting tech audiences who followed publications like Gizmodo and resided in NBN-ready areas.
We also used creative tactics such as promoting content at specific journalists at publications we wanted to be picked up in.
Website re-design
We developed a new website to maximise conversions, including an NBN availability checker.
Growth Hacking
Growth Marketing tactics including encouraging Aussie Broadband customers to submit a review and share their thoughts (which helped Aussie Broadband win productreview.com.au's award for Internet Service Provider of the Year) and creation of a referral program were implemented to allow the tech-enthusiast base to refer their friends who complained about the 6pm slowdown on other providers.
Outstanding initial results, and an award-winning campaign
More than simply validating digital channels as a viable platform for marketing, the "Say no to the 6pm slowdown" campaign delivered outstanding results and was awarded SEM Rush's award for Best Integrated Campaign:

133,999 leads including 78,221 NBN availability checks;
4,709 direct online sales;
65,400 Customers (139% growth YoY);
$50.9m Recurring Revenue (98% growth YoY);
SEM Rush's award for Best Integrated Campaign.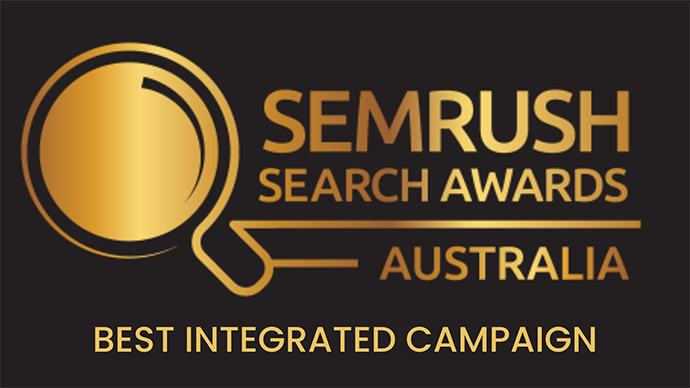 Integrated Campaign Award for "Say no to the 6pm slowdown".
Accelerating impactful and cost-effective growth.
Building on the successful validation of the "Say no to the 6pm slow down" campaign it was time to Accelerate and Integrate growth to meet Aussie Broadband's goals while keeping cost per acquisition (CPA) and Cost Per Sale (CPS) stable and low, which can get harder as budgets increase.
With our team of highly experienced growth marketers and channel experts, we had the advantage of being channel agnostic, and could cast a wider lens to look at results across all activities rather than focusing on specific silos for activity or metrics.
Scaling doesn't happen just by spending more money
In order to successfully accelerate growth, the team constantly optimised each and every activity, looking for better ways to:
engage more profitable audiences;
improve CPS;
improve checkout processes & landing pages
use data insights
trial different ad placements

by constantly testing new campaign types and features, as of January 2022 we had reached our highest sales volume at the lowest CPS to date.
Ultimately, we're constantly strategising across the whole digital funnel to improve everything from email marketing to customer service. And it's in this constant entrepreneurial mindset of growth that scaling opportunities are found.
Through a combination of cross-channel strategies across paid search, paid social, email marketing and Conversion Rate Optimisation (CRO), we were able to efficiently use our budget, converting more at a lower CPA.
We used a method of consistently testing new campaign types and features, to accelerate and pivot resources to grow the areas that were working effectively. In January 2022 we had achieved our highest sales volume at the lowest CPS to date.
An example of creative from our campaign type which has been one of our most effective campaigns to scale.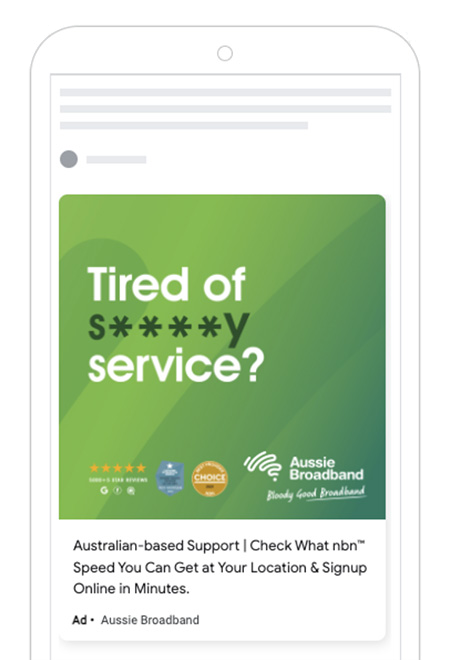 Trialling search ads for competitor campaigns.


We're constantly testing social ad placements, creatives and formats to drive lower CPS.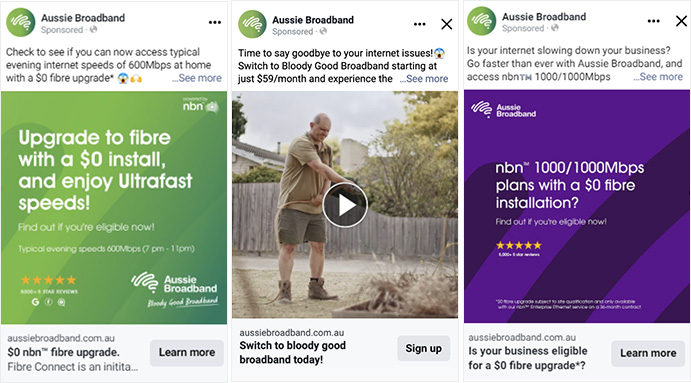 Supporting accelerated growth
Since we started working together, the Aussie Broadband marketing team has quadrupled.
As their business has grown and their marketing needs have changed, we remain their constant agile partner. We continue to work in a highly collaborative partnership and manage their digital marketing activities. As their offline marketing efforts have expanded, we now work closely with the Aussie Broadband advertising team to complement their other marketing initiatives and amplify our collective efforts.
Behind the scenes, we are constantly working with the Aussie Broadband team to integrate and experiment with new thinking, innovation and streamline workflows across the broader customer experience to propel further growth.
THE impact
Aussie Broadband has reached $350m ARR
Aussie Broadband has never been afraid of pushing boundaries, which has allowed us to achieve big results.
1,822% revenue growth in 5 years (2016-2021)

ASX listed in October 2021

5th largest NBN provider in Australia

554% increase in connections (2016-2021)

50% website leads from organic search

53% increase in broadband service provision (FY21)
Here's what Aussie Broadband has to say about us.

We have relied upon Webprofits' strengths in Digital Marketing to help us develop a range of key marketing strategies and tactics as a challenger within the Telco industry.
The team at Webprofits have provided support, strategic advice and have been dedicated to supporting the growth of our customer base across Australia, taking us from a small regional customer base, to now progressing to Australia's 5th largest NBN provider.
Adam Renn
Marketing Manager
Great execution is no longer enough.
The brands that are WINNING today are those who understand their customers better than anyone else. We help brands drive record-breaking results through in-depth consumer research combined with strategy-led performance marketing execution.
Get in touch