Performance Highlights.
#1
search term for "baby formula" for 4 years
10x
increase in online sales
2x
award winning campaigns
game changing launch into China
Campaign Awards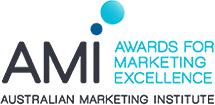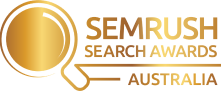 For the full story, read on...
Like what you see?
Take 30 minutes to have a quick chat with Webprofits. You might be pleasantly surprised with what we share with you.
Tell us how we can help
Case study at a glance.
Bellamy's Organic is Australia's leading producer and distributor of simple, nutritious, organic formula and baby food products.
As a former local, privately held Tasmanian company - Bellamy's came to us in 2013 when looking for a partner to help fulfil their ambitious growth plans for their Baby Formula product in Australia and overseas.
Over the following 7 years, the Webprofits' team and Digital Growth Framework (DGF) provided the overarching digital marketing strategy and tactical activities to help Bellamy's dominate the baby formula category, exceed revenue goals and expand overseas, leading to their acquisition for AU$1.5 billion.

We have access to a team of marketing experts who are able to manage our online integrated campaigns seamlessly and efficiently, and who are as passionate as we are to see our brand succeed."
Ben Lovitt - Marketing Manager, Bellamy's Organic
THE FULL STORY
A leading producer of organic baby food products with ambitious growth goals.
Bellamy's Organic is Australia's leading producer and distributor of simple, nutritious, organic formula and baby food products.  They came to us in 2013 when they were looking for a partner to help them fulfil their ambitious growth plans for Bellamy's Organic Baby Infant Formula in Australia and overseas.
THE CHALLENGE
Baby formula is a highly regulated category. You have to be smart to succeed.
Infant formula is a highly complex and regulated category which is hugely limiting to any marketing initiatives. Manufacturers can't promote it in advertisements or even talk about how it can be helpful. In addition, over recent years, the category has faced further issues such as the Chinese melamine poisoning scandal which tainted trust on a global scale. Successful marketing required a smart approach.
Bellamy's needed a digital marketing partner who could work creatively and proactively while maintaining a focus on performance.
THE APPROACH
We gave Bellamy's instant scale and experience.
We provided Bellamy's with a dedicated multidisciplinary team of digital experts (project management, strategy, creative, production and media) to work as an extension of Bellamy's own marketing department.
The team took the time to truly understand the quality of Bellamy's Organic's products and were as knowledgeable and passionate about them as the internal team.
This approach gave Bellamy's the experience, scale, flexibility, speed and excellence that was not possible with the resources and budget immediately available within the business.
Leveraging our DGF, we quickly established a deep understanding of Bellamy's business, goals, brand and audience personas and mapped out a sustainable growth strategy via digital marketing channels.
We focused on building a foundation of trust and community through which sales would follow.
Choosing Baby formula is an extensively researched and emotional decision for families. We needed to demonstrate that Bellamy's were more than simply a product on a shelf. We had to build a brand that could be trusted.
We knew that to achieve this, we needed to build a meaningful and valuable relationship with mothers and the best way to do that was to enable them to connect with one another. So, we started to look at our audience as a community, rather than individual customers.
Naturally, with performance marketing at our core, we created a reporting model which connected community and brand growth back to sales, revenue and the bottom line.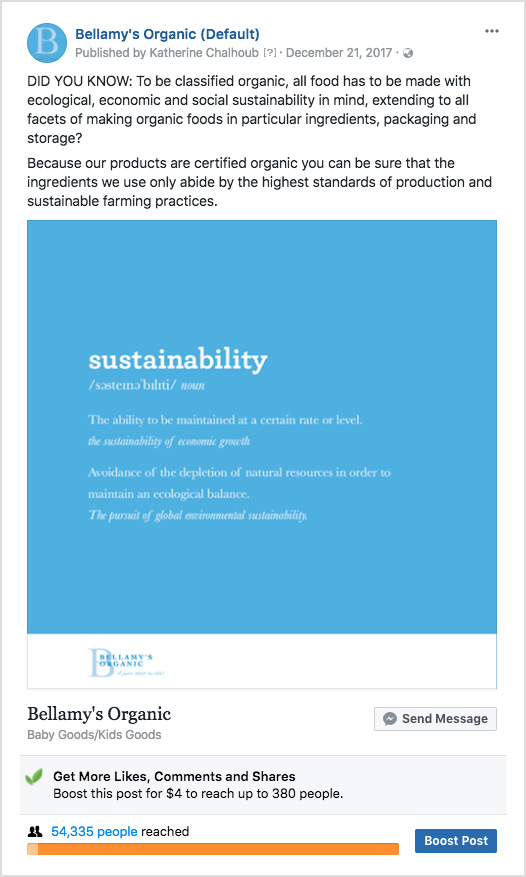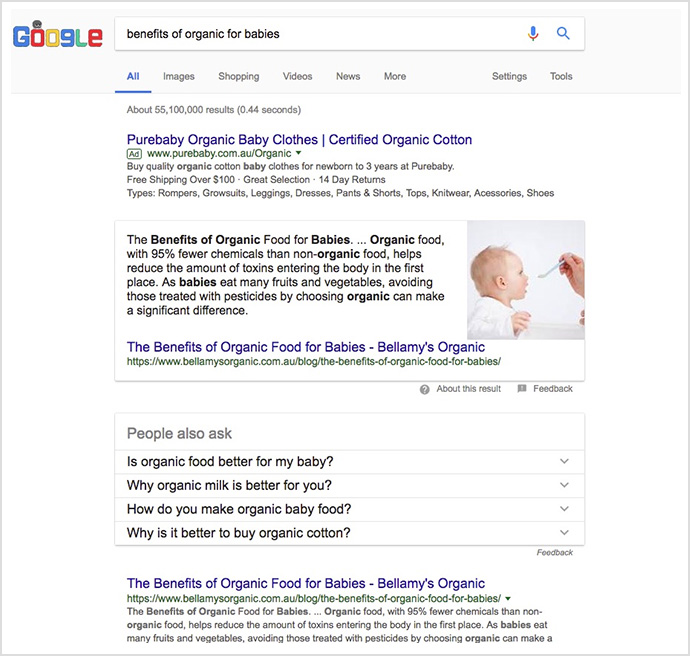 Then we engaged them with authenticity.
As we used the DGF to create audience profiles, we saw we had to engage this community with authenticity.
We discovered that throughout the three-year early motherhood journey, from pregnancy to two years old (also the period during which Bellamy's products are relevant), most mums did extensive research. This provided an opportunity for us to be there with the information and content that they needed, when they needed it.
We delivered a content-rich, engaging and connected consumer experience that aligned with the journey of early motherhood and built a community of mums who then acted as our champions.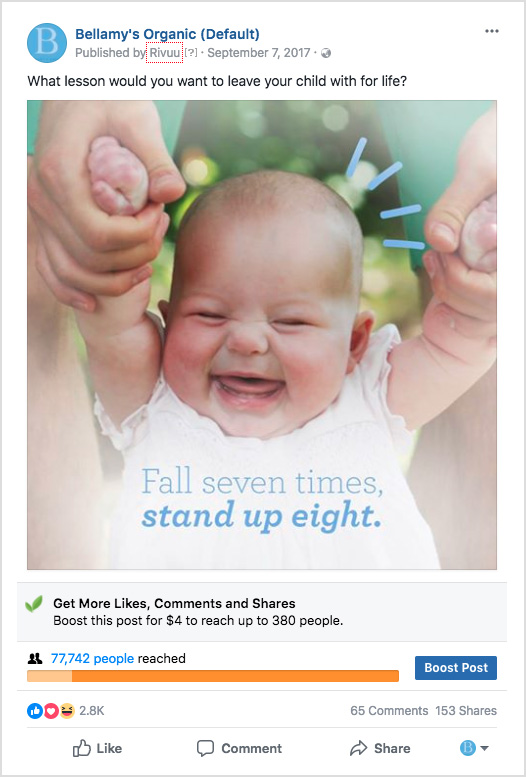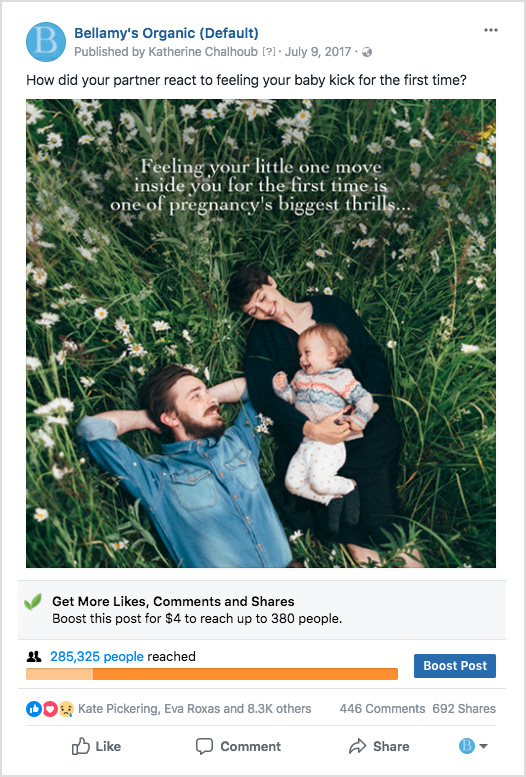 #1 search ranking for "baby formula" for four years.
As we couldn't actively market baby formula, we focused on ensuring we had a high organic ranking on Google Search. We set the goal of ranking #1 for "baby formula" as this was one of the most prominent research keywords across the industry.
This meant we were competing with some of the biggest food brands in the world, such as Heinz. However, within a year, we hit our goal and continued to maintain Bellamy's ownership of the #1 position for the next 4 years, ensuring that Bellamy's was the first brand parents saw when they were searching for baby formula, creating enormous value for the business.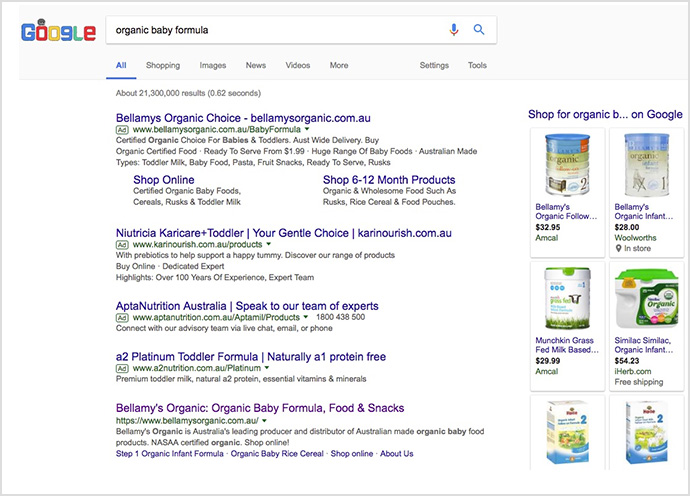 We grew a lot in our first year.
In the first 12 months we created and executed a content strategy, brand strategy, social strategy and search strategy that delivered:
1,110% increase in online sales
635% increase in website traffic
378% increase in social community
2,655,913 video views
Email open rates of up to 28% and CTRs of up to 42%.
By 2016 we had 8,000 User-generated images through instagram campaigns and 100,000+ Facebook fans.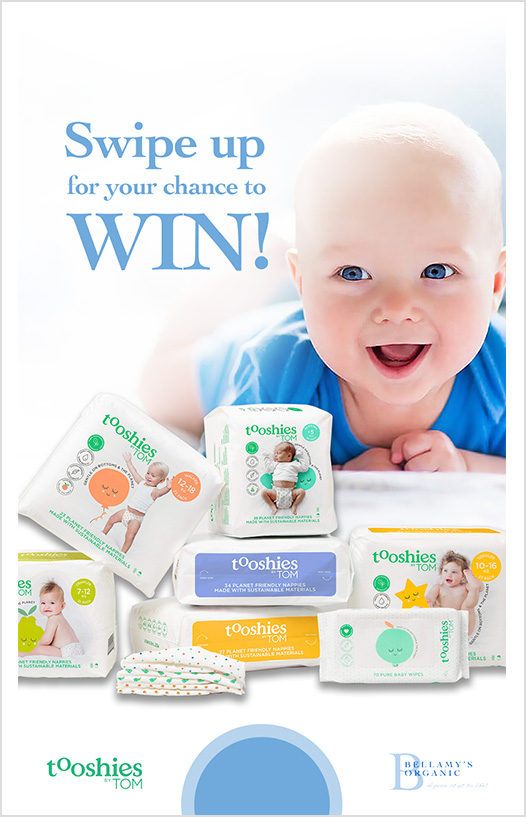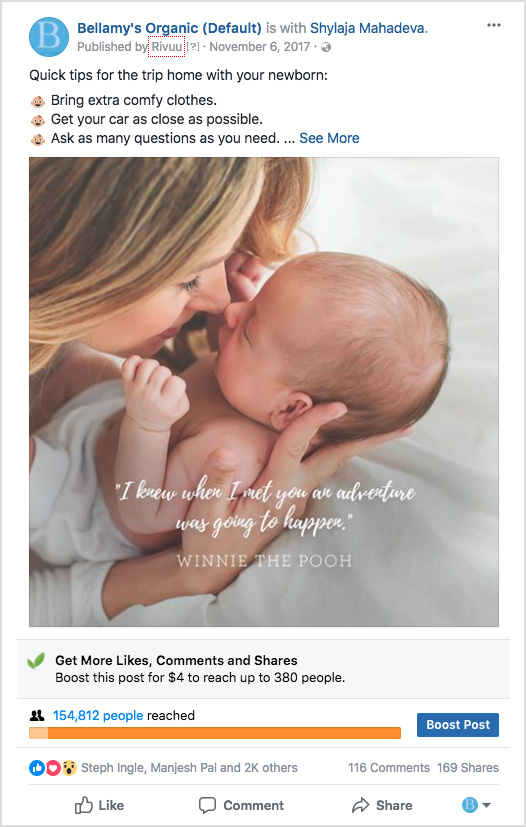 By 2018 we created the multi-award winning Bellamy's 'Firsts' campaign.
Building on the sense of community and credible peer-to-peer engagement in the baby space, we launched Bellamy's Firsts; a campaign focused on user generated content (UGC), enabling young mums to become brand advocates by celebrating their baby's 'firsts'.
The activity successfully delivered:
Over 4 million engagements on social media
94 million impressions across all channels
Over 1.3 million video views
Over 50,000 visitors to the Bellamy's website
Tens of thousands of new followers for the brand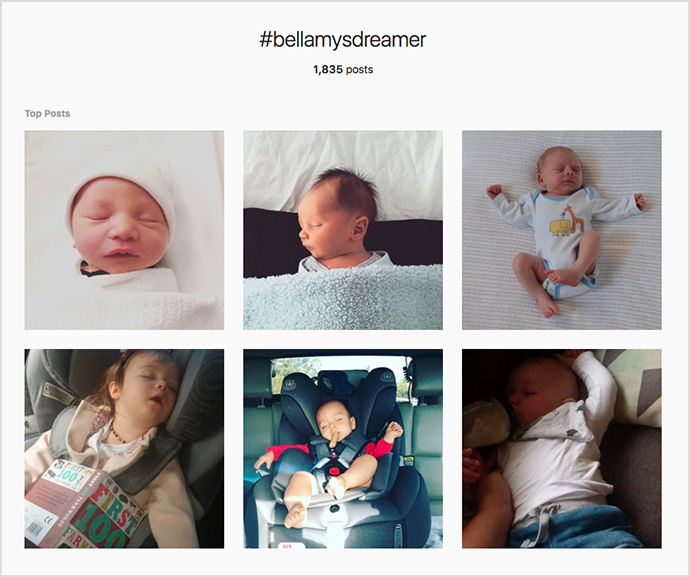 The campaign was awarded winner of the Best Content Marketing Campaign, SEMRush 2018 and Content Marketing Award for Marketing Excellence, AMI Awards 2018.

"Bellamy's Organic provided an outstanding example of creative and successful content.
An excellent framework of the issue, clear goals and thorough market research provided the framework for an effective digital campaign solution... The content was creative, emotive and authentic which was essential for establishing compelling brand advocates."
AMI Judge - Award for Marketing Excellence

Expanding into China without being in China.
Following the 2008 melamine tragedy, manufacturers saw increased demand for foreign infant formula, like Bellamy's. However, Chinese consumers had become distrustful of all infant formula brands and conducted significant research before making their purchase decisions.
From our research we knew that the Chinese community within Australia had considerable influence in Mainland China, so we developed a strategy for transforming Chinese mums in Australia into brand ambassadors for Bellamy's by:
Visiting local community shops to understand what kind of content they consumed and what they needed to hear to make Bellamy's the preferred choice in China.
Creating a Chinese version of the local Bellamy's website and running dedicated Chinese search and retargeting campaigns.
Developing a dedicated strategy for leveraging Wechat — the Chinese multi-purpose instant messaging, social media and mobile payment app with over a billion users.
Gaining valuable insights into how best to promote Bellamy's in China itself and expand further into Vietnam and the rest of South East Asia.

"Leading our partnership with Bellamy's Organic is one of the highlights of my career. It is one of the best examples I've experienced of the power of a strong client/agency relationship.
The foundations of our success were the relationships and trust we built with Bellamy's marketing team which empowered everyone involved to deliver their best work."
Ben Fitzpatrick - Head of Strategy, Webprofits

THE impact
A bedtime story that ends with a multi-billion dollar acquisition.
Webprofits provided the overarching digital marketing strategy and tactical activities that enabled Bellamy's to dominate the baby formula category and meet their international growth goals.
In 2014, soon after we started working together, Bellamy's - the former local, privately owned Tasmanian company - listed on the ASX raising AU$36 million. In December 2019, China Mengniu Dairy acquired Bellamy's Australia for AU$1.5 billion.