Airbnb's Growth Strategy: How they attract and retain 150 million users
Have you heard of Airbnb?
Just kidding, everyone's heard of Airbnb.
Not only did they revolutionise the travel industry, they're one of the first startup "unicorns" to emerge in the mid-2000s and are emulated on every level – from their business model and their map and search results, to their referral engines, and generally their outlook and approach to everything they do.
They've been around for more than 11 years and are still growing at a rate that most business can only dream of. In fact, last year they turned over more than $1b in a single quarter and their most recent stock sale values them at USD $35 billion!
So, how do you keep growing when everyone already knows who you are and will probably consider you as an option for your holiday, regardless of your marketing?
How do you ensure that people who have stayed with you before do it again?
How do you convince people to open up their home and allow guests to stay?
And how do you ensure those hosts are happy enough to keep renting out their places?
In a previous role at a start-up it was very common to hear the question "How do Airbnb do it?" when looking at implementing a website change or a new tactic.
This case study aims to answer all of the questions above by taking a deep dive into the specifics of each of their digital marketing channels and tactics.
BONUS: Don't have the time to read all 29,000 words right now? Download this case study as a PDF and read it whenever you're ready.
History
Airbnb started out in 2008 when founders Brian Chesky and Joe Gebbia realised they could make a quick buck by renting out an air mattress in their living room to people visiting San Francisco for a big conference. The idea then evolved into a website where others could do the same, and travellers could get a cheaper option than a hotel.
The full history has been well documented several times (like here or here) so we won't be covering it here, but I think those early stages set the mindset of the business as one that would find a way to grow using whatever technology tricks that they could. They famously did things that didn't scale and then growth hacked solutions so that they did.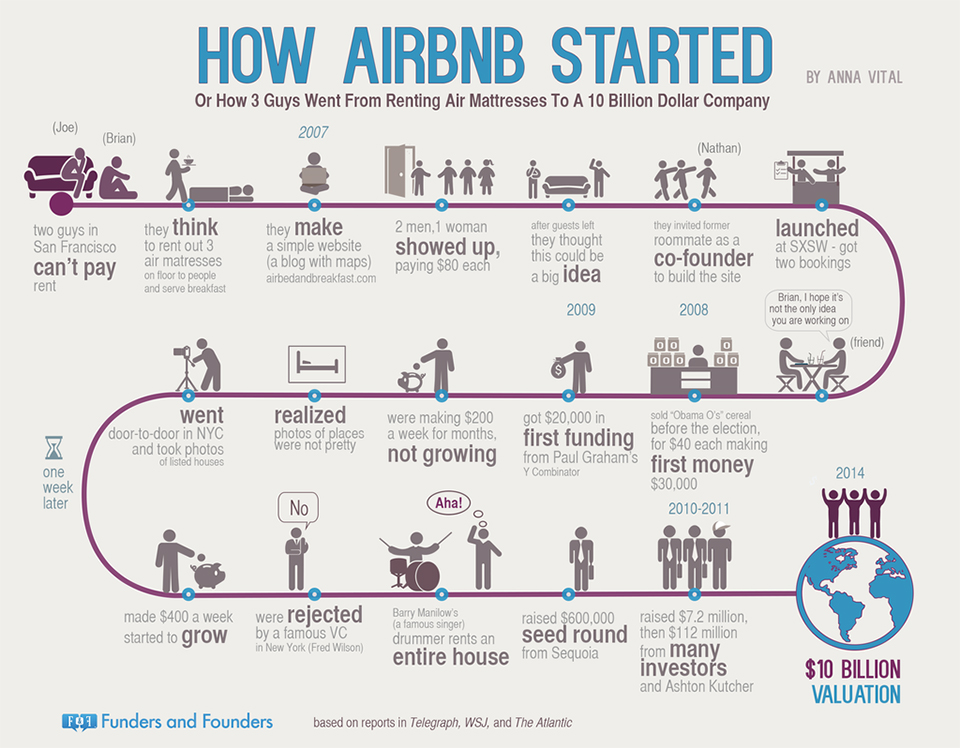 (Source)
My favourite example is how they leveraged Craigslist to drive traffic and listings on their own site. Each time a listing was made in their area on Craigslist, they would email the home owner and ask if they would like to list on Airbnb. The home owner would then spread the word about this new booking platform.
After finding success in doing this manually, they created a script that would automatically email all new listings on Craigslist and notify them about Airbnb. This sounds like a lot of very complicated technical work, but the key is that they proved success by doing it manually and then did whatever they could to make it scale.
It also shows that they realised early on that the key to success on the platform would be getting hosts to list their properties. As is the case with most two-sided marketplaces, without supply the entire thing falls apart. And you'll see over the course of this article just how much they focus on bringing onboard new properties as part of their marketing strategy.
Since then, they've evolved multiple times; continuously improving their website and user interface, adding new features, creating new products, expanding to new markets, and trying a range of different tactics to drive the growth of their business.
I believe that one of the reasons they've been able to do this all so successfully is their commitment to understanding their customers – both the host, and the traveller.
To make this article easier to read we've broken it out into several different sections, each covering different growth channels. Here's a summary of each:
The Product: We'll look at how Airbnb position themselves differently to stand out from other accommodation booking engines, as well as how they've diversified their product range to ensure they keep growing
The Website: We review the use of personalisation to produce more relevant pages for users, and look at how their product pages are geared towards making a sale
Paid Search: What are the keywords and ad copy that generates relevant traffic to their site, and how are the landing pages set up for conversion?
Email Marketing: How do Airbnb use email to communicate with prospective and existing customers to drive new and repeat usage of the platform?
SEO: How do Airbnb ensure they appear in relevant search results to drive organic traffic to the site?
Content Marketing: We look at how Airbnb use articles and videos to keep their guests and hosts engaged with the platform
Social Media: We breakdown how Airbnb use Facebook, Instagram, and Twitter to build and convert an audience of guests and hosts
Referral Marketing: Airbnb are poster boys of growth through referrals – how exactly do they do it?
Community: How do Airbnb maintain and grow their online community, and what part does that play in their business growth?
Offline: What activity do they do outside of digital to drive growth?
The product
In its simplest form, Airbnb is an accommodation booking engine. It's a place where people looking for short term accommodation (usually for holidays) are able to find somewhere to lay their head down at night. So why was it perceived as being so different to the booking engines that were already around at the time, and are still huge today. Why would a traveller rather use Airbnb than Hotels.com, Expedia, Trivago, or the myriad of other websites available?
Cynics will say it comes down to price, and in a lot of instances they're right. Airbnb's tend to be cheaper than hotels, and so the cost-conscious traveller would prefer to pay less and go without some of the frills and security that you get with a hotel. But there are plenty of properties on Airbnb that are more expensive than hotels and still get booked out, so what else is there?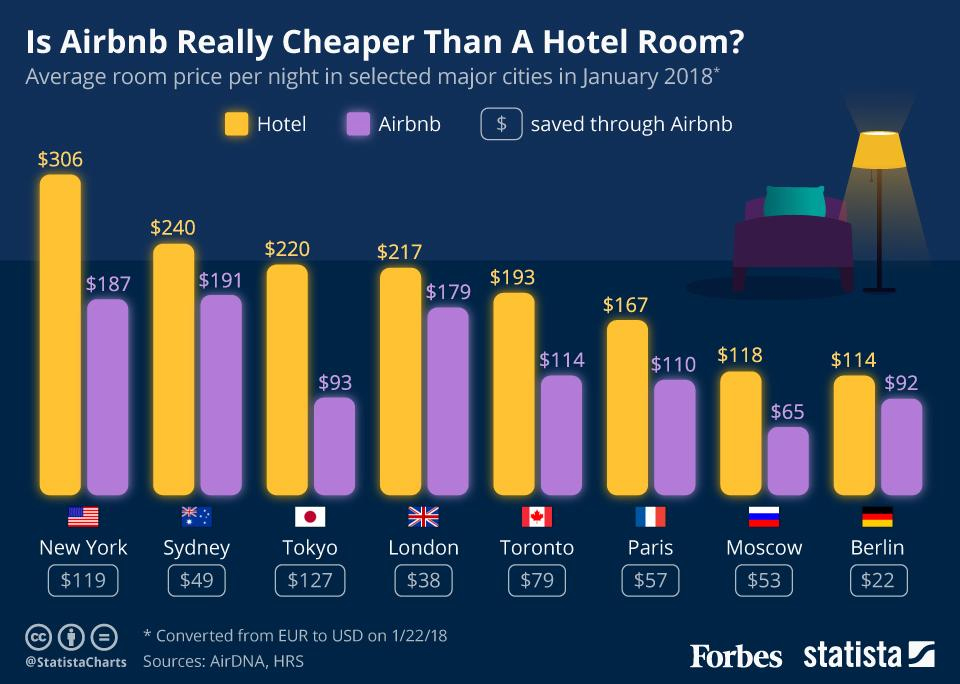 Differentiation
Airbnb isn't a place where you book hotels (even though you can).
By listing the properties of ordinary people, they set themselves apart by offering a different experience to travellers.
Nothing sums this up better than their "Don't go there, live there" campaign.
"Don't go to Paris, don't tour Paris, and don't do Paris. Live there"
What Airbnb offer isn't a cheap place to sleep when you're on holiday, it's the opportunity to experience your destination as a local would. It's the chance to meet the locals, experience the markets, and find the non-touristy places. Sure, you can visit the Louvre, see Buckingham Palace, and climb The Empire State Building but you can do it as if it were your home town, while staying in a place that has character and feels like a home.
This ramble has probably given away the fact that I'm a huge fan of Airbnb and have used it frequently, but this just goes to show the power of differentiation. Airbnb has turned me into a huge advocate by just connecting with my preferred way to travel. I've done a fair bit of travelling in my time and I absolutely HATE it when people say they've "done" a certain location. Just by using the right words, Airbnb make me feel as though they should be my first port of call when I'm visiting somewhere new.
But that doesn't mean I would use it at all costs. I visited Japan last year, a place where Airbnb's are quite hard to come by. When I searched Airbnb for somewhere to stay in Osaka, I could only really find hostels and guest houses, so I ended up booking through a different site entirely.
Airbnb created a whole new kind of vacation just by providing spaces other than hotels to stay. Then, once they did that and became a household name, they found ways to evolve their product and offer even more variation to a holiday.
Airbnb Plus (upsell)
Many people like the idea of staying in someone else's home, but not everyone does. Some people appreciate the luxury of staying in a hotel, knowing you'll receive a professional service, including a properly maintained room.
And not every Airbnb experience I've heard about is an overwhelmingly positive one. I've seen/heard of some properties that haven't been kept very well, are lacking basic holiday features, or don't look very good.
To counter this, they created a premium product called Airbnb Plus. In their own words
"Airbnb Plus is a selection of only the highest quality homes with hosts known for great reviews and attention to detail.
Every home is verified through in-person quality inspection to ensure quality and design. Just look for the PLUS badge."
The homes are well designed, well maintained, and well equipped. Meanwhile, the hosts are all rated 4.8 or above. All of this is inspected by a real person so you're ensured of its accuracy.
By creating this new tier of product, Airbnb have provided a solution to potential travellers who have reservations about the quality of their properties.
Experiences (cross-sell)
I wouldn't say Airbnb have exhausted their growth when it comes to 'accommodation rental', but most travellers are aware of who they are and what they offer. Sure, they can nurture better and convert more customers, but they needed a way to keep growing their revenue that isn't reliant on just one product.
"Airbnb Experiences are activities designed and led by inspiring locals. They go beyond typical tours or classes by immersing guests in each host's unique world. It's an opportunity for anyone to share their hobbies, skills, or expertise without needing an extra room."
If Airbnb Plus is an example of a product upsell, their Experiences are a great example of a cross-sell.
Given that most of their pitch to consumers is to experience a location like a local, it seems like a very simple and logical step to offer paid activities provided by local hosts. But it's one that many businesses wouldn't have made, and I think it speaks volumes to the type of business Airbnb see themselves as.
An accommodation platform would never offer experiences as a product, and nor should they. If your business strength is that you have properties and people want properties, then that's what you should focus on. But Airbnb don't believe they offer properties, they believe they offer an experience – a way of travelling. That's way more than a roof, 4 walls, and a bed.
Not only did they understand what their customers wanted, they created the desire in the first place! You could argue that they knew their customers better than they know themselves, and I wouldn't disagree.
Assurance through insurance
As previously stated, Airbnb understand the importance of maintaining a healthy supply of properties. And while many businesses have been created that rent out properties on Airbnb, there are still a significant number of properties where the host still lives there. They either rent out a spare room or their entire property when they go away.
For these people in particular, letting strangers into their home can be a scary concept. So how do Airbnb ensure that hosts are comfortable enough to rent out their property, and continue to do so?
In 2011 Airbnb had to come up with an urgent answer to this very important question when a host in San Francisco reported that their house was trashed after renting it out for a week. It could have been something that ruined the company's reputation and destroyed their business, but they reacted strongly and turned it into a strength.
Within days, Airbnb introduced a Host Guarantee that every property would be insured up to USD$50,000 for any damage incurred by guests. That value has since increased significantly to USD$1 million (I guess $4.4 billion in VC funding can really open up some doors).
With this guarantee, Airbnb have assured hosts that should the absolute worst happen, they will be covered by the company that enabled the transaction.
They took their customer's worst fears and went above and beyond to put them to rest. Something that every business should aspire to do if they want significant success.
Product conclusion
Airbnb have built a hugely successful business off the back of understanding what their customers want/need, and then providing products that match them.
By positioning themselves as a way to experience travel, rather than as an accommodation booking engine, they were able to connect with a segment of the travel market who felt their options were fairly limited.
By offering a guarantee on insurance they took away the biggest fear that their hosts (and potential hosts) have, ensuring that they feel comfortable renting out their property.
Once they had built a solid base of customers and reputation, they expanded their offering.
They created an upsell opportunity by providing a higher tier property that had been manually vetted to ensure the highest possible quality.
They began offering their customers ways to specifically experience life as a local, as well as sleep like one.
With a product approach like this, it's no wonder they're such a successful business.
The website
A large part of Airbnb's success can be attributed to their website. It's often looked at by businesses and startups (usually ones that claim to be "The Airbnb of…"), and with good reason.
I might visit their site once or twice a year when I'm lucky enough to be looking at booking a holiday, and I can't help but notice that every time I do, I get a different site compared to the last time I visited.
Remember the days when the home page was a scrolling image with a big search bar? I thought it was great back then, it got straight to the point and helped me get to where I needed to go while still looking aesthetically pleasing, but it's evolved a lot since then.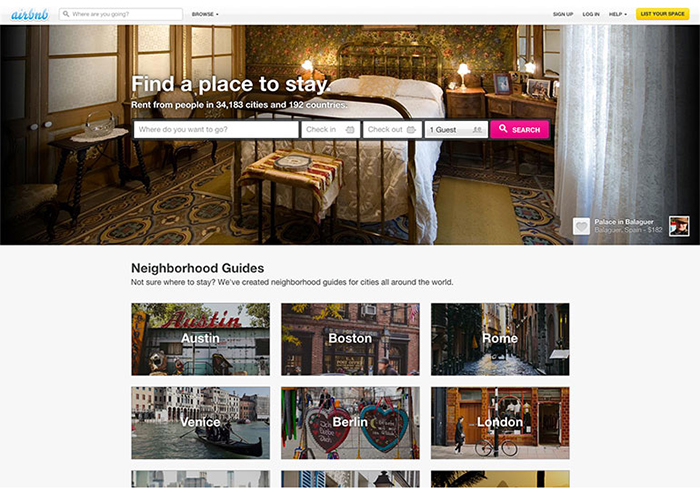 When going through the site now, there are 3 key characteristics that stand out to me. The site is:
Very visual
User friendly
Personalised
You'd expect a business that specialises in travel to have an image laden website, but they do a particularly good job of having a lot of images without it feeling overwhelming.
The layout and the functionality of the site is what makes it so easy to use. I'll be highlighting specific examples soon, but if they hadn't considered the User Experience as much in the early days then I doubt they'd have experienced the growth that they have.
Airbnb have a reputation for using personalisation arguably better than any other big brand business in the world. It's between them, Netflix and Amazon really, isn't it? I'll be looking at specifics here and sharing how they use personalisation to deliver the best experience.
In this section of the article I'll be dissecting pages piece by piece to see how their website helps to drive growth. However, they have a near-infinite number of pages and I could go on forever, so to reign it in I'll be looking at a couple of pages that most (if not all) businesses have.
The homepage
Property pages (product)
The homepage
Airbnb's home page is where you can best see the impact that personalisation has had, and so I'll be looking at it in two different ways. Once with me logged in and once using incognito mode.
But I won't just look at the personalised elements, I'll also share insights on their messaging, imagery, layout, and more.
Let's take a look at the non-personalised version of the home page first.
Non personalised – Above the fold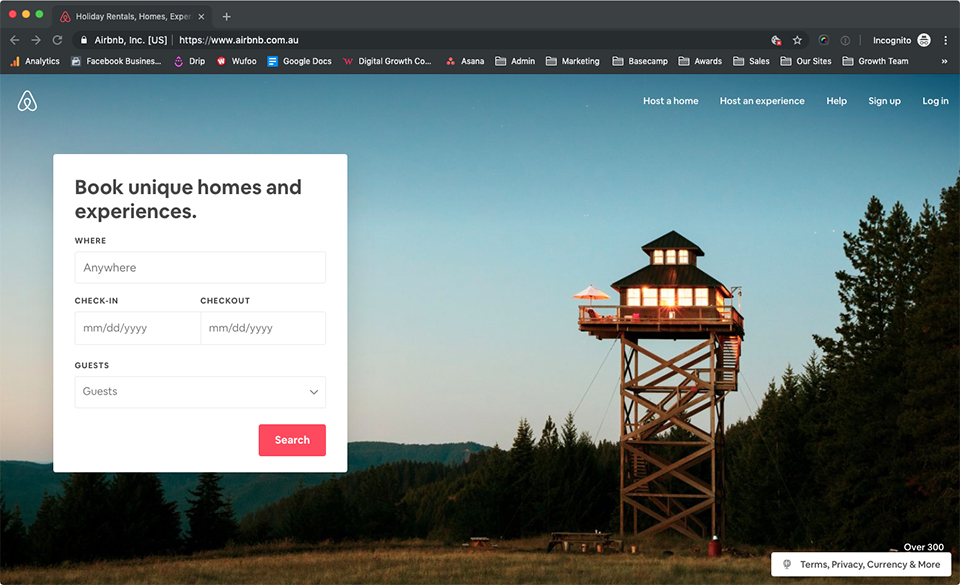 First thing that strikes me is just how simple it is.
The form
The booking form stands out the most, and with good reason – it's the quickest way for them to get information about what the user is looking for, in order to personalise their experience.
The form is simple and captures the bare minimum – the search results page later can be used to refine what you're looking for, but in the first instance let's just find out where you're going, when you're going, and who you're going with.
It's a simple call to action (CTA) header, and it outlines exactly what the website is set out to do: Book unique homes and experiences. The use of the word unique is what I find particularly interesting – they could have gone with a number of different adjectives that could be used to describe a home.
People go onto Airbnb to look for cheap properties and luxurious properties, in busy cities and remote countrysides. For small and large, for packed and sparse, for quiet and loud, cultured and corporate.
Above all, they are looking for a property (or experience) that suits them – unique. And if you don't know much about the person doing the searching, I would say this the perfect word to use.
The button stands out in red with a white background, and the CTA "search" explains very clearly what's going to happen when I click on it.
Imagery
The image they've selected is pretty good too.
It took me a moment to realise it, but that structure isn't a watch tower (maybe I've been watching too much Game of Thrones), it's a home. Looks pretty unique, wouldn't you say? And very fitting with the headline they selected.
The location is pretty interesting too; it evokes a feeling of adventure, of doing something different. It has a feeling of Wanderlust and makes me want to travel.
From a practicality point of view, I also like that it allows the navigation bar at the top to be read very clearly. I've seen many websites where the image looks wonderful but affects the functionality of the website, and I think it's criminal. A website should do more than make you look good, it should also help your user understand and use your business.
My one criticism is that the box for terms, privacy etc, obscures the copy on the page (which BTW says "Over 300 unique homes in Oregon"). Not a big deal as it's revealed as you scroll down, and it's not the most important bit of information on the page by a long way, but it is a (very) minor annoyance.
Navigation bar
Back to the main navigation bar.
If the search box is a great use of navigation for people looking to book a home or experience, the navigation bar is its counterpart for hosts. As mentioned earlier in the article, the supply of properties and experiences is essential for Airbnb's success, and so it's important that hosts are able to navigate where they need to quickly.
Non personalised – Below the fold
N.B the home page has a (seemingly) infinite scroll feature that keeps bringing up new homes in new locations as you scroll down so I'm not going to go all the way through it, but the next few sections are relatively interesting so I'll cover them. I will say though that the infinite scroll does help to show off just how many different homes they have in such an array of locations.
Directly beneath the fold you'll find 3 simple options to help navigate to what you're looking for if you would rather narrow it down before starting your search

To be honest, I find these rather plain.
The images are small and hard to make out, and so not that intriguing. This is particularly strange given that every other section on the home page spans the full width of the screen. Yes they're easy to use, but it actually seems a bit lazy. Could do better.

The next section makes a lot of sense – jump into the upsell. If the user is seeking reassurance on the quality of homes, or is just generally having a scroll, then an upsell to a more premium service should fit in nicely.
Unfortunately, I think it misses the mark, again.
The image is great, it looks like a well designed, high quality home, but the header and description leaves a lot to be desired.
"A selection of homes verified for quality and designed" might well be a good description of Airbnb Plus, but it's not exactly enticing. It doesn't tell me anything about me or why I'd enjoy it, it's just a factual statement. There's often value in understating things, but this isn't one of those moments.
Even the button with the CTA of "explore homes" is just a bit dull.

Next we have a recommendation section.
My pet peeve here is that I'm still not signed in and have no browsing history for Airbnb, so how are these locations recommended for me? Sure, they're recommended (I assume they're the most searched for locations globally, or from my location) but they're not personalised so why not just say "Most popular"?
I'm being highly pedantic but with the level of personalisation they go to elsewhere on the site (which I'll come to soon), I'm holding them to a higher standard.

Ok, this is much better.
Experiences are still a fairly new product and so introducing it on the home page makes sense. And they've done it way better than they introduced Airbnb Plus.
In particular, note the header and sub header. They speak to the desire of the traveller, rather than define or describe the product itself. The statements are emotive and intriguing, making me want to find out more.
Even the description in the sub header is better, mainly because it says who it's for. "Created for the curious" ties in quite well with the main header above the fold, people looking for a "unique" experience.
With the experience being all about having fun with the locals, the image represents it really well, though maybe the guy in the back could be having more fun 🙂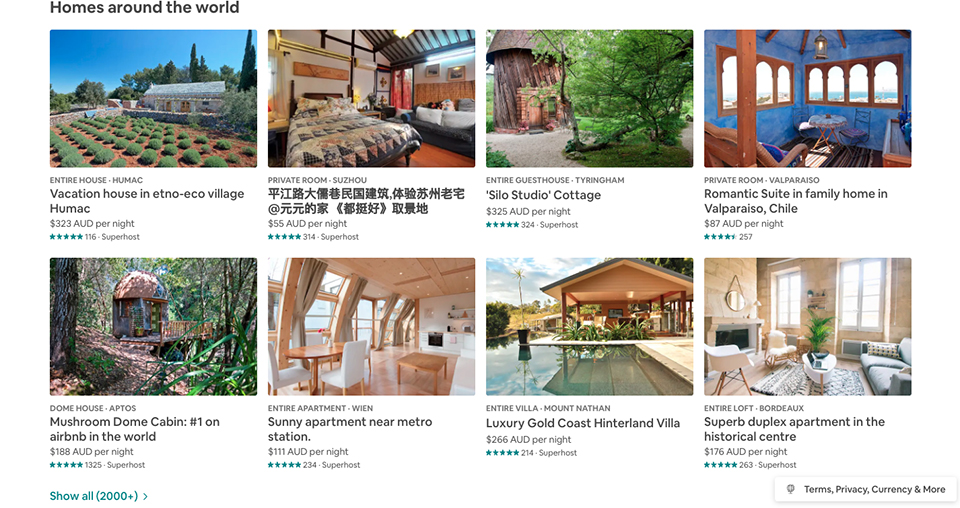 The homes around the world section showcases some fairly unique looking properties, perhaps to portray the variety of different homes around the world. I don't really understand the point though – why these 8 properties?
They don't all have 5 star ratings, and the number of ratings they have is quite varied. They all look pretty cool in their own way, but I haven't really got any context as to why these are here.
Clicking the "show all" link at the bottom takes me to a new page that explains that these are actually the top rated homes around the world. I think they would benefit from providing that information on the home page itself. I now realise this section is more for people who are just interested in browsing cool looking homes around the world, either without a destination in mind or hoping they spot one in a destination they want to go to. Though in my experience, nobody has picked a location based solely on the accommodation. Interesting.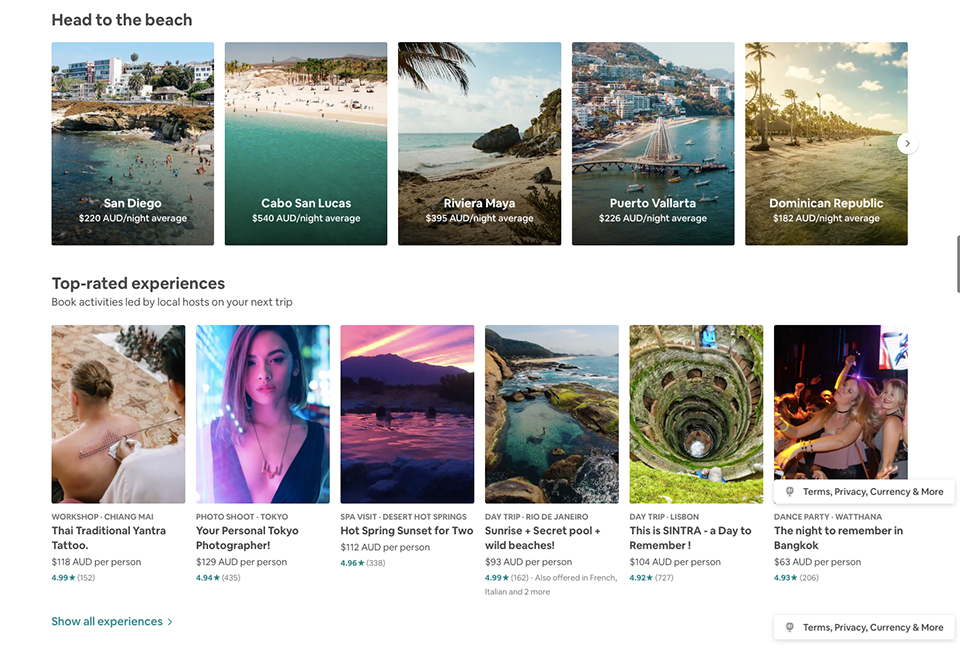 The next two sections I find quite interesting but mainly because of how different they are when I'm signed in. So bear with me while I explain them here, it will all make sense later 🙂
With the data they have collected over the years, I would assume that many people in my location (or maybe just globally) start looking at beach destinations around this time of year. (It could just be that beach destinations are the easiest to categorise, or the most popular generally).
But there's a great selection here in terms of price range. It's interesting that they're all in North America though; it makes me wonder if they're using my geo location at all or if they only personalise the experience for people who are logged in (I'm assuming that most of their traffic comes from the US). The strange thing is, I'm on the Australian domain so you would assume they at least have it personalised there.
The experiences section is very clear – these are the top rated experiences around the world. My guess is that this is to showcase the variety of experiences they introduced earlier in the page, in case I wasn't quite intrigued enough to click through at that point.
There are several more sections on the home page that could be considered interesting: there's a banner to entice new hosts to sign up (which is way too low down the page in opinion), and the categorisation of experiences and homes which I could review. However, there's not much to be gleaned from it for most businesses to be able to action, so we'll leave the home page review there for now.
Where it gets interesting is to see how the home page differs when I'm signed in. Let's take a look.
Personalised – Above the fold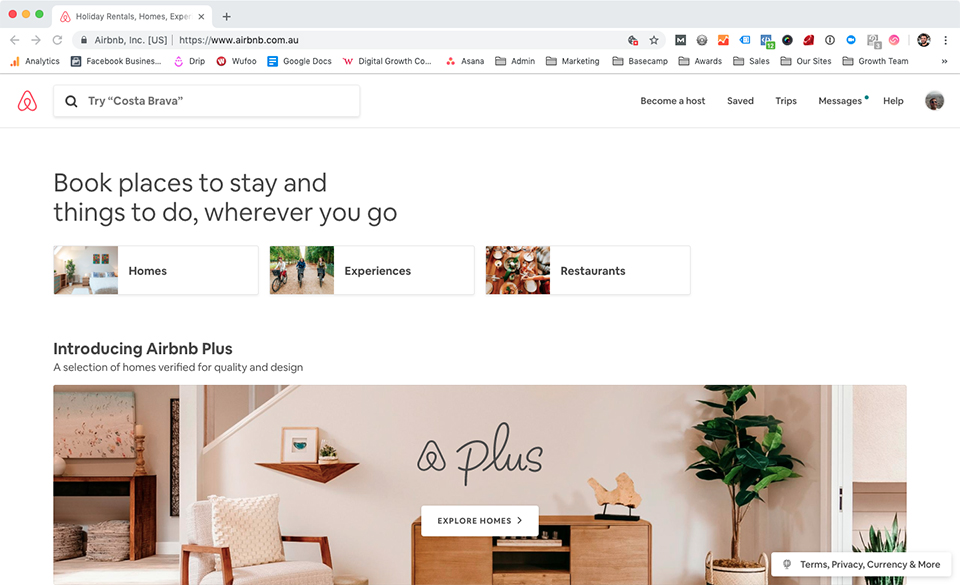 I've got to say, I'm not overly impressed by what's above the fold when I'm logged in. As far as I can see, nothing is actually personalised yet. Not only that, but it's a bit boring.
Nothing quite catches the eye and so I'm not 100% sure what the obvious step is to do next.
The first two boxes – the navigation to specific products and the upsell to Airbnb Plus – are the two things that impressed me least from the non-personalised home page, and I'm surprised to see them front and centre here when I am signed in.
If I did want to book a trip (like they assume when I'm not signed in) then starting my search process isn't that easy. I either have to select homes, experiences or restaurants, or click the search bar at the top. There's no form with dates or number of guests like there was previously, so there's an extra step no matter what.
Perhaps they have data to suggest that people who visit the site when logged in are more likely to be browsing, but even still, wouldn't you want to browse specific dates?
One element that does change to my advantage is the navigation bar.

Now that I'm signed in I get some options that are well suited to me (saved, trips and messages) as well as a prompt to become a host – something that's beneficial to them.
Needless to say, I'm not impressed so far.
Personalised – Below the fold
From then on, the sections appear in the same order that they did when I wasn't logged in, but the content within them changes … sometimes.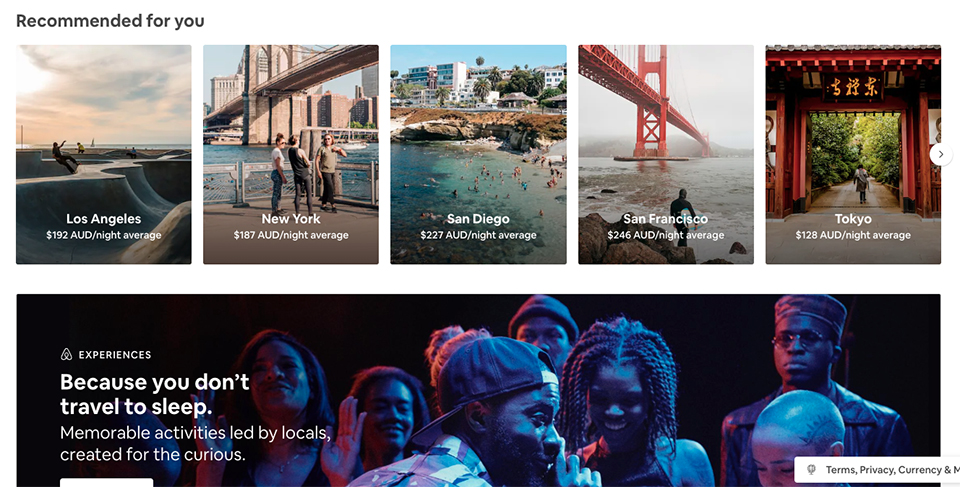 We can see that that "Recommended for you" tiles have changed, and I'm assuming the ones displayed are based on my browsing habits. To give you some context, I booked an Airbnb a few months ago for a trip to L.A, so it makes sense that it appears as the first tile.
Or does it?
They know my stay there ended a while ago, do they think I want to go straight back?
I assume that the next few options are similar to Amazon's "People who viewed this product also looked at…" feature. I think people who book an Airbnb in LA would also consider New York, San Diego and the other options.
But what about my browsing history before that? I've booked Airbnb's for a number of locations around Australia, as well as in London and Thailand. It seems as though that previous history doesn't seem to influence the options I'm presented with.
Now we come to the sections that really show personalisation in use.
At first glance they look similar to the sections we saw in incognito mode, but there are subtle and important differences. I'll bring them up next to each other so it's easier to see


Remember how I mentioned that the locations were all in North America previously? Well now they are more widespread, with two in particular (Bali and Phuket) as common places for Australians to travel to. But I don't think these are categorised by Geography.
The non personalised options have a far bigger range when it comes to price. My guess is that Airbnb know I can't afford $540 a night to stay in The Carribean, and so the options they suggest are a lot closer to what I've booked in the past. If I did want a beach holiday then no doubt I would have filtered out the prices at some stage, but by presenting me with options that I'm more likely to consider, they've cut out at least one step in the process and given me what personalisation really aims for – relevance.
Next, let's take a look at the experiences.


The difference here is a lot easier to spot. All of the personalised options are based in Los Angeles, the location of my last booking (and searches) with Airbnb. It looks as though they're happy to predict where I'd like to go when suggesting properties, but when suggesting experiences they look at the last known destination and show me what I could be doing (or what I missed out on).
Home page conclusions
I think what I've seen here is that Airbnb isn't actually that good at personalising the experience for their users – at least not on the home page.
Yes, there are some great little touches as we can see in the last section, but on the whole personalisation isn't that widespread on their site yet.
Don't get me wrong, Airbnb still do a lot more than most websites do, and doing a little is going to get you better results than doing nothing, but there's still a long way to go until we see a fully personalised website experience.
Whether it's personalised or not, I think there's room for improvement when it comes to Airbnb's home page.
Property page
I've chosen to analyse Airbnb property pages as I feel these are the closest thing they have to products. Their job as a business is to promote the properties (and the hosts) so that people want to book them. They may not own any of them or have significant control over what is said on the pages, but they can choose to lay them out in a way this is most likely to lead to a booking.
So, let's see how they do that.
(For the sake of this review I'll be looking at a mid-range property in Bondi Beach, Sydney.)
Above the fold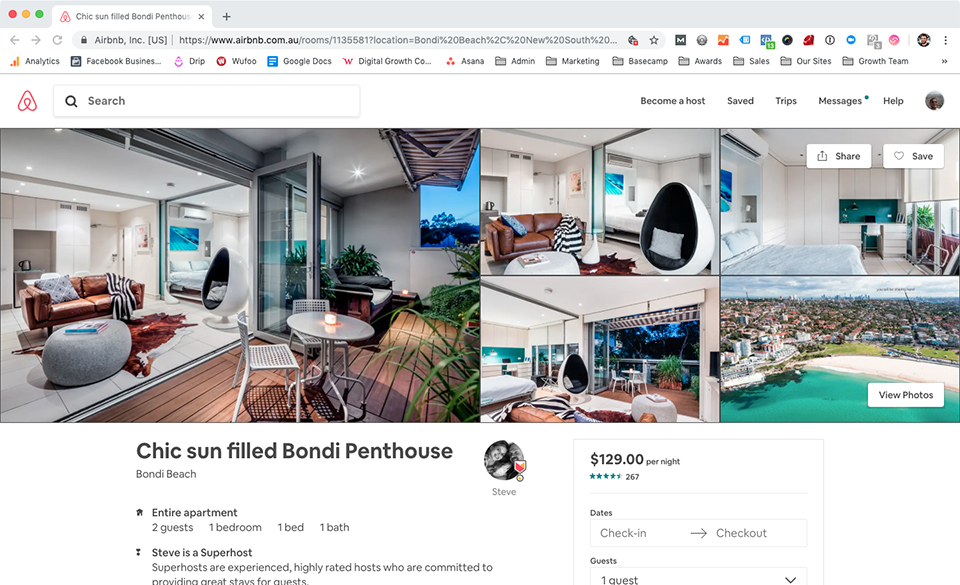 Airbnb knew early on that good photographs are essential to getting a booking. In fact, back in 2011 they even paid for hosts to have professional photographs taken of their properties. They charge for that service now that it's been proven to work (and they have enough properties that look good so they don't need to worry about the ones that don't), but you can see why they suggest it when photos are front and centre on the property pages.
In fact, when they do charge, they actually review and suggest which pictures you go with for maximum impact.
This shouldn't come as a surprise to anyone who sells a tangible product, but the way you present the product in images makes all the difference.
Apart from the images, the screen displays most of the top level information you would want to know about the property at a glance: The headline, the location, the price, and the number of bedrooms, bathrooms, and guests. There's even an image of the host to prove it's a real person behind it all.
As you scroll down, more is revealed about the property.
Below the fold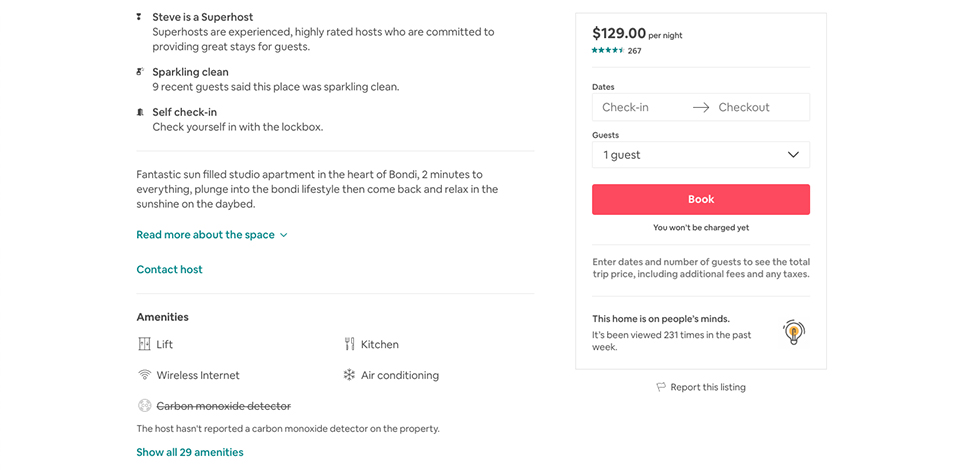 Webform
Firstly let's talk about the webform.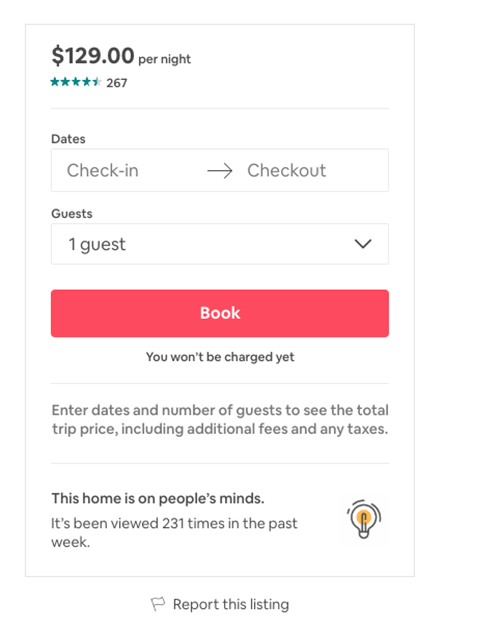 It was just visible above the fold, but it didn't need to be completely visible. Certainly not at the expense of anything else that was already there.
What I like most about it is that the right hand side of the page is reserved for it. No matter how far you scroll down the page, the booking form is always visible. So as soon as the user has enough information they need to make a decision, they are immediately able to act on it.
The form itself is also very simple. At this stage, as I haven't put in any dates, Airbnb only need a couple of details to make sure it's available, so that's all they ask for. The copy directly below the form gives you more insight into what's going to happen when you fill it in. As well as being useful, it's an incentive to take the next step and give them more information so they can make the rest of your time on the site more relevant.
The number of views the property has had recently is a ploy at making it seem scarce, and therefore more desirable. Clever.
Property details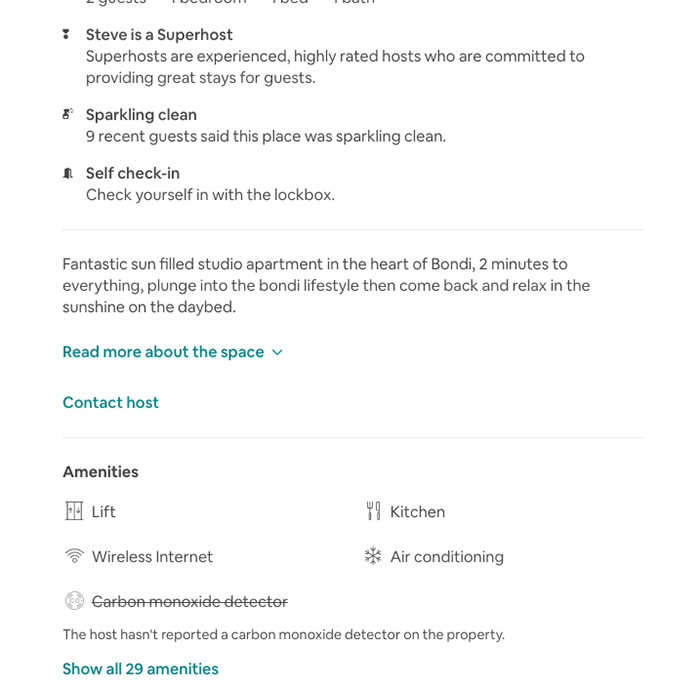 Next we get some useful details about the property.
Hosts write their own descriptions and so, to a degree, Airbnb are at their mercy to help influence the booking, but they've taken a few simple steps to claim back some power and ensure that useful information is provided to the user.

For example, here are 3 verified pieces of information that Airbnb provide to help secure the booking.
Using information from the reviews they've generated from previous guests, they can inform future guests that the host does a great job of making them feel comfortable, and that others have said the place is clean – two often important pieces of information.
The self check-in box also puts at ease people who worry about having to coordinate being at the property at the same time as the host in order to get access.
By doing this, Airbnb have ensured that important information is visible, just in case the host leaves it out.

Then there's a summary about the property, written by the host themselves. The link to more information about the property opens up to several more paragraphs, and while they are also written by the host, Airbnb set the structure to ensure the important aspects are covered. That structure covers
Information about the space
Guest access
Other things to note
FAQs
A request for more information can be made by contacting the host.

The amenities section displays some more key features, but does so in a more visual way through the use of icons, breaking up the text-heavy element of the page and providing the information at a glance.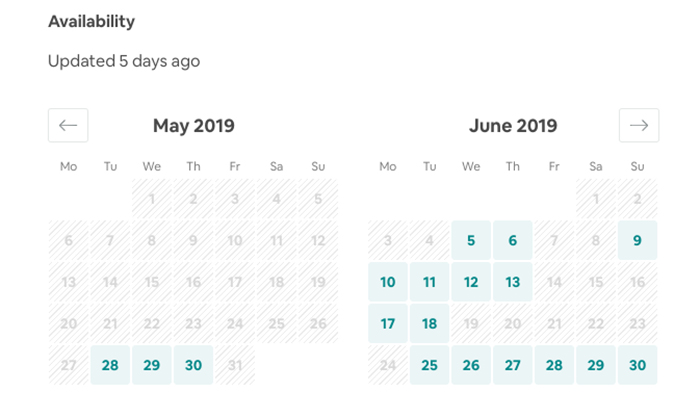 In case you're unsure of your dates and are in love with the space, the availability section of the site helps you to see when you can book the property so you can plan your trip around it. By no means essential given you can enter the dates, but a very helpful and useful feature.
Reviews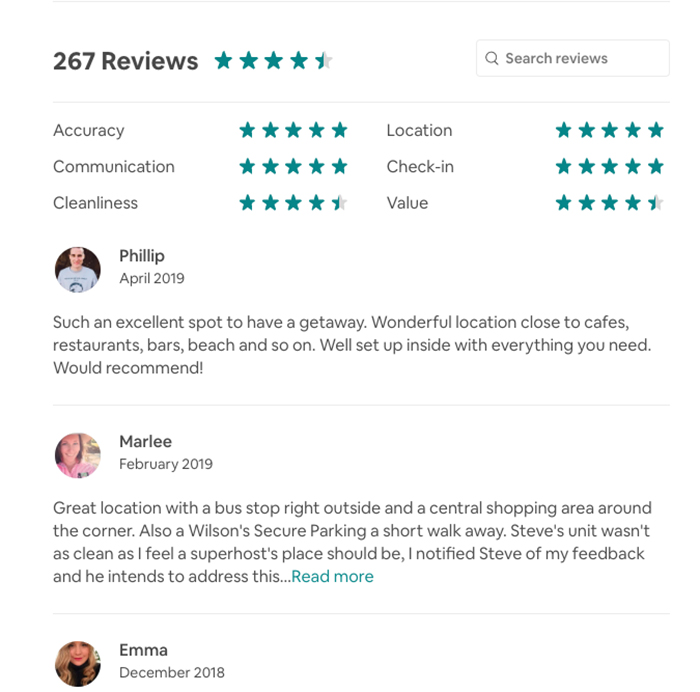 Next we get into a section that Airbnb does famously well – reviews.
Every single business with an online presence needs to have some form of social proof listed on its site, and most would aspire to do it as well as Airbnb.
The summary section is helpful, though it surprises me that it can't be used as an option when filtering search results. Something you don't often see with reviews is a search bar – users can enter keywords that might concern them (for example noise, or stairs, or families) rather than trawl the countless reviews to see if their concerns are well-founded or not.
Supplier information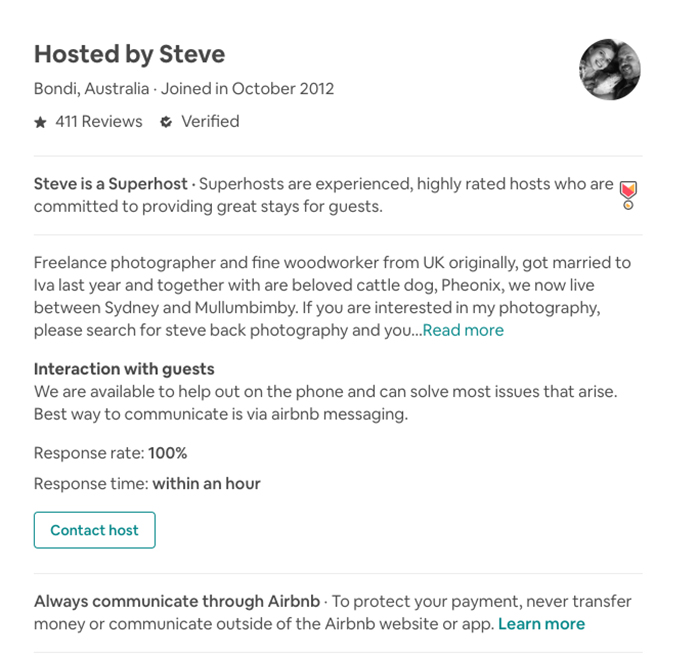 Next we have some information about the host. This seems as good a place as any for it on the page. For some people, the host can be an important aspect of the trip. And like most marketplace sites, the buyer often wants information about the supplier to know if what's on the page can be trusted.
The information that Airbnb highlights here is interesting (as most of it is, again, written by the host). The key things they provide:
How long have they been using Airbnb?
Are they verified?
How many reviews have they received?
How often and quickly do they respond to messages?
These all help put a user at ease and reduce friction when booking. The rest of it is then up to the host to make sure they have a profile that people feel they can connect to so that they want to stay there.
Related information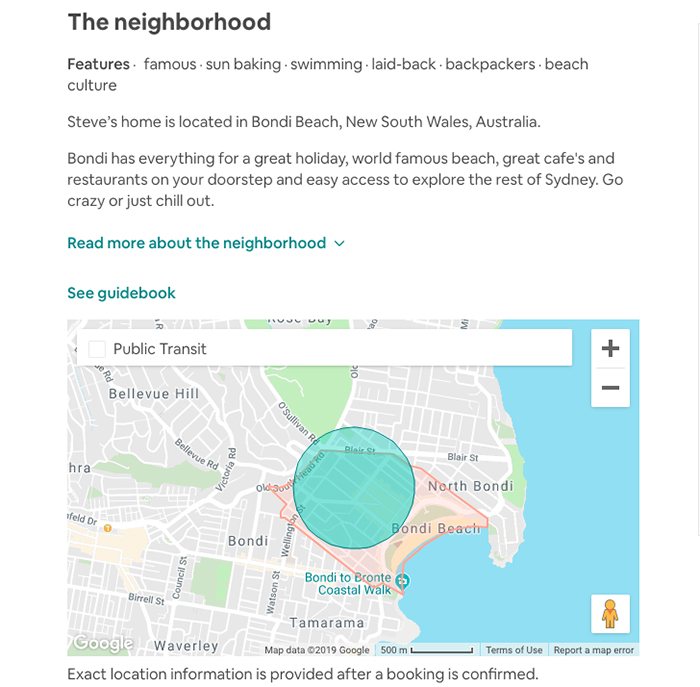 For the people who haven't decided where specifically in a city they want to stay, Airbnb provide some more information about the location of the property.
This can be invaluable content for someone who doesn't know much about their destination, especially when Airbnb's premise is that they want you to live like a local. It's almost like trying to decide where you want to live, even if only for a short period of time.
Most people, you would expect, will have done this research early on, but it certainly can't hurt to display at this stage. The fact that Airbnb have this content at all is a testament to their commitment of giving their users the feeling of living somewhere rather than visiting it. Not many businesses go above and beyond in this way.
Terms & conditions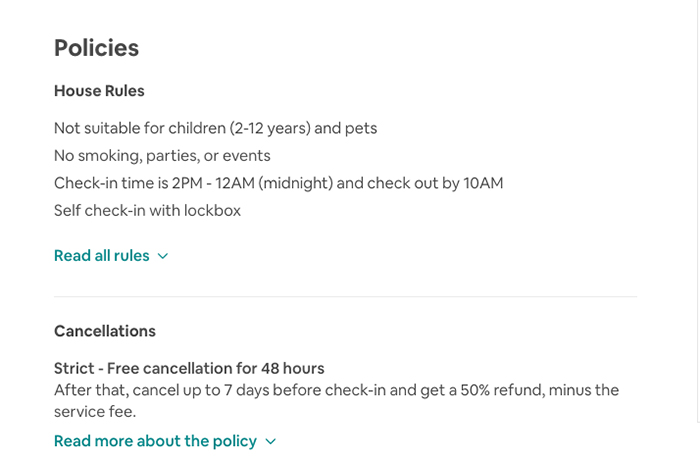 The last bits of information that are unique to this page are the policies, and the Ts and Cs. This is pretty standard for most product pages, but Airbnb do it well. As with other sections, they provide guidelines for the host and let them fill in the rest.
Similar products

Like this product? Here are some more that you may want to consider.
It'a a classic website feature that not enough businesses make the most of in my opinion. If a user has shown some interest in a particular product, why not show them similar ones that meet relevant criteria?
Early cross-sell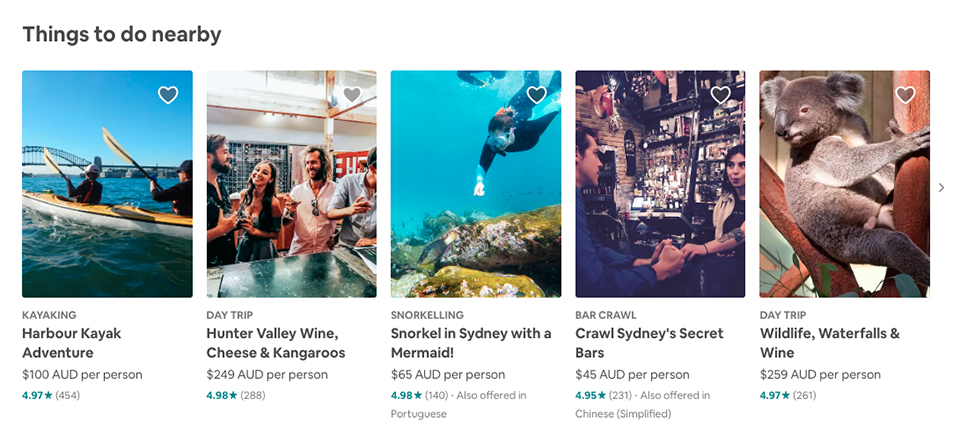 Lastly, there's a cross-sell option into experiences.
It usually best to do this when someone has committed to making a purchase, but it doesn't hurt to get them thinking about it at this stage of the process and see what activities are available.
Product page summary
So to breakdown how the page looks:
Imagery
Essential information & booking
Additional product information
Availability
Reviews
Supplier information (Host)
Related information (Neighbourhood)
Policies / Ts and Cs
Related products
Cross sell products
That's a pretty solid looking page structure in my opinion.
Website conclusion
As a digital platform, Airbnb rely almost entirely on their website to make bookings and sales.
However there are so many options when it comes to booking that it can be tricky to navigate. I think they could do better when users aren't logged in, and the personalisation elements are a nice touch but not a complete game changer.
Having said that, their product page is near perfect, so when a user has a better idea of what they're after, they do a pretty good job of funnelling them towards a sale.
Paid search
Airbnb are running a big operation on paid search.
According to SimilarWeb, approximately 12% of Airbnb.com.au's total website traffic is via paid search. It is also worth noting that paid search is capturing one website visitor for every two visitors captured from organic search – in my experience, this is fairly typical of late-stage high growth companies that operate larger websites.
To make the most of my paid search strategy analysis, and to ensure we're focusing our attention on their most important messaging, keywords, ads and landing pages, I used a few different tools in conjunction to extract as much of this information as possible and then classify it.
Search terms
Using SEMRush, I exported 50,000 of Airbnb's higher volume search terms and put these into a pivot table, sorting this by how many times each search term appeared. I also obtained a few values for each search term like average CPC, estimated traffic and average position:

You can view the sheet here, as well as the raw keyword data if you're interested in doing your own analysis.
It's quite an extensive sheet, but one of the best paid search competitor analysis tools I've found for larger accounts, as it unpacks exactly what search terms are driving users to what landing pages.
Here are a few important insights:
1. Brand vs Non-brand spend
Brand spend, defined as spend on search terms like 'airbnb', 'airbnb places' and 'melbourne airbnb', represents an estimated 10% of detected search volume and 7.5% of ad spend.
Because Airbnb's brand is such that competitors like Home Away are bidding on their brand name, it's important Airbnb continue to protect these terms with spend.
2. Competitor spend
Competitor spend, for example terms like home 'stayz tasmania' and 'homeaway melbourne', appears to be very small – less than 1% or 2% from my calculations.
3. Destination keywords
Not surprisingly, the bulk of Airbnb's paid search traffic and spend is coming from destination-related terms, such as 'singapore accommodation'.
According to the data from SEMRush, 73% of approximate ad spend goes to search terms containing 'accommodation'. This is high, and suggests that the term 'accommodation' best reflects how users are searching and what resonates with their target audience, instead of language like 'home sharing' or 'holiday home'.
Here is a breakdown of spend based on other singular words:
Hotel (includes hotels): 5%
Apartment (includes apartments): 4%
New: 2%
Rent: 2%
Cheap: 1%
Stay: 1%
Holiday: 1%
House: 1%
Book: 0.50
Short: 0.4%
place (includes places): 0.09%
To be clear, 5% of estimated spend includes phrases that include the word 'hotel', not 5% of spend is attributable to the 'hotel' as an 'exact match'. This applies to all other singular words listed above.
It's particularly interesting that Airbnb's spend allocated to accommodation-themed keywords significantly outweighs spend on hotel-related keywords. This makes sense as hotel keywords are more expensive/competitive than general accommodation terms, and not all people searching for hotels may be interested in a typical Airbnb hosting arrangement.
So why is Airbnb bidding on accommodation terms at all then?
I suspect it comes down to volume. It's unlikely there is sufficient volume from closely related search terms in isolation, and as a result, Airbnb likely need to leverage auxiliary keywords to reach lofty growth targets.
I also ran all words through a word cloud visualisation tool where the size of each word is representative of the frequency in which it appears in the search terms that triggered an Airbnb ad: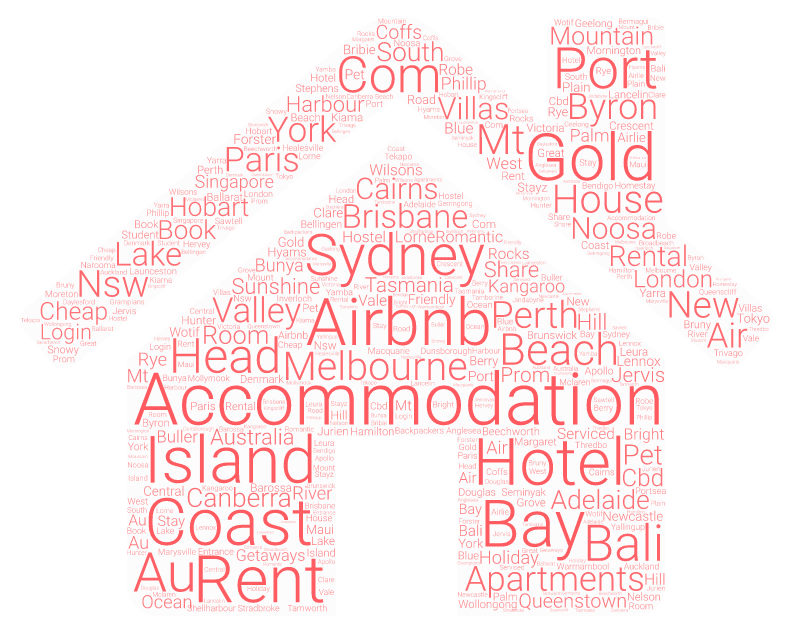 In addition to the common travel related words like accommodation and rent, I found the word cloud to be useful for gauging what destination related words are typical of people's searches, for example, 'Cbd', 'valley', 'coastal' and central'.
Ad messaging
From an export of Airbnb's top 50,000 ads, I stripped out the headlines from each and used the headlines to create a pivot table, allowing the headlines to be sorted by the frequency for which they appear across their ads.
Headlines
The most frequently used headlines are below: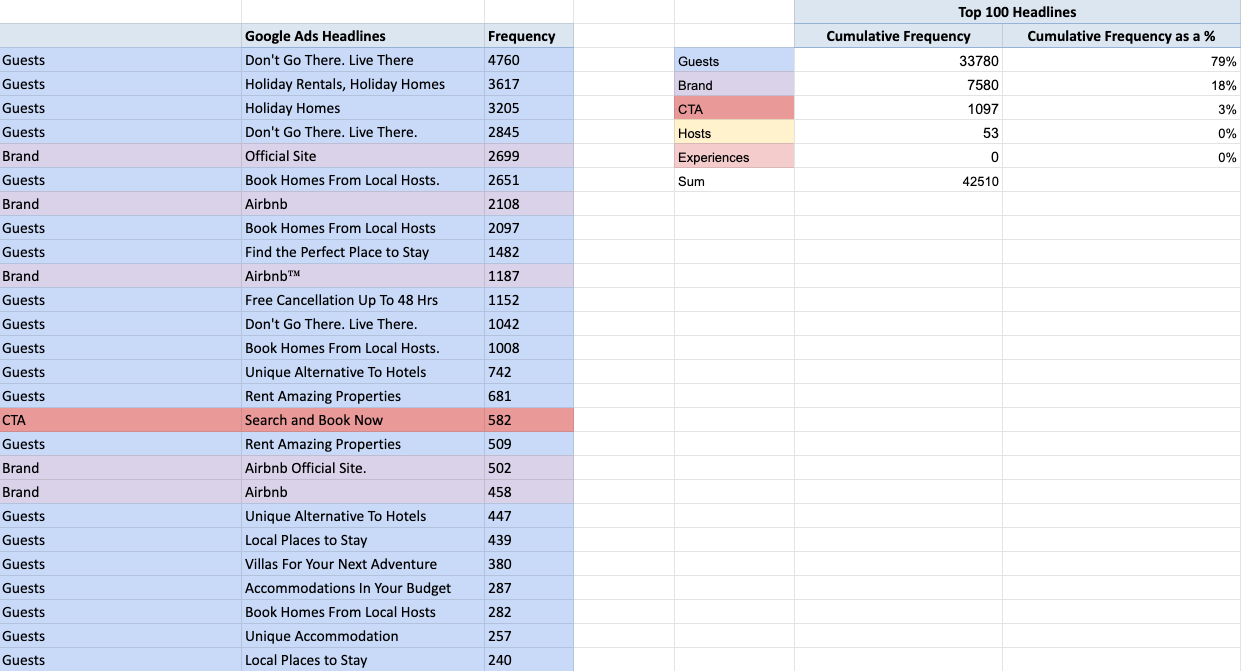 And below is a breakdown of one of their ads which showcases how the headlines appear in the search results:

Guests are definitely the key target of their paid search strategy.
According to our headline analysis, key messaging for guests includes:
Don't Go There. Live There
Holiday Rentals, Holiday Homes
Book Homes From Local Hosts
Find the Perfect Place to Stay
Free Cancellation Up To 48 Hrs
For branded search terms, such as "Airbnb Sydney CBD", Airbnb put greater emphasis on the appeal of staying with a local host:

Whereas for competitive non-branded terms like "Perth accommodation" or "Brisbane accommodation apartments", Airbnb are more inclined to showcase their starting price or one of their points of difference like their cancellation period.


Stayz

HomeAway

Ultimately, the main takeaway I have in terms of how Airbnb's messaging compares to competitors like Stayz and HomeAway is that Airbnb appears to be placing more emphasis on pricing as a point of difference and more focus on their USPs in ad headlines, like '24/7 Customer Service' and 'Free Cancellation Up To 48 Hrs' or more emotional messaging like 'Don't Go There. Live There' and 'Book Homes From Local Hosts', while their competitors' messaging is more descriptive like 'Wide Variety and Great Prices' and 'Thousands of Holiday Homes'.
Calls to action
In terms of call to actions, Airbnb's most frequently used call-to-action in headlines is 'Search and Book Now'.
Other frequently used headlines are:
Book Instantly Online
Book Now
Book & Save on Airbnb
Book Here
Airbnb's call-to-actions place greater emphasis on booking than they do on browsing/search. This is a smart play from Airbnb – their conversion-oriented messaging helps to prioritise their paid search spend towards people who are ready to book, as people looking to browse are less inclined to click on ads that target people further down the marketing funnel.
Taking a step back, from the 50,000 ads I exported there are over 11,900 headlines, of which 6,100 are unique and are not used in any of their other ads. If it's not already clear, Airbnb are using an extensive library of headlines, and this is because most of their ads are tailored specifically to travel destinations.
To do this, Airbnb ensures there is a close alignment between their user's search queries as well as their ads and landing pages. In practice, this means that someone who searches for 'phi phi islands accommodation' triggers an Airbnb ad that speaks to phi phi island accommodation specifically, and directs the user to a landing page that focuses specifically on phi phi island accommodation with upcoming availability.
This is a great way to achieve higher ad rank by ensuring great alignment between your ad copy, landing page experience and most importantly, the user's search query.
To achieve this, they've either used Dynamic Keyword Insertion or have closely tailored ad groups that have strong alignment between keywords and ads.
We'll come back to this shortly, but this is a great example of message-matching at scale.
Landing pages
Like what we saw with Airbnb's search ads, from an export of 50,000 Airbnb ads, there were 8,000 unique URLs. Due to the sheer number of landing pages at play, it's clear that Airbnb are either directing people to their expansive website or dynamically-generated landing pages.
Airbnb are doing a combination.
For some locations, such as Phi Phi Islands, Airbnb are directing people to minimal navigation, shorter-form landing pages:
as well as destination website pages: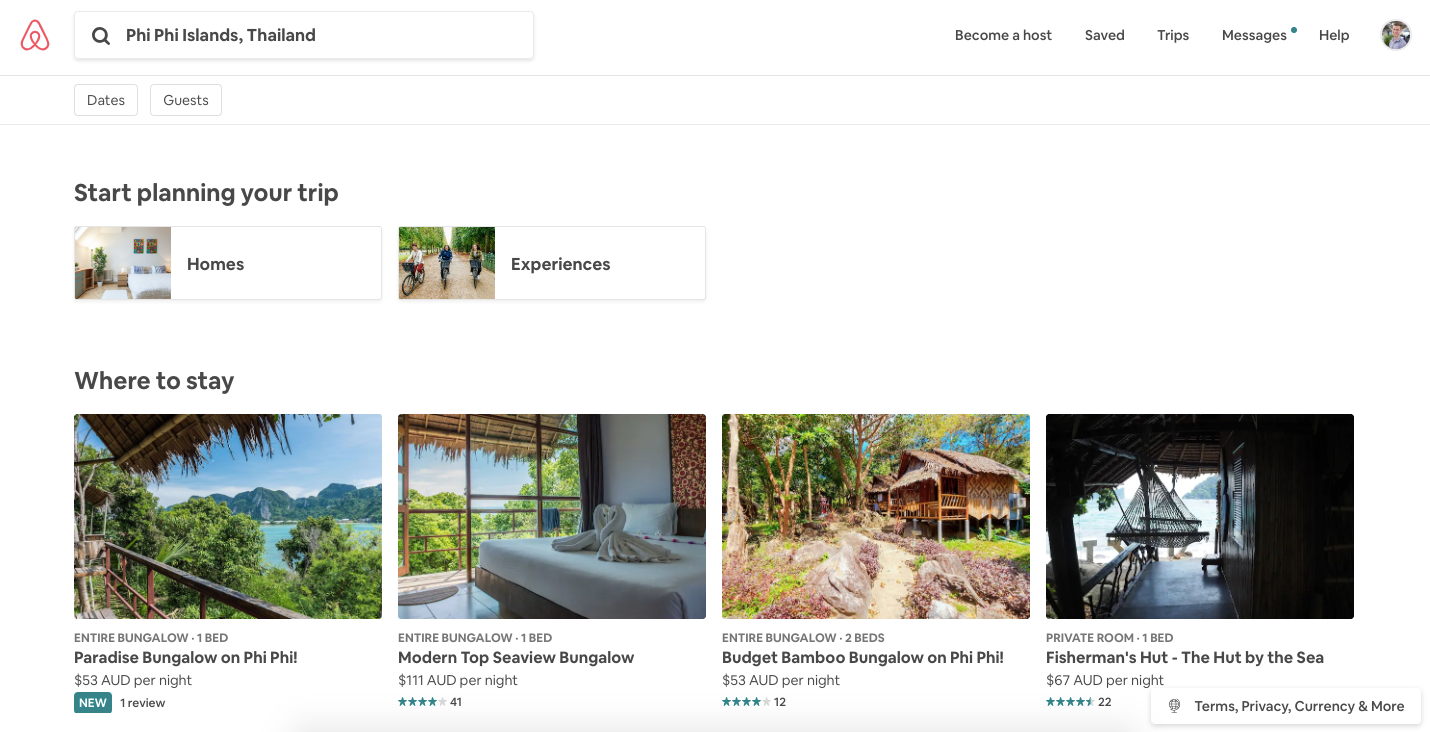 From the landing page URL report, any URLs that contain /a/ are indicative of their shorter-form location landing pages, while /s/ is indicative of location website pages – and Airbnb are actively using a combination of both for high-interest locations.
The following table summarises the split between the destination landing pages vs destination website pages:
Page Type
Signifier
Cumulative Frequency
Frequency as a % of total
live pages
Destination Landing Page
contains /a/
19,757
75.3%
Destination Website Page
contains /s/
6,495
24.7%
Destination landing pages represent 75% of the pages to which Airbnb are directing users. Ideally, we'd look at this in terms of a breakdown of spend, but unfortunately there is no way to accurately gauge Airbnb's spend, so we're best using frequency as an indicator of spend.
For the most part, Airbnb use a hero image that 'message-matches' the location the user is interested in visiting: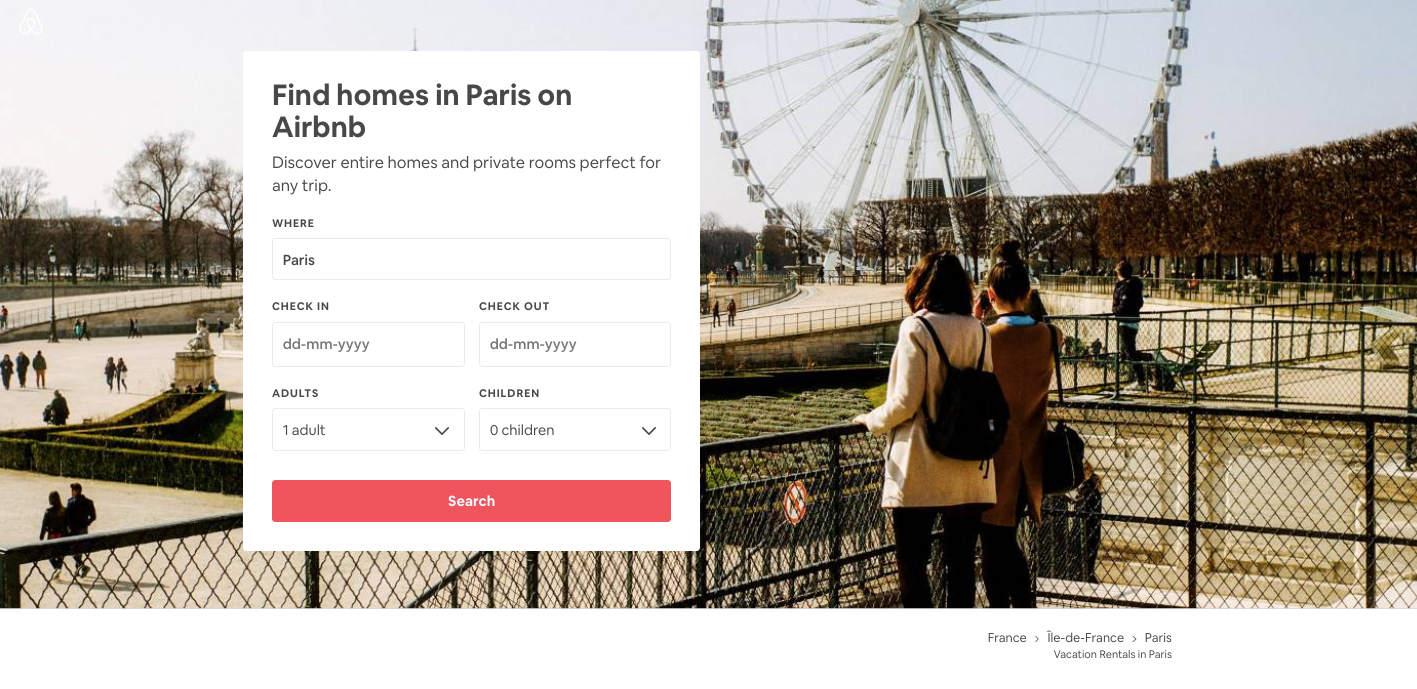 However, this is not the case for all location landing pages.
There are several high-frequency pages like Canberra and Adelaide that, at the time of writing, do not feature a location-specific hero image and instead, feature a nondescript apartment image:

This is an area of improvement if they've got data to suggest a location-specific background image corresponds to a higher conversion rate.
I particularly like how the 'where' field in the hero form is pre-populated with the destination based on the user's initial search query.
It's worth noting that trip information provided in the hero form is stored, such as travel duration or location, if the user bounces but returns to the homepage, their trip details are stored in their browser cookie:

I would expect that the majority of users do not purchase in the same session, so prompting returning users to continue to browse available homes in their cities of interest is a nice touch.
Beyond the hero section, the rest of the page is slim, but tailored to the user based on their destination of interest: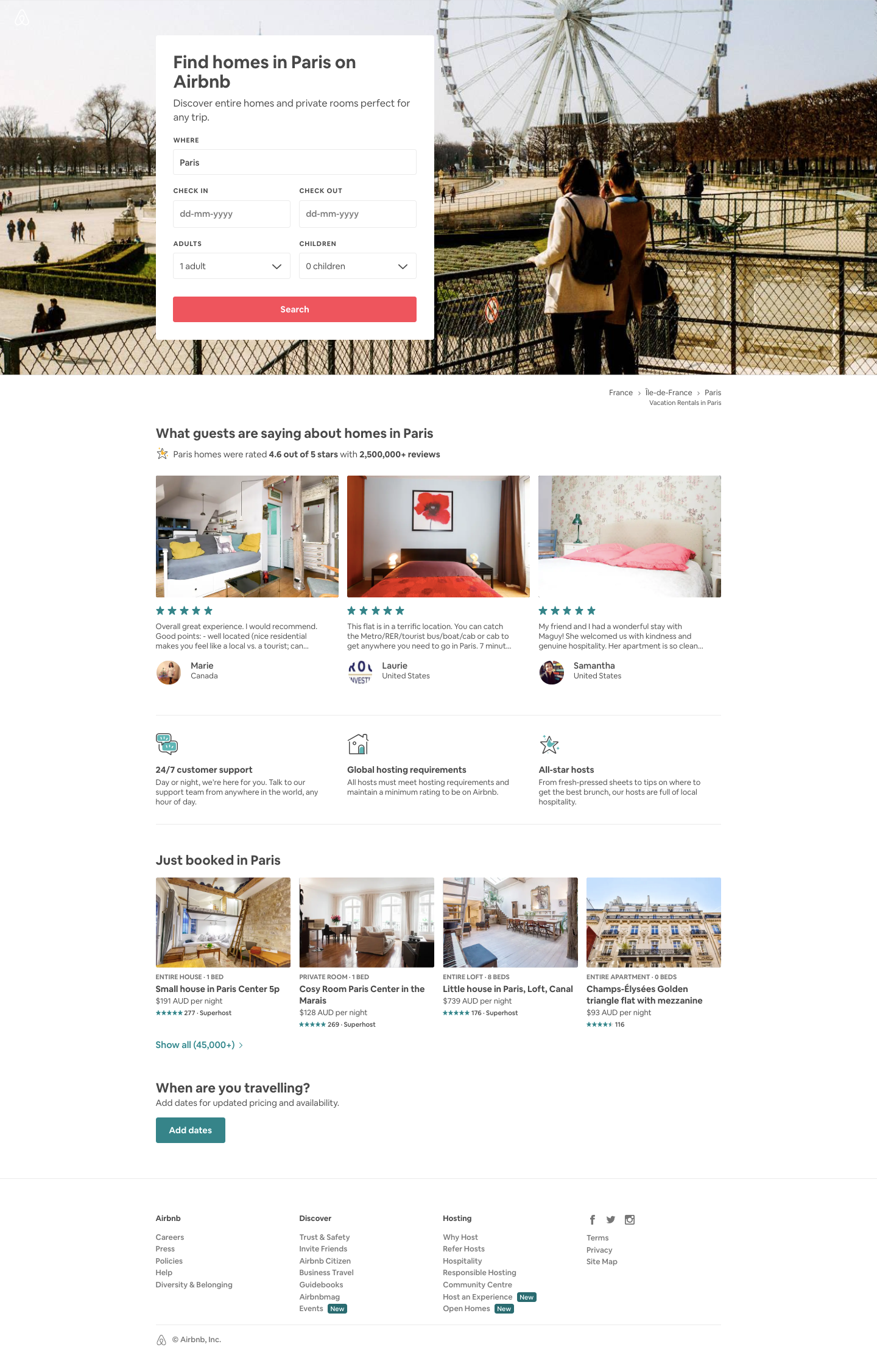 Airbnb feature highly-rated homes that have upcoming availability and homes that have recently been booked. What's effective about these sections is how they leverage social proof, both in terms of ratings (supports logical decision making) and testimonials (supports emotional decision making) to reinforce their home recommendations.
This is also a testament to the volume of home ratings and testimonials Airbnb have collected, because for this approach to be successful requires highly rated homes and glowing testimonials, across multiple cities, and multiple countries, while also aiming to tailor the results to users based on the travel duration and location, and potentially factors like affluence as well.
Airbnb also make a point of their key USPs, which include: 24/7 customer service, global housing requirements compliance, and all star hosts.
The final call to action is also positioned with low intent language: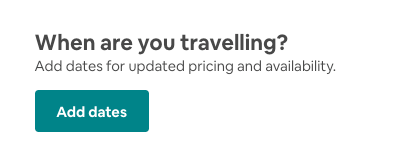 Ultimately, I like how Airbnb have approach their landing page strategy and I'm sure the breath of dynamically generated pages as well as their recommendation engine was resource intensive. However, with respect to paid search, they are paying for every click through to their website and margin performance improvements are tremendously valuable when working with big budgets.
Paid search summary
Airbnb have an extensive paid search account with the majority of the spend going towards terms that feature "accommodation" as a keyword. This makes sense given how closely it aligns to their service offering, but they don't rest on their laurels.
Their ad copy speaks to their unique points of difference and so stands out from their competitors, which one would assume would lead to significantly better performance.
When it comes to landing pages, they mostly feature local imagery to help provide a more relevant result, and it would seem they are testing short form pages against longer ones to see which converts better. Either way, the content is highly relevant to the search term and the location which certainly can't hurt.
Email marketing
One of the crucial components of Airbnb's email marketing strategy is their browser abandonment sequence. This sequence is triggered when a user logged into the website starts looking at a city they wish to visit, or particular homes in that city, but has not proceeded to check-out.
Airbnb are able to match up the user session with your email address based on your browser cookie, and they then trigger an email sequence that aims to get you back into your search and ultimately book your next stay.
Browser abandonment sequence
Here's an example of an email I received after looking at some places in Santa Monica:

Let's breakdown this email section by section, there is a lot of things Airbnb are doing well: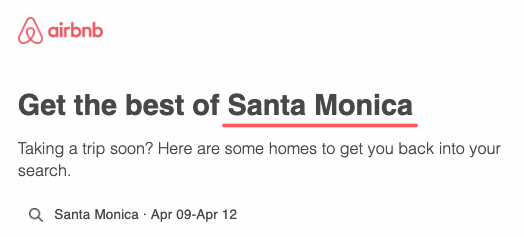 The heading and email subject line is tailored to a city I browsed and the dates I searched for. The search box is a deeplink that takes me directly to the associated search results for Santa Monica 9-12th April.

Airbnb recognise some travel credit associated with my account and insert this into the email to remind me.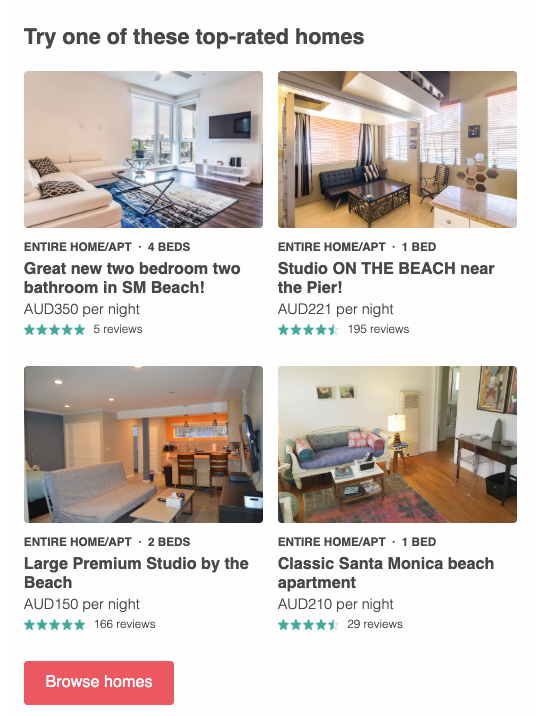 Airbnb showcase four 4.5 star homes in Santa Monica that have availability for the dates I selected. Would be exceptional if Airbnb are basing these recommendations based on average cost per night of previous bookings or the booking value of similar users. Recommendations could also be based on the style of home, studio apartment versus family friendly options, or what amenities are associated with my previous bookings, for example, am I always booking places that have wifi or a pool.
Also worth noting the low intent call-to-action. 'browse homes'. From this email Airbnb are trying to get me back to their website. Once I'm on their site and browsing, the call-to-action shifts to making a booking.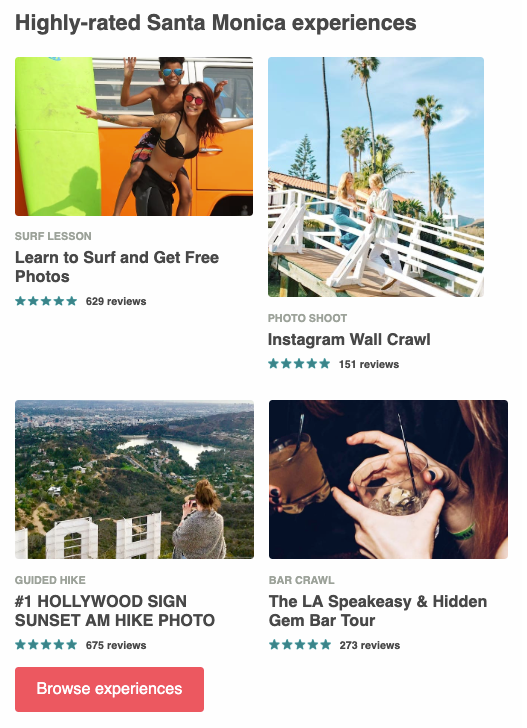 The experiences section speaks to Airbnb moving horizontally to become a one-stop shop for travellers. If I've already booked accommodation, this section may still be of interest, or if I haven't booked accommodation, this is another angle by which I could be re-excited by my interest in visiting Santa Monica.
Again, Airbnb's call-to-action for the experiences section of the email is low-commitment, simply 'Browse Experiences'.
Zooming out, Airbnb have shared that, not surprisingly, their email content is tailored based on information they have about the user. However, this is not to say that their email strategy is leveraging all the data they have available, as it's important they don't overshare:
"We make use of data in every email that we send. Be it data from our wish lists, search trends, seasonality, there is a component of every email that is rooted within data. As you can imagine we have a lot of different data points on our users. With email, in general, you always have to walk that line about what data would be beneficial to use and what comes along as too "big brother".
Jordie van Rijn, Head of Email Marketing Airbnb
The above is what Airbnb's prior Head of Email Marketing had to say about the art of personalisation while ensuring that they don't end up intimidating the recipient. Without a doubt, this is one of the big issues data-centric companies are battling on their quest to maximising return on marketing investment while maintaining the trust of their most valued customers – particularly in light of growing concerns regarding what data is being collected by organisations and how this information is being used.
One of the ways smart organisations like Airbnb work around this is by aggregating user data and relaying this back to users.
For example, in a separate browser abandonment series of emails that was triggered by me looking at Los Angeles accommodation, Airbnb reference in the subject line and hero section of the email that people travelling to Los Angeles typically book their accommodation at least 2 months prior:

Airbnb astutely sent me this email 2 months and 13 days prior to the travel dates I specified as part of my search.
Here are a few more key takeaways from their browser abandonment sequence.
1. Email alerts to notify you of discounts offered by hosts: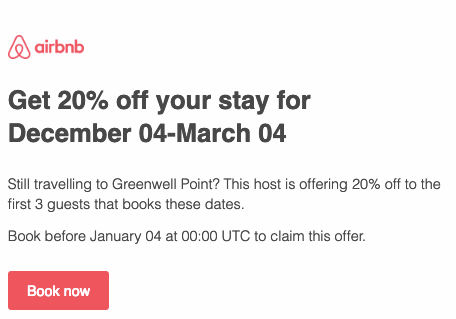 2. Some browser abandonment emails feature specific homes you looked at in the hero section and insert the home name into the email subject line, while other emails focus more on the destination and instead showcase a grid of different available homes: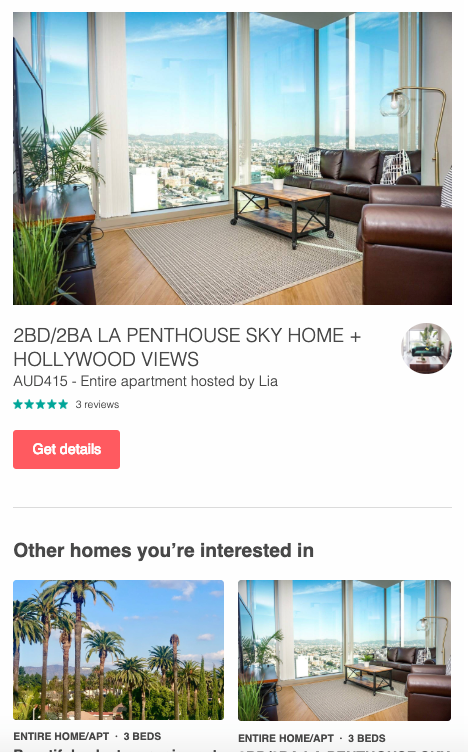 Host acquisition
In terms of their host acquisition strategy, they use email automation to communicate potential earnings to previous guests:

This is particularly resourceful as past guests are already familiar with the Airbnb brand, their processes and the benefits. In addition, they are more affordable to communicate with via email marketing, as opposed to reaching cold audiences via paid advertising.
Building on this approach, I would also be looking to remarket to anyone that opened the email via Facebook, Display, or Gmail ads with additional information or incentives for them to register as a host.
Let's look at a few more interesting email marketing use-cases.
Booking confirmation
Once a user completes a booking, Airbnb use the confirmation email to increase the value of this customer or transaction in two ways:
1. Incentivising referrals
Referrals are typically one of the most reliable sources of new customers. Airbnb offer $15 off to guest referrals (discount) and $200 for a successful host referral (incentive).
2. Cross-sells
As we've alluded to earlier in the article, Airbnb are expanding horizontally into experiences. Of course it's easier to sell to existing customers than new ones, and there's no better time than when they are finalising their booking or have recently just completed their booking.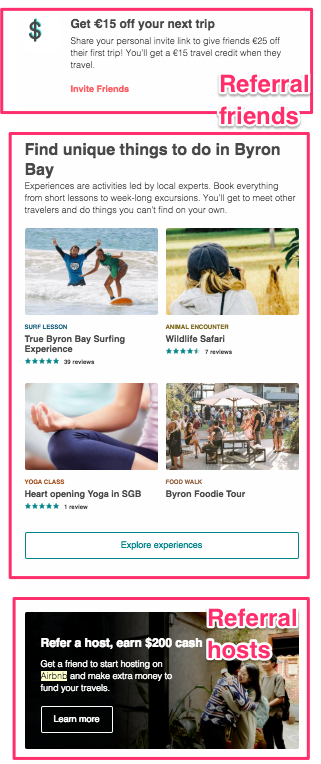 Itinerary email
When you arrive in your new destination, Airbnb send a personalised email containing Airbnb Experiences that may be of interest, 'disguised' as an itinerary. These experiences are presumably curated based on their recommendation engine, and this email can be dispatched to all users for which there are adequate Airbnb Experiences in their destination to populate the email.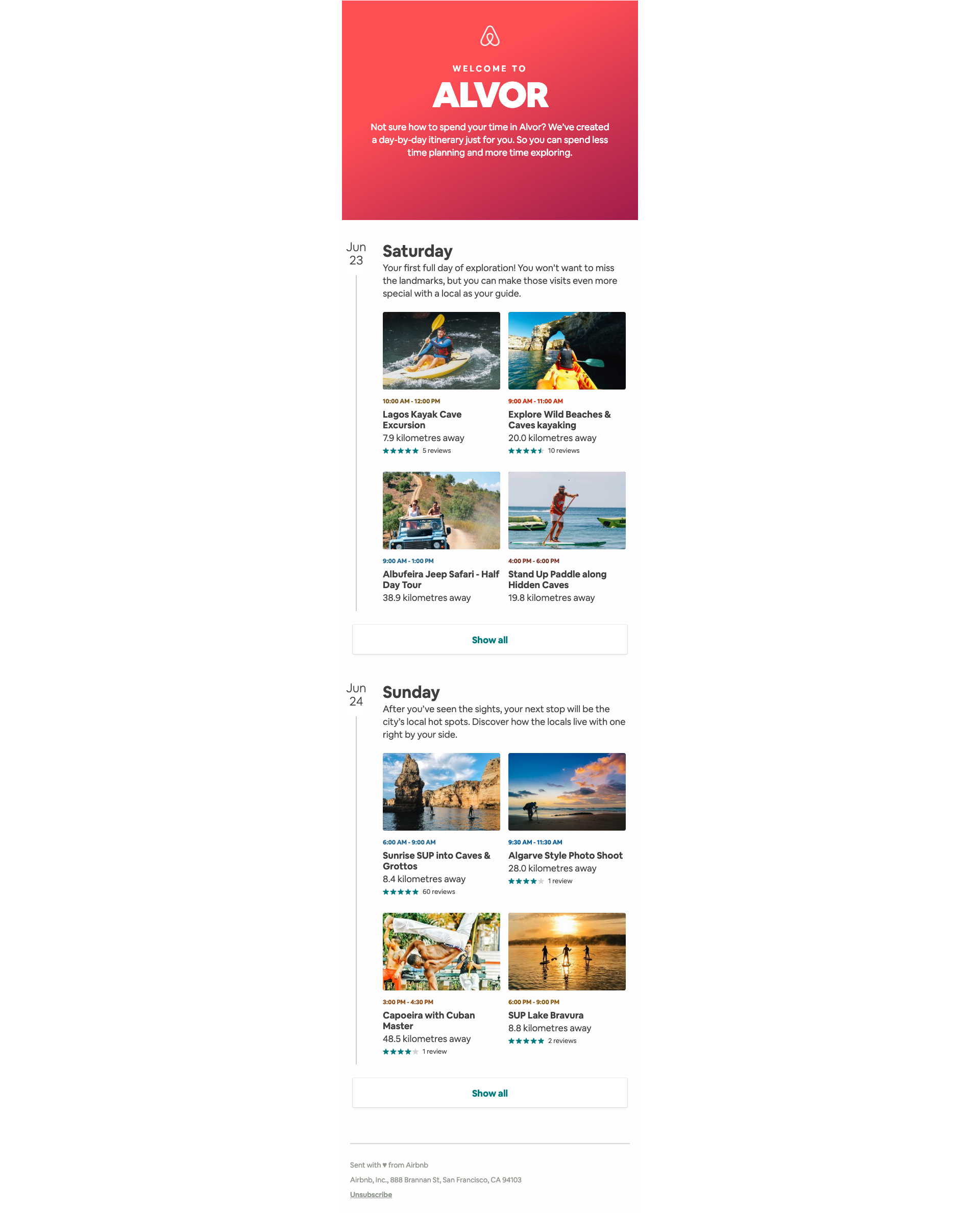 You can see another variation of this email here.
Destination emails
Airbnb routinely showcase some of the amazing cities and trip experiences with curated emails that narrow down on one popular city or trip type.
Here's a Buenos Aires example:

And some other locations they've showcased as well include:


Similarly, they also send these destination emails based on types of destinations, instead of the location-specific examples above.
Here are two more examples:
Email marketing conclusion
Outside of the obvious objectives, like increasing reservations and prompting a customer to book their next travel adventure, I suspect that one of Airbnb's objectives with this pillar of their email marketing strategy is positioning themselves as a one-stop-shop for organising a memorable holiday, so that users become familiar with not only booking their accommodation via Airbnb, but also activities while they're in a new city.
Beyond that, I would go as far to say that Airbnb want to enable their customer base to more easily be able to 'live it', as opposed to just 'seeing it', reinforcing one of their key brand messages.
Organic search
There are few industries bigger than travel, and it's hard to find other industries that provide such a huge opportunity in relation to organic search.
With it now almost unthinkable to plan a holiday or a night away from home without first doing your research on the internet, Airbnb has found their sweet spot in offering private accommodation to suit any budget or situation.
While Airbnb is estimated to be capturing close to 12% of their total website traffic through paid search channels, as detailed by Brendan, SEMrush estimates the total traffic they receive to be in the region of 1.5 million visits per month.
But how have they done this?
The primary contributing factor appears to have been through keyword ranking growth, which – as anyone who has followed our other case studies will know – can be influenced by a number of other activities, such as onsite optimisation, backlink profile, and content marketing strategies.
Keywords
When it comes to keywords, Airbnb is limited only by the locations in which they have a presence. And considering they have over 6 million listings worldwide, it's pretty safe to say that the limit is the sky for their keyword potential.
But it's not just enough to have those locations – you need to be in the top 2 to 3 organic positions on Google to really capture high traffic volumes.
Focusing on their Australian site, Airbnb primarily ranks for the following two types of keywords:
Branded – ranking for phrases that contain 'Airbnb', in particular when paired with a location.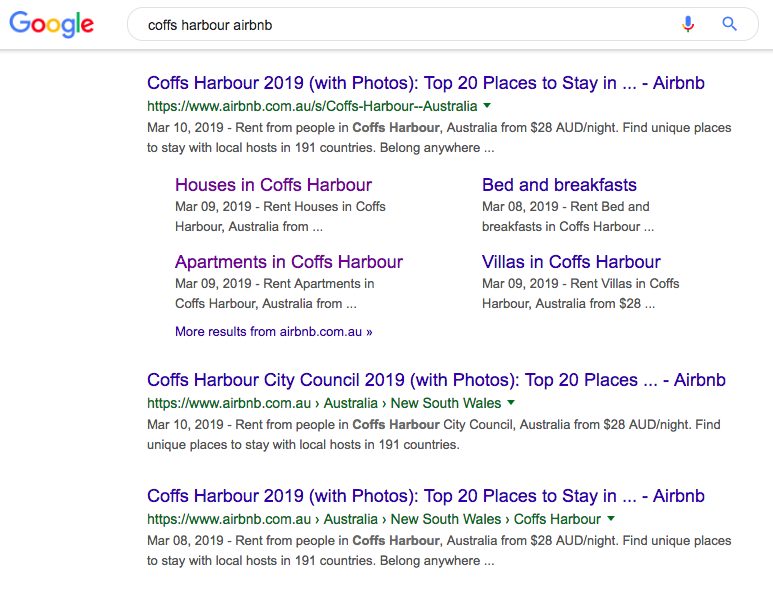 Non-branded, location-based accommodation terms – ranking for phrases that include a location they have a listing in and the term 'accommodation' or the type of accommodation, eg. 'house'.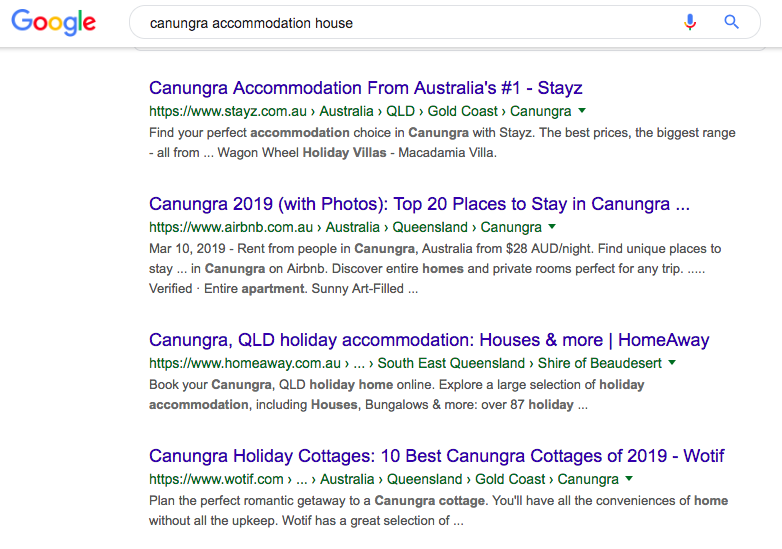 According to SEMrush, Airbnb is currently ranking for 316,900 keywords relating to travel, accommodation, and brand-based search terms. And the top performing organic keywords are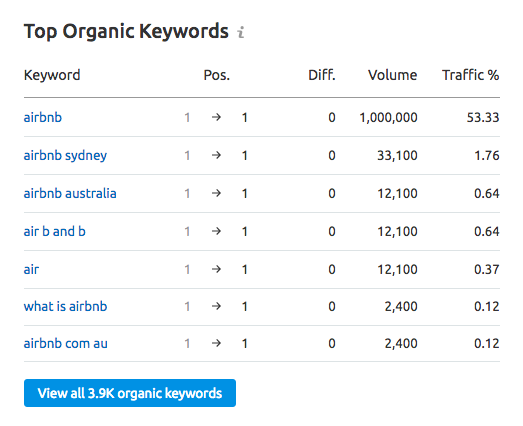 The Airbnb homepage is currently receiving 57.82% of all traffic to the website, with it ranking for 3,929 keywords. The next best-performing page is Melbourne, Australia with 1.9% of the total traffic, and 479 ranked keywords.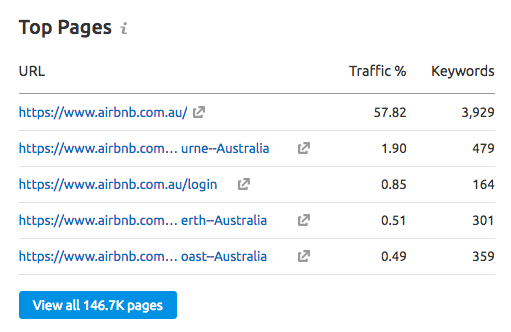 Page 1 keyword learnings
The majority of keywords ranking on page 1 for the Airbnb website are branded, with smaller volume locations ranking for generic '[location] accommodation' terms. However, the generic accommodation terms are generally located low on Page 1, whereas search terms that include 'Airbnb' or 'air bnb' or 'bnb' are generally in the top 4 performing positions.
Branded search term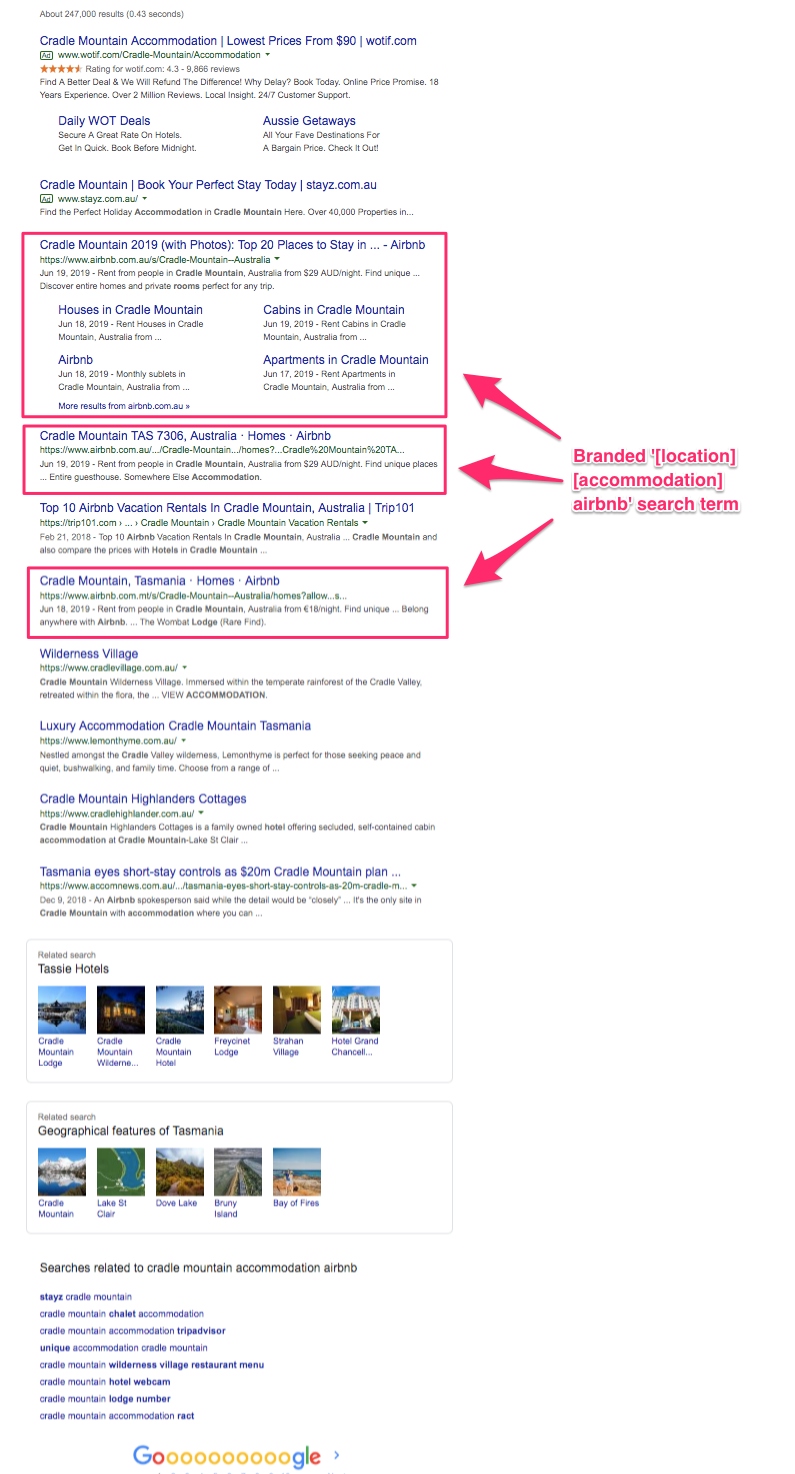 Generic search term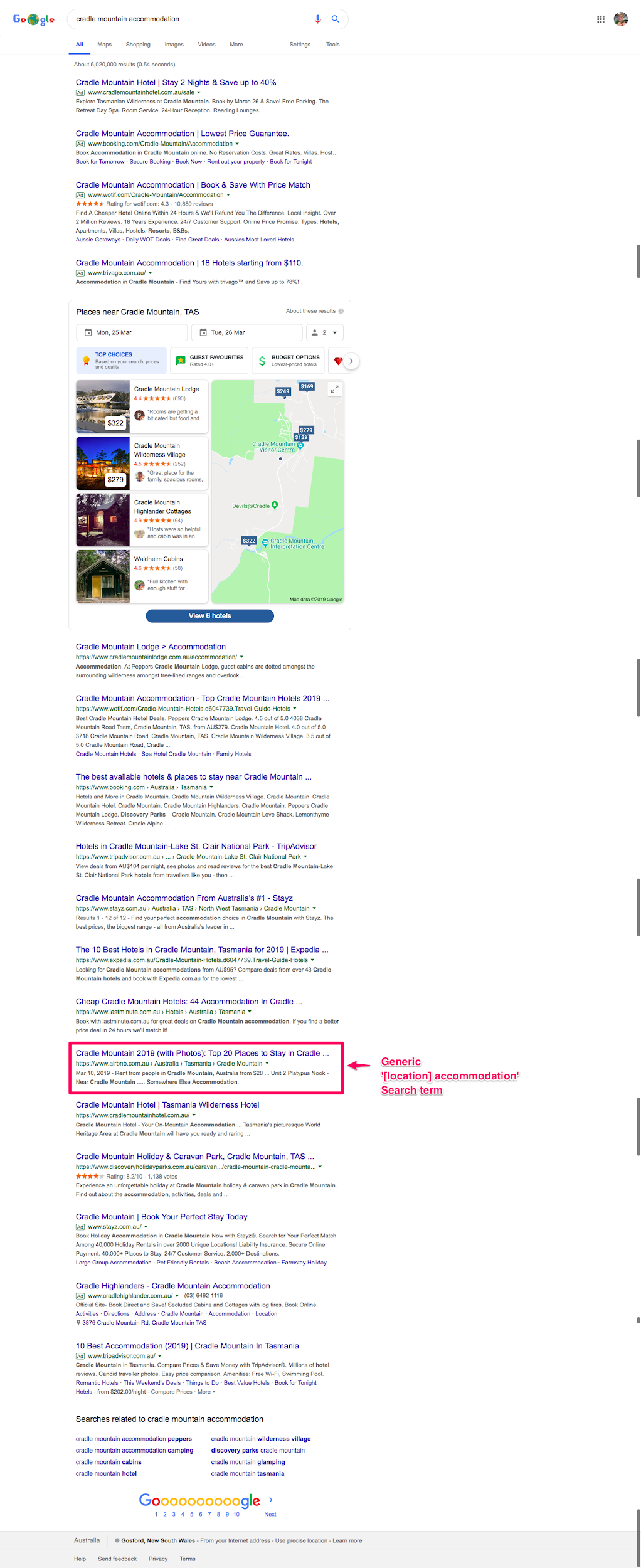 This shows that in terms of success, branded keywords currently play a huge role in their organic success, and should continue to be a primary driver of organic traffic in the future.
It also fits well with Brendan's findings on branded keyword targeting vs generic location targeting, as Airbnb is not showing higher in the organic results for generic terms and that's where they're putting the majority of their advertising budget on Google (73%).
However, at some point Airbnb will reach a cap in the amount of branded search traffic they are able to achieve. This is why improving their generic '[location] accommodation' organic keyword rankings should be a focus for the Airbnb marketing team, with a recommendation being a more aggressive content marketing strategy. We recommend a more aggressive content marketing strategy to build this organic non-branded visibility.
Organic visibility
The organic visibility of the Airbnb website can be attributed to both the growth in the number of keywords ranking to positions on page 1 of Google and the increased backlink profile of the site which assists with driving third party referral traffic to the website.

As you can see in the screenshot above of organic visibility above, the brand first began to gain keyword traction in January 2014, when traffic grew by 133% month on month.
From 2014 Airbnb experienced a consistent growth trajectory until December 2015, when over a two month period (Dec 2015 – Feb 2016) traffic grew by another 96% from 257,640 to 505,165 visits.
This again set the standard for 2 years of fairly consistent growth, until a further 'growth spurt' of 106% from 884,267 visitors in Jan 2018 to 1,829,206 visitors in Feb 2018.
This traction is reflected in the Google Trends graph for the past 5 years for the term 'airbnb'.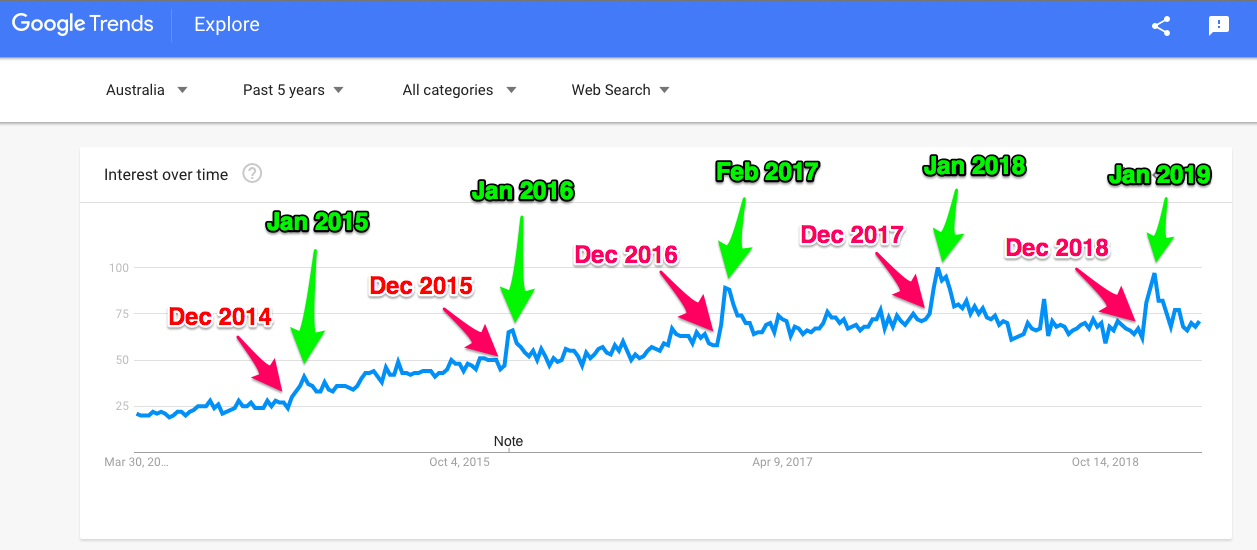 This final jump is hard to attribute solely to branded keyword growth due to the sheer amount of growth. Something I found of interest and that may have had an impact on Airbnb's 2017/2018 growth was that there were several small Google algorithm updates made in December 2017 – an unusual time for updates due to the impact these changes can have on eCommerce. This period of updates was named the 'Maccabee Update' by Search Engine Roundtable's Barry Schwartz, and according to industry experts was focused around User Experience and impactful keyword permutations.
"By far, the biggest bulk of sites that I saw got hit all had tons and tons of landing pages target massive arrays of keyword permutations. So for example, if they are a travel site, they would target all the destinations they service and also add landing pages for [destination sub name] + [activity name] and sometimes even go beyond that. If they were a service business, they would target [city name] + [service A] and then [city name] + [service B] and so on."
Barry Schwartz, Search Engine Roundtable
This may explain why Airbnb saw a huge bump – not necessarily because they aren't actioning the above strategies (because they are) but rather that in comparison to their competitors like Booking.com and Wotif.com the amount of pages they have are significantly less. This could cause a favourable result.
Another potential reason for the spike in organic traffic could be the other marketing efforts Airbnb were actioning toward the end of the 2017 – for example, it's common for organic search for a brand to increase following targeted online and offline campaigns, such as TV commercials, radio ads, and increased digital marketing budget. Without a look at Airbnb's marketing calendar and a review into their campaigns, it's hard to determine exactly what other efforts Airbnb may have actioned at the time to result in such an increase.
Of note, since February 2018 the growth trajectory has not been consistent, and there have been fairly significant dips in the monthly estimated traffic. In fact, estimated traffic year on year from February 2018 to February 2019 is down.
Competitor visibility
For such a competitive space, Airbnb is considered one of the more competitive players. From an organic search perspective, there are two primary competitors of Airbnb:

The Competitive Positioning Map above is a data visualisation based on Airbnb and its competitors' organic traffic, as well as the number of keywords that they rank for in Google's top 20 organic search results.
Note: The larger the circle, the more visibility a domain has.
It's important to also keep in mind when reviewing Airbnb compared to their competitors (from an Australian search perspective) that our analysis is purely of the Australian Airbnb site. Competitors such as Booking.com and Wotif.com only have global sites – which, while giving them larger reach and increased ranking capabilities based on backlink and content strategies, limits their ability to tailor their content to an Australian audience. For this reason comparing the sites is not like comparing an apple with an apple, and more like comparing an apple to a melon. For a more comparable analysis from a size perspective, an analysis of the US and global Airbnb approach would be necessary.
Keyword gap analysis
To break down the visibility differences between Booking.com, Wotif.com and Airbnb, we ran a keyword gap analysis through SEMrush.
As Chloe explained in our review of Xero's marketing strategy, it's important to run an SEO keyword gap analysis to know:
a) The keywords your competitors are ranking for that you are not
b) The keywords that your competitors are ranking for on page 1 that you're on page 2+.
This traction is reflected in the keyword gap analysis report when comparing the terms Booking.com and Wotif.com are ranking on page 1 of Google for, which Airbnb are not.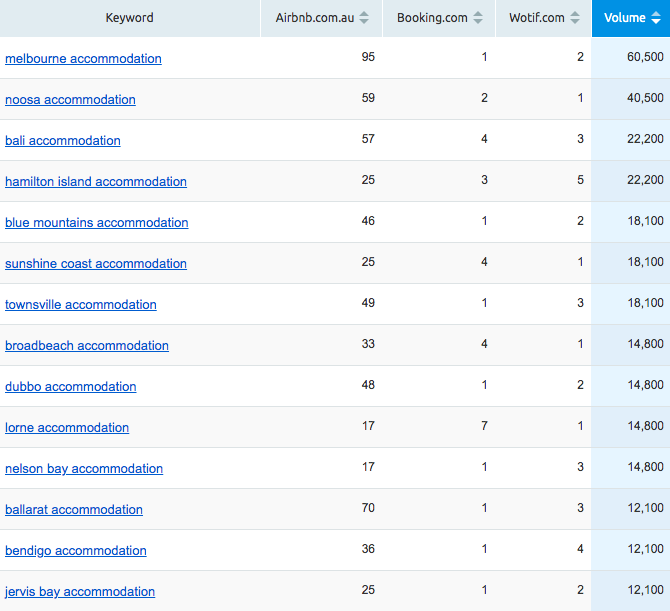 Based on this report, it's clearly evident the differences in high volume keywords between the three brands, with Airbnb largely trailing behind the other two. For example, the search term 'canberra accommodation' has an average 40,500 searches per month, with the rankings as:
Booking.com – position 1
Wotif.com – position 5
Airbnb – position 82
Airbnb seems to be cognisant of their low organic positioning for generic [location] accommodation terms, and so acts to ensure they are in position 1 of ad placements for high volume targets.
For the example of 'byron bay accommodation', Brendan found that Airbnb are bidding to be in either position 1 or position 2 of ads for related search terms, both branded and generic, and are receiving an estimated 2,326 visits per month to their ad.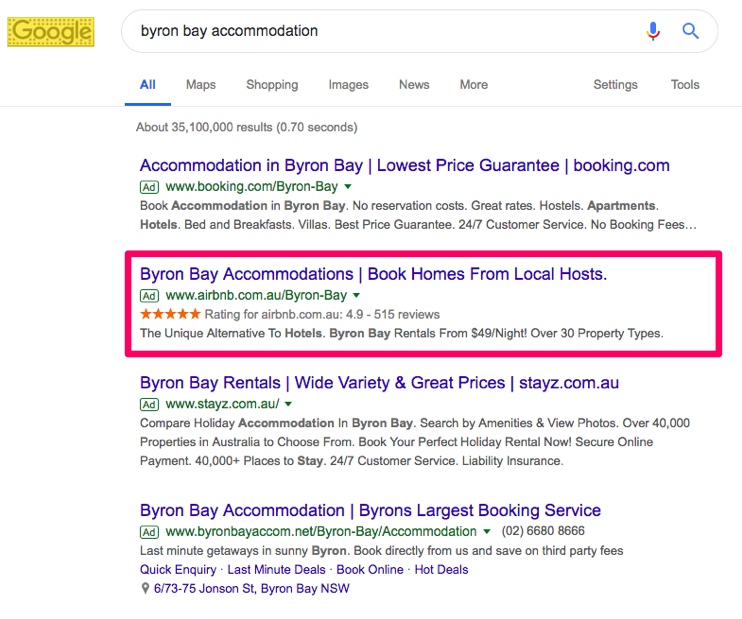 Overall, this report shows that there is still a significant amount of keyword improvements and consequent organic traffic to be gained by Airbnb, which would result in huge traffic increases similar to those seen in previous years by the brand.
Keyword ranking opportunities
There are a number of tactics Airbnb can use to continue improving their keyword rankings, such as:
A more aggressive content marketing strategy – by creating more onsite content and updating existing content to target specific locations and relevant high traffic volume keywords, Airbnb are likely to continue increasing in position across Google and thus increase their organic market share.
A new onsite optimisation strategy – I'll go into this in more detail in the next section, but currently the onsite optimisation for Title Tags and Meta Descriptions on the website follows a fairly standard template that could be improved upon by testing new and engaging meta data across key pages.
It's important to note that due to the sheer size of the site Booking.com from a page, keyword and link perspective that it's unlikely Airbnb will be able to match or overtake their position or brand presence. However with the above strategy they could certainly become more of a competitor for Wotif.com.
How did I determine this? When searching using a Site Operator on Google for the Booking.com and Wotif.com when compared to Airbnb, you get the following results:
Booking.com

Wotif.com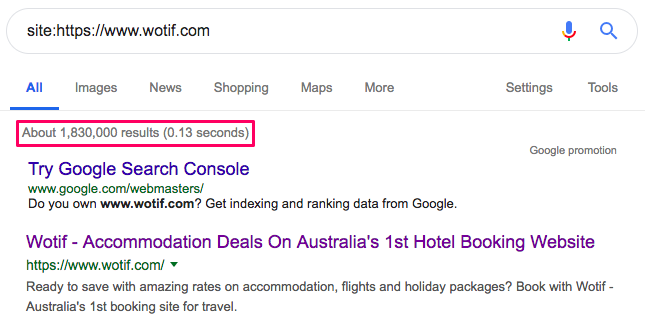 Airbnb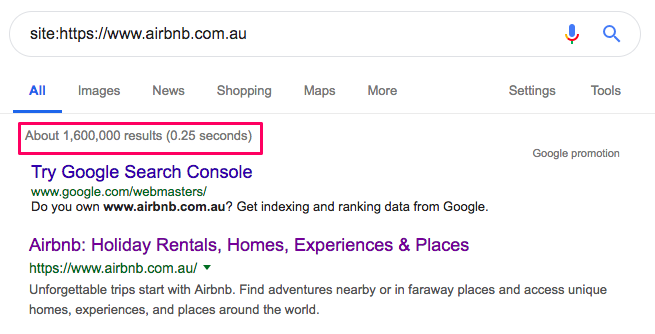 This shows that the Wotif.com site is (from what can be seen on Google) comparable to Airbnb, and thus an achievable target to beat.
Onsite optimisation
Title tags and meta descriptions
Currently the Airbnb website has a number of templated Title Tags and Meta Descriptions across their different types of location pages.
For example, one of their common Title Tags is:
[Location] 2019 (with Photos): Top 20 Places to Stay in [Location] – Holiday Rentals, Holiday Homes – Airbnb [Location], [State], [Country]For example, Coffs Harbour 2019 (with Photos): Top 20 Places to Stay in Coffs Harbour – Holiday Rentals, Holiday Homes – Airbnb Coffs Harbour, New South Wales, Australia
There are a number of similar pages on the site also ranking with similar Title Tags.
However, as this Title Tag is longer than the 60 characters allowed for by Google on Desktop search, what is actually seen by the user can be seen below: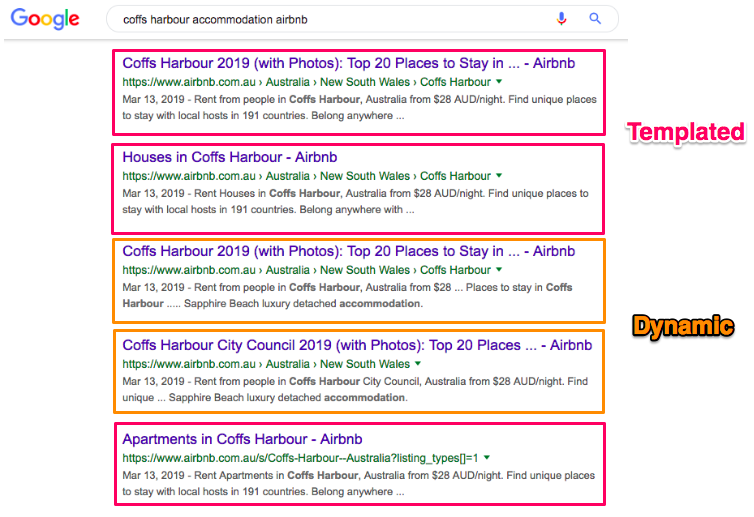 This results in a less than optimal user experience, which could be impacting their click-through and their rankings.
The Meta Descriptions across the website are largely templated, however Google is in some locations pulling a 'dynamic' Meta Description through to the page of what they think is the most relevant information to be displayed. This feature cannot be controlled by a website owner, and is solely dependent on Google's algorithm to display.
Breadcrumb structure
There is an inconsistent 'breadcrumb' structure implemented on the Airbnb website, which could also be impacting the websites organic performance.
A breadcrumb structure comes from the children's story of Hansel and Gretel, where they leave breadcrumbs as a trail to find their way home. In website talk, the breadcrumb structure of a website does the same thing – it allows Google's spiders to 'find' their way back to the most important page, whether that be the homepage, the category page of the product being viewed (eCommerce), or another primary page.
Basically it is the hierarchical structure of a website.
For example, the below is a very basic diagram of what a site structure might look like as an organisational chart for a site like Airbnb: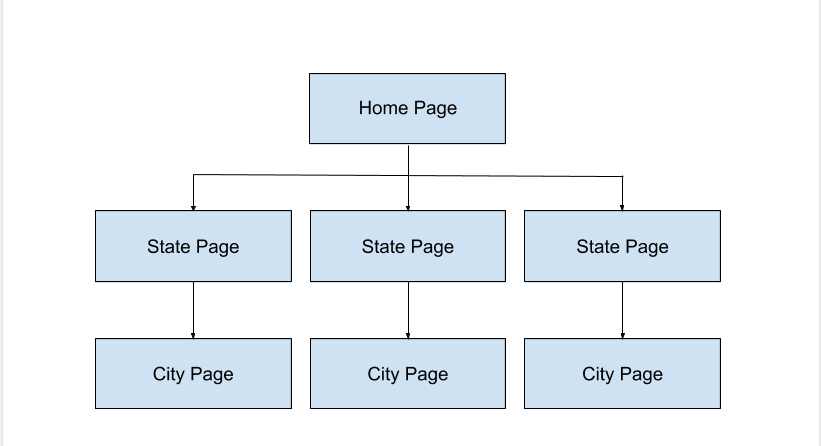 What this translates to on the website looks like this:
And when the breadcrumb structured data of the website is optimised correctly, it can pull through the breadcrumb structure to show the hierarchy in a simple and clear way for the user.

When the breadcrumb structured data is not implemented correctly, it looks instead like this

Consistency is key here as if it is not consistent, it's harder for Google's 'spider' bots to crawl the website, leading to longer indexation times and reduced impact when changes are made on the site. As for why it is not consist, it may be that the markup was not enforced across all pages, or that pages were missed when adding the markup across the site if done through a manual spreadsheet.
Onsite optimisation recommendations:
Airbnb should review and update their Title Tags and Meta Descriptions to fit the length parameters provided by Google –

Title Tag – max. 60 characters
Meta Description – max 160 characters

They could trial using a number of different Meta Descriptions as opposed to a single template to see if this has a positive impact. Remember, while Meta Descriptions do not impact rankings, they do impact click-through rate which does impact rankings, so it's definitely something to keep in mind when assessing your own Meta Descriptions.
I also recommend that Airbnb implement the correct structured data markup across the website for best results.
Link acquisition – backlinks, referring domains & domain ratings
If you are familiar with the 'search engine optimisation' space, it's likely you've run into the term backlinks before. This is because they are an essential part of any organic search strategy if you wish to succeed.
But why are they so important? Here are 3 key reasons:
They assist Google's algorithm with determining your site's authority, credibility and relevance. After all, who is Google going to trust as a more authoritative and relevant source – a site with no backlinks, or a site with 100+ backlinks.
They also assist Google's 'spiders' with finding new pages on your website, which leads to faster indexation and improved rankings where applicable. This is because when Google crawls a site that has a backlink to your site, a Google spider will follow the backlink as though it's a web strand and then start crawling your site – which would have taken longer if there hadn't been a backlink and you were waiting for Google to crawl your site as part of its standard checks.
They can boost referral traffic. Now, it's not something often spoken to by content marketers (as basically there are no guarantees on the amount of traffic you could potentially receive through a backlink to your site) but this reason is not to be discounted as the more referral traffic you receive through a backlink, the more value Google places on the link, and the better your results for that page.
The Airbnb site

According to ahrefs, the Airbnb AU website is currently showing approx. 539,000 backlinks from approx. 6,430 Referring Domains – of note, while more links are likely to have been built to the site since its inception, there will always be lost links as time passes due to pages being removed from this party websites, listings being removed the Airbnb site and no redirect being put in place, and whole websites being shut down. This is why the historical number of backlinks is shown as 2,650,000.

When compared with Booking.com, it's evident who the backlink winner is:


Booking.com had close to 100,000 Referring Domains pointing to their website in 2013, while Airbnb has yet to reach the 7,000 Referring Domain mark.
This substantial difference in backlink profile will be largely contributing to the difference in non-branded keyword rankings, organic traffic, and also brand awareness.
And a primary reason for this huge discrepancy is due to the type of accommodation each platform offers.
Airbnb offers private accommodation to users, which means that the listings they feature are generally investment properties owned by an individual who would not be able to link to their listing or the Airbnb website outside of social media.
Booking.com offers commercial accommodation to users, such as hotels, resorts etc, which means the link opportunities are much greater. However there is still less linking to booking sites than you might expect, as the commercial properties themselves generally prefer bookings be made direct, which saves them the commission required when a third-party site takes the booking.
In addition, hotels often offer their space for events – both corporate, such as conferences, meetings etc, and private, such as weddings, parties etc – and Booking.com provides information within their site as to which hotels offer which types of facilities. This further increases the scope of potential links they could be achieving.For example, Booking.com has 7 backlinks from the Referring Domain 'Eventbrite'

So there are pro's and con's either way.
Anchor text and link opportunities
When looking deeper into the Anchor text that is being used for the links back to the Airbnb website, it's interesting to note that 29% is the brand name, which will be contributing to the rankings for brand-related keywords.
SERPSTAT recommends the following amount of anchor text percentages not be exceeded for best link results without incurring a Google penalty for spammy link tactics.
Branded anchor text: 50%
Naked links: 20%
Generic anchors: 5%
LSI, partial match anchors: 1-5%
Exact match anchor text: 1-2%
Based on Airbnb's amount of branded anchor text, they are in the safe zone, but should be conscious of the percentage skew when progressing with their backlick strategy in the future.
The next most common anchor text phrase is '<a>no text</a>, which could be one of two scenarios:
1) it is simply an html tag denoting an address link within the text, or
2) it is a link placed on an image.
Both could be applicable in the below scenario.

As you would expect for a site like Airbnb, the majority of their backlinks have been achieved through travel-related content, such as articles on a certain destination, links from travel-related companies, and links in media and forums.
Of note, this has been changing with the introduction of the new 'Experiences' and 'Restaurants' sections of the Airbnb website. Airbnb seem to have concluded that there are more opportunities outside of just private accommodation listings, and have now branched into partnering with tour providers, hospitality companies, and more to provide a more comprehensive travel-related site for the user.
Note: While this will not help them rank for the '[location] accommodation] keywords that have been the focus to date, it has assisted with growing the size of the Airbnb AU website and backlink profile. This in turn will have an overall positive effect on the website if the Experience pages continue to be optimised over time, particularly with the inclusion of internal linking to the relevant accommodation pages on the website.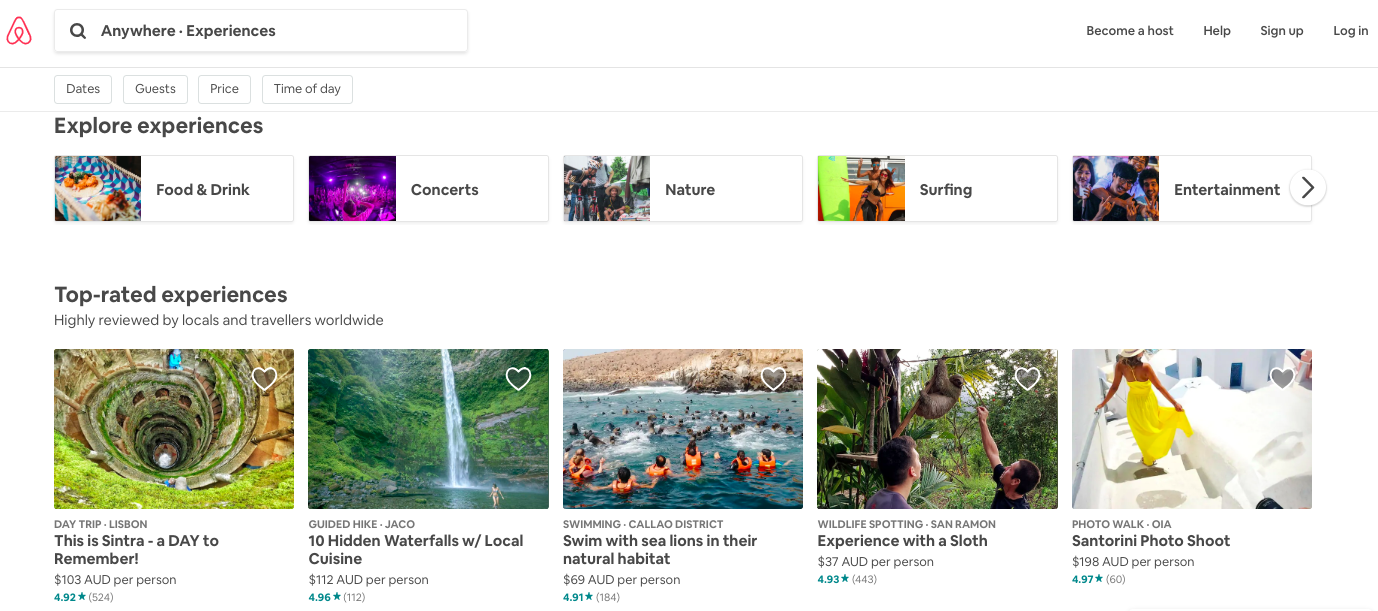 This action takes them beyond the scope of a simple accommodation booking tour, however does not quite match the integrations available through main competitors Booking.com or Wotif.com, who offer the following different features:
Booking.com

Accommodation
Flights
Car rentals
Airport taxi transfers
Booking.com also has arrangements with a number of other services to assist the user with making this a 'one-stop shop', such as partnering with restaurant reservation services. And most of all, they provide a large amount of content for relevant destinations on their side, giving them a huge organic backlink strategy.
Wotif.com

Accommodation
Flights
Holiday packages
Holiday rentals
Car hire
Wotif.com offers a larger selection of options than Booking.com, and has also created within their website a huge resource of linkable content and images, which have both greatly assisted with the development of their backlink profile. For example, Wotif.com currently has approx. 29,000 backlinks from 'VisitNsw', which are primarily content or image-related links.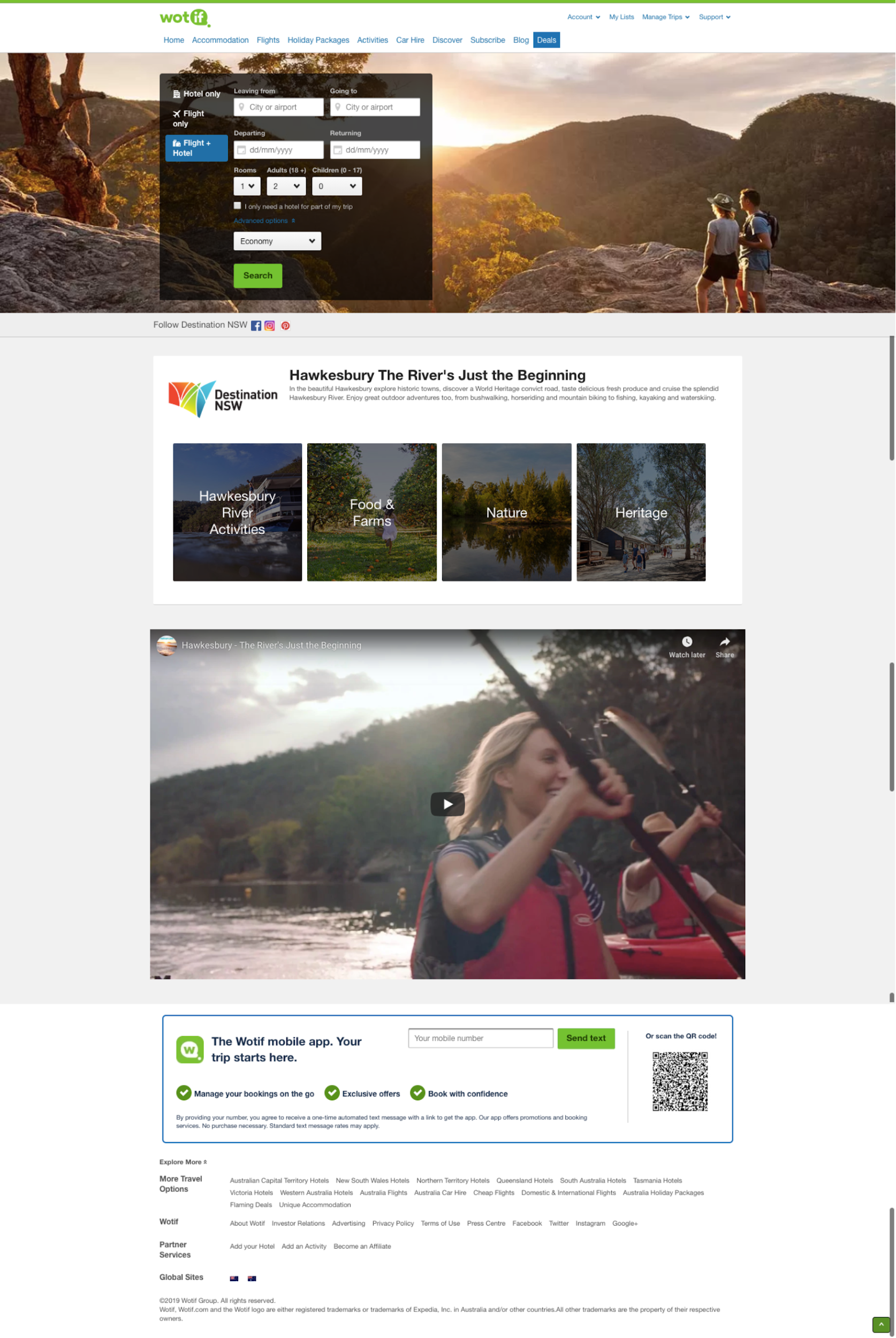 Developing content that will receive backlinks without your internal marketing team having to do any work should be the goal of every website – but organic presence and your brand can have a huge impact on this, as people will not find your amazing content unless you are either performing well for relevant search terms organically, or someone is already on your website due to your brand presence and finds the content because you promote it on relevant, high traffic service pages.
Backlink opportunities
The best way for Airbnb to improve their backlink profile ties into the recommendation given for keyword ranking improvements: develop a more aggressive content marketing strategy.
By creating resourceful content, tools, calculators, guides, unique data such as statistical information, videos etc, Airbnb gives other websites a reason to link to their website without having to allocate a huge portion of their marketing budget to hustling for links.
SEO Summary
Airbnb rely heavily on their brand presence to drive organic traffic and could do significantly better when ranking for accommodation-based keywords.
They have a huge site so it wouldn't be easy, but there are a number of on-site optimisations they would need to make if they want to compete against the likes of booking.com or Wotif.
But that won't be enough, they'll need a comprehensive backlink strategy to appear authoritative and rank for the relevant keywords. Luckily they have an extensive content catalogue which they can use to drive these backlinks but need to be more aggressive in promoting it, and perhaps create additional resources that are more 'backlink-friendly" to really succeed in organic search.
Social media
Social media plays an integral role in any business' marketing strategy these days and, of course, Airbnb are no different.
In this section I'll be looking at how they use Facebook (both paid and non paid), Instagram, and Twitter to promote themselves, attract new guests and hosts, and keep existing users engaged.
It's interesting to note that very little of what they do is actually aimed at generating users there and then, they use social media more to nurture and stay front of mind.
Let's get into it.
Facebook overview
Facebook is 1 of 3 social media platforms that Airbnb is currently most active on. Airbnb's Facebook content serves 3 main purposes:
Taps into the aspirational elements of travel through engaging imagery to encourage bookings
Encourages property owners to become an Airbnb host
Highlights their hosts as a key part of the Airbnb experience.
Let's take a more in-depth look at their content, its performance, and how they engage with their Facebook community.
Facebook page:
Not all businesses are lucky enough to have a recognisable logo that they can use as their Page profile picture but, as a globally-renowned brand, Airbnb have that privilege. The instantly-recognisable logo, which they named "The Bélo", is designed to mean "the universal symbol of belonging".
Their cover image appears to be the interior of an Airbnb property and promotes their overall
aesthetic well – cultured, colourful, and stylish. Notably, they haven't made use of a Facebook Cover video, which is a missed opportunity to introduce new users to their brand in a creative and engaging way – similar to the homepage of a website.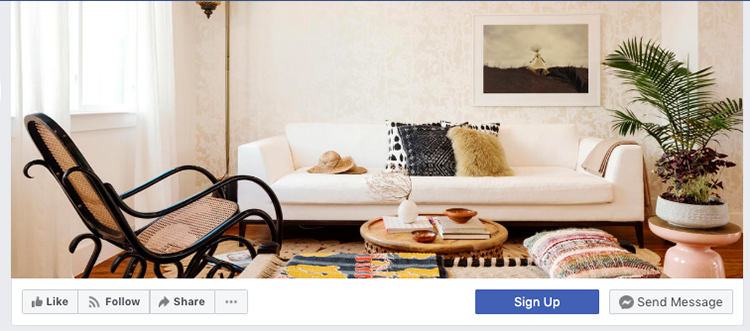 At the top of the Page, they're utilising the CTA option which Facebook offers to all Pages, choosing to go with 'Sign Up'. Upon clicking this you're directed to their homepage, and I can see that they've generated this link with UTM tracking.
Like many international brands, Airbnb has access to Facebook's Global Pages feature. This allows brands to post localised content under one universal Facebook Page name, share fans, and receive a vanity URL/username – e.g. https://www.facebook.com/AirbnbAustralia/.
I can see Airbnb has also switched on the Page option "Prompt people to send messages" – this automatically opens a Messenger chat window when a user visits the Page on desktop. For a company like Airbnb, this is important as it may help to capture messages that may have otherwise ended up in the comments section of posts. This option currently isn't available on mobile.
At the time of writing, the Airbnb Fan base is sitting at 15.6 million.
Frequency of posting
On average, Airbnb post every 3-4 days on Facebook, in comparison to Instagram where they post almost daily.
When looking at their frequency of posting, I think they've taken the right approach. Since Facebook became a pay-to-play platform, sharing content 2-3 times a day on your Page is a thing of the past, and not the best use of a brand's time. If you're going to need to pay to get your content out there to audiences, using the "quality over quantity" approach is best. Instagram's organic reach & algorithm works slightly differently, but we'll get to that later.
When looking at the types of posts they share to the Page, this is a mixture of imagery & video. Let's break this down a little more.
Image posts
Utilising UGC for page content
The majority of their image posts feature an Airbnb listing, utilising user-generated content (UGC) which gives the brand a very authentic and relatable feel.
You could compare a lot of their image posts to a 'Wanderlust' Pinterest board; aspirational imagery featuring real people with locations that offer stunning backdrops, architecture and interiors. If they were to use polished/professional imagery, I don't think it would have the same natural feel, so I'm confident this strategy works well for them on both Facebook & Instagram.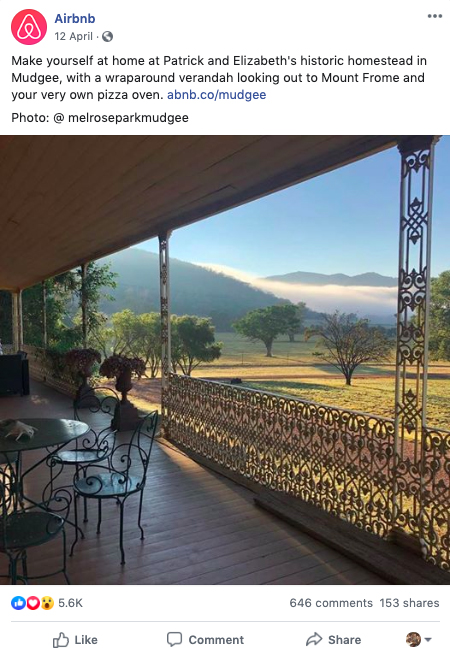 The post copy that accompanies the image often introduces the host/s on a personal level – "Make yourself at home at Patrick and Elizabeth's historic homestead". This type of messaging perfectly ties back to their brand ethos of belonging and community – we don't need to know who Patrick & Elizabeth are, we just need to know we're invited to stay at their home.
Interestingly, direct links to the homes featured on Facebook aren't included, instead a link to all properties in that location is provided. Their response to one user requesting more info on a property was "We do not promote individual listings on our platform. This might help though:" – this is slightly contradictory, as they do sometimes share the @ username of the Instagram account for the property (if the owner has one).
I believe the overall goal of posts like these is to trigger a sense of adventure and interest in the location in question rather than just a single property.
By doing this, Airbnb are aligning their brand with a sense of travel, hoping that when people start thinking about their next travel destination, they will think of Airbnb.
Keeping content localised
It's clear to see that part of Airbnb's Facebook strategy is to share a number of Australian-based listings each month – these are also often in more rural locations, rather than cities. This makes sense when you refer to data that was shared by the company towards the end of 2018, where they predicted which Australian locations would be the top 10 trending destinations for 2019 (based on internal data for bookings made in 2017 vs. 2018).
These included:
Wagga Wagga (289%)
Blackheath (281%)
Toowoomba (229%)
Tamborine Mountain (205%)
Mount Gambier (202%)
Corowa (175%)
Bridport (173%)
Jindabyne (166%)
Strahan (163%)
Mudgee (158%)
What this tells us is that a data-driven approach forms part of their content strategy. They use previous bookings and keyword searches to curate their Facebook content. This is an excellent strategy as it essentially allows them to give their audiences a little extra nudge down the sales funnel. How? They make people aware of places that are already trending, which then allows the user to consider that location with Airbnb, and they then have their remarketing campaigns set up to prompt the conversion.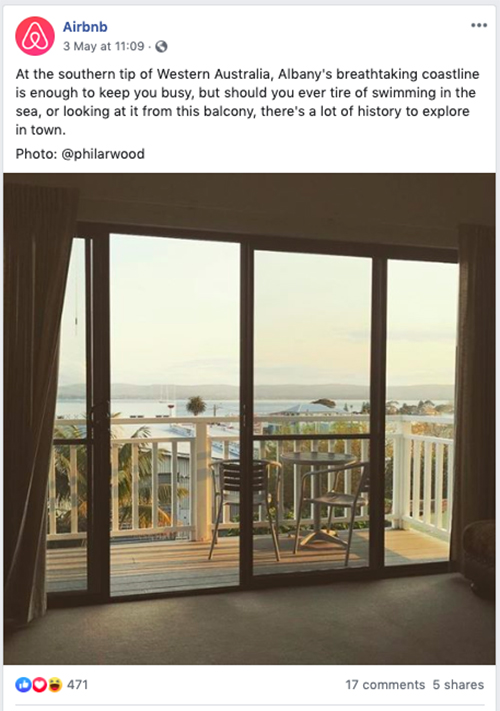 Australians tend to travel more in their own back yard rather than go abroad, which makes total sense. It's less commitment, often more cost-effective for the customer, and they're fortunate with such a huge and diverse country like Australia that there are so many amazing listings they can continue to share.
The 'staycation' is also becoming more popular and I don't doubt that businesses like Airbnb have played a part in that.
Video posts
Alongside their image-based content, Airbnb do share some video posts. Currently, video is used for their more polished, brand-focused posts and does not feature user-generated content.
In comparison to static imagery, video is often more engaging and great for storytelling, which Airbnb have used to announce they'd hit half a billion check-ins in May 2019, as they celebrated this through video, rather than imagery.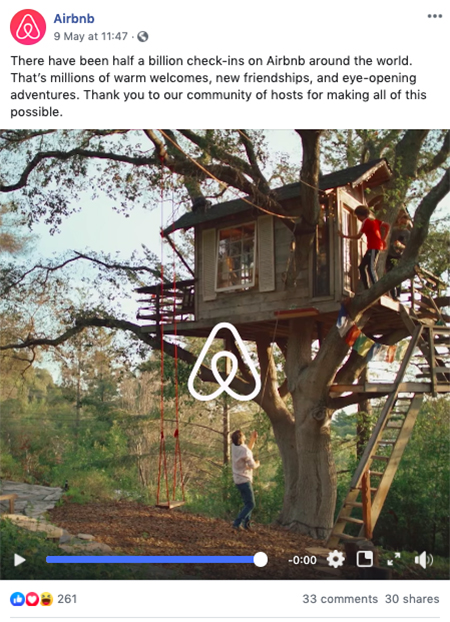 Although they are sharing some video content, I've noticed that this is usually content which isn't localisedand, when switching regions on the Facebook Page, you can see that they're sharing much of the same video content across different countries. I think this is a clear missed opportunity for them to better engage with their audiences in a more personalised way.
In a study conducted by KPMG, they found that alongside integrity from brands, personalisation is of key importance to Australian consumers when it comes to customer experience (CX). Airbnb are doing a great job on this in many ways (they ranked 47 out of 50 in the same study), but I firmly believe that a brand's social channels should also be used to enhance their customer's experience.
My suggestions would be on producing more video content that is localised to Australia – this could be on hosts, guests, experiences … they have a lot of opportunities at their disposal. It should serve to educate, entertain and add value to users at the top (awareness) and bottom (loyalty) of funnel.
Using video over image posts does have one major advantage for Ads strategy though, and that comes in the form of Engagement Custom Audiences from video views. When sharing image posts, Facebook does not allow you to create an audience of everyone who engaged with that specific image post, so if you wanted to remarket to these people you would have to choose the option of "People Who Engaged With Any Post or Ad" and this includes all post engagement; whereas when posting videos, Facebook gives you the option to create audiences such as "People who viewed at least ten seconds of your video" or "People who have watched at least 75% of your video".
These audiences can be great for honing in on your audience targeting later down the track. For example, if Airbnb shares a video which relates to Japan and this gets 50k views, creating an audience of viewers who watched 75% or 95% of this video would be great for their next Japanese-themed post, as they know these people are interested in video content to do with Japan. These audiences can also then be used for Lookalike audiences.
Link posts
Outside of image & video-based content, Airbnb often share posts that link back to their website, blog or press room – these are on 3 separate domains & subdomains. Similarly to their video content, the posts which link back to their websites are often shared across their Global Facebook Pages, rather than being specific to that location.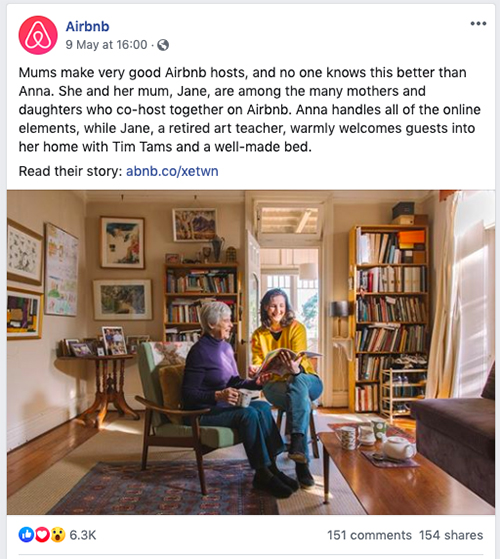 When sharing links to their Facebook Page, it's hard to tell whether or not they are tracking anything other than clicks on these. They've used a custom link shortener for a number of years now (http://abnb.co) which usually provides you with the option to track who is clicking on the link, but that's it.
Best practice would be to also have these links built with UTM parameters – this allows you to then go and view the performance of the links in Google Analytics, however it's evident that they are not using UTM parameters.
It could be said that best practice on Facebook for sharing links is using the Link Preview option, rather than sharing links in the post copy with a separate image. In 2014, Facebook previously reported that links in the link preview format receive twice as many link clicks on average compared to links that are in photo captions. Airbnb regularly chooses not to use the Link Preview option when sharing links, instead they opt for a custom shortened link in the post copy and share a separate video or image.
For certain links that they share, I think this strategy works quite well. If we refer back to the notion of video content being great for storytelling, it may be that Airbnb is happy enough with someone watching a video and if they click through to read the full article relating to that video, that's a bonus, the article perhaps has more value for SEO than social. They can still capture the viewers of this video, without needing to worry about capturing them through website remarketing.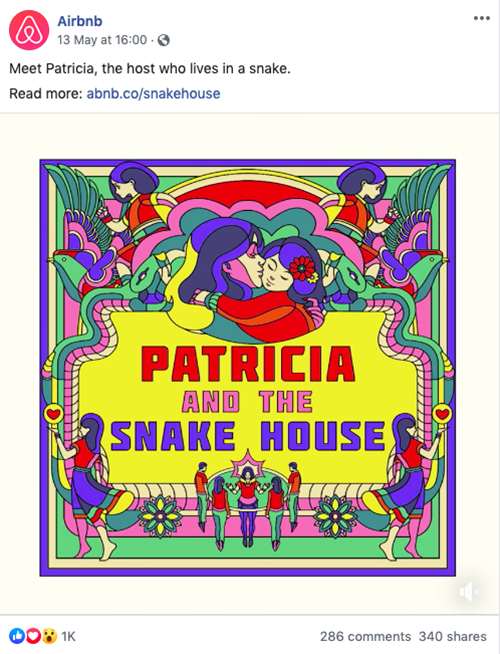 I don't think this works for all posts though.
For example, when they share an image separately instead of using the Link Preview option, I see this as counterproductive to the objective at hand, which is to drive people to a website, and Link Previews have been created by Facebook to provide Page owners with the easiest, most conversion-focused way of doing this. At Webprofits when we've split-tested using an image with a link in the copy versus a Link Preview, on average, the Link Preview prevails.
Community management
Airbnb does a good job at community management on Facebook, and I expect that they have a dedicated team managing this. Any posts shared to the Page by Facebook users are usually answered within a matter of hours, and they also do a great job of replying to feedback in the comments section on their posts.
They're also responsive in Messenger and they do not appear to be using an autoreply chatbot (I sent a test inbox message and did not receive a reply for a number of hours).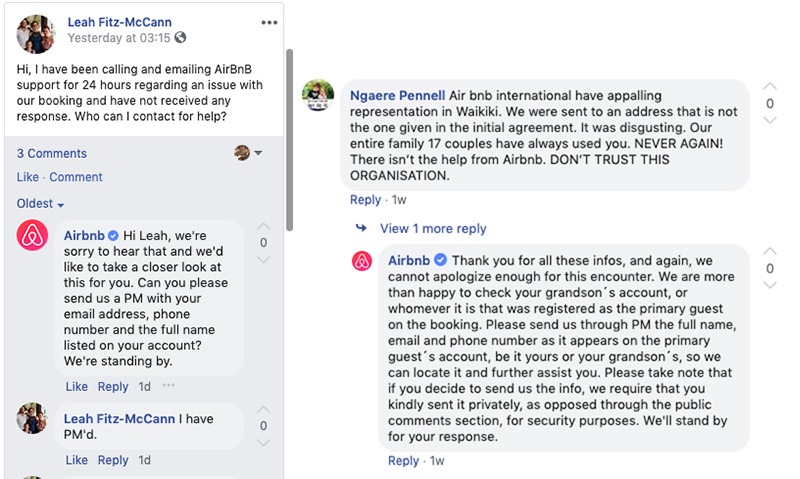 Many disgruntled customers use the comments section as a way to complain; this is seen across numerous industries, but Airbnb is clearly trying to show that they are a brand focused on customer service and experience, as they try and reply to most of these types of comments. They also follow best practice by attempting to resolve the complaint out of the public eye and moving it to a personal message "Can you please send us a PM with your email address…"
I think there's a lot of brands that could take a leaf out of Airbnb's book when it comes to community management. Not only does community management help brands find opportunities to address complaints, but it also helps to foster positive conversations, which in itself can create and maintain more happy customers.
Here's an example of Airbnb adding to the conversation in the comments of one of their posts.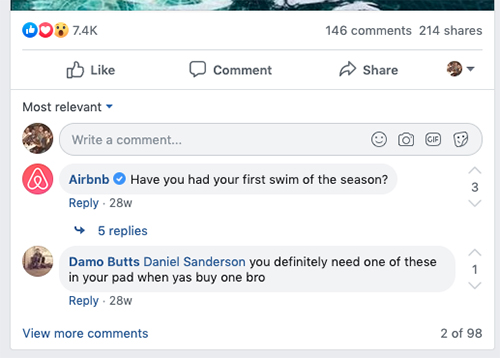 Facebook ads
In a bid to provide more transparency to its users, Facebook now lets you view all of a Page's active ads. You can try this out for yourself by visiting the Ads Library tool.
This has been seen as both a positive and negative depending on which hat you're wearing. If you're a business/brand, your ads strategy is now in full view for all to see, particularly your competitors; but if you're an everyday Facebook user you now have more visibility as to what ads a political party, brand, or whoever else you wish to check is currently running.
From a marketing perspective, I personally think it's a good move by Facebook, as it will ensure advertisers do not get complacent with their creative & messaging – if they want to stay ahead of the curve, they'll need to keep innovating and testing new ads.
Now let's take a look at Airbnb's active ads in Australia…
Sponsoring page posts
In the time that I've been analysing Airbnb's Facebook Page for this case study, through checking the Ads Library tool I've been able to see that they've advertised all of their most recent Page posts. This is positive and shows that they are invested in making sure their content gets an initial 'boost' when it goes live.
There are some great tools out there for advertisers that can automate this process for you, including Boosterberg and AdEspresso. These work off rules which you set within the software, leaving you time to focus on the more important things.
Dynamic ads
Airbnb have been running Dynamic Ads for reservations for a number of years now, with them even being featured in a Facebook case study on this back in 2017 where they reported a 3X increase in return on ad spend and 47% lower CPA's using the Dynamic Ads objective.
For anyone that has not come across Dynamic Ads, here's a quick recap on how they work…
Essentially, Dynamic Ads are automation at its finest. They utilise a product feed/product catalogue and I'm confident that any new listings that get added to the Airbnb site also get added to this feed.
You have two options when it comes to targeting:
Retarget products to people who have visited your website or app.
Show relevant products to prospective customers, even if they haven't visited your website or app.
From a remarketing perspective, I don't think any other type of Facebook ad could top Dynamic Ads for Airbnb. They allow them to not only keep their brand front of mind but the exact location/s someone has been browsing for their next trip – what better way to drive a sale?
To add to this, they can also follow the user around on a range of different placements – News Feed on mobile & desktop, Instagram, Audience Network – so I'd say having 'Automatic Placements' set for this campaign would be a must to ensure they are everywhere that their audiences are.
I noticed they use three main hooks in their Dynamic Ads copy:
Find an Airbnb in [Location] with free cancellation.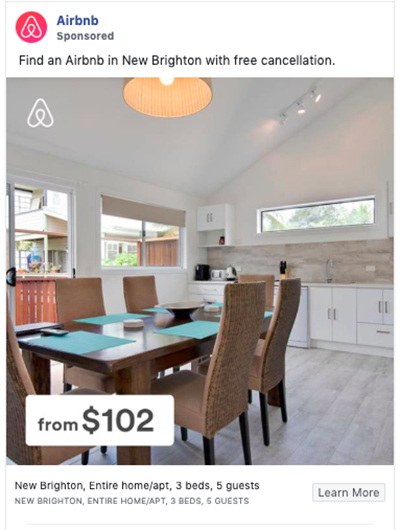 Book a real home in [Location] for less than a hotel room 😮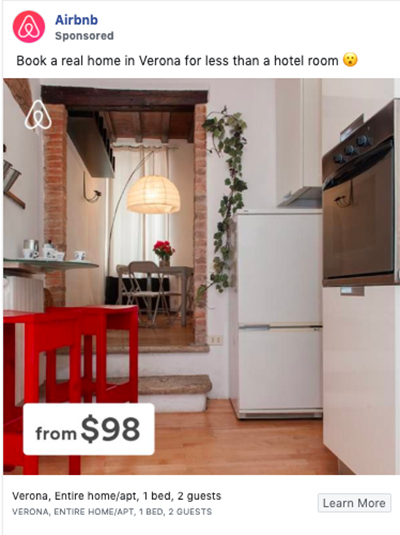 Traveling to [Location]? Idea to save money for your next trip: use Airbnb.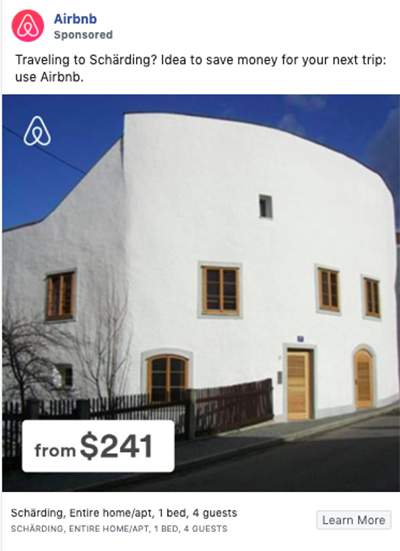 Although I think these are good, short messages that speak to the pain points that come with booking/saving for a vacation, I think they're missing out on an opportunity to call out different users in a more fun and creative way, for example:
"Hey – what happened to your [Thailand] plans?! There's still so many amazing locations to check out in [Bangkok]. Let's pick up where we left off…"
"So, about [Paris], when are we booking? We're ready when you are…"
With this in mind, it's always important to stay true to your brand's tone of voice, but the more that you can make a connection with your audiences in an authentic, human way on social, the more likely they will be to proactively seek out your business for their needs.
Host acquisition
Outside of their sponsored Page posts and Dynamic Ads, the rest of Airbnb's ads strategy currently focuses on one thing – signing up hosts.
I see social media advertising, particularly Facebook Ads, playing a major role in this strategy and being one of the best channels for Airbnb to:
Generate awareness of becoming a host / prospecting
Helping with the consideration phase of the host journey through remarketing
These two stages of the Host journey feature in what Airbnb refers to as the List Your Space (LYS) flow:
Airbnb's concept of multi-touch attribution for a hypothetical user journey
When we delve more into why Facebook is perfect for top & middle of funnel objectives, it relates to 3 things:
There's a fairly high number of Australians on Facebook, with around 15 million monthly active users for them to serve ads to – that's 60% of the total population
It doesn't rely on search intent, which means it's more scalable
It can assist in a multi-channel remarketing strategy, for example, you can create a Custom Audience of your AdWords visitors who didn't convert and remarket back to these users through Facebook Ads (these visitors are gold as they've demonstrated search intent already).
Looking at the messaging they're using in Host ads, I like the angles that Airbnb have chosen to run with. They've clearly used previous customer research to tap into the key motivations for why a hosts sign up for Airbnb:
Host to fund your travels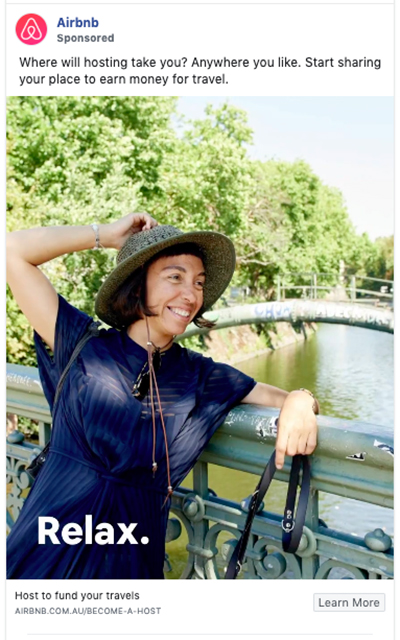 Host to pay for home renovations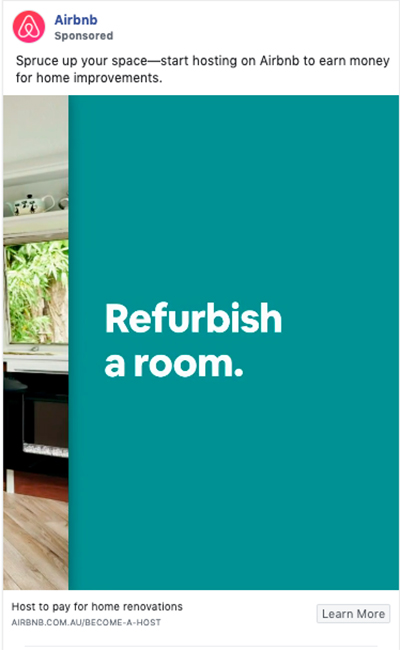 Host with peace of mind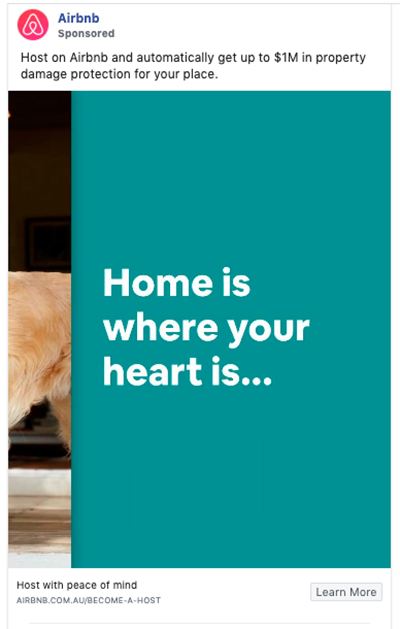 Share your home to earn money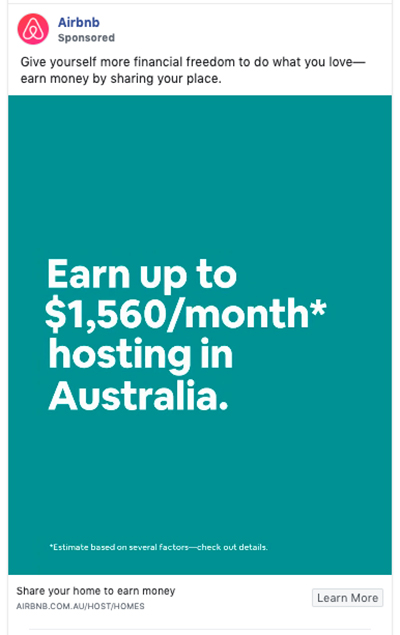 All of the ads above also utilise the 4:5 video ratio, which is a fairly new best practice ratio that Facebook introduced. This format allows you to take up as much real estate as possible on a person's Feed.
I do think that these ads are missing something here though, and it's to do with the creative.
Many of the ads they use feature video, which is positive, but they don't feature real Australians talking about their experiences with being an Airbnb host. I feel this kind of content could really benefit the campaigns. This needs to be done in the right way though, as it still needs to come across as authentic.
An idea for generating this type of content could be an Instagram UGC competition where hosts share videos of WHY they host; the entries would be collected using a campaign hashtag, and hosts would be incentivised to do this with the opportunity to win an awesome prize. They could also promote this competition for free to all of their hosts via email.
Facebook summary
Airbnb's timeline is varied in terms of post content and types. They utilise imagery well (especially with user generated content), and share articles regularly, but could be doing more on video given how much Facebook prioritises it in their algorithm.
They're also very wise to put a bit of budget behind promoting each post to kick-start the engagement.
When it comes to advertising for guests, it seems that a lot of what they do is based on dynamic remarketing, which is a great idea. They're spending their budget on users who have shown high intent, and show them highly relevant ads to increase the chance of conversion. If I had one criticism here, though, it's that they could show more personality in these ads.
When it comes to promoting to attract new hosts, it's clear they've done their research into why hosts sign up to Airbnb, and that research has informed the messaging they use in their ads.
Instagram
Overview
Airbnb are using Instagram mainly to promote their listings, Superhosts & Experiences. Unlike Facebook, where Airbnb have a localised Australian Page, they've chosen to have just one global Instagram account. This does mean they can't share too much content which is specific to one location, and it also means they have to work a little harder at sharing content which is universally appealing. Fortunately for them, for brands to see success on Instagram it's mostly all about sharing compelling/authentic imagery, which Airbnb does have.
Airbnb are very active on Instagram – they share content to their Feed as well as to their Instagram Stories. Their main objective with Instagram content is to generate engagement & awareness and, where possible, they will try and prompt users to click through to their website, either through the link in their bio or by using the 'swipe up to learn more' option in Stories.
Now let's look at some examples of how Airbnb is using Instagram to promote their different offerings.
Superhosts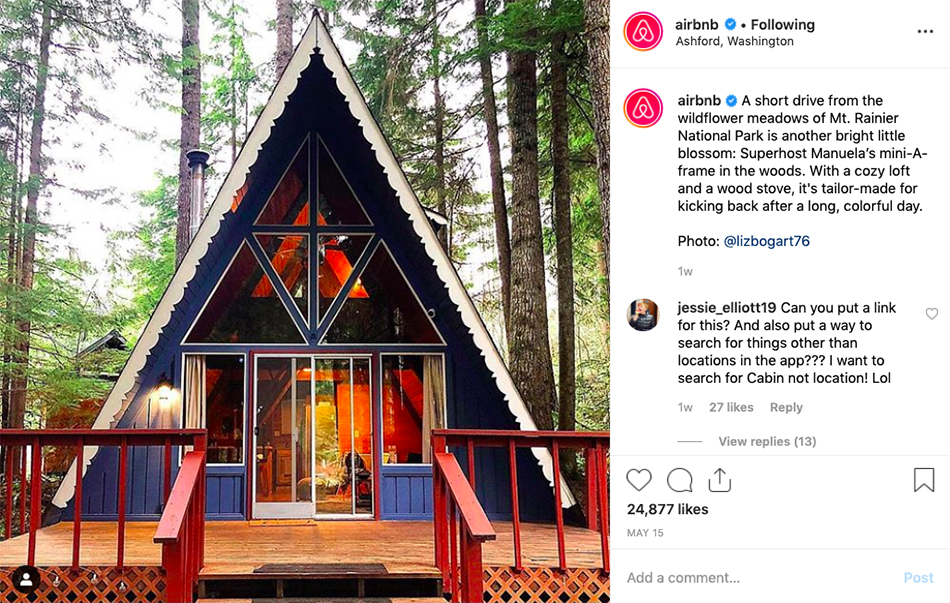 This is an example of one of Airbnb's 'Superhost'-themed posts. The image instantly grabs your attention. The architecture of the building is unusual, the glimpse of the cozy/warm inside is very inviting and, to top it off, you can be at one with nature at this retreat. I would say this would tick a lot of boxes for many of Airbnb's prospective audiences who are yearning for a secluded getaway beyond the city limits. The image is also UGC, with the photographer credited.
When we turn our attention to the caption, we're met with some descriptive copy which helps to further set the scene, but there's also a mention of the 'Superhost', Manuela, whose amazing property this is. I believe their inclusion of the Superhost is to give the post added credibility, as Superhosts have an average user rating of 4.8 or more out of 5. Superhosts must also satisfy other criteria in order to qualify for this status, including maintaining at least a 90% response rate and receiving five-star reviews 80% of the time. All of this means peace of mind for any prospective guest.
Listings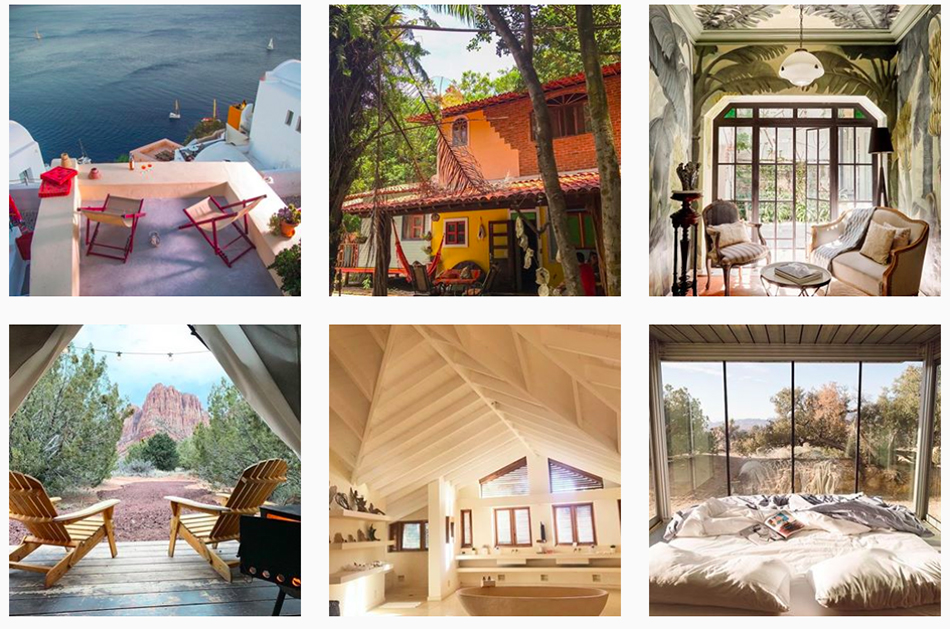 Listings make up a big chunk of Airbnb's Instagram content, and are clearly meant to evoke a sense of wanderlust in all those who stumble upon them. These posts mostly feature UGC, which gives them a really authentic feel and allows them to easily blend into a users Instagram feed, which I feel is something key for brands to master on this channel.
If you're trying too hard on Instagram, whether that's in a salesy manner or with imagery that is too airbrushed, the Instagram community will see through this and won't be as engaged.
One thing I did notice in my research is that many of the listings they share in posts do not feature people (see Feed example above) – there's lots of empty chairs, empty beds, and generally untouched settings. Even if this is not done on purpose, I think this is clever, as it allows the user to imagine themselves there. The focus is on the outstanding property and the equally beautiful backdrop.
What could be improved?
As a general rule of thumb, I think your imagery/posts should fit into at least one or more of these criteria:
It's a beautiful image and has a lot of visual impact
It evokes an emotion – happiness, humor, nostalgia, etc
It gives you FOMO (fear of missing out)
It tells a captivating story (image and/or caption)
But how many of the above are Airbnb actually achieving with their current strategy? I would say definitely 1 & 3, a little bit of 2, and not so much of 4.
Do I think they should be creating posts which achieve more of 2 & 4? The short answer is yes, but here's why.
Using the Phlanx Instagram Engagement calculator, I can see that from their 4.1 million followers, Airbnb get around 26.7k Likes per post, 283 comments, and have an overall average engagement rate of 0.65%. Now, this is an ok result, but that's less than 1% of their overall Followers engaging here, and I think that alone could definitely be improved upon.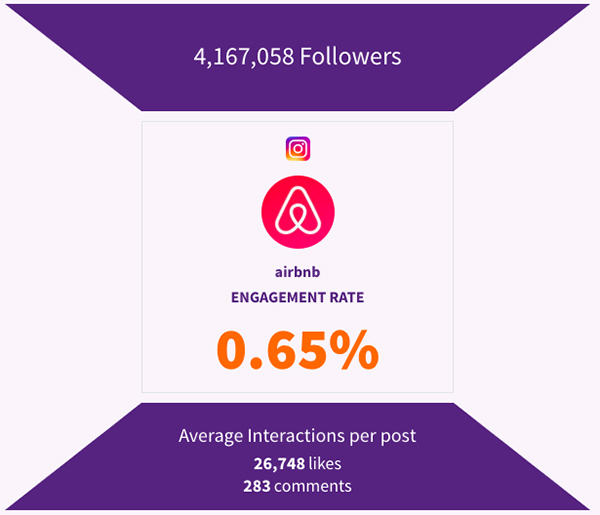 Airbnb have put a lot of work into designing a marketplace that is built on trust. This trust isn't so much between the user and Airbnb, its trust amongst hosts and guests. As much as reviews are helpful in the booking process, once we hit 'book' on the platform, we're then putting our trust in a complete stranger being a good host and the host is putting their trust in us being an equally good guest.
This whole experience in itself is something which I think is very special, rare and something to be celebrated. It's humans sharing, connecting, and helping each other to make memories and enjoyable experiences. If we refer back to this sense of community and how deep-rooted it is in Airbnb's values, I think they are missing an opportunity to share more stories that focus on this aspect of their brand – this happens between people.
If we compare their current 0.60% engagement rate to the Humans of New York account, we can see a real difference here. On average, Humans of New York are achieving an engagement rate of 3.35% and this engagement isn't only coming from Likes, it's from comments too, which means there's more conversation happening. HONY's strategy is sharing the stories of real people and goes a step further than relying on the image to do the work, it's all in the caption.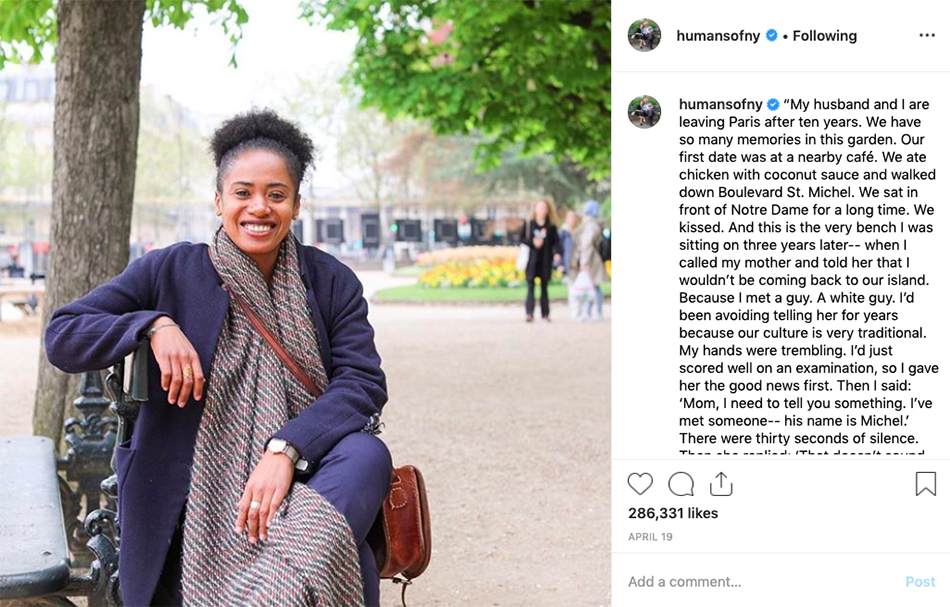 I'd like to point out I'm in no way saying that Airbnb & Humans of New York are similar, but my suggestion is that Airbnb put a focus on creating more posts that tell stories and are about the people who use Airbnb, rather than just showcasing the listings, otherwise I can't see how much more value they're providing to their audiences than a travel Pinterest board would. This type of strategy will always have an expiry date.
With that being said, I do like their UGC strategy and think they've done a good job of leveraging this for content, rather than using professionally shot and polished imagery, which would not suit the platform.
If you were wondering how they get permission for re-sharing a users image, here's an example: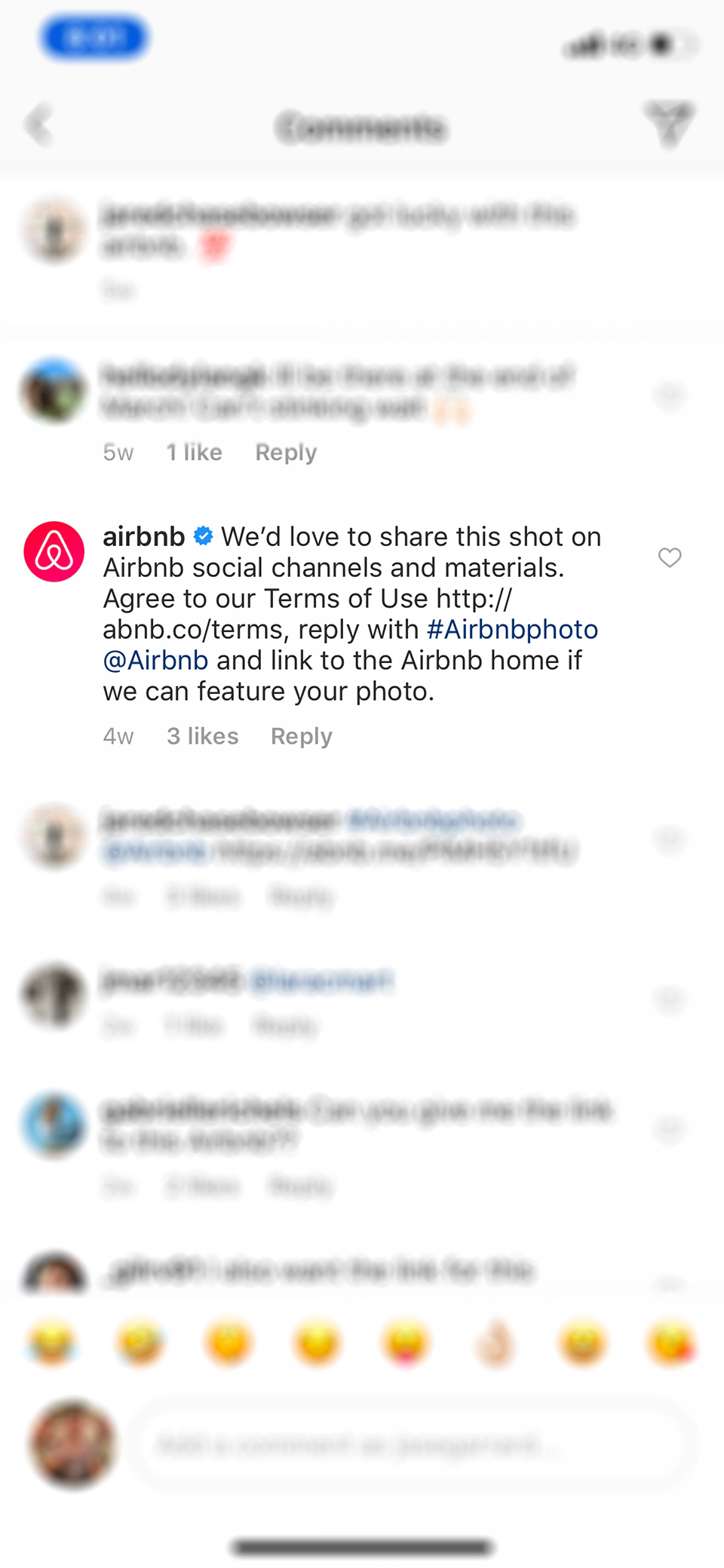 Instagram Stories
Airbnb were an early adopter of Instagram Stories, and have featured in numerous articles across the internet as a brand that is crushing it with this feature, of which I totally agree.
What's worked to their advantage is the creativity they have shown in getting users to engage with their stories and to keep clicking through.
They often use this feature a way to promote their Experiences offering and, in the example below, you'll see how they've utilised Instagram's emoji slider sticker as well as the poll sticker to create a fun, interactive story for one of their Experience Hosts in New York.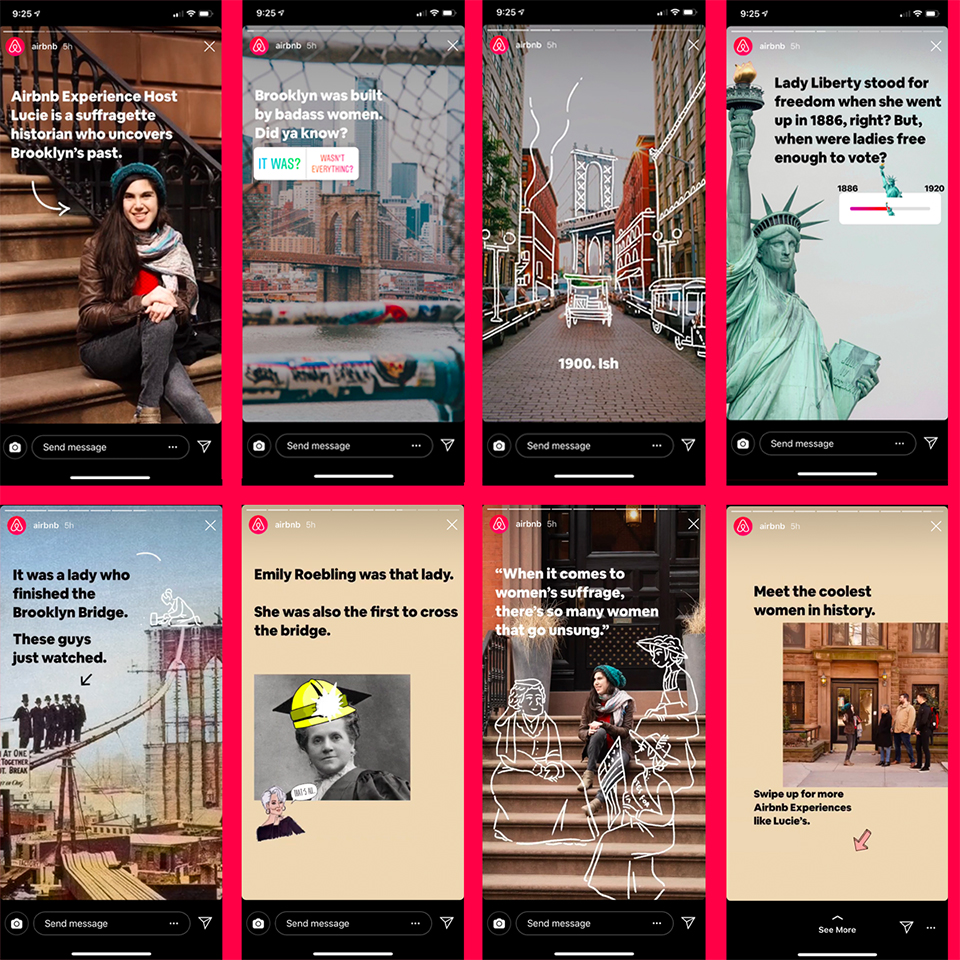 Instagram Stories offer brands a great opportunity to get creative, but the trick is keeping your audience engaged enough to keep clicking through, rather than swiping to the next Story in their feed.
I think one great way of doing this is by sharing content that is unique and not the same content that you've previously shared on your Facebook Page or Instagram feed. This is the only thing that I think Airbnb have occasionally been guilty of, as I've seen the same content across their Facebook Page, Instagram Page, and Stories. On the flipside, I appreciate that this is sometimes to push a bigger campaign, which means they'll want to be across as many placements as possible to ensure they're getting maximum reach for this campaign.
In closing the only thing I would add that I think they should be doing more of on Stories is including a swipe up CTA earlier in their stories if they're going to include one, perhaps even from the 2nd or 3rd tile depending on how long the full Story is. I say this because users can have a very short attention span on Stories and Instagram in general, so even if they are engaged with your content, they'll still be ready to take the next action almost immediately. As this action could mean swiping left to the next Story, why not try and encourage a click-through to your website or app earlier, if that's one of your objectives with the Story?
Instagram summary
Airbnb's instagram page is highly visual (as it should be) and showcases the vast array of beautiful properties they have on their platform to inspire wanderlust in potential travellers, but engagement is relatively low.
They could benefit from using their Instagram to tell more stories, as these are a great way to connect with people.
Speaking of stories, they use Instagram Stories really well. Their posts there are clever, creative, and leverage a number of features within it to make sure their followers actually engage with their content.
Twitter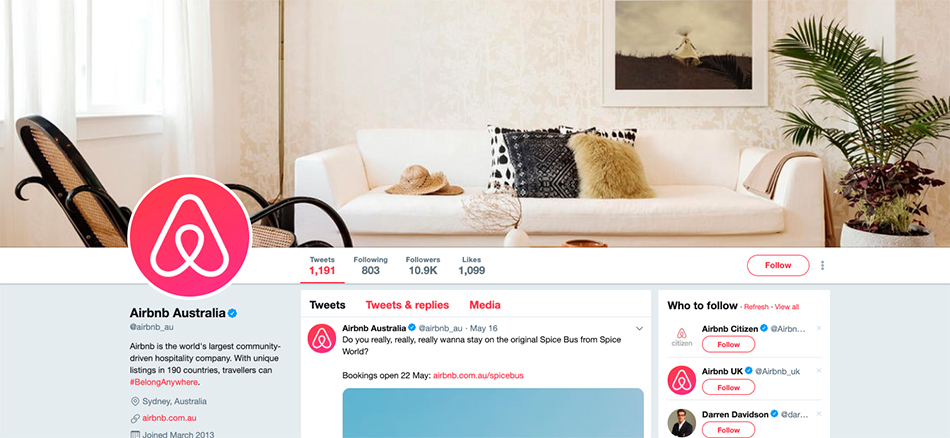 In 2018, a Sensis social media report found that 19% of Australian social media users accessed Twitter – this was compared to the 91% who had used Facebook. As these stats show, Twitter adoption in Australia has been slow and has not seen the same kind of growth that Facebook & Instagram has in recent years. For this reason, I think Airbnb have been smart to not make Twitter an integral part of the Australian Airbnb strategy.
I can't imagine you'd find much, if any, content on the Australian Twitter account which hasn't been shared to Facebook or Instagram already, but that's ok, as with only 10.8k Followers on Twitter and 19% of Aussies using it, I don't think Airbnb need to worry about creating unique content for this channel.
I expect they're on Twitter simply as a way of ensuring they still have visibility on a channel where someof their customers are (even if it's not in big numbers). They also seem to have this automated, as they share many of the exact same photos and captions on Twitter posts as they do on Facebook. Tools such as Buffer and Hootsuite make this very easy for businesses to do.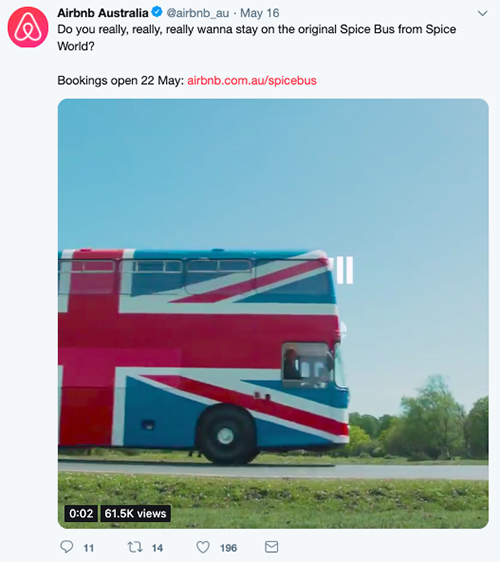 Outside of sharing updates and engaging with audiences, where I have seen Twitter work well for brands in Australia is as a platform for customer service. Both Optus and Telstra use it for support and to answer any questions their customers may have – Telstra's bio states, "We're here 24×7 to provide customer support and answer any Telstra questions you might have".
Airbnb have also gone down this route, creating an @AirbnbHelp account which is their go-to account for all customer service related issues. I see value for both brands and customers when offering customer service through a platform like Twitter, as any response you provide is then in the public domain. This can definitely have a positive effect on your company's public perception/reputation, especially if you do a good job.
Twitter summary
Their local twitter pages aren't very impressive and it seems they're more like an afterthought rather than a planned out strategy. In a country like Australia that's not such a big deal, as Twitter usage is relatively low, but they could definitely be doing more.
Content marketing
Storytelling is the bedrock of a quality content marketing strategy, and Airbnb has understood this from the beginning. But unless your story resonates with your ideal customer audience, then while people will read your content and engage with the piece, they won't necessarily engage with your brand.
Airbnb were looking for those who wanted to be a traveller, not a tourist, and for this audience there is one fundamental ingredient: authenticity.
There's a thirst for it; local lifestyles, customs and culture, transformative moments. Forget the tourist menu pedalling another overpriced pizza margherita, wouldn't you rather taste nonna's homemade pecorino stuffed ravioli while her son Francesco tells you comedic tales about growing up in Sardinia?
And, perhaps, this is what has really driven the growth of Airbnb and played the greatest role in building their content strategy to date.
As documented in this study, Airbnb is no longer a one trick pony. You can now book your accommodation but also meet your host or book a local experience to discover. Pick up a paintbrush and channel your inner Bob Ross, dance at a sunset silent disco in San Francisco, and discover Porto's vibrant history as you're led through the tiled streets by a local.
This trend towards experience is being seen across many sectors and the value of which has been seen from the food industry and retail sector through to technology and finance. Whether your focus is B2B or B2C, tackling this trend by placing emphasis on creating a more seamless and personalised offering will be a vehicle for growing sales and boosting margins.
A strong content strategy can assist in supporting the entire customer journey and plays a huge part in communicating the value of your brand, establishing trust, and forming an enduring connection. For Airbnb, it underlines everything they do and has transformed their site from a marketplace to a travel platform which engages users and hosts.
As Tam wrote, Airbnb has really springboarded off the message, "'Don't go there. Live there." For Airbnb, travel is about a personal, unique and local adventure no matter where you are in the world – and we start to see this within the personalisation aspects of the platform.
But this expansion has also put the spotlight on content and localisation, both for guests and also for hosts using the platform. Airbnb has taken an impressive approach to content using storytelling and curation to drive growth. While there is a plethora of content-based information present on the Airbnb website, as well as on external subdomains owned by Airbnb, I'm going to focus on the key 4 areas I identified as providing the greatest value to their online strategy, and offer insights you can apply to your own campaigns.
Onsite (Airbnb.com.au)
Airbnb has established a clear onsite content strategy which aims to engage and inspire their guests to stay on the platform and book a bed or experience. Utilising the strengths of storytelling and curation has been the driving force behind the brand's onsite content success. With the introduction of Stories, Neighbourhoods, and Guidebooks, we see how the brand is not only revolutionising the way travellers discover unusual rooms and memorable activities in every pocket of the world but encouraging users to stay on the platform to plan and book their trip.
Stories
It's no secret that most travellers appreciate a good story. Isn't that why you travel in the first place – so you have a wild tale to regale to your friends back home in our local pub, a cold lager in hand?
Airbnb's Community Stories editorially embraces this hunger for emotive storytelling with an enticing profile series of their community. These 300-400 word stories are poignant snapshots of how an Airbnb user's life has been impacted by using Airbnb while travelling and immerses potential travellers in the spirit of adventure, curiosity and connection. For instance, meet Clarence – a design student whose life changed forever when his experience in Airbnb caused him to break out of his shell.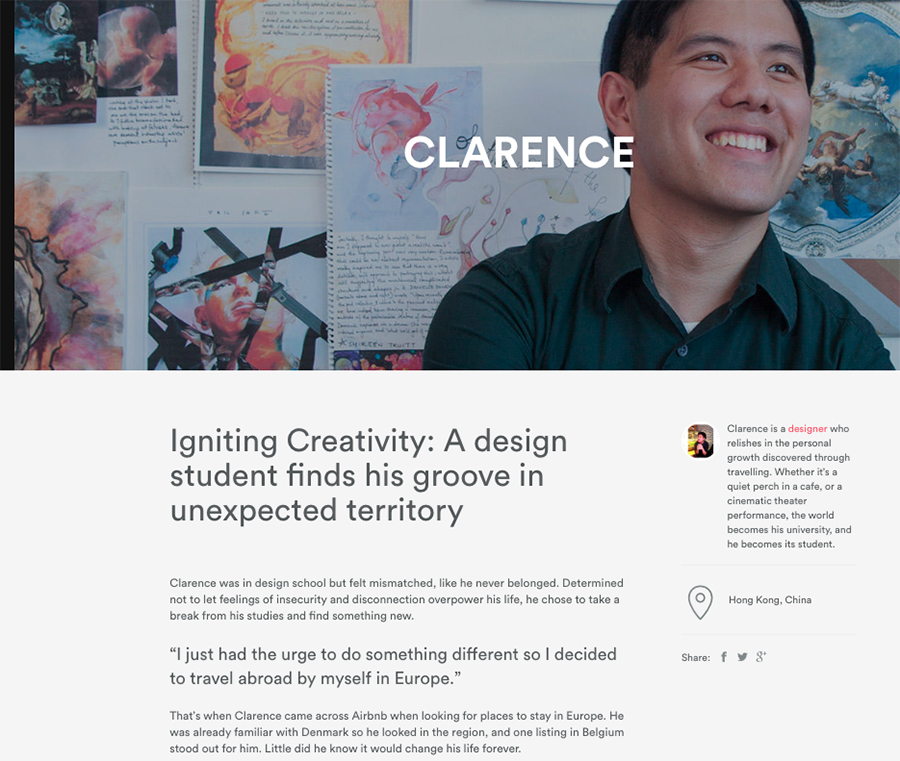 As most businesses know, testimonials are extremely valuable. Targeting the consideration phase of the customer journey, the stories leave readers daydreaming about how their life could be changed from their next Airbnb.
And yet, this subsection of the site is currently an underutilised opportunity by Airbnb. Lacking a strong organic search strategy and missing fundamental CRO elements: Airbnb is not activity driving organic traffic to the stories nor converting any readers which may land here. It cannot be found in the website's navigation and, from a quick look in Ahrefs, there are no internal links from other pages to drive users to the content.
So there's no way for people to find it from the website.
In addition, even if the content was promoted to an audience in order to drive traffic from a social or email platform (which I presume is the primary source of traffic currently), the lack of CRO elements on the pages means there's no further action encouraged to be taken, such as moving users from consideration to a sale. Airbnb has removed the search bar in the header and there aren't any buttons or links to guide users to take another step.
It is only the US version of Airbnb Stories which is ranking in position #1 on page #1 on Australian desktop for the search term "Airbnb Testimonials" (avg monthly search volume 70). But from SEMrush we can see that organic growth has been stagnant for the last year.

Neighbourhoods
Airbnb understands that most travellers care about location. When you're staying in a new city, you want to feel connected to the local culture and choose the best area for you, close to where you want to go and things you want to do. Airbnb's answer to this dilemma is Neighbourhoods which launched seven years ago with 300 neighbourhoods in 7 cities, it now features 23 major cities around the world. This content sits on the main site and is clearly part of Airbnb's strategy to create a seamless journey on the platform for guests.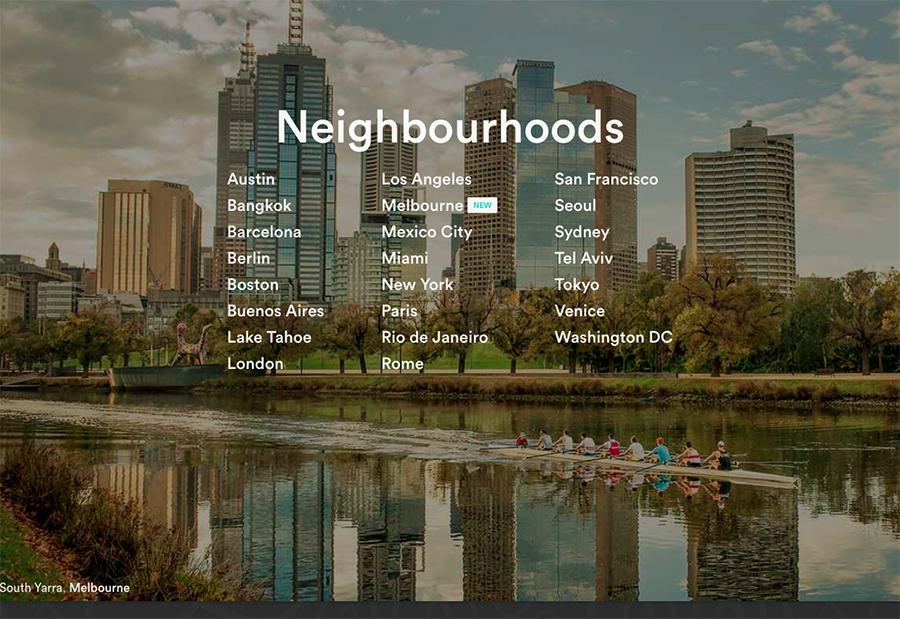 Curated like a blog feed of suburbs within a chosen city, Neighbourhoods is a more visual version of an old fashioned street directory. If you select Melbourne, for example, there are 19 neighbourhoods to select from, with filters like "Greens Spaces" and "By the Beach".
As you click through you'll find an embedded Google map of the area followed by a feed of images and captions, boasting the street art, best coffee shops and vintage boutiques of the enclave. This content truly differentiates Airbnb from the big hotel booking sites, highlighting interesting places in different cities.
Airbnb partnered with local photographers to really capture the essence of the area from a native perspective, inspire viewers, and create a connection to the locale. Visual content is the holy grail of "authenticity" and shows the extent that brands should be willing to go when selling to their audience.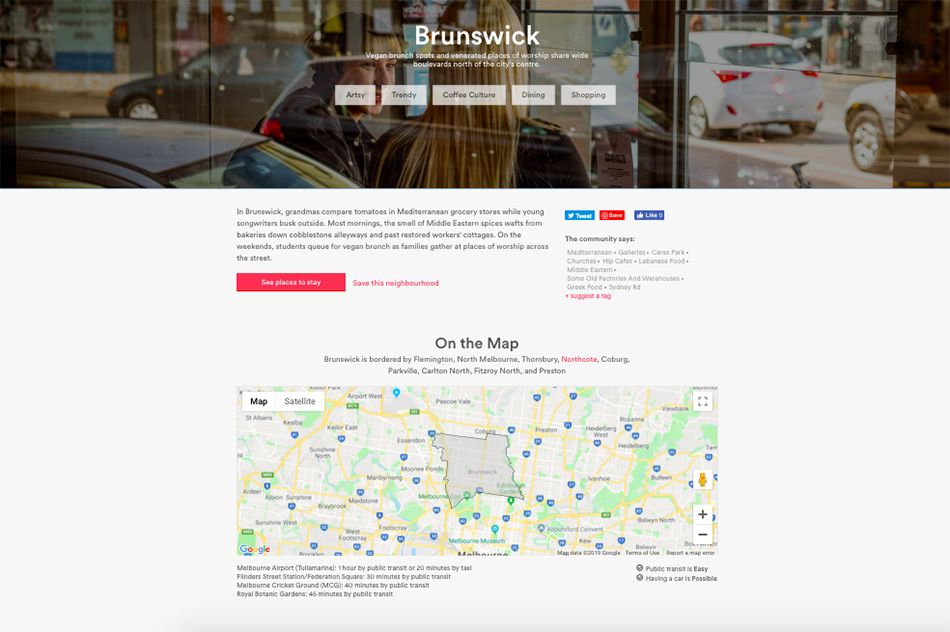 At the top of the page, there's a button in Airbnb's signature colour (which, internally, they apparently call 'Rausch') directing you to places to stay in that neighbourhood. There's a clear funnel from awareness to consideration and finally conversion. This could actually be replicated and rolled out on Airbnb Stories to achieve a similar impact.

Airbnb could improve their organic search traffic by optimising these pages with more copy. As the pages are predominantly image-based, they are missing out on opportunities to rank on page #1 and drive traffic for more location-based keywords.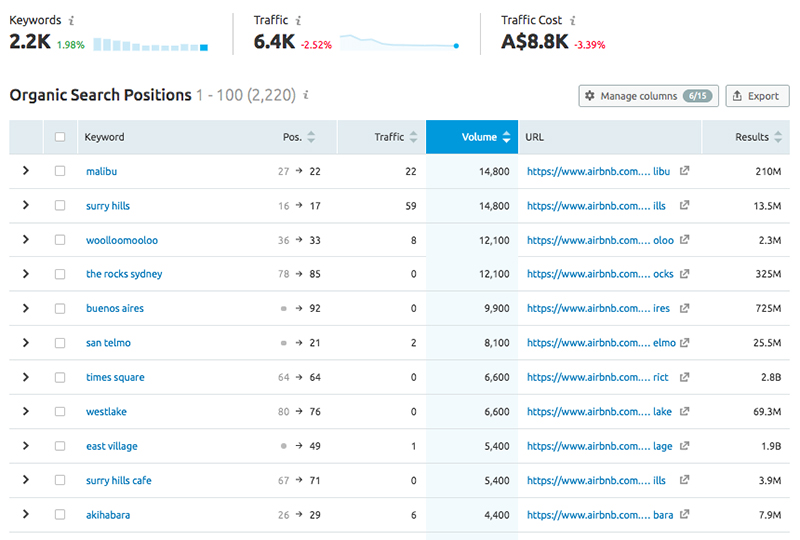 We did note from our research that the keywords the Neighbourhoods section are appearing in top positions for are all relatively low volume searches, and not high volume opportunities that would assist Airbnb with greater growth.
Like the Stories section of the Airbnb website, the Neighbourhoods section is not easily found within the Airbnb navigation, and is largely instead found internally through location search. Externally, we would presume any traffic is driven through organic search, email traffic, and through social promotion.
Guidebooks
If you've ever cracked open or lugged around a lonely planet or rough guide book, then you'll feel a huge sense of gratitude for Airbnb's Guidebooks. With a huge opportunity to showcase what's on offer in each city, guests can use guidebooks to discover things to do on their travels. And, get this, the recommendations come straight from Airbnb's hosts (Authentic? Check!).
Best of all, this section of the site is linked to from the footer of the Airbnb website, from the 'Host' section of the site, and the 'Things To Do' areas, allowing for much easier navigation than the other onsite content areas.
The guidebook homepage appears as this: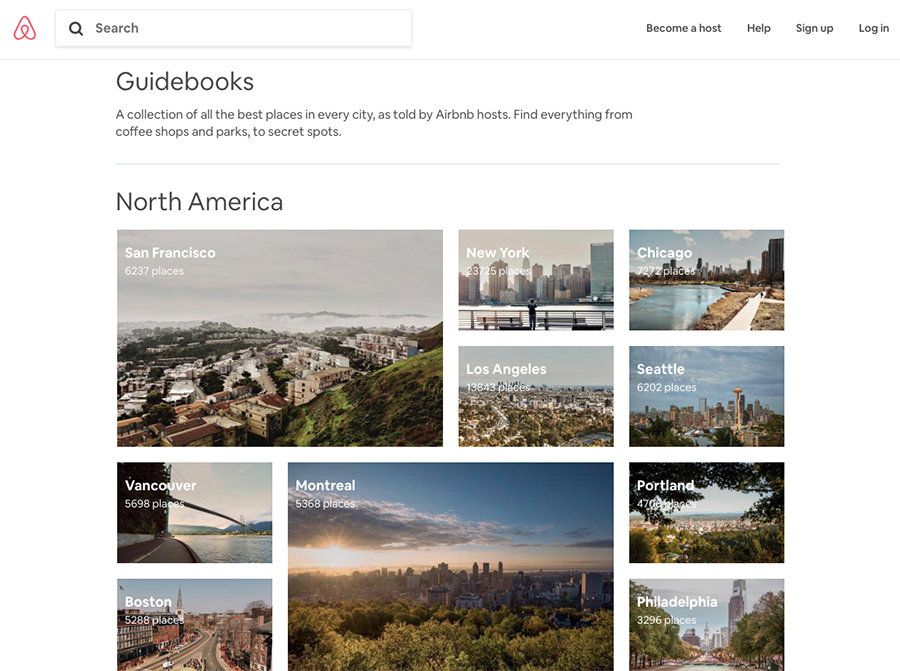 First, you'll need to select your destination. I've looked at "Sydney". Next, I've clicked on "Food Scene" and then "Cafe and Coffee Shops".
I'm now shown a ranked list of recommendations with comments from Airbnb hosts and a Google Map with pins corresponding to each place.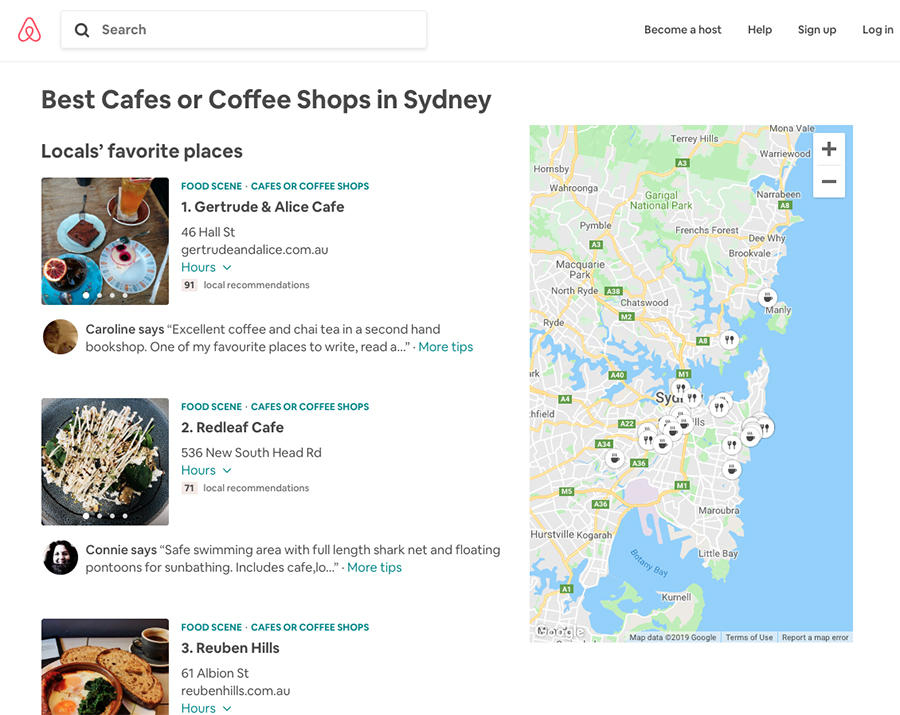 The site structure of these pages is strong due to the way each category acts as a directory page to the other listings, giving greater value to the site and also helping the pages rank for high volume search terms.
As to how people are arriving at this section of the site, this is likely through organic search, email traffic, and social promotion. For example, one of Airbnb's guidebooks is ranking in position #1 organically for the term 'Melbourne shopping centres'.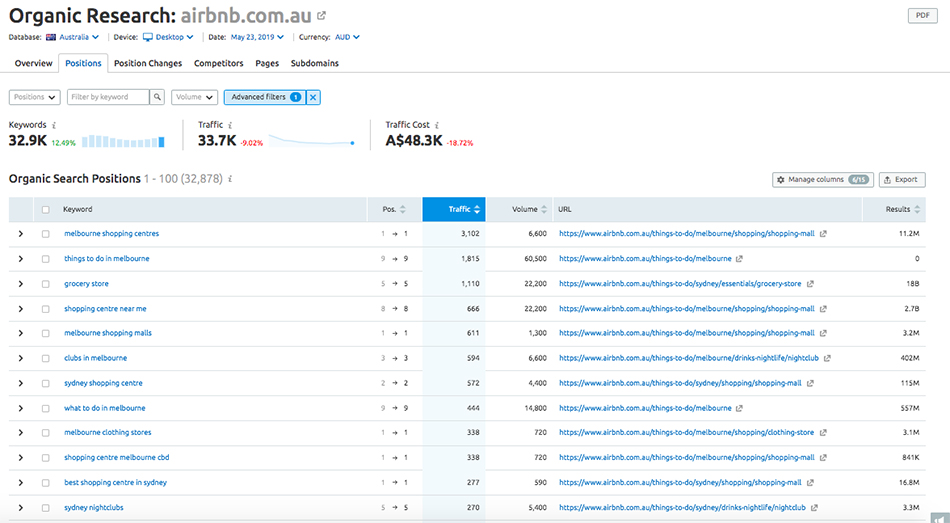 From a user standpoint, when curated the right way, user-generated content (UGC) can be the ideal form of content marketing. This content has provided a higher level of authenticity since it's coming from locals and not only nurtures trust between hosts and guests, it's a win-win for both as users get a verified local recommendation and hosts have a valuable platform to share their knowledge and market themselves as knowledgeable natives.
In addition, I found it interesting to see the similarities in style between this section of the Airbnb website and popular travel site TripAdvisor. It would be interesting to know if they did this intentionally in order to keep the user on Airbnb's site due to the similar experience, instead of allowing the user to go offsite to a location where they would see competitor listings. Of course, without insights from Airbnb I can only assume this is the case!
Offsite
Airbnb has also created an offsite digital content strategy with two separate domains. Both are discoverable in the footer of their main site: Blog and Airbnb Citizen.
The Airbnb blog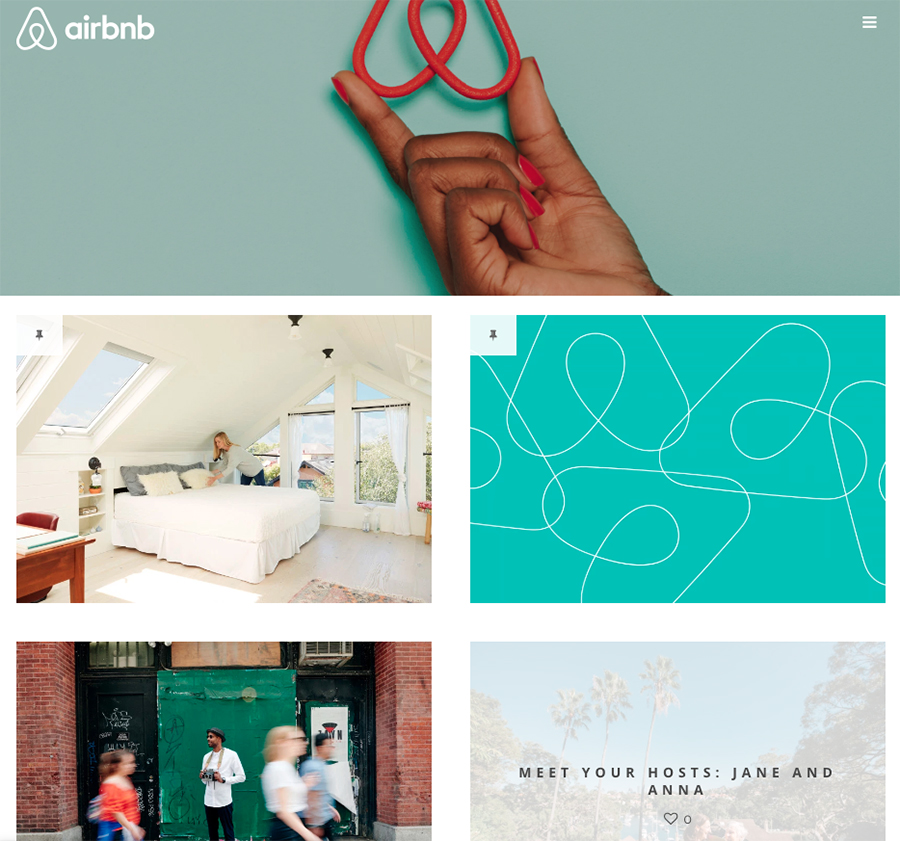 Living on the domain of atairbnb.com, the Airbnb blog covers a plethora of content ranging from tips for hosts and guests, information on partnerships, and updates on business initiatives. Airbnb has also used their blog to feature reports and studies they've created, including Airbnb's Work To Fight Discrimination and Build Inclusion Report, and the Economic Impact Study.
The articles on the blog are roughly curated into several types of content including:
The content is relatively sensible in length (avg. 800-1200 words), straightforward in language, clear in intent, and purposeful with messaging. Airbnb has also included a number of videos and photos into the content to illustrate experiences or locations, and links lead back to the main site to strengthen ties with Airbnb's services (where it's natural or useful for the reader).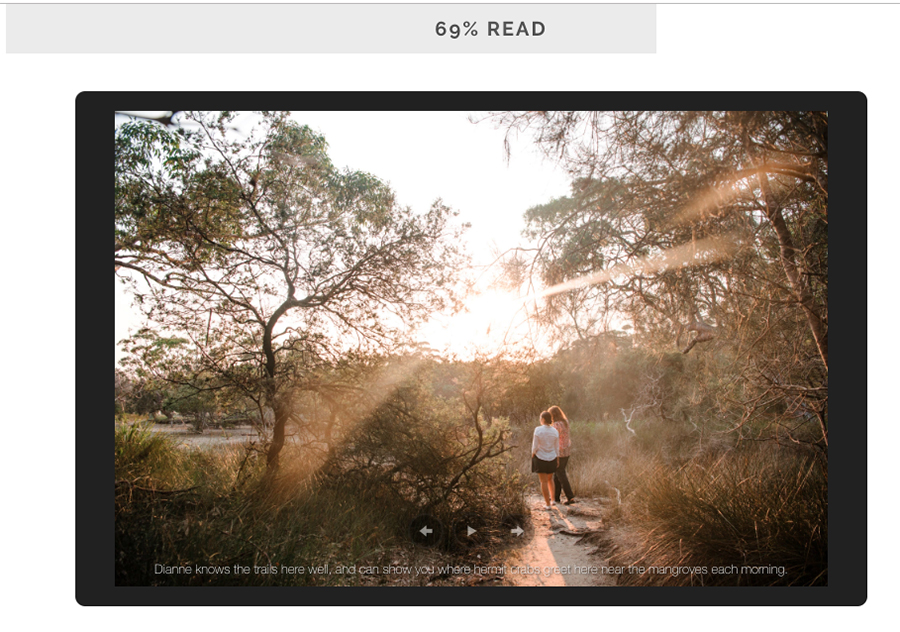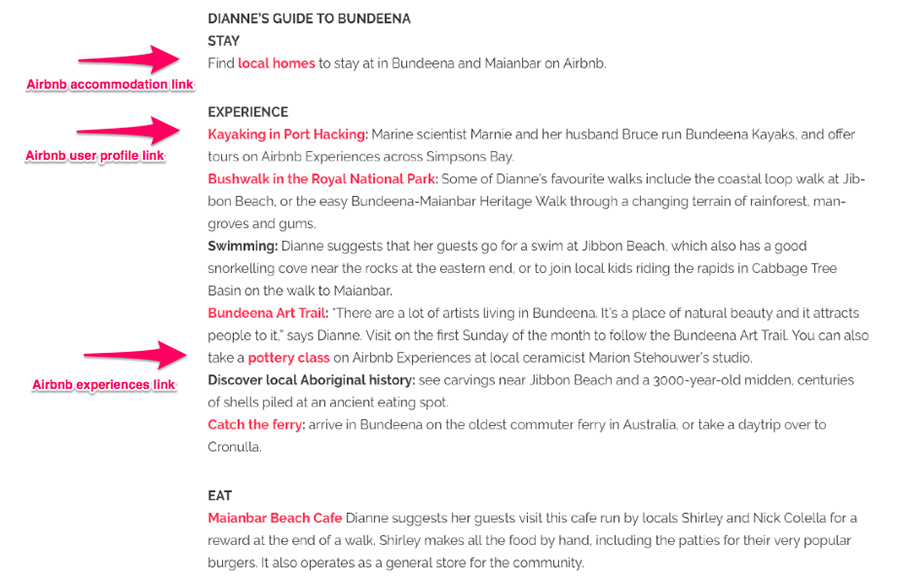 The blog doesn't follow a set template for articles and there are several broad categories such as "Wanderlust" and "Hospitality". The "Local Lens" segment of the blog puts the spotlight on hosts and experiences by featuring individual stories from their users, similar to Community Stories onsite. People appreciate stories about people, so this is very enticing content. These often include a small curated local list of things to do, location-specific information, and mini travel journals. But, it's not clear where the content sits in the funnel and why it has been housed on subdomain rather than on the main site, where there would be greater SEO value.
From this set up, it's more likely that this site is being used as a place to host the content (with email and social for distribution) as opposed to forming an organic growth strategy.
From Afhrefs 'top pages' function, we can see that a small amount of monthly traffic is coming from branded organic keyword rankings with content built out to answer branded queries.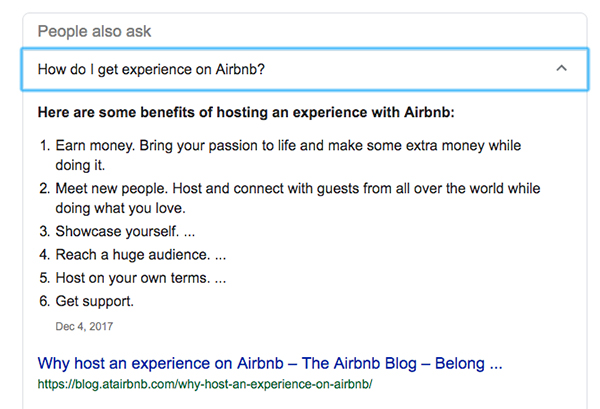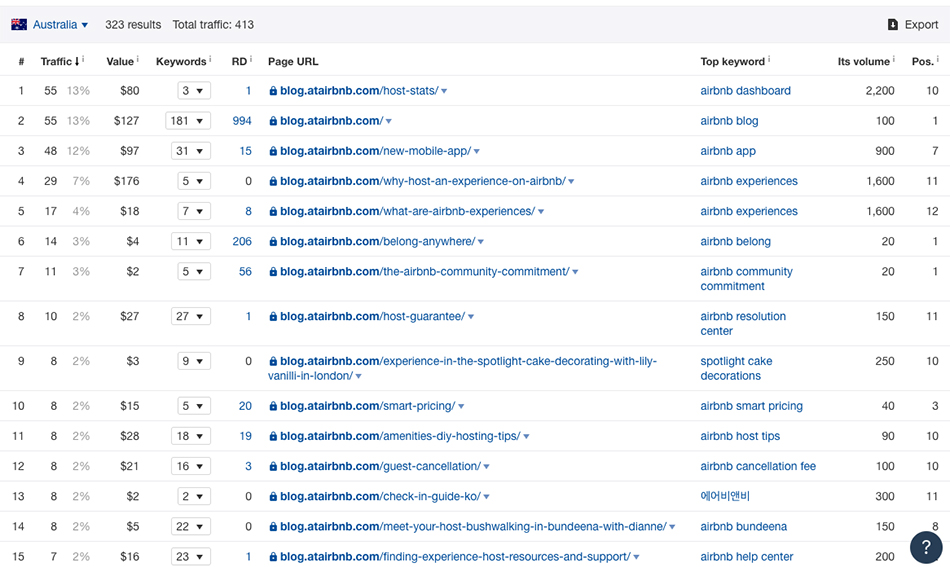 We assume that Airbnb is creating content with a purpose and focus on distribution to drive that content to their audiences. But as a marketer, you never want to discount the impact of SEO and keywords. As Jacqui mentioned in her search analysis, we'd recommend taking a much more aggressive content marketing strategy to drive organic search traffic for branded and non-branded keywords to really ramp up search growth.
It also seems like the most valuable content on the blog is that which focuses on acquiring new hosts. Airbnb could double down on this strategy to lower the barrier to entry and improve retention with a stronger content-driven approach to educate and raise awareness on becoming a host and building your Airbnb business. By creating evergreen content including short articles, in-depth guides and explainer videos, which speak to all stages of the funnel, the blog would have a clear value and focus.
In fact, you could argue that Airbnb is predominantly a B2B business. It's their hosts which are their key customers; if their hosts succeed then they succeed. By offering more information and support, they will attract, convert and retain more home and experience hosts on their platform.
Content marketing summary
Airbnb have a ton of content on their site, mostly to support the decision of "where shall I travel to?" This is fantastic and helps make Airbnb feel like a one-stop-shop for travel but they could do more with the content they have.
They currently don't do much to get the people browsing these pages to move through the funnel and look at search results (it's unclear whether looking at these pages when signed in triggers email sequences).
As Jacqui mentioned in her SEO section, they could also do more with their content to generate backlinks to their site and improve their organic search rankings.
Referrals
Referral marketing is one of the best forms of marketing you can have for your business.
However, there are many businesses who never seem to nail it.
Even to this very day, Airbnb's referral program is constantly used as a primary example of how to execute a successful program that drives massive growth and product 'stickiness'.
The Growth Team at Airbnb have 3 main 'Philosophies' when it comes to growth:
We never compromise on User Experience; and,
Our users tell the story better than we do.
It's no secret in the growth marketing world that one of Airbnb's key ingredients to product growth success was referrals.
Referrals have played an integral role in the overall growth strategy of the company and falls directly under the Growth Team Philosophy "Our users tell the story better than we do". Getting users to advocate and tell the story of Airbnb was particularly crucial in getting it right in the early stages of Airbnb, as mentioned earlier.
So, why are referrals so important?
Referrals are more trusted than any other form of marketing. Period.
Here are just a few stats & reasons why:
Stats
People Are 4x More Likely to Buy When Recommended By a Friend – Nielsen.
92% of consumers trust recommendations from friends, only 33% trust online ads (Nielsen).
Word-of-Mouth recommendations convert 3-5x higher compared to other channels.
Reasons
Increase the Lead Quality and Quantity
Lower the Acquisition Costs
Increase Conversion Rate
Lower the Churn Rate
Increase Customer Lifetime Value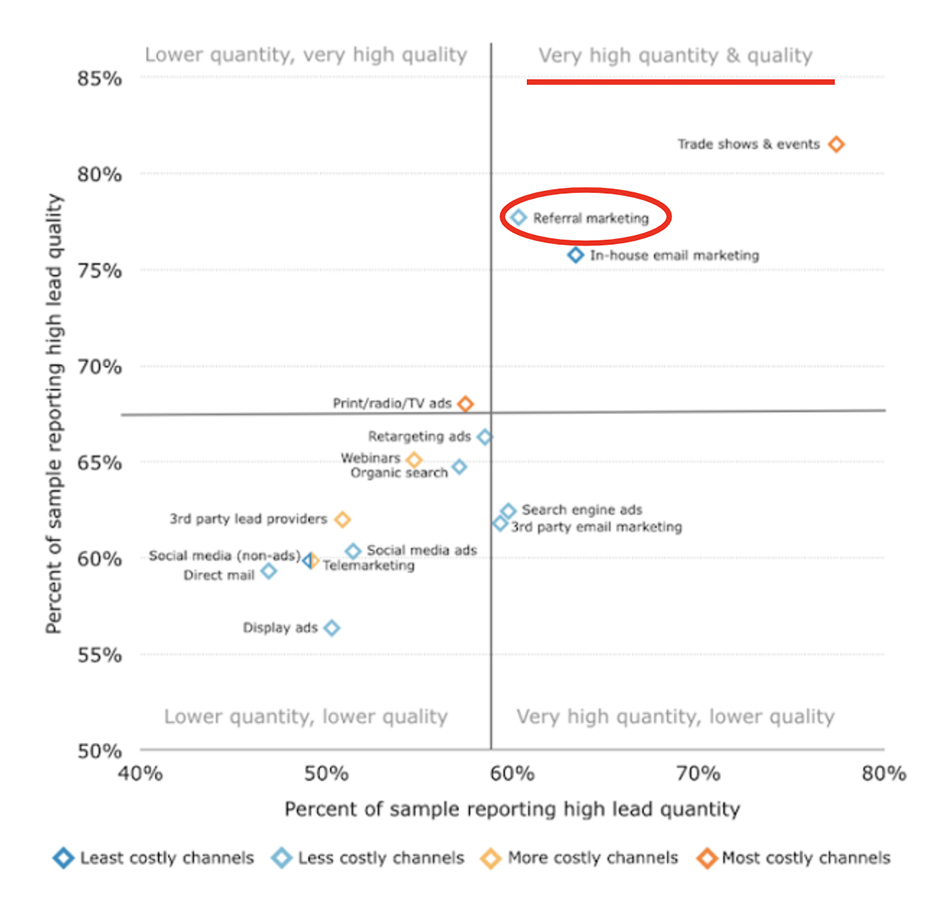 (Source)
It's simple – referral marketing is less costly, and has a higher quality + quantity of leads.
Referral generation
Given the saturation of online paid media & costs to acquire new customers, Airbnb identified that building an engine to create more word-of-mouth from those who had experienced Airbnb was crucial to finding a solution.
As we know, the concept of Airbnb was completely new for audiences who had never used them before, and common questions around about safety & trust were prevalent from audiences considering using the platform. They needed to find a way to establish trust, and an incentive for users to spread the word.
So, what better way to advertise the product than those who have experienced the platform?
It was all about trusting people, not logos.
How do you build, design & measure a good referral program?
So what can we learn from Airbnb's referral program?
How do you execute a good referral strategy into your business so that customers start doing the work for you?
It's not as easy as you think. It's more than simply adding a button after the checkout process with "Invite a friend" or "Share with a friend".
For Airbnb, it's been about continuous discovery, testing and optimising of what is known as one of the world's famous & very effective referral engines.
It's amazing what they've been able to achieve over the years since they first introduced referrals into their platform in 2011.
Their referral strategy is so easy that even my grandma has used it before with referrals from her friends. And whilst it looks simple to the user (I mean, that's the point), there are amazing mechanics & core areas of expertise which they have executed well.
To understand how Airbnb referrals work, we will be diving into the core areas of Design Experience, Psychology & Measurement/Testing of building a refer-a-friend system that grows awareness and drives more bookings and sales.
Design experience and mechanics
Airbnb first launched their referral features in 2011, and below is the original look and feel.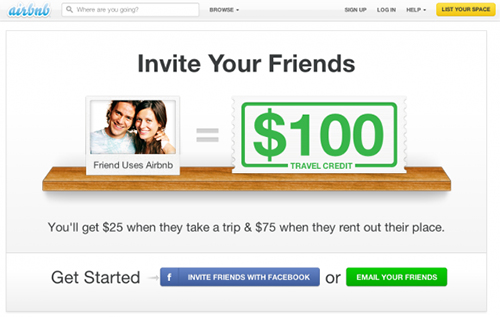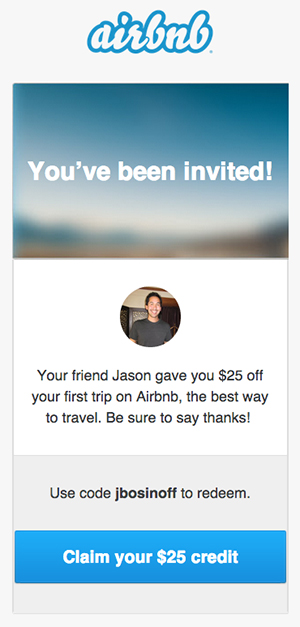 Do you remember these designs? It sure was a long time ago.
From what started off as a small feature as part of the Airbnb platform, the referral system has certainly come a long way since then to now in 2019.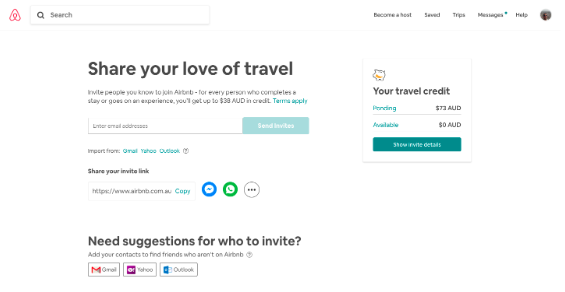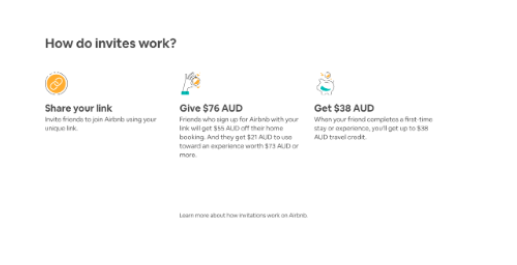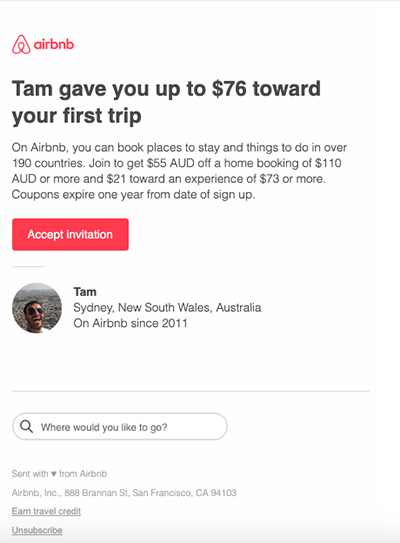 Whilst it's evident that the UI has changed over the years, there's been numerous changes to their UX, copy, layout and small additional features, which have been implemented to maximise the chances of users spreading the word.
We can easily deep-dive and go back across all the years to see how they've improved it over time, but then again this article (which is already long), would become much bigger.
So, what can we learn from how the Airbnb's referral system mechanics and design work for them right now?
How does it help them acquire new users & retain existing travellers?
Guest referrals: Desktop
Airbnb have kept the mechanics simple when it comes to referrals.
They manage to cut the process down into 3 simple steps:
Import contact emails from Gmail, Yahoo or Outlook
Share link with friends
Send a customised & personalised invite.
Seems like a very simple process, right? Again, as a normal user it really is, but as marketers or anyone working in technology, we can appreciate there is a lot more work that goes behind the scenes.
Let's start with the layout of the referral page.
The clean and minimalistic design is certainly done on purpose. It's clear what Airbnb want the user's attention to focus on.
On the left, it's clear what I need to action if I want to share with my friends. On the right, I can see the credit I currently have, and what I need to do in order to get more. And then down the bottom, I see very easy instructions with simple steps of how the process works.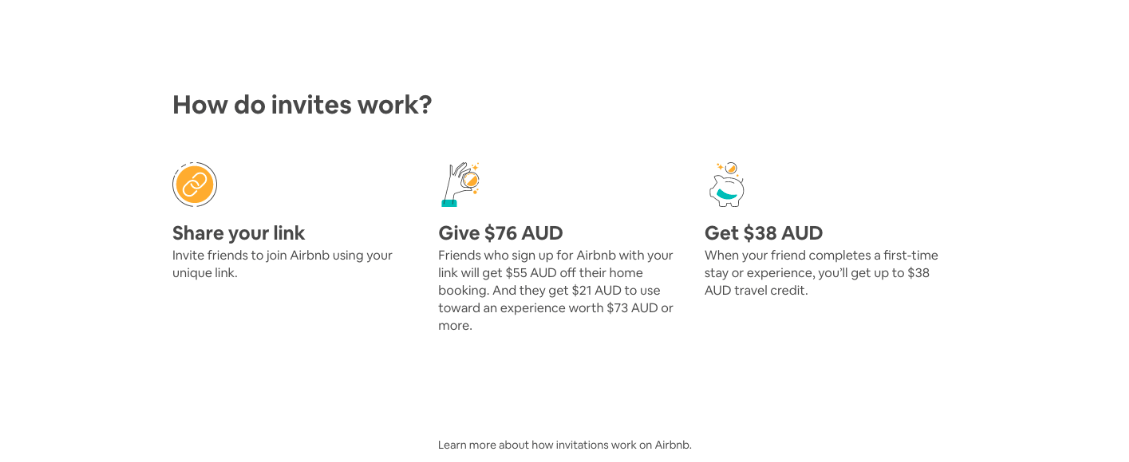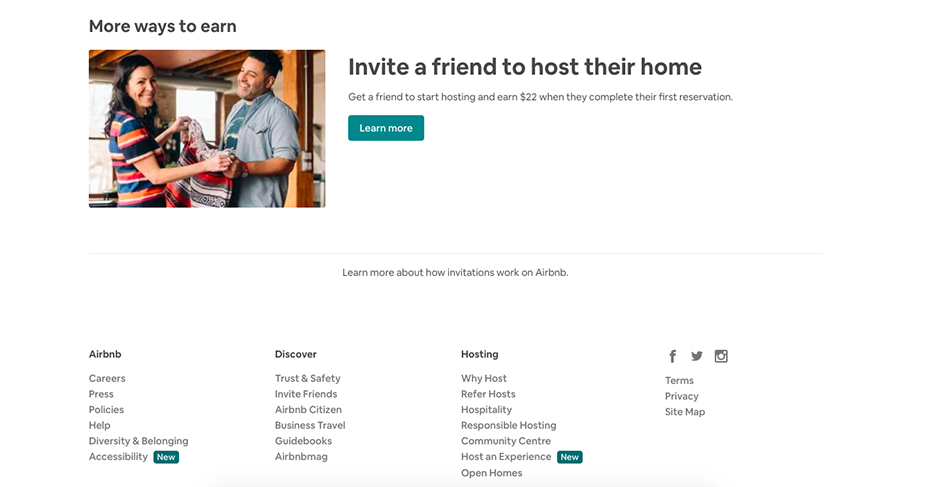 Okay, so let's break down this page for referrals. (We will check out the mobile app later).
Copy to persuade sharing
When it comes to the sharing mechanism under "Share your love of travel", the first thing you see straight away is the description under the title.
It's very short copy, and it gets straight to the point. It's basic copywriting psychology – you need to instantly show value right up front, which Airbnb have done here. Who doesn't want more money for their holiday or accommodation, right?
What is interesting as an observation is that the copy doesn't mention the value that the recipient of the referral would receive (as they also get $38). Why is this the case? The assumption is that Airbnb wants to focus on the goal of the user at this particular step. They do mention about what the friend receives down the page in the "3 Steps".
Why would the user want to send this in the first place?
It comes down to what feels like a "Gift Experience". You don't want just share something your friends to do a "favour" for you. You want them to equally be motivated to take action by accepting the invitation by joining and have the same experience (that's the only way you get the money ;).
What's even more impressive with even more incentive to share?
The user who shares the invite gets $38 but the friend RECEIVES $76. How cool is that? I now know what to get mum for her 52nd birthday 😉
The fact that your friend or recipient receives credit when signing up (in this case $76), it doesn't feel as if the user is taking advantage of the situation or the recipient feeling 'used'. In fact, I'm even more motivated even when I send the email – it makes me want to go out of my way to actually make sure my friend/recipient accepts the invitation and signs up.
It's a win-win situation for the user and recipient.
And you know who really wins with this process? Airbnb of course. Users are now really motivated to send invites because they know the recipient gets amazing value.
Email import
So how does the email import functionality work?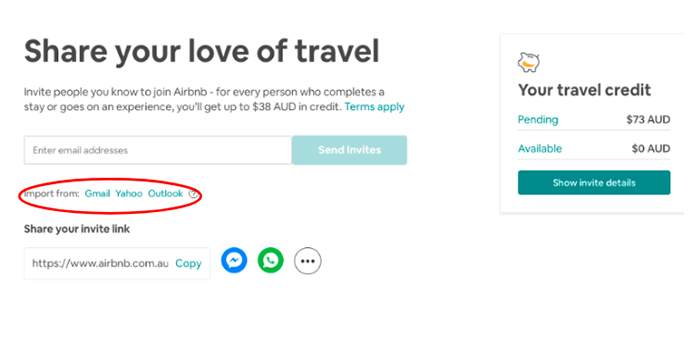 Step 1) Sharing is caring
As I look down, I see the option of "Import from": Gmail, Yahoo or Outlook. This special feature that Airbnb have included has the ability to import contacts via Gmail, Yahoo or Outlook with ease (I've done this before and it's great!).
This feature makes it easy and thoroughly enjoyable for the user. It means I don't have to copy & paste emails (although you have that option) and the bulk of the work is done.
So what happens next? Well, press Send, duh!
In all seriousness, when the emails are in and ready to send, I'm now motivated as a user to easily share this with my friends or anyone whom I want to receive an invitation to join.
Step 2) The recipient gets …
Now let's look into what the recipient receives via email once a user press 'send invites'.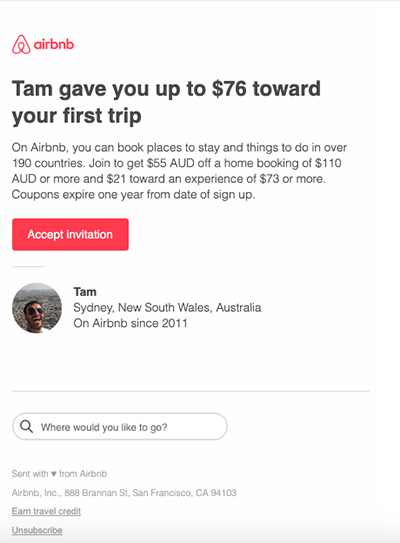 A beautifully tailored email.
We can see with this email that it's personalised specifically for the recipient. It really does feel like you're receiving a special gift from your friend. I love it.
It's not a complex email. It's beautifully minimalistic and I know who it's from.
The way it's designed and the copy used is to help build instant trust and increase the likelihood of me accepting the invitation.
How?
They do this by including;
Familiarity – I know the person sending it in the photo
Trustworthy – I trust the sender
Incentive – I instantly see the value that I will receive if I take an action by accepting the invitation.
Simple and straight to the point, and only one action is required.
So presuming I'm impressed as a recipient (not just for the purpose of this article), what happens if I click "Accept Invitation"?
Step 3) Where to next?
I get directed to a page where a modal instantly pops-up.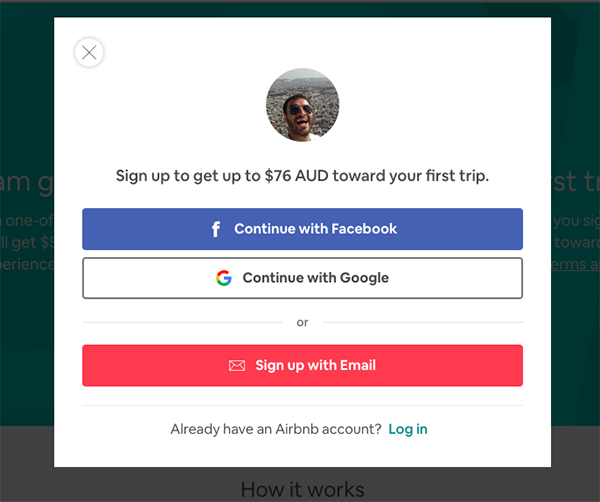 The modal design sticks with the above principles to ensure continued appeal to the recipient:
The value of signing up
I know who it's from
Multiple options to sign up.
This seamless experience makes me want to continue with the sign up process. It's effortless.
Step 4) So you've signed up. What now?
Once I've accepted the invite and completed the sign up process, I get taken straight to the homepage with a personalised message with "What can we help you find, Dan?" and in the right hand corner a notification for $76 AUD in my account.
Winner, winner, chicken dinner! I love free money!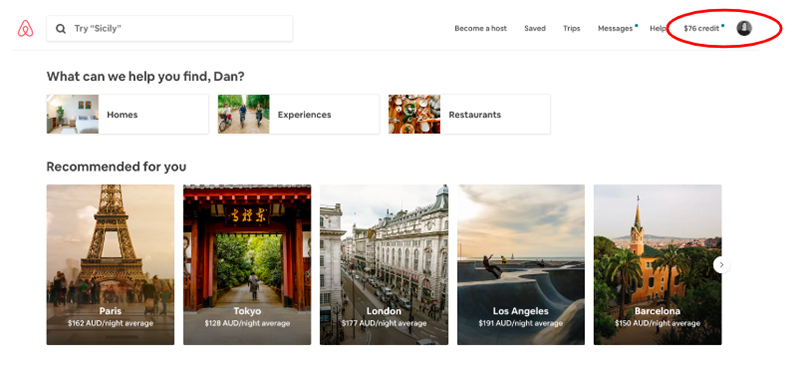 The whole experience was streamlined. For new users, Airbnb ensures that each individual feels important to be part of the platform.
So that in itself is the whole sign up process – pretty impressive how streamlined it is, right?
The social sharing process
While we focused on how it was done via email invitation, it's a very similar process when sharing the link directly with friends.
If we go back to the referral page, under the "Import from: Gmail, Yahoo, Outlook", the ability to share your referrals via a link whether direct or via social channels is evident as another option for users to share their content.
The way you invite friends to the platform is on purpose very similar to how other platforms work. Share a link to your friends to a custom landing page or via email.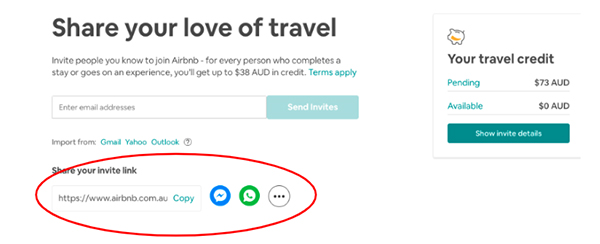 When you share the direct link, you get this landing page.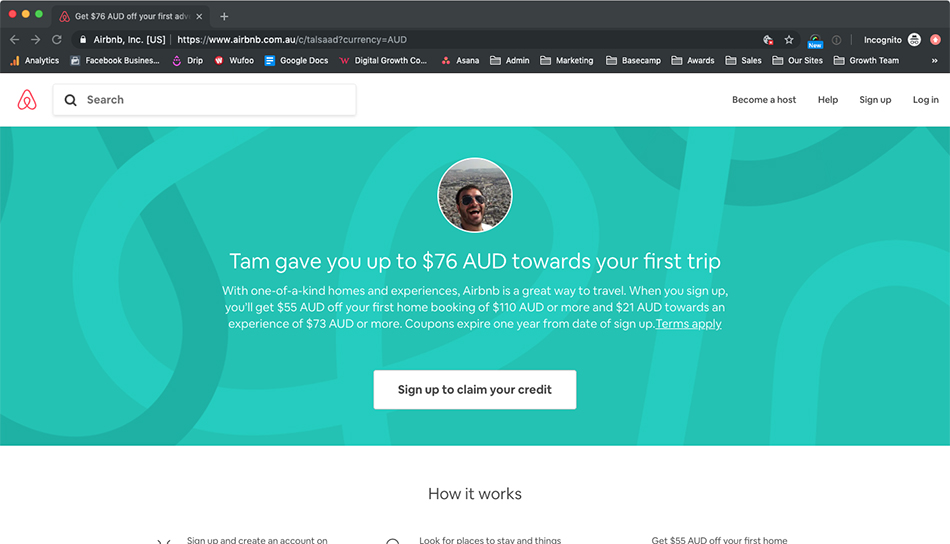 What is evident – and which we haven't seen many referral systems use – is other social channels such as messenger & whatsapp.
So what happens when you share via Facebook or Whatsapp?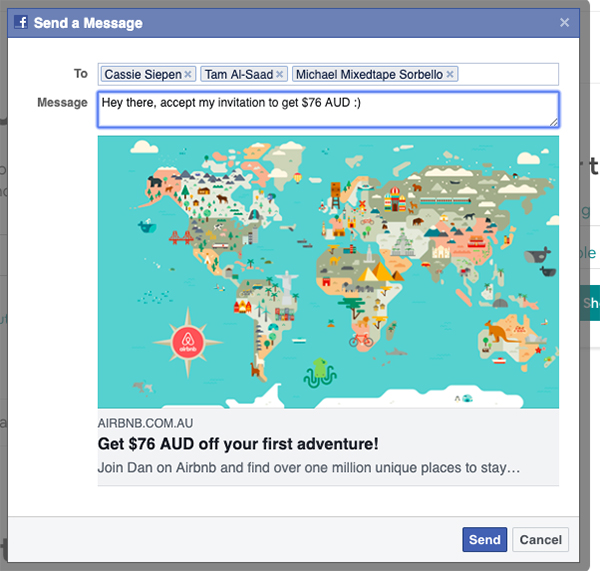 You can see why Airbnb purposely placed Facebook & Whatsapp icons next to the short link.
Having these two large social channels – Facebook Messenger & Whatsapp – helps users easily share the link with their friends, and also gives them the ability to share their personalised link through group messaging & more. The more people you can share it with and sign up, the more travel credit.
And think about it for a second … would you share referrals like this via email?
Personally, I don't email my friends often, especially at scale, so having these two options makes it feel easy just to share via these channels where I talk to my friends all the time.
So what do the messages look like when you share with friends?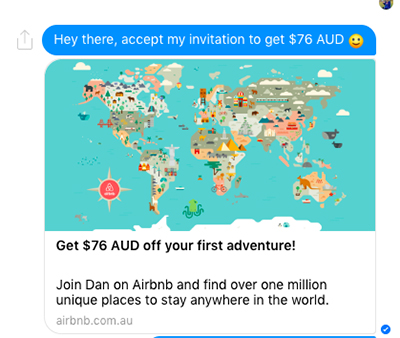 Very similar to the email invitation experience, there is a personalised message which instantly builds trust & increases the chance of a conversion.
Of course, you can edit the template message yourself, but this does make it easy for the user to share.
Rest of the referral page
We've now deep-dived into how the mechanics work when inviting a user as a referral to the platform, but what else can we find on the page where we can invite friends?
Staying interested – your travel credit

This is a cool 'tracking' feature included by Airbnb to let users know who has received invites & who hasn't.
It keeps users engaged and, in many ways, motivated to invite more friends or follow those up who haven't signed up.
How? Well, let's see.
This is what happens when we click "Show invite details".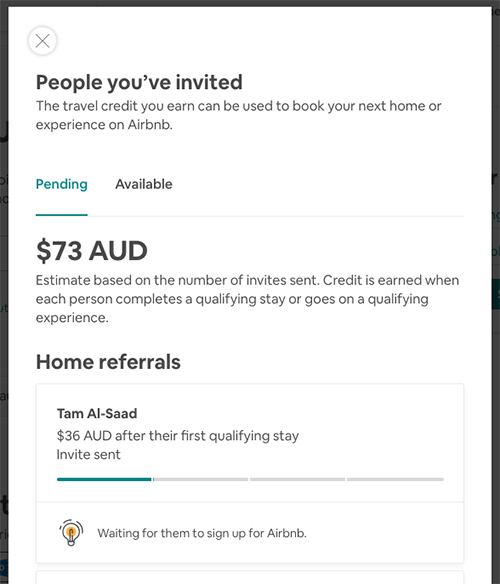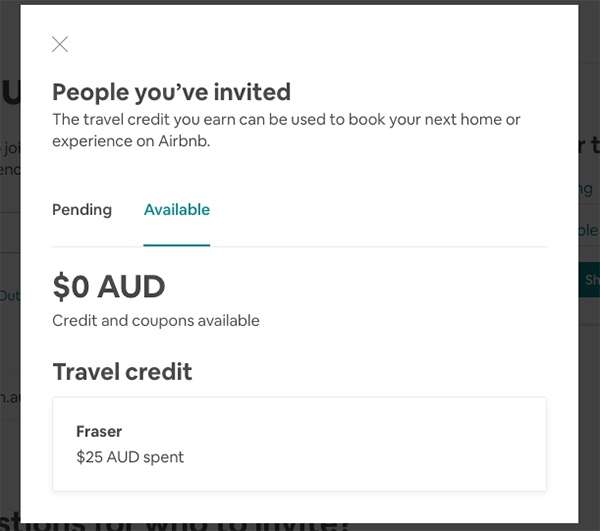 In these two views, you see "Pending" based on the invites sent out and "Available" with the Credit and coupons available to use.
The pending view is definitely a smart feature to include. Users are 'engaged' and enticed to keep following up friends who haven't joined the platform. It's a great way to incentivise.
With Available, this view shows who has successfully accepted and signed up to the platform from the users invitation.
This will help spur users once they get a couple of referrals to keep getting more users signed up if they want more credit.
Copy: how invites work
When we scroll down the page, we see the instructions for the process.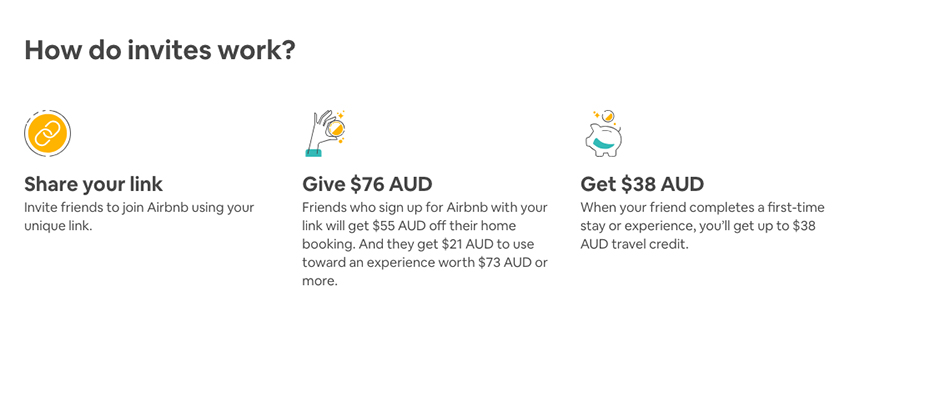 Having simple instructions on this page gives more context about how the referrals process works. A successful referral process is a simple one, so summing it up in 3 small sections makes it easy for the user to understand, which entices them to go through it.
What is clever is the positioning of this section on the page. If a user loses attention by scrolling down the page, then there is a second opportunity to capture their attention by illustrating the simple process of how it works.
The final pull – more ways to earn
And then if a user keeps scrolling, we see one more block section which is about Host referrals.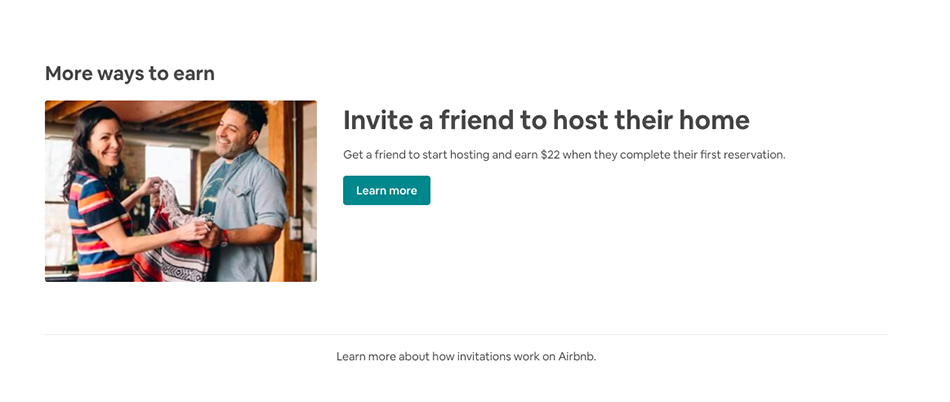 Airbnb have strategically placed this on the page for users as, while gaining more users onto the platform is great, it's even more of a priority to get more hosts onto the platform.
Having this on the page again highlights to users that not only can you get credit by inviting your friends to use the platform to stay for accommodation, but also invite friends to host people to stay at their places.
More ways to refer = more credit.
You could argue as to why Airbnb haven't made referring hosts even more prominent on the page due to the importance of making sure demand doesn't outweigh supply.
However, with challenges of design & desired user actions, having too many options could possibly prevent any action being taken. It's an interesting challenge worth watching closely if you're a user of Airbnb.
Guest referrals: Mobile
So what does the mobile experience look like for sharing referrals for guests?
It's a very similar UI to the desktop platform which is done by design. It keeps it consistent for the user to know where key pages are.
A lot of the invitation mechanism is the same above, just done in a different experience with mobile considerations.
However, there is one key difference that is prioritised in the mobile app which is different to the desktop experience.
SMS sharing.
Let's take a look at the invitation mechanism on mobile at a high level.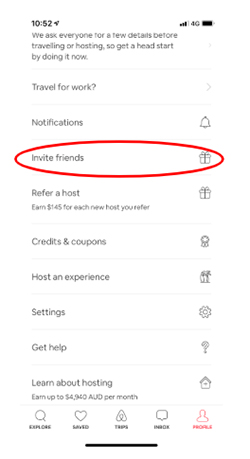 In the mobile app, we can see "Invite Friends" which stands out.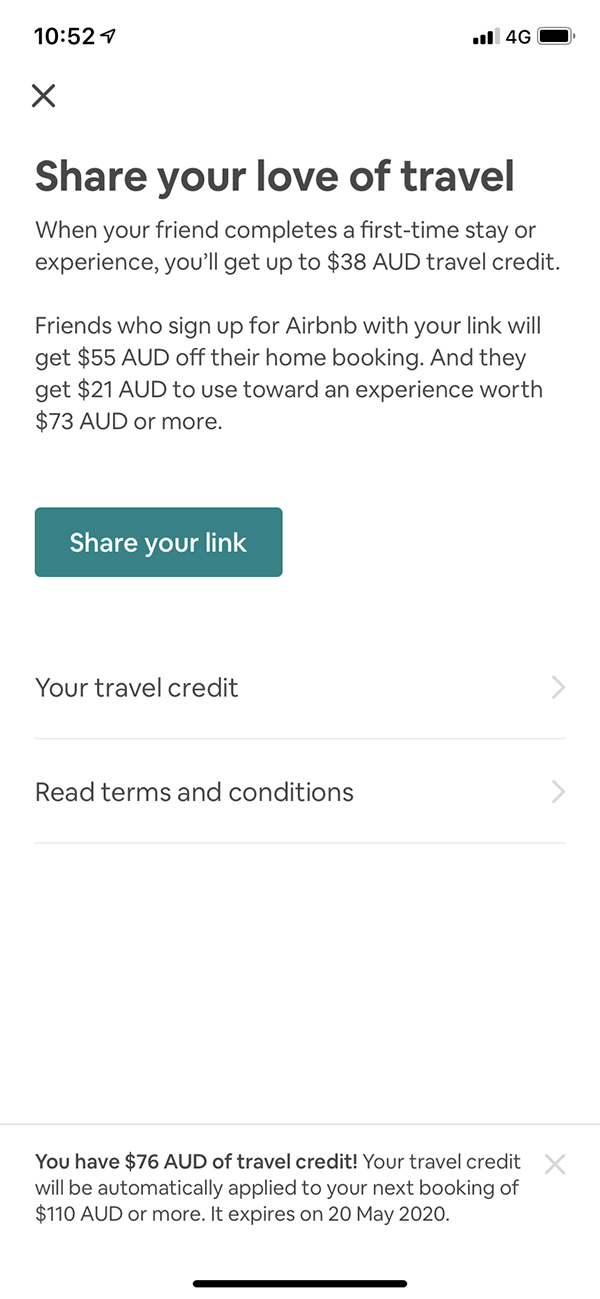 When you land on this screen, you see a very similar experience to the desktop.
And once you press "Share your Link", you come to this screen.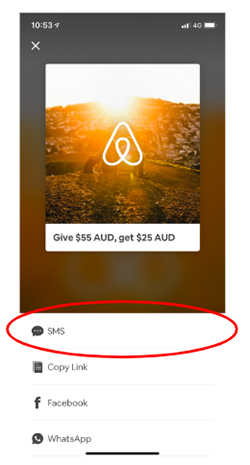 The mobile experience doesn't include email due to the obvious reason that the UX just won't be the same as desktop. Instead, they provide the mobile-friendly option of SMS (and, of course, Facebook and Whatsapp) to make it a seamless experience.
Host referrals: Desktop
Okay, so we've gone into detail of what the invitation mechanics, design & UX looks like for guests, but what about hosts?
Let's firstly take a look at the layout of the 'Refer Hosts' Page.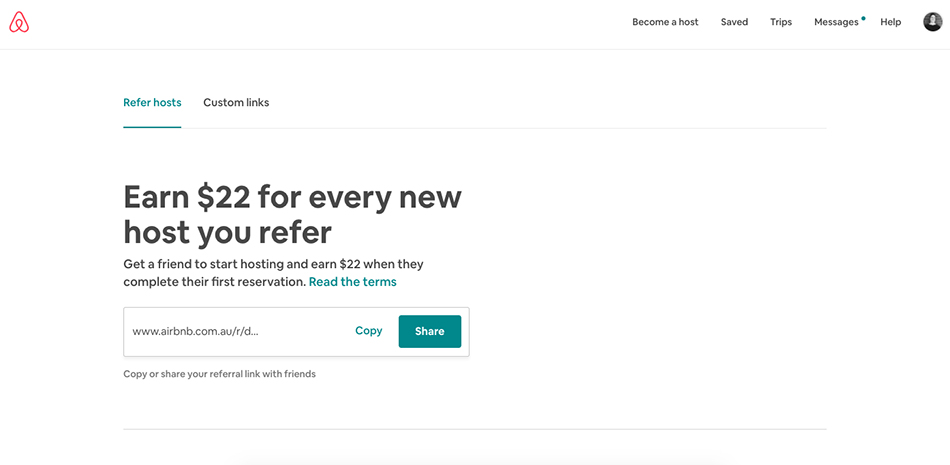 At the top section, it's a different layout compared to the guest referral page. We instantly see the value of sharing and when a host successfully joins, "Earn $22 for every new host you refer".
Then underneath, we don't see the email option to send a personalised invite right away. Instead, it's focused on sharing a custom link.
I'm not 100% sure of the exact reason why we can only see this for now. The only assumption we have is that it's more effective in terms of conversions for Airbnb.
However, we do see the option of being given other ways to share once we press the "Share" button next to "Copy".
Step 1) Sharing is caring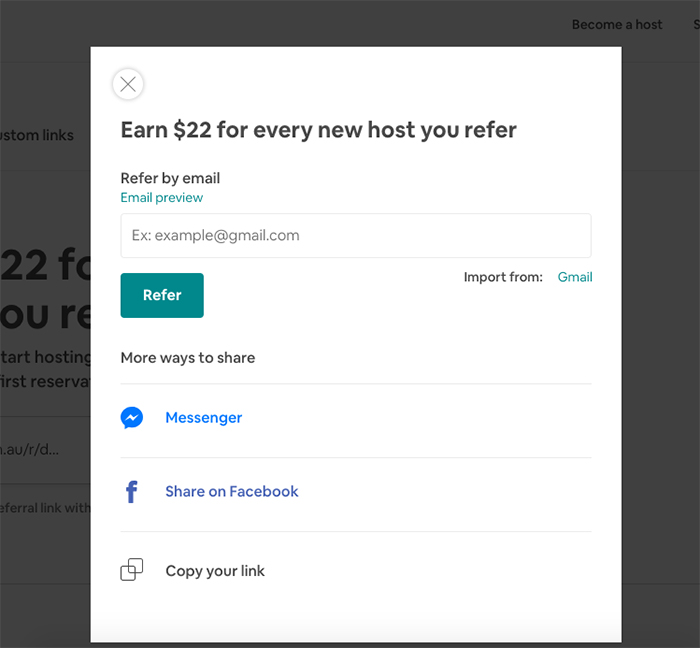 It's now that we see the other options of sharing referral via different channels – such as messenger and email.
So, based on the same principles as inviting guests, what does the recipient receive this time if they're invited to become a host?
Step 2) The recipient gets …
Again, a tailored email.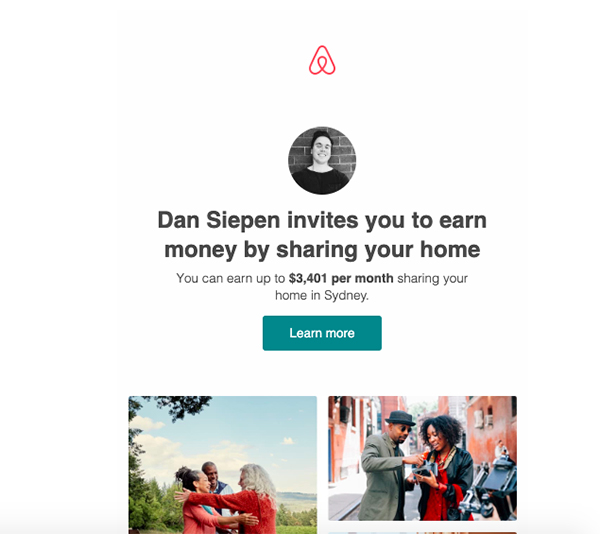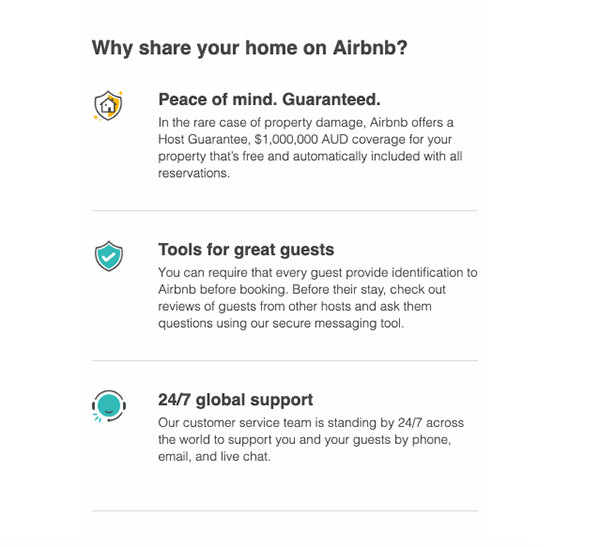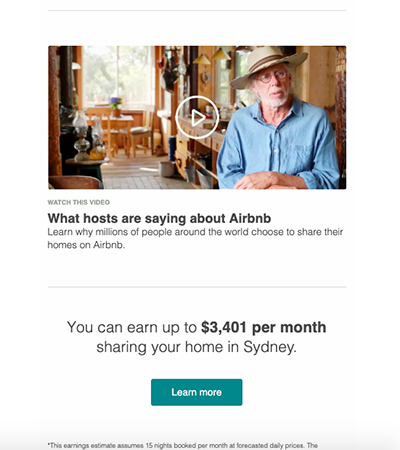 As we can see, it's a much longer email compared to the guest referral email, but still some core elements in the email to keep it personalised:
Photo of who it's sent from
Value of joining – i.e. "Can earn up to $3,401" this month
Clear CTA's.
However, there are some other elements that have been included, such as:
Images of people
A video testimonial
3 key pieces of information about hosting – in other words, 3 USP's.
So, why were these 3 extra elements included for hosts but not for guest referrals?
The primary reason is that it comes down to the decision-making process. To sign up as a host compared to being a guest, there's a lot more involved in terms of trying to convert them.
Step 3) The landing page experience
After I decide to learn more, I come to this landing page specifically personalised to me and, more impressively, my location.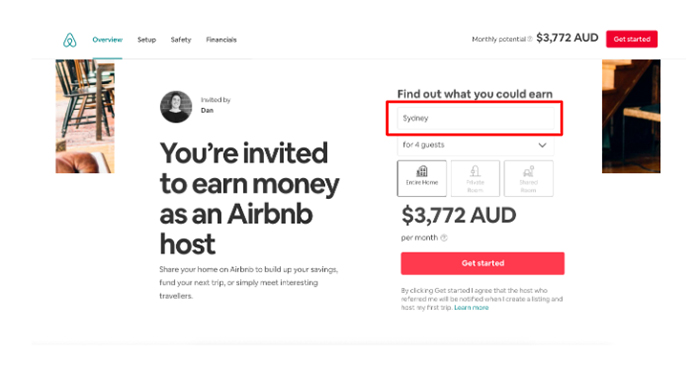 This is an awesome reception. I instantly feel special and welcomed to this page.
I can see it's about me and what I can earn if I become a host. I mean, an extra $3,772 AUD per month is not bad at all (wouldn't mind the extra money now that I think about it).
To save on time, there are other elements of this page which certainly helps with the decision-making process to take the next step.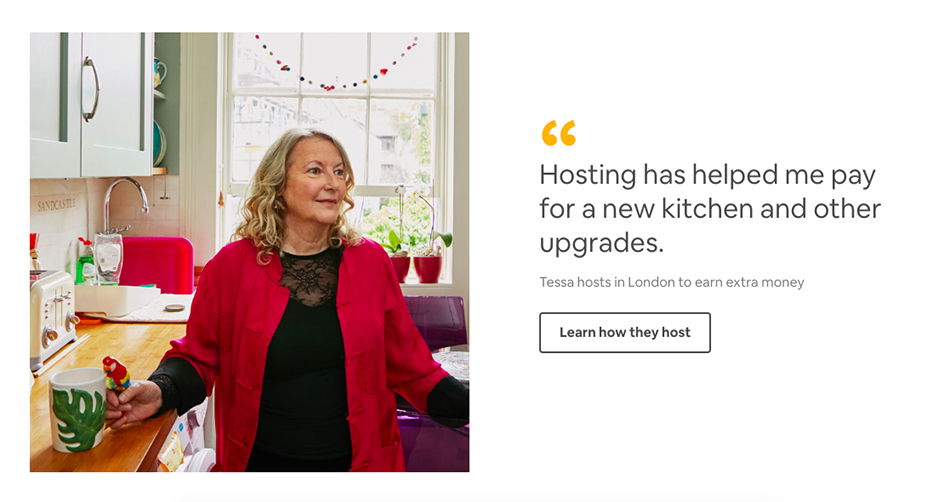 Social proof to ensure those interested that other people are happy with their experience as a host.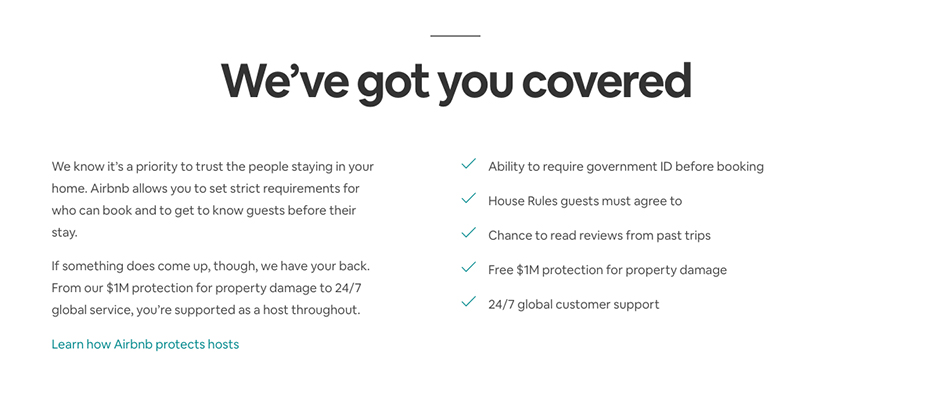 This section is particularly important to have on the site. It ensures prospects know that Airbnb have got them covered (in their words!).
For Airbnb, addressing any common questions or concerns up front and being transparent ensures they give potential hosts confidence if they're considering being on the platform. In addition, they offer more information about becoming a host.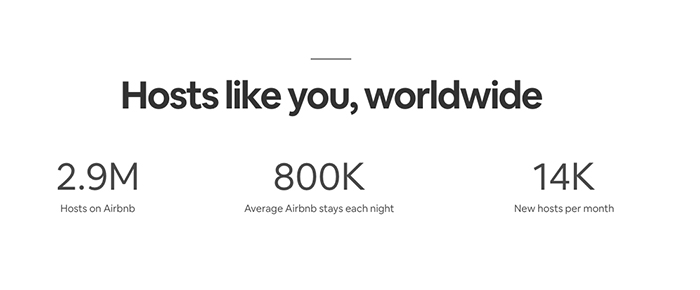 More social proof again (impressive numbers, right?).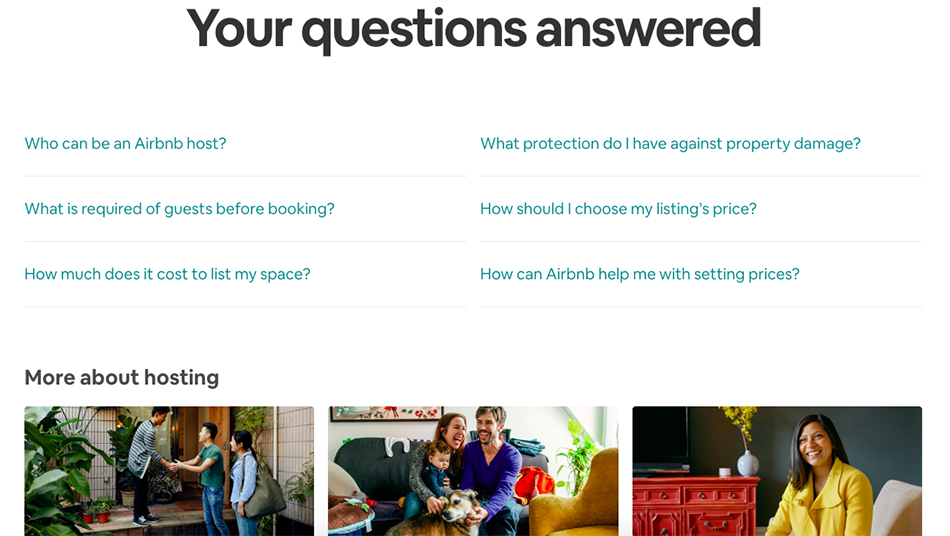 And towards the bottom, there is a Q&A section + Blog section to help those if they need further information whilst considering if hosting is right for them.
In summary, the invitation for new hosts is carefully crafted and personalised to give the best possible experience for a new host. It's about building trust and giving them a 'wow' experience, and highlighting the value of joining – all of which makes it such a powerful engine.
Host referrals: Mobile
So what does the mobile experience look like for Hosts?
Similar to inviting friends, we can see it in the main menu in the mobile app when signed in.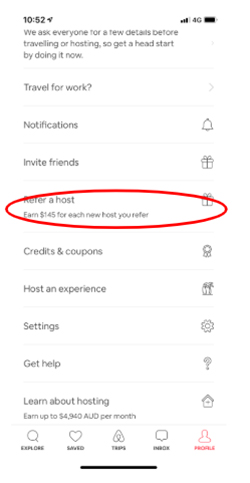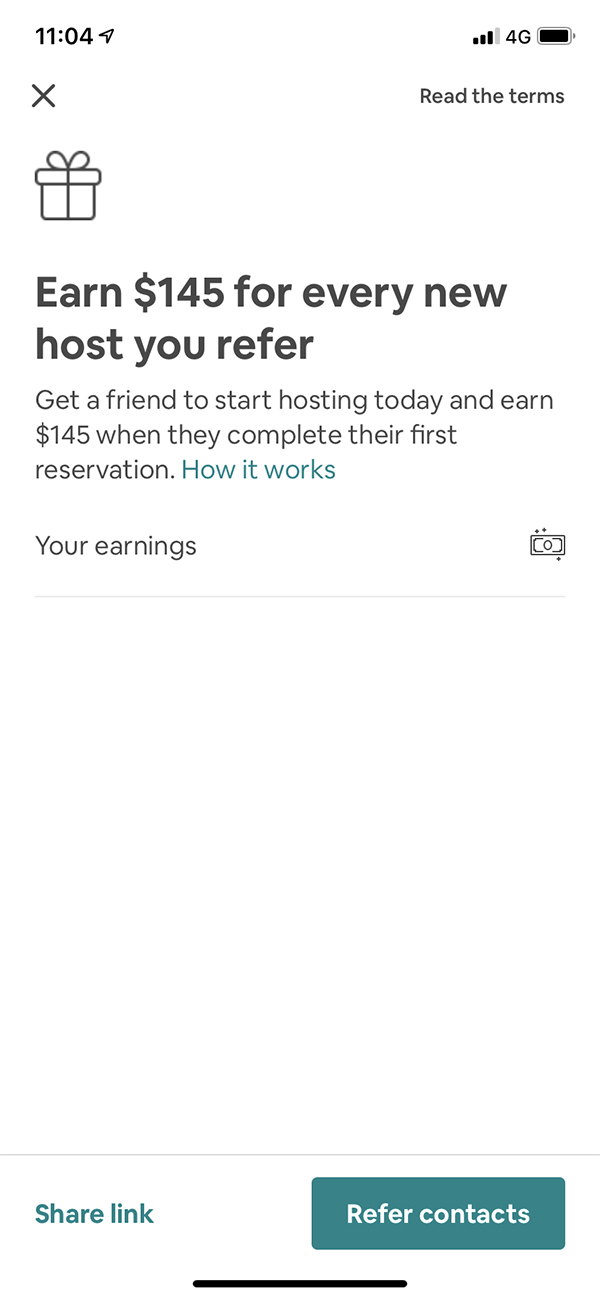 Once you press the link, you get to this screen.
The referral amount changes
What I have found very interesting is that the money you receive via the mobile app is $145 AUD shown rather than $22 via Desktop?
Why? I'm not 100% sure. Is Airbnb encouraging referrals more through their mobile app? Or are they simply testing based on my previous app behaviour?
This is an interesting observation as I haven't as of yet successfully referred a host, so this is possibly a strategy to help me take an action. If it is, I like the strategy. It's certainly now motivated me to help refer a host.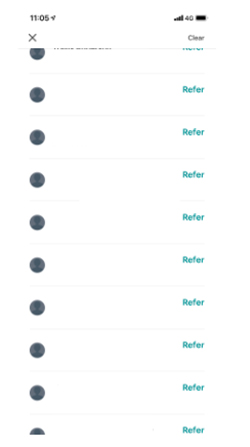 The act of referring
After a user clicks on "Refer Contacts" then it instantly takes them to this screen where they can share with their contacts with ease. (Note: you will see people's contact details, we just had to blur them out).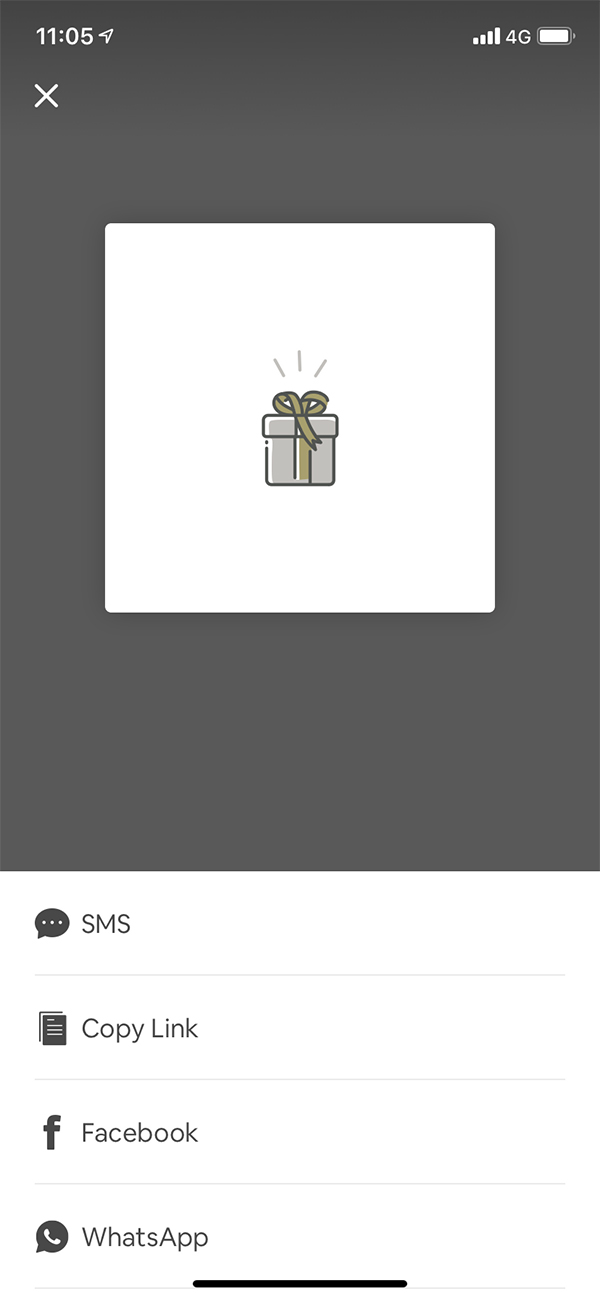 And the final important screen is you have the option to share the link directly via other channels such as Facebook & Whatsapp, similar to the experience on mobile to share with guests.
Key takeaways for guests and hosts
The user journeys for guests and hosts are different, but share some core elements which you as a business owner or marketer can learn from to generate more referrals:
Strong & Evident CTA Buttons

Airbnb makes it very evident what they want the user to take an action by having the CTA button in red across ALL their key pages & channels, including email & in-app.

Personalised Messaging & Copywriting

Each persona is spoken to in a way that focuses on the values & motivations for what will entice them to use the platform.
Clear & succinct messaging focused on value certainly helps those wanting to share.

Email & Social Share

Both personas have a very simplified UX for sharing via email or a custom link.
As a user, it's very easy to use. They haven't over-complicated things, which makes it more enticing for a user to share.

Multiple touchpoints

What Airbnb have done well is how easy they make it to 'Invite Friends' or 'Invite Hosts' via Desktop & Mobile application. Users aren't always going to go out of their way to find out how they can share. It's important to do some of the work for them.
Measurement/testing of referrals
Obviously, we don't have access to the backend analytics of how Airbnb measure the effectiveness of referrals, but it's important to address that whilst it's great to design and build a referral system, how do you measure the success of it and optimise over time?
There are a couple of fantastic resources online + a video you can explore in detail.
Beyond what Airbnb have done from designing a world-class UX experience with their referral system, it's their approach to continuous measurement and testing which acts as a testament to the continuous success of the program.
So, how do you measure an effective refer-a-friend system?
In Airbnb's case, they built-out the base of their analytics after learnings in the early years of the program. Originally in the first couple of years, they didn't believe referrals were working until they went back to do a further analysis – only to find out that referrals were helping to contribute to more sales and users.
To measure its effectiveness moving forward, Airbnb looked at various metrics (Time in Video – 12:46) and forecasted data to interpret what can be achieved through compounding growth over time.
Monthly Active Users Sending Invites
Invitees per Inviter
Conversion Rate to New User
Conversion Rate to New Guest
Conversion Rate to New Host
Revenue Impact Potential
Based on 3 different assumptions, the potential impact of referrals could have a dramatic compound effect on the bottom line – in a very good way indeed. The ability to achieve new users through lower CPA's was a mouthwatering prospect, and could result in strong growth.
Ultimately, over time this has helped Airbnb.

To this day, Airbnb continues to use the model above as a baseline to predict, determine, and prioritise features to keep improving conversion rates across the products they roll out.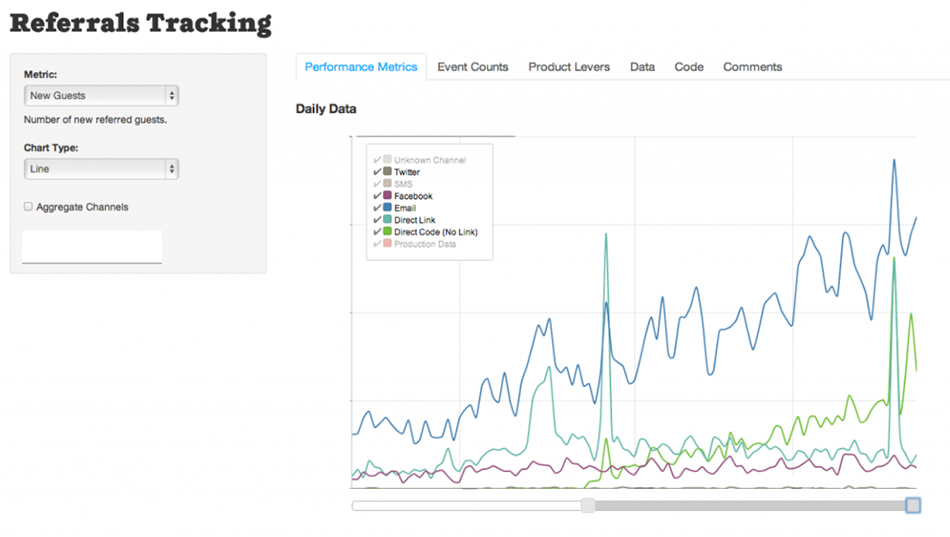 In an article in the Engineering & Data Science medium publication, Jason Bosinoff at Airbnb explained how they "Kept Score" for tracking the analytics of referrals.
Airbnb do have the luxury of having large-scale teams of data analysts & developers, but with new analytics platforms such as Mixpanel, measuring product growth and building attribution models have become easier even for smaller SaaS based companies or app makers.
Referral overview
There's definitely a lot here we can learn from Airbnb.
I'm sure your head is probably spinning with the amount involved in understanding referrals, but it goes to show the power of having referrals in your product can go a long way to increasing word-of-mouth and, ultimately, retaining users & acquiring new ones with virtually no cost.
If there's one big takeaway to think more about, it has to be their simplified UX experience with keeping personalisation in mind. It's certainly something to strive for.
Community marketing
"Build something of value for your customers that isn't easy to replicate" – Jason Fried, Founder of 37 Signals
Does your company or brand have a community or do community marketing?
If you haven't built a community before nor done community marketing, you're not alone. Many global brands are still trying to work out ways to build & integrate successful community marketing initiatives as part of their overall marketing strategy.
Building a community is one of the most powerful assets a company or brand can build. In fact, we wrote an article on it not too long ago.
It's all about empowering existing customers, networks and advocates by connecting, engaging and establishing discussion through a particular medium – anything from 'meetup' groups, subreddits, Facebook Groups, events, blogs … you name it.
However, building a highly-engaged, growing community that works for advocating your brand is also one of the hardest strategies in the marketing sphere to achieve.
When it comes to Airbnb, they are a fantastic, world-class example, and a brand that has built (and continues to grow) a successful community.
We know customer-advocacy is a big part of their success with referrals, but how does Airbnb nurture a community that can get users to not only invite friends to the platform via sharing referral links, but also help existing users and in turn new users via a dedicated community forum?
Building a robust & highly-engaged community
So, what have Airbnb done to construct and generate one of the best communities in the world?
Acquiring hosts through the hosting community is paramount when it comes to scaling the platform globally and, equally as important, retaining them.
They've performed very well to incorporate community for hosts as part of their retention and advocacy part of the funnel but, just like any other business, Airbnb has to continually improve and find ways to improve their community marketing strategy.
These are just some of the core areas that underpin the success of a thriving global online community:
Community discussion – forums/discussion portals
Incredible UX
Content marketing
Gamification
With all pillars combined to turn into a well-oiled machine that is continuously optimised, this is where the magic begins.
The community centre – The retention & acquisition focal point of community activity
For existing hosts and prospects, Airbnb host a beautifully-designed and well-planned UX host community portal called the "Community Centre".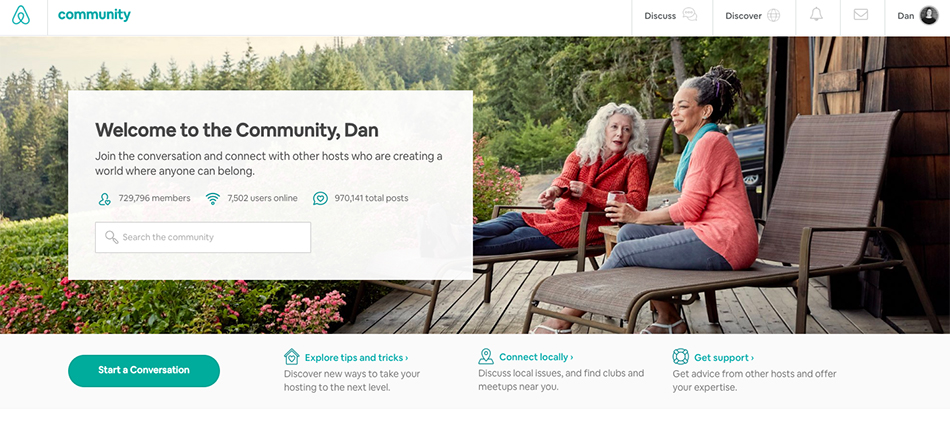 The numbers* are seriously impressive:
729,796 members
7,502 users online (that's quite a bit!)
970,141 total posts (wow!)
*Numbers are accurate at the time of writing
We've seen numerous companies use community centres – or 'portals' – quite effectively in their community marketing, as explained in our last growth study on Xero, where they are helping accountants and their partners.
For Airbnb, the community centre serves a purpose for hosts, both existing and prospects, to explore what it's like being a host on Airbnb.
How has Airbnb structured their community centre for success?
What has Airbnb done well? Their structure of pages through their community content pillars.
Everything from the home page to specific pages, there are numerous core UX elements to illustrate an engaging community of hosts and desired actions.
Homepage key features
When it comes to the homepage, we are instantly presented with plenty of content we can view.
But where do you start?
Just below the fold, we see "Featured Discussions". As a user on the site, I instantly see what the top articles and discussions are for the month and which the community cares about.
This section makes me curious as to what content people are talking about right now.

As I go down the page, I see what the hot discussion topics are at the time in the worldwide community.
As we can see, there are community discussions categorised into "Top, Recent & Unanswered". Users can then explore top answers that may result in high engagement for various reasons (e.g. a common problem or situation about hosting).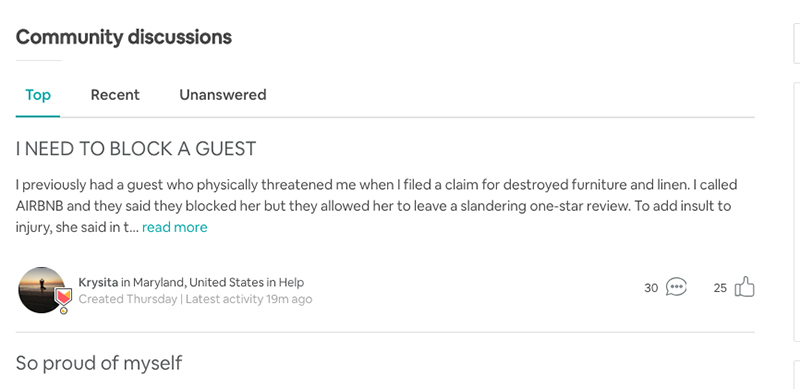 The value of seeing this also shows what matters in terms of discussion around hosting across the globe.
You could argue, why does this matter to me? As there are threads started by people from other parts of the world. However, I think it addresses & resonates with what other hosts may or potentially do experience in their respective locations which gives value to the reader.
In the next section, "Suggested for You", this is content that specifically addresses the needs of hosts.
The content gives instant value that there is content for hosts wanting extra support through toolkits or webinars which help with their hosting experience. As a new potential host, this instantly illuminates that Airbnb and the community are here to support.

Specific content pillar pages & strategic design for engagement
For each core section of the community section stated above, each has different page layouts focused on the goals of the user, keeping core desired actions in mind.
Each of the pages do have 2 consistent UX features like the homepage, including:
Top Contributors
Recent conversations & tags
Start a Conversation
Top contributors
Highlighting top contributors serves to show the wider community that numerous community members will help with answering any questions or queries that come their way.
Top Contributors are consistent inside the 3 core content pillar pages, which we will go into detail further below.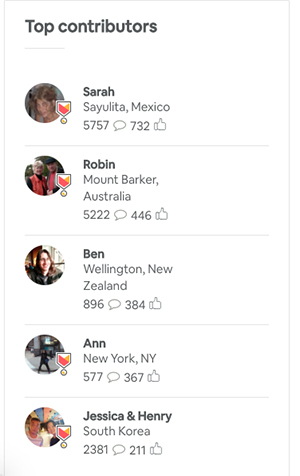 Related tags & recent conversations
You often see this feature on many blogs around the web, but what many blogs don't get right is keeping a focus on 'tags' and keeping the amount 'recent' conversations limited.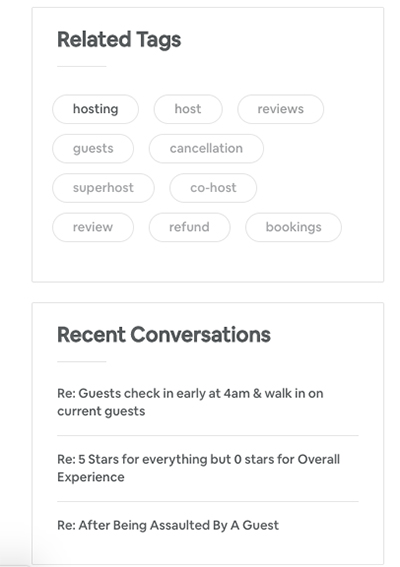 The design of the tags and recent conversations looks clean and minimalistic.
Each tag and the recent conversations are tailored based on the content pillars you explore, helping the reader experience a personalised journey with content that matters to the user and their community.
It genuinely makes me consider wanting to explore more through these actions, even if I don't start a conversation.
Start a conversation
An important UX feature that is part of these pages is that anyone can 'Start a Conversation'.
Airbnb has purposely positioned this on the right-hand side of the page to make it clear that users can explore, find or ask any question desired which may be holding them back from continuing to use the platform or wanting to become a host.
It's a clear design, and the use of their primary colour stands out against the white background.
Pros and cons
Pros
Tips can be shared easily from host to host
Lots of helpful guides
Anyone can 'start a conversation'
Localised discussions (by city)
Minimalistic, easy to use – great UX
"Featured posts" which read like blog posts with relevant hosting content
Discussions points initiated by admin
Gamification of system – 'top contributors' get points for every comment they give + like they get – small leaderboard of contributors
Posts are able to be engaged with
Cons
The Airbnb admins don't post often nor reply to other people's posts regularly – an opportunity to get more discussions trending
Someone without an account/not even a host can make a post. This could be a barrier to entry for prospects wanting to sign up to the platform.
Content strategy – the content pillars
We've now taken a good look at the breakdown of the mechanics of how their community platform works with their UX, but what about the content?
As we can see on the community portal page, the community centre is broken down into 3 core pillars:
Explore Tips & Tricks – All about new ways hosts can take their game to the next level.
Connect Locally – Where users discuss local issues, clubs and meetups in their local cities
Get Support – Advice from other hosts
Content pillar #1 – Explore tips & tricks
The primary focus for this content pillar is helping those who are hosts or potential hosts to connect with other hosts, share stories, ask for advice, and get updates from the Airbnb team.
Why would Airbnb have this content pillar specifically?
It's showing that Airbnb hosts have a thriving community of hosts who want to connect and share their positive experiences.
Having this content ensures retention by keeping hosts engaged with other users of the platform. The stories, tips, and tricks all help to reinforce the positive feelings that hosts get as part of being part of the Airbnb community.
Plus, the more they read/talk about it, the more they're thinking about it, which should lead to less churn.
The content
When we click from the main portal page on "Explore Tips & Tricks", we get to this page below.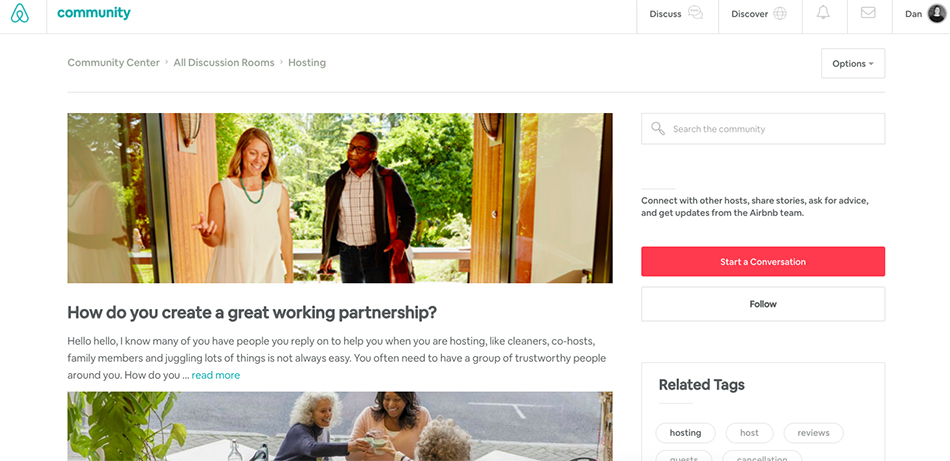 As we've spoken before about the layout of the page, let's explore the content and what we can learn from them.
The content on the page is broken up primarily between:
Blog posts from the Airbnb Team
Q&A Threads from both Airbnb Admin team, Top Contributors, or anyone part of the platform.
It's a clever strategy by the Airbnb team to break up this content.
While it's important to speak from an authoritative angle through blog content, mixing it up with Q&A styled posts shows that community members are heavily involved in the conversation, illuminating Airbnb's core growth strategies around encouraging consumer advocacy.
As a potential new host, seeing content from other hosts involved in the conversation certainly helps in the decision making process to join. In addition, for existing hosts, it's more likely going to help retain hosts.
Content pillar #2 – connect locally
This is a part of the site I really like and also find quite interesting.
Through the section "Connect Locally", you come to this particular page.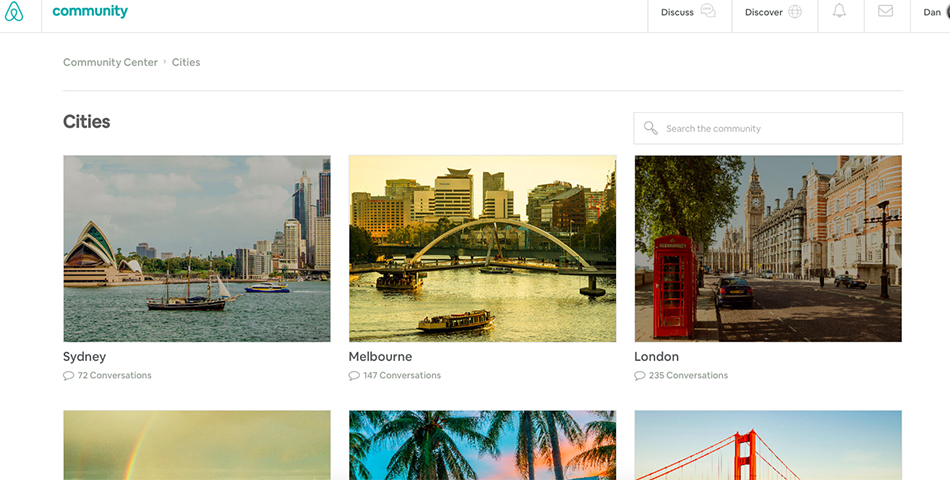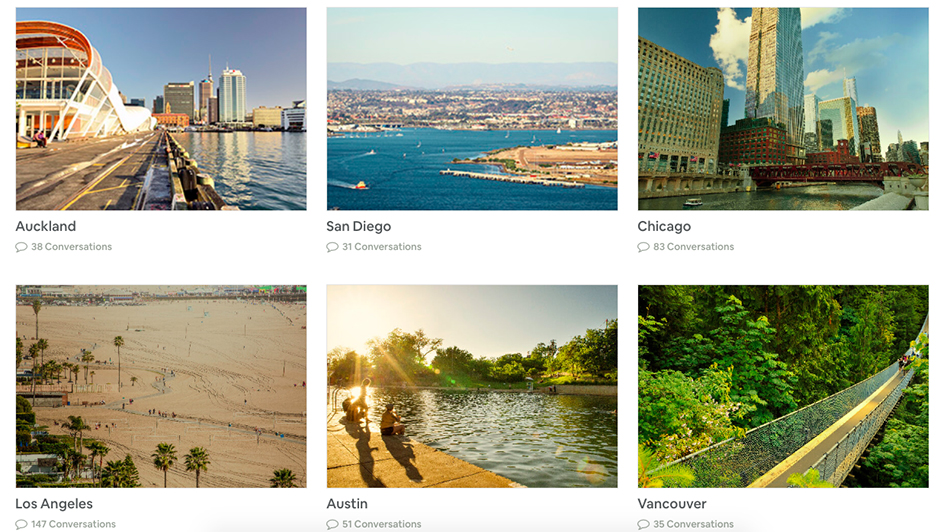 This section of the community centre is fairly similar to the previous one, but it focuses on much more localised content. Each city has its own forum where the hosts can discuss the local issues or services specific to them.
Let's take a look at Melbourne, for example.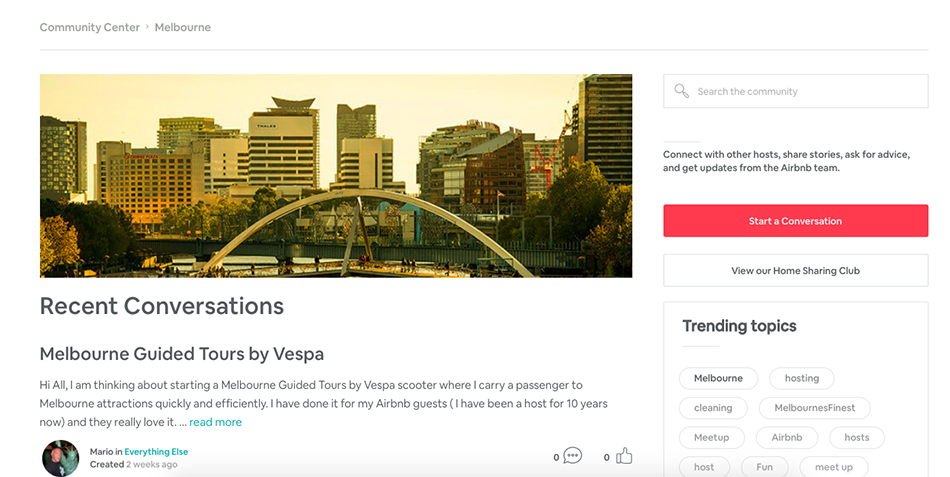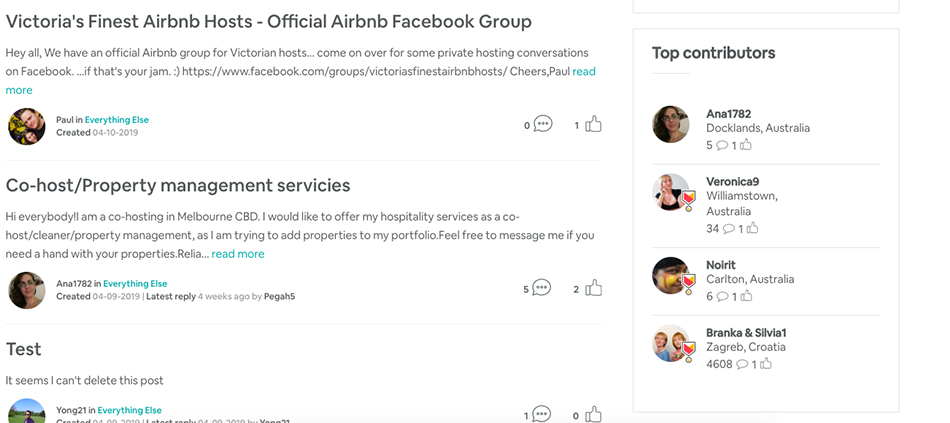 From these posts, it's clearer what kind of things people ask in the local community.
You can imagine that it would be strange to see these posts in the "Explore tips & tricks" section. Why would people globally care about tours in Melbourne, or suggest property management services in the area?
By creating a hyper-local section of the community pages, Airbnb have reduced the clutter on the main section, while also building a community within the community.
I think this section really goes to show their commitment to providing the user with relevant information as much as possible.
One thing that is noticeable however is how low the engagement on this section is compared to the previous one. Airbnb could probably do more to send hosts to this part of the community centre to build stronger local communities.
Content pillar #3 – get support
In this section of the community site, this is where discussions around support related to anything and everything takes place.
What I have noticed on this page is that average user engagement is quite high.
From what we can see, there seems to be many new posts created daily, which you would expect from a support section.

What is also interesting as an observation is the amount of posts that date back almost 2 years ago.
This shows me that Airbnb have done very well to control the amount of posts that don't ask the same question.
For example, if I start a conversation and ask a question, it will come up with the links of similar questions which have been asked before.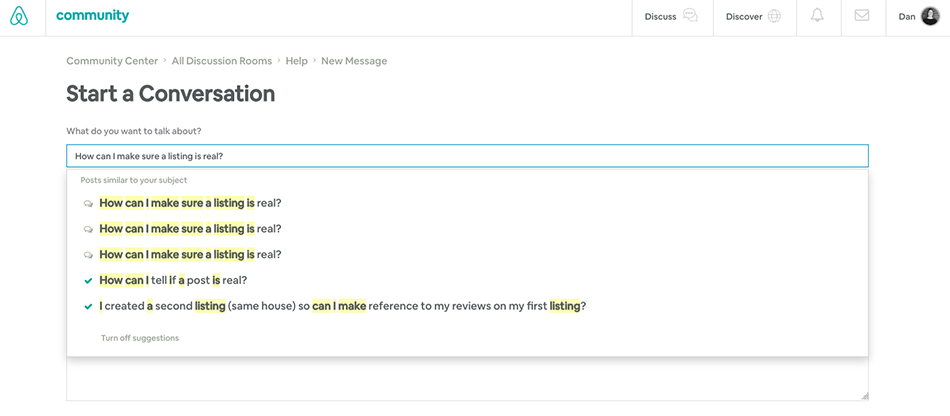 Now, it makes sense why some threads seem large with the amount of comments. This is clever by Airbnb. Who wants the same question asked over and over again? If they were, it's probably not the best look for Airbnb. This way, anyone who wants to ask can go straight to this thread and, even without contributing to the thread, they may have their questions answered.
It's a great UX and user-generated content strategy. Smart play Airbnb.
Do Airbnb get heavily involved in the discussion?
No, it seems as if they don't get involved at all. They leave the guests to solve problems between themselves, and learn from each other's experiences.
By doing this, Airbnb are one again fostering a stronger sense of community between the hosts, but they are also saving themselves a lot of internal resources.
If hosts are able to help each other out with a few quick posts, then it saves Airbnb having to get involved until it's absolutely necessary. The bane of most customer support's existence is the simple to answer questions, and if people don't take a lot of interest in reading FAQs then having other users answer those questions is a double win.
Overall, it's a great channel if users or potential users are looking for extra information.
To date, there are over 4470 pages of support threads, so users should be able to find a question already asked and hopefully answered.
Another clever part of having this separate is that once again it keeps from distracting the engagement in the "Explore tips & tricks section". Having all of the negative posts in their own section keeps them out of the minds of users who have been having a good experience.
Key takeaways for community
The community that Airbnb has built is impressive, and the UX flow to tackle various discussions around the platform can be easily found.
By creating different and distinct sections, they are able to keep the conversations relevant to the user, which should improve the experience for everyone involved.
Airbnb have stuck to their guns by getting existing users and loyal consumers to become the advocators by becoming 'contributors'. It's hard to achieve this if you're a small business, but if you're a larger organisation, there's plenty to learn from Airbnb.
Offline marketing
Marketing is not just about acquiring new customers or creating a recognizable brand. When aligned with a company's ideals, marketing can make a powerful statement, and in the best instances, be a force for change in the world.
Part of Airbnb's success is due to their holistic marketing approach, one that embraces offline marketing strategies just as much as digital. But their strategies don't just relate to customer acquisition. Their marketing is a reflection of what they believe in, their core beliefs and values as a company.
Their campaigns have not always been popular and they are not strangers to admitting when they were wrong. But the following examples illustrate not only how they market their services, but represent a conscious expression of who they are.

Travel posters
As a travel company, cultural celebration is at the heart of Airbnb's business model. They are known for creating great online user experiences, but they also excel in experiential and live-event marketing. Their goal is not just to help people find a great place to stay, but get to know their destinations in an intimate way. It's part of their larger strategy to become an "everyday" check in, providing users with content and experiences that are woven into their day-to-day lives.
Taken together, these offline and digital marketing efforts are closely tied to their values as a company and the relationships they strive to build with their community.
Besides sophisticated digital campaigns, Airbnb has contributed to traditional, even "old fashioned," marketing channels in unique and highly aesthetic ways. Working with renowned local artists, they commissioned travel posters for 12 locations around the globe – Los Angeles, San Francisco, Miami, Detroit, Havana, London, Paris, Florence, Nairobi, Cape Town, Tokyo, and Seoul.

The posters became part of their Experiences feature, showcasing the resident artists' beautiful designs. But the designs did more than give artists an opportunity to display their talents – they brought some of the magic back to traveling, allowing users to immerse themselves in local communities.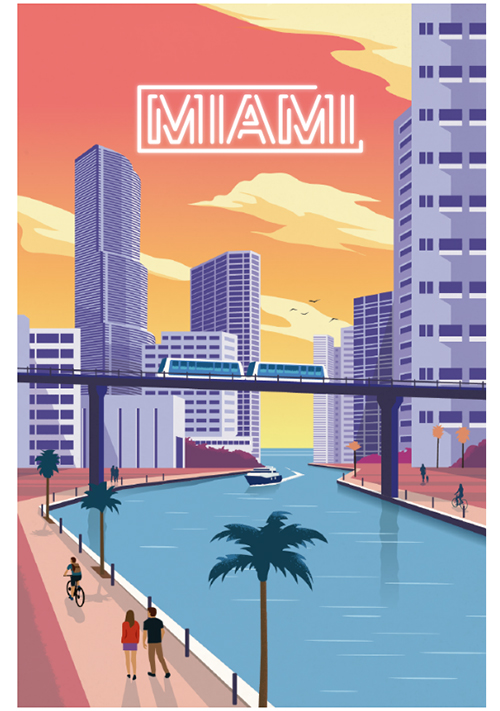 This poster promoting a classic image of Miami was created by graphic designer Alex Asfour, as part of Airbnb's travel poster campaign.
The goal of this campaign was not necessarily to promote Airbnb, but to reflect the heart and soul of the destinations they serve, as well as inspire people to explore the individual cities further. In the process, Airbnb not only helped give artists an opportunity to create beautiful works of art, but give travelers a vibrant and accurate sense of their destinations.
"Until we all belong"
"Until We All Belong" – that was the sentiment behind Airbnb's campaign to highlight marriage inequality in Australia. Launched in 2017, the award-winning campaign encouraged people to wear a black matte metal ring with a centimeter gap in the middle, and the words "Until We All Belong" inscribed on the underside.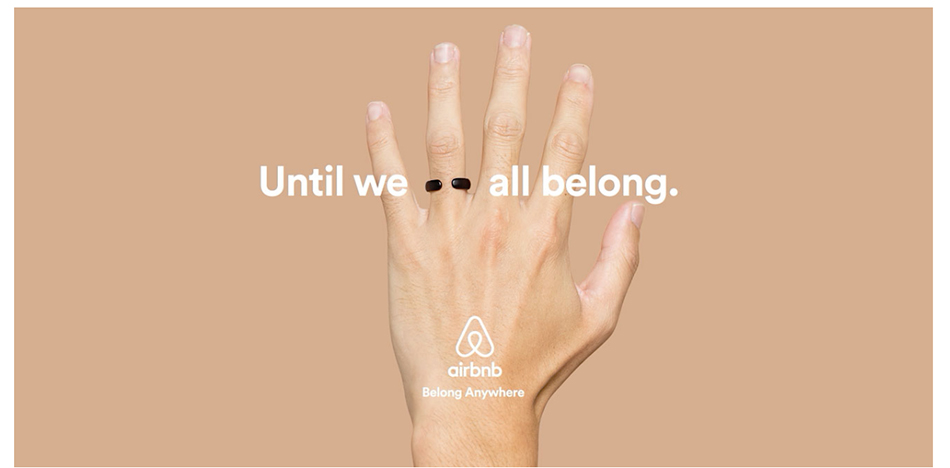 The gap signified the gap in marriage equality for the LGBTQI community. Called The Acceptance Ring, people were encouraged to wear it to show their support – and acceptance – of same sex marriage. Available for free on the Airbnb website, more than 200,000 were ordered within three days of the campaign's launch.
Openness and belonging are at the heart of Airbnb – it's at the core of what we do every day. We are committed to helping people belong no matter where they are in the world and strongly believe that everyone should have the right to marry the person they love.
Brian Chesky, Airbnb Co-founder and CEO
The campaign perfectly aligned with Airbnb's values, and helped highlight a struggle for acceptance in a country where the debate on same-sex marriage had fallen off the political radar. By reaching out beyond the LGBTQI+ community, Airbnb helped to create a dialogue that showed that Australians supported marriage equality by a wide margin.
In December 2017, Australia passed legislation to recognize same sex marriage, following a survey in which more than 60% of respondents voiced support for it.
The campaign's goals were not just to raise awareness, but to highlight the human side of the company by showing support for an issue they were passionate about. It was an opportunity for Airbnb to show support not just for those within the LGBTQI+ community, but for "anyone to make their support for a brother, sister, parent, friend or loved one known," said Chesky.
Terrarium making
As a company with over four million listings in 65,000 cities across 191 countries, local customs and traditions play a big part in Airbnb's offline marketing efforts. Even when they don't go exactly as planned.
The company produced an event in Seoul, Korea, that celebrated beautifying Airbnb spaces with terrariums. There were several terrarium-making stations open for participants to come up and try. However, the event was something of a dud – participants mostly stayed away from the stations, preferring not to engage.
Although the event was not quite as successful as they hoped, the company did gain a valuable insight. Through feedback from attendees, they learned that far from not appreciating the commitment to beautifying their spaces with terrariums, they actually wanted to participate.
They just considered it rude to start making a terrarium without an invitation. Local customs dictated a more direct invite, with participants preferring a more personal overture from an official Airbnb representative before joining the activities. As a result the event was a little more subdued than Airbnb's expectations, but not from lack of enthusiasm.
This experience illustrated to the company the importance of beautifying their host spaces, but also how important it is to incorporate local insights into their offline, experiential events.
Offline summary
Airbnb take unorthodox approaches to get noticed in the offline world, and when they do, it's not to promote themselves or their platform directly but to promote who they are.
The examples we've highlighted here show how Airbnb convey their values in order to resonate with an audience who also have strong values that inform their purchasing decisions. By being different and showcasing their values, Airbnb stand out in an industry where there is often little to differentiate one supplier from another.
Final words
BONUS: Don't have the time to read all 29,000 words right now? Download this case study as a PDF and read it whenever you're ready.
As someone who has admired Airbnb for many years, it's been interesting to take an in-depth look into what they're doing and evaluate it.
What's clear to me is how much value they put on understanding their users, both guests and hosts, and building a strategy that speaks to them directly. They've done this so well that they've become synonymous with non-hotel accommodation booking, and created a new way to travel.
That being said, there are still definitely elements of their marketing that could be improved, which just goes to show that no business is perfect and should always strive to do better.
To quick recap some of the main takeaways from this article;
They've built products that speak to the key needs of their users in order to ensure growth from existing customers rather than rely on new customer acquisition.
They don't use as much personalisation on their website as well as you might assume (but still better than most).
Their paid search focuses around the term accommodation – the word most likely to be used by their audience – and their ads stand out compared to their competitors.
Their emails are mostly automated, personalised, and well-timed, ensuring that they are highly relevant.
They rely on brand terms for organic search and are way behind when competing against Booking.com or Wotif due to lack of onsite and offsite optimisation.
Their content is designed to keep people on the site and provide supporting information for trips, rather than close the conversion or drive backlinks.
They use organic social media for nurturing audiences, and use dynamic remarketing to generate enquiries for guests.
Their Facebook ads for hosts speak to the main benefits they've identified of hosting with Airbnb, rather than the features.
The referral system they have set up is easy to understand, and messages are heavily personalised from the sender.
They've built a community centre to keep hosts engaged, and have structured it so that the content in each section is highly relevant.
Their offline marketing talks to their core values as a business to help them connect with potential and existing customers.
Some people might think it's easy to know what your customers want when you're in a fun space like travel, but this is a highly competitive industry with a vast array of different customer personalities. Airbnb created a new type of traveller through their product in 2006, and since then have developed that persona further and grown the market.
Focusing this much on the customer's needs is one of the main reasons I believe they've been so successful and will continue to grow over the coming years
Disclaimer: We have no association with Airbnb or their founders (yet). This review has been completed using publicly available information on the internet. If you would like to get in touch with me, click here