What we learned from capturing over 50,000 emails in viral competitions
We often hear marketers singing the praises of email – after all, it's one of the few channels that's free of advertising spend. But how do you collect a database to nurture via email? One of our favourite ways is with an email capture competition, which can inject thousands of relevant prospects into your marketing database in a few weeks. Below, we'll share with you our secrets to capturing the attention of the right people, for the right price, as told through four of our most successful email capture competitions.
#1 Skye Hotels – Staycation Contest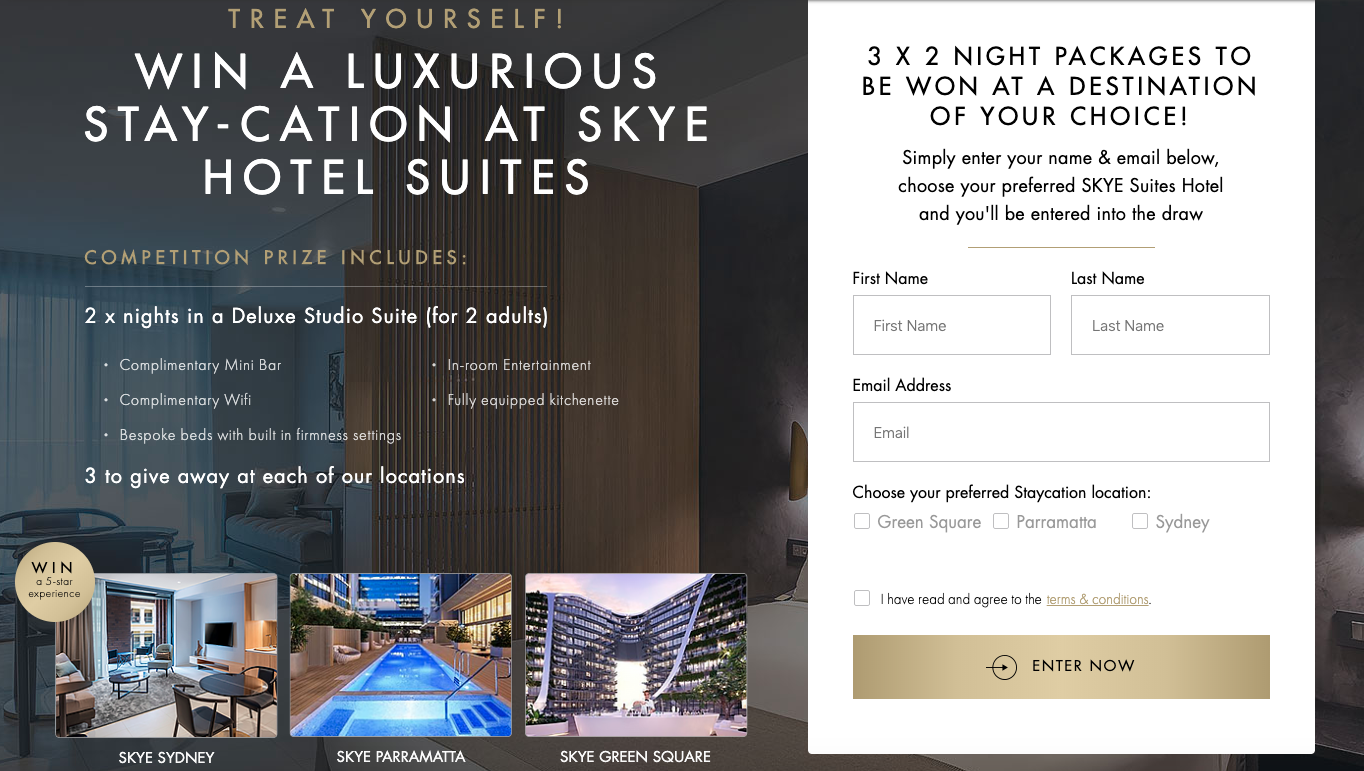 Emails captured: 15,233
The competition: This boutique hotel group gave away 3 x 2 night stays at its hotels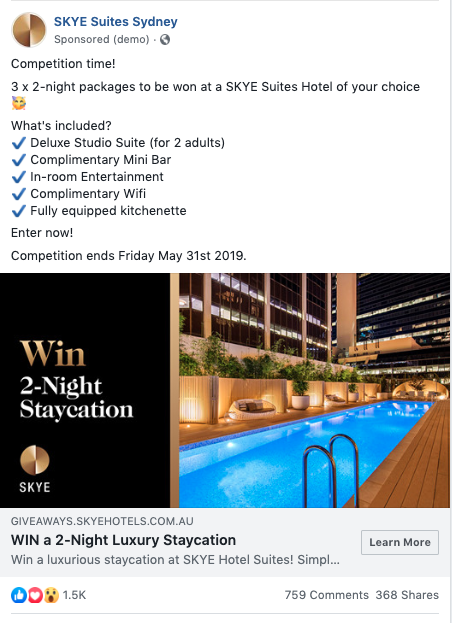 Why it worked: If you remember nothing else about viral competitions, remember this: A viral competition is not a strategy, it's a tactic within a strategy.
What does that mean? It means that your success isn't in the number of emails captured, but the amount of awareness, positive brand sentiment and ultimately revenue that those emails produce. This business kept that concept in mind from the outset and throughout, in two crucial ways.
Firstly, they allowed their prizing to serve not just as a qualifier, but as database segmentation. By offering a stay at one of 3 hotels, and allowing the entrants to pick which one they wanted, they organised their entrants into lists of areas where they lived or travelled frequently. This enabled them to serve separate, customised email follow ups to each group – sequences advising prospects of the best places to eat, sleep and play in the area.
Secondly, they didn't leave their newly-acquired email list to gather dust – as soon as the winner was announced, those who didn't win were supplied with unique offer codes, with a special one-time rate for a stay at the hotel they entered for. This offer resulted in bookings worth thousands of dollars, meaning that the competition almost entirely paid for itself within days of its completion. Now that's instant gratification!
#2 – Good Food Gift Card – The Gold Card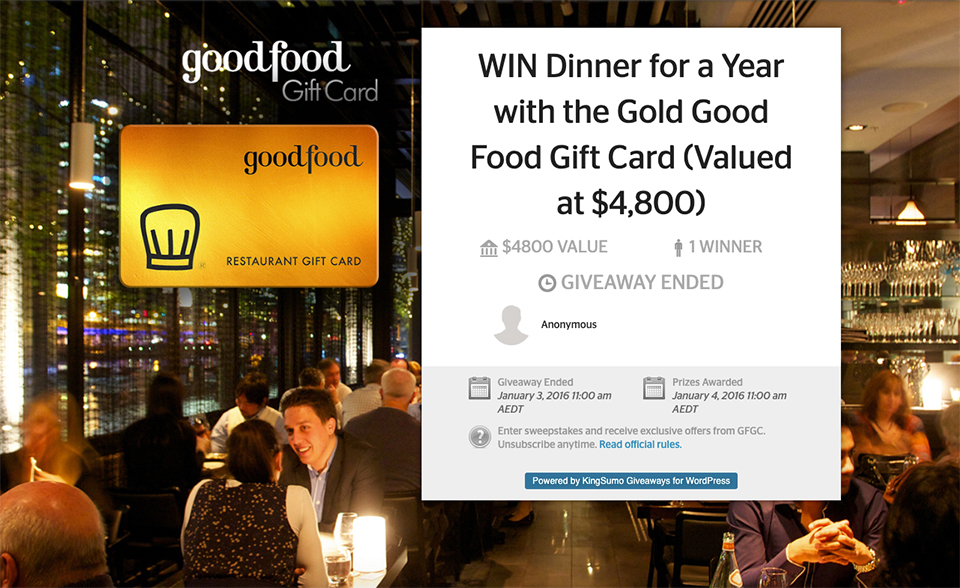 Emails captured: 12,851
The competition: This competition, for a distributor of restaurant gift cards, gave away a 'gold card', entitling the user to $4,800 worth of free restaurant meals at the client's partner restaurant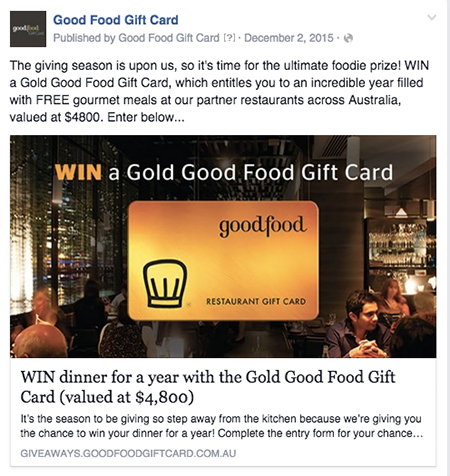 Why it worked: This is a sizeable prize, but it was made far more engaging using the power of storytelling. A voucher should never just be a voucher, when it could be an opportunity for a contestant to buy into their fantasy lifestyle.
Are you only able to select a general, universally appealing prize? Combining your generic prize with branded storytelling also makes for a form of audience qualification. Your 'smoothie maker plus a year's supply of fresh ingredients' might actually be a Cold Storage gift card and a Harvey Norman gift card, but by characterising the prize by what it could achieve, complete with related imagery and copy, you ensure that your competition does a more specific job of appealing to the target market.
#3 Nicotinell – iPhone Giveaway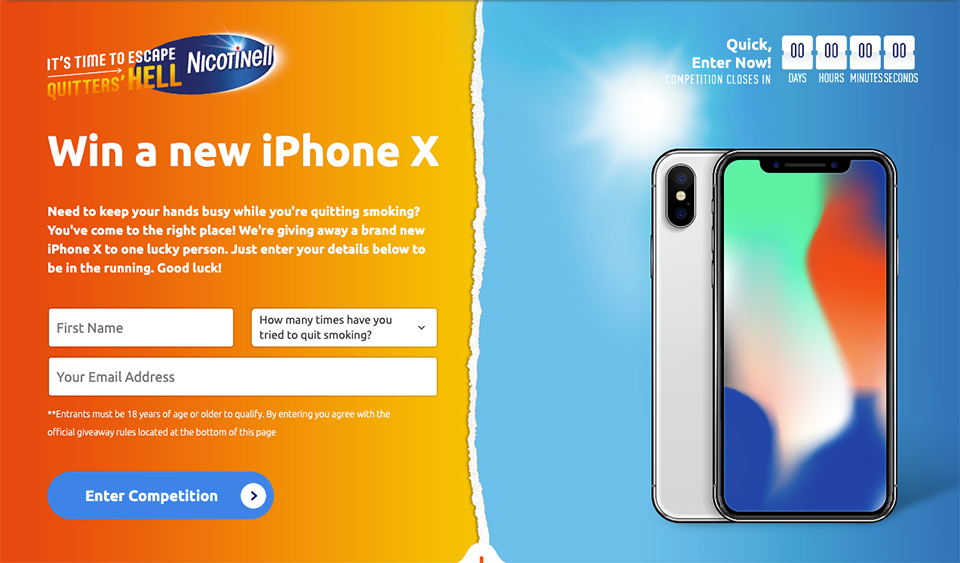 Emails captured: 10,437
The competition: This competition, for a manufacturer of anti-smoking aids, gave away the then newly-released iPhone X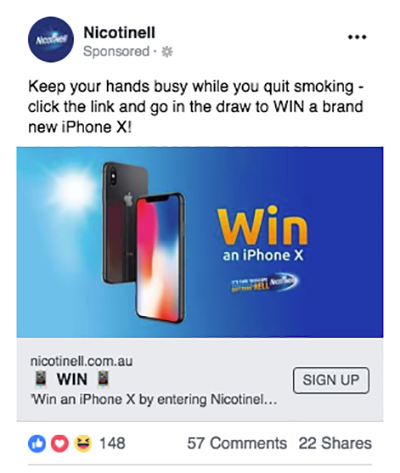 Why it worked: What if you can't easily use prizing to qualify your audience? If you're IKEA or Nike, just giving away a gift card can allow you to easily accumulate an audience of fans of the brand. Many pharmaceutical companies, amongst others, face restrictions to the giveaway of products that are directly related to their service.
How do you get around this? By promoting your competition with highly targeted social media campaigns. Even if you manufacture a less traditionally 'social friendly' product like a stop smoking aid, Cigarettes, eCigarettes, smoking and cigars are all interest targeting options within Facebook Ads Manager, allowing a savvy marketer to use curated interest targeting.
#4 Bellamy's Organic – 6 Months of Tooshies
landing page no longer available
Emails captured: 11,344
The competition: This manufacturer of organic toddler milk and baby food gave away a 6 month supply of eco-friendly nappies.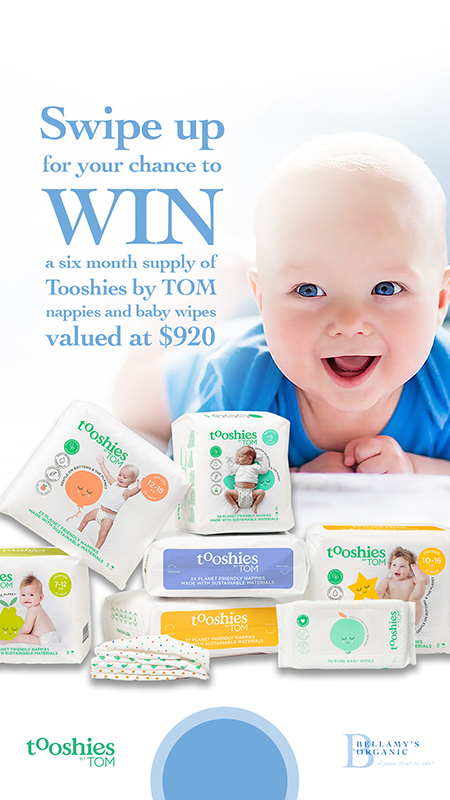 Why it worked: We don't love stating the obvious but – what Mom wouldn't want a 6 month supply of nappies? One of the easiest and most effective ways to ensure that you capture the emails of actual potential customers is to select a prize that:
Appeals to all members of your target market
Appeals only to members of your target market
This prize was both appealing and qualifying because of its close relevance to the target market: not only do most mums of toddlers require nappies, but the selection of a brand with similar values (organic, avoiding artificial ingredients, etc) gives Bellamy's the best chance of attracting entrants who might consume their product.
Bellamy's also get one thing very right in the promotion stage of this competition – broadening their opportunities for entries. This competition tried out less-common ad formats, like the Instagram story below, to try and reach as much of their target as possible, investing in creative that was tailored for each ads placement used. From Facebook's Audience Network display offering, to Gmail ads, to having allied influencers share the contest on their social media properties, there are a huge number of places to find entrants for your competition, just like there are dozens of places on the internet to find customers. Consider giving each of your competitions a 'test' budget, to explore new platforms, ad types and placements – it'll give your strategy longevity as you begin to burn through your tried-and-tested audiences.
So what should I do now?
Take our learnings gathered from capturing over 50,000 emails, and make your competitions awesome! Just remember these essential principles:
Choose a prize that appeals to all of your target market and only your target market
If you need to pick a generic prize use creative storytelling to shape its relevance to the lives of your audience
Improve your lead quality with highly targeted Facebook ads
Choose either extreme micro prizing or extreme macro prizing – do not pick a middle-of-the-road number of winners
Consider how you can make it worth your entrants' while to provide more information about themselves
Ideate how you will nurture and leverage your newfound database before you even launch your contest