Marketing to Millennials – Lemonade's Growth Strategy
Heartless. Bureaucratic. Faceless.
These are the images of a modern insurance company. Giant bland offices with row after row of workers putting customers on hold, filing complicated forms, and finding any reason not to approve a claim. It's unappealing to most people, let alone a younger generation.
Lemonade Insurance is trying to change all that.
While they may not have started up specifically as an insurance option for millennials, taking one look at their marketing will leave you with no doubt as to who their target audience is.
With an emphasis on behavioral economics and the power of chatbots and AI, they are trying to make buying and managing insurance as fun and easy as ordering a pizza. And because charitable giving is a plank of their business plan, every customer who signs up chooses a charity that their unclaimed premiums are donated to as part of their Giveback Program.
Unlike other insurance companies, Lemonade takes a flat fee of 20% on their customers' premiums, so that there is no conflict of interest between them and their customers.
Their goal, simply, is to turn buying insurance from a "necessary evil" into a "social good."
They have a long road ahead. In 2018, they had revenues of $57 million, in an industry in which their top competitors generate 20x-30x that.
So how are they going to achieve such ambitious goals?
In this article, I'll be outlining how Lemonade's business practices help them to appeal to a millennial market before delving into how their marketing also attracts millennials as an audience.
BONUS: Don't have the time to read 4,000 words right now? Download this case study as a PDF and read it whenever you're ready.
How Lemonade appeals to millennials
Much is made in the media about how different millennials are, whether it's the fact that they are lazy, or entitled, or prefer to have brunch rather than save for a home. But, millennials make up nearly a quarter of the world's population and are estimated to surpass baby boomers to become the biggest generation in the U.S this year.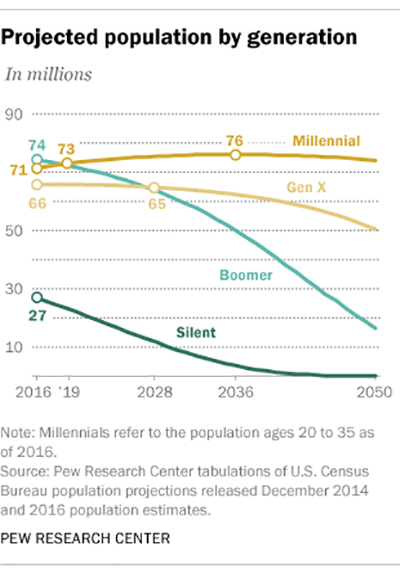 That means if they don't currently make up a large part of your customer base, then they almost certainly will sometime in the not too distant future.
While many of the stereotypes are examples of lazy journalism, there's no doubt that millennials, as a generation, do have different views and preferences to their older counterparts.
Lemonade appeals to those preferences in a number of different ways.
Chatbots
Lemonade's user experience is built around their chatbots. When it comes to chatbots, authenticity, conversation flow, and simplicity are essential.
They're a great solution for a generation who want to get things done quickly but don't want to spend time on the phone with a real person.
Meet Maya.

She has signed up thousands of members since the startup launched in 2015. With Maya, the "charming artificial intelligence bot," the signup process is surprisingly simple.
Maya walks you through a series of straightforward questions: your address, whether you rent or own, pet ownership, what kind of valuables you own. The questions are non-intrusive, delivered in a friendly, easy-to-understand manner.
To ensure authenticity, Lemonade crafted the sign-up process to sound like a real conversation. If it didn't, they knew it would fail.
With Maya, only one question appears on each screen.

The question only progresses when you answer it, just like a real-life conversation. The questions are in simple, direct language, that leave little room for confusion. As the sign up process progresses, it takes on the feeling of a personalized conversation.
It also reduces unease. When users sign up, they feel a sense of certainty about each choice they make. There is no sense that something is missing from the process, or that any "i's" have not been dotted.
The entire process takes 5 minutes or so and then she generates a quote. You choose your start date and enter your credit card details. Then, you are asked which charity you would like to donate your unclaimed premiums to.
The experience is quick and requires zero paperwork, and can be done via the website or app.
With Maya, the signup process is a breeze, but she is not the only chatbot at Lemonade. On the other end – claims – you have Jim, the "empathetic chatbot."
Jim, like Maya, is a real person on Lemonade's staff. During his working hours, the real Jim handles claims that can't be resolved instantly. For claims made outside of working hours, or claims that can be resolved instantly, his alter ego chatbot handles it. Via text, chat, or a synthetic voice on the phone.
Sometimes his chatbot is the bearer of bad news, such as when damages exceed the amount of coverage a customer has.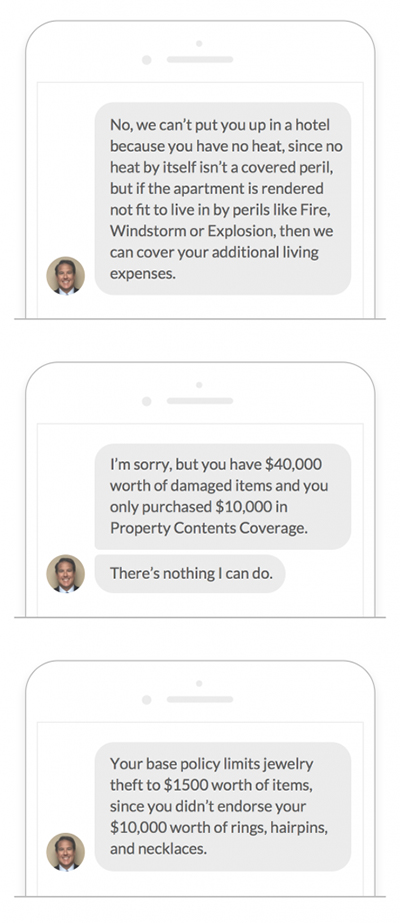 It's not easy to say no to customers in unfortunate circumstances, even as a chatbot. But as the company has refined their chatbot messaging, they have discovered several "teachable moments."
For example, Jim – the real Jim – advises customers to do a detailed inventory of their stuff. He recommends using a video camera to walk through their home and document all the valuables they see.
Key takeaway: Using chatbots to give a "human feel" to the process while not actually having to deal with a real person, and getting it all done painlessly and quickly, are all factors in how Lemonades approach directly appeals to millennials
Charitable giving
It's widely accepted that millennials are more socially conscious than their preceding generations.
This survey in 2018 suggests that most consumers want brands to be more socially responsible.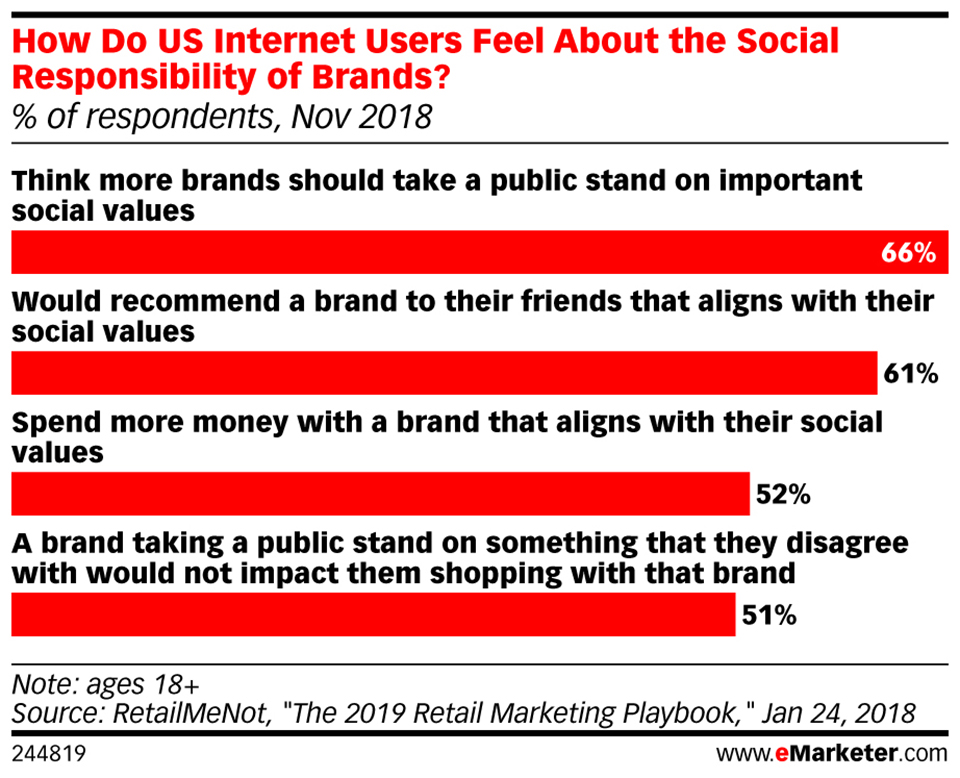 However respondents aged 22 – 37 responded even more favourably, with 77% saying they want brands to take a public stand of important social values.
In 2018, Lemonade's Giveback Program donated $162,135 to their customers charities, including the Breast Cancer Research Foundation, Friends of Firefighters, and UNICEF.
Key takeaway: By aligning themselves with this charitable giving, they are showing that they are doing their part to make the world a better place.
"We Suck Sometimes"
In the age of information, social media, and Instagram stories, authenticity and transparency go a long way to building trust with consumers, especially millennials.
To that end, Lemonade has made a commitment to transparency that sets them apart.
They've made it a priority to share stats about traditionally hush-hush internal data. They publish these findings in their appropriately-titled blog, the "Transparency Chronicles".
The Transparency Chronicles document their highs and lows as a start up in a crowded field, with an eye towards demystifying the black box of insurance claims, premiums, and pricing.
Besides offering transparency, the "Chronicles" is an important branding tool. It's something they call "radical transparency," a strategy designed to build trust with their customers.
In one article, "We Suck, Sometimes", they delve into key areas where they must improve. In one such area, loss ratio, the percentage of premiums that are paid out in claims, they report they are "in the red." It's about "60% higher than it should be" they report, even though they are not required to release exact numbers.
In another article, however, they DO release exact numbers. In Launch Metrics Exposed, they publish metrics from the first 48-hours of their launch. Included is actual data from their users age, geography, gender, and more.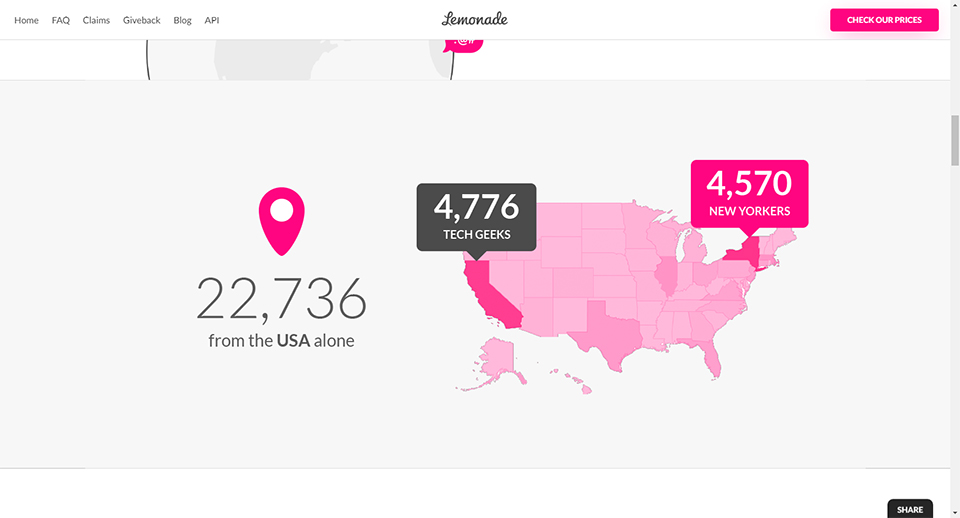 Besides their internal data, their commitment to transparency extends to their actual insurance policy. Insurance policies have long been drowned in hard-to-understand legalese, much of it for good reason.
In such a heavily regulated industry, regulators require it to be there to protect consumers. But Lemonade has taken the unusual step of publishing their insurance policy on GitHub, allowing anyone – regulators, consumers, even competitors – to make edits to it.
Billed as the "World's First Open Source Insurance Policy," it is a "modernized" insurance policy designed to read like a blog – on your cell phone's 5-inch screen.
Key takeaway: Being transparent and authentic gives people more of a reason to trust your brand, an important factor for most consumers but especially for millennials.
The Website
"Simplicity is the ultimate sophistication." – Leonardo da Vinci
Were da Vinci a reviewer of websites today, he might have been describing Lemonade's homepage. Simplicity is part of any good design. Someone with no prior experience should be able to navigate your website easily and make a purchase as quickly as they like.
In fact, looking at it on a desktop, it almost looks too simple but then it becomes evident that it's built for mobile-first. Given the target demographic this is no surprise, but a mobile first layout is particularly important when you take into account that a lot of their growth is driven by Facebook ads (which we'll come onto shortly).
Above the fold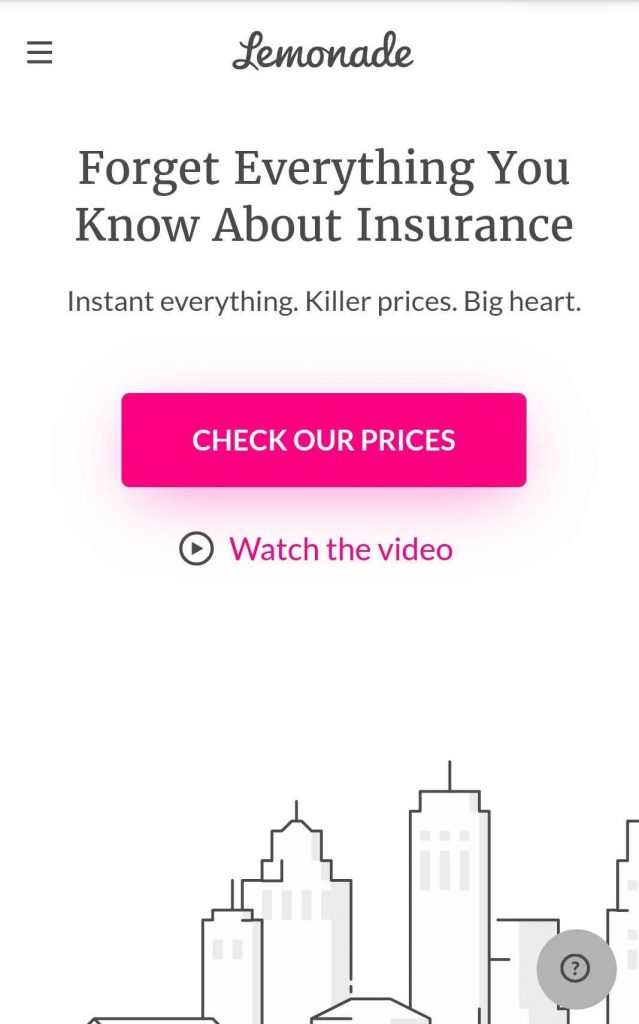 Their use of whitespace, contrasted with their excellent use of color, immediately leads the eye to their hot pink CTA button: Check Our Prices.
The eye can't help but be drawn to it. Not only does the color stand out against a monochromatic background, but the CTA incorporates a central curiosity every buyer has, while also being a very low-level commitment as a next step, why wouldn't I at least want to know what the cost is before I move on?
With their strategic use of color and minimalist design, they are driving users to take the very action most likely to lead to conversion. When users click on the Check Our Prices button, they are immediately funneled into the "get a quote" questionnaire with Maya, the empathetic chatbot.
This simplicity means that users don't have to hunt around to get a quote. Users can also watch a short video that demystifies how Lemonade works. In a 30-second video, users can see how Lemonade's reliance on "bots over brokers" and "algorithms instead of paperwork" helps renters and homeowners get insured in 90 seconds or less.
The language is friendly and approachable, and even the voice used is that of a younger person. It also expresses a common feeling: old insurance does kinda suck.
This language conveys that Lemonade is with the customer and has provided a frictionless sign-up process to prove it.
Besides simple, easy-to-understand messaging, Lemonade has stripped the navigation to its essential elements. There are only five navigation items, Home being one of them. This cuts down on distractions, making for a simpler conversion funnel.
It's also good for users, who may be confused with too many choices. Studies show that users can most easily process seven or fewer navigation items. More than that, and you may overwhelm them.
Below the fold
Each section below the fold sums up the most important elements of the service in very clear and succinct ways, starting with what Lemonade actually does.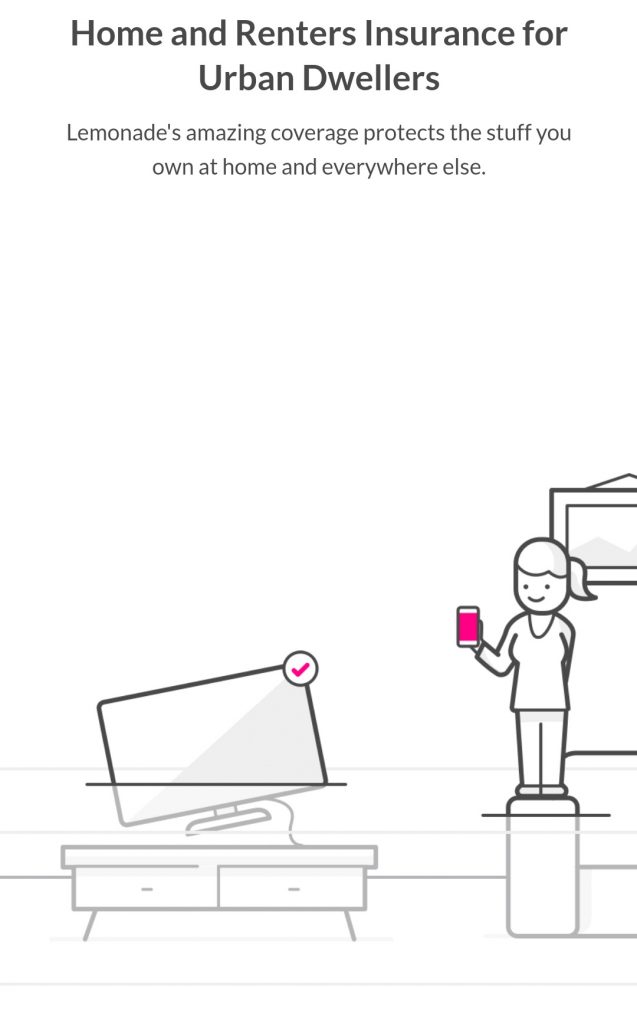 It's then one of their key brand pillars and benefits of the service – Instant everything. The image explains what that means in a bit more detail, and there's a link to another video should you want to know more.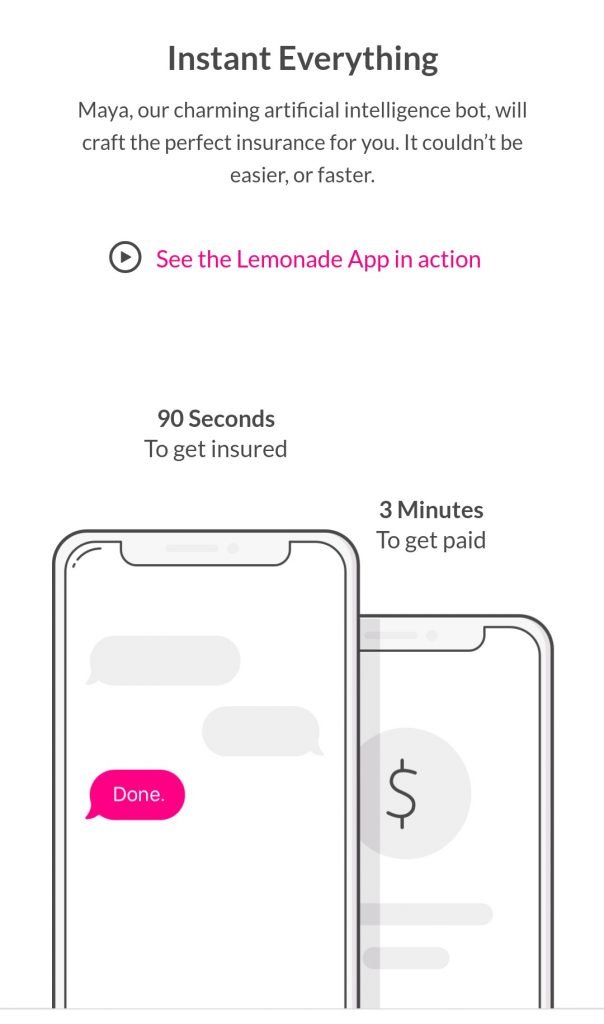 The prices for their two main services couldn't be clearer if they tried.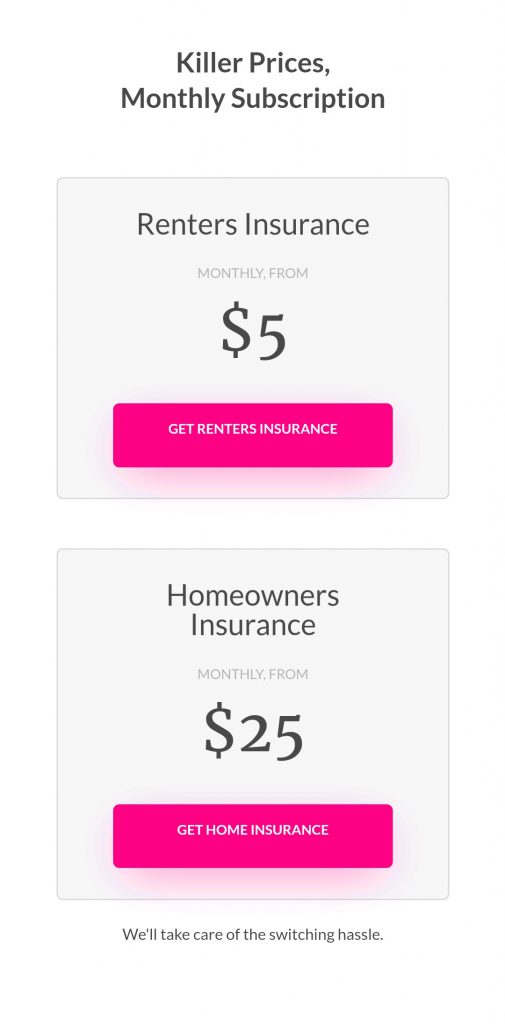 And then probably my favourite section – a graphic showing how many of their customers came to them from other providers. I love this section because it shows that so many people have already done the research and decided to switch, it's social proof but not as you know it (it's way better). The CTA in this section is customised too, to make it even more enticing.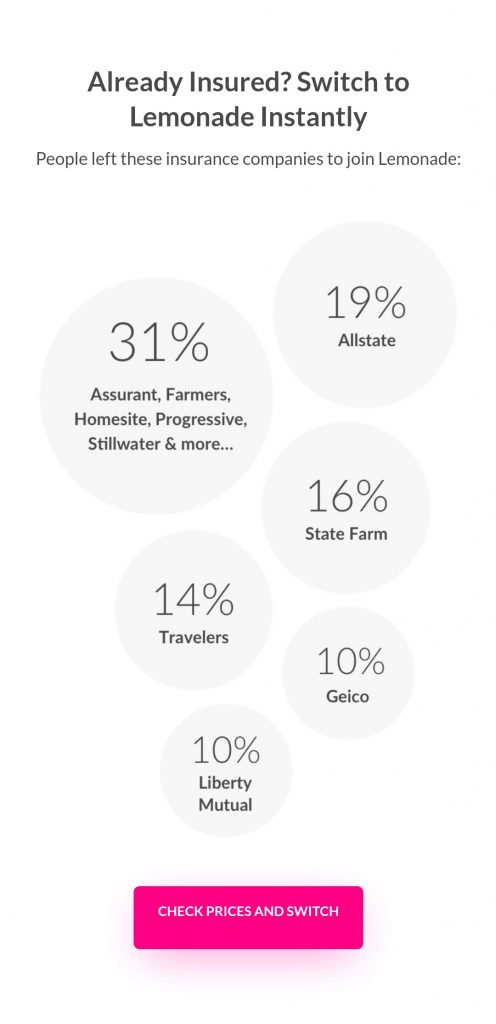 And then before the formalities, there's a quick section on how it works. Again, the text is minimal, they use pizza graphics to explain it all, and there's a video in case you want to use more. Very clever.
Key takeaway: Keep your website simple and where possible use video and imagery to convey your message succinctly and in an engaging way.
Social Media
Facebook
Facebook is one of Lemonade's most active ad channels and it's clear they use it extensively. In this section I'll break down their ad creative and their landing pages separately.
The ads
Taking a look at their ads in The Facebook Ads Library and there's a common theme you can see throughout the different creatives that they use.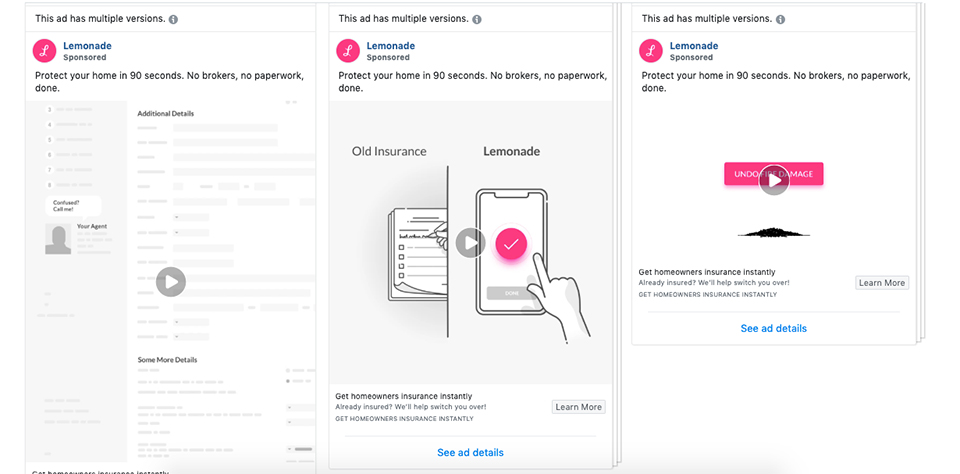 The ads seem to be exclusively video. Most are colourful animations that are intended to catch the eye and draw it to the short and snappy copy.
"Protect your home in 90 seconds. No brokers, no paperwork, done."
It's simple and to the point, and does a great job of selling the service.
They also have a number of short explainer videos to explain what the service is or how it works, but I think this one is particularly great.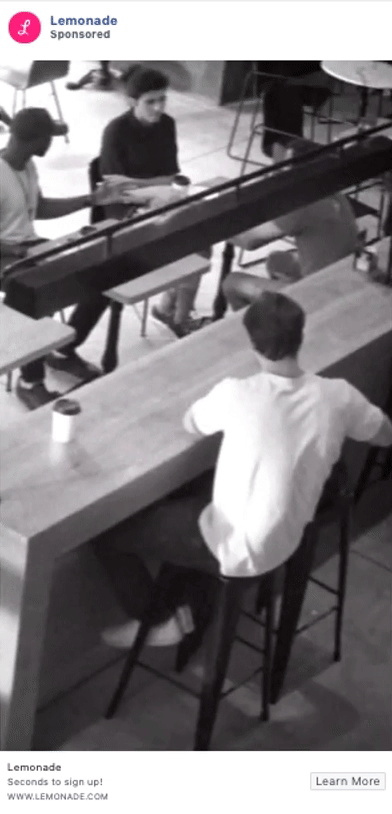 Again, they've summed up the service using very few words and in a way that really catches the viewer's attention (and in a way that they're more likely to remember it).
They take a slightly different approach with Story ads, where there is less space for copy.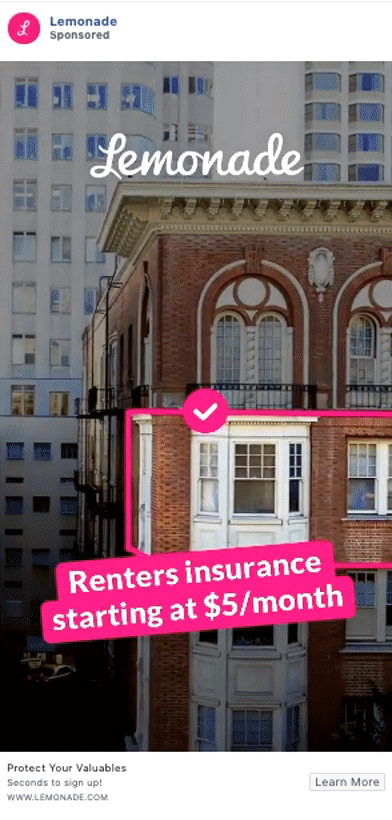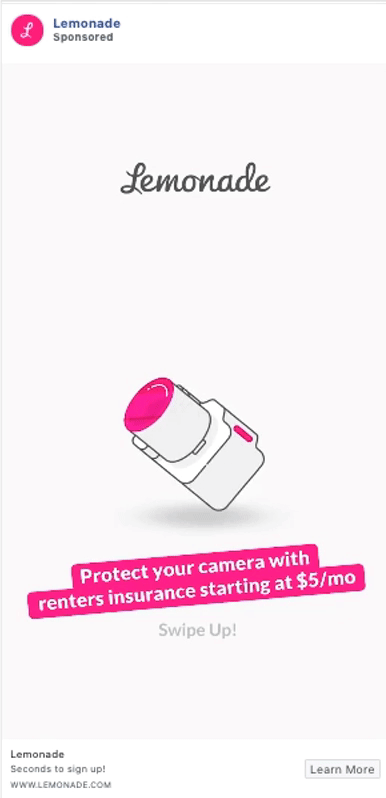 The ads are still colourful and eye catching, but also very simple. They use a minimal number of words to get the message across and entice the click.
I've only shared a couple of standout examples but note how they are testing multiple different creatives and using several different ad types to try to convey the same message. Even though it's all video, some are created just for Facebook, some are vertical (for mobile), and some are for stories. They also have examples of carousels, and a 15-second explainer video which explains how Lemonade is different from traditional insurers.
When it comes to the copy, they only have about 3 or 4 variations but all are very concise yet informative. This scale of testing makes it easier to find winning ad copy, and scale the spend for fast effective growth.
The landing pages
Their landing pages that accompany the ads are very similar to the home page I reviewed above except there's a different header and message above the fold.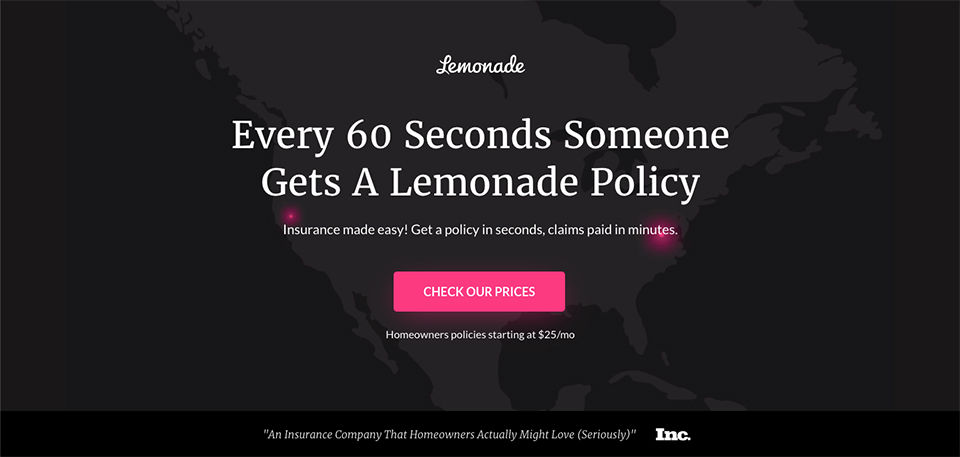 The headline immediately provides social proof and ensures the visitor that Lemonade is a big insurer, and so can be trusted. The sub headers then sell the benefit that it's quick and easy.
And then the final thing above the fold is validation from a respected 3rd party – the publisher, Inc.
When the traffic is paid for and the visitor (probably) hasn't heard of Lemonade before, then it's even more important to provide that social proof and make them feel safe.
Instagram
A balloon. A bucket of pink paint. Insurance.
What could these things possibly have in common?
They are a part of one of Lemonade's more creative and interesting marketing initiatives. Looking to break the mould, Lemonade came up with its #OddlySatisfying campaign on Instagram. The idea is simple: dip ordinary objects into pink paint (their branding's dominant color), and let the comments fly. This has arguably been their most successful social media strategy to date.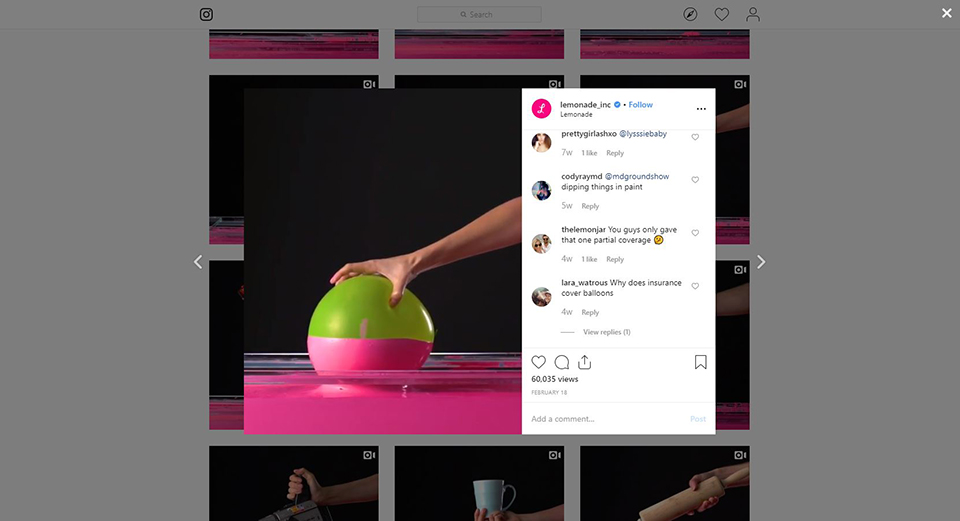 By thinking creatively, they have been able to create buzz around a traditionally dull-as-dishwater business. They've also been able to drive engagement and have some fun in the process. It also shows they don't take themselves too seriously. As one Instagram follower noted about the above balloon, they "only gave that one partial coverage."
The subject line incorporates eye-catching emojis, with a hint of urgency ("Your quote!"). The use of emojis in subject lines is not widely used (yet), so they really stand out, especially when aimed at a generation who have grown up using them and gazing at the visual monotony of an over-crowded inbox.
Key takeaway: Lemonade's Social Media focuses on capturing the eye with short, snappy videos where the creative says more than the copy, but they also test extensively to find the combinations of creative + copy + audience that works. On Instagram, they're not afraid to be different and creative, even though it doesn't directly tie back to what they do.
Email Marketing
Lemonade uses email marketing to engage with people who start the process, as well as existing customers.
Here's an example of an email series they send to potential customers who begin – but don't complete – the signup process.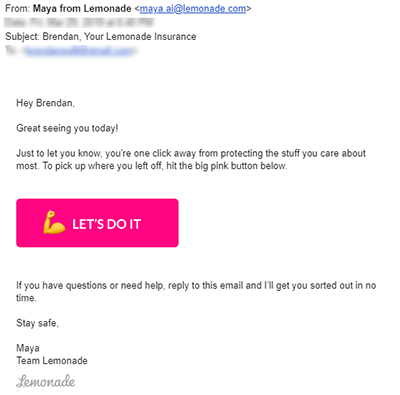 The email is personalized, friendly and succinct. The subject line is simple and descriptive, leaving little doubt about the email's contents, a key best practice to increase open rate.
Note their strong CTA, which leaves little room for confusion about the next step. Their use of emojis – the flexed arm – also shows a playful side that ties into their overall branding and the audience of millennials.
Here's the second follow up email, sent three days after the first one.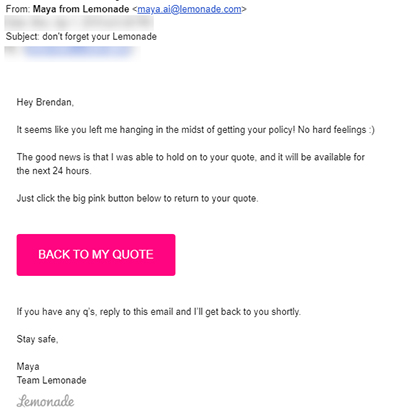 Again, the language is friendly and inviting, with a strong CTA. This one does have a note of urgency – the customer's quote is "available for the next 24 hours" – which helps with click rate.
Here's the third one, sent about a week after the process started.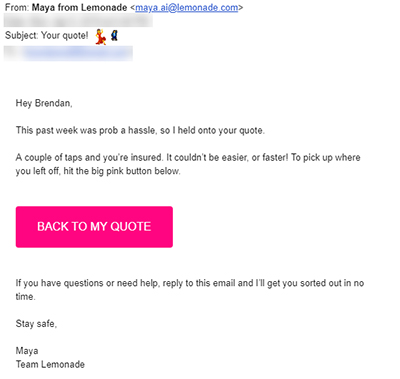 The subject line incorporates eye-catching emojis, with a hint of urgency ("Your quote!"). The use of emojis in subject lines is not widely used (yet), so they really stand out, especially when aimed at a generation who have grown up using them and gazing at the visual monotony of an over-crowded inbox.
Key takeaway: In short, Lemonade makes it easy for the customer to re-engage, by following the below best practices: Short and simple language, Clear calls-to-action, Personalization, and Compelling subject lines
Paid Search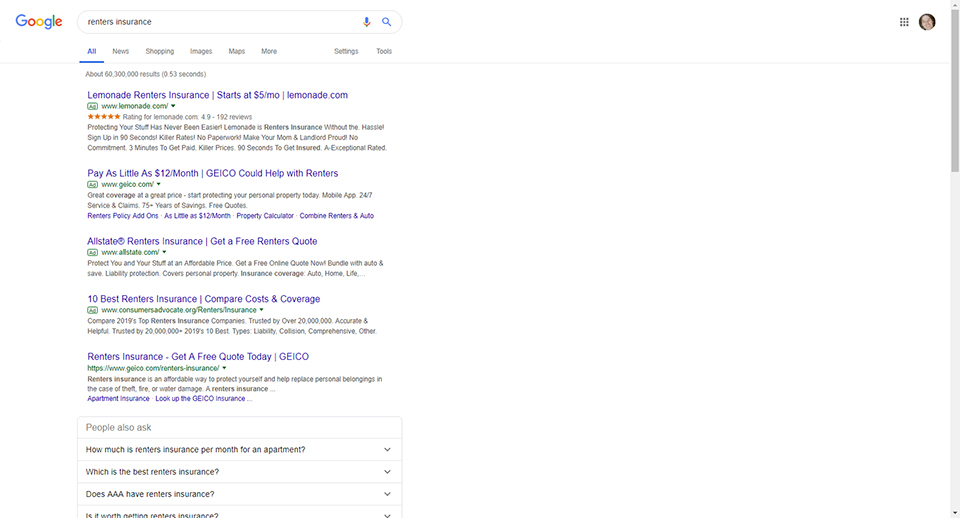 Above is an ad for the keyword search term "renters insurance". The language has a distinct youth-oriented feel:
"Make Your Mom & Landlord Proud"
"Killer Prices!"
"Protecting Your Stuff Has Never Been Easier"
Not only does their ad stand out compared to their competitors, but it also specifically speaks to the millennial market.
With their break from traditional insurance verbiage – "start protecting your personal property"; "75+ Years of Savings"; etc – they are reaching out to this core demographic in a way their competitors are not.
This tactic speaks more directly to the target audience of users searching for "renters insurance" search ads, helping to increase click through rate (CTR) which improves the relevance score and can help you pay a lower cost per click (CPC).
Which is crucial – the CPC for "renters insurance" is nearly $14-per-click, but in the lower range of the page. If you want to bid towards the very top the CPC is $40-per-click.
So every click counts.
Lemonade uses another tactic to encourage clicks: seller ratings. In most cases, seller ratings only show when a business has 100 unique reviews and a composite rating of 3.5 stars or higher. Given that millennials' distrust of brands, and reliance on third party reviews, this will help to capture the click.
Key takeaway: Ensure that your ad copy stands out by speaking directly to your audience, and sell the benefits rather than the features.
Organic Search
Lemonade, as a newcomer in the insurance space, has a tough road ahead when it comes to organic search. Achieving visible organic rankings requires patience and the endurance of a marathon runner. Authority, credibility and trust factor heavily into SEO rankings, so companies that have been around longer have a natural advantage.
Which means newcomers have their work cut out for them.
Although it is competing with All State, Geico, State Farm, Progressive, Esurance, and Liberty Mutual, Lemonade has made some impressive gains on crucial keywords. In a relatively short amount of time, they have achieved a second page ranking (position #13~) for "renters insurance," a keyword with 201,000 searches/month (source: Google Keyword Planner).
The page that ranks for this keyword is The Ultimate Guide to Renters Insurance Coverage, Made Easy. It's an in-depth article, over 2200 words, and designed, like the title says, to be an authoritative guide.
This article follows several SEO best practices: well-researched content, optimized with the Yoast SEO plugin and structured data for maximum search engine visibility.
Also, by answering basic questions – what is renters insurance? What does renters insurance cover? What isn't covered by renters insurance? – it enhances its SEO value as a shareable resource.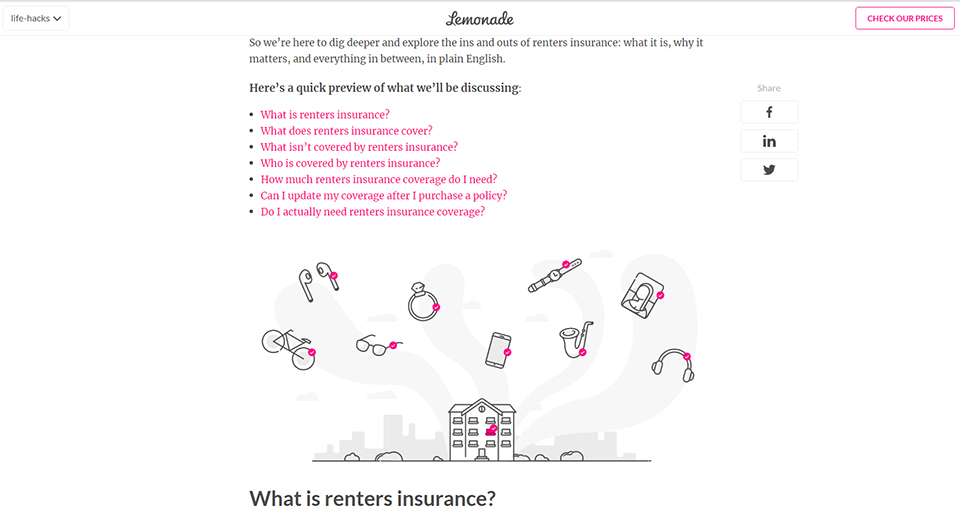 The article has 68 backlinks with 32 referring domains, according to ahrefs.com, making it an authoritative piece of content.
But it seems that their focus isn't just on the core competency of renters insurance, they also have a strong presence on emerging organic trends. For keywords such as "P2P insurance," (90 searches monthly, source: Google Keyword Planner), they are on the first page, billing themselves as the "World's First P2P Insurance Company".
Their SEO tactics embrace a rounded organic strategy – to not just follow trends ("renters insurance") but help create them. "P2P insurance" is an emerging organic trend, and Lemonade is positioning itself to be at the forefront of what could be a high-volume term in the near future.

Key takeaway: Build links by creating valuable, detailed, authoritative content and then find other sites whose users would find it useful.
Content Marketing
The purpose of their blog is to provide an easy-to-understand resource for questions and issues related to insurance. Education and transparency are a big part of their strategy, with content hubs built around topics. Each topic has a different purpose and plays a different role in the marketing funnel.
Content in this category is all about how Lemonade works as a service, and how their customers can get the most out of it. It may also play a part in convincing potential customers to take the final step to signing up.
Articles like What To Do After You Get Your Lemonade Policy and How to File a Claim After Your Stuff Gets Stolen are all about educating the customer in order to help improve retention. The more their customer knows about how to use Lemonade then the more likely they are to remain a customer (and keep paying their monthly fee).
A popular term on Social Media, the Life Hacks section of the blog contains content that is share-friendly and sometimes relates to common search terms.
7 Things You Should Know Before Buying a Home and Does Minimalism Make Your Life Better? Are examples of articles that are aimed at the awareness stage of the funnel. The purpose is to catch the eye of potential customers and introduce them to the brand as an authority on owning/renting a home. They can then be marketed to at a later stage and are more likely to engage as they know who the brand is and what they do
This section is where they share the information they promise to be transparent about, keeping themselves accountable like they promised their customers they would.
Again, this falls under the retention stage of the funnel but could also be an awareness play as people share the interesting stuff the business is doing (and openly discussing).
Key takeaway: Create content for various stages of the funnel so you're not only attracting new audiences, but also adding value to your existing customers and aiding retention and advocacy.
Community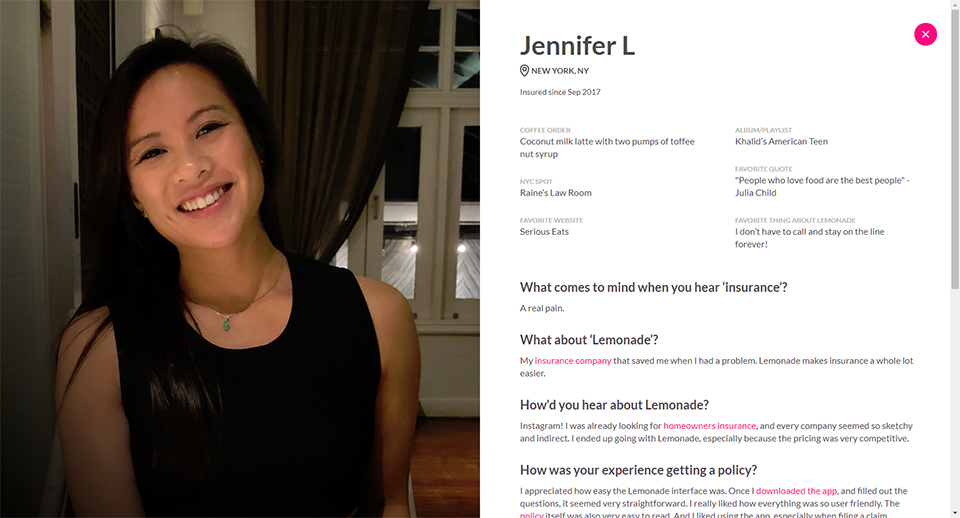 Community plays a large part in Lemonade's branding strategy. Their Community section is filled with profiles of diverse, youthful customers, emphasizing their personal stories in a Q&A-type format.
The community profiles appear to be the result of live interviews – the questions change based on the respondents' answers – which goes a long way towards building trust and authenticity.
Common questions include:
How was your experience signing up for Lemonade?
What happened with your claim?
Did you experience any pain points along the way?
What charity did you choose for your Giveback?
The questions are designed to illustrate how the Lemonade program works, as well as highlight the company's commitment to convenience and charitable giving. For this reason, their community also serves as an important branding tool.
"A Necessary Evil"
The profiles also provide a window into their customers' views. Many in the community express a less-than-positive attitude towards traditional insurance.
When Peter B. from San Francisco was asked what he thinks of traditional insurance, he didn't hold back:
"You pray that you don't have to make a claim because it's going to be a nightmare. You expect that you're not going to get exactly what you asked for once you file that claim. You're working with these huge companies that you associate such bad things with."
He went on to say that insurance is not a bad thing, but it is unavoidable: "It's a necessary evil," he said.
By focusing on their customers' pain points and personal stories, Lemonade is promoting their core message that insurance can be a "social good."
However, the questions may seem skewed towards promoting a rosy picture of the insurance company. That's not to say they ignore questions concerning doubt about their business model ("How did you get over your initial skepticism? What about Lemonade would you change?").
But questions such as "What's your favorite thing about Lemonade?" do little to add to the conversation. As proponents of "radical transparency," including more questions about improvements in the sign-up and claims process could go a long way to building credibility with customers on the fence.
Key takeaway: Building a community can provide you with a way of having your customers promote your brand on your behalf in an authentic way.
The Lemonade API
Part of what makes Lemonade different is their API. Lemonade can be integrated with "commerce websites, financial advisor apps, property management companies, payment software processors, IoT platforms" and more.
This innovation, in an industry that has traditionally resisted technological change, is part of a long-term strategy to deeply integrate insurance into users' everyday lives.
The integration allows visitors of other websites to purchase insurance on top of their main purchase. Want to insure that big screen TV you bought online? Lemonade makes it possible.
Adoption has not yet reached critical mass, but Lemonade reported that more than 400 businesses had applied within the first 24 hours of the API's offering in 2017. More than 40 percent were firms related to real estate and another 28 percent were in financial services.
This strategy is built for the long-term, with an eye on adaptability. The goal is to have a presence on platforms that traditional insurance companies simply don't have, whether it's a mobile app, a cash register, or a car navigation system.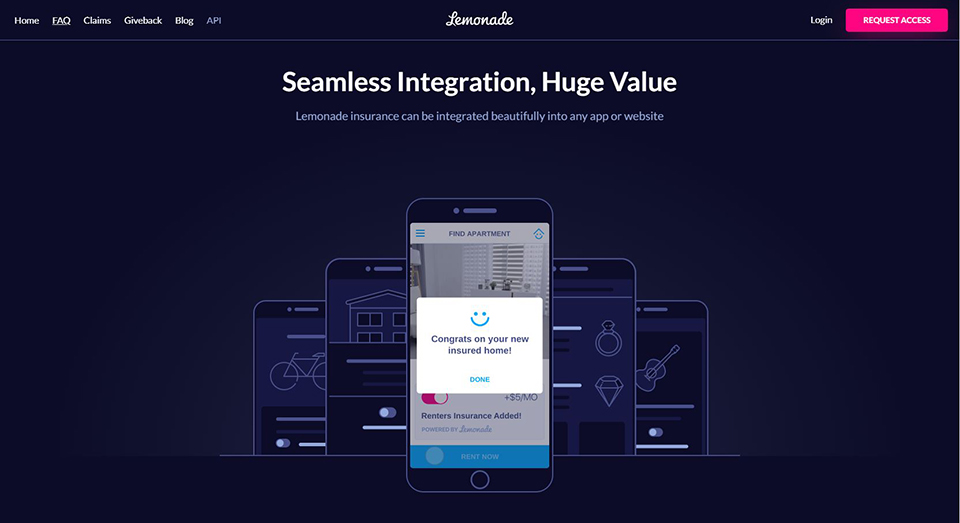 Key takeaway: Marketing isn't the only path to growth. Explore opportunities where you can add value to other brands' customers and they may be willing to partner with you so you both benefit.
Summary
Convenience. Transparency. Instant everything.
All for a good cause.
Not usually what you think of when you think of insurance, but a great recipe for marketing to millennials.
Since their launch in 2015, Lemonade has signed up 300,000+ customers, with ambitions to expand beyond the 20 states where they are currently available.
Their goal of turning insurance from a "necessary evil" to a "social good" clearly resonates with a target market eager to give back.
It's going to be a while until Lemonade are fully competing in an industry where their competitors generate 20x-30x their 2018 revenues of $57 million, but if they continue their forward-thinking marketing then it should be the case of sooner rather than later.
Chatbots, AI, and the notion that insurance can be an instrument of charitable giving have gotten them this far. But it will be their innovative marketing and product development that will determine if they are here to stay.
BONUS: Want to grow like Lemonade? It starts with identifying the right audience and building your marketing around them. Speak to us about a Brand Assessment to find the right message for your customers.