Why Customer Value Optimisation (CVO) is the biggest opportunity for ecommerce brands this year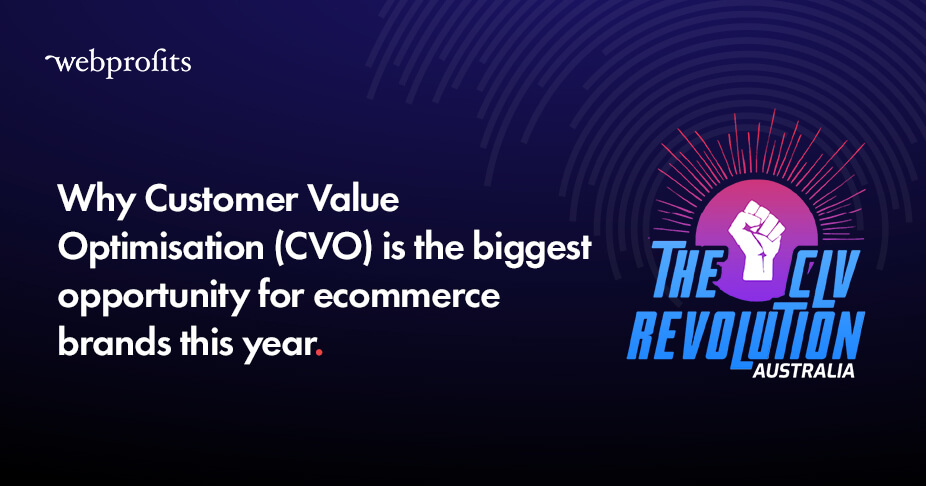 When acquiring new customers is 5-25X more expensive than retaining existing ones, focusing on retention and lifetime value is a no-brainer for growth. We sat down with Webprofits' Chief Strategy Officer, Ben Fitzpatrick, to discuss why Customer Value Optimisation (CVO) is the biggest opportunity for ecommerce and D2C brands this year and what we can expect from the upcoming event, The CLV Revolution, taking place in February. 
How do you describe Customer Value Optimisation?
CVO is more than just a marketing strategy, it's a change in business philosophy that prioritises customer satisfaction and growth.
CVO combines quantitative data, qualitative data, behavioural marketing profiles and real-world reviews to identify areas of opportunity. This information is then used to optimise the customer experience and deliver maximum value to customers. The process involves segmenting customers into different groups and identifying those who have the biggest margins, have spent the most or have the potential to spend the most with the business if communicated with effectively.
By investing in the right customers, businesses can create a virtuous cycle of customer loyalty and growth that benefits everyone involved. From the business to the customer, everyone wins in a CVO approach to marketing.
Why is this so important in the current retail environment?
Think about the last three years and how much the marketing landscape has changed. As a business you need to assume that there is further disruption coming. There is going to be uncertainty. For example, are we going into a recession?
The challenges today for ecommerce brands are very real. With surging acquisition costs, fierce competition and the impending cookieless future, as a business the best thing you can be doing right now is growing through customers who already love you; customers that will buy into your brand because those are the ones that are going to be ones that stick with you through whatever is coming. It could be a really positive disruption, but it is still going to be a change we need to be prepared for and this is the best way to go about it.
If the way that a business is growing is just by paying to acquire customers on the acquisition side, the second budgets get cut or there's a shift in the dynamics of paid media, then all of a sudden, what your business depends on to grow and survive has been cut out from under you.
"We see the opportunity to revolutionise the way we view marketing, and change the focus from acquisition to retention."
By switching the focus onto CVO, businesses can cultivate long-term relationships with their customers, reducing customer churn and increasing customer lifetime value. CVO also helps businesses understand their customers' pain points and challenges, allowing them to continuously improve their products and services to meet their customers' needs.
"A successful CVO strategy can create a lifetime cycle of growth, where satisfied customers lead to more business and a stronger brand."
How do you apply the principles of CVO?
A quick overview of the process:
Integration
We integrate a tool into the backend of your ecommerce platform – like Shopify, but can work with other platforms, and use data analysis and machine learning to pull out a segment of cohorts of your customers. You've got people who love you and invest in your business, people who buy once and never come back, and then a bunch of people in between.
Qualitative Insights
The next phase is we go out and interview groups of these segments to pull out some qualitative insights, using a variety of other surveys and behavioural marketing techniques to get a wealth of quantitative customer data.
Strategy & Implementation
The final phase is then, we use all of those insights to craft a value optimisation strategy. The best part of this, is the strategy brings together a lot of different areas of performance marketing and all different types of non-digital marketing in a way that doesn't happen enough at the moment.
What are the dangers of not investing in CVO?
Essentially, you're leaving money on the table. You're not going to deliver as good an experience as you could to your customers. You're leaving the door open for someone else. For example when you're at a low price point in ecommerce, every single one of your customers at any time could see the right message from a competitor and be swayed. It won't get less competitive, every industry that is an established category has multiple players in the market with good products.
As a business owner I'd want to invest in CVO to give a good experience to my customers and maximise revenue through them. We have found in one of our client's data, that one of their ideal customers has the potential to generate the same margin as 376 low-value customers. The negative – or dangerous side – is that if you don't do it, you're leaving money on the table as well as leaving the door open for others.
Who are some of the businesses you think are leading the way in CVO?
There are a couple different ways to look at that – Omniconvert, our partner for The CLV Revolution, is a global leader in developing the approach of CVO, alongside Webprofits, as well as promoting it. They hosted the first CLV Revolution, the global conference last year with +18,000 registrations. Valentin Radu, the founder and CEO of Omniconvert have been talking about CVO since their inception in 2011, but businesses are finally starting to take notice of the incredible opportunity here.
The best example in the Australian market would be Culture Kings. They're really all in on the CVO approach. Pet Circle is another one who will also be speaking at the conference; they have embraced the approach and really built their whole marketing strategy around that in a way that will be the model for growth of ecommerce businesses moving into the years ahead.
What can attendees expect to gain from attending the CLV Revolution?
Insights and understanding to likely change their entire marketing plans for 2023. We have fantastic speakers from Google, TikTok, Shopify and Klaviyo, as well as leading ecom brands LSKD, July, Eucalyptus and more. And they won't be talking about acquisition or how to spend more, but will highlight how you can build value with your customers to build sustainable growth and get ahead of the competition, without increasing ad spend.
Another highlight of the program is a 60 minute session with Melbourne based agency Creative Converters, who are leading the way in TikTok content creation in Australia. Alongside our event sponsor TikTok will talk about building a community through their platform and the power of building a community in ecommerce.
Pet Circle will be showcasing their unique approach to scale and growth which will be eye opening for businesses in the ecommerce space. And as a bonus for attendees, Ben Fitzpatrick will be running an exclusive session on AI and ChatGPT for ecommerce…super totical!
This conference isn't about incremental growth or small change. It is about how ecommerce businesses can thrive while others strive to survive. That is the power of coming to this event with an open mind.
The conference includes eight hours of free and exclusive content from 18 global ecommerce experts and will showcase why CVO is the single biggest opportunity for ecom brands this year.
The conference is free to attend, but pre-registration is required. Full event details and registration can be found at: https://au.theclvrevolution.com/