Performance Highlights.

+103%
business growth in 16 months
+44%
average deal size ($9K - $13K)

+72%
more deals closed with close rate increasing by 18%

+700%
increase in opportunities per month.
Case study at a glance.
Since 1992, Employment Innovations has been providing Australia's small businesses with outsourced HR, payroll, legal services and technology solutions. Competing with major global solutions providers with big budgets, in the world of search they also faced indirect competition from government web pages that provide HR and employment information.
In September 2020 Employment Innovations came to us with an ambitious growth goal: to lift gross sales revenue by 140%. During a pandemic.
Simple, right?
The easy approach would be to simply generate more small business leads. But Covid-19 lockdowns were impacting business and consumer confidence; the small businesses we wanted to talk to were in survival mode.
And plus, that's not how the Webprofits Digital Growth Framework approaches business growth.
Focusing on customer lifetime value vs leads
The approach we took was to work with the Employment Innovations team to reposition them as a solution for larger businesses with 100+ staff, who represented greater revenue opportunities for the pay-per-employee pricing model and bespoke packages.
By shifting the focus from short-term leads to longer-term value, and building a robust organic search strategy, we:
Lifted gross sales revenue by 103%
Saw the average deal size increase by 44%
Closed 72% more deals, with the deal closure rate increasing by 18%
Increased new opportunities per month by 700% (30 to 240).
For the full story, read on...
Like what you see?
Take 30 minutes to have a quick chat with Webprofits. You might be pleasantly surprised with what we share with you.
Tell us how we can help

"Webprofits are as invested in our vision and in our journey as much as we are in internally... the expertise around the search and content side of things has been infinitely valuable. Through the help of Webprofits I have more capability with my own internal team.
Lee Foxon, Head of Sales & Marketing, Employment Innovations

THE CHALLENGE
Our initial audit raised both challenges and opportunities:
Impact of Covid-19 on small business and consumer confidence
For almost 30 years, Employment Innovations had been focused on small businesses, with over 90% of Employment Innovations' clients having less than 15 staff. The national lockdowns and global uncertainty meant that this traditional customer base had suddenly diminished, the majority unprepared to commit as their focus was purely on their own survival.
Employment innovations needed to look beyond the small business audience and acquire clients with higher employee headcounts.
Challenge number one.
In-house experience and resources
When we first met with Employment Innovations, they were successfully acquiring customers and their web optimisation and search infrastructure was already in place. However, the small in-house marketing team was at capacity when it came to managing all of the moving parts.
We needed to build on this functional foundation to drive greater growth and success.
Indirect Competition from Government websites
During our audit we quickly saw that the HR solutions industry is very much driven by the need to find and process legal information. This means that HR and payroll solutions providers — like Employment innovations — are always going to be up against government websites that provide legal content, and these sites tend to automatically get a high ranking score as government sites are considered an 'authority'.
So, how do we beat Google's system & drive the ambitious targets on?
We had to find a way to cost-effectively position Employment Innovations as a recognised authority in the corporate HR, payroll and legal space.
TLDR
Visitors to the Employment Innovation's website were seeing it as a repository for HR & payroll content and information; it wasn't overtly clear that Employment Innovations also offered services. Additionally, the existing website pages had simply too much content on them for visitors to find what they were looking for.
We needed to double down and invest in their service pages to reposition and present Employment Innovations as a company that could not only provide information on HR and payroll services, but solve problems too.

"Something that I've really enjoyed is the no hesitation to offer an out of the box or a big thinking idea. Quite often, the senior contact who oversees our account will drop a message saying, 'Hey, I've been thinking about your service page and your highest ranking blog and some other resources. I've got this really random idea, but I think I have a big impact. Do you trust me? What do you think?' And I really enjoy that...
Lee Foxon, Head of Sales & Marketing, Employment Innovations

APPROACH
Applying our IP: The Digital Growth Framework
As we applied our Digital Growth Framework it was clear that Employment Innovations had already completed the Validate phase, as the business was already acquiring customers cost-effectively through the right mix of audience, message and digital channels.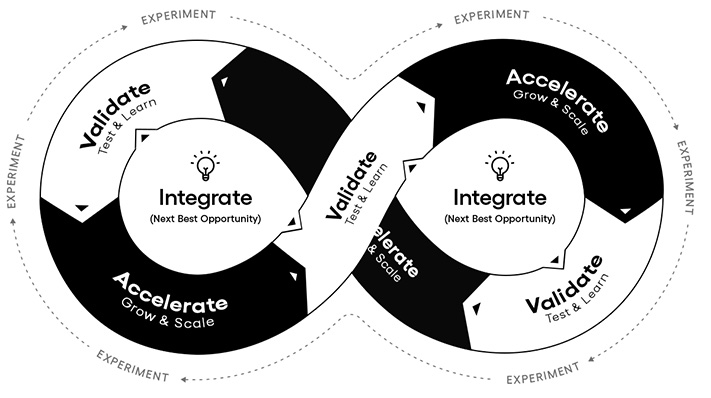 This meant we were able to move straight into Accelerate where we determined the most effective growth activities and channels to invest in to drive rapid scale and maximise impact.
This phase usually involves a lot of process and messaging refinement and ensuring consistency throughout the entire customer journey, so that leads and prospects can move seamlessly and confidently through the process with minimal drop off.
So, what we set out to do in that first quarter was build a marketing machine, and reposition their brand, as well as their services, to make them more compelling for larger businesses with more staff.
How did we do it?
Developed a fresh strategy
Created new assets and implemented new nurture streams
Built landing pages with organic SEO and content marketing as the backbone.
We refined messaging and created multiple new landing pages and assets, all underpinned with organic SEO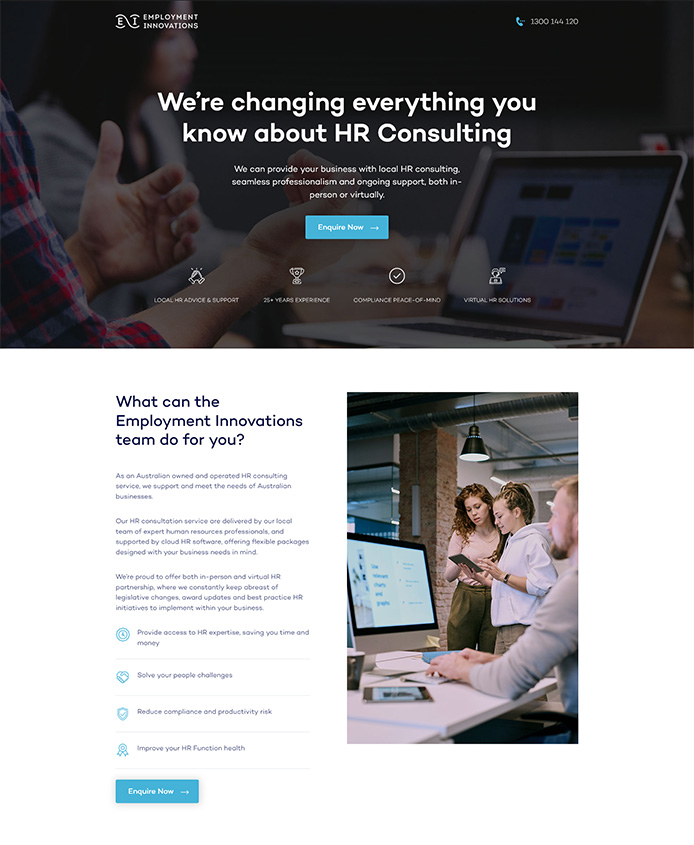 Immersing ourselves to understand the customer
To better understand the language and messaging used by prospects and customers, we sat in on the conversations that the sales team were having to see what customers were asking for or needing. This gave valuable insight and enabled us to optimise key content with the same language.

" Through our holistic organic strategy, organic opportunities have increased 700%."
Using the Digital Growth Framework, we drilled down into understanding our target markets, developing personas in specific industries to make sure we were using appropriate language to show empathy and understanding.
Through this process, in addition to clarifying who Employment Innovations was already targeting, we identified additional industries and roles to target.
Focusing on nurturing quality high-value, long-term leads
The market conditions and low confidence due to Covid-19 meant many businesses could not immediately make a commitment to purchase, however these were still prospects, actively seeking solutions. We shifted from a focus on short-term lead generation to a philosophy of generating longer-term leads. Now, as the economy and business confidence have stabilised, these have proven to be higher-value customers.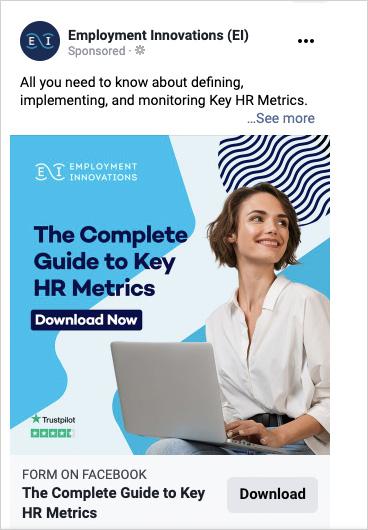 Social ads delivering valuable content instead of focusing on lead acquisition
Building up human benefit and emotional connection
We saw a massive opportunity and benefit in shifting from a heavily functional website in terms of content, to a website that created greater emotional connection.
Additionally, because we were up against competition from government sites (with content that is notoriously hard to understand), we used this to our advantage to create more 'human' pages. We stripped out any content that was not necessary or adding value. We then rewrote the rest so that each page read like a guide rather than a brochure.
All service pages now speak to the impact for businesses vs. 'what we do'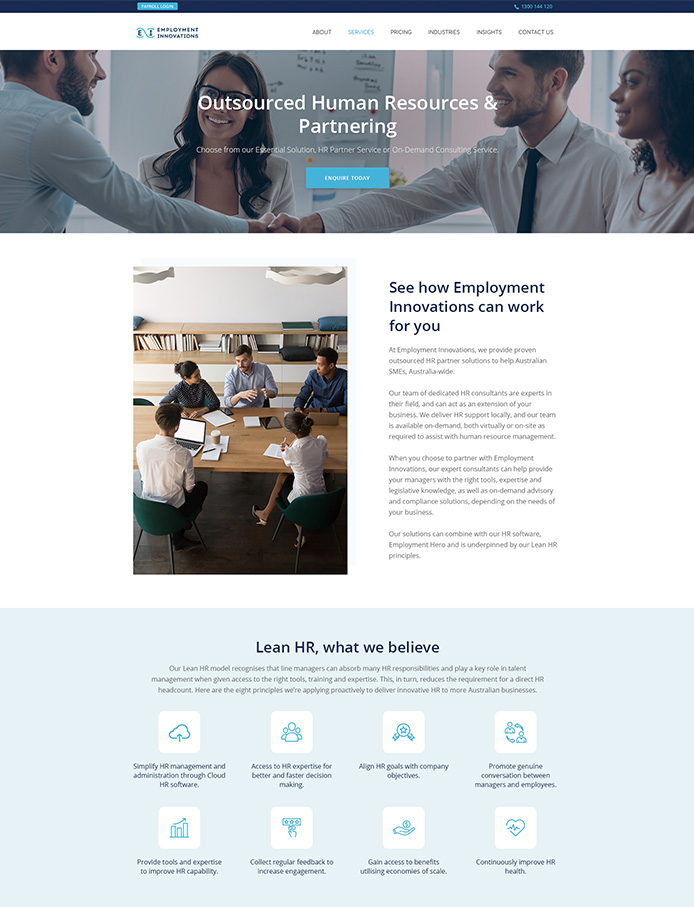 This resulted in the pages having greater 'first glance' appeal in organic search results and users could immediately see the benefit and outcome of what Employment Innovations was offering. As a destination our pages also delivered greater value and we continued to optimise the content working with Employment Innovations' in-house team of experts.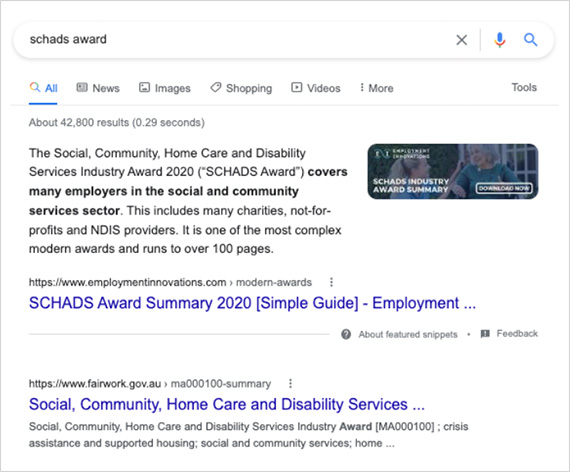 Outranking government websites for informational content

Consolidate to accumulate
We undertook a mighty content consolidation process, removing or optimising pages that were no longer relevant or providing value. Additionally, we were able to leverage all of the existing gated content on the Employment Innovations website and improve these pages in order to drive rankings.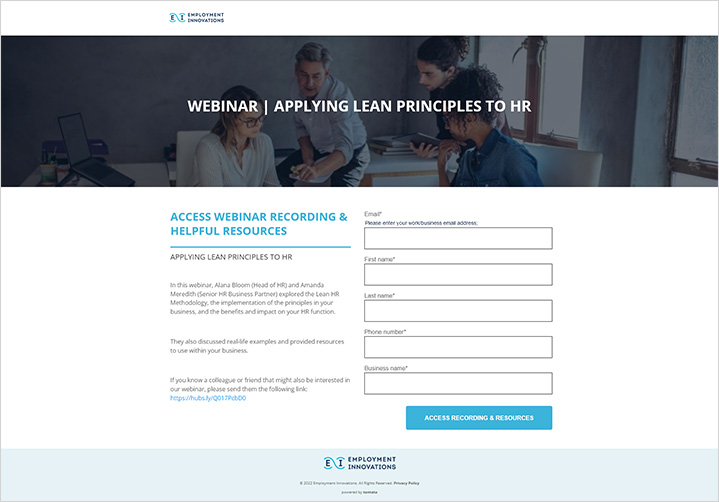 Improving and leveraging gated content pages

Extending to paid media activities
After the early successes of our organic strategy, we were able to apply our learnings from SEO to a full suite of services including paid search, which enabled us to properly strategise across their entire digital format to ensure that we were optimising all activities to drive results.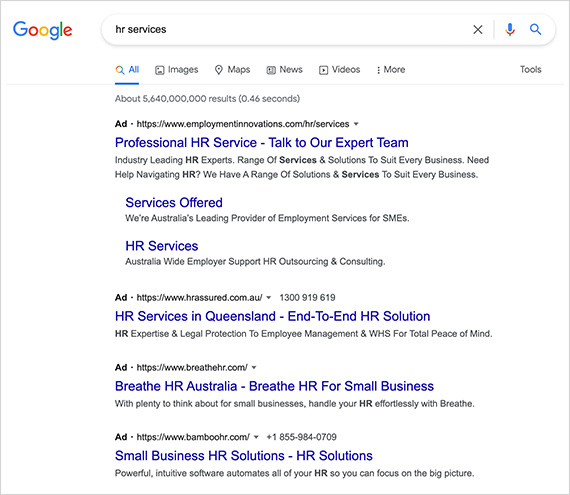 Adding in Paid Search to our strategy, enabling us to drive results on all channels

Streamlining stakeholder management
With so many new activities and so many stakeholders, we streamlined the stakeholder management process, from initial engagement to final approval to reporting and optimisation.
The benefit of a mutual growth mindset
When setting out on a quest for growth, mindset plays a huge part in whether you get there or not.
The Employment Innovations team and senior leaders have a thirst for knowledge and guidance; they have a growth appetite, and a growth mindset. Employment Innovations trusted our team to deliver and made our partnership a prime landscape in order for us to achieve success.
Outcome
"Whatever you're doing, do more of it. It's working!"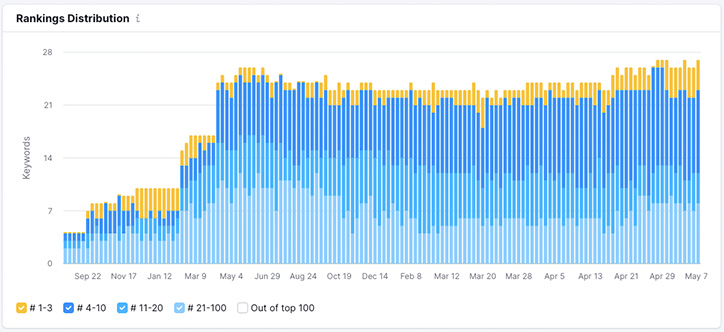 Consistent organic growth

Within two months of our engagement, Employment Innovations started to see positive results. The improved SEO didn't just generate more leads, it started to generate bigger, more valuable leads, as Employment Innovations started to present itself as a more professional organisation, not just to small businesses, but also to organisations with 100+ staff. In 16 months, we saw:
The proportion of Employment Innovations' client base of businesses with 100+ staff increased from 2% to 13% - a six-fold jump.
The average deal size increased by 44% from $9K to $13K
72% increase in the number of deals closing

+103%
business growth in 16 months
+44%
average deal size ($9K - $13K)

+72%
more deals closed with close rate increasing by 18%

+700%
increase in opportunities per month.
Repositioning brand through SEO
For Employment Innovations we have been able to use organic SEO to reposition their brand and move the focus from short-term lead generation to longer-term, higher-value demand creation.
The common misconception when it comes to digital is that everything that you'd see in terms of lead acquisition and results, is generated by paid channels. Employment Innovations understood the value in investing in an organic strategy.

" Through our holistic organic strategy, organic opportunities have increased 700%."
It is now their best performing channel and drives the most revenue for their company and what's more, they now have the customer base to sustain service level growth.
103% growth in the most challenging period in modern history
We were disappointed not to reach the 140% revenue growth goal, but that said this still represents huge growth during one of the most challenging periods in modern history, which we are pretty proud of.

"It's not the usual story that you would hear from a Lead Generation Campaign where Paid is generally the hero of the conversation.
But to see Employment Innovations getting the results through organic and taking that leap of faith and winning because of it has been rewarding and something that within the company, they really recognised as a win."
Jess Grassick, Growth Strategist and Lead at Webprofits