Performance Highlights.

738%
revenue growth since 2016
38x growth
in Google ads revenue + 22x in FB ads revenue + 11x in edm revenue

Up to 11x ROAS
(return on advertising spend) since 2016
Case study at a glance.
In 2016, family-owned children's specialty toy manufacturer HipKids came to us for a consolidated and integrated digital marketing solution that could drive scale.
We developed a dedicated growth team and took a channel agnostic approach, helping HipKids boost revenue rapidly through Paid Media management optimisation, content refinement, improved email automation and streamlined Google and Facebook activities.
In the first year, overall the revenue trajectory jumped by 444% (with an increase in spend of just 24%) and has continued to climb since (738% growth 2016 - 2021).
Standout channel performers since 2016 have been Google Ads (38x revenue increase), Facebook ads (22x revenue increase) and email marketing (11x revenue increase).
For the full story, read on...

Our business has never grown like it has since we've had Webprofits on board. They're producing the goods and doing a great job for us!"
David Bennardo, Co-Founder, HipKids
Like what you see?
Take 30 minutes to have a quick chat with Webprofits. You might be pleasantly surprised with what we share with you.
Tell us how we can help
The challenge
Online marketing was working, but increasingly fragmented and hard to manage
In 2016, seeing that their online marketing activities and multiple agency partnerships were becoming increasingly fragmented and harder to manage, HidKids came to Webprofits in search of a consolidated, integrated solution that could help them to scale.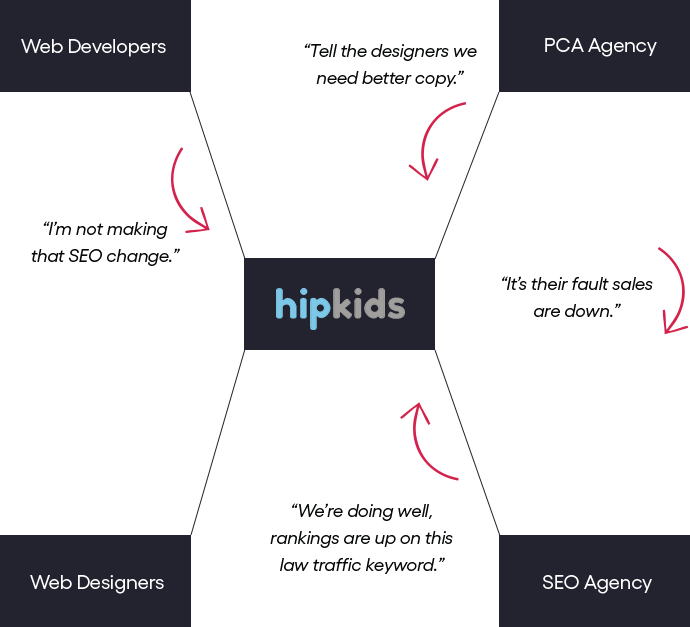 After a comprehensive audit of HipKids' agency structure, data/results, campaigns, and website, we identified a number of key issues we'd seek to fix, including:
A fragmented agency approach
Unprofitable advertising campaigns
Poor mobile user experience
Manual email marketing
Declining Organic/SEO Traffic
THE APPROACH
First step - what does success look like?
The first thing we wanted to do was establish what success looked like for HipKids. After consulting with the team, we determined that the goal was to deliver YoY revenue growth of 15% while maintaining a 6x ROAS - whereby every dollar spent on advertising needed to deliver a return on advertising spend of at least $6 in revenue.
One team
To negate the fragmentation issue, we created an internal growth team for HipKids with an appointed senior ecommerce specialist and a team of digital marketing experts whose experience covered every channel required to achieve success.
With one team, we built robust digital funnels and utilised every resource we created across all channels which maximised the ROI generated from our efforts.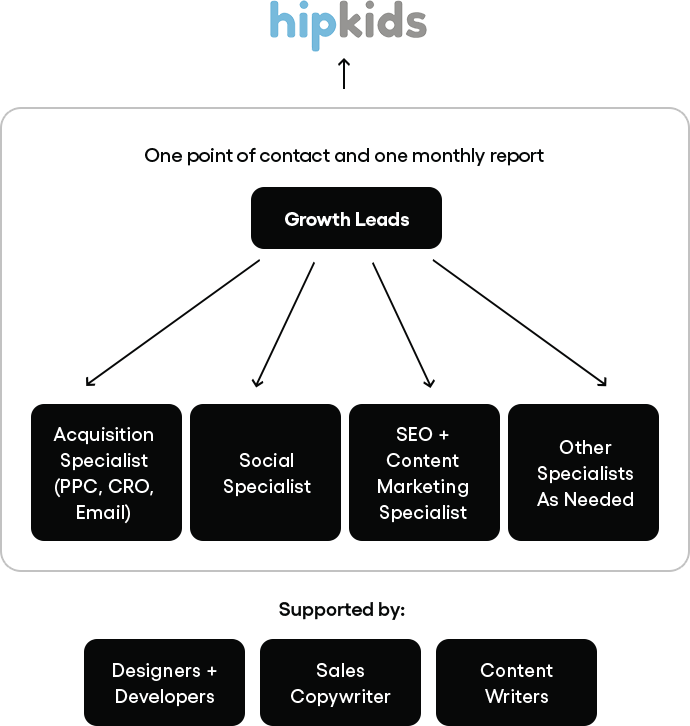 The Webprofits HipKids growth team, providing the experience required to drive scale on the most important channels.
Channel agnostic approach
Our channel agnostic approach, allowed us to keep an open mind and find new opportunities beyond what was currently being done by asking "What else could we do and how could we do things even better?".
Starting with where HipKids could win fast, we identified the products that were searched for the most and that delivered the greatest margin. These products presented the greatest opportunity for growth and were our initial focus.
Thanks to Webprofits' Premier Partner status with Google, we were able to rollout and test new Google Ads products very early on in their development as part of their Beta programs. The rollout of Smart Shopping was able to increase Shopping revenue in Google Ads by 106% year-on-year from 2019 to 2020.
After reviewing and rebuilding the email automation and marketing campaigns running on Klayvio (a Shopify email integration) email revenue increased by 1,178%.
We significantly improved the mobile design of
every email increasing conversion rate by 241%.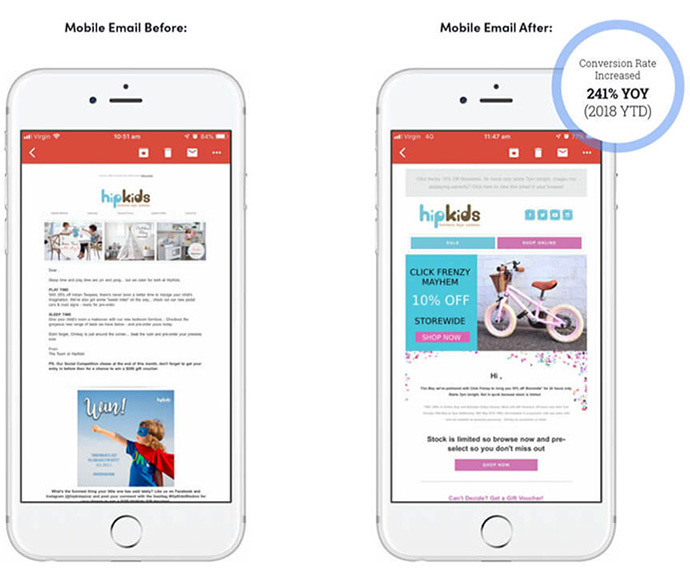 Following the change in mobile design, we wrote, designed, and developed a series of automated emails, triggered by customer behaviour.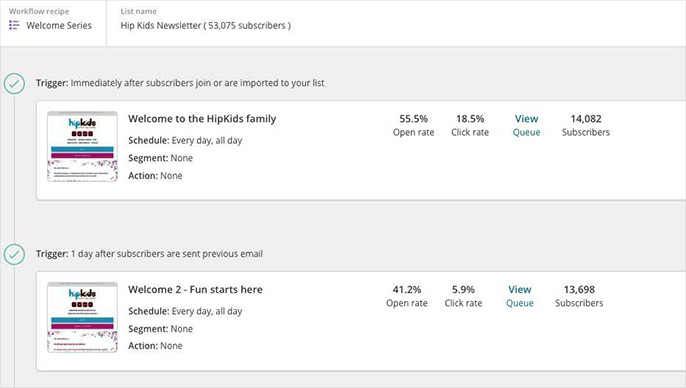 Automated welcome emails.
These automated emails welcomed people to the database, gave them a free gift to encourage initial or repeat purchase, and introduced them to HipKids' brand, outlining the most popular categories, products, and website content. We also improved the abandoned cart recovery sequence design and messaging to increase purchases.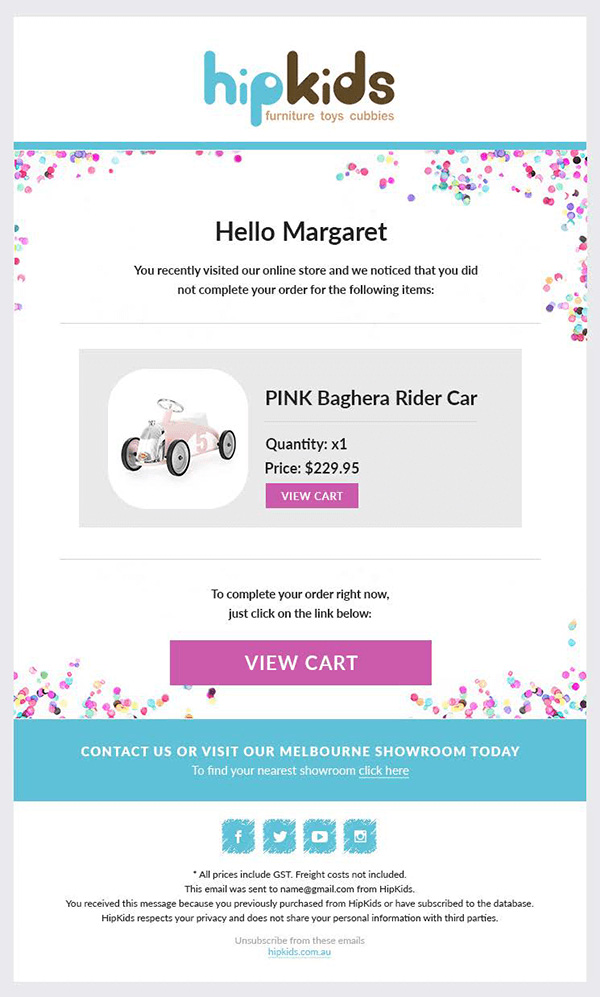 Improved abandoned cart recovery sequence design and messaging.
We applied our strategic approach, experience and tools to spin up, scale and optimise paid search and paid social campaigns at speed. Leveraging our position as a Google Premium Partner and Facebook Preferred Partner we were able to utilise a range of betas, optimisation tools and other resources to further improve campaigns to drive huge returns.

Social revenue from Facebook campaigns grew by 2,231% YOY.
Revenue tracked from Google Ads has increased by +3,886.27%
By taking advantage of new ad creative available through Google Ads, such as the Premier Partner exclusive early access to Google's Performance Max campaign type, we were able to leverage the latest AI to serve customised copy to Search audiences: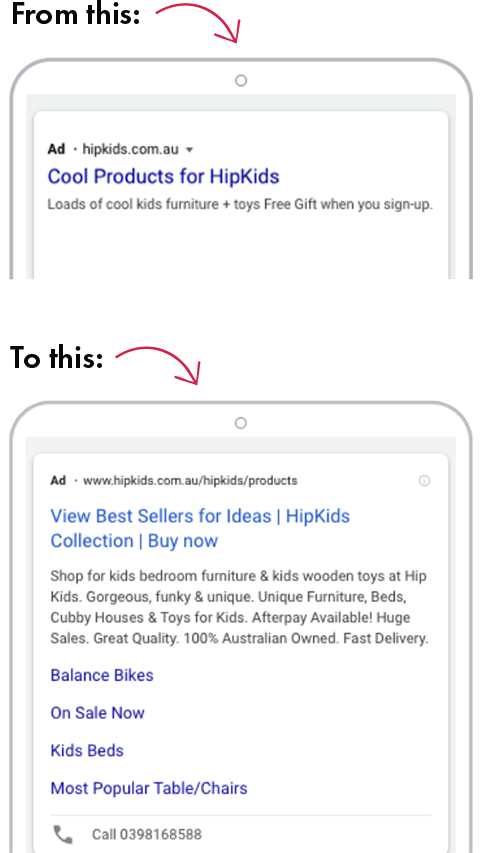 On the website, we utilised conversion rate optimisation (CRO) to ensure that every click from Adwords and other channels, had the highest possibility of converting into a sale, regardless of device.
We undertook a comprehensive CRO Audit utilising quantitative data from Google Analytics, and qualitative data from screen recording and surveys utilising Hot Jar. Key areas we improved included:

Improved checkout process
Site speed issues fixed
Mobile user experience improved
Category + Product Page layout issues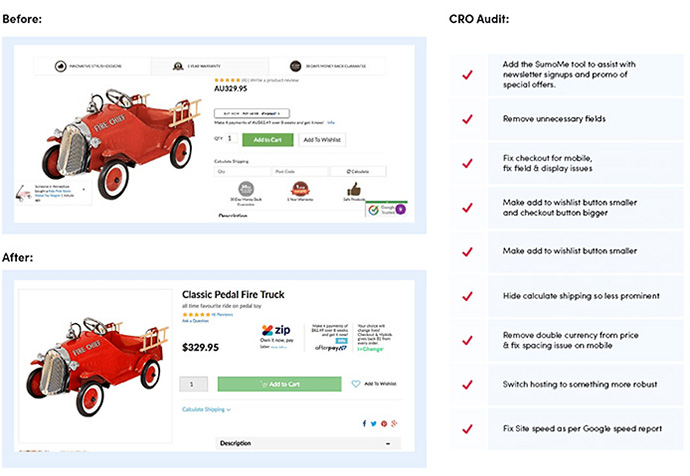 THE impact

"In the past I've always been sceptical about dealing with digital marketing agencies but the proof is in the pudding. We currently have a team of marketing experts who actually communicate and are working towards the business goals we have and it's working really well. Our business has never grown like it has since we've had Webprofits on board."
David Bennardo, Co-Founder, HipKids
Immediate growth spurt
In the first year of our working with HipKids:
Overall revenue increased by 444% YOY from Aug-Oct 2017, with only a 24% increase in ad spend.
Social revenue from Facebook campaigns grew by 2,231% YOY.
Continued revenue growth of up to 38x since 2016
Between 2017 and 2021:
Revenue tracked from Google Ads has increased by +3,886%
Revenue for Facebook Ads activity has scaled 2,138%
Email Marketing revenue has increased by 1,178%
ROAS has been between 6.50 and 11.00 depending on the month (due to seasonal business with higher performance in the last quarter of the calendar year).
Overall business revenue has scaled 738%*
Turning playtime into serious business.
Through a robust growth strategy, a consolidation of marketing activities, and a great product, we are proud to have been able to deliver a 738% growth in revenue for HipKids over a 5 year period, and scale their business to new heights. HipKids, once a small family-owned toy store, is now a multi-million dollar ecommerce powerhouse.
*Note, we acknowledge the other factors which also influenced the growth of HipKids since 2016:
Website SEO and revamp: we managed the website SEO up until 2020, when a new site was launched which streamlined the user experience and increased conversion rates and revenue across all channels.
HipKids manage their own PR campaigns which could have generated further search and website traffic.
There is no doubt that COVID contributed to revenue growth from 2020 - 2021.