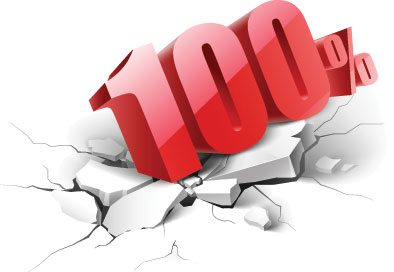 Your success online is directly correlated to your conversion rate. The higher your conversion rate is, the more profit you'll make. Simple.
I've discussed different ways of improving your conversion rate in the past . In this article I'll share 10 ways you can increase your conversion rate by improving your online marketing.
Implement just one of these points and you'll surely increase your conversion rate… implement all of them and your competition will have a hard time keeping up with you.

Create an offer – this is by far the most powerful thing you can do to increase your conversion rate. If you can develop a great offer that your market really responds to then you can market that offer everywhere online. And because the conversion rate is so high, you'll be profitable in most places you advertise.
Use re-marketing – most of the people who visit your site will not convert right away. By adding re-marketing scripts to your website you can 're-market' to those people whenever they visit a website that has Google advertising (through the Google Display Network) or on Facebook (through the Facebook Exchange). And because they've already visited your website, there's a higher likelihood they'll convert.
Capture email addresses – your website most likely sells your products and services, which is your bread and butter. But most of the people who visit it won't be ready to contact you to take the next step. By giving away something for free (like a special report) in exchange for their email address you can build up a database of prospects to email market to.
Use email marketing – once you've started to build up your email database, send out daily, weekly or monthly emails to build a relationship with your prospects. Focus on 'giving' more than 'selling' by sharing valuable information with them. Then pepper that great content with the occasional offer.
Be more precise with your PPC advertising – the more specific the keywords you advertise on, the tighter the geographic area you advertise, and the more targeted your ads are, the higher your conversion rate will be.
Stop advertising on non-converting keywords – most of the keywords you're targeting won't produce any conversions. By eliminating these keywords from your PPC campaign you will increase your conversion rate.
Use landing pages – rather than sending traffic to your home page, send it to standalone landing pages that have one goal and one goal only – to convert that visitor into a lead.
Split-test everything – enough said.
Use phone tracking – if you receive a lot of phone enquiries and you're not tracking phone calls then you're flying blind. Setup phone tracking so you can optimise your advertising based on calls as well as web forms.
Write better copy – the better you can sell your idea (through your website) the higher your conversion rate will be.
Conversion rate optimisation isn't about just optimising one or two parts of your online marketing strategy – it's about optimising every part of it. That's where the real gains will be achieved.
The really successful companies are those that implement all of these points and more. How many are you implementing?