12 Can't-Fail AdWords Headline Formulas to Start Testing
Writing ad copy is difficult – period. It only gets harder when you have to convey your message in just a few words – something that comes with the territory when crafting copy for AdWords. But we can make your job easier. Formulas can help you write more effective ads, faster. Stick with us and we'll give you 12 of them to try. Each formula consists of either your brand name or keyword, and your RTC (reason-to-click).

You have 30 characters to play with in each part of the headline – 60 in total (AdWords' character limits are more generous than they used to be – thank you Google!) and in all cases, the formulas can be reversed.
Read on for 12 can't-fail-to-get-you-clicks headline formulas for AdWords, with examples.
1. Keep it super-simple when creating location-based ads.
AdWords location targeting lets you narrow your ad reach according to the whereabouts of the user. If you run a local business (that either has a single location or multiple locations) make sure you're using this feature.
For extra leverage, ensure your target audience knows your product or service is available to them locally with a super-simple headline that's based on your keyword and location – for example:

This formula might feel almos too simple, but that's rarely a bad thing – especially in this case. In fact, 4 out of 5 of consumers say "they want search ads to be customized to their city, zip code or immediate surroundings."
Formula: [Brand or Keyword + Location]
2. Include figures
Add context to your ads and educate searchers on features like pricing or potential savings by enhancing them with figures. "From Only $5 a Month" or, as in the example below (which led to a 217% increase in CTR and 23% improvement in conversion rates), "$45,329 Saved In January."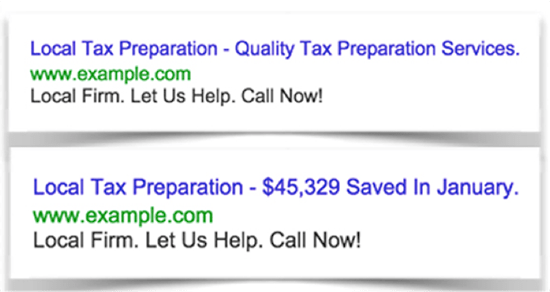 As a general rule, it pays to be really specific when including numbers in ads. "$45,329 Saved In January" sounds more legit than "$40,000 Saved In January."
Formula: [Keyword or Brand + Figure + Context] or [Keyword or Brand + Context + Figure]
3. Overcome an objection
It's very likely that anyone seeing your ad already has an objection in mind.
"Can I afford this?"
"Can any of these products do XYZ?"
"Are these products simple to use?"
Preempt common objections searchers are likely to have about your product or service, and address them in your ads.

You can establish what these objections are likely to be by analyzing data sources such as:
Your site search results
Live chat queries
Email and contact form queries
Formula: [Keyword or Brand + Objection Resolution]
4. Ask a question
Get inside searchers' heads by asking questions that mirror their own. For example:
"Struggling With SEO?"
"Battling Time Management?"
"Stomach Rumbling?"

Just bear in mind that your questions should be near-impossible to say "no" to.  To do this, they need to target searchers at the right stage of the sales funnel.
"You should never ask questions that could turn your prospect against your offer. For example, this is a bad question: 'Are you ready for the vacation of a lifetime?' Why?  Because even good prospects could answer 'no.' In fact, it's quite likely that the answer is 'no' for nearly everyone. Not because the vacation of a lifetime isn't great. But because the prospect isn't ready for it."

Joanna Wiebe, CopyHackers
So don't say: "Looking for a Life Coach?"
Even if the search term in question was "life coach" this is no guarantee the searcher is ready to book a session with one. Instead, ask a question that addresses the searcher's motivations. Something like: "Want a Happier Life?"
Formula:  [Keyword or Brand + Question]
5. Highlight an offer
This one's really simple. People like to save money. Show them how much they can save in your ads and chances are, you're going to increase clicks.
Formula: [Keyword or Brand + Offer]
6. Add FOMO to your offer
Create FOMO (the fear of missing out) by adding a time-limited or limited-supply condition to your offer.
This might be something like:
"30% Off: This Week Only"
Or:
"30% Off: First 100 Subscribers"
To prove this works, HubSpot carried out a live experiment in which they tested two versions of a landing page designed to promote a download. Version B, which featured a limited-time offer, outperformed Version A by 8%.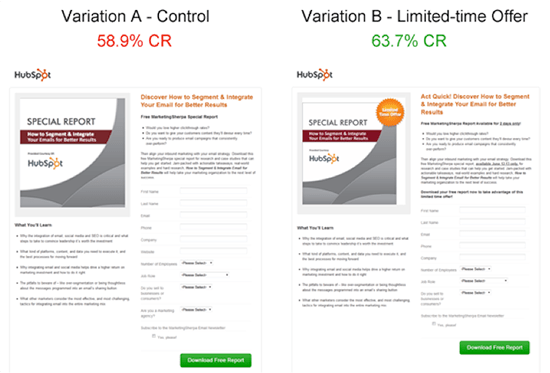 Formula: [Keyword or Brand + Offer: Condition]
7. Highlight a specific benefit
What – specifically – do your customers stand to gain from using your product or service?
For this you need to look at the benefits your current customers are enjoying with you. Is the product saving them time? Cutting costs? Or making a particular element of their job easier?
Choose a benefit and highlight it in your headline. This might be something like:
"Get Back 5 Hours a Week"
Or:
"Cut Admin Costs in Half"

Formula: [Keyword or Brand + Benefit]
8. Highlight your USP
This is similar to the benefit-led formula above, except instead of focusing on a specific benefit – like how much time or money your product or service can save customers – you're focusing on a selling proposition that's unique to your brand.
For example, here's an ad for an online administrative assistant.

Many outsourcing services like this one work with sellers in developing countries. The benefit of this is that it means developed countries can outsource for – what is to them – a very low cost. Meanwhile, the sellers' earnings are pretty high (relatively, of course).
However, this doesn't suit everyone, which is why this company has chosen to highlight the location of their sellers as their USP.
Other USPs might be:
A dedicated account manager
Next-day delivery
100% free returns
Formula: [Keyword or Brand + USP]
9. Boast about an Award
Tread carefully with this one. It can work, but it helps to use it in the right context. Instead of boasting about any award, boast only about awards that highlight a benefit to customers. Something like "Voted Best User Interface 2016" or "Award Winning Customer Service."
Formula: [Keyword or Brand + Award]
10. Use social proof
Social proof is based on the idea that humans adopt similar behaviors to those around us – that we're more likely to complete an action if we know others are doing or have done the same thing.
Product reviews are an excellent example of social proof's impact on purchasing decisions.
"Studies show that 70% of consumers say they look at product reviews before making a purchase, and product reviews are 12x more trusted than product descriptions from manufacturers."

Ed Hallen , Co-Founder of Klaviyo, writing for Buffer Use it in an AdWords headline by highlighting how many users or customers you already have, like in these examples:

Formula: [Keyword or Brand + Social Proof]
11. Target your typical user
Educate relevant searchers on how your product matches their needs by highlighting who your product is best suited to. For example:
Formula: [Keyword or Brand + Typical User]
12. If you're the biggest or the best, say it
Let's wrap up with a simple example and a simple idea. If you know you're the best in your industry, say it. There's no shame in boasting – as long as you don't gloat and what you're saying is true.
Here's a case in point from AdRoll. They are the number one retargeting company – an accolade they rightly make the focus of their AdWords headline.

Formula: [Keyword or Brand + Typical User]
Do you have a favorite foolproof AdWords headline formula? Are you using any that we haven't included here? Let us know what they are and the results you've gotten from them in the comments below:
Image: Pixabay