Case Study: How we turned failure into a 57% conversion rate improvement
When iPrimus came to us to manage their SEM campaigns we had a challenge ahead of us. Their landing pages already had a high conversion rate and their SEM campaigns were working well. But when a company asks Webprofits to take over their campaigns, our goal is always to increase ROI through increased conversion rates. So we went about redesigning their landing page to increase their conversion rate (because that's one of the fastest ways to improve ROI).
What we tested
The first step in improving the conversion rate of a landing page (or a website) is to review the current page, identify what critical information is missing and then add it to the page. The problem was, when we updated the landing page the conversion rate tanked (it reduced it by half!). Here's what we did, the lessons we learnt, and how we ended up improving the conversion rate by 57%…
Original
Here's the original version of the landing page…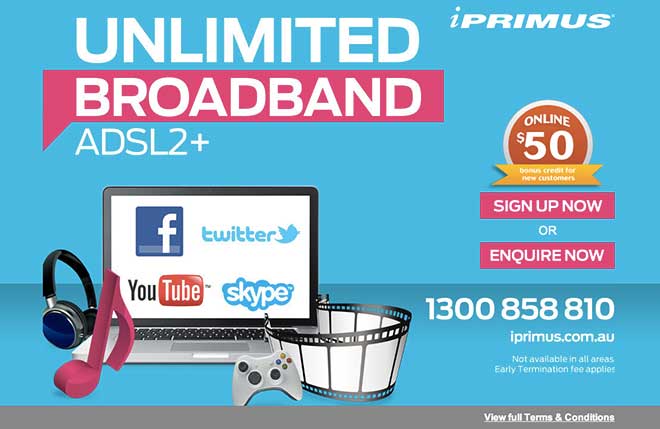 Variation 1
The first version of the landing page was a complete redesign. We featured the price front and centre, we included a breakdown of the different plans, and we included multiple ways for the visitor to make an enquiry. The result? A reduction in conversion rate by 50%. #fail. Here's the design…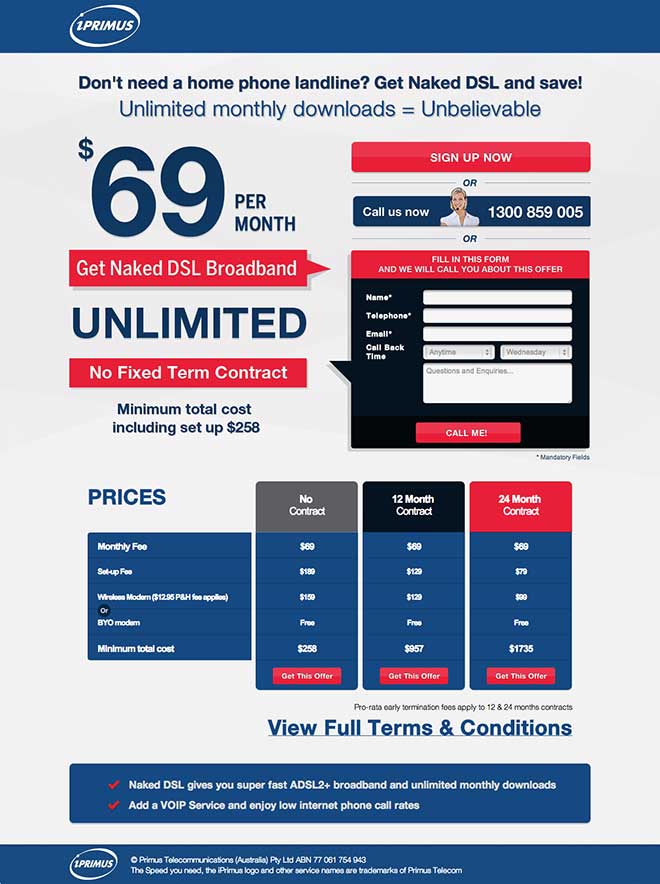 Variation 2
After our first attempt failed (and we'd put a lot of work into it) we had to go back to the drawing board. So we did a full review of their landing page, their conversion strategy and their goals. We then redesigned their landing page from scratch. The result? An increase in conversion rate of 57%! Here's the design…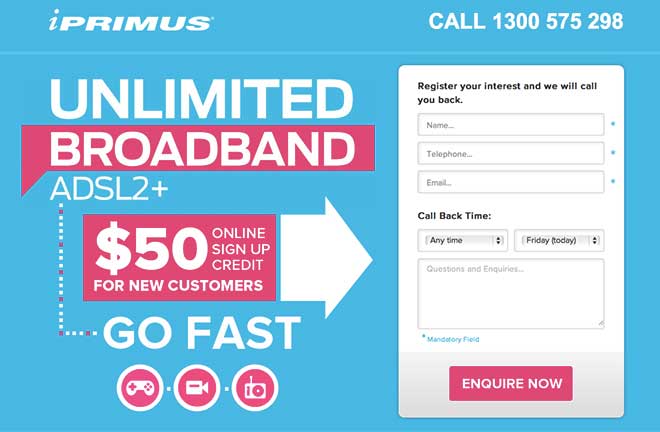 What we learnt
So why did the first version fail miserably and the second version succeed so much more? The key was understanding the client's goals better. iPrimus wasn't interested in how qualified a lead was – they just wanted to get people on the phone so they could convert them with a sales person. So when we added all the pricing and plan information directly on the page it stopped those people who wanted to find out the price from calling. And that was a significant number of leads. Our second attempt looked at what their original landing page was already saying, and then improved the design to focus on a single call-to-action. We removed all distractions, we made the form the main call-to-action, and we focused the sales copy on the main offer (ie $50 credit for new customers). The result was an increase in conversion rate of 57%.
The takeaways
There are always two components to conversion rate optimisation – the number of leads and the quality of those leads. The general rule is the higher the quality, the lower the conversion rate. That's because to improve quality you need to qualify prospects more before they make contact with you. If your goal is to get the maximum number of leads possible, you should reduce any qualifying information from the landing page and get your visitors to contact you for any important information (eg price). But if your goal is to only have qualified leads contact you, then add qualifying information to the landing page so they don't need to contact you about it – the number of leads will be less but the quality of them will be higher. So when would you want less leads? Well, if you have a small sales team and they're already busy, you'll want to maximise their time by only having them speak with qualified prospects. On the other hand, if your sales team isn't busy then you'll want more leads for them, in which case a higher volume of less qualified leads may be better.
Can we do the same for you?
We helped iPrimus increase their landing page conversion rate by 57% (which flowed through to their SEM campaigns). And even though the first version of the landing page didn't convert, we redesigned it completely (at our cost) until it did. When you get a landing page from Webprofits you're guaranteed  it will outperform your existing website. If it doesn't we'll work on it for free until it does because it directly influences the performance of your SEM campaigns. Get in touch with us today to discuss your goals.