From Zero to $13 Million in 12 months – Koala's Growth Strategy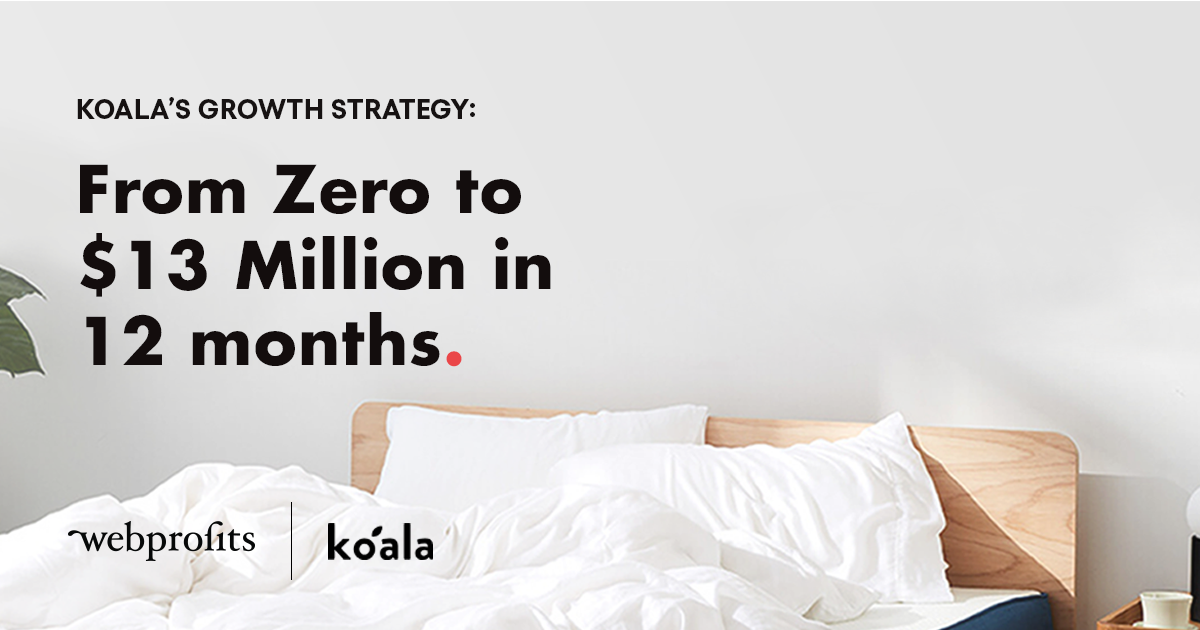 If you're on Facebook, you've probably heard about Koala.
If you haven't, they're an online mattress company that drives growth through digital marketing.
They launched in 2015 and in their first 12 months hit $13 MILLION in sales.
That's pretty impressive.
I first heard about them on Facebook (I'll show you the ad that made me take notice later in this article).
And after taking a look at how they're running their digital campaigns, I knew I HAD TO write about them.
So…
In this article, I'll be reviewing how Koala DRIVES GROWTH through digital marketing.
IMPORTANT: I won't be going through everything they're doing online (because there's a lot). I'll just be reviewing (what I believe are) their biggest growth drivers – the strategies and tactics that really accelerated their growth.
Let's do this…
The Product
It all STARTS with the product.
To achieve any type of growth you need a product that adds real value. Otherwise, you'll hit a revenue ceiling you won't be able to break through.
So the fact that Koala hit $13m in sales in their first year is a testament to how good their product is.
It's so good that they've received thousands of 5-star reviews: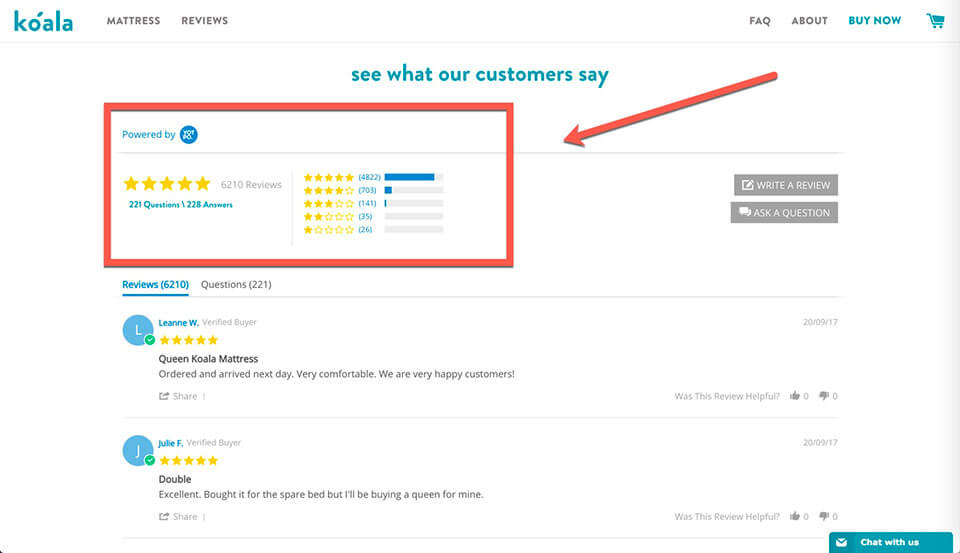 And it's not just that they have a great product.
They focus on getting their customers to post a review online after their purchase.
How do I know?
Because reviews like this don't happen by accident (at least not at this volume).
It's likely through an email follow-up sequence to customers who have recently purchased (similar to what we did for Aussie Broadband).
And they use the reviews in all of their marketing: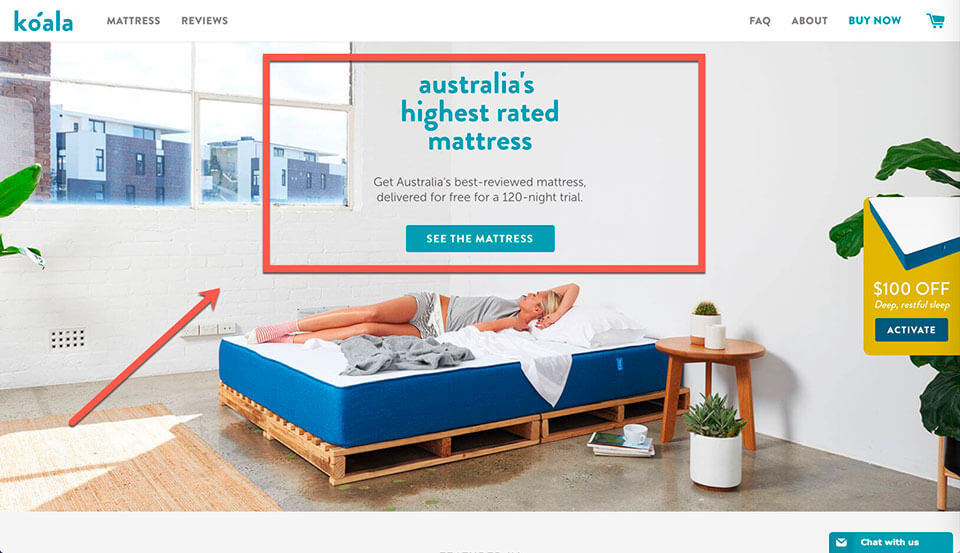 Reviews can make or break the digital campaign for a business (most consumers incorporate reviews as part of their purchasing decision when buying something new).
So when you see a company with thousands of 5-star reviews…
It's VERY compelling,.
KEY TAKEAWAY: Have a product that people love. Then focus on getting as many online reviews as possible.
The Offer
So…
Having a great product is critically important.
But..
Having an amazing offer is NEEDED to get the product in as many people's hands as possible.
And Koala nail it.
Here's their offer: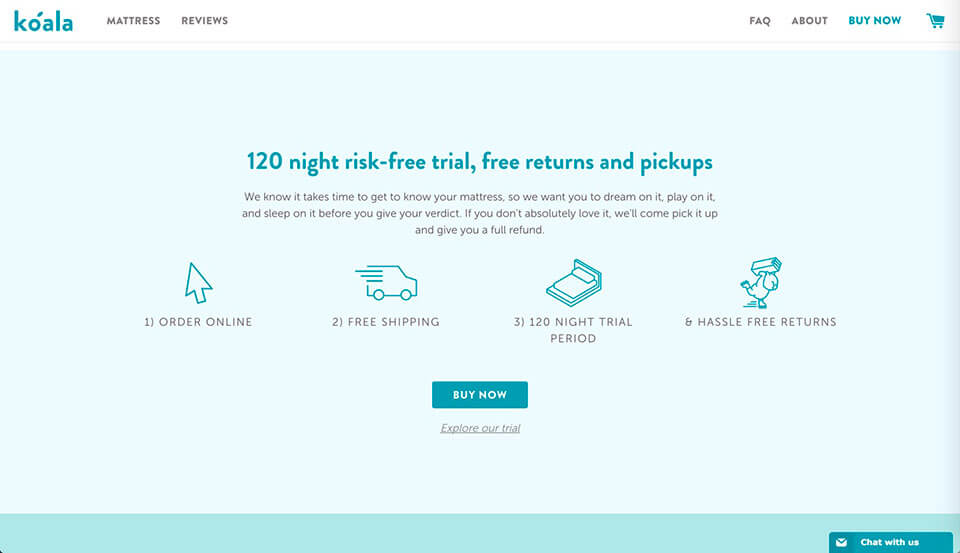 Plus they also give you $100 off your purchase: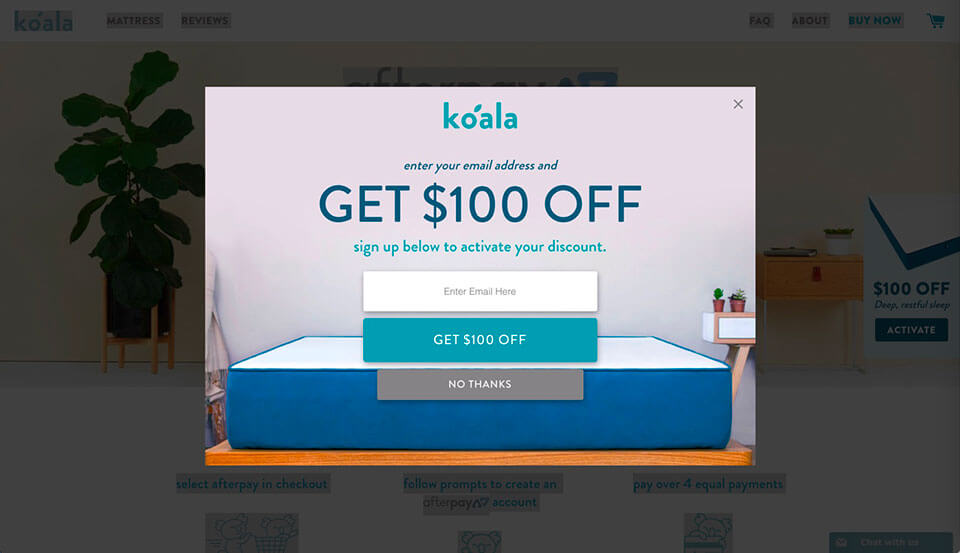 The discount coupon is a good tactic because it talks to what people want when they shop online…
TO GET A DEAL.
So…
It already costs less than most other high quality mattresses AND it also comes with an additional $100 off.
Plus they offer free shipping…
Delivery in 4-hours (for some locations)…
A 120-night trial…
And FREE PICKUP if you don't want it.
That last point is REALLY important.
Free shipping is great.
But one of the BIGGEST hurdles ecommerce stores need to overcome is what happens if they don't like it.
Most people don't want the hassle of having to organise sending something back.
So…
Making it EASY to send back the mattress is a key part of their offer.
Not only that…
But the entire experience of buying the mattress, from ordering online to receiving the mattress in 4 hours, is EASY.
Here's a video Koala produced that shows how to unbox their mattress:
Pretty cool, right?
But it doesn't stop there.
It's also Australian-made, comes with a 10-year warranty, and 'comes with a real koala' (but more about that later).
They also make it easy to buy with easy payment plans from zipMoney and Afterpay, where customers can get the product immediately but pay it off over time.
Here's the zipMoney option: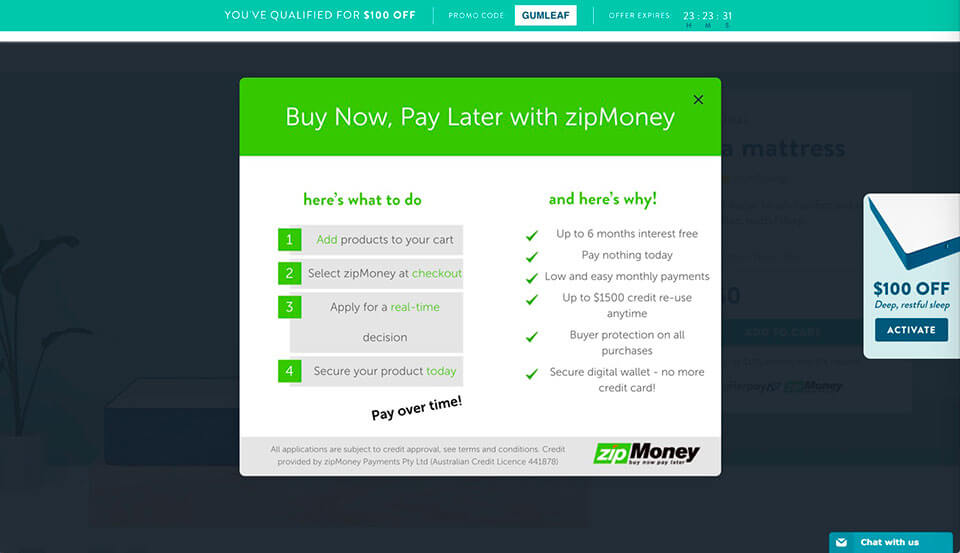 And here's the Afterpay option: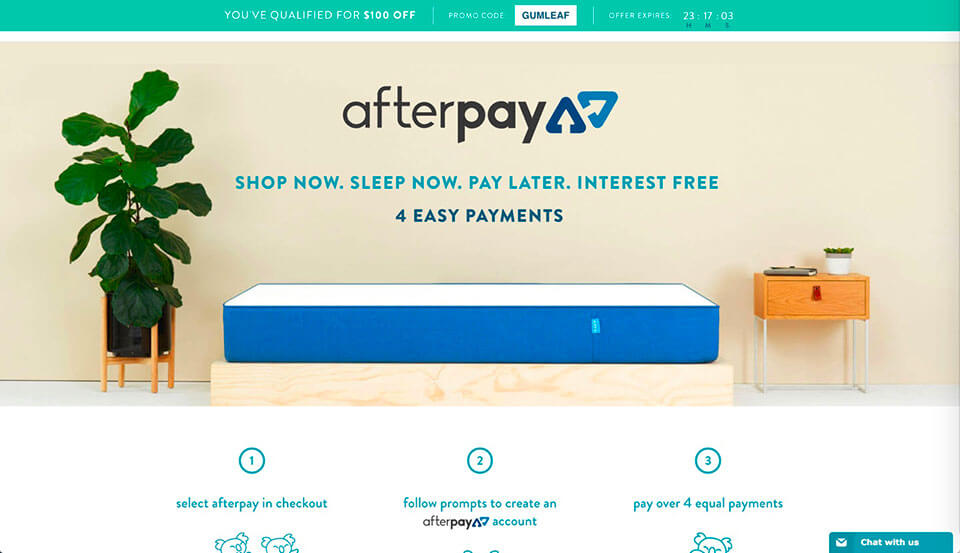 KEY TAKEAWAY: Make it as easy as possible for people to buy from you by removing friction from the purchasing decision. You want customers on your website to say to themselves "why wouldn't I try this?".
Sidenote: If your product isn't good then having a great offer will be very costly (because of the cost of returns). But if it's good then it will really ramp up your growth. That's why having a great product is such an important part of growth.
The Marketing
Okay.
So, the product is great…
And the offer is really strong.
Now let's look at how Koala are getting their message in front of potential customers.
Facebook Advertising
Once they had their product sorted, their offer created and their website ready (I'll go through their website shortly), they turned to Facebook Ads.
And they went ALL IN on it.
I first heard about Koala after seeing this post on Facebook: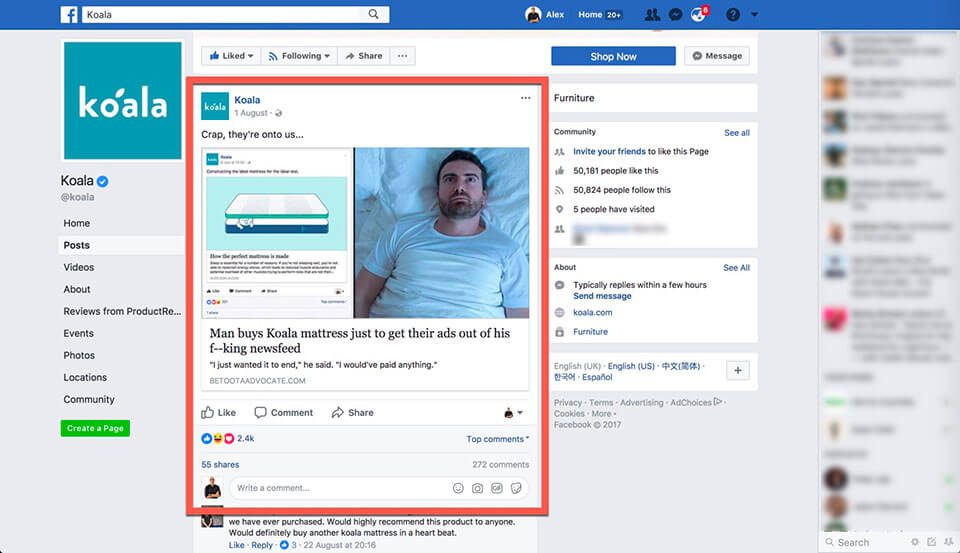 It's a parody 🙂
Nevertheless…
It shows how much advertising they did on Facebook (and how good Facebook is for getting the word out about a new product).
But even so…
They didn't use the standard approach of just advertising a mattress.
They created content that REALLY works on social media, and then promoted it.
Like this post (referred to as the 'Zero Disturbance Test').
Here's the video on YouTube:
More than 1.6 MILLION views…
14,000 reactions (likes etc)…
6,100 comments…
And 1,900 shares.
This one video put them on the map (a bit like the video that Dollar Shave Club used to launch their business).
It's been so successful that other people are making compilations of the 'Zero Disturbance Test' video (which shows just how good the video is):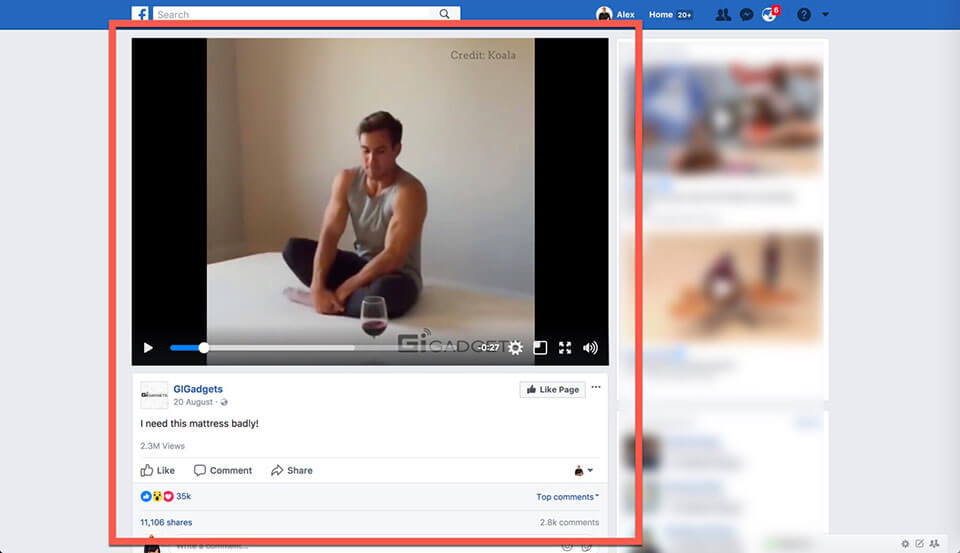 Again…
More than 2.3 MILLION views…
30,000 reactions…
2,800 comments…
And 11,000 shares.
That's HUGE for a product ad.
And while I don't know how much they spent promoting it, the viral exposure they received would have been worth A LOT.
All because they found a way to get the message out about their product in a creative and interesting way.
They also publish a lot of content on Facebook and publish it regularly, which keeps people engaged…
Like this post: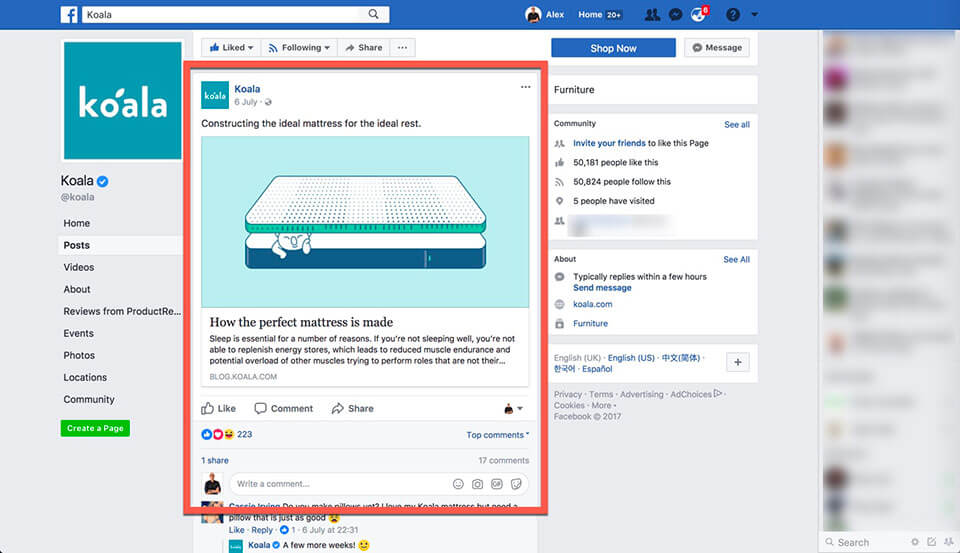 And this one: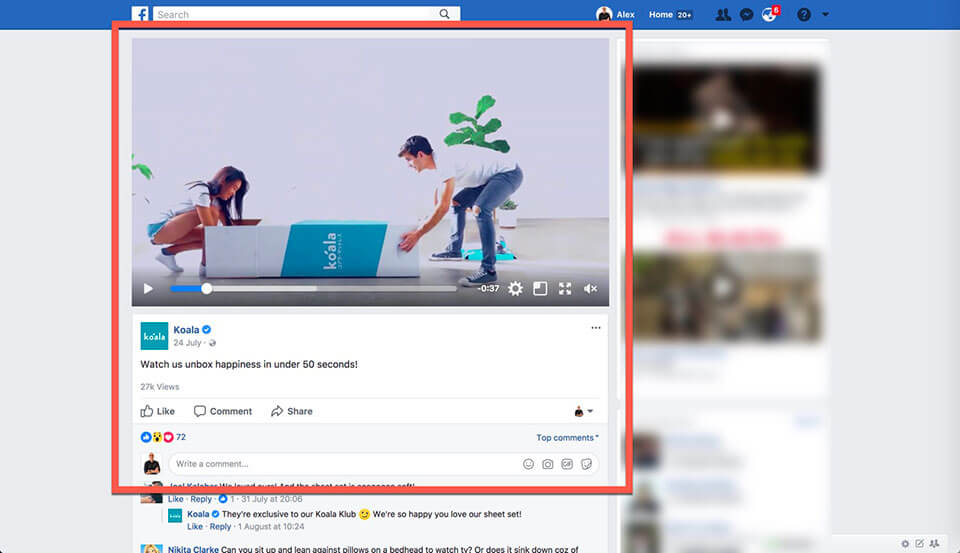 Publishing regular posts like this are great to keep front-of-mind with their audience.
But MAKE NO MISTAKE…
The Zero Disturbance Video (listed above) probably had more of an impact to their growth than ALL of the other content they posted.
I'm REALLY trying to emphasise this point because most businesses do everything that Koala did except for finding creative and interesting ways to market their products through video (which is what put Koala on the map).
KEY TAKEAWAY: Find a creative and interesting way to get the message out about your product. Try to make it so interesting that people say "WOW" within 8 seconds of seeing it (which is how long, on average, you have the attention of your audience). Then put the message in front of your potential customers using Facebook Ads.
Google AdWords
If there's search volume on Google, it's a GREAT CHANNEL for driving growth.
Reason is…
When people are searching on Google, they're in the process of making a buying decision.
Which is GOLD (as long as you know what you're doing).
And Koala know what they're doing.
They run both Search Ads and Product Listing Ads for their products.
Here's an example of Koala advertising on the keyword 'mattresses online':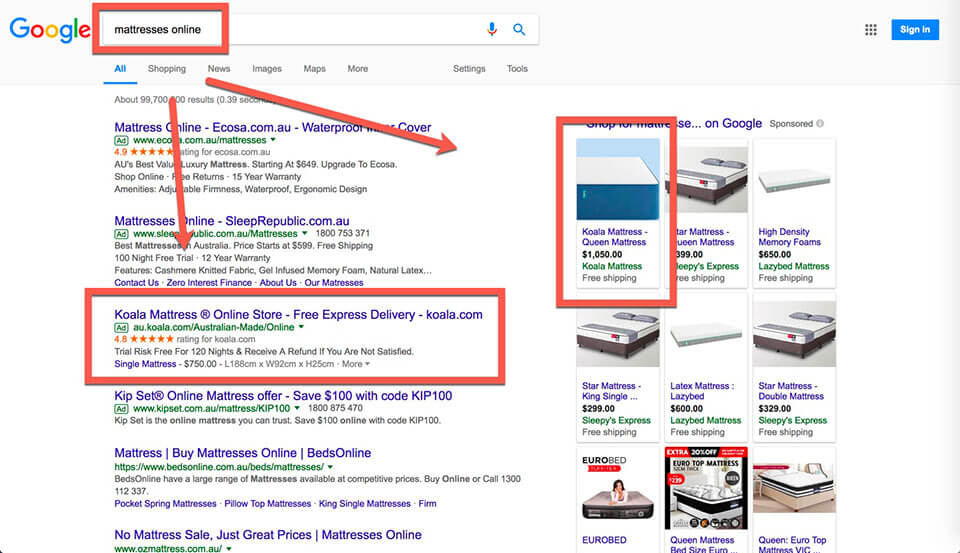 Koala target different types of keywords on Google, including:
Branded campaigns – targeting variations of their brand name (eg koala, kaola, koala mattresses)
Competitor campaigns – targeting variations of competitor names like Snooze and Ikea (eg snooze beds, ikea beds, ikea mattresses)
Product campaigns – targeting different ways people might search for their products (eg mattresses, queen size mattress, foam mattress)
Here are the full advertising research reports from SEMrush for Desktop and Mobile.
KEY TAKEAWAY: Run ads on Google for your brand name, competitor names, and product-related keywords. If there's any search volume on Google (and there usually is) it will become a major growth driver.
Email Marketing
I subscribed to Koala's email newsletter when I first thought about doing this review (so I could see what they email about).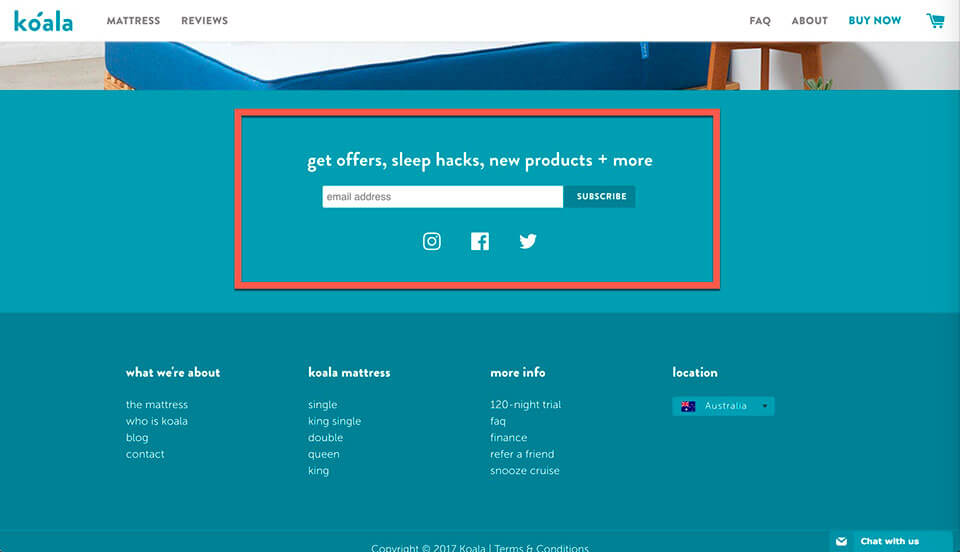 I didn't receive any emails with tips or advice.
But…
When I entered my email to get the discount coupon: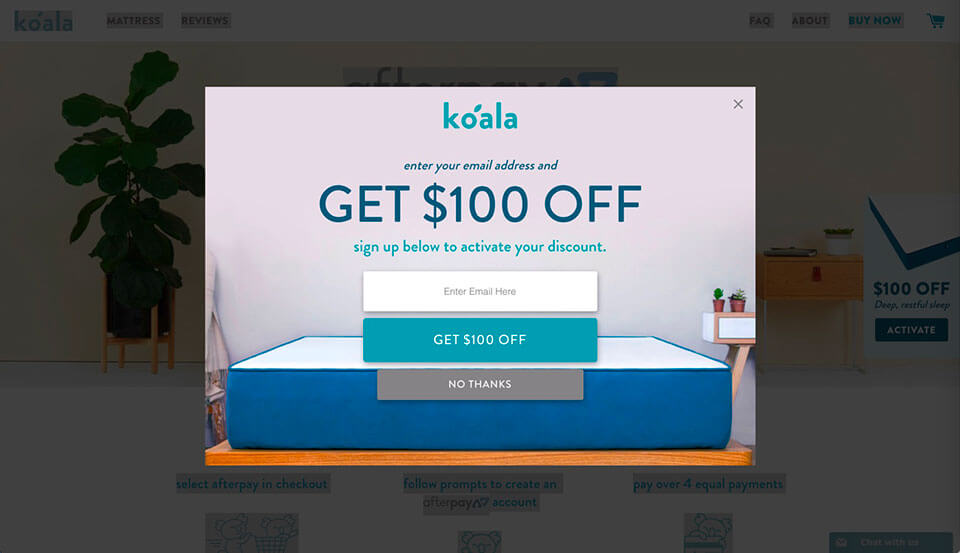 I received this email immediately (with the discount coupon):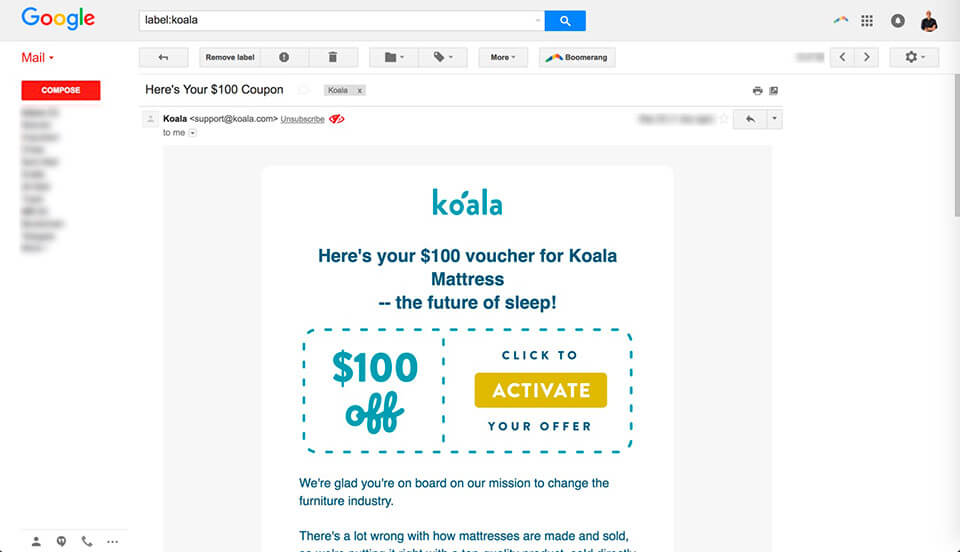 Then this emails 40 minutes later (following me up):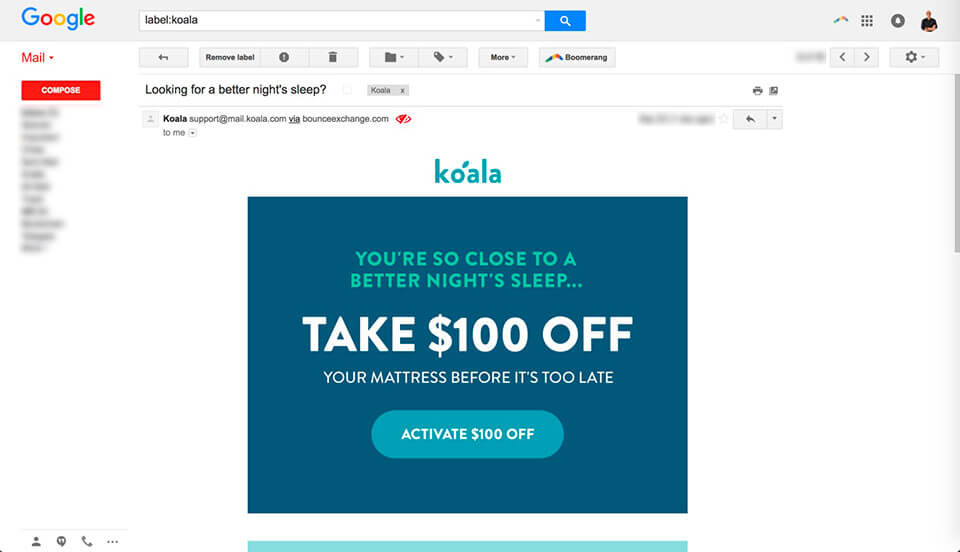 And then this one 24 hours later (following me up again):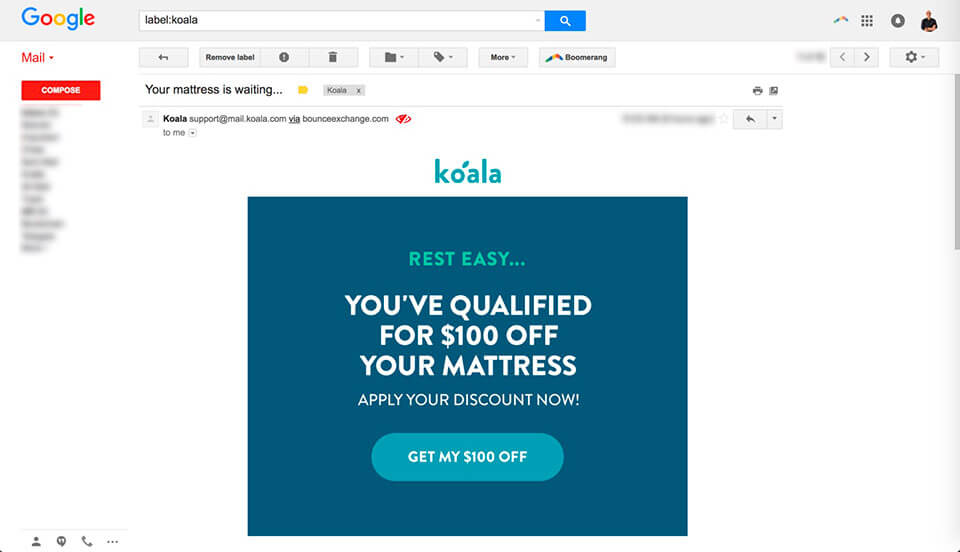 And then this email 24 hours later again (one final attempt to get me to purchase using a countdown timer):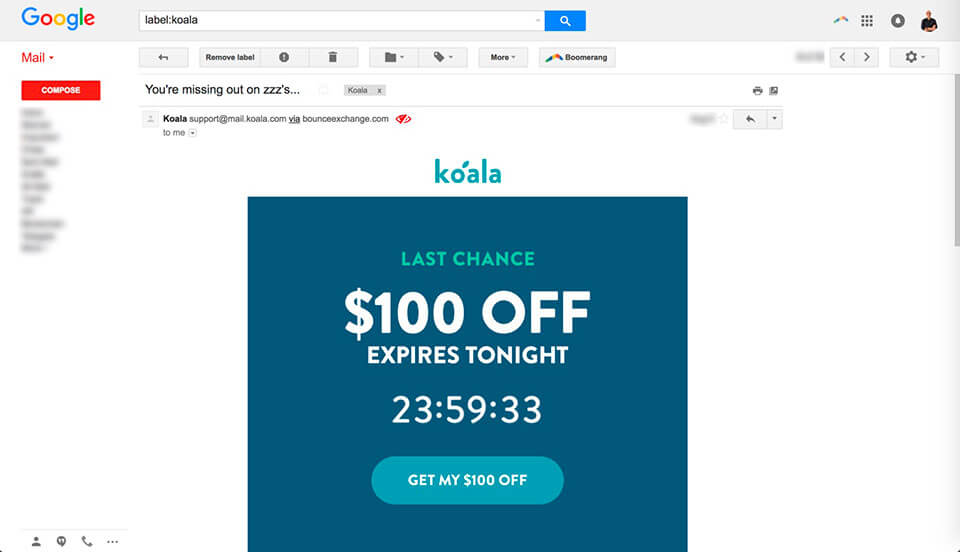 Koala are really pushing the discount coupons hard, which makes sense being it's one of their big selling features.
Then 48 hours later they sent this email: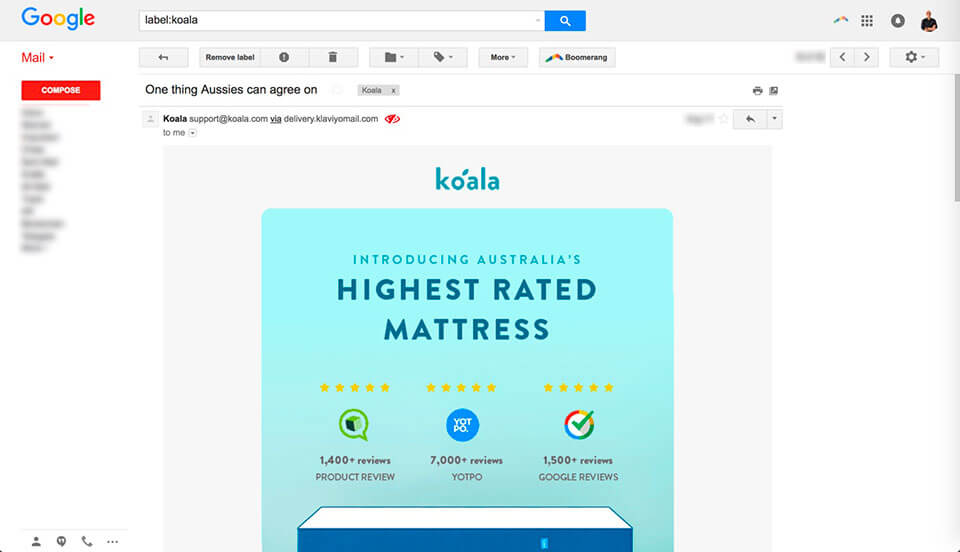 Then this one 3 days later:
Then after 2 weeks (almost on the dot) they sent the following 3-email sequence (obviously trying to drive my purchasing decision with a BIGGER DISCOUNT).
Here's the first email (notice how they're using their ratings in the subject line):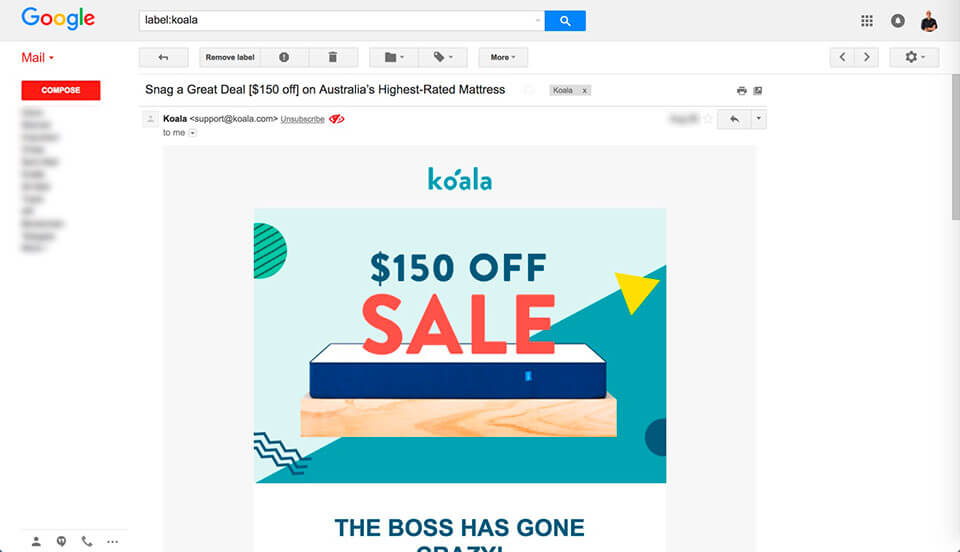 Followed by this one 2 days later: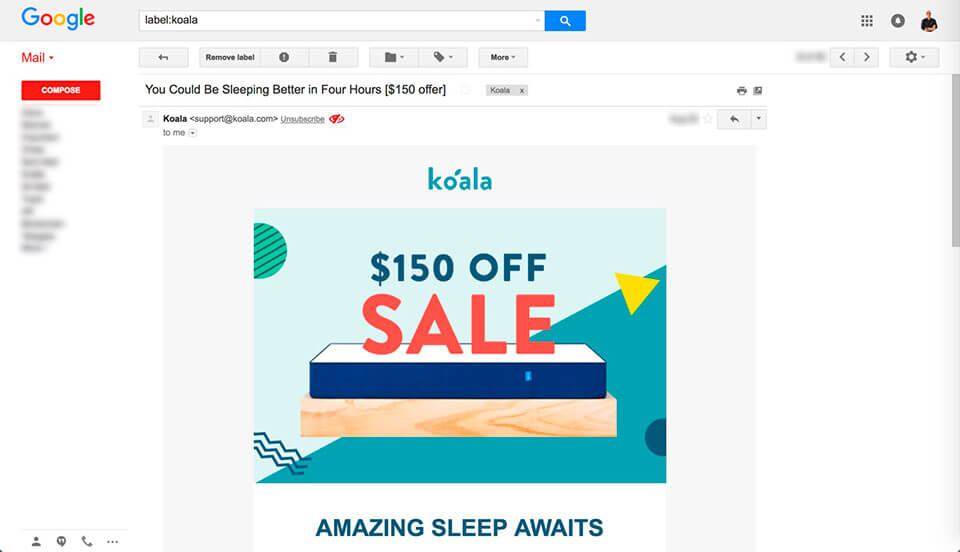 And then this one the following day (the timer was counting down at the time it was sent – it's now finished):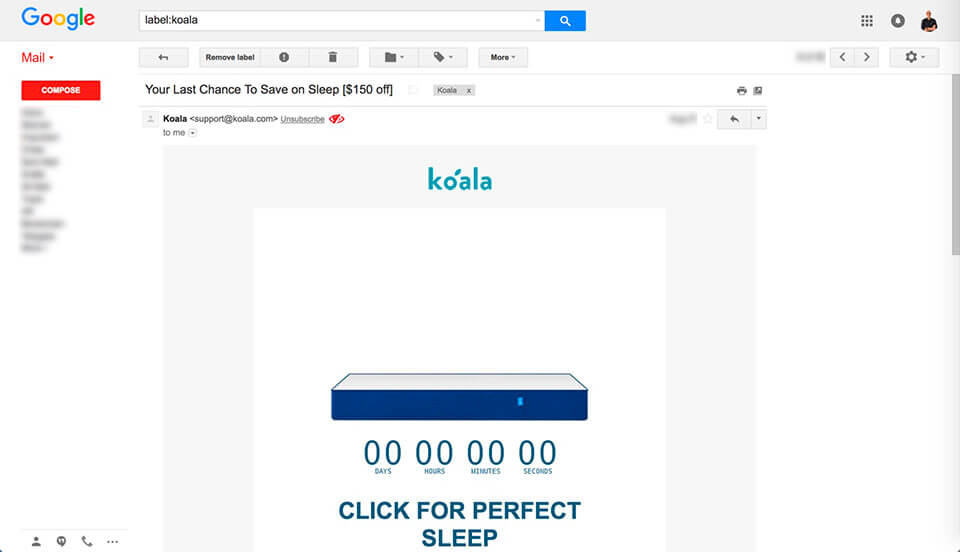 I also added a product to the shopping cart but I didn't receive any abandoned cart recovery emails (note: they use Klaviyo, which can handle all of the above emails PLUS abandoned cart recovery, but no cart recovery emails were received).
KEY TAKEAWAY: Emails are an effective and low-cost way to follow up with customers who are ready to buy. Utilised correctly (eg through time-based and trigger-based events) email marketing can also help move customers to a buying decision.
Billboards
I'll be the first to admit that I'm not an expert when it comes to analogue advertising (I specialise in digital)…
But Koala's billboard campaign is another example of the outside of the box thinking that's helped them break through the 'noise' in a crowded market.
Have you heard of De Rucci?
They're a high-end bedroom furniture brand (and one of Koala's competitors).
Here's what their website looks like: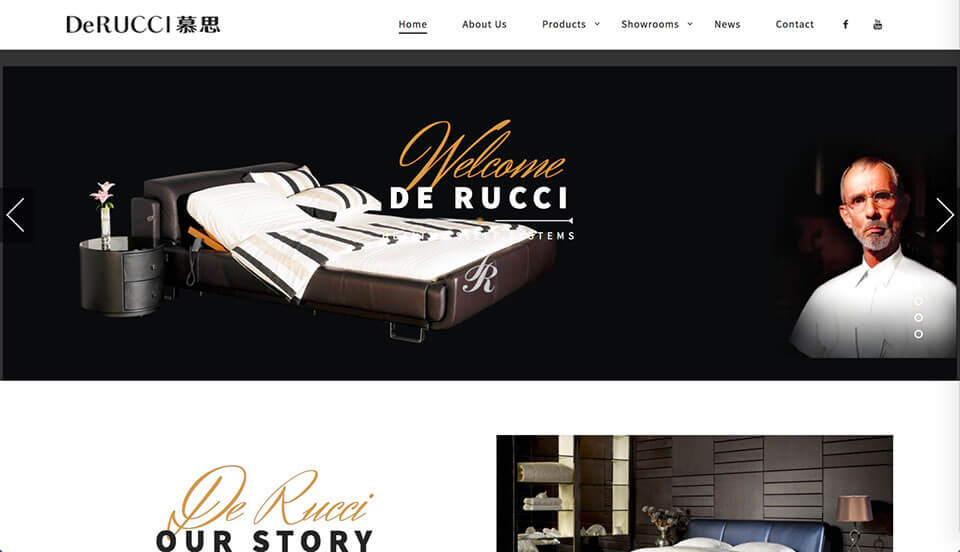 So, when Koala's billboard 'mocked' De Rucci with this ad: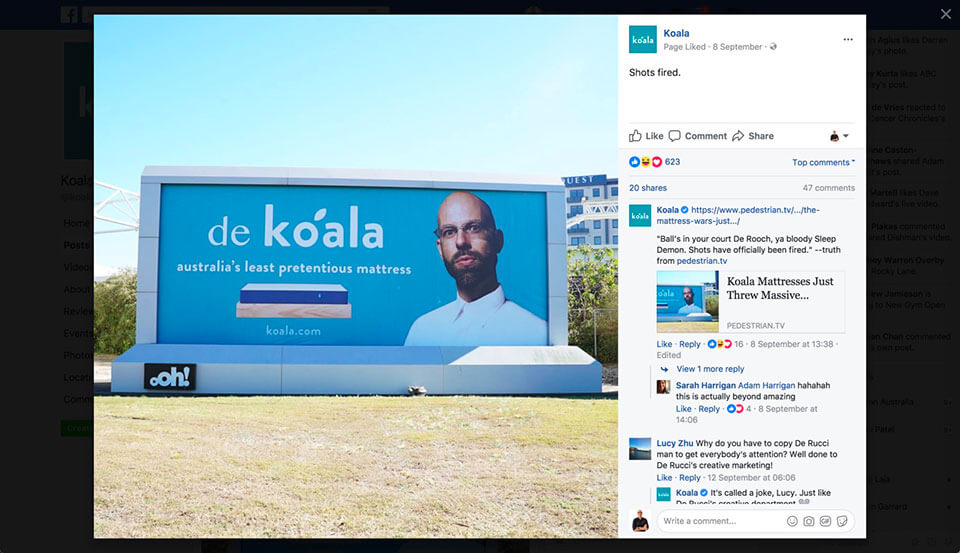 Social media LOVED IT.
In fact, they were written up on Pedestrian TV, Mumbrella and The BRAG.
So…
Not only are they advertising their products using billboards, but they're being so creative that people are reacting to the ads in droves on social media.
KEY TAKEAWAY: Billboards are a great way to broadcast a mass-market message. Don't be afraid to push the creative boundaries to gain maximum leverage from the billboard itself, on social media channels, and through free PR.
Podcast Advertising
Podcasts are growing in popularity every day.
In my opinion, podcast advertising is the next BIG digital advertising opportunity.
I listen to podcasts every day…
And I REALLY CONNECT with the host of the podcast.
So when the host of the podcast is ALSO the one who promotes the advertiser's products, it's REALLY effective.
I've personally bought A LOT of products that have been advertised on podcasts (and I'm not alone).
What's the big deal with podcasts?
Podcast listeners aren't like radio listeners – they've chosen the podcast from thousands of others and WANT to hear from the host. And this means the host's recommendation is SIGNIFICANTLY more powerful than a standard radio ad.
So when I was listening to the Season 5 of Startup (one of my favourite podcasts of all time) and I heard Koala advertising…
All I can say is "WOW".
While I'm speculating (because I don't have insight into why they chose to advertise on Startup) it's likely they've identified who they want to target from the demographics of their most-active audience on Facebook.
Which is why they created the Billboard they did, and why they're advertising on the Startup podcast (again, pure speculation).
You can hear their podcast ad here (click PLAY when you get to the page).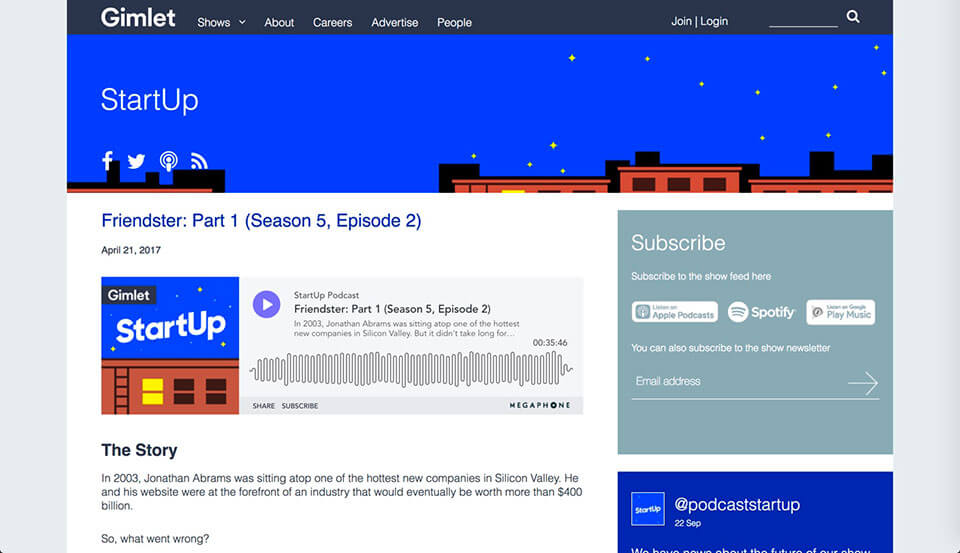 I'm impressed 🙂
KEY TAKEAWAY: Podcasts are an extremely effective way of getting the message about your product in front of your target audience. Figure out the demographics of your ideal customer, find podcasts they listen to, and then advertise on them.
NOTE: I found this ad by chance because I listen to the Startup podcast (what are the odds??). I don't know where (or if) they advertise on any other podcasts, although I assume they do.
Sidenote: do yourself a favour and listen to every episode of Startup. It's awesome.
Retargeting
Retargeting isn't the biggest growth driver, per se.
But as part of a digital strategy, it's definitely needed.
Why?
Because most people who visit your site the first time won't convert.
But they've shown at least some interest in what you sell otherwise why would they have visited in the first place?
Which is why retargeting people who don't convert needs to be part of every digital growth strategy.
And that's exactly what Koala does.
Here's one of their retargeting ads: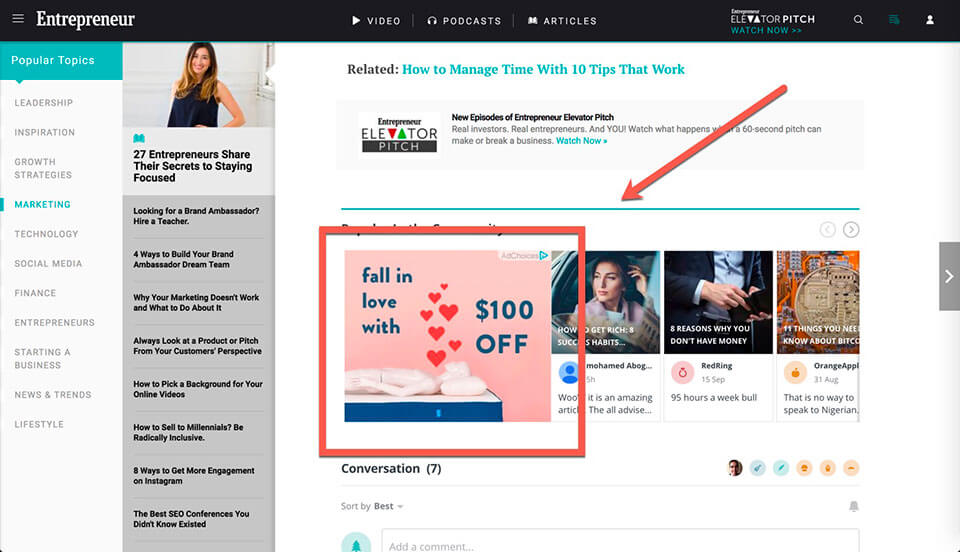 And here's another: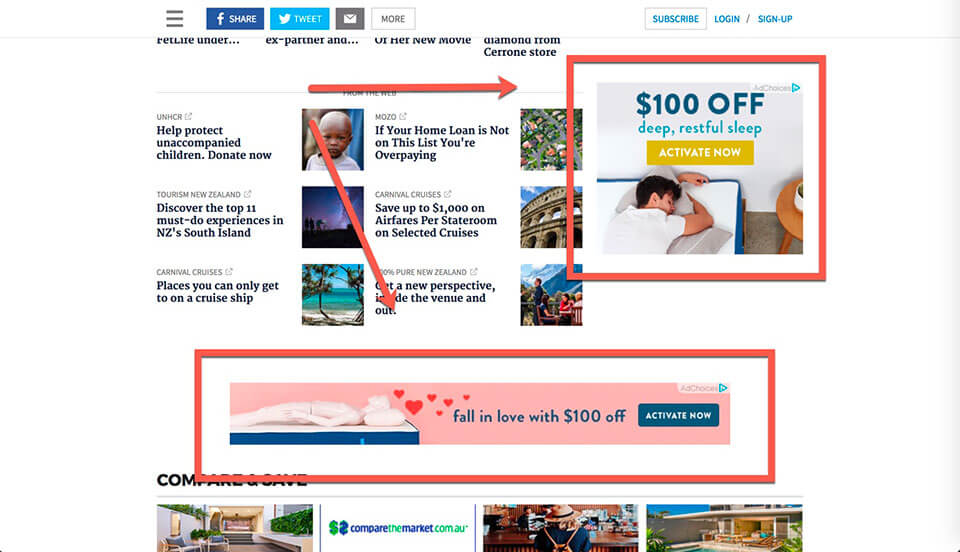 KEY TAKEAWAY: Use retargeting ads to advertise to people who visit your website but don't convert. It's a core part of any digital growth strategy.
The Snooze Cruise
Mattress retailers that sell online have a real challenge…
How do you communicate with potential customers about how the mattress feels?
I don't know about you, but I WANT to feel how hard or soft the mattress is BEFORE I buy it.
Sure…
Koala make it easy to get the mattress delivered, and pick it up for free if you don't like it (plus they give you 120 nights to try it out).
But there are still a lot of people who just won't buy a mattress until they feel it.
Which is why their Snooze Cruise campaign is so smart.
Here's how it works…
They choose an area (in this example it's Manly in Sydney).
And they drive around Manly giving people the chance to try before they buy.
Here's the campaign landing page: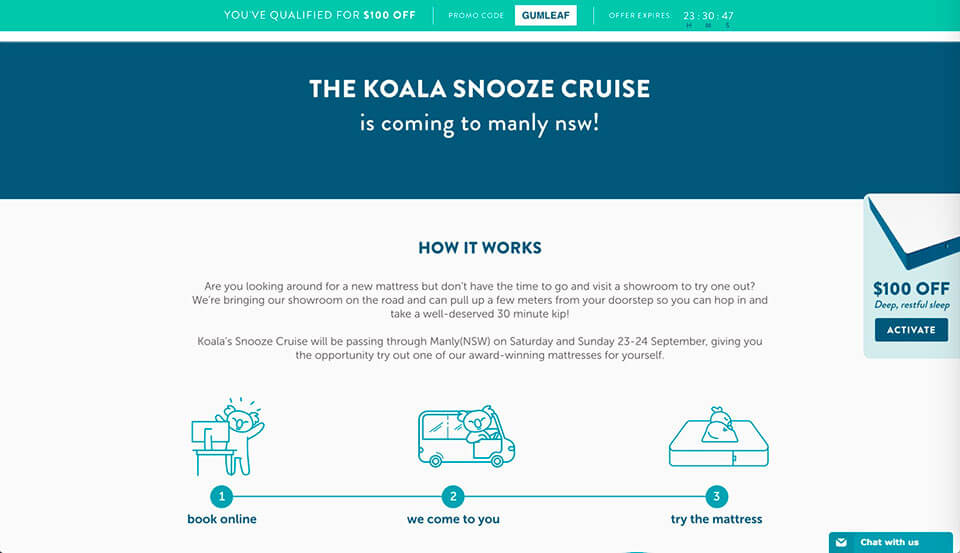 So, you book online, they come to your place, and you get to try the mattress.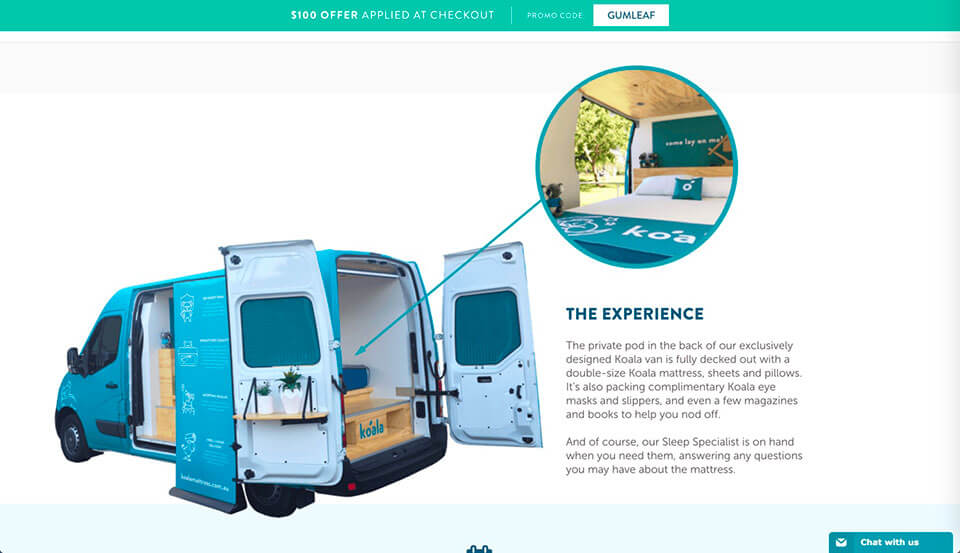 Pretty smart, right?
They use Acuity Scheduling to manage the bookings: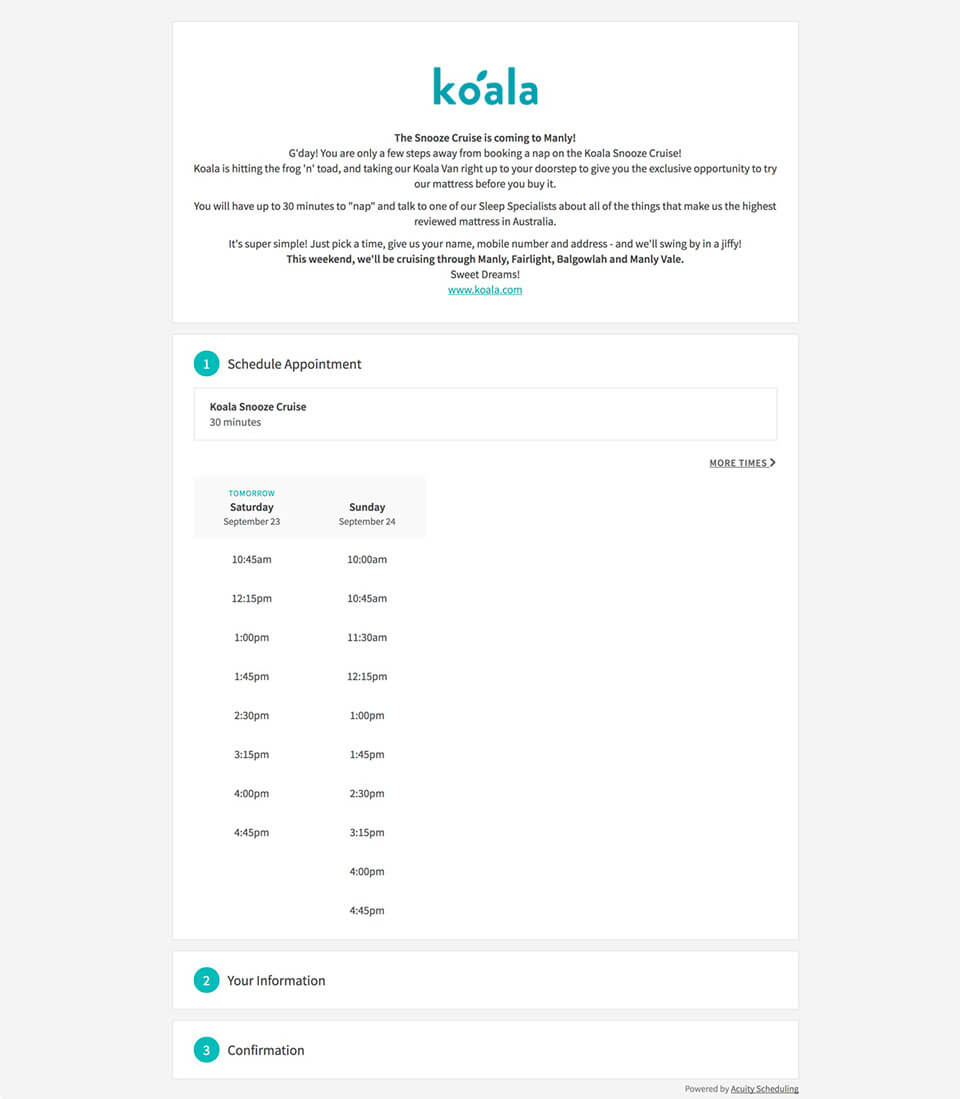 That way, they know exactly how many people are going to try the mattress each day (rather than having a pop-up store when people can come in and try).
Best part about it…
Because they're focusing on one area at a time, they can PUMP Facebook Ads to people who live in that area until all the booking slots are taken (and then turn the ads off).
It's smart thinking.
And I'm pretty sure that if someone is interested enough to book a time to try the mattress, they'll likely buy the mattress if they like how it feels, simply because of how strong Koala's offer is.
KEY TAKEAWAY: Think about how to get your product in the hands of your customers so they can try before they buy it, especially if you're an ecommerce business. The easier you make it for people, the more you'll sell – it's that simple.
The Website
So…
The product is AWESOME.
The offer is STRONG.
And the marketing is ON POINT.
The only thing left is to make sure the website clearly sells the benefits of the mattress, clearly explains the offer, and makes it as easy as possible to buy.
With that in mind, let's take a look at the website.
The Structure
Let's start by noting the website was initially launched on Shopify, which is one of the easiest and most robust ecommerce platforms on the market.
It's also a very simple site.
They have a home page, a single product page, and a few other miscellaneous pages that aren't really required to make the sale.
Here's their navigation: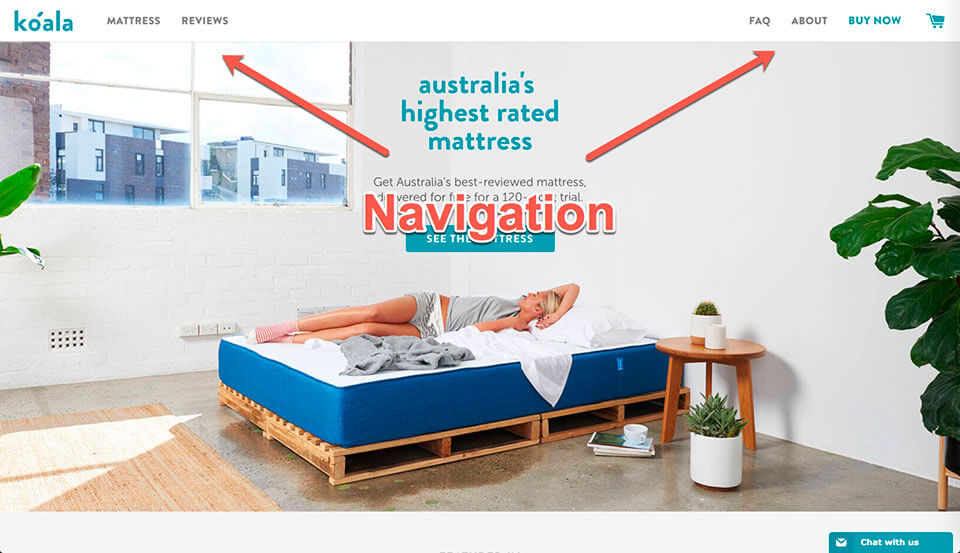 Funny thing is…
Most of the time their navigation is covered with the discount offer, and yet it makes no difference to the user experience.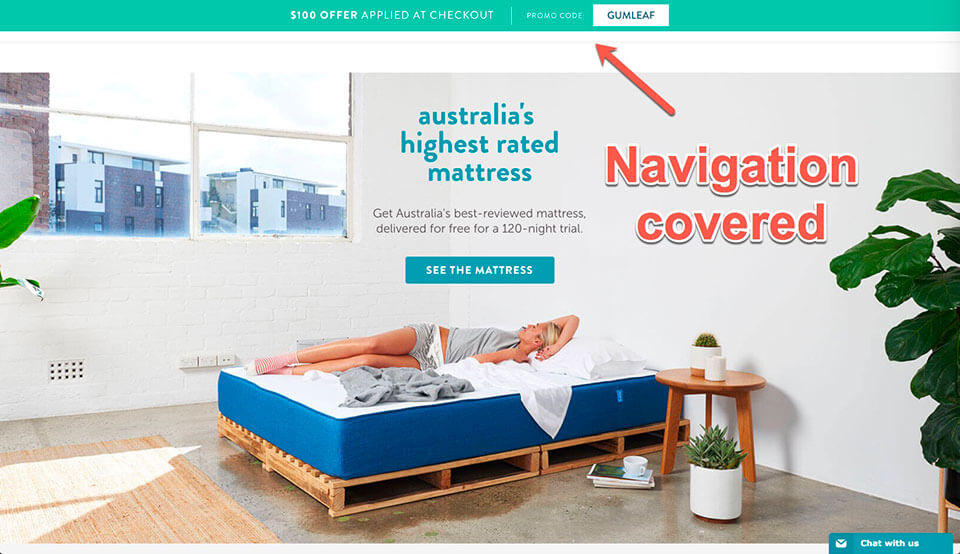 The home page and the product page are actually pretty similar.
The main difference is that the home page talks about the Company and the Cause a little…
Where the product page goes into a lot more detail about the mattress and the offer.
KEY TAKEAWAY: You don't need a big website to go from zero to $13 million revenue in less than 12 months. You actually only need one (maybe two) pages. The rest is the Product, the Offer, the Marketing, and how you Communicate the message on your website.
Sidenote: while the site was initially built in Shopify, over the last few months they transformed the website front-end into a Progressive Web App (PWA) to deliver an app-like experience to customers. While the site looks basic and not very advanced from the customer's point of view, they've put a lot of effort into using the latest web technologies to deliver the best possible experience on every device. They still use a Shopify checkout.
The Message
It's not about how big your website is…
It's about how well you communicate the benefits of your product, and the offer you're making.
And Koala nail it.
Let's start with THE VISUALS.
They use lifestyle shots of the mattress being used in a clean and vibrant environment.
Like this one: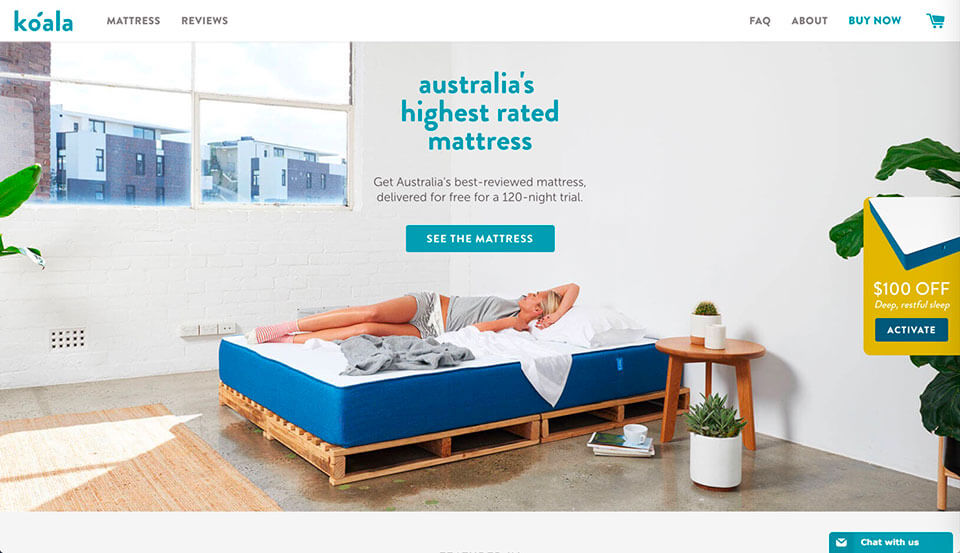 And this one: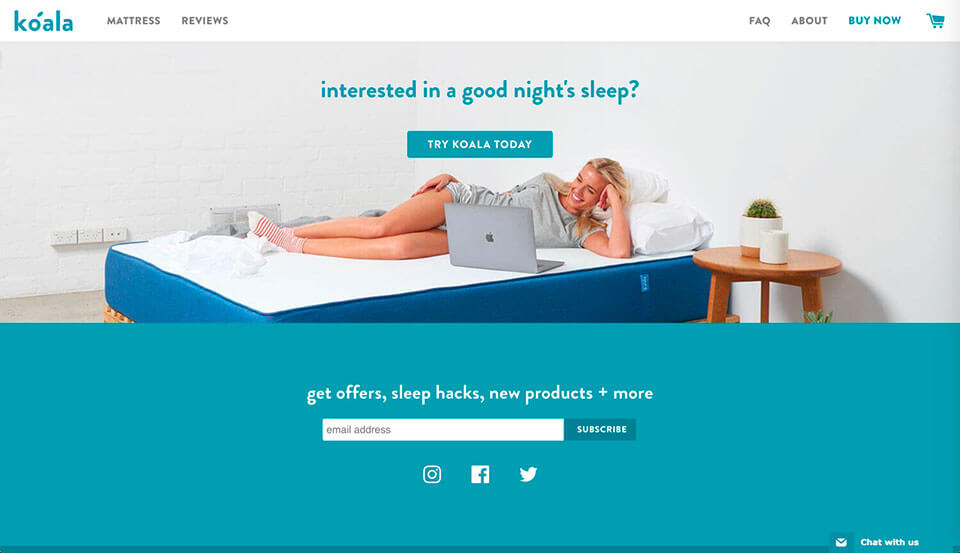 It instantly gives you a feeling of quality and comfort when you see it, right?
They also use imagery to explain WHY their mattresses are so comfortable: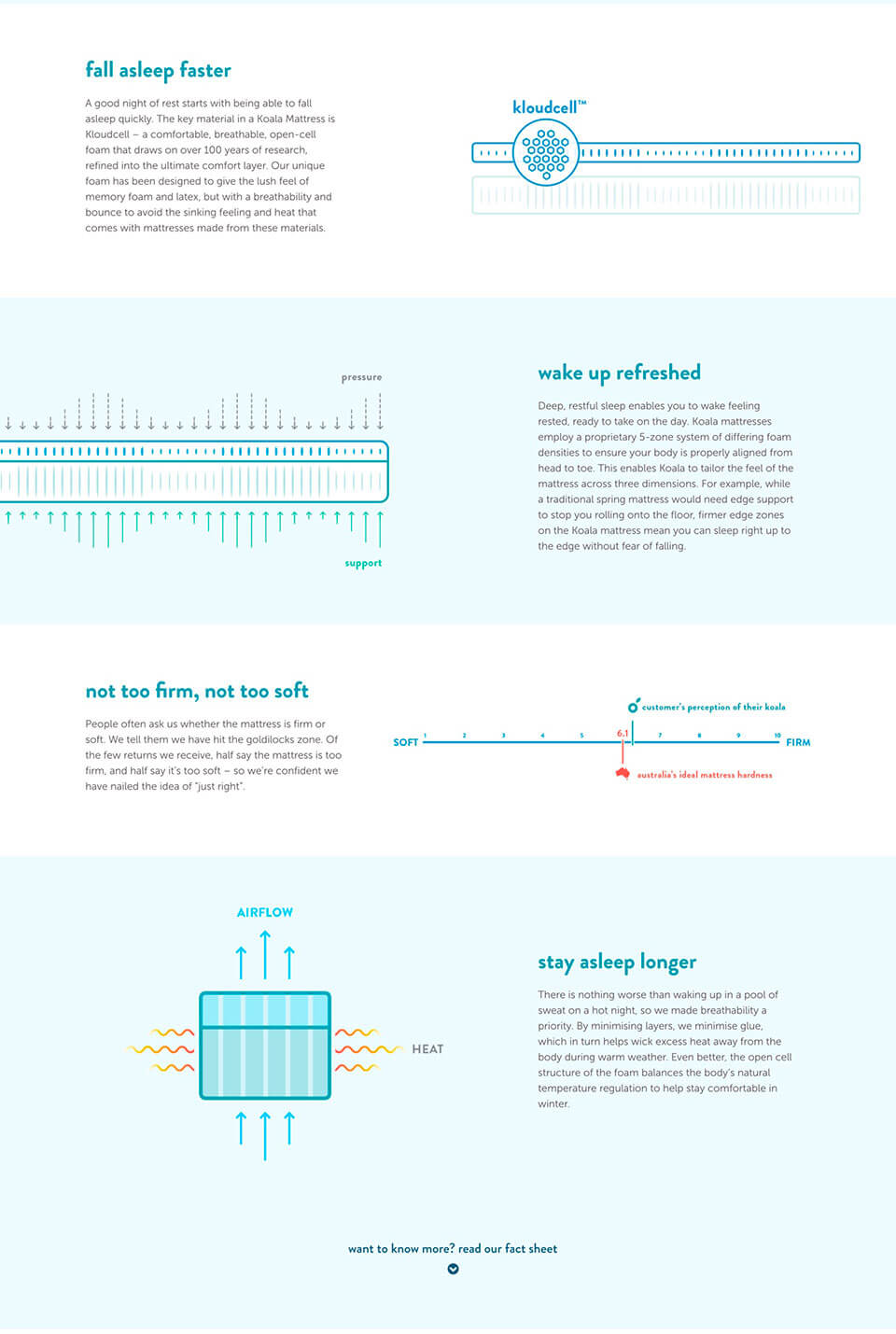 Then there's THE COPY (the words on the page).
They break up the copy in sections, so as not to overwhelm the customer, by using short headlines and short paragraphs.
Like this: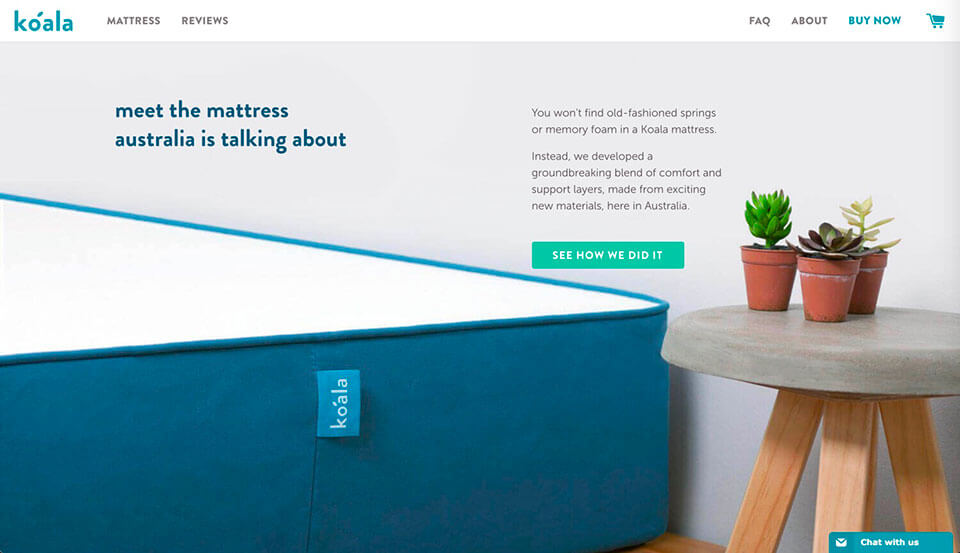 Plus, they use different layouts for different sections so it's easy to scan.
Like they do for their main offer: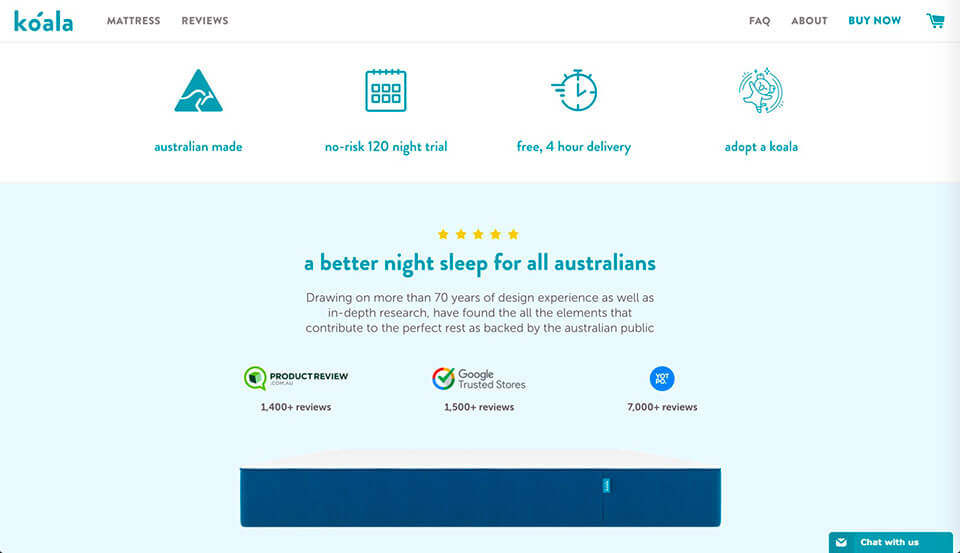 Most importantly…
They put a lot of information ABOVE-THE-FOLD on the product page so customers can see the ratings, the price, the drop-down, the payment options, and the call-to-action button: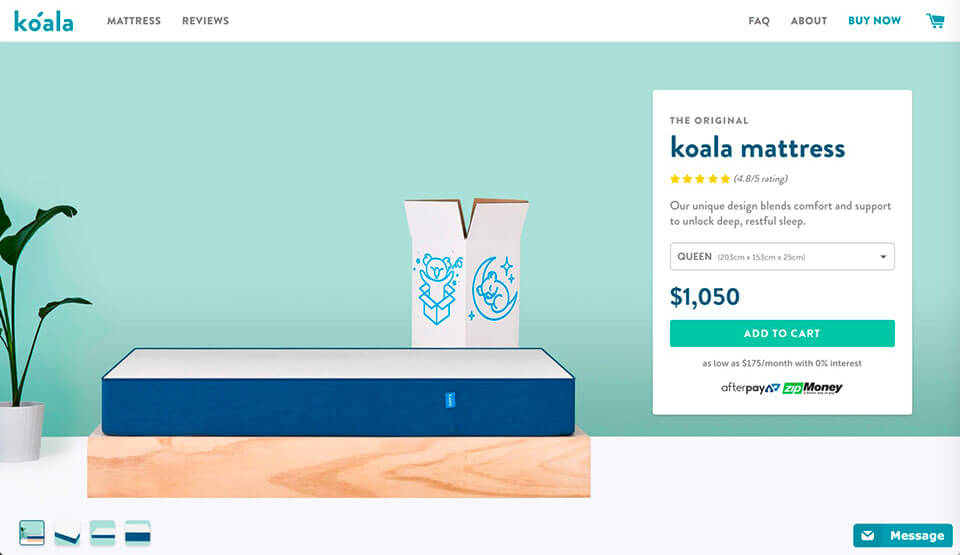 KEY TAKEAWAY: The words, images and styles you use to communicate your message will make or break the success of your digital campaign. The effort you put into the wording and design of your website needs to reflect the growth you're expecting to achieve.
The Checkout
When a customer adds a product to their shopping cart, it's important to make it as easy as possible to complete the purchase.
Cart abandonment is a big issue for ecommerce retailers, and it can make or break the success of a digital campaign.
Luckily, Koala uses Shopify. And Shopify spend a lot of time optimising the performance of the checkout process for ALL Shopify customers.
Here's the checkout.
Step 1 (the shopping cart pops out from the side of the page):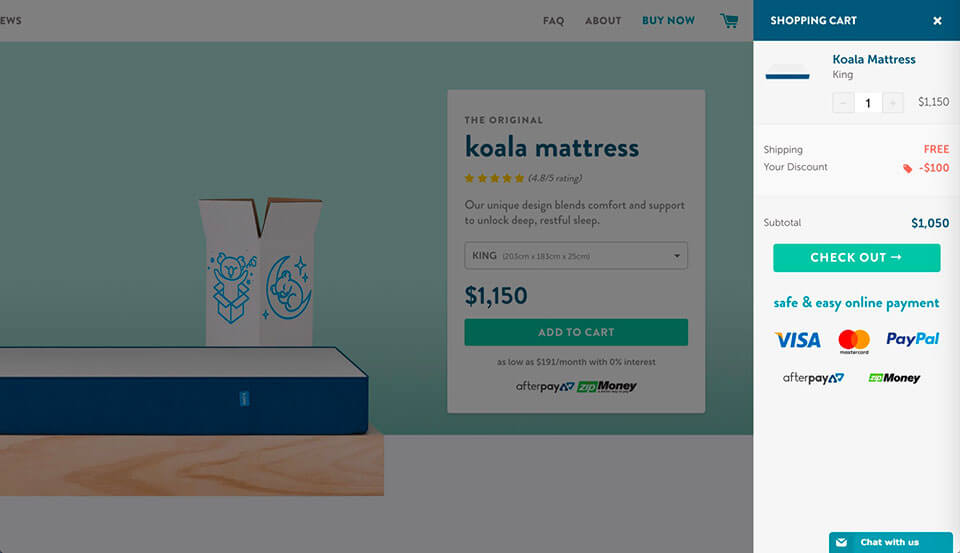 Step 2 (customer details):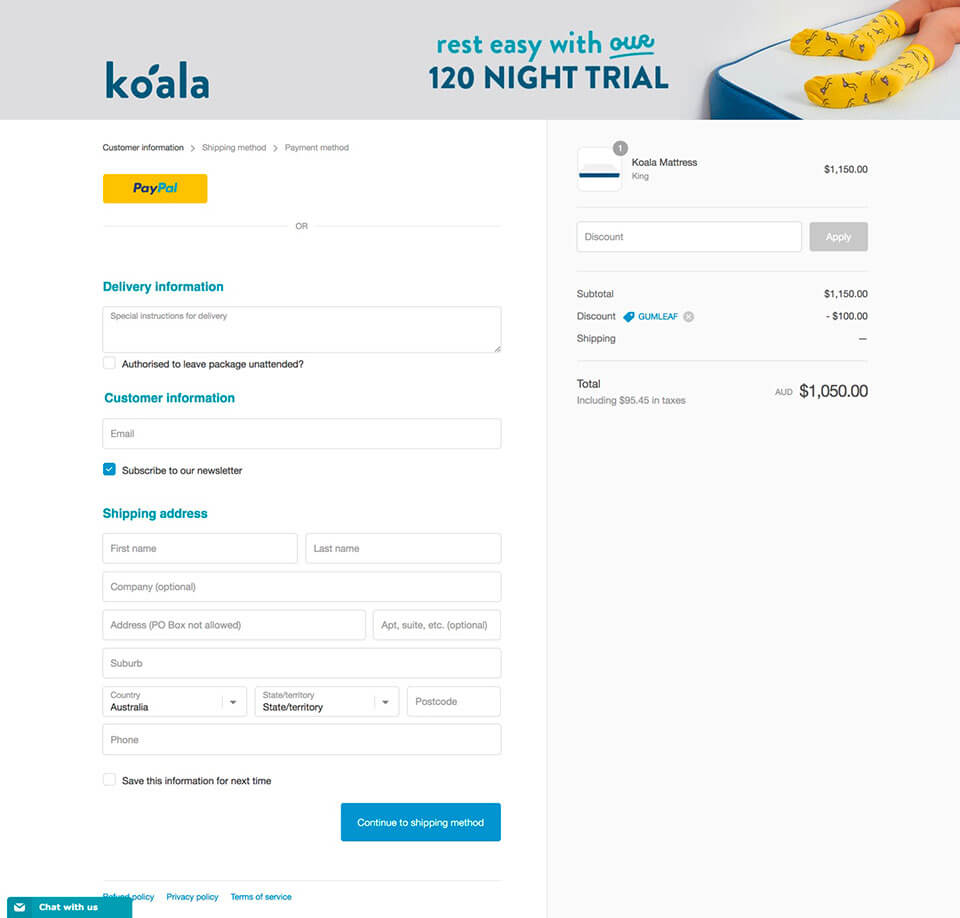 Step 3 (delivery options, which include a 4-hour delivery option!):
Step 4 (payments options, including 'pay later' options):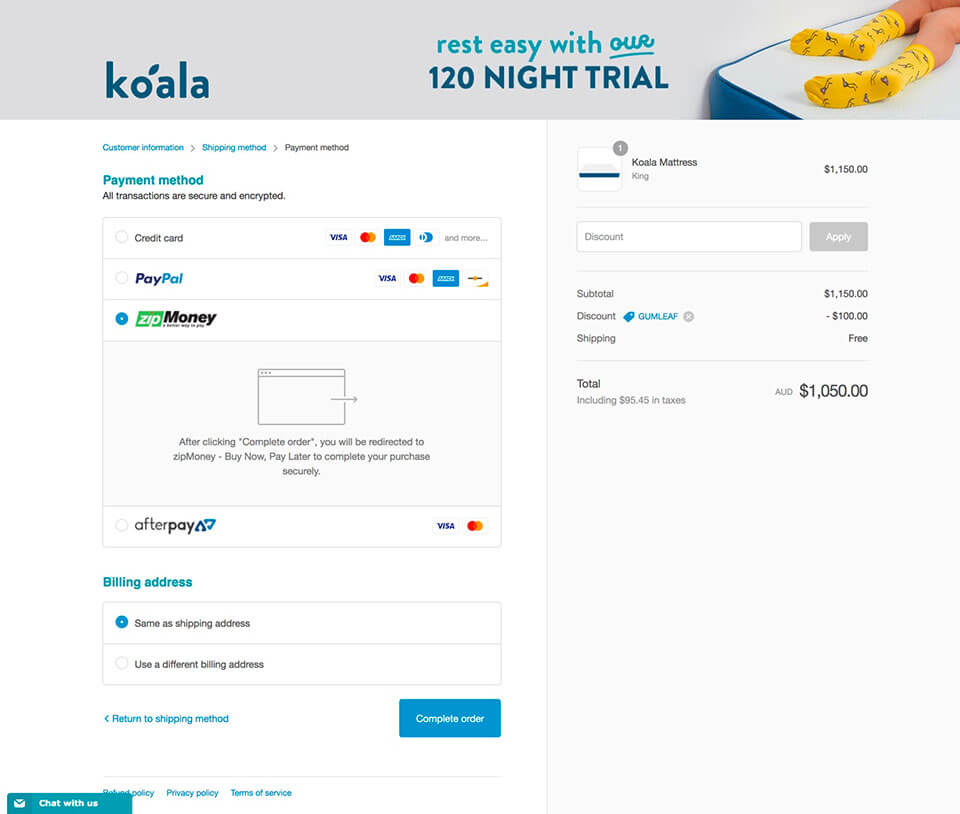 And Step 5 (payment confirmation page) had two parts.
The first part was an overlay driving the referral program (they used Friendbuy for this):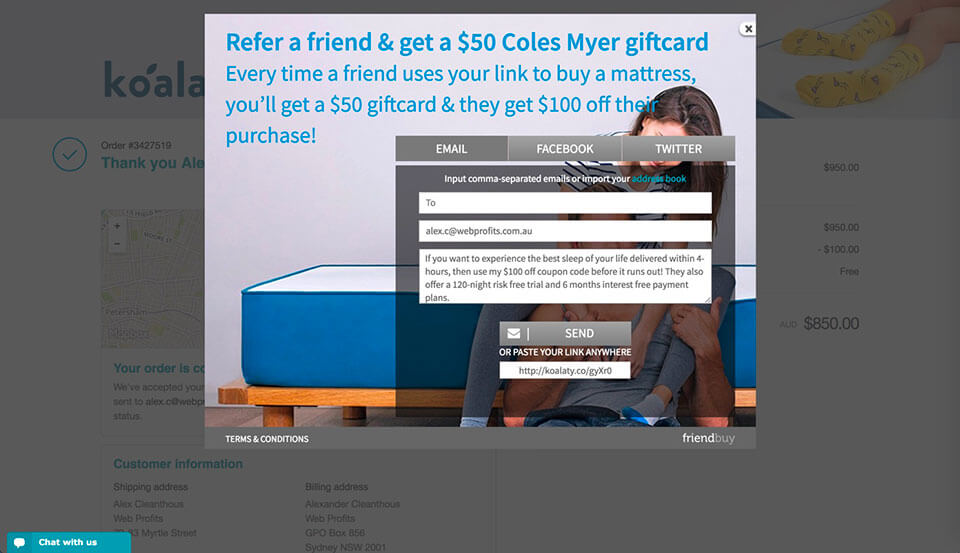 And when you closed the 'refer a friend' overlay, you saw the confirmation: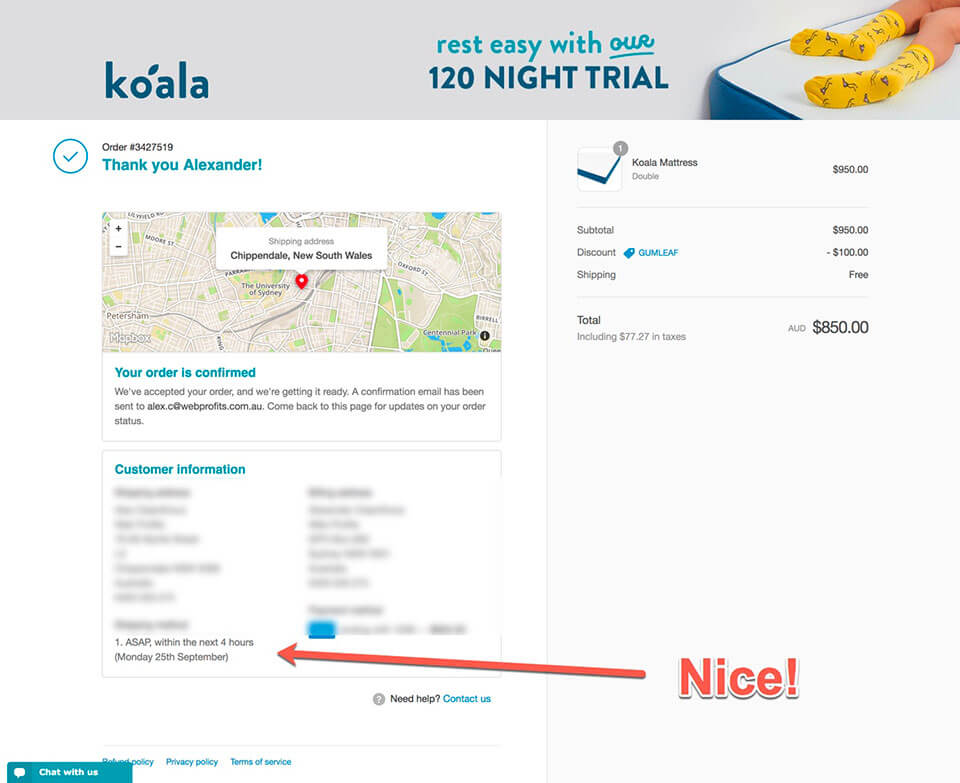 KEY TAKEAWAY: Make sure your checkout process is seamless. Any friction in your checkout process will increase cart abandonment and cost sales. Once the order is placed, that's the time to push the referral program (when the customer has just made the purchasing decision).
Post-Purchase Follow-Up
Once a customer has made payment, that's when buyer's remorse sets in.
So the post-purchase follow-up needs to be really good.
After I put my order through (I ordered it as part of this review, which is why I changed the size from King to Double 🙂 ) I received this email: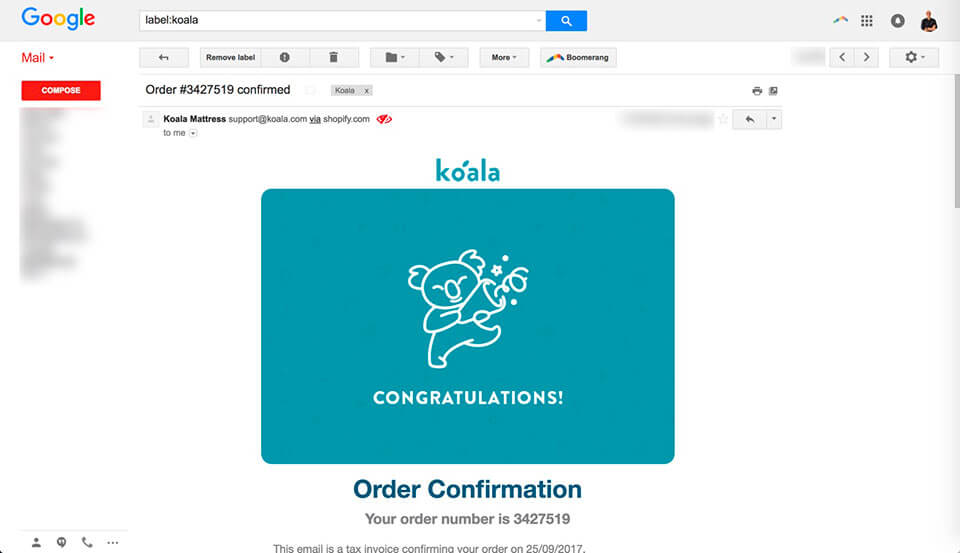 And while you can't see it in the screenshot, at the bottom of the email was a link to a welcome page that includes a introductory video on what to do when you receive the mattress: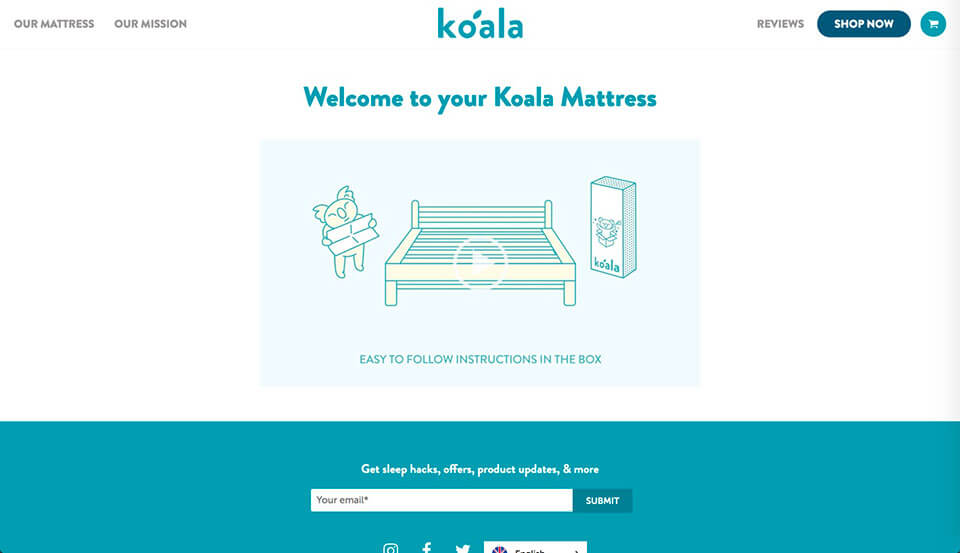 I also received a number of text messages with a delivery status: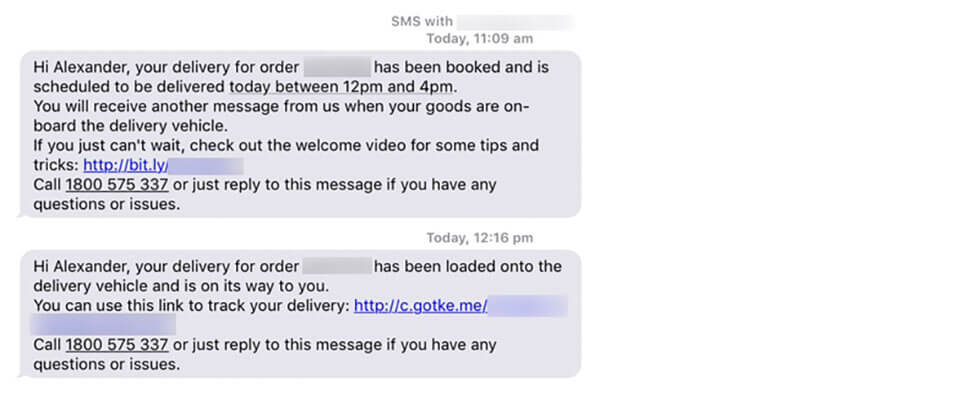 With a link to a page where I could track my order (they use Macship for this):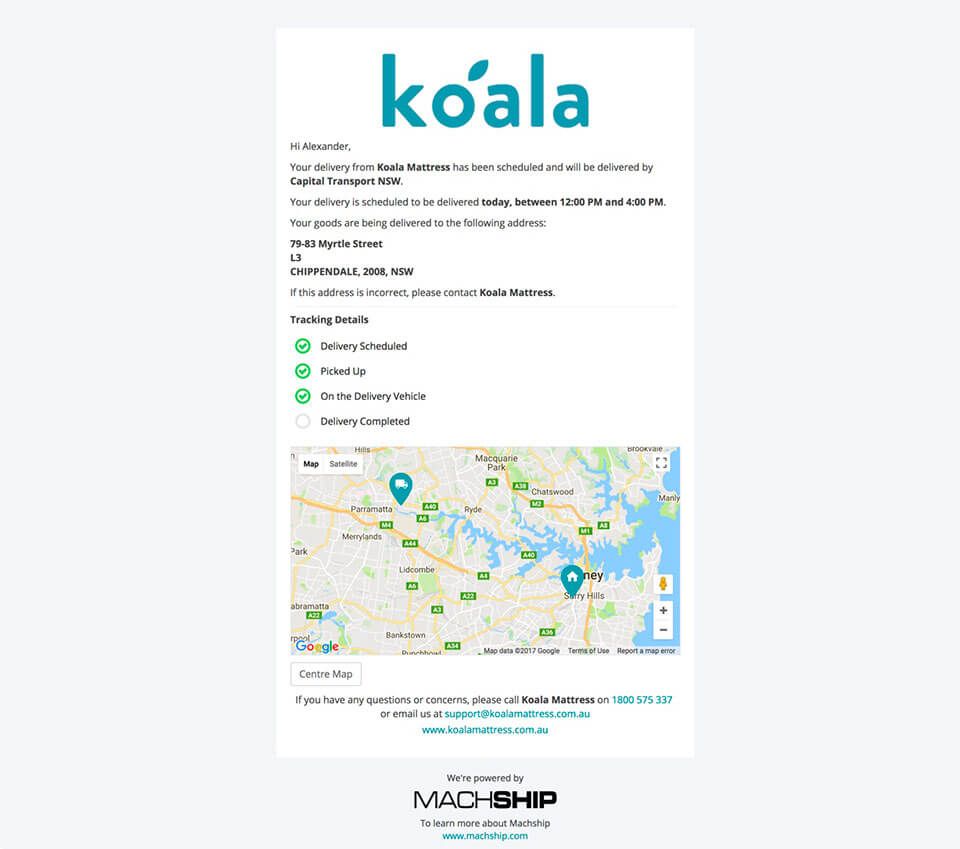 And then one hour later (on the dot) I received the following email up-selling me on sheets: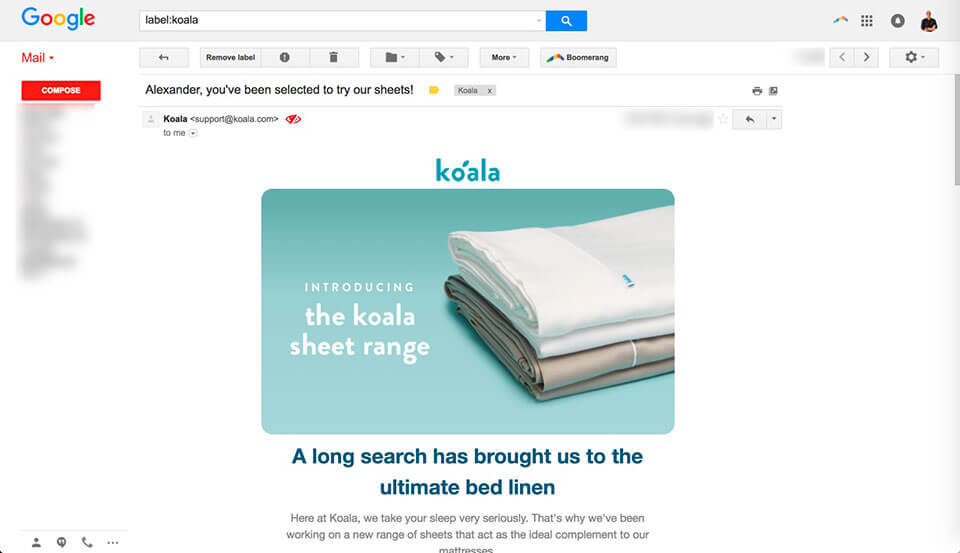 Nice.
Note: this review was written as I was completing this order. I'll expand this review as I receive additional follow-up emails from Koala.
KEY TAKEAWAY: Have a solid post-purchase follow-up process so your customers know EXACTLY what's happening next. Consider including an on-boarding video that shows your customers what to do next.
Responsiveness
Mobile usage is growing every single day.
For many of the digital growth campaigns we manage for clients at Webprofits, we're seeing mobile usage surpass desktop for the first time ever.
A lot has to do with the growth of social media…
But it's also that people are using their phones more.
And because so much of Koala's growth came through social media, leveraging a mobile-first responsive website would have been critical to their success.
Here's what their mobile experience looks like: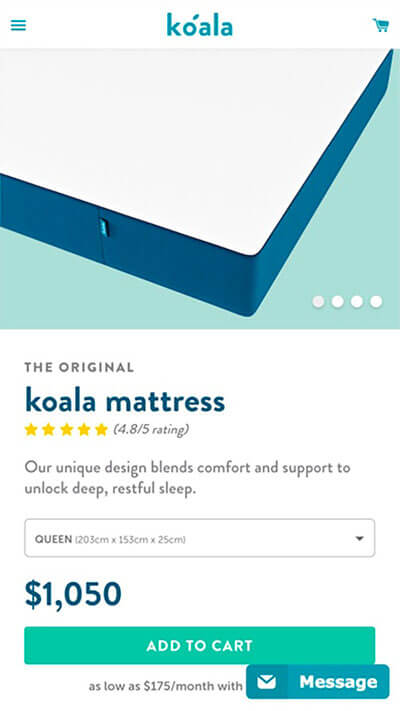 And again, because Shopify manages the optimisation of the checkout process across all of their customers, the checkout is fully optimised for mobile as well.
KEY TAKEAWAY: Make sure you have a mobile responsive website. Most of your traffic will be coming from mobile soon, and you need to ensure an optimum user experience if you want to drive growth.
Loading Speed
People have become LESS patient with time.
It used to be that you had 12 seconds to get your message across before you lost someone on your message.
These days, it's come down to 8 seconds.
Not only that, but companies like Google (and soon Facebook) will start penalising you if you have a slow-loading website.
That's why Google launched PageSpeed Insights – to show website owners how to speed up their website.
According to this article from Google, 40% of consumers will leave a page that takes longer than 3 seconds to load.
With that in mind, let's take a look at how Koala's website performs.
Here's the desktop analysis:
And here's the mobile performance: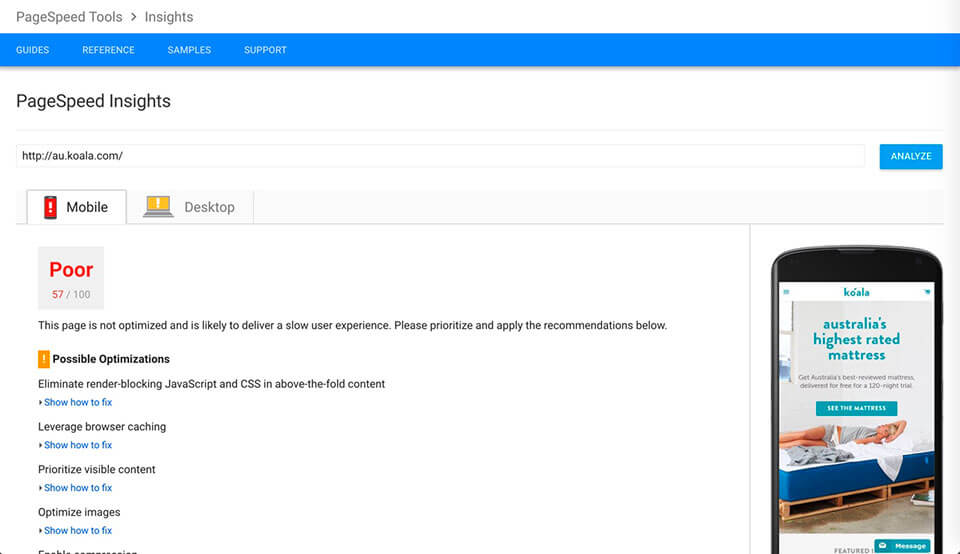 Both scored pretty low.
But PageSpeed Insights isn't always a true reflection on site speed (Google doesn't actually look at load time from specific locations when it delivers its report).
I also like to use the Pingdom Website Speed Test to see how long the site takes to load :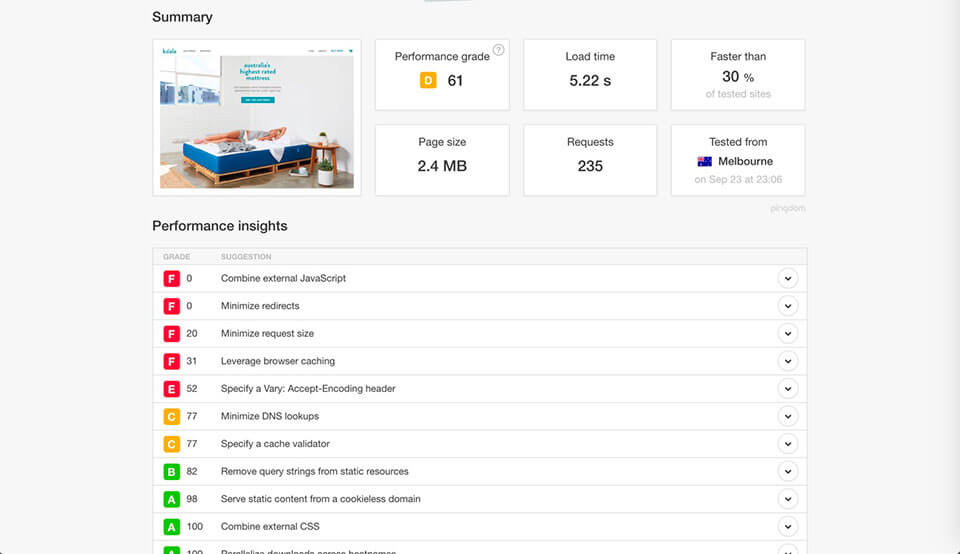 It still scored a D with Pingdom and a score of 61, which isn't that good.
But on the bright side, the site loads in 5 seconds, which is okay.
It looks like Koala have a bit of work to do on improving their site's speed but it obviously hasn't stopped them from their rapid growth trajectory.
KEY TAKEAWAY: You don't need the fastest site in the world to drive growth. But it's definitely something you should be looking at if you want to deliver an awesome user experience, and especially if you want to rank in Google's organic search.
The Cause
Having a cause aligned with your business isn't just a good thing for the world…
It also gives people a REASON to choose your business over the competition.
And it's something you can integrate into all of your marketing to really stand out.
Koalas are in decline due to excessive tree-clearing.
So whenever a customer buys a Koala mattress, they're also adopting a koala in partnership with the Koala Hospital in Port Macquarie.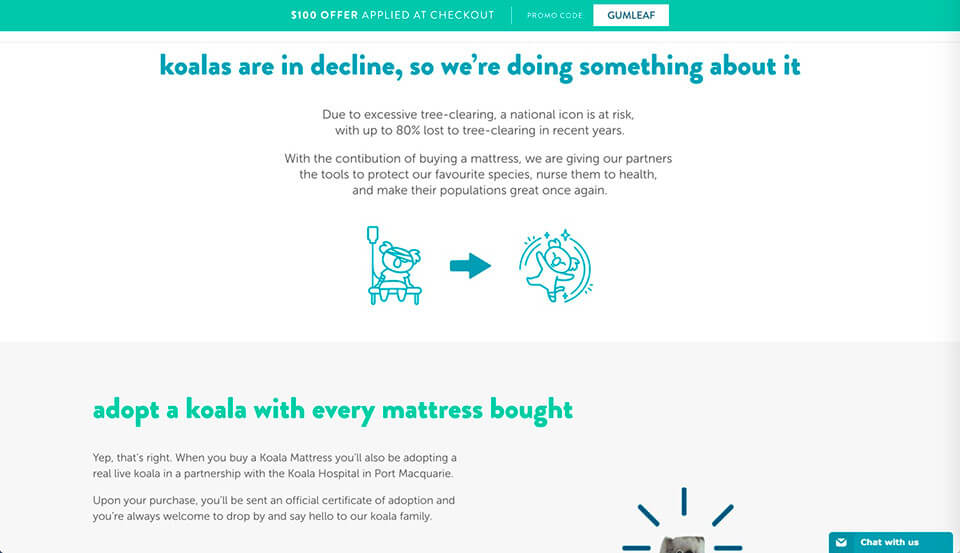 Koala is also working with the WWF to save habitats in in southeast QLD and northern NSW.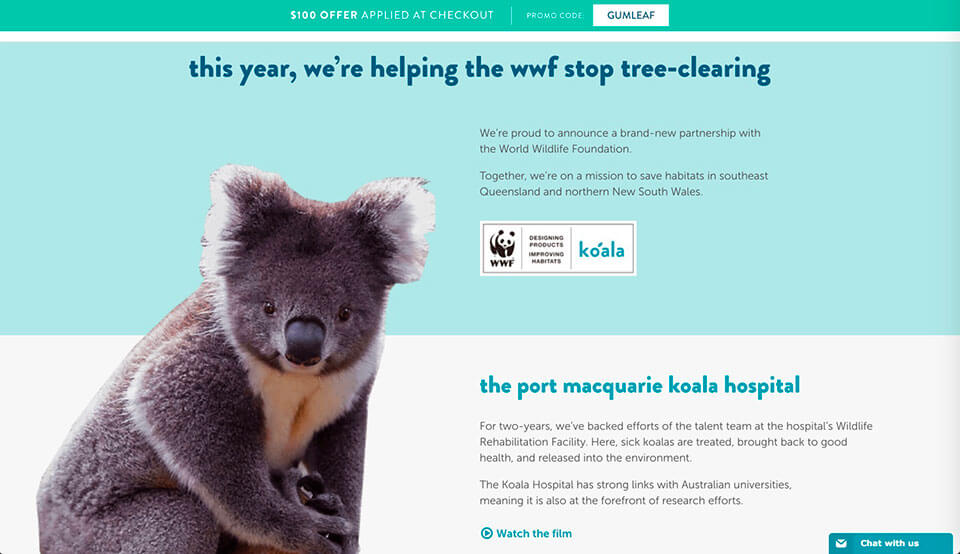 It's a great cause.
And it's a another way they connect with their audience on social media.
Like this post on Facebook: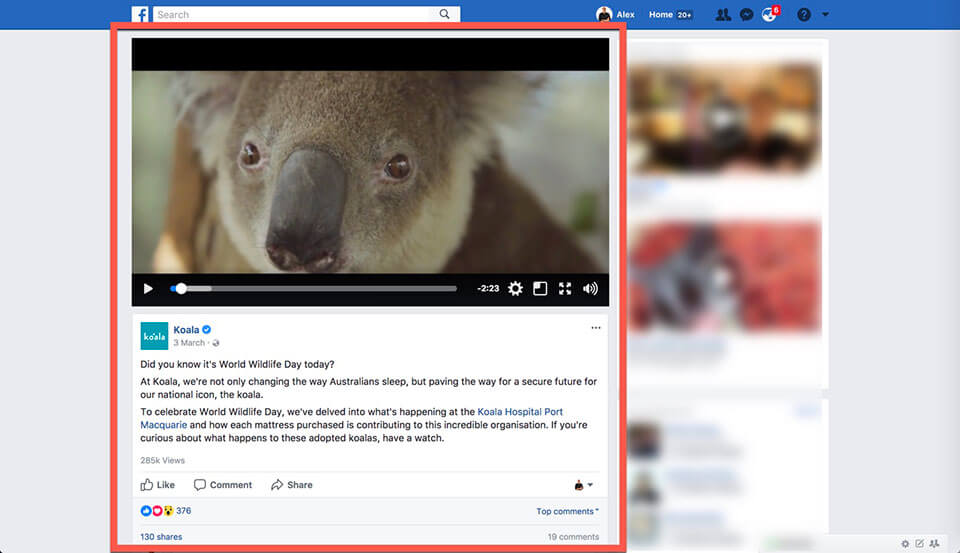 And this one on Instagram: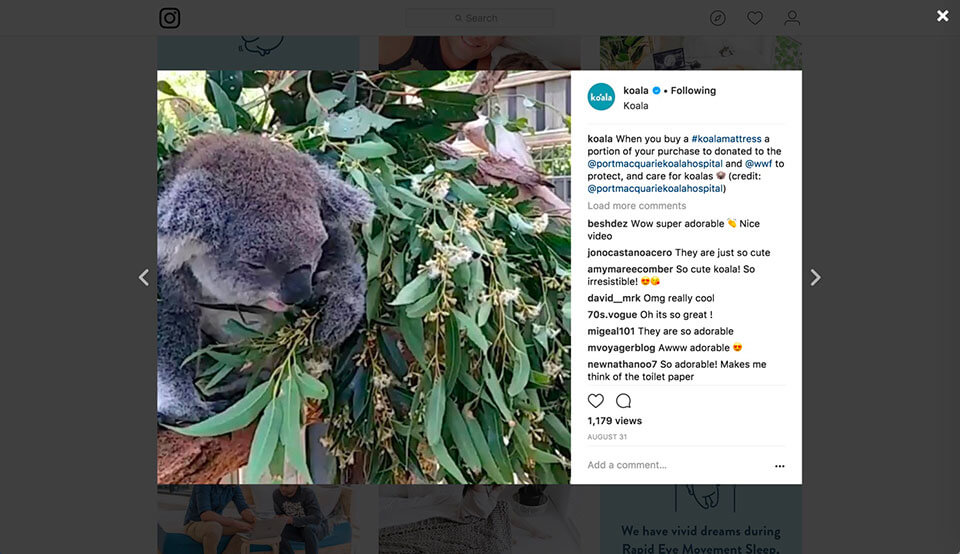 KEY TAKEAWAY: Find a cause to align your business with and integrate it into the sale of your product. Promote the cause with everything you do – it's a great way to support the cause and simultaneously stand out from the competition.
Think about it…
If there were two companies who sold similar products at similar prices, but purchasing from one company would save a koala, which one would you choose?
What else are they doing?
I mentioned at the very beginning of this review that I'll only be focusing on (what I believe are) their biggest growth drivers, which I've done.
But in the interest of giving you a complete picture of what they're doing, here's a list of other tactics and channels they're using:
When Koala first started out, their domain was koalamattresses.com (I found their old affiliate program when I was doing the research for this article).
They've since bought koala.com, which is better for their brand. It's like when Noah Kagan bought sumo.com for $1.5 million (find out why he did it here so you understand why they bought koala.com).
Koala use a lot of insights and tracking software on their website, including:
We use all of this software (and more) at Webprofits as well.
Plus they have scripts installed for the following advertising platforms:
Here's a full list of what they use.
Final Words
Koala reached $13 million in revenue in 12 months from a standing start.
It might seem like what they did was easy, or that they were 'lucky'… but thinking that would be a mistake.
The founders of Koala really nailed the digital strategy.
I can tell because we manage these types of campaigns for clients in a wide range of industries, every day.
It's great to see an Australian success story where a couple of young entrepreneurs came into a stale market and disrupted it (yes, I said it) using digital growth strategies.
What's next for Koala?
Well…
They recently secured funding to expand to Asia, and they now have a presence in New Zealand, Japan and Hong Kong.
Their team is growing – they're currently hiring a UX/UI Designer and Email Marketing manager – which means they're continuing to invest in growing their digital marketing even more (which is an approach I recommend for fast-growing companies).
And according to this AFR article in February 2017, the company has a run rate of $36 million for 2017, and estimates revenue of more than $50 million for 2018.
Nice.
>> Click Here To Read Part 2 Where We Uncovered 5 New Growth Tactics Koala Are Using Now
DISCLAIMER: I have no association with Koala or their founders (yet). This review has been completed using publicly available information on the Internet. If you would like to get in touch with me, click here.