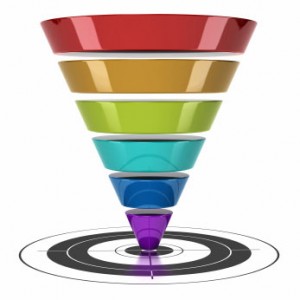 It's the stuff that makes online marketers toss and turn at night: what combination of product, service and content will compel as many visitors as possible to click and buy? Smart marketers know that testing these combinations through split and multivariate testing is always going to drive better results over 'best guess' efforts.
While you're probably familiar with Google's retired free tool, Website Optimizer, there is a raft of new premium services that give you unheard of control over any and every aspect of your website. Here is an overview of some of the best conversion rate optimisation tools, from the quick and easy to enterprise-level heavy-lifters.
A simple tool for the web marketer who doesn't want to bother with complex A/B testing or multivariate optimisation set-ups, Ninja Button lets you create any number of combinations of button colour, text and shape and automatically tracks how successfully each compels users to click on them.
There's no need to ask your developer to create the buttons or insert tracking codes – it's easy to create the combinations and just check in a few weeks to see the results. Does a white "View plans and pricing" button work better than a solid one saying "See plans and pricing"? This tool will tell you. Pricing ranges from free to US$99 per month.
Want to test a number of landing page designs before going live? Upload your concepts to FiveSecondTest along with some simple questions and get instant feedback from users. This video explains the process in a nutshell. The service displays the results in nice infographics which are useful for presenting results to your team or clients. Pricing ranges from free to US$200 a month for unlimited tests.
Most marketers would have tried A/B testing an email campaign by sending out two versions of an email to different segments of their list and seeing which returns better open rates or click-throughs. Problem is, you can't apply the learnings until your next campaign. Not any more.
With 8Seconds, you send out your email as usual, but store a set of different image options on the server. As people start to open and click on the email, 8Seconds displays different combination of images to each user on the fly and tracks which mix drives the most clicks or conversions. The nifty bit is that after the initial tracking period, all recipients opening the email will see only the winning combination of images, giving you the best possible results during the campaign. 8Seconds claims to work with any standard eCRM marketing system. Pricing ranges from E625-E2500 with best rates for bulk email sends.
Remarketing techniques allow you to serve content to users who have been to your website before, to provide contextual messaging that provides more personalised reasons to buy. SmartContent takes this one step further by serving content based on a number of factors such as the location of your user, keyword searches made on-site, upstream referral URLs, PPC campaigns, day, date and time of visit, as well as the number of times they've visited your site before. Pricing is based on bandwidth used on a case-by-case basis.
Offering a similar service to SmartContent, but aimed at marketers responsible for thousands of webpages, LiveBall offers a sophisticated dashboard system that lets you add hundreds of business rules to a webpage, SEM campaign or form and view the analytics in real-time.
As an enterprise-level solution, it enables integration with your existing back office or CRM systems if required. LiveBall allows you to create and test experiments using a Flash interface before you send it live. If after all that business rule brainstorming you want to set and forget, LiveBall also automatically optimizes the page over time.  Pricing starts at US$1295 for 10,000 unique visitors per month with unlimited seats, tests and support.
Playing ball with the big guys
If you're ready for the big time and have a spare $2000 to buy the comparison report, Forrester Research conducted a recent survey of 8 enterprise-level optimization services. Forrester nominates Adobe's Omniture and Autonomy Optimost as the leaders of the pack due to"their consistent strength across the full range of capabilities and integration support".
Forrester also rated Amadesa with a broad optimization offering, Maxymiser with a services-centric delivery model, SiteSpect with a tagless technical approach, Vertster with a focus on self-service, and Webtrends with a new and modern user interface. Of course, Google Website Optimizer is certainly in the top 8 services, offering a solid basic product that is free to all users.
If you're interested in reading more about optimization and the factors that you need to be aware of, watch our recent Web Profits TV Episode on Conversion Rates.