5 tactics you can use to optimize a low-traffic website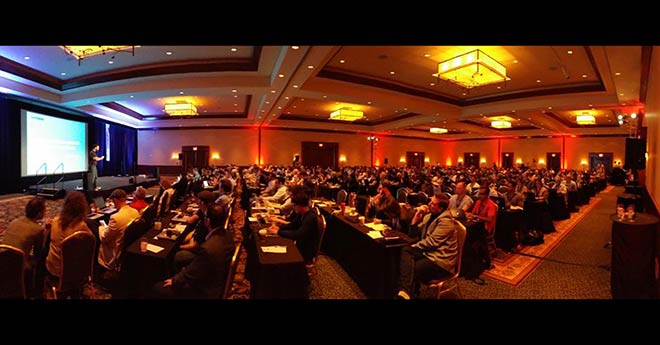 Image courtesy of Tom Wesseling
I just came back from the ConversionXL Live conference in Austin, Texas, one of the top conversion optimization conferences in the world.
It's my third time back to the United States, and I keep going back because the scale they work at in the US is more than 14x that of Australia (based on population size), which means they can experiment and learn fast.
That's where Australia is at a disadvantage when it comes to conversion optimization.
The biggest difference between Australia and the United States
When it comes to conversion optimization, you need traffic. A lot of it. The more you have, the more experiments (AB tests) you can run, and the faster you learn about what works, and what doesn't.
I have to admit that when I talk to speakers and attendees at these conferences, I get traffic envy… you'd be surprised at how many businesses receive over 500,000 visits per month (with one marketer in the credit card space generating 60 million visits per month).
Most websites in Australia don't have the traffic to run enough AB tests to learn fast enough about what works and what doesn't (the standard metrics for AB tests is 250 conversions per variation, achieved within 4 weeks at the most).
The good news is that conversion optimization is not only AB testing, and there are a number of things an Australian company can do to improve website performance, even with a small amount of traffic.
Here are the top five…
1. Qualitative & Quantitative Analysis
Qualitative analysis is about understanding why your customers buy from you. Quantitative analysis is about understanding how they interact with your website.
Qualitative insights are usually acquired by conducting surveys with prospects and clients, online, by phone or in person. Quantitative insights are acquired through analytics, heatmaps and screen recordings.
By using qualitative and quantitative research methods, you can identify what needs to be updated on your website to maximise performance.
2. Sequential Testing
Unless you have 250 conversions per variation within a 4 week period, you should not be AB testing – you should be sequential testing instead. AB testing is often not effective on low traffic sites because there isn't enough data to reach a statistically significant result you're confident will outperform the current version, in a short period of time.
Sequential testing is where you make a major change to a web page or layout, roll it out without AB testing it against the current version, and then measure it against the previous period. While sequential testing is not as accurate as AB testing (as is doesn't take into account seasonality etc) there is a much higher likelihood of performance improvement because you are focusing the traffic on the version you believe will achieve the best results.
3. Best Practices
Best practices still work. Using tactics like form field reduction, active calls-to-action, using numbers in a headline, using an image of a person etc have been proven to increase conversion. Yes, it still doesn't mean that it will work for every website, every time, but it's a great place to start when you want to increase the performance of your website.
4. Mobile vs Desktop
The mobile user is different to the desktop user (conversion rates on mobile are usually a third of desktop). So rather than trying to get the final conversion (ie sale or lead), it might be better to focus on capturing the email address of the user and then leveraging email marketing, custom audiences and retargeting to convert them on desktop another time.
5. Accurate Data
Make sure you have accurate analytics data. If your data is inaccurate you are not making decisions based on reality. Make sure you're tracking mediums correctly, fix fractured views, filter out bots, and use custom dimensions to better understand your audience.
Australia is different when it comes to conversion optimization because we simply don't have the traffic volumes of the United States. The good news is that there are many more tactics in the conversion tool belt you can use to improve website performance aside from just AB testing.
We learnt a lot more than this at the ConversionXL conference, and we're applying our learnings with many of our clients. If you want to see how we can help improve your online marketing results (no matter how much traffic you get) click here to get in touch.