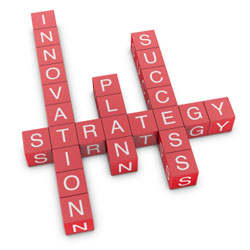 With the current state of the global economy, more and more businesses are diverting their marketing budgets online to maximise sales and their return on investment. IAB Australia recently announced that the online advertising market is on track to surpass $3 billion in 2012.
Simply having a website or an Adwords campaign is no longer enough to keep up with the increasingly fierce online environment.  Your online marketing strategy needs to be robust and multi-pronged to ensure you are successfully reaching your target market (wherever they are) and then effectively selling your products or services.
Here are 5 ways to drive sales and grow your business during these difficult economic times.
1. Develop a website that sells for you 24/7
What member of your staff would work for you 24 hours a day, 7 days a week?  Certainly no-one I know.  An effective website should be viewed as part of your team, it's there 24/7 and allows you to sell your products and services even whilst your company sleeps.  Spending money on your website to improve or update it is a long term investment and pales in comparison to the annual wage of one of your staff members.  Potential customers and clients can instantly assess, judge and act without you having to lift a finger.
2. Engage with prospects on their Smartphone or Tablet
It's predicted that in only six months time 1 in 2 people in the USA will own a Smartphone (Inside Retail). In Australia we're not quite at this level yet however a day does not go by without seeing people on the move connected to their smartphone or iPad… browsing, shopping, sending emails or sharing photos.  Not having a Google places listing, or a mobile-friendly web design, a Facebook page or for that matter simply zero online presence will impact your business' ability to effectively deliver to the growing market of mobile search users.
3. Capture market share through top SEO rankings
Online search offers opportunities for businesses of all sizes to get 'a foot in the door' – ranking at the top of Google is not dependent on being one of the high street or big brand names.  Any business can succeed and reach Page 1 of Google with the right SEO strategy in place.  Unlike a print ad or a TV advert, investing your marketing budget in an SEO strategy means you can have visibility endlessly.  Undoubtedly SEO is both competitive and ever changing but the key here is to ensure you are investing the right amount to get Page 1 rankings and having the right online advice to keep your business at the forefront of SEO.
4. Build relationships with social media
Facebook is now the most visited website in the world, with 48% of the Australian population having a Facebook account. Social Media platforms offer brands personality and a voice within a competitive market. For many businesses there is a reluctance to embrace these platforms due to lack of understanding – but the right strategy can pay dividends.  There's not only an SEO benefit created by sharing links from your website on social platforms but individuals can actually assist you with your marketing by 'Liking', 'Recommending', 'Retweeting' or '+1ing' your website.
5. Drive sales fast with Pay-Per-Click
Advertising using Google AdWords campaigns (Pay-Per-Click) can generate instant revenue for a business.  The adverts are tuned directly to a users search terms and instantly sell a relevant product, offer or service.  The adverts also allow you to achieve a Page 1 paid position on Google and leverage off large search volumes in a prime position.  If the landing page is well designed, the Ads will generally offer a high conversion rate as users clicking the ads are more likely to act instantly.
Achieving success is unquestionably the goal of any business and in this current global economic environment every business needs to use all the opportunities available to them to drive sales and stay ahead of the competition.