Google has released a 'Search Engine Optimization Starter Guide' for website owners who want to improve their website's ability to rank in Google's search engine.
The newly released guide mostly covers on-page optimisation, and only briefly talks about link building strategies, which are the real key to SEO. Reading this guide put a smile on my face as it reaffirms that our on-page optimisation strategy is right on the money.

Here is a mindmap of what the SEO guide covers: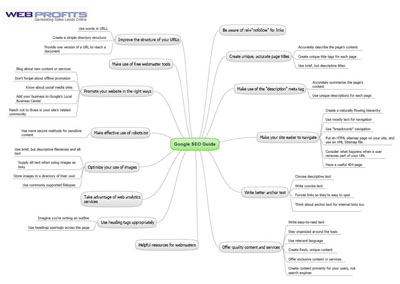 You can download the Google SEO Guide Mindmap here.
By implementing the recommendations provided by Google in this guide you will definitely setup your site to rank for competitive keyword phrases, and you may even rank for less competitive phrases…
But in our experience, a link building strategy built on multiple pillars forms up to 95% of a solid SEO strategy. You can learn more about link building by reading our article '10 Link Building Strategies for Higher Search Engine Rankings'.