5 Companies That Grew Using Cold Email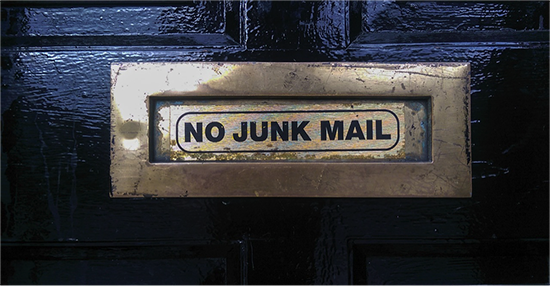 "You've got mail!" Remember the thrill each time you heard that email announcement? You couldn't wait to receive your next one.
Now? We do everything we can to keep the number of emails as low as possible. We aim for "inbox zero." We use spam programs, unsubscribers, filters, and, increasingly, A.I. and machine learning, in a vain attempt to reduce the number we have to read and answer.
Email is past its prime, right?
Wrong. We sent an average of 205 billion emails each day in 2015, are on pace for 269 billion this year, and just under 320 billion each and every day by the end of 2021.
The humble email is still getting things done:
Impressive stats.
Email was, is, and will continue to be very important to you, your brand, and your business growth.
And that's equally true for the vilified cold email, too.
Cold Email?
Before we take a look at 5 companies that grew using cold email, let's make sure we're all on the same page. It's easy to toss out words like "cold" email, or the dreaded s-word (spam), but what exactly do they all mean?
Cold Email
When we talk about cold email, we're referring to messages that were neither requested nor expected. The recipient has no prior relationship with you. They're not a customer – past or present – and they did not sign up for promotional messages or free content.
You most likely got their name and email address from a little digging online (company directory, social media profiles, straight-up guessing, and so forth).
But they do fit your buyer profile in some way. Even though it's cold, it still has to be targeted.
Spam
You'll hear plenty of people deride cold email as nothing more than spam. It's not, in any way, shape, or form.
Spam, or junk mail, is unwanted email ads clogging your inbox with unsubstantiated claims, misleading or outright false promises, or evocative offers. It's believed to account for 60% of all email.
Cheap prescription drugs (the bulk of all spam messages fall under this category), financial services, phishing scams, dating or adult services, insurance, requests for help, special offers, and more: take a look in your Spam or Junk folder, and you'll find plenty of other examples.
Major email service providers like Google and Microsoft work hard to limit the amount of spam that gets through to you. Their spam filters catch most of it and usher it to the junk folder for automatic deletion.
The Difference Between Cold Email and Spam
Cold and spam emails are similar in only one way: both are unrequested. But that's where the similarities end.
Spam is sent out in bulk to as many people as possible. Tens or hundreds of thousands, or even millions of recipients will find the exact same message in their folder. It's a numbers game, with the spammers making a profit even if only a very small percentage respond.
Spam email lists are either purchased from nefarious individuals in dark corners of the internet, or harvested by spambots. These simple programs crawl the web looking for and collecting email addresses to create large mailing lists. It's quantity over quality…any email address will do.
Spammers take liberties with spelling, punctuation, and grammar in their efforts to trick the spam filters. Most filters work by identifying certain keywords, so intentionally misspelling them is a common tactic to try and get past them.
Most spam messages use a fake name and a misleading subject line, and they don't include an opt-out or address.
Cold email, on the other hand, is still targeted email. It's most definitely quality over quantity. You still need to identify individuals and businesses that would benefit from your product or service, and then reach out to them with a personalized message.
It's unrequested, but it's not necessarily unwanted if you've done your homework and follow the email prospecting best practices.
In fact, cold email can be an incredibly effective marketing channel. A good cold email takes into consideration general marketing maxims – benefits over features, personalize whenever possible, consider the end user (it's about them, not you), don't be too salesy or pushy, and test, test, test – and combines them with cold email-specific advice like:
Skip the introduction. Get to the point. Keep it short.
Make it easy to opt out of messages, and honor those that request to do so.
Include all the relevant contact details in your signature (phone, email, business address, social media profiles).
Use your real name.
Keep it conversational and genuine.
End with an appropriate question, and follow up in a few days.
If you remember only one thing, remember this: a cold email is not about closing the deal or getting the sale. It's about connection. It's about establishing a relationship, and getting the recipient interested in finding out more.
There are good cold emails and bad cold emails. In short, don't be bad. And do the work to make your cold emails a little bit warmer.
Feeling inspired? Here are 5 businesses that used "good" cold email to grow and prosper.
1. LeadFuze
Imagine growing from zero to $30,000/month in just 12 months; from startup to verified success in only one year. Too good to be true?
Justin McGill did just that with LeadFuze, an all-in-one B2B lead gen platform. And he did it using cold email.
He used the same system to grow his marketing agency – Upswing Interactive – to seven figures.
Does he understand cold email? You "could" say that.
LeadFuze helps clients like Crazy Egg and Bidsketch find over 450,000 quality leads every month. Their database includes 100+ million B2B professionals in various industries, and the service helps find more leads in much less time. It practically sells itself.
If only it were that easy. No matter how fantastic the product or service, it doesn't mean a thing until you get it to the right people. And to do that, Justin used cold email.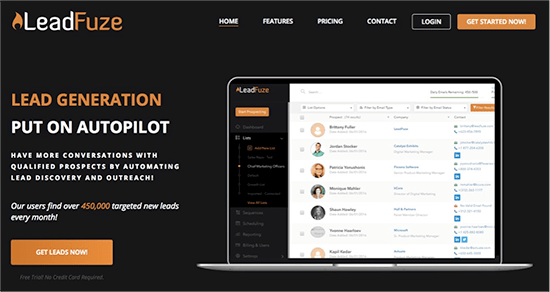 He started by identifying potential leads using relevant keywords (job titles, industries, country, location, and other keywords) to create a targeted mailing list. He verified those leads that looked most promising using a variety of tools like Voila Norbert, which can also pull additional details about each contact.
Next, Justin uses his QVC Formula to write the first email:
Question – Start with a relevant question that connects to their need and your business.
Value Prop – What's your core message, and what makes you better than the "other" guys?
Closing Call-to-Action – Explicitly ask if they're available to speak in the next few days, or some other question that requires an answer from them.
That's it. No tricks. No gimmicks. He, of course, followed all other tips and best practices from above, and he created a dynamic follow-up series of emails to go with this first one. Each increased the value and moved him closer to sealing the deal.
For LeadFuze, he kept things simple with a 4-email series:
QVC Email
Case Study
Value Add (such as a blog post, article, white paper, or some other useful piece of content)
"Break-Up" Email (to let them know this would be the last message he sent them)
Looks too simple, doesn't it? But it works. One year. Zero to $30,000/month, primarily using cold email.
2. Birchbox
They're rather ubiquitous these days, but the subscription "in-a-box" products weren't always with us. Now, we can subscribe and get monthly deliveries of beer, wine, clothing, beauty products, smoked meats, dog treats and toys, shaving supplies, and basically whatever else you can imagine.
But it wasn't always an easy sell. When Katia Beauchamp and Hayley Barna co-founded Birchbox – a beauty and skincare monthly subscription service – in 2010, most investors told them the idea just wouldn't work.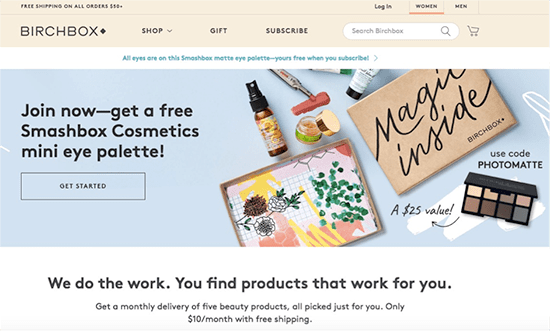 On top of that, both Beauchamp and Barna knew next to nothing about technology or, to be honest, beauty products themselves.
To grow, they turned to cold email. They needed customers if they wanted investors. They had to show them it would work.
They both believed the adage "go big, or go home," and so they cold emailed the CEOs of every major beauty company out there.
And they got responses. Plenty of them. Those early relationships with major brands attracted customers, which in turn attracted investors, which allowed them to grow and attract more customers.
But it all started with just ten cold emails.
Today, Birchbox has over one million subscribers and has raised over $86 million in venture capital.
In 2009, Beauchamp sent out less than a dozen cold emails. She almost immediately heard back from the CEOs of Laura Mercier and Benefit Cosmetics (who would sign on as a partner a few days later). Her cold email guidelines?
An enticing subject line. The Birchbox cold emails read "Reimagining beauty retail online."
Keep it short.
Don't go into too much detail.
Close with something easy to agree to. Beauchamp asked "Do you have 5 minutes to give me advice?" in those first messages.
"Ask for something that's pretty hard to say 'no' to." ~Katia Beauchamp, Birchbox co-founder and CEO
The rest, as they say, is history. But Beauchamp advises everyone – from entrepreneurs to established businesses – to not ignore cold emailing. She still does it because, and I quote, "It works."
3. Alex Berman and Experiment 27
Marketing agencies can feel like a dime-a-dozen commodity. For every good one with people who actually know what they're doing, you'll find five or more that have no idea how to grow your business and increase your market share.
Experiment 27 is one of the good ones. The proof? They went from being the new kid on the block to generating over $400,000 in annual recurring revenue in just – wait for it – 30 days. One month.
Founded by Alex Berman, Experiment 27 works primarily with those in mobile app development and UI/UX design agencies. Their specialization is lead gen, and Berman has brought in $2.5 million in B2B sales and helped his clients generate more than $50 million in just over two years.
It's safe to say he understands marketing and growth – and outreach. But let's back up.
What strategy did Berman personally use to kickstart Experiment 27 at launch? One guess.
That's right: cold email.
But he doesn't think small. Like some of the other success stories, Berman went for broke, cold emailing and cold calling the biggest, best enterprise companies, the businesses he most wanted to work with and for. The worst they could have said was no.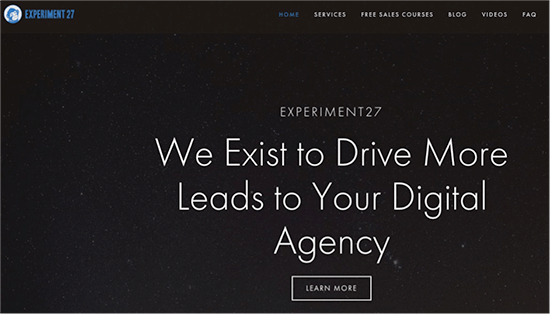 "Don't just cold call, saying, 'Hey, we do SEO.' It's that we did this for a company like yours and we can do it for you too." ~Alex Berman
The trick, according to Berman, is to avoid boring, bad, generic messages. Each one needs to be tailored to the recipient. Do some research on them. Explore their recent initiatives, successes, and failures. Then, pitch them an idea. That's a powerful cold approach.
Most importantly, you have to follow up. Don't just write once and then let it go if you don't get a response. You probably won't, at least not at first.
You need to hit them with a second email, or even better, Berman recommends a quick phone call to those that opened the initial message but didn't respond. Get your foot in the door. Schedule a time to chat further.
His basic cold email strategy is simplicity itself:
Find your large targets. Research them.
Create a customizable email template, but one with plenty of space and opportunity to personalize it.
Who would be the best point-of-contact? What one person should you be reaching out to at each business? Find them. Get their contact details.
Collect and/or scrape data on those people. This provides you with the details to personalize each email.
Personalize each email to go out. Berman recommends something about a recent success in the first line, and something personal about the individual in a P.S. line.
Send them out. Wait. Then follow up.
That's a blueprint anyone can use. As Berman says himself about the method, "Scale, repeat, grow your business." It worked for him. It can work for you.
As an added bonus, he's not keeping these winning tips and tricks to himself, either. He shares his advice and experience on his YouTube channel, with Wednesday videos devoted to cold email. Check out his uploads on cold email tips, scripts, strategies, and teardowns.
4. Ambition
We could all use a little help in the productivity department. No matter how good you are, you could always be better. And that's where a software solution like Ambition comes in.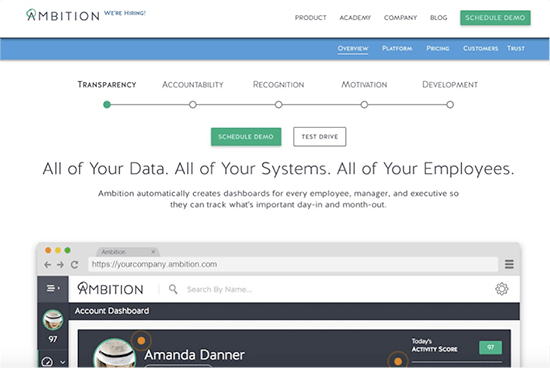 Their all-in-one platform allows for greater transparency, accountability, recognition, motivation, and development.
But even a product that everyone could benefit from using needs help generating leads and growing a user base. Ambition decided to give cold emailing a shot in late 2014.
The campaign included sending out 578 cold emails – 291 to VPs of Sales, and 287 to VPs of Sales Ops.
The Ambition team did their homework and collected the names and email addresses of those individuals a) in a position to make a decision, and b) working for a company that would benefit from using Ambition. So far so good.
And just what did those 578 original emails return for their time and energy investment? Six measly responses. That's an anemic response rate of 1.04%.
That's pretty abysmal. But the cold email success stories have one thing in common: the importance of the follow-up.
Ambition could have cut their losses at that point, deciding that cold email just wasn't a good fit for their targets. But they didn't.
Instead, they had developed an 8-touchpoint series that would go out over time. The numbers after the first email weren't great. They weren't even good. But they persisted.
By the end of the six-week campaign, Ambition had generated 73 positive responses from a list of 572 (6 addresses were removed as they always bounced back). That's a response rate of 12.76%, or more than 12x better than the first email generated.
And each email in the series did very well. In fact, their eighth message generated as many responses as their second one.
The takeaway here? Persistence. Always follow-up. Keep at it. The system does work.
5. Lead Pal
Lead Pal is a full service outbound lead generation agency, providing their clients with a custom-made prospect list based on their selected criteria. They take the guesswork out of finding new customers and growing your business.
But they're not just concerned with helping you grow your business. They also need to grow their own. And they do that with – say it with me – cold email.
According to founder George Fironov, outbound tactics like cold emailing account for roughly 80% of their new clients. And because building a powerful prospect list is what they're selling, their own is about as good as can be. It's hand-picked, fresh, relevant, and nearly 100% verified before the first email goes out.
In a typical campaign, Fironov says they get some impressive results:
Average 87% open rate
Average 23% reply rate
Average 5% "interested replies"
For themselves and their clients, Lead Pal usually works with a list containing 50-70 prospects, personalized where possible, and they send anywhere from 3-5 follow-ups (noticing a trend?).
That means an average of 11-16 replies and 2-4 "interested replies" with every campaign. Slow and steady wins the race.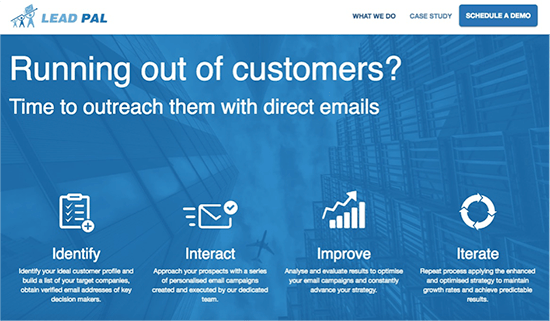 Many of their best and most loyal customers were acquired via cold email, and Lead Pal is most definitely practicing what they preach.
They use it, they provide it.
Ready to give it a shot? Many entrepreneurs and business owners balk at cold emailing the way those before them disliked cold calling. But I hope you can see from just a few examples that cold email can deliver the goods.
Try it. You'll like it.
Follow the advice here, and combine it with a tried-and-tested formula such as Before-After-Bridge (your world now, your world after solving a particular problem or pain point, and how to get there), Problem-Agitate-Solve (identify a pain point, agitate that pain point, offer a solution), or any other popular and effective blueprint.
Stand on the shoulders of giants and do what has already worked for others. That's the secret to long-term success.
Email marketing is powerful stuff. If you're not doing it, start today. Warm emails can be very rewarding, but don't turn your back on their cooler cousin. The cold email may be a more difficult sell, but it's not an impossible one. There's tremendous opportunity. Tremendous potential.
If you're still feeling a little apprehensive, consider a tool like Mailshake. It's a simple solution for cold emails, and all you need to get started is a Google account. With nearly 7900 customers – and 4,125,014 emails sent – you'll be in good company and capable hands.
A rewarding email is rarely a single email. It's a numbers game. Remember that all five of the success stories above relied on the power of persistence and the faculty of the follow-up. You need a valuable and useful sequence of emails that guides prospects from cold to warm, and finally to scalding hot.
Take them on a journey. Show them what they're missing. Make them an offer they can't refuse by providing a solution they can't resist. Convince and convert.
Like revenge, email is a dish best served cold. Then turn up the heat.
What about you? Have you tried cold emailing as part of your marketing mix? What insight can you provide on it? Leave your thoughts in the comments below:
Images: Pixabay
All screenshots taken March, 2017