How Nike missed the mark on digital
This article originally appeared on B&T's Website
Transcript:
Hi, I'm Tam, the in-house Growth Marketer at Webprofits. Today I'm going to be talking about Nike's recent, and very popular, campaign, and how it could have been a lot better. Plus I'll be sharing 3 takeaways from it, for companies of all sizes.
You've probably seen the Nike commercial in the news. It's the one that caused some controversy for featuring Colin Kaepernick, an outspoken American Football player and campaigner for social justice.
First and foremost, I want to say that I think the ad is terrific. It's motivating, it's inspiring, it tells a story and really evokes a response. It speaks to their target audience and helped build their brand not only now, but for years to come.
And I know they increased sales by 31% in the days following the launch, what I'm saying that it could have been a lot higher.
How?
Well, while the ad itself is faultless, I've been surprised by Nike's lack of follow up of the message through digital channels.
Website
Here's how the search volume for the brand name has trended over the last 5 years, you can see an absolutely HUGE boost around the time of the ad launching. That's great right?

I thought so too. But then I checked out Nike's website. Notice how there's no mention at all of the "dream crazy" or "sacrifice everything" slogan on their homepage?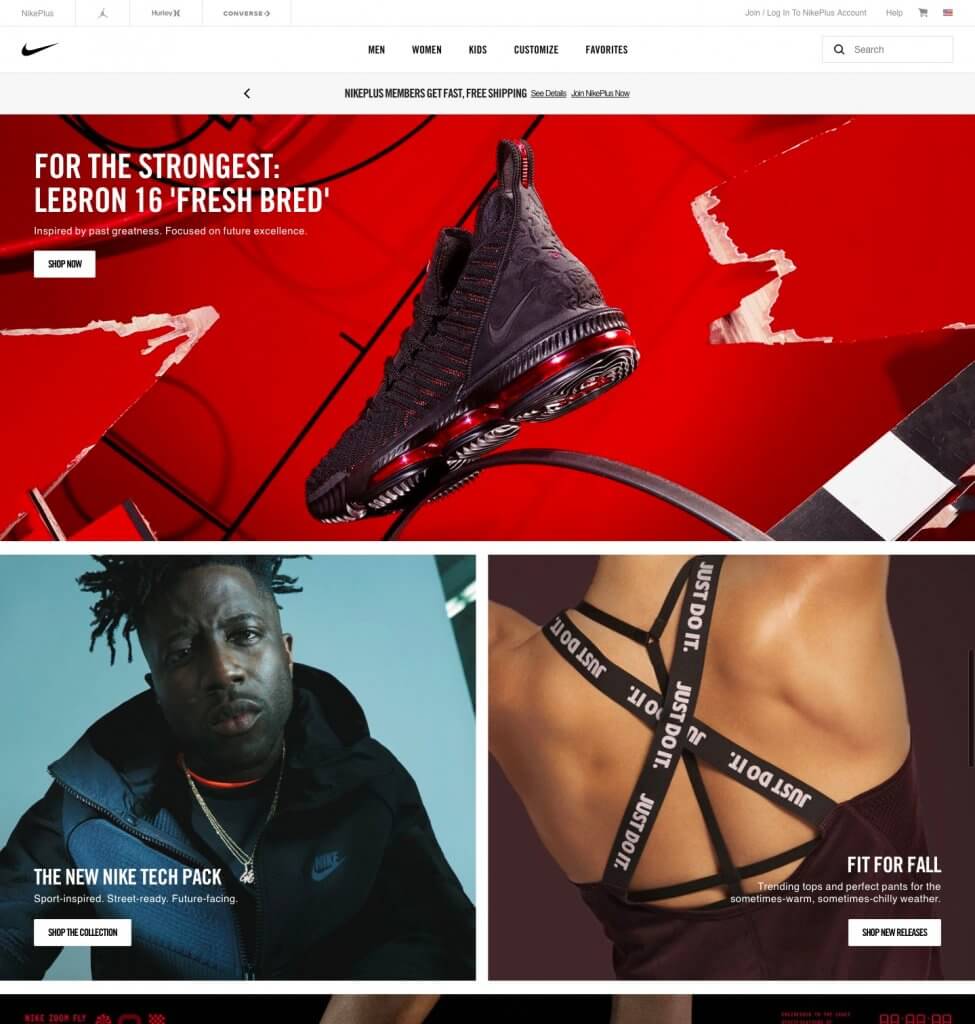 So I clicked around to try and find it. Here's the Men's section of their site, and it appears in the third banner of the page, way below the fold. On the Women's section, it doesn't appear until the 7th banner, despite the ad featuring Serena Williams, one of the most dominant figures in sport, let alone women's sport. And it doesn't feature at all on the kid's section.
I guess you could say: "So what? They got a potential customer to the website and it's a good site so they'll probably buy something".
I think that misses the mark.
Customers don't make purchasing decisions quickly, it's all about their journey. In my opinion, the journey starts brilliantly with an emotive ad, but when they then visit the site and don't see the same message that brought them there then the journey is interrupted, and that's never a good thing. The more seamless the journey is, the more successful the campaign will be.
Social media and ads
After looking at their site, I decided to check out their Social Media channels. They did a good job of translating the campaign to Twitter with this thread on the day of the release, and have since followed it up with marathon runner Eliud Kipchoge and Tiger Woods. They also posted the video and a couple of stills on Instagram and have seen some great engagement.
But what about the world's largest social media platform, Facebook?
I was really shocked to see that they hadn't posted anything about the campaign on Facebook at all. So I used Facebook's info and ads feature to check out what kind of posts they've been promoting and despite there being plenty of ads, not one was about the campaign.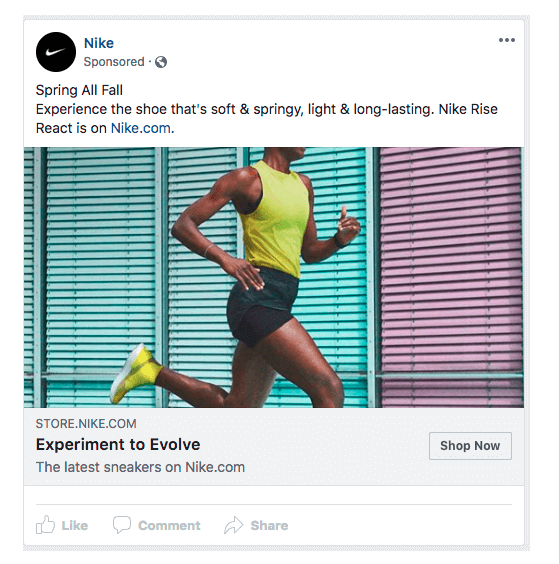 Everyone is talking about Nike at the moment, having a Facebook ad with a link to their site capitalises on this and means they're not relying on the customer to remember to look them up. It's great that they're running conversion focussed ads, but if the ads aligned with the offline campaign I would expect them to be a lot more successful.
With all the data Nike must have, they could have created ads for each of their range of products with the campaign message running throughout. In my opinion this is a huge missed opportunity, and one I'm surprised to see from such a big brand.
Geography
My last criticism is a geographic one. The U.S. is one of Nike's largest markets and so it makes sense that the focus was there, but this ended up being a global campaign due to its controversy and popularity. So let's go back to their website and take a look at what they're displaying in different countries.
Here's Australia, where I'm based: No mention of the campaign. It's the same in other English speaking markets like the UK and Canada, no reference to it. Why? The stories in the commercial are universal, relatable to people regardless of location. The celebrities they feature are global, everyone knows Serena Williams. So why not leverage that in other markets?
I appreciate that campaigns of this scale are very difficult to orchestrate in one country, let alone across different teams, borders, and languages, but Nike's message in this campaign is to dream big and dream crazy so perhaps they should take a leaf out of their own book.
Conclusion
Nike is a huge brand and this campaign has had the reach that most companies can only dream of, but there are 3 key takeaways from this campaign regardless of the size of the company you work for.
Firstly If you're going to run a big campaign, make sure that your website aligns with it in order to make the customer journey as seamless as possible.
Secondly, Ensure that your advertising across different platforms centres around the campaign theme in order to get the most out of it
And lastly, make sure to leverage the campaigns across all the regions you operate in, to maximise the return on the initial investment of creating the campaign.
That's all from me for today but if you want some help running a fully integrated digital campaign then get in touch and we can have a chat.
Thanks for watching.