Kabbage.com – the Growth Strategy of a Billion Dollar Fintech Startup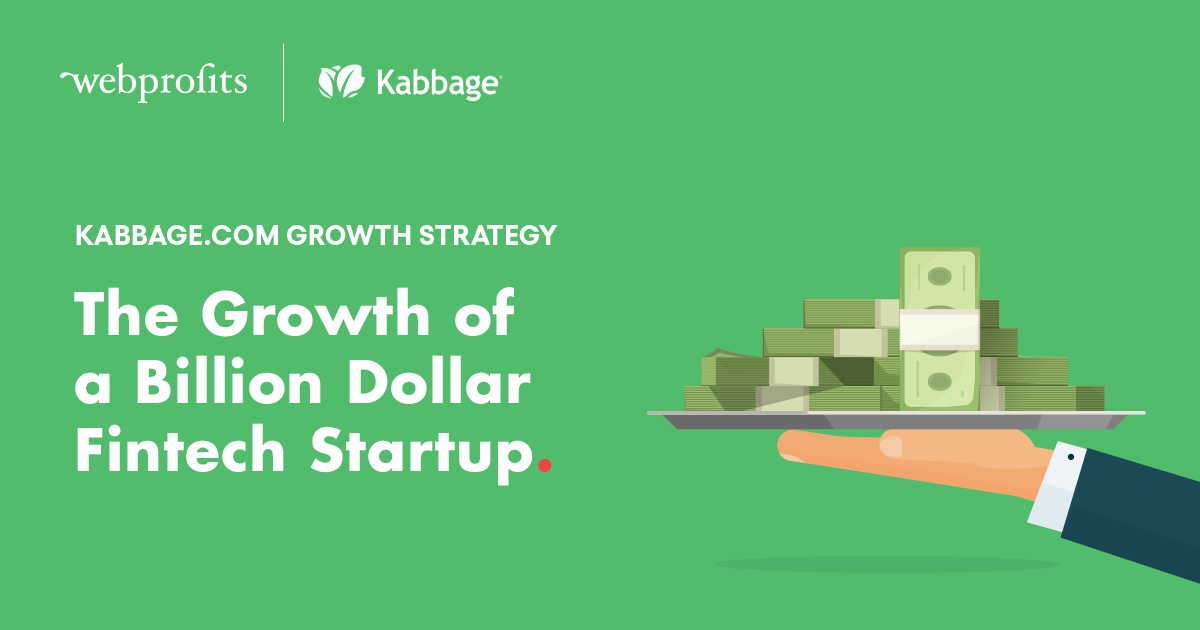 There are more than 28.8 million small businesses in the United States, which is about 99.7 percent of all US businesses. And when a small business is looking to drive growth, it needs finance.
Small business accounts for a significant amount of all business borrowing, with small business bank loans totalling almost $600 billion in 2015.
In fact, in 2017, 64% of small businesses said they used a bank loan to meet their capital needs.
Challenge is…
The traditional methods of getting small business finance are clunky and outdated.
So when Kabbage was founded in 2008 with a 100% automated application process, making it easy for small business to secure finance, they grew fast. REALLY FAST.
Kabbage have now provided $4 billion of funding to more than 100,000 small businesses in the US, and they are now worth over $1.3 billion.
Here's how they did it…
The product
When you think of small business finance, you don't usually think of data science and analytics… but that's exactly what's made Kabbage so successful.
Unlike traditional lenders that can take days or even weeks to process an application and release funds, Kabbage process applications online so that businesses can get up to $250,000 in a little as 10 minutes.
How do they do it?
Well, again unlike traditional lenders who rely on long applications, income statements, tax records and collateral, Kabbage creatively use large amounts of online data to make instant credit decisions.
Here's one of their videos that explains how it works…
So, when a small business applies for a loan through Kabbage, they login to their online financial and business services (e.g. business checking accounts, Amazon, Quickbooks, PayPal, Etsy, Xero, eBay, Stripe and Sage) and Kabbage pull data from these services to assess creditworthiness.
And it doesn't stop there…
Kabbage stay connected throughout the relationship with the borrower to 'provide a unique line of credit' (presumably to secure their capital, as well as adjusting the maximum funds available).
Kabbage claim that their loss rate (the amount of money on each dollar that does not get paid back) is lower than the rest of the industry, including institutional banks.
So, not only is this is a far more user-friendly and simple process for the end user, it's a (presumably) more accurate method of assessing creditworthiness than traditional methods.
Their software is so good, in fact, that they're now licensing it to other financial institutions like ING and Scotiabank through their Kabbage Platform…
… and that's what's at the core of their growth.
A superior product. A simplified process. And a 'starving crowd' (this is a reference from Gary Halbert, one of the greatest copywriters in history. You can read more about it here).
Now let's take a look at how they market their product to small businesses.
The offer
The best part about Kabbage's product is that the technology behind how they process applications is their point of difference.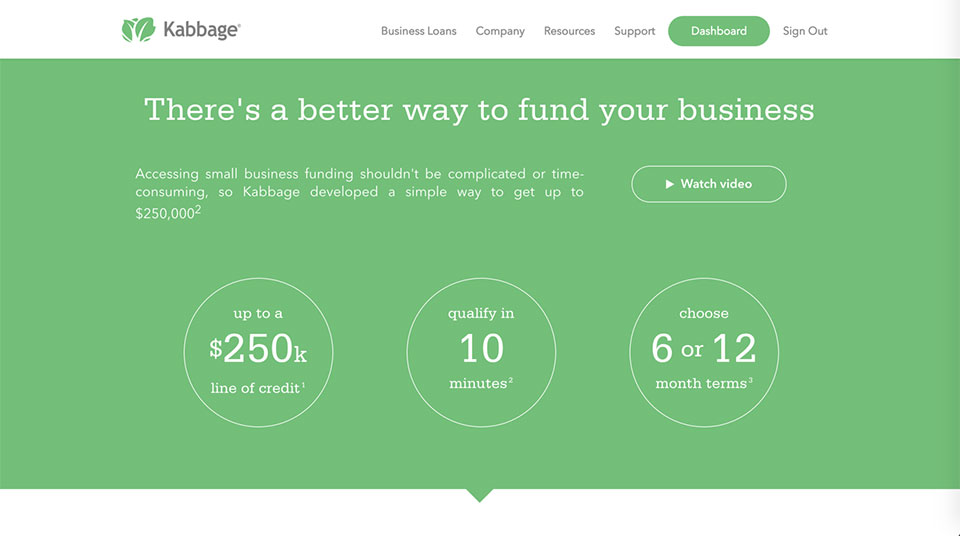 The fact that the entire process is automated, with funding of up to $250,000 being approved in as little as 10 minutes, is HUGE. So much so, that they're able to charge a premium for access to their funding and still grow in leaps and bounds.
Why?
Because they're hitting a number of hot buttons for small business owners, like:
Fast access to cash – with instant approval
Innovative application process – based on data from the accounts you link instead of traditional methods
Convenient access – via the online dashboard or smartphone app
So yeah… they charge a premium for funding BUT it's for a market where accessibility to cash (to drive growth) is often more important than the cost of finance…
…which is why more than 100,000 small businesses have used them.
Now let's take a look at how they marketed their offer…
The marketing
So they have a killer offer and a 'starving crowd' …
Now it's all about the marketing. And a digital application process requires a digital marketing strategy.
Here's what they did…
Display Advertising
Kabbage advertise to small businesses across the web on sites like entrepreneur.com and through the Google Display Network with ads like these…
Kabbage also run ads tailored to specific customer segments like eBay Merchants (who were one of the first segments they targeted). Here are some examples of their ads…
Notice how they're focusing the message on 'inventory'?
It's exactly the problem an eBay Merchant will be experiencing. Nice!
Facebook Advertising
Kabbage started out by using display advertising to get their message in front of small business owners, but with the growth of Facebook over the last 5 years, a lot of their advertising has moved there (if you're reading this from the US, you've probably seen one of their ads).
Why Facebook?
Because they can target small business owners really easily by demographics, interests and behaviors (e.g. people who are an Admin of a Facebook Page) as well as combinations of these targeting options.
PLUS, they can retarget people who have visited their website, people who have started the application process, or customers who have received finance in the past.
Here's an example of one of their latest ads…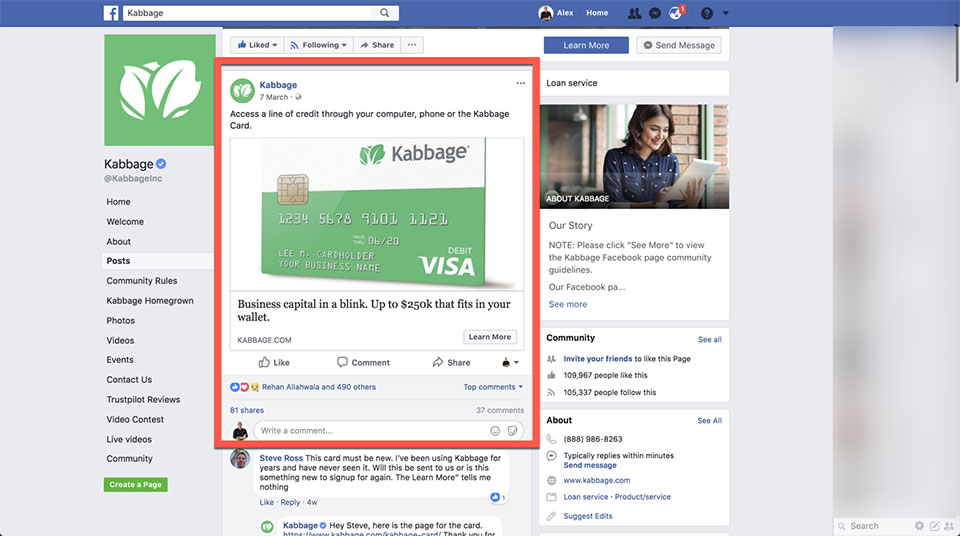 And here's a video ad their running with more than 1.4 million views…
Nothing too advanced here… just getting the message across in a simple and elegant way.
Search Advertising
Search advertising is a core channel for any business in the finance space.
Why?
Because there are A LOT of people searching for finance-related keywords on Google.
Here's the search volume on Google for just a few keywords related to 'small business loans'…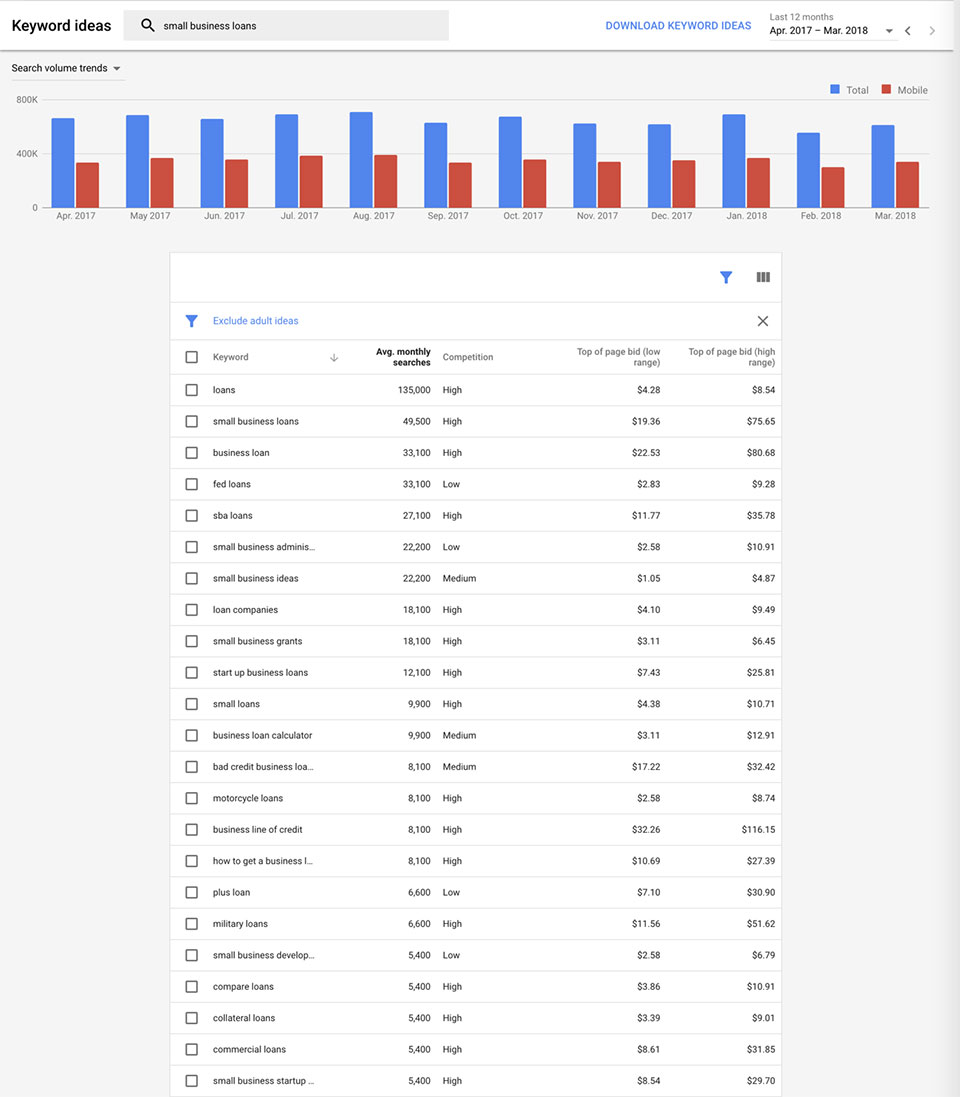 The keyword 'small business loans' has 49,500 searches per month, at a cost of between $19 and $75 per click…
And that's just that keyword!
So it goes without saying that search advertising is a main driver of new business, and you can bet that Kabbage are doing it well.
Here's an example of one of their ads on Google…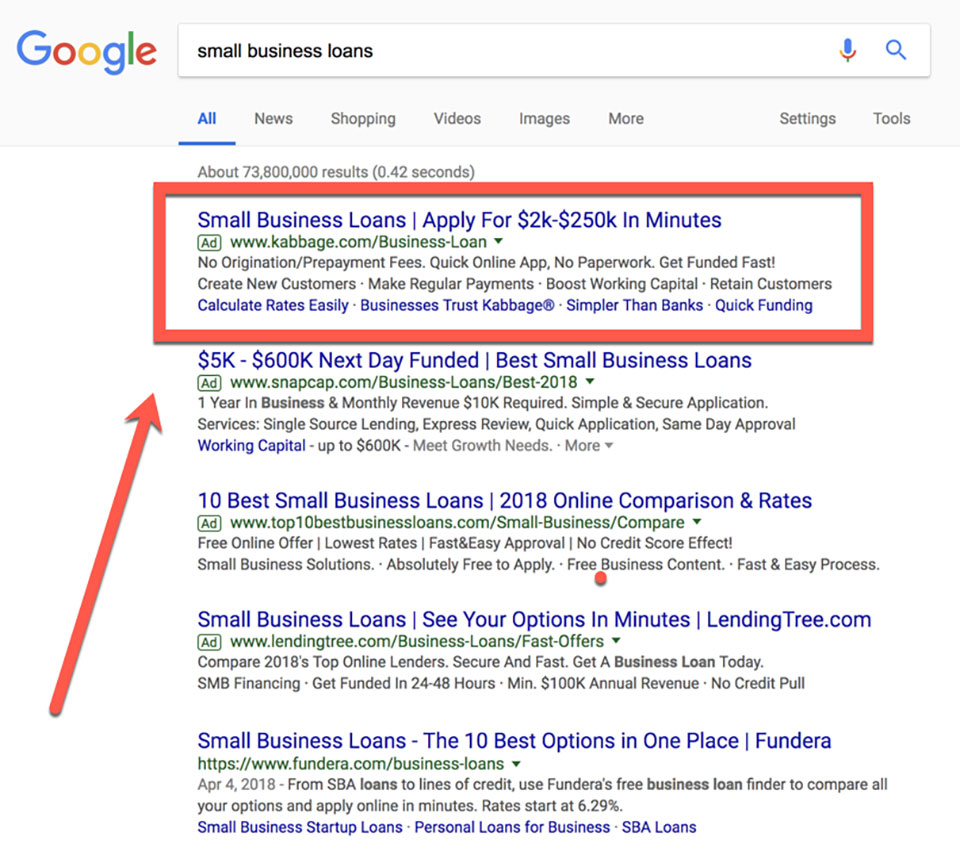 Keywords in the headline, points of difference in the copy, callout extensions, and sitelinks… they're doing everything right.
Here are more examples of ads they're running on Desktop and Mobile.
Kabbage target different types of keywords on Google, including:
Branded campaigns – targeting variations of their brand name (e.g. kabage, cabbage)
Competitor campaigns – targeting different competitor names (e.g. american express, bbva compass, comerica bank)
Keyword campaigns – targeting different ways people might search small business loans (e.g. working capital, short term loans, business line of credit)
Here's a bigger list of the keywords they're targeting on Desktop and Mobile.
Oh, and btw… they're doing the same thing with Bing…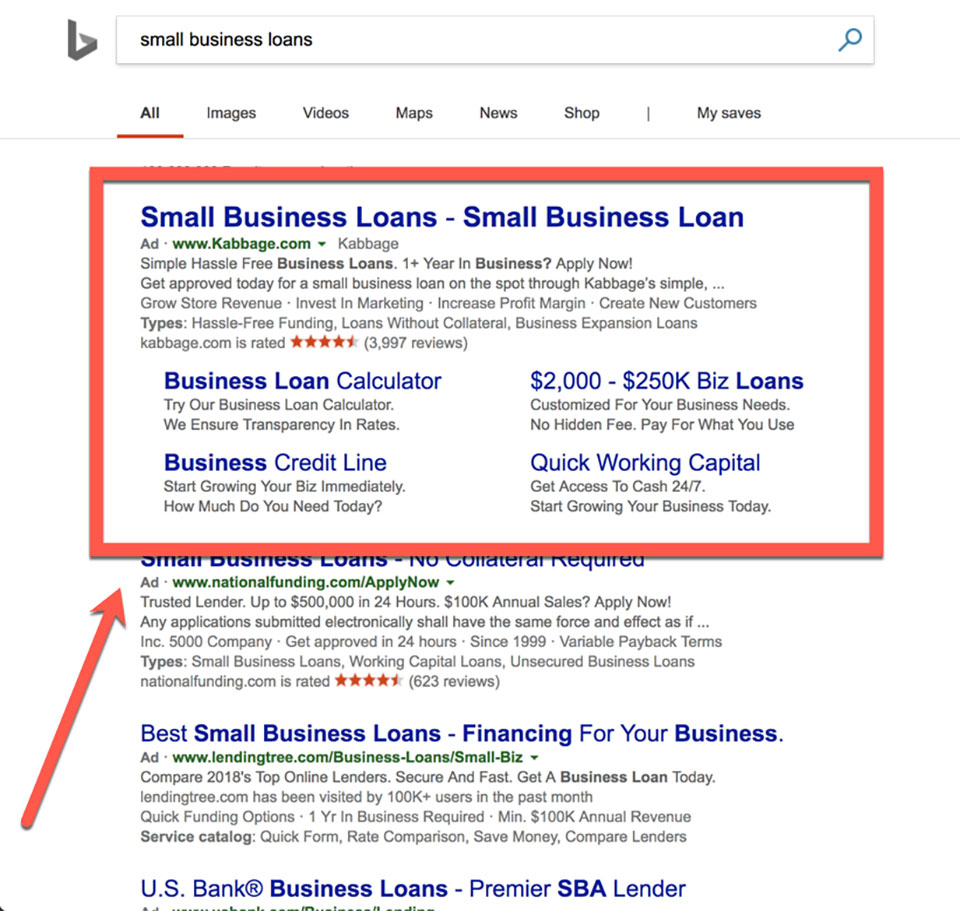 So yeah… they have search advertising locked down.
SEO
With so much search volume on Google for finance-related keywords, an investment in top organic rankings is well worth the time and effort.
And you can bet that Kabbage have integrated SEO as part of the digital growth strategy.
How are they doing with it?
Not too bad.
Here's a report that shows you how they're ranking on Desktop and Mobile.
They have a lot of top 5 rankings on Google for non-branded keywords, which is excellent. But they're at the top of page 2 for 'small business loans', which is their top keyword phrase (based on volume and that they're advertising in the #1 spot for that keyword) so a bit more work to do 🙂
How are they achieving their rankings?
Link Acquisition
Well, they've been around since 2008 and they've had a lot of mentions in the media with links back to their site, which is definitely helping, like this one from TechCrunch.
Kabbage get links from their partners, like this one from ING.
They've done some guest posting, like this one on Rocket Lawyer.
And they're also getting links from their referral program, like eRepairables.com.
You can see their backlink overview here or the detailed backlink report here.
Website Structure
Kabbage have created pages on their website for a lot of their top keywords…
These pages aren't linked to from the main navigation – they're linked to from the 'small business loans' page.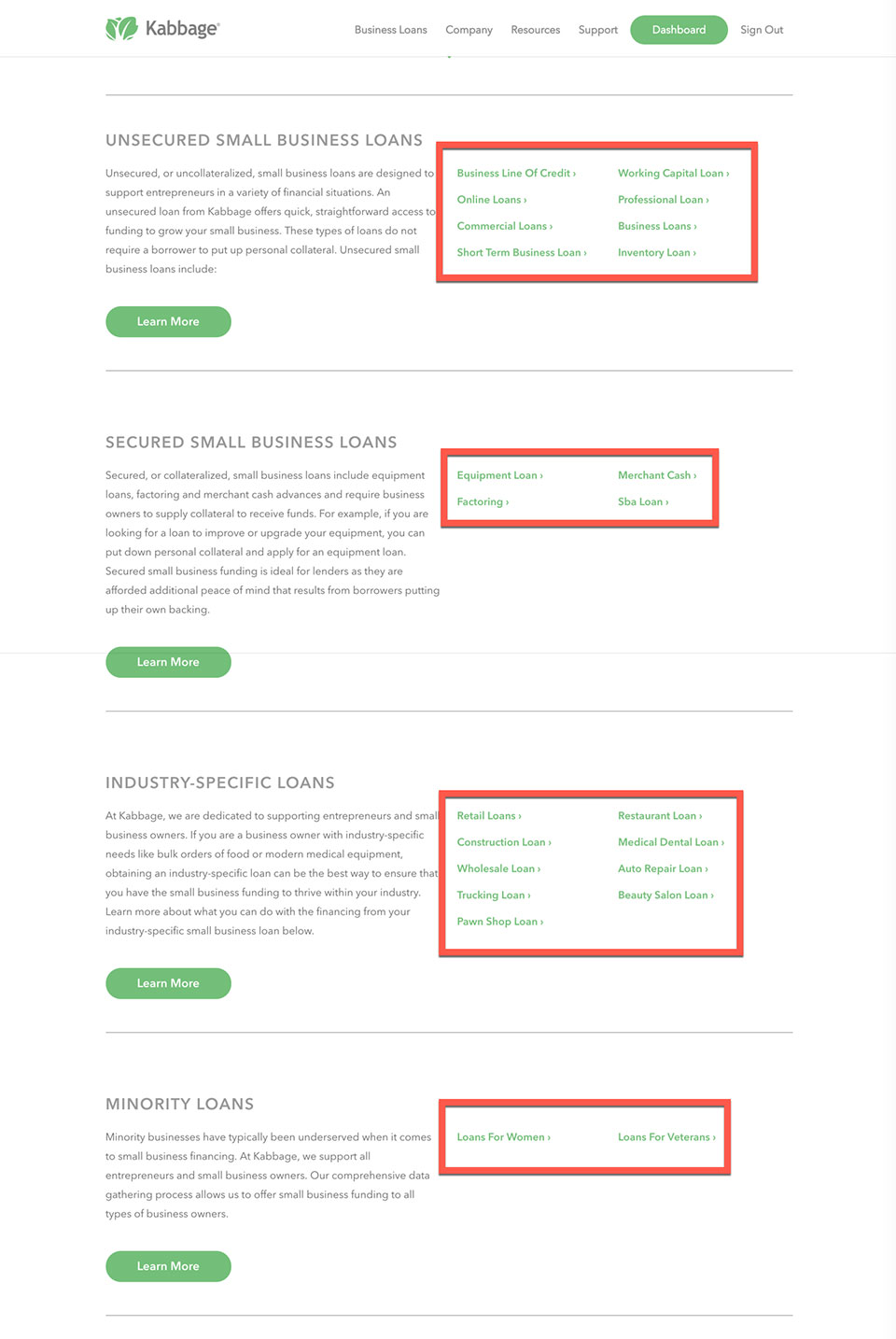 What you'll notice is that each of those pages starts off by talking about the topic of that page (e.g. 'commercial lending loan') and then ends by telling them that a 'line of credit from Kabbage' could be a better alternative: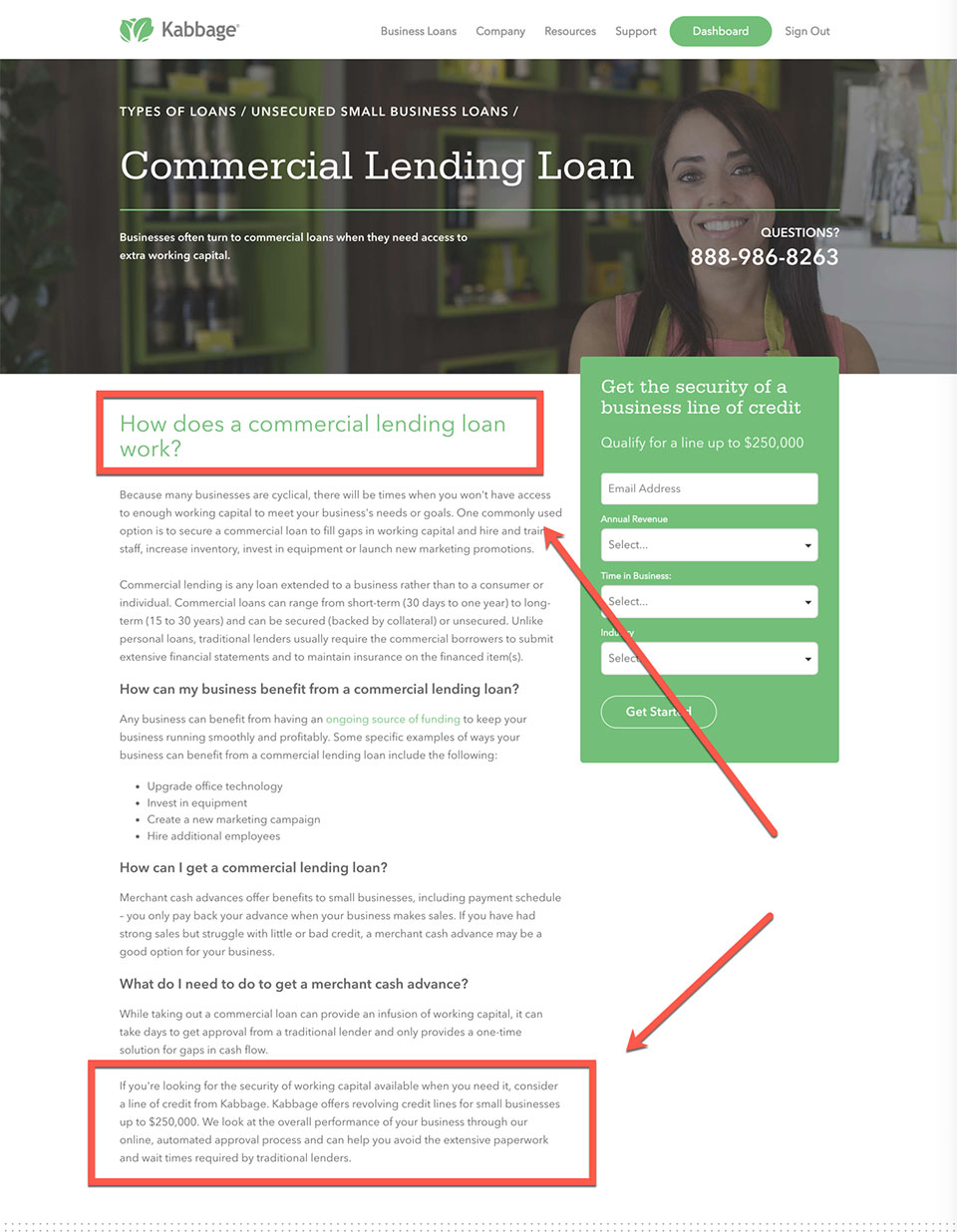 What's interesting is that Kabbage only offers one product – a line of credit – but they're driving traffic from dozens of related products and then trying to convert them to their product instead.
It's a good approach that's working well.
You can see for yourself here…
Email Marketing
Kabbage use Marketo as their email marketing platform.
What's interesting is that they don't capture the emails of visitors who don't start the application process (not sure why, because this seems like a HUGE lost opportunity to me)…
But they do use email marketing to engage with people who start the process, as well as with their existing customers.
Here's one of their 'abandoned cart' emails (for people who start the application but don't complete it) that was sent to me 2 days after I left the application process halfway…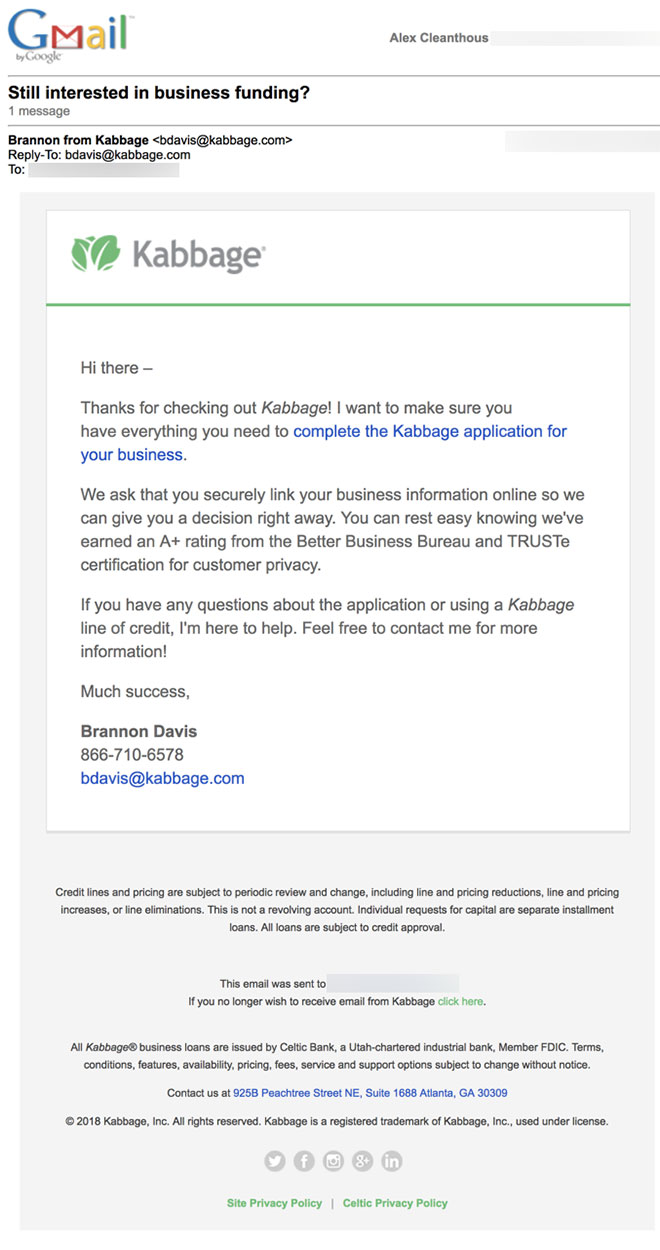 And this one that was sent 2 days after the last one…

And then this one 2 days later again…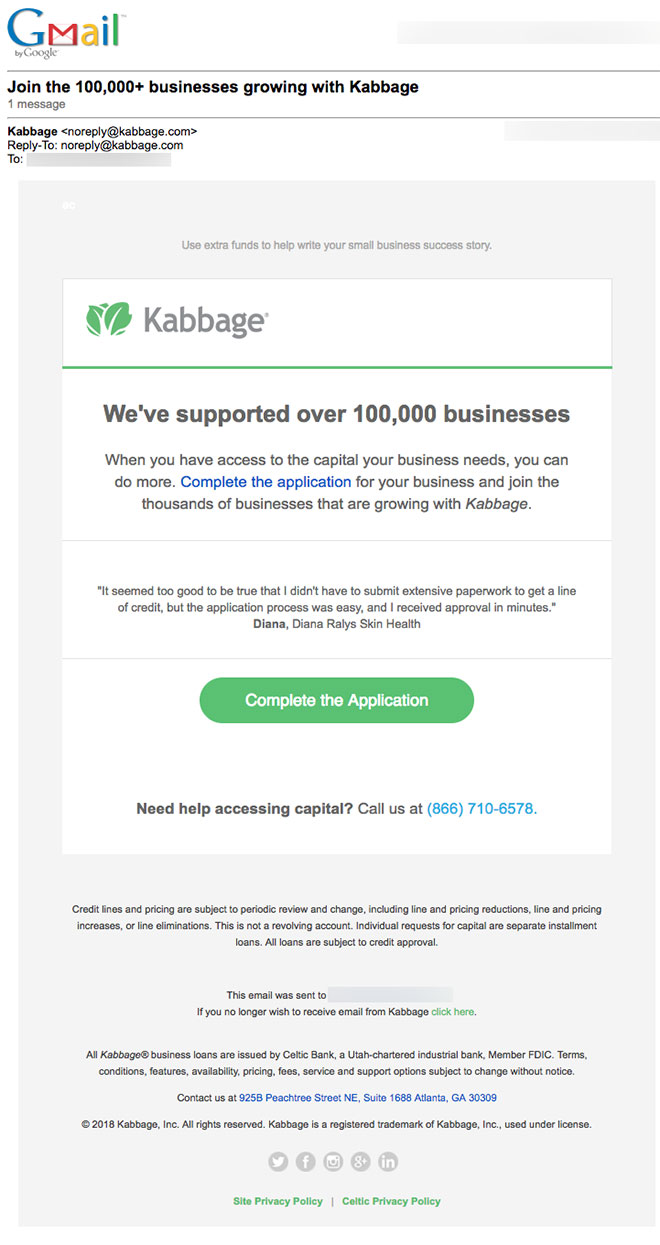 All of these emails follow best-practice approaches to 'abandoned cart' style emails including:
A subject line that says 'Still interested in…' and 'You're just a few clicks away from…'
Copy that tells you what you need to do to complete the transaction
Clear calls-to-action to make it completely obvious what the next step is
Kabbage are executing on email marketing really well (at least with 'abandoned cart' emails)…
And with more than 100,000 businesses that have used their service, there's a lot they're likely doing with email marketing in terms of segmentation, follow-up and engagement.
Reviews
Reviews can make or break the digital campaign for a business.
In fact, most consumers incorporate reviews as part of their purchasing decision when buying something new.
So when you see a company with thousands of 5-star reviews…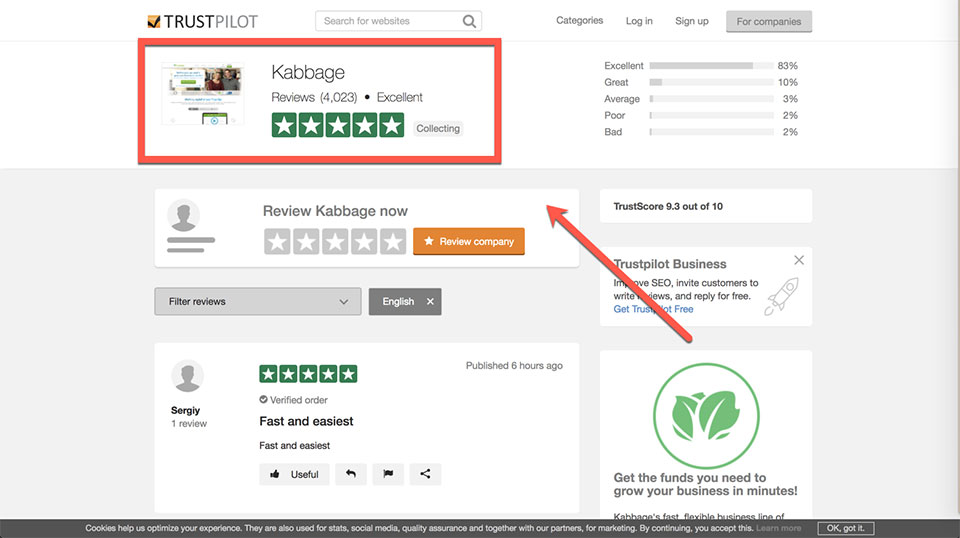 It's VERY compelling.
Just keep in mind that reviews like this don't happen by accident (at least not at this volume).
So it's likely through an email follow-up sequence to customers who have recently purchased (similar to what we did for Aussie Broadband).
What else are they doing?
From a marketing perspective, Kabbage's biggest growth drivers are coming from the channels I've just covered – display advertising, Facebook (and Instagram) advertising, search advertising (Google + Bing), SEO and email marketing.
BUT, they're also doing everything else a business should do (although based on the results I can see, it's not having a big impact on their growth).
Here's what else they're doing…
Blogging – publishing content regularly on their blog, although most of it is 'light' content and they're lacking any type of '10x content' that builds links and drives social shares.
Lead Magnets – sharing free PDF downloads that solve problems for their target market (like this one) – however the design isn't in line with the rest of their site (which is an issue) and the layout of the page could be a lot better (plus I'm not sure why they aren't promoting these lead magnets on their main site through a tool like Sumo).
Social Media – sharing content from their blog on social media – except they're not sponsoring any content which means most people aren't seeing it. They also share company updates like awards they've won, conferences they're attending, etc – but most of their posts don't have much engagement, which means it's more of a checkbox activity than it is a growth tactic.
YouTube – sharing videos they've published – however they only have around 1,800 subscribers and most of their videos have 1,000 views or less (which means they aren't spending any money on promoting the videos via YouTube Ads).
Affiliate Marketing – they have a referral program where they pay $250 per new account. There are a few sites that promote the affiliate link but it doesn't look like anything significant based on what I can see (I could be wrong here).
Apple Ads – targeting branded searches in the app store – again, not a growth tactic as they're just paying to target people who are already looking for their brand.
Creative Campaigns – like the cabbage.com and Motivation campaigns – although the social media engagement on these campaigns is very low compared to what they could be generating with a small advertising budget behind them.
Kabbage are checking all the boxes but they're leaving a lot of opportunity on the table (not like Koala.com, who are executing on everything flawlessly).
But even so,  focusing on the big growth drivers (mentioned earlier) and doing them really well, has been enough to drive the impressive growth they've achieved to date.
Now let's take a look at the website…
The website
At the centre of any digital growth campaign is a great website, and for Kabbage it's no different.
It's one of those examples that shows you just how little you need to drive a huge amount of growth.
The home page does most of the heavy lifting…

Here's the structure it follows…
Main banner with a clear headline and call-to-action
Benefits
How it works
Features
Case studies / testimonials
Call-to-action
Most businesses can follow this structure for their home page or even a landing page, and it will work nearly every time.
Kabbage also have dedicated pages that go into more detail about how the process works.
Here's the page that explains how to withdraw funds…

They include visuals of the desktop and mobile apps, and explain step-by-step how it works.
They follow a similar approach as that of most SaaS companies, showing their app being used as you scroll down the page so you can visualise yourself using it.
What's most impressive is how easy Kabbage make the process of getting finance look. It's a combination of great design, great copy and great imagery.
And as you would expect from such a fast-growing company, the site is both responsive and really fast.
Final words
Kabbage have provided more than $4 billion in funding to more than 100,000 businesses and are now worth over $1.3 billion themselves.
Their product has played a big role in their growth, as has their marketing…
…but it's the combination of the two that's made the biggest difference to their growth trajectory.
Kabbage have created a new business model by using analytics and data science to power their lending platform, and it's miles ahead of 99% of their competitors.
All they need to do now is continue getting their message out there through smart marketing and they'll continue to capture market share from their larger and less-sophisticated competitors…
And it looks like they're up for the task 🙂
DISCLAIMER: I have no association with Kabbage or their founders (yet). This review has been completed using publicly available information on the Internet. If you would like to get in touch with me, click here.