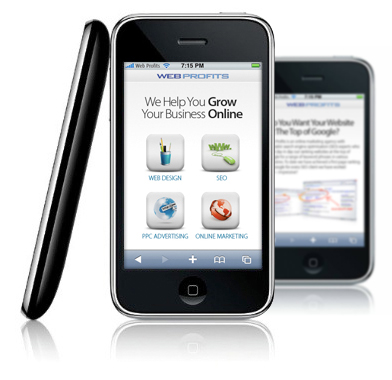 The stats are in and they're all pointing to one thing: people love their mobile phones and they're using them to go online… a recent study by Neilson found that 36% of Australians accessed the Internet from their mobile phone at least once in 30-days. The same study found that more than half of online Australians where likely to access the Internet via their mobile phone in the coming 12 months.
So how can you use this to help your business expand? Here are 5 mobile marketing strategies you can use to target clients and prospects on their phones.
SMS Marketing
One of the fastest and easiest ways to begin your mobile marketing campaign is through SMS marketing. All that's required is a database of mobile phone numbers that you have permission to market to and something you can offer them. If you already have a database of customers that have purchased from you in the past or prospects that have shown interest in your products or services then you've already completed the most difficult part of this strategy.
The next step is to develop a special offer and communicate it to your database to entice them to take action. This could be as simple as a limited-time offer or a loyalty discount. Once you have the offer, write a short call-to-action message that presents the offer clearly and succinctly. This message should clearly outline the benefit for the customer and how they can take advantage of it; usually either by phone, web or short-code text reply (eg. 'reply YES').
However, as there is a 160-character limit to SMS message lengths in some phones, your call-to-action should also be limited to about 135 characters (including spaces) to allow for the compulsory Opt-out mechanism.
There are a number of SMS messaging services that will allow you to import your database, message in bulk and setup the short-code text reply service. Make sure you do your research into the various alternatives and select one that suits your specific needs.
Mobile Web Design
A mobile website is essential for most mobile marketing strategies. Mobile users often find it difficult to read full size websites, even on the larger screens now available in smartphones, and full-sized websites often include larger images and file sizes designed to be used on high-speed Internet connections. These factors can make it difficult to view a website when away from a computer, but with a mobile website you are able to present your website's information in an easy-to-read and easy-to-navigate website that is compatible with your visitor's mobile device and much faster to download on the go.
Mobile websites work much in the same way full websites do, just in a more condensed format. With this in mind, the same design principles apply. Your mobile site should be visually appealing, easy to navigate, and use effective copy to communicate your messages. While the automated mobile website development systems can be tempting to use as a shortcut to creating your mobile website, most of them use an overly simplistic design with limited functionality. These will do very little in terms of selling to your customers or making them feel secure enough to purchase from you, and are really only effective if people have already made the decision to purchase from you and are just looking for contact information.
While SMS marketing can be implemented without a mobile website, having one can allow you to integrate the mobile site into your short messages. You can even setup mobile landing pages targeted to your SMS offers. For example, if you want to qualify the leads that come through, you could setup a simple mobile landing page to provide any additional information or requirements. This way, you could still have the short message outlining the offer and include a short URL to the landing page that provides additional information. Alternatively, perhaps your mobile website will more effectively sell your service. In this case, your message could simply entice visitors to click on the link from their smartphone to your mobile site where you can communicate further and provide additional features, such as forms they can complete to request more information.
Importantly, mobile websites also allow you to take advantage of the other mobile marketing platforms currently available.
Google AdWords for Mobile
Many of us already use Google AdWords for online advertising purposes because it provides a great way to target potential customers that are interested in your specific products or services. Google AdWords now allows targeting to users on mobile devices within the campaign settings. And with 73% of mobile Internet users now conducting online searches (compared with 30% a year ago) AdWords is definitely one of the top mobile advertising platforms available.
Ideally, a mobile campaign should be independent of any other campaigns that are already active. With that in mind, you should create a new campaign specifically targeted to mobile devices or duplicate one that already exists and update the settings to target mobile devices only. The Google Keyword Tool now even allows you to view search volumes on mobile devices to assist you in setting up these types of campaigns.
There are a few ways that you can use the mobile functionality in AdWords:
Targeting the search network on mobile devices works the same way as the desktop search network and ads will appear when mobile users search for a given keyword. Importantly, your ads must appear in the top 2 positions in order to appear above the search results on mobile devices. If they do not appear in the top 2 positions then they will be displayed below the organic search results or on sequential pages and you will receive very little market share.
Targeting the display network in mobile devices will allow your text or image ads to be displayed on other websites being viewed on mobile devices and even mobile applications. You will need to keep an eye on the mobile application placements as some apps are designed in a way that ads are clicked by accident. Watch out for any big drops in performance and remove any placements that are not producing results.
One of the features included is the ability to target specific carriers or mobile devices. If your mobile website is designed for a particular model of smartphone, or your demographic coincides with a mobile carrier, you can use the advanced settings to limit your ads to those devices or carriers.
While most features in this strategy work best with a mobile website as the destination URL, the new ad extensions in AdWords now also allow for your phone number to appear next to your text ads in the search results. This means that visitors can simply click on the phone number to call you without needing to click through to your website, which is a great way to allow searchers that are in a hurry to contact you quickly.
In-Application Advertising
Apple's AppStore recently hit 10 billion downloads. That's a very large marketplace with a lot of potential customers, and that doesn't even include Android mobile devices!
There are two primary services available for advertising within mobile applications; Apple's iAd and Google's AdMob. Both services work in much the same way, allowing advertisers to target specific users within the applications installed on their device.
Unlike the AdWords search network, this is not a direct-response marketing strategy but does offer the ability to target users by demographic, location, preferences, interests, device or carrier network, which is far more options than the AdWords display network.
While this advertising method is relatively new and still primarily used by larger companies for branding purposes, the sheer volume of users makes this a valuable method of marketing to prospects now and in the future. And with performance tracking similar to that in AdWords, a well-designed strategy could provide ample benefit to your business.
QR Codes / Image Scanning
Many of you may have heard of or even used 'barcode-scanning' in reference to mobile marketing innovations. This technique involves the installation of a QR (quick response) code reader on a smartphone. Once installed, users are able to take photos of the barcodes available in print media and be directed to the information corresponding to that specific barcode, such as a company listing or a mobile website (take a photo of the QR code from your phone using Google Goggles or a QR Reader App to see the mobile version of the Web Profits website).
While this strategy is not yet in widespread use in Australia, it can be very effective if used correctly and can be seen most frequently in business or technology magazines as well as some street posters, when readers are likely not at their computer but still have their mobile device with them. For example, a poster advertisement at a bus stop could include a small barcode in the corner that would direct the readers to a video on YouTube, a mobile website or even a Google Maps listing so that the readers can navigate straight to the location from wherever they are at the time.
However, a competing feature currently being tested by Google is the use of Google Goggles-enabled print ads. Google Goggles is an image recognition software feature built into the Google App on iPhone and Android devices. It works simply by allowing advertisers to list the print media they will be using to advertise and then connecting it to relevant information, such as a video or website. Users are then able to take photos of the print media (such as the entire bus stop poster) and are then presented with the corresponding information listed by the advertiser, much like the QR code functionality available now.
Goggles-enabled print ads are currently only being tested by a handful of larger companies in the US, but if made available the lack of additional software required could provide a much easier method of connecting image scanning to businesses.
What Next?
With all of the new mobile technology available and the new innovations due to be released in the next 12 months, now is the perfect time to get your mobile marketing strategy underway. More and more people are depending on their mobile devices and it is essential for the growth of your business to get started as soon as possible.
What do you think?