15 Facebook ads lessons from Singapore's top companies
Ready to take your Facebook marketing to the next level? Many companies create exceptional designs and carefully compose their copy, but miss crucial opportunities for success at the final hurdle, promotion. After all, a great piece of collateral that is seen by the wrong people (or worse, by no one at all), is like printing thousands of leaflets, and leaving them to gather dust in your office.
Looking for the missing link for your ads? From imagery to copy to ads strategy, even simple tweaks can make all the difference to a campaigns success. Here are 15 Facebook Ads that are getting things right, and the lessons that you should take from them.
Singtel – Singtel Fibre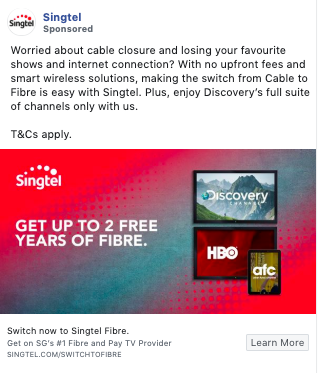 What it is: This is a pretty simple offer, selling a more stable connection to Pay TV, directed to a landing page form.
What we love: If there's one piece of advice we can give when designing ads: keep a close eye on your image copy, and test it on mobile! The biggest mistake we see in images comes from squeezing so much messaging and disclaimers on images that the ad ends up with size 2 font, just to make it compliant with Facebook's text percentage maximums. And when most designers are creating imagery on a widescreen monitor, it's easy to assume that it's legible. What happens instead? The 80% of users on mobile can't read it, and they scroll right by…
The lesson: Try to put less than 10 words on a Facebook ad. This will keep it clear, concise, and readable, wherever it's served.
Lazada – Retargeting Coupon Offer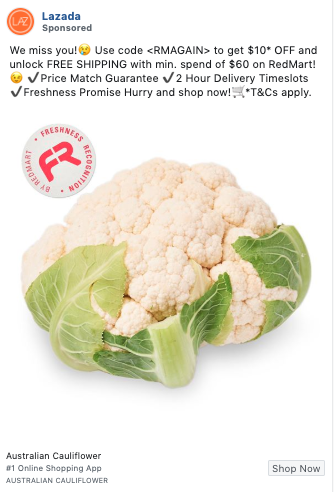 What it is: This is a remarketing offer, serving a coupon code to those who have previously visited Lazada. Commonly these codes are served to those who have started a purchase but failed to complete it, known as 'abandoned cart'.
What we love: Why a cauliflower? Because the people chose cauliflower! This ad uses Dynamic Creative, a tool that lets the advertiser choose multiple options for imagery, video, post copy etc, within one ad. Facebook will then test many combinations, before settling on the ones that generate the most of your selected goal.
Not only does this help find the most effective ad combination, it can provide you with a little free market research. What colour shirt generates the most clicks? Long copy or short? Dynamic Creative can give you a great starting steer.
The lesson: Stay up to date with ads features! Facebook releases new options all the time. Save a small amount of spend for testing new features, to allow you to scale your marketing and discover more profitable options.
Singapore – Premium Economy Campaign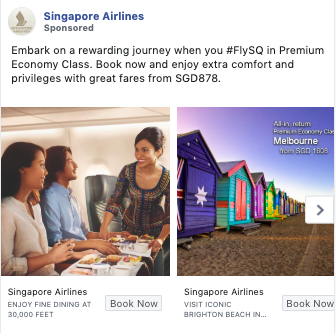 What it is: This is a pretty standard carousel ad for Singapore Airlines' Premium Economy class. Standard imagery, standard text.
What we love: What makes this ad inspiring is not the content, but the strategy. Singapore Airlines is serving this ad to 5 audiences, and replicating the strategy across many of their routes.
The lesson: Many features of Facebook ads have been described as 'best practice', but the real best practice is to test! Just expanding your Facebook ads to a handful more audiences can dramatically improve your campaign's performance. This is true not just for imagery and copy, but also for bidding methods, objectives and audiences.
Resorts World Sentosa – A Little More WOW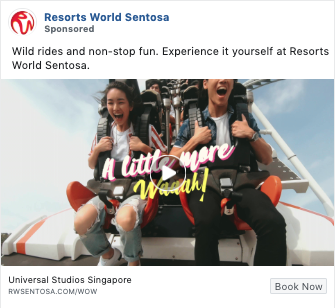 What it is: This ad is part of a series from Resorts World Sentosa, promoting direct bookings for each of their attractions.
What we love: For their campaign 'A Little More WOW', RWS personified each of their attractions as a sound of joy associated with that attraction – the above is the 'waaah!' of being on a rollercoaster. It's creative and charming, but it also does something pretty special, which very few ads achieve: Even if you watch RWS's video on mute, you're not really watching it on mute. The creative is evocative and nostalgic enough that your mind fills in the blanks, and you can almost hear the 'waaah!' in your mind.
The lesson: A direct response campaign can still be deeply emotive. Consider what there is to love in the experience of using your product, and how your ads can bring a piece of that experience to life.
Singapore Police Force – Be a Protector, Be a Police Officer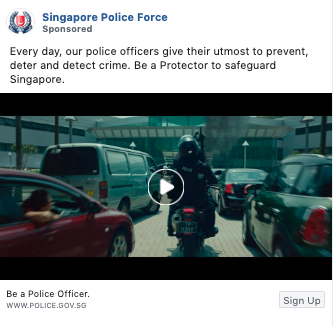 What it is: This is a video recruiting officers for the Singapore Police Force
Why we love it: People come to social media to be entertained! Even the thumbnail for this video looks like a Liam Neeson movie, and the video is packed with action.
The lesson: One of the most effective things a brand can do is to serve content that people actually enjoy. If there's a funny, cute, action-packed or otherwise useful aspect to your product, show it off. If you're a food company, why not produce recipes? If you sell fashion, provide styling tips featuring your clothes! Catering to the needs and wants of social media users is a surefire way of staying memorable and gaining engagement.
KFC – Ramadan Sharing Meal Campaign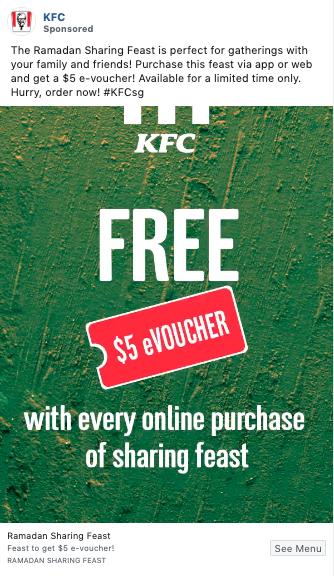 What it is: This ad promotes an offer for KFC's Ramadan deals, offering free vouchers.
Why we love it: Look at the call to action (CTA). Facebook has introduced many new call to action buttons, from 'Play Game' to 'See Offers'. When making the journey offsite from a Facebook ad, users want to know why they're clicking, and then they want their expectations met. By selecting 'See Menu', KFC specifically flag where the ad is going, and prevent confusion. As a rule, confused users bounce from your site.
The lesson: Choose your CTA carefully to match your content. Using a general 'Learn More' button on everything leaves a user in the dark, and sometimes, fails to flag what they might need to take you up on your offer. If they see 'Book Now', they instantly know they'll need their diary or calendar handy. They're able to accurately assess the ad, and if necessary, save the post for later.
Health Promotion Board – Let's Beat Diabetes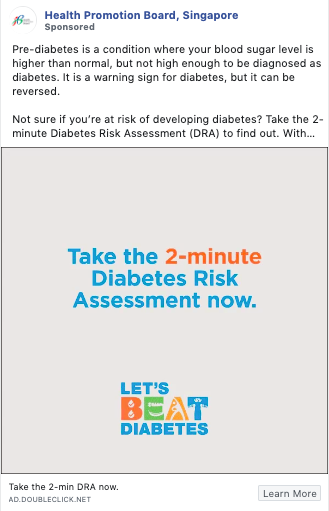 What it is: This ad from the Health Promotion Board promotes an onsite quiz, which assesses the user's risk factors for Type 2 Diabetes.
Why we love it: Most of all, we love that this ad got approved by Facebook. We often hear from healthcare companies that it's close to impossible to market on Facebook, due to Facebook's restrictions on content. They explicitly request that advertisers not even subtly imply that someone has an illness, which means typical copy like 'Got a cold?' or 'We can help you feel better!' are out. But this shows healthcare done right, focussing on the illness and not the user, to ensure that the ad can have a long lifespan on Facebook.
The lesson: Facebook can be a viable platform for healthcare marketing, particularly when driving traffic to a landing page for lead capture or education. Getting ads approved is a common struggle, but by closely reading a platform's terms of service and taking inspiration from successfully approved ads, a strategy can be engineered.
Carousell – Swiftquote Scrap Campaign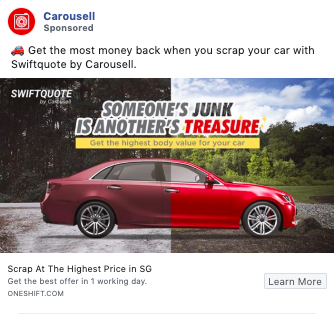 What it is: This ad promotes Swiftquote, the car scrap/sales/export functionality within the Carousell app.
Why we love it: It's hard to stand out in the Facebook feed, but this ad relies on a tried and true piece of design knowledge – contrast draws the eye. Using colour, brightness and contrast to symbolise the 'bad' and 'good' option, this ad clearly says to the viewer 'something big has happened here', which draws the viewer into reading the text, and consuming the offer.
The lesson: When it comes to communication, there's more to an image than just the picture. Encourage your designers to play with font, colour and filters to create a visual identity that's uniquely you.
Wish – General eCommerce Campaigns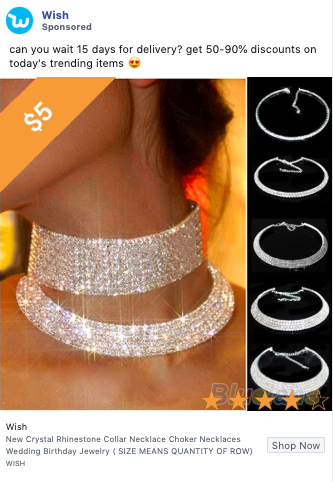 What it is: Come on, surely everyone in the world has been served a Wish ad? This eCommerce giant has spent hundreds of millions of dollars targeting consumers with the weird, the wonderful and the very, very cheap.
Why we love it: What do you want a Facebook ad to do? There's a natural urge to say 'we want people to want to click!' But when it comes to Wish, there's a little more to it. Why? Because Wish packages may take as long as 45 days to arrive, more than the vast majority of eCommerce sites.
So, how do you mitigate a customer service disaster? According to Wish, be up front about the worst case scenario. Lead qualification is built into the ads copy. Can you wait 15 days for a package? Then you're the kind of person we'd like to talk to. We promise the discounts will make it worth your while.
The lesson: As a social platform, Facebook is the last place to advertise if you're trying to conceal aspects of your company or product. By owning exactly what the offer entails upfront, you'll only pay for the traffic that has the potential to convert, and if you have an internal salesforce, they won't waste time on leads that won't close.
Airbnb – Host Generation Campaign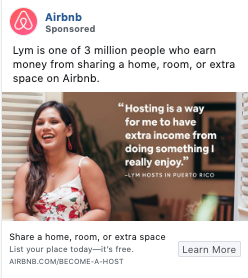 What it is: This is a supply-generation campaign from Airbnb, encouraging signups of new hosts.
Why we love it: Every marketer loves a glossy stock image photo or staged flat-lay, but customers are craving authenticity and social proof. By featuring real hosts, in their real homes, with direct quotes, Airbnb create an illusion of unbiased endorsement of their service, which really helps create trust.
The lesson: Generate (and amplify!) reviews of your product or service. Forbes reports that online reviews impact 67.7% of purchasing decisions, so it's time to let reviews work their magic for your Facebook ads.
Nebia – Nebia Shelf eCommerce Campaign
What it is: This is an ad for… a set of hooks. And I want one.
Why we love it: Through carefully considered styling and photography choices, Nebia manages to make a soap dish with hooks look Pinterest-perfect. That's not an easy feat to accomplish, but they've done it!
The lesson: Invest in high-quality creative collateral. Gorgeous product photography and video will add an edge to your ads, and could turn your products from mundane into uniquely desirable.
Delegate – Wedding Checklist Lead Magnet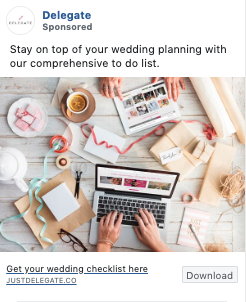 What it is: Delegate is an online booking platform for event services – catering, venues, DJs, you name it. This ad promotes a downloadable wedding checklist.
Why we love it: For items with a long time from awareness to sale, there is value in just collecting contact details, like this offer targeting email capture. If you're willing to invest in an automated email sequence for leads, you'll be able to educate over days, weeks or months, nurturing leads to the point of sale.
The thing that will make this campaign successful is a keen level of customer insight: Delegate know who their highest paying customers are (brides-to-be), and they know what those customers want – resources that provide assistance to those without a wedding planner, and a sense of control at a stressful time.
The lesson: You don't always need to cut straight to the sale or enquiry. Downloadable resources provide value to the prospect, and request little in return, making them a perfect way to get your foot in the door and start securing a big-ticket sale.
Xero – Don't Get Left Behind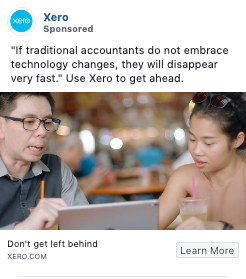 What it is: This is a video campaign from business and accounting software provider Xero, presenting a case study of a traditional accounting firm's move to embrace technology.
Why we love it: If you haven't read Andy Raskin's The Greatest Sales Deck I've Ever Seen, stop reading this article, read that one (joking, obviously. Open it in a separate tab). In it, he introduces the '5 elements of a brilliant sales narrative':
Name a Big, Relevant Change in the World
Show There'll Be Winners and Losers
Tease the Promised Land
Introduce Features as "Magic Gifts" for Overcoming Obstacles to the Promised Land
Present Evidence that You Can Make the Story Come True
Xero have done the best job of translating this to Facebook that I've seen thus far.
The lesson: Tell a gripping story of how your product directly impacts the life and livelihood of a prospect. If it's a case study, even better, because it'll allow you to combine storytelling with relatability.
Shopify – Turn Your Hobby Into Your Business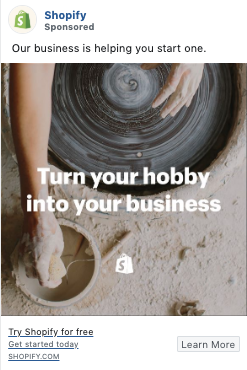 What is it: This is an ad promoting the eCommerce platform Shopify to hobbyists.
Why we love it: While enterprise-level businesses use a variety of eCommerce platforms, Shopify is widely regarded as the default for small creators. They don't require much technical knowledge to set up, and they're reasonably priced. This solid bedrock of awareness within the industry allows Shopify to prioritise category expansion over market share. In ads like this, Shopify does offer a free trial CTA, but the creative does not focus on the features of their platform that would lead a creator to switch platforms. Instead, Shopify markets the allure of making money from creating crafts, a general premise that more promotes the starting of a small business.
The lesson: When selecting selling points to amplify through Facebook ads, don't just consider what makes your product different to others in your category, consider what makes your type of product more awesome in general.
DBS – DBS Altitude Card Miles Offer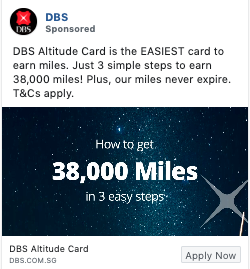 What it is: This is a signup offer for DBS's credit card, for new users to generate frequent flyer miles.
Why we love it: Almost everyone on social media has had a similar experience: they've gotten halfway through a purchase, enquiry or signup process, thought 'this is taking too long', and quit. That's why a promise that something will be quick and easy (as long as you can keep it!) is very powerful on social. Users are used to consistent browsing, and getting through a lot of content quickly.
The lesson: If you're going to advertise a process on social, make it snappy, and then show it off! Language to describe an application process like 'in 2 minutes or less' entices casual browsers to commit to your offer.