Snap Your Way to Success: The Snapchat Marketing Playbook
Snapchat is still a relative baby on the social scene. Most people have heard of it, sure. But far fewer of us really understand how it works or why it's so popular ("Isn't that the one people use to send naughty pictures to each other?").
Yes, it was. But thankfully, Snapchat, and its users, have moved on to bigger and better things.
If you'd like to know more about Snapchat, how it works, and if you can – or should – be using it for your business, then read on
Download as a PDF
What You're Going to Learn In This Playbook
Although Snapchat is really easy to use, there's still a lot you need to know if you want to ensure you're utilizing it to its full potential. That's exactly what you're going to learn in this playbook.
Specifically, that includes:
The Huge Appeal of Snapchat
By May 2015, Snapchat had amassed around 100 million daily users (about a tenth as many as Facebook). By December, that number had increased to 110 million, surpassing daily user numbers on Twitter.
In January this year, it was reported that Snapchat users send approximately 9,000 snaps a second.
Interest in the app shows no sign of declining, either. Just check out Google Trends' data:
So what's the appeal?
More than 100 million people use Snapchat every day, including a massive 41% of 18 to 34 year olds in the United States. Snapchat users are also watching in excess of 10 billion videos a day. That's a huge potential reach of highly-engaged users – especially if you're targeting the under-35 crowd.
On a user-to-user basis, a huge part of the attraction of Snapchat is its raw, real, fleeting nature.
Unlike on other social platforms, there are no comments. Pictures aren't perfected via Photoshop before appearing in the app. Snapchat allows people to show themselves as they really are, and enables them to view others in the same way – which, in a world that is usually heavily edited, is really refreshing.
Each snap is (theoretically) only viewable by recipients for up to 10 seconds (assuming recipients don't capture it in a screenshot).
Our actions on most sites leave a permanent footprint, which means we're (rightly) told to watch what we say and do on social media.
By comparison, Snapchat is a big breath of clean, countryside air. Interactions that take place via the platform (shouldn't) leave a record, which is a huge reason why users feel more comfortable sharing their real selves.
And that's largely why Snapchat's initial success was as a sexting app.
But not anymore.
Snapchat's celebrity user base includes everyone from the Kardashians (no surprise there), to music stars like Gwen Stefani (pictured below, username "itsgwenstefani"), Calvin Harris (username "calvinharris"), Rihanna (rihanna), and Madonna (madonna), as well as actors like Jamie Foxx (iamjamiefoxx), Chris Pratt (chrisprattsnap) and Jared Leto (jaredleto). Even the first lady, Michelle Obama, can be found on the app (michelleobama).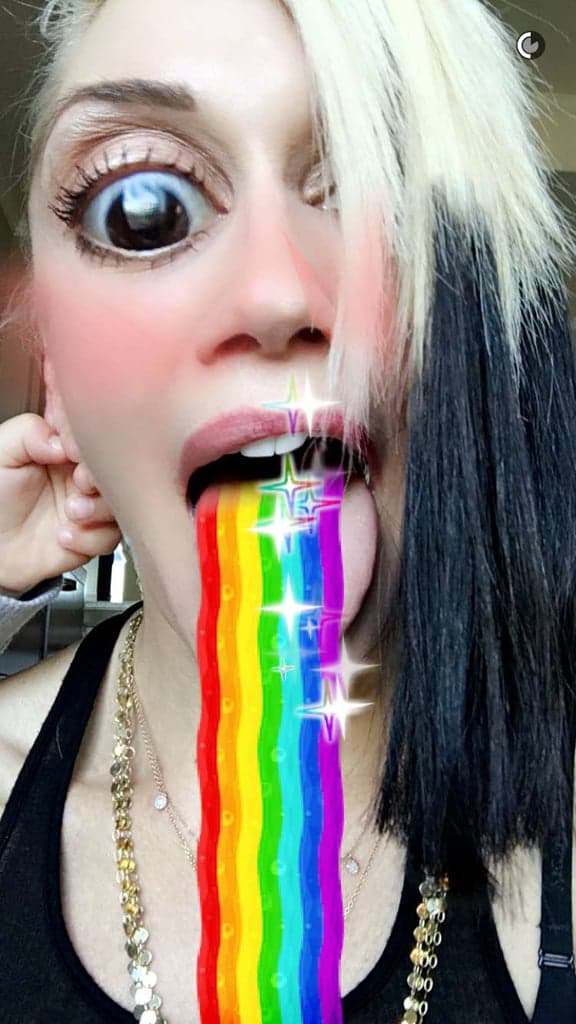 Image Source: Tren Hunter
Brands that have jumped on the Snapchat bandwagon include Marriott Hotels (marriotthotels), Irish airline Aer Lingus (aerlingus), carmaker Audi (audi), and Amazon (amazon).
So what is attracting brands to Snapchat? Surely the time-limited nature of the content means investment in the app is a waste of time?
One of the reasons I – and I think so many other people – love Snapchat is that it's so easy to use. Followers don't expect, or even want, to see the picture-perfect photos that populate Instagram or the big-screen-worthy videos seen on YouTube.
All Snapchat users really want is a glimpse into your life, or the life of your brand.
"Snapchat is all about fun and in-the-moment experiences, and as its popularity grows, there's a real opportunity for brands to be exposed to this very engaged audience." Sharyn Smith, Social Soup
Most other platforms come with unwritten rules about how they should be used. Only your very best snaps should be posted to Instagram, while videos should be edited to at least a semi-professional standard before being uploaded to YouTube. Sure, brands can and do post crap to both platforms, but if you want to get anywhere, you need to be publishing high-quality content.
None of this applies to Snapchat.
It's raw and real, and that's what makes it so appealing – whether in a user-to-user or brand-to-user context. Not only is it exciting to get an unedited insight into the lives of other people, but it's ideal for content creators who can produce content with minimal time, planning, or in fact, effort.
Basically, once you know what you're doing, Snapchat provides a surprisingly easy way to market your business.
Another big attraction for Snapchat (and something that differentiates it from other social networks) is, in fact, something it doesn't have: the ability to leave comments.
At first, this might feel like a weakness in the app's functionality, but it really isn't. If you're after a social app that allows comments, take your pick from literally any other. If you want raw and real video, along with the ability to leave comments, try Periscope.
The lack of a commenting feature gives Snapchat a unique edge that goes hand-in-hand with the blink-and-it's-gone nature of content published to the platform. It lets users feel more free and less inhibited with what they post, on account of the reduced risk of being subjected to criticism (that's not to say that being an utterly insensitive idiot and potential criminal won't result in a backlash).
You also might be surprised to learn that, even without a system that allows commenting, engagement on the app is – reportedly – massive.
This is also due to the fleeting nature of the content. Content published to most other platforms tends to remain online permanently. This means there's no rush to consume it, and most of the time it means that we don't consume it at all.
We behave very differently on Snapchat.
If we're following someone we have a particular interest in, and we know any content they publish is going to disappear within 24 hours, we know we need to make a conscientious effort to visit the platform and consume that content – otherwise we will miss out.
A similar phenomenon occurs when we're sent snaps privately. Users know that once they open that message they will have no more than 10 seconds to view it before it's gone forever.
That knowledge leads to FOMO (fear of missing out) and generally means we have our recipient's full, undivided attention from the moment that message is opened until the moment it self-destructs.
Bob Wolfley, who runs social media at MeUndies said, "We've been so trained by the constant rush of content on all these other social media networks that we mindlessly cycle through it to kill time. The fact that you know a snap is going to disappear makes you want to pay more attention to what you're watching."
Who Should Use Snapchat?
Snapchat isn't for everyone. If you're a B2B marketer targeting top-level executives, you're probably not going to find your audience on Snapchat (nor are you likely to be able to reach them effectively, even if you do find them).
If, however, you're working for a B2C company targeting a young audience (35 being a good approximate cut-off point), Snapchat could be the perfect addition to your inventory of social media weaponry.
Understanding the Difference Between Snaps and Stories
Snapchat offers two primary functionalities: "snaps" and "stories."
"Snaps" are single photos or videos (lasting up to 10 seconds) that you send to one or more handpicked recipients. Each photo is set to "self-destruct" between one and ten seconds after it's first viewed (you choose how long it's viewable for). Videos self-destruct as soon as they've been viewed.
Unsurprisingly, it is this feature that caused the app to become synonymous with sexting.
While you might utilize snaps in Snapchat for marketing (mainly if you succeed in building close relationships with particular users), it's Snapchat's "stories" feature that is going to be the main weapon in your arsenal.
Stories are a series of snaps (i.e. photos or videos) that you post publicly to your entire following. Like snaps, stories have a limited lifespan, but it's much longer – 24 hours. Your followers can tune in to watch your latest story any time in those 24 hours, and can watch it as many times as they like during that period.
A story is built up throughout the day – you don't create and publish it in one go. Instead, each time you take a snap, you can add it to that day's story. Once added to your story, the snap becomes publicly viewable.
To clarify, stories are viewable by anyone who follows you, for 24 hours after publication, after which they disappear into oblivion.
Snapchat Basics
Setting Up Snapchat
This part couldn't be much easier. Honestly. You don't need to worry about writing bios or uploading profile pictures and cover photos. You simply download the app, enter your email, choose a username, choose a password, and away you go.
Configuring Snapchat
You don't need to do this bit to use Snapchat – you can start taking and sending snaps simply by downloading the app.
At some point, though, you're going to want to add a few details – your name and photo, for starters.
To do this, click on the Snapchat logo (that's the ghost). It will be in the top center of the main screen (that's your camera screen).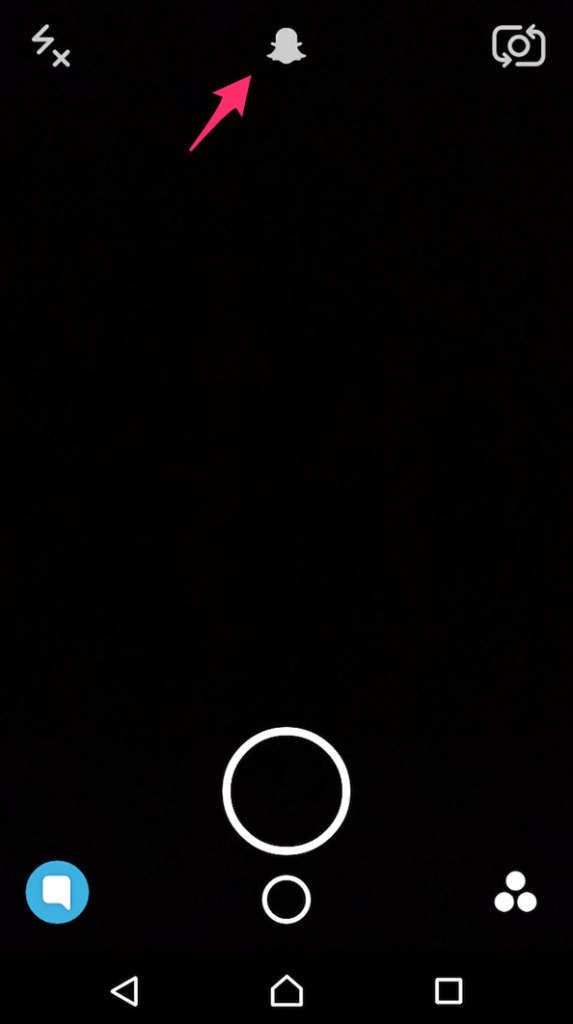 Image Source: WPCurve
From here, you can add a picture by clicking on the Snapchat logo in the center of the screen. You can also access more settings via the cog symbol in the top right corner.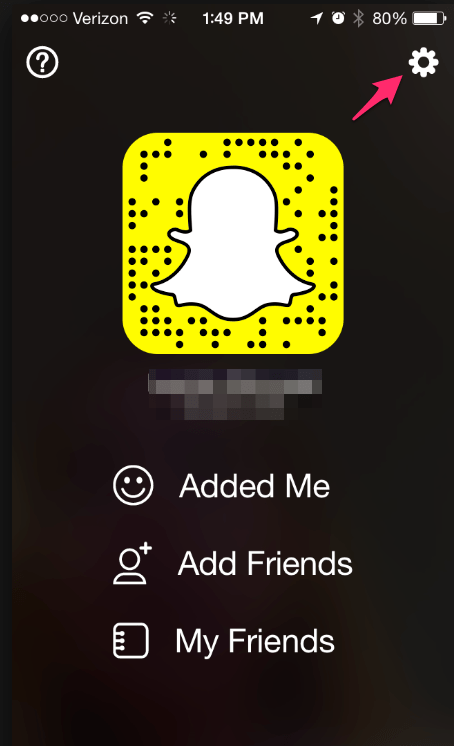 Image Source: WPCurve
As a marketer, there are a couple of settings you're probably going to want to make sure you change. The default setting for both "Contact me" and "View my story" is "My friends." You'll want to swap both settings over to "Everyone."
Taking a Snap
Understandably, this bit is pretty easy. The app's main screen is the camera screen. To take a photo, press the large circle in the bottom center of the screen.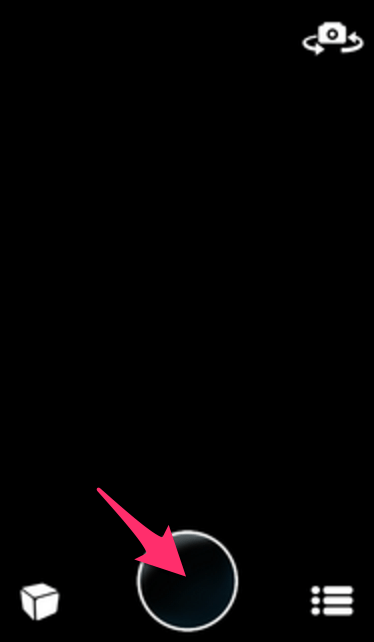 Image Source: WPCurve
To take a video, hold that same circle down (and keep it held down for the duration of the video).
To switch between normal and selfie mode, either double click on the screen or click the camera icon in the top right hand corner.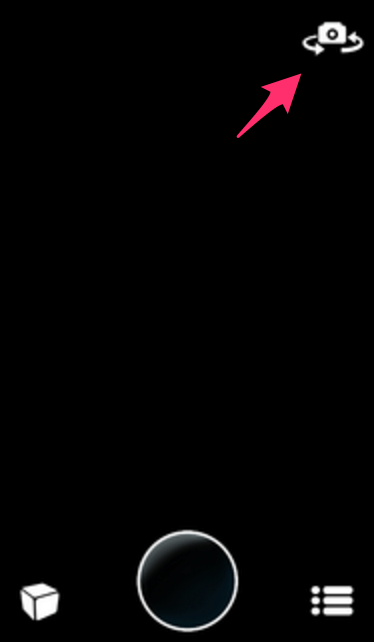 Image Source: WPCurve
Once you've taken your snap, you can add images, draw over it, or add text, by using the buttons in the top right corner.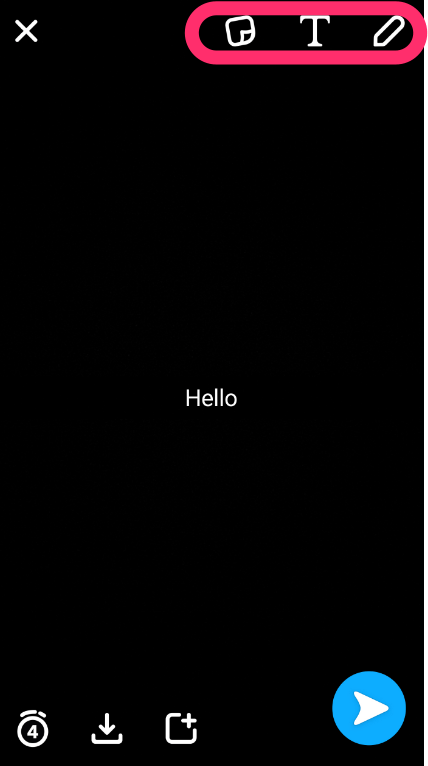 Image Source: WPCurve
Bonus tip: When adding text to images, remember that your recipient will have a maximum of 10 seconds to view the photo and read your message, so keep it brief.
You can also save your snap to your phone and change how long said snap will have until it self-destructs using the buttons in the bottom left corner of the screen.
Image Source: WPCurve
Adding Contacts
To find and add friends and contacts, click the Snapchat logo while on camera view (it will be in the top middle of the screen).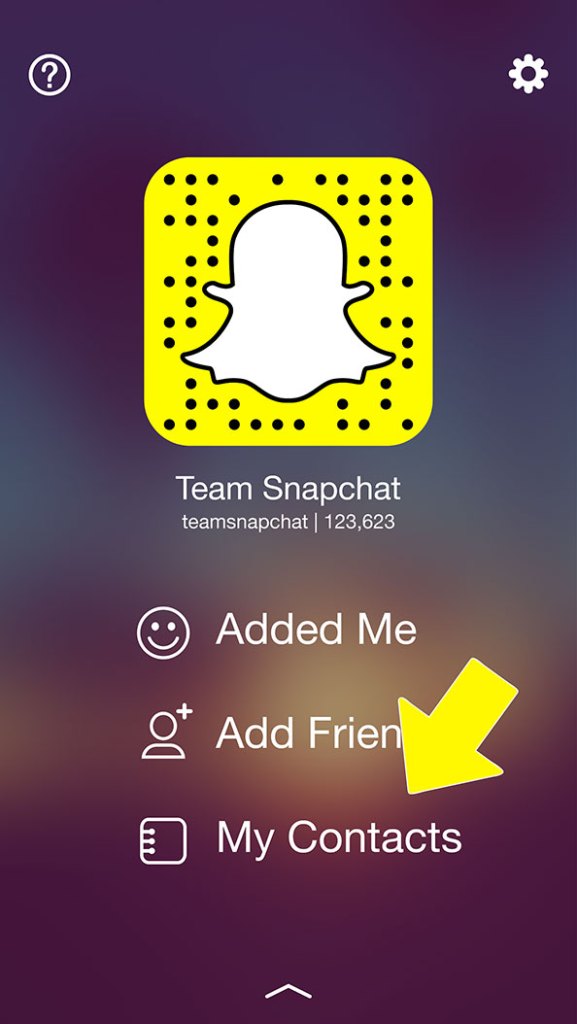 Image Source: WPCurve
From here, you can add users directly from your phone's address book or by searching for their username.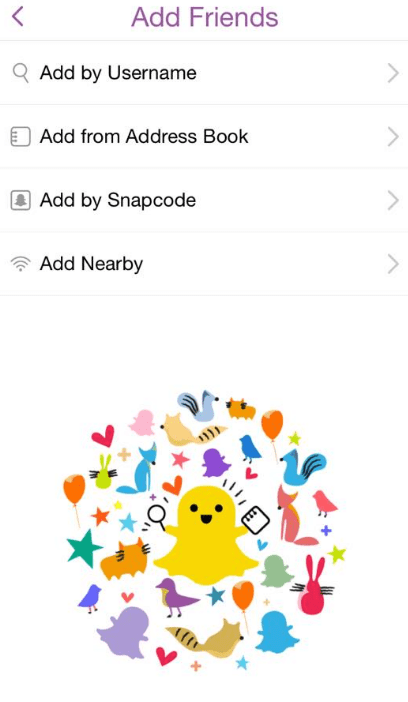 Image Source: WPCurve
You can also add people via their "Snapcode." Remember the epic failure known as QR codes? Snapcodes are essentially the same thing, except this time they're actually pretty useful.
To add someone via their Snapcode, you'll need to take a screenshot of it on your phone. You then simply choose "Add by Snapcode," select the relevant screenshot, and Snapchat will work some crazy wizardry to find that user and add them to your contacts.
The great thing about Snapcodes is, like QR codes, you can publish them anywhere. This means you can include them on your website, in your email signature, and in offline marketing materials.
To access your Snapcode you'll need to open the main menu (via the ghost logo) and click on your profile picture. This will expand and become your Snapcode, which will look something like this: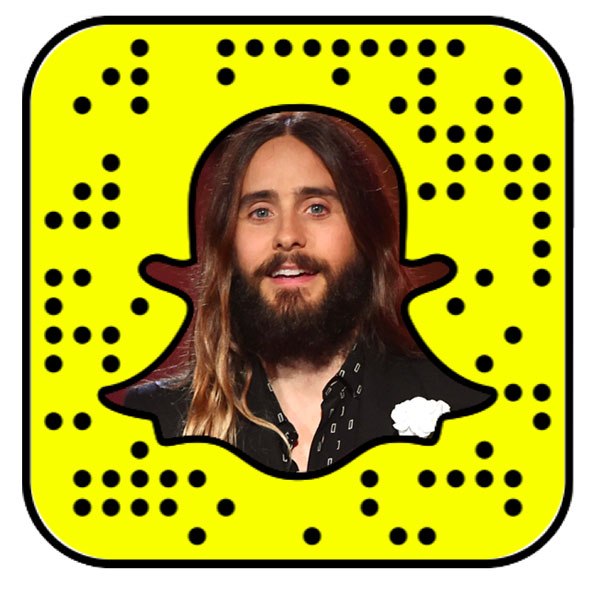 Image Source: WPC
Last but not least, you can "Add Nearby" contacts. To do this, select the bottom button on the "Add Friends" page. This is useful when you want to add a group of people all at once (for example, when you've been chatting with a few people at a conference).
Bonus tip: To use "Add Nearby," all parties involved will need to have the feature open on their phones at the same time.
Sending a Snap
When you've taken a snap you're happy with, you can send it using the blue button in the bottom right corner of the screen.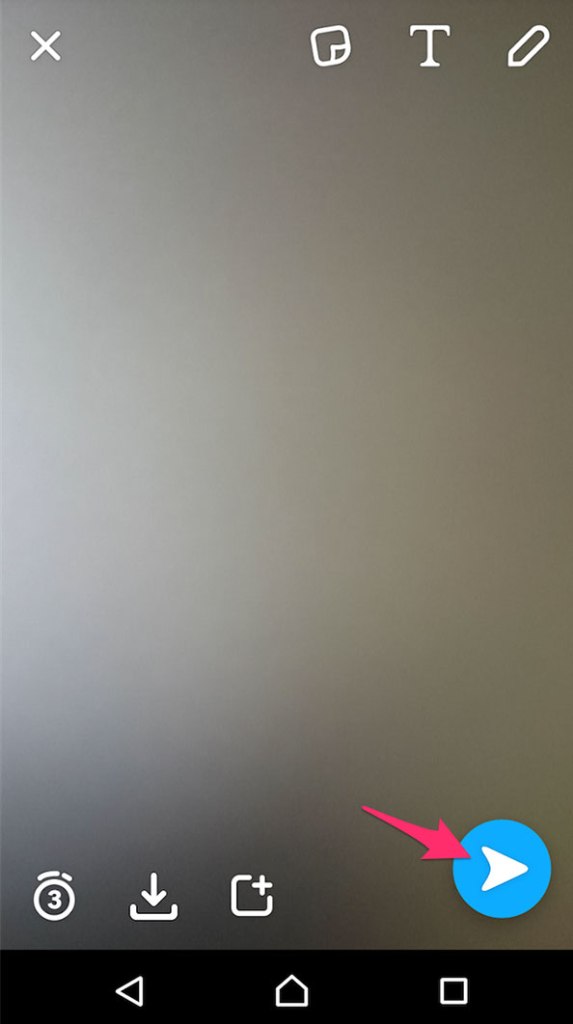 Image Source: WPCurve
This button will take you to a screen that looks something like this: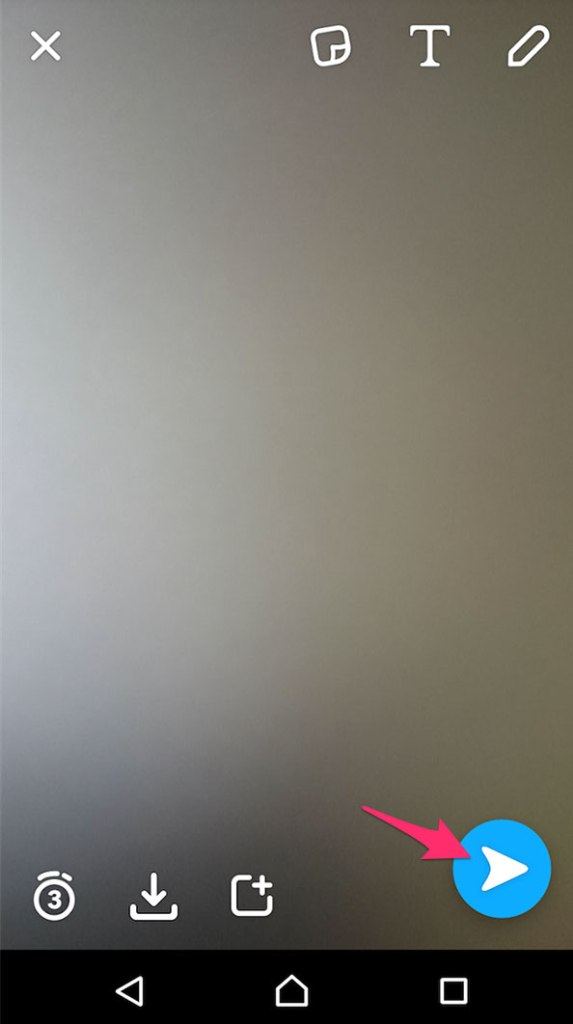 Image Source: WPCurve
To add a snap to your story, just tap the circle that appears to the right of "My Story." Alternatively, you can send your snap to one or more contacts by ticking the respective boxes. You can also add a snap to your story and send it to your contacts simultaneously (although you might want to avoid doing that – I'll talk more about that later).
How to Market On Snapchat in Nine Steps
Snapchat's a pretty unique platform. You might have mastered the art of marketing through Facebook, Twitter, and LinkedIn, but Snapchat's another game entirely.
Before we get into the nitty-gritty details, here's a step-by-step run-through of everything you need to do and know to begin marketing yourself or your business through Snapchat.
1. Download the app and create your account.
Pick an appropriate username (as close to your name or your business name as possible).
Use the "find your friends" feature to kickstart your profile.
Take a selfie for your profile pic (which is also your QR code). Want your company logo in place of your face? You can learn how to do that here.
2. Start taking snaps.
Taking snaps isn't hard, but it's worth getting some practice in before you start building an audience. We've all got to start somewhere.
3. Begin following other people.
That might mean…
Following people you follow on other social media networks (just hit up their other profiles – if they use Snapchat, chances are they'll mention it).
Browsing lists and directories of Snapchat users. Here are a few to get you started:
Asking people you meet if they use Snapchat.
4. Carry on creating snaps.
It doesn't matter how many followers you do (or don't) have. Familiarity with the app is key, so keep snapping away, even if nobody's watching.
5. Start engaging with other users.
Send snaps to people you want to follow you back (they don't have to be following you to receive your snaps). Don't just send them anything, however. Personalize your snap to the recipient – link it to a recent snap they shared. Alternatively, just come out and say why you're contacting them – because you want to say hi, and you want them to follow you back.
Send a "thank you" video to each person that follows you.
Reply to other snaps with snaps of your own.
When a snap response isn't appropriate, utilize the chat function.
6. Find your "edge."
Figure out what it is that's going to make you "you" on Snapchat. Are your snaps going to have a running theme? A certain style? Be filmed in a particular location? This step's been left until now to give you time to figure out Snapchat, become familiar with what others share, and get a handle on creating and sharing content on the platform.
Now's the time to decide what you're going to offer your audience, and what it is that will make you unique.
7. Implement off-app strategies for growing your following.
Add your Snapchat username to your other social profiles, your email signature, and your website.
Add your QR code to offline marketing materials.
Repost Snapchat content to other platforms (just make sure to include your Snapchat username in any descriptions).
Use Facebook's "clicks to website" ads to promote your Snapchat account to your Facebook following and email list (just add a link to your Snapchat profile (https://www.snapchat.com/add/YOURUSERNAME) instead of your website link. Expand this and create ads that target people who have expressed an interest in your industry or what you do.
Feature your Snapchat in your email marketing, and include images or videos from your best snaps.
Ask everyone you meet to follow you.
8. Keep snapping; keep engaging.
Increase how often you're snapping. Story content lasts 24 hours, so try to publish something at least once a day. At this point, consistency is key. No one wants to follow users who never interact with the platform.
The more your following grows, the more difficult it's going to become to reply to every snap and message. You're going to reach a point when it's impossible. When that happens, you'll know you're doing something right, so that's a good thing. You just have to prioritize where and with whom you spend your time.
9. Drive conversions.
Snapchat is a social platform. Use it first and foremost to build relationships and in turn, the profile of your brand. However, it's okay if you also want to use the platform to generate conversions and sales – just keep the hard sells few and far between.
Share exclusive promotional or discount codes.
Let your Snapchat audience get the first look at new products (and the chance to buy before anyone else, too).
Offer free content (like an ebook) exclusively to your Snapchat following. This is a great strategy for collecting emails and getting yourself into a position where you can market to your Snapchat followers in other ways, as well.
What You Should (and Shouldn't) Be Snapping
As a marketer using Snapchat, you shouldn't be using it to directly market your company or products.
Most of the time, anyway.
That's probably going to be one of the biggest challenges you'll face as a marketer on Snapchat. It's natural (as marketers) for us to question how a new platform can engage customers, drive traffic to our site, and generate leads or sales.
Even if you're not questioning it yourself, there's a chance someone you answer to "up top" will be.
Most platforms, despite masking themselves as "social networks," are configured to make achieving those goals easier. Facebook, Twitter, and now Instagram, are more than happy to help companies meet their marketing objectives – especially if they're willing to pay.
Snapchat doesn't facilitate this, unless you have the cash to sponsor a lens (more on this later).
While some brands are using the platform in a similar manner to other social platforms, most use it much more "organically" – as in, they use it to give people an insight into their day-to-day lives.
If you want to use Snapchat to build your personal brand, you need to avoid the hard sell. You should be using it primarily as a relationship-building tool that indirectly helps boost sales.
In short, you should use Snapchat to:
Snap yourself
Snap others
Snap what's going on around you
You want people to become emotionally involved in your brand – emotionally involved in you. Your followers should be able to relate to your brand through the content you post. Snapchat content from brands is an advertisement, but only in the very loosest sense.
Focus on storytelling, not on sales. Just give people an insight into your life (or the life of your company). You might not believe me when I say this, but you're probably more interesting than you think you are.
What to Snap When Building a Personal Brand – Ideas and Case Studies
Alaa Hassan has been using Snapchat to help build his personal brand. He said:
"It took me a couple of minutes to learn how it works, but now, I just love every feature it has, especially Snapchat Stories. This stuff is powerful.
"It's not just about your personal brand, it's about what makes you unique, what your personal life is all about. It's about building a deeper connection with your followers without having to worry about the number of likes, comments or shares your post is going to get."
And he uses it to do pretty much what I've outlined above, such as:
…showcasing snapshots of his daily activities…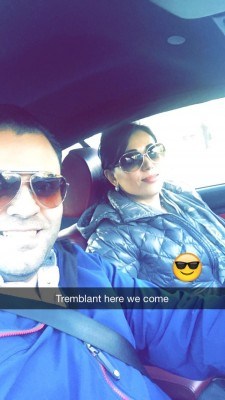 …and what he's working on: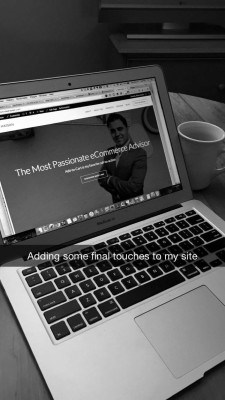 Mike McGrail of Administrate loves Snapchat primarily because it eases the pain involved in creating and sharing video content.
Here's Mike explaining why he struggled so much with producing video content the traditional way:
"Last year I recorded a series of videos; they were 10 minute run-downs of the latest marketing news and views. I would sit in a meeting room, set up my tripod and SLR, and shoot. It was never done in one take and by the time I edited, uploaded, and promoted it, it was 4-6 hours of work. And you know what? I didn't enjoy it at all."
And why he's now loving Snapchat instead? Namely, its accessibility:
"It's easy for you to capture your thoughts on video and broadcast them. You can of course blend that with stills. No fancy camera required. No uploads to YouTube, editing, and all that fluff."
…and its authenticity:
"I look like crap on Snapchat. That's ok as nobody cares. It's a platform rooted in authenticity. Very different to Instagram, as this BuzzFeed article captures wonderfully. Put yourself out there and embrace the authenticity!"
Chasity Cooper, creator of Millenial On a Mission, wasn't taken with Snapchat right away. She originally downloaded the app in 2013 and initially "couldn't stand it." She says she was only following three people and "didn't understand its purpose since there was Instagram."
By April of last year, however, she found herself "obsessed with snapping my morning commute, watching my friends' stories, and so much more. It's like we're hosting our own reality shows that can be watched instantaneously!"
As a result of her actions on Snapchat, Chasity regularly gets asked, "Why do you wake up so early?"
It's because her morning routine has become part of her daily story, and as she explains, "The more you do something, the more likely it will be remembered and it will become a part of you."
This goes to show how something as simple as snapping when you get up in the morning, or when you start your daily commute, can contribute to building your personal brand. Chasity is now known as an early starter – something we tend to associate with people who work hard and are dedicated to what they do.
That's a great attribute to be known for if you want to build a strong and successful personal brand.
What to Snap When Building a Company Brand – Case Studies
It makes sense that the sort of content that companies create for Snapchat and the sort of content that personal brands create for Snapchat is going to differ.
When you're growing a personal brand, you are the brand. Your Snapchat account is going to be all about you. That's fine. And it makes things pretty easy, which is great.
Using Snapchat to promote a company brand is quite different:
You (probably) have more money to play with.
There's not a person at the center of the brand (except, of course, the customer).
Your end goal isn't to promote a person, but a product or service.
That can present a bit of a problem for brands on social media – a problem that's magnified on a platform like Snapchat.
How do you promote a product on Snapchat without going for the hard sell?
By telling an awesome story.
Casper sells mattresses. I love a great mattress as much as the next person, but would I be excited to hear someone talk about them? Probably not.
Like most forward-thinking brands, Casper knows that in order to get people excited about the product, they have to take a step back and look at the bigger picture – how that product helps people.
While consumers might not get excited about mattresses, we love our beds. If there's one thing that can make us feel better about returning home from a great vacation, it's the thought of getting to curl up in our own bed again, right?
So what do we do in bed? We sleep, sure. But we also read. Lots of us watch TV. Some of us eat. Many of us nurse hangovers.
So that's what Casper creates content around.
According to Fast Company, the brand has produced several "series" of snaps. One is a spinoff of the popular social media meme "Woman Crush Wednesday."
In its version, Casper produces "Waffle Crush Wednesday" that involves Casper's social media team visiting a different New York waffle house each Wednesday (those poor people).
The idea behind the series is to focus on food people might eat while spending a lazy Saturday or Sunday in bed.
The team itself is formed of three marketers who begin each week by sitting down and planning stories for the coming seven days.
Lindsay Caplan, who heads up communications at Casper, explains that when it comes to Snapchat, the company's main focus is the speed at which they can turn content around:
"You need to be flexible enough to move quickly, have an idea, and see it through immediately. The beauty of this platform is that you really can't spend time copywriting and art directing. People want to see something new every day."
The response they get from customers shows that whatever they're doing, it's working:
However, being a company brand doesn't mean your people can't be the stars of your Snapchat strategy.
Freshly Picked makes moccasins for babies. One of the stars of their Snapchat is Kalin, the company's finance and operations manager. He fell into the role mostly accidentally. He's very charismatic and his personality resonated with the brand's audience. It was natural for him to become a regular feature of the channel.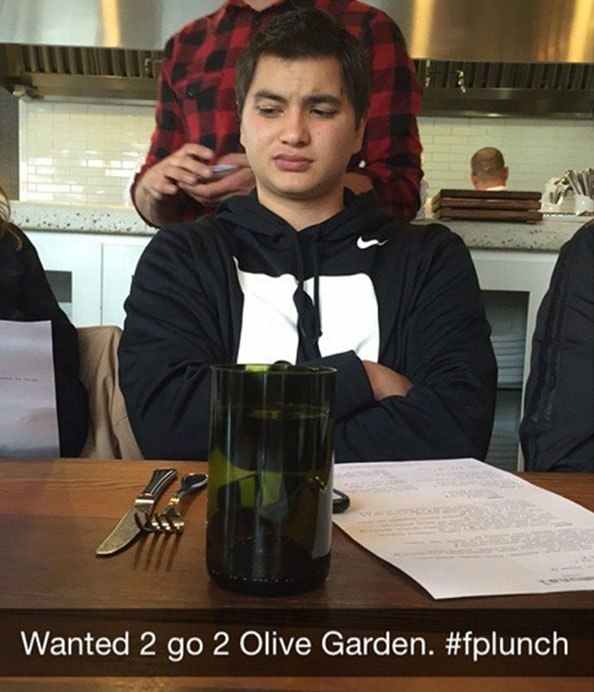 Snaps that have starred Kalin have included him lip-syncing to "California Girls" and entertaining coworkers at company gatherings.
Just normal, everyday stuff that takes little, if any, planning or strategizing to produce.
Susan Petersen, Freshly Picked's CEO and founder said, "It's a great place for people to see your personality. It's not polished and it doesn't need to be curated. I like that people can feel like they are in the office with us, and we're giving them a look at what we would be doing whether they were watching or not."
Of course, as we can see in the Casper example above, sharing snaps of your day isn't the only way to utilize the platform, and if you want to capitalize on it as much as possible, you should probably branch out.
Here's a few ideas to get you started.
Show Snippets of Interviews
Whether you're being interviewed or interviewing someone else, use Snapchat to offer your audience a live insight into what's going on (and entice them to watch the full interview elsewhere, at a later date).
Hold Short Q&A Sessions
This is a similar idea to the one above, except in this case you're creating content specifically for Snapchat. These Q&As could be with your staff, your customers, your manufacturers… Pretty much anyone you think has something interesting to say that your audience might want to hear.
Demonstrate Products
Launching a new product? Then use Snapchat to give your audience a sneak preview or demonstrate one (or more) of its most exciting features.
Okay, so I might have said above that you shouldn't use Snapchat to directly market your products – but in the interest of covering my back, I did say "most of the time."
As with any social network, you need to strike a balance between content that's purely promotional and purely social. On Snapchat, more than most, that balance needs to lean heavily in favor of being social.
But that doesn't mean you can't or shouldn't use it occasionally to directly promote your products or services.
Just remember that Snapchat isn't equipped for selling. Unlike most platforms, you can't include a link that takes people directly to a product page. Sure, you can include the URL in the snap, but it will be just that – text. To visit the page in question, your followers will literally have to type the URL into a search bar. How many people, realistically, do you think are going to do that?
In this sense, Snapchat is great for boosting awareness and visibility – just be realistic about how many sales it will directly generate (because it's probably not going to be many).
"87 percent never buy the things they see in Snapchat ads, 11 percent rarely buy, and only two percent make purchases "sometimes." Kimberlee Morrison, writing for Social Times
Host a Giveaway
Giveaways are great for engagement on any channel, but Snapchat's a particularly awesome platform for competitions since you can leverage urgency to boost engagement even further.
GrubHub is a good example of a company that has maximized the opportunities presented by Snapchat when it comes to giveaways.
For one week in March 2014, they ran a "SnapHunt." This was essentially a scavenger hunt that took place over Snapchat.
Each day they posted a story that contained a challenge, like this: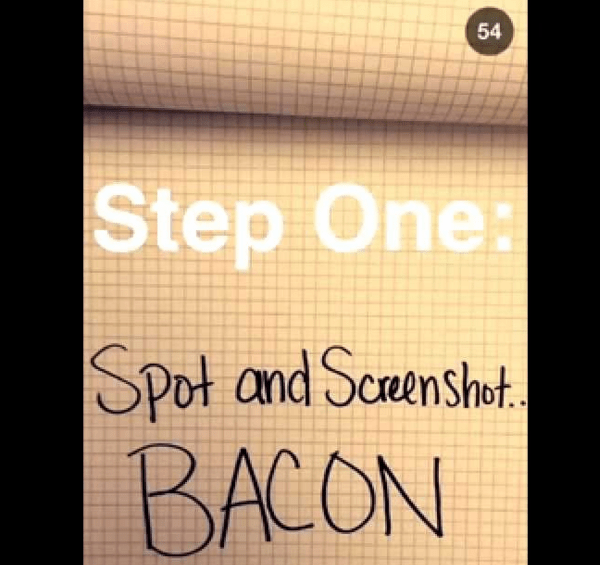 In order to enter, followers had to send a snap to GrubHub, and for each of the five days the competition was running, 10 GrubHub followers won a $50 voucher for the site.
Film Events
If you're hosting or taking part in an event, use Snapchat to give your audience direct, as-it-happens access.
Create Interactive Snaps
Snaps that give your audience a specific reason to respond can boost engagement massively.
Take this one, from Taco Bell: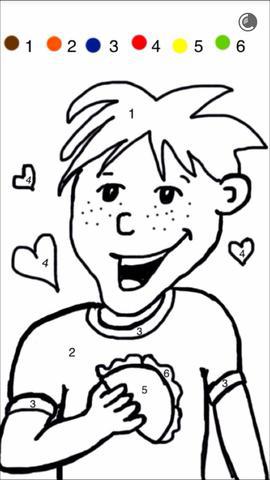 The idea was for Snapchatters to color in the image using Snapchat's doodle feature. Okay, these sorts of snaps take a lot more forward planning than say, a 10-second video of your commute to work, but if you have the resources and budget to create this sort of stuff, it's a great way to take Snapchat to the "next level," so to speak.
Create How-Tos
You might show how to use an element of your product, or you could go for broader appeal and create how-tos that are designed to make your audience's life easier.
Offer Discounts
Since anything you post publicly to Snapchat "expires" after 24 hours, it's the perfect place to promote flash sales and super-limited offers.
Speaking to Sprout Social, John Ramirez, CEO of digital marketing firm IOKON Media, described how the immediacy of Snapchat can be leveraged to encourage customers to take advantage of an offer:
"Let's say you're a clothing brand and you have a Snapchat campaign running in conjunction with a retail chain. With something as simple as a promotional sign in a changeroom, you can solicit potential customers to Snapchat a picture of themselves wearing your product to the brand – and perhaps to a few of their trusted Snapchat friends – in exchange for an instant discount on the product."
One way to offer your audience a discount is to simply publish a code that expires, both on Snapchat and on your site, after 24 hours.
There's nothing wrong with that strategy, but it's not the best way to encourage engagement.
If you want to get your audience interacting with you, ask them to send you a snap in exchange for a special offer or discount code. This is what frozen yogurt shop 16 Handles did back in 2013: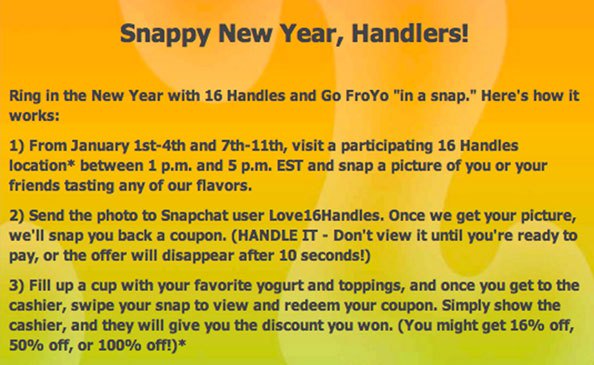 Squeeze In, a small chain of restaurants with venues in California and Nevada, ran a promotion that required followers to take a screenshot of a coupon that appeared at the end of a "story." Any follower who came into the store and showed the coupon could get a free side of chocolate-covered bacon.
According to Forbes, about half of Squeeze In's 400 followers watched the story in question, 36 people took screenshots, and 24 actually redeemed the coupon.
Interlink Snapchat With Other Networks
While there is no way to directly link up Snapchat to your other social profiles, you can use the app to drive people to other networks.
Since Snapchat doesn't allow commenting, it can be difficult to get a meaningful dialogue going over the app – especially when there are more than two parties involved. Asking your audience to Tweet something or engage with you on a Facebook or Instagram post can move the conversation over to a platform that facilitates it properly.
Growing Your Following
One downside of Snapchat is how hard it is to grow your following from within the app. There's no internal ads tool, which means you can't pay to get yourself in front of relevant users, and there's no discovery feature that lets users browse accounts. That means you're not going to nab new followers simply by being in the right place at the right time.
There are a couple of ways to grow your following from within the app, which I've touched on below, but you're primarily going to have to cross promote – in other words, promote your Snapchat via external channels.
Send Snaps to People You Follow (Who Don't Follow You Yet)
This might sound intrusive, but think of it like sending an @ message on Twitter – there's nothing wrong with @ messaging someone who doesn't follow you, right?
Of course.
That means it's also fine to send snaps to people who don't follow you back – just be sure to adhere to a couple of best practices…
Don't send people random snaps. Treat this the same way you would treat sending any other type of message – personalize the snap to them.
Don't harass them. You wouldn't send a stranger four emails in quick succession, so don't do it on Snapchat, either.
Propose Collaborations With Other Snapchatters
If you're lucky, the snaps you send to other users (whether you're following them or not) might get featured in their stories. That's a great way to gain exposure and boost your reach.
To increase your odds of this happening, you need to strategize a little. Don't just send them anything – send them snaps that fit in with and complement the content they publish.
It can also help to contact them separately (probably outside of Snapchat rather than in) to let them know what you're hoping to achieve. After all, if you don't ask, you don't get.Interact With the People Who Follow You
When someone follows you, follow them back. Better yet, send them a personalized snap to say thank you (unlike Twitter, this is something you can't automate, which increases its value and impact substantially).
It's also wise to respond to as many snaps as possible. As your following grows, this might not be possible, but it makes a lot of sense to engage with everyone who engages with you, while you can.
Leave Your Details Everywhere
Leave your username and snapcode in as many places as possible. That means things like:
Your website
Email signatures
Email newsletters
Other social media profiles
Business cards
Offline marketing materials (e.g. flyers)
Basically anything and any channel you use to promote yourself or your business should be used to promote your Snapchat, too.
Work With an Influencer
Influencer marketing has the potential to be pricey – depending on the size of the influencer you want to work with – but the impact could be huge.
Essentially what you want is for an influencer to be the star of your stories – for a day, a week, or longer, if possible. Part of the agreement should be that they will promote their appearance in your stories to theiraudience.
If their audience wants to tune in, they need to follow you – hence how this strategy bags you new followers.
Sour Patch Kids did this by partnering up with Vine star Logan Paul. Paul created a series of stories spanning five days in which he got into various mischief with life-size toys of the Sour Patch Kids.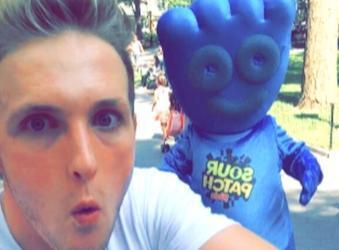 Image Source: Marketing Mag
Utilize Other Social Media Channels
Don't just include details of your Snapchat on your other social media profiles; republish your best content to other channels, too.
Take YouTuber Casey Neistat – he has a whole extra YouTube channel that he uses just to repost his Snapchat stories.
Just make sure to include your Snapchat username (and if possible, your Snapcode) anywhere you repost your content.
Measuring Your Success
The nature of the beast means that there are limited ways to monitor the impact of your efforts on Snapchat, but don't panic – it can be done. Here are three metrics that are available to you, and you should be paying attention to.
Unique Views
Snapchat shows you how many people viewed each of the snaps in a story. The number of people that viewed the first snap is a good measure of how many people you're reaching; however, if no one watches further than that, it's pretty clear you're having problems engaging your audience.
If your viewing figures remain steady throughout your story, that's a strong signal you're doing something right.
Image Source: Mike Delgado
Completion Rate
Your completion rate is the percentage of total viewers that watched a complete story. It's calculated by dividing the number of people who watched the last snap in your story by the number of people who watched the first snap. As seen in the example below, this means that if 444,000 people watched your first snap, and 376,000 watched the story through to the end, your completion rate is 84%.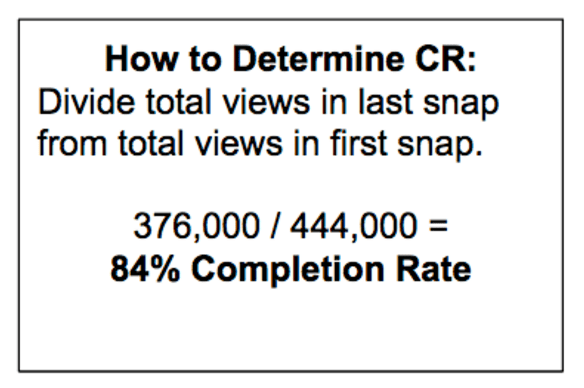 Image Source: Mike Delgado
Screenshots
Knowing how many viewers are taking screenshots of your snaps is an indicator of how interested in and engaged they are with your content. What they're taking screenshots of is even more important – it shows specifically which elements of your content resonate with your audience the most.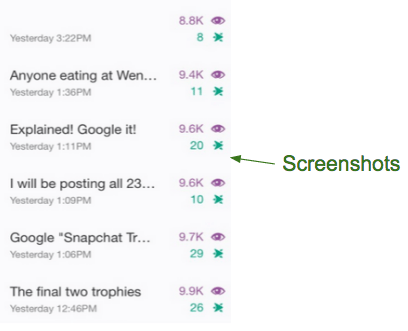 Image Source: Mike Delgado
Quick tip: Remember that when the story disappears, so will the data attached to it.
Snapchat Do's and Don'ts
You should know by now that Snapchat is easy to use – and hard to get wrong – but there are still a few best practices and do's and don'ts that it pays to be aware of.
Do: Add Back (Pretty Much) Everyone Who Adds You
One of Twitter's biggest downfalls, and to an extent, Facebook's, is how much of a popularity contest the platforms have become. I know of many people who actively avoid following others on Twitter in order to maintain a "healthy" followers-to-following balance (that leans heavily in favor of people following them).
There's no place for that sort of vanity on Snapchat. If you want people to be able to interact with you properly (and you do) make sure to follow them back.
The number of people you follow (and who follow you) on Snapchat is a pretty irrelevant metric, anyway, since it's hidden from you. Instead, you're given a "score" which is calculated based on the number of snaps you send and receive. The number of people you follow, or who follow you, doesn't come into it.
Do: Keep Stories Short
Snapchat's user base is (mostly) very young. They want interesting content, but more importantly they want content that's quick and easy to consume.
According to some very unscientific research from Mashable, keeping stories under 100 seconds is generally a safe bet.

Don't: Privately Send Content That You Also Add to Stories
Treat snaps and stories as separate entities. Snaps are private messages you send to individuals, while stories are more like broadcasts.
If you send content privately that you also post publicly, you're doing a disservice to the relationship you have with that contact. You're wasting their time, basically, since you're sending them content they could view anyway (and are potentially leading them to view the same content twice).
Keep private snaps private and public stories public.
Don't: Keep Switching Between Vertical and Horizontal View
Vertical view is generally preferable. You'll need to switch to horizontal view sometimes, but only use it when necessary. It makes life easier for everyone.
Don't: Snap Too Often In a Short Span Of Time
Your story should be a mashup of the day's events. Fifteen 10-second clips from the same party is boring – unless something really interesting is happening.
Do: Add Music to Your Stories
You can read some more about how to do that here.
Filters, Lenses, and Ads
You're probably familiar with filters, thanks to Instagram. Snapchat has them too, but they tend to serve a very different purpose.
Instagram filters are designed to "improve" photos and make the subject of the photo – whether that's a beach, a person, or a Michelin-star meal – more beautiful. They do this in various ways (depending on the filter used). You can brighten colors, wash photos out, intensify shadows, and much more.
Instagram filters go hand-in-hand with Photoshopping. The result can be highly-deceptive images that make us mere unfiltered and un-Photoshopped mortals feel inferior (even when we know deep down that these pictures don't represent reality).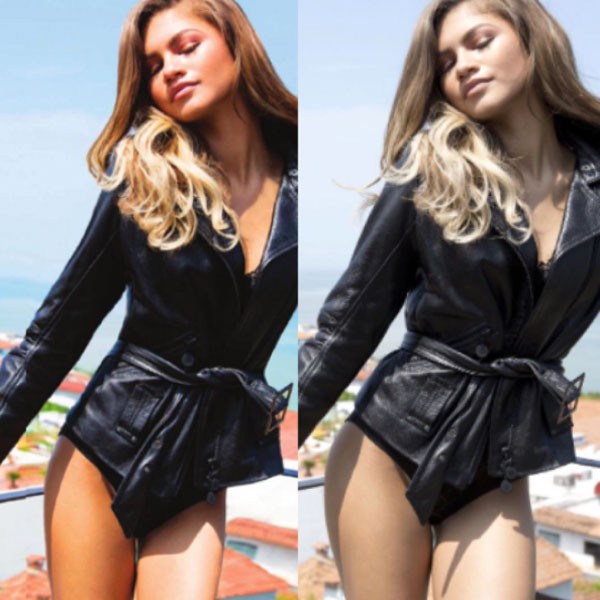 Image Source: ENews
Don't presume it's only women who are subjected to this filtered and Photoshopped version of the world, either. I'll be the first to admit that women have it worse, but men are in no way immune to the pressures of a world that's afraid to show itself as it really is.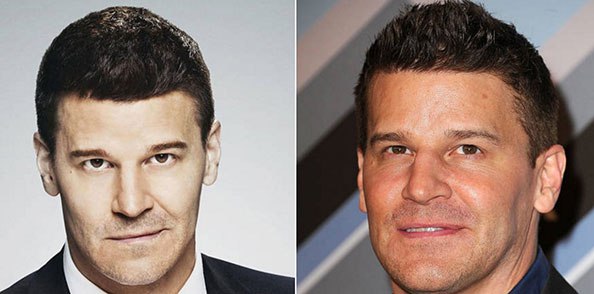 This is another reason I love Snapchat, and its respective filters, so much. They primarily serve to make the app more fun.
There are a handful of filters that change the shading and coloring of photos, but mostly the filters are things like this: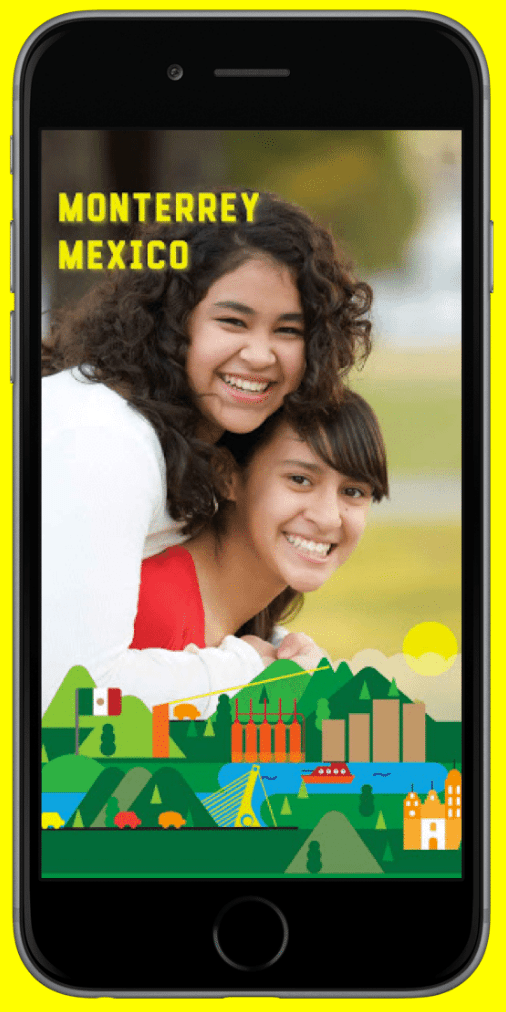 Specifically, the filter above is called a "Geofilter." They're lots of fun, but more importantly they're a great way to promote a local event or product launch.
Geofilters only become available to Snapchat users when they're in a specific location. You can only access this Geofilter for NYC's Flatiron building for instance, when you are standing near the building itself.
Anyone can create a Geofilter, and Snapchat will make them publicly available for $5 per hour, per 20,000 feet of reach.
Gary Vaynerchuk has written an excellent article about how to create custom Geofilters here. If you just want to access and play around with filters within the app, simply take a photo and swipe left.
Snapchat also has lenses. Lenses are often confused with filters, but they're actually quite different. Filters are static overlays. Lenses interact with photos and videos (and are far more fun).
Even if you have not used Snapchat yourself, you've probably come across the face swap lens: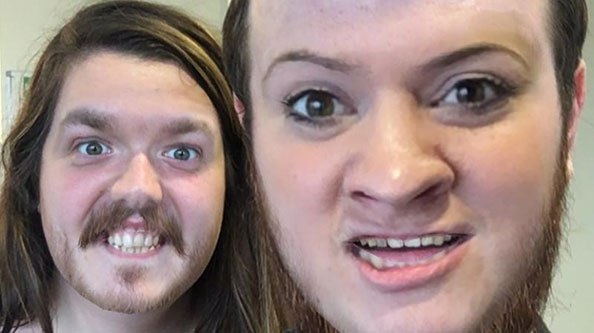 Image Source: PCAdvisor
You can also use lenses to find out:
How you would look if you had bulging eyes or could puke rainbows: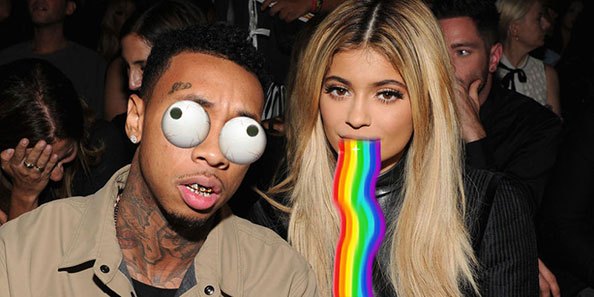 Image Source: Seventeen
Whether you'd look good as a dog ("yes" is the answer – everyone seems to look good as a dog):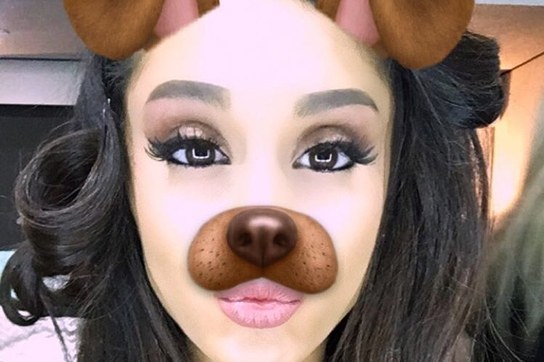 Image Source: Teen Vogue
Or, how you'd look as a skeleton: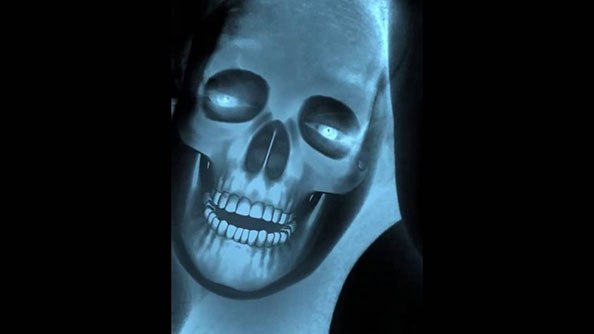 Image Source: Teen Vogue
To access lenses, just hold down on your face before taking a photo or shooting a video. The lenses will pop up for you to scroll through at the bottom of the screen.
Sponsored Lenses
Lenses were introduced to Snapchat in September 2015. Initially available for free, Snapchat moved to a paid model shortly after. That meant users who wanted to animate their selfies had to pay for the privilege, at a cost of $0.99 a lens.
That's not very much, but it was a definite annoyance for Snapchat users who have arguably been spoiled by completely free-to-use platforms like Facebook and Twitter.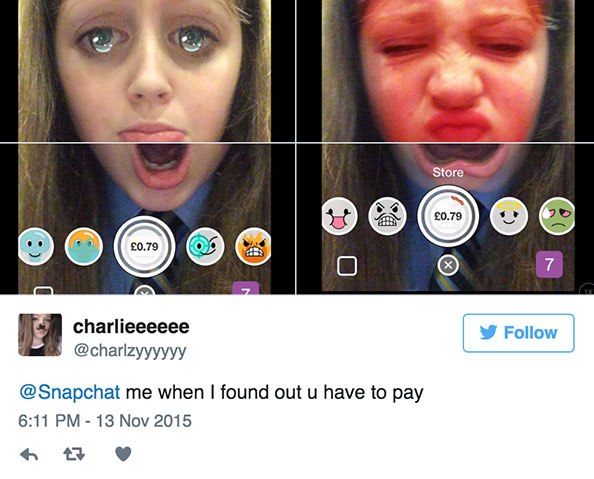 Image Source: Huffington Post
You probably know that the aforementioned Facebook and Twitter monetize their respective platforms by charging brands, not users. It made sense for Snapchat to do the same.
Enter Sponsored Lenses.
In January of this year, Snapchat stopped charging for lenses. Instead, it sought to monetize the feature by charging brands big bucks for single-day Sponsored Lenses (something it had begun doing before removing the $0.99 charge).
The first-ever Sponsored Lens was purchased by Twentieth Century Fox, which leveraged the format to promote The Peanuts Movie. It ran over Halloween, and as described by AdWeek, would "overlay images of Peanuts characters Snoopy and Woodstock around the selfie while the show's theme song plays."
In addition, when users opened their mouths, an "endless stream of candy corn" would pour out – similar to the rainbow vomiting lense.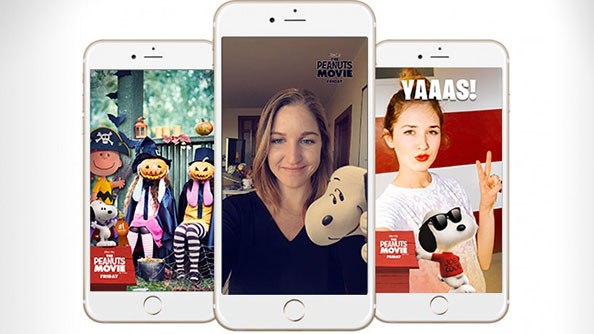 Image Source: AdWeek
Other brands to jump on the opportunities presented by Sponsored Lenses include: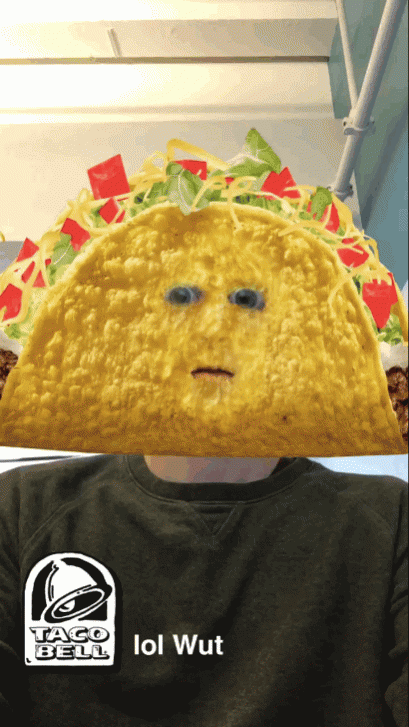 Image Source: Business Insider
Gatorade, whose Super Bowl-timed lens allowed Snapchat users to simulate chucking a bottle of Gatorade over their heads: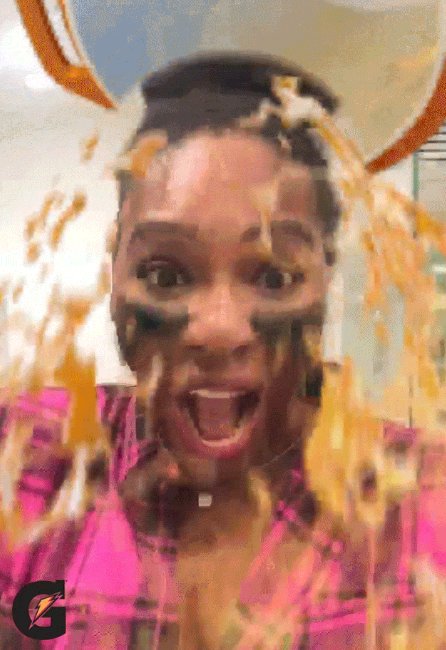 Image Source: Business Insider
And Cadbury, whose lens placed Creme Eggs over users' eyes and painted their lips in the brand's trademark purple.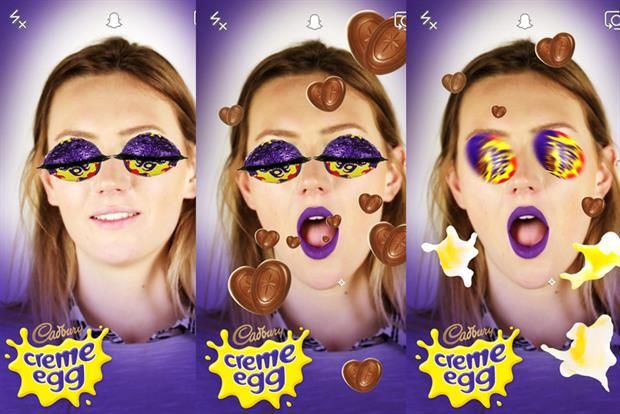 Image Source: Trend Hunter
So, I know what you're probably thinking…
"This all sounds great – but how much does a Sponsored Lens cost?"
I'm sorry to tell you that the short answer is – a lot.
Do you want the long answer?
They cost anywhere from $100,000 up to $750,000 for lenses tied to particular events, such as Halloween (in the case of Twentieth Century Fox) and the Super Bowl.
That's an unimaginable amount of money for most brands, but there are a few good reasons why they charge so much.
Exclusivity
Unlike other social platforms where unlimited numbers of ads run concurrently, as it stands (at least as I understand it), only one Sponsored Lens will run at a time.
That means all eyes will be on the brand that's sponsoring a lens that day.
Manpower
Most digital ads – whether on a social network, a search engine, or a website, are created and managed by the brand that's running them.
To create a Sponsored Lens, however, Snapchat has to work with the brand that's sponsoring it in order to develop and launch the lens. That's a cost to Snapchat that has to be absorbed into the fee it charges.
It's not a small cost, either.
According to AdWeek, "A Sponsored Lens takes an average of six weeks to create, and marketers lean heavily on Snapchat to both develop the creative and apply it to the custom ad space alongside the app's daily offerings. Once the lens is built, marketers work with Snapchat to tweak the final creative before it runs."
Value
More than anything else, a Sponsored Lens is worth the price because of the huge amount of exposure it drives for the brand behind it.
Lenses are still a bit of a novelty on Snapchat, and users will lap up the chance to try out a new one.
The aforementioned record-breaking Taco Bell lens was viewed 224 million times. The Gatorade lens managed more than 100 million.
Sure, these won't be unique views (although multiple views by the same user means more exposure) but if you consider that the Super Bowl tends to get just over 110 million viewers, and a 30-second ad slot during the most recent game cost around $5 million, Snapchat's fees begin to sound significantly more reasonable.
Unfortunately, it seems like Taco Bell's and Gatorade's lenses are exceptions, not the rule.
"The typical lens in a day gets a couple million uses," says Elias Plishner, evp of digital marketing for Sony Pictures Entertainment. "The real value however is not the number of times it's being used, but the number of people who view content created by Snapchat users with the lens, which could be in the tens of millions."
So you might now be wondering why I'm telling you all this – if you can't afford to buy a Sponsored Lens, why should you care?
Well for starters, who knows where the future will lead you? It pays to know the options available, and it's wise to stay on top of what other brands are up to – even if you can't afford to join them just yet.
More importantly, however, is the fact that Sponsored Lenses may become more accessible to the masses in the future.
Snapchat might be charging big bucks right now but their calendar's hardly full. Demand is apparently rising but in 36 days, Snapchat reportedly sold 14 Sponsored Lenses in the US – equivalent to one every three days.
If prices fall, there's a good chance more brands would jump on board and sales would increase.
Let's keep our fingers crossed.
Snap Ads
In June of this year, Snapchat increased its ad offerings by introducing video ads that will run between stories and – apparently – will be capped at three videos per day, per user.
If we're honest with ourselves, video ads on Snapchat were always going to happen; however, the three-video cap makes it pretty clear the brand is treading carefully in order to avoid driving users away. That's a good thing, and not just for users – the fewer ads users are exposed to, the greater the likelihood that they will pay attention to and remember your ad.
Unfortunately for smaller brands, the cost of running a video ad campaign on Snapchat is still pretty eye-popping – reportedly costing between $40 and $60 per CPM (per thousand views). If that doesn't sound like much, consider that the average CPM on YouTube is just $2. Remember that those fees quickly add up; Snapchat's current rates are in fact on par with TV advertising.
Snapchat Discover
Snapchat's Discover is highly unlikely to be something you can use, but it's still something you should be aware of – especially since, as with Sponsored Lenses, there's always the possibility the feature may change in the future.
At present, it looks something like this: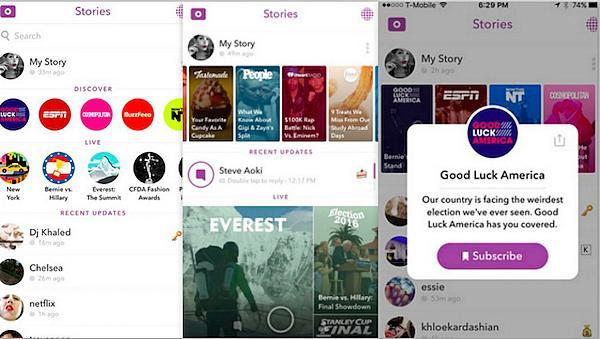 Image Source: Tech Crunch
And you can access it by swiping left from the main screen.
Discover essentially features content from "top publishers." In keeping with Snapchat's format, the content is only available for 24 hours and as such, is updated every day.
Unlike the rest of Snapchat, however, around 50% of the content available under "Discover" is text-based. Articles, basically.
That might sound like a marketer's dream. Especially if you're already creating a lot of written content and are looking for more platforms to send it out to.
But don't get too excited.
Snapchat chooses the publishers it works with, and is pretty selective about it. According to The Verge there were 19 publishers in the U.S. as of June 2016.
It's also a closed platform, which means Snapchat doesn't send traffic anywhere else. All content is consumed from within the app.
Unless you're a huge brand, the chances of you being welcomed to Discover are slim to none, but as I said, this could change in the future, meaning it's a feature that's well-worth being aware of.
Key Takeaways and Checklist
1. The difference between snaps and stories
Snaps are single photos or videos that you send to one or more of your contacts. Once opened by the recipient, the snap is displayed once, after which it self-destructs.
Stories are a series of snaps that are added to throughout the day. They're viewable to all your followers (or, depending on your settings, publicly) and self-destruct automatically after 24 hours.
2. Snapchat basics
Setting up Snapchat
Download the app, enter your email, choose a username, choose a password, and you're good to go.
Configuring Snapchat
The snapchat logo (that's the ghost) will take you to a page where you can add a profile photo. You can also click the cog symbol to configure more settings. As a marketer, it's recommended you change the default settings for "Contact me" and "View my story" to "Everyone."
Taking a snap
Press the large circle at the bottom of the main screen to take a photo. Hold it down to film a video. You can switch between normal mode and selfie mode by double-clicking on the screen, or selecting the camera icon in the top right corner.
Adding contacts
Click the Snapchat logo (that's the ghost again) from the main screen to be taken to a menu where you can add contacts. You can then choose to add contacts from your address book, by entering a username, by scanning their snapcode, or by adding other users that are nearby.
Sending a snap
After taking a snap, you can send it using the button at the bottom right of the screen. From there, you can choose to add it to your story, or send it to one or more specific recipients of your choosing.
3. How to market on Snapchat in nine steps
Download the app and create your account.
Start taking your first snaps (it doesn't matter what they look like at this point – it's unlikely anyone's watching).
Begin following other people.
Keep on snapping – practice makes perfect!
Start engaging with other users (whether or not they're following you).
Find your "edge" – what's going to make you unique?
Utilize resources outside the app to grow your following.
Get serious about snapping – try to snap at least once a day if you can.
Drive conversions by tempting your following off the app and onto places you can sell to them.
4. What you should (and shouldn't) be snapping
Don't use Snapchat for the hard sell. Use it primarily to provide an insight into your own life, or the life of your company.
Tell great stories.
You can also try…
Showing snippets of interviews
Hosting short Q&As
Demonstrating products
Hosting a giveaway
Filming events
Creating interactive snaps
Creating how-tos
Offering discounts
Driving engagement on other social networks by asking people to Tweet you or chat with you on Facebook (for example)
5. Growing your following
Send snaps to people you follow (who don't yet follow you)
Try to collaborate with other snapchatters with the goal of getting them to include your snap in their story
Interact with the people who follow you (as much as possible)
Leave your Snapchat details in as many places as possible (both on and offline)
Get an influencer to create a series of snaps for you
Republish your best Snapchat content to other channels
6. Measuring your success
Monitor how many people are watching the first and last snaps in your stories.
Calculate your completion rate (the number of people who watched the last snap in your story, divided by the number of people who watched the first snap).
Monitor how many of your viewers are taking screenshots of your content, and specifically what they're taking screenshots of.
7. Snapchat do's and dont's
Do: add back (pretty much) everyone who adds you
Do: keep stories short – anything over 100 seconds is too long
Don't: send content you add to stories, privately
Don't: keep switching between vertical and horizontal view – stick with vertical view as much as possible
Don't: snap too often in a short span of time – your stories should be a mashup of the day's events
Do: add music to your stories
8. Filters and lenses
Filters and lenses are great fun. Filters are static overlays that enhance photos, while lenses actually interact with your content. To access filters, take a photo and swipe left. To access lenses, hold down on your face before taking a photo or video. They will appear at the bottom of the screen.
You can also create custom Geofilters – ideal for promoting events locally.
Snapchat also offers Sponsored Lenses and Snap Ads (video ads). As it stands, however, the costs are huge – anywhere from $100,000 to $750,000 for a Sponsored Lens, and $40 to $60 CPM for a video ad.
9. Snapchat Discover
Snapchat Discover is essentially a content publishing platform within a content publishing platform, except Discover pushes content out to all Snapchat users.
Unfortunately, for the time being it's invite only (and very exclusive).
That might change though, so watch this space!
Have you tried using Snapchat to promote your business yet? How did you like it? Let us know what you thought of Snapchat as a marketing tool (and don't forget to include your username) in the comments below.
P.S. Don't forget to add Webprofits as a friend on Snapchat for exclusive content and behind the scenes footage