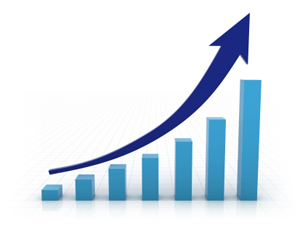 There are dozens of ways of improving the performance of a pay-per-click campaign. A sound optimisation strategy can turn a losing campaign into a winner. In a lot of cases inexperienced pay-per-click advertisers do not make use of all features, angles and targeting options that PPC marketing provides. As a result, they lose money on their campaigns and conclude that pay-per-click marketing does not work for them. Use the following 7 ways to improve the performance of your PPC campaigns.
1. Make use of all match types
Google provides three different keyword match types: broad match, phrase match, exact match. You should make use of all of them in order to maximise the potential of your campaigns. One of the biggest and most common pay-per-click mistakes is to only use broad match keywords in your entire campaign. Broad match is a great way of covering a large amount of keywords. However, it can also easily waste your money by spending your budget on irrelevant keywords. Add phrase match and exact match keywords in order to make your campaign more targeted.
2. Split test ad copy
Google likes high click-through-rates. The higher the click-through-rates on their ads, the more money they make. If your click-through-rate is not high enough compared to other advertisers, Google will punish you with a lower Google Quality Score and a higher cost-per-click. However, as an advertiser your click-through-rate should not be your only concern. The other major criterion is the conversion rate on a particular ad. Ideally, an ad gets both a high click-through-rate and a high conversion rate. This can only be achieved by constantly split testing at least two different ads for every ad group. Once one ad can be found to outperform the other, a new ad needs to be tested against the best performing ad.
3. Create narrowly focused ad groups
Ad groups within a campaign should always be closely focused around a specific keyword topic. The narrower you can build your ad groups, the more tailored your ad text can be to the keywords in the ad group. A smaller number of similar keywords make it easier to get a good click-through-rate and conversion rate.
4. Use negative keywords
Every campaign should contain negative keywords. Negative keywords are keywords for which you do not want your ads to be shown. Since broad match keywords often trigger impressions for irrelevant keywords you need to monitor your campaign and avoid getting irrelevant clicks. How do you find out if you are getting irrelevant clicks? Generate a search query report from the report section in Google Adwords. Then evaluate whether your ads are shown for unrelated keyword phrases. If so, add these keywords as negative keywords to your campaign.
5. Monitor the content network performance
The standard setting in a Google Adwords campaign is to opt-in for the content network. For some markets this works well, for others it's simply a waste of money. If the content network is activated for your PPC campaign, be sure to monitor its performance. If it does not perform well, pause it within your search campaign and try creating a separate campaign which only targets the content network. That way, you can use a different wording for your ads on the content network. Generally speaking, the content network often needs a stronger call-to-action in the ads in order to get visitors to click through to your website.
6. Monitor your keyword conversion rates
The performance of a campaign largely depends on the keywords that were chosen. Conversion rates vary across keywords and across match types. It is therefore critical to monitor conversion rates and cost-per-conversion across all keywords. Bids on keywords that do not perform well can be lowered or the keywords can be abandoned altogether. Bids on well-converting keywords can be increased in order to improve exposure.
7. Mind the Google Quality Score
Google assigns each keyword in your Google Adwords campaign a quality score between 1 and 10. 7 or higher is good, 10 is great. The higher your quality score, the lower your minimum bid on a keyword. The quality score depends on a number of factors such as the click-through-rate on your keywords, the relevance between keyword, ad and landing page, and your website loading time. While all factors play a role the click-through-rate is one of the strongest determinants for the Google Quality Score. Optimise your campaign so that all of your keywords at least get a quality score of 7 or higher.
You just learned about 7 ways that have the potential to drastically improve the performance of your PPC campaigns. Make sure you apply all of these strategies in order to gain the best possible return from your PPC campaigns. Overall, you should constantly be monitoring your campaign and working on making it more targeted to your market. The key to success is in testing, evaluating and adapting your campaign. So, go the extra mile and your campaign will stay ahead of your competitors!