Case study: How a landing page re-design increased conversions by 108%
Often times, the best way to increase the conversion rate of a page is to re-design it completely.
Here's a case study that shows the impact that an entirely new landing page can have on the conversion rate.
What we tested?
Mazda Discounts helps people save money when buying a Mazda. They had a landing page that was converting quite well and contracted Webprofits to improve its performance.
We followed our proven process of designing a landing page that converts, which is:
Understand the target market and key selling points
Write direct-response copy that effectively sells the service and drives action
Design a landing page around the copy, ensure the copy is easy to read, and make it easy for the user to take action
Develop the page and ensure it works well across all browsers
Launch the landing page
Here's the design we produced…

And here's the original…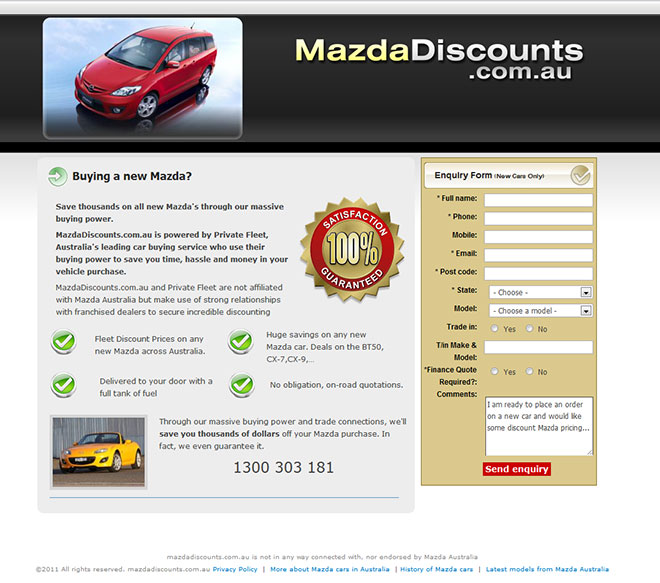 The result?
Re-designing the entire landing page from scratch, including rewriting the copy to better sell the service, increased the conversion rate by 108% (more than double) at a 99.99% confidence rate.
The lesson
Sometimes it's a lot easier to increase the conversion rate of a landing page by re-designing it from scratch. Why? Because you can take a new approach to the sales copy, and freshen up the design of the site. Plus you can achieve a much higher conversion rate faster, rather than split-testing one part of the landing page at a time (which can take longer).
The downside is that we don't know whether it was the copy that increased the performance, or the design, or both. But when you double the number of leads you get from the same advertising budget, does it really matter?
If we didn't beat the conversion rate of the original landing page, then we wouldn't know why. That's the biggest risk. Luckily that didn't happen here. But even if it did, we would continue to work on the landing page until it beat the original (that's just how we roll).
Can we do the same for you?
If you'd like us to improve the performance of your website, landing page, or online advertising campaign, then click here to get in touch. We'd love to discuss your project and see how we can help.