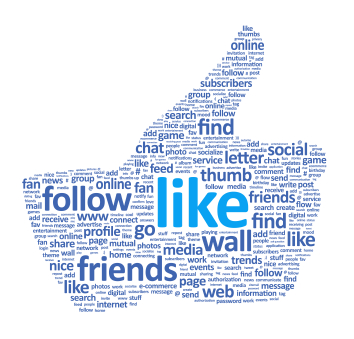 With more than 900 million active users on Facebook globally and over 11 million Australians on the social network, it's no wonder so many businesses are realising the huge potential of Facebook Advertising. Facebook Ads allow you to promote your business, build your brand image, attract more fans for your business Page, and ultimately drive more customers for your business.
If you're not already taking advantage of Facebook Ads in your marketing campaigns, you'd better start now before your competitors do. This step-by-step guide will help you create your first Facebook Advertising campaign. Let's get started…

1. Define Your Goals
Before you even start creating your first ad, you need to decide what you want to achieve from your Facebook Advertising campaign. You can't expect success without knowing what goals you need to achieve. Setting a clear goal will allow you to accurately measure how successful the campaign really is and take appropriate action. Some of the common goals include:
Building your Facebook Page fan base
Building traffic to your website
Generating leads/conversions
Engaging you current Facebook fans
Be specific. If your goal is building new fans for your Facebook Page, establish how many new fans you want to attract within a certain period of time as well as what desired the CPF (cost per fan) is. For example, 300 fans per week at a maximum cost of $3 per fan.
2. Choose Your Ad Type & Create New Ad
To get started, go to https://www.facebook.com/advertising/ and click 'Create an Ad' in the top right hand corner.
You need to choose between advertising to an external URL (your website) or to your Facebook Page (based on the goals you have set in the previous step).
Facebook Page

When advertising to your Facebook Page, you have 3 different ad types to choose from:

'A new ad about Web Profits'This is the most common type of Facebook Ad. It allows you to design your ad by combining great image & copy. To create the ad, follow these simple steps:

Create a compelling copy promoting your Facebook Page. Make sure you include call to action into the copy.
Choose eye catching image that. It can be your logo or any other image representing what your Facebook Page has to offer.
Choose a destination tab on your Facebook Page that people will lend on after clicking on the ad.
Review your ad design and make changes a needed

Stories about their friends liking 'Your Page'

This type of ad simply shows stories about people liking your page to their friends. The viral element of this type of ad can be very effective, especially if people see more of their Facebook Friends liking your page. There is no designing necessary as the ad is created automatically with your Facebook Page logo.

The nature of this ad requires you to have a certain number of Facebook Fans so that it can than be shown to their Facebook Friends.

A specific post on 'Your Page'

If you want to promote a specific post you have posted on your Facebook Page, this type of ad will do the trick. It's a great way to increase the reach of your Facebook Posts (to fans & non-fans) as well as being a useful tool for engaging your existing fan base. To create this type of ad, simply select the Facebook Post you wish to promote from the drop down menu.

External URL

When creating new Facebook Ads linked to an external URL, the process is the same as for Ads going to your Facebook Page except for:

You need to enter the URL instead of your Facebook Page. Make sure you generate a unique URL via Google URL Builder so you can then track the campaign success in the Google Analytics.
Choose a clear headline that associates your Ad with your URL
It is advised that you tick the 'Related Page' box. If you tick this box, your new ad will display stories about their Facebook Friends liking your Facebook Page, making the ad more personal and engaging.
3. Specify Your Facebook Ad Targeting
After your Facebook Ad is designed, it's time to choose who you want to see your ad. The aim is to target Facebook users who are most likely to take the action you are looking for (liking your page, buying your product etc.).
Facebook Ads allow you to target specific users based on the following criteria:
Location – by city, state, or country
Demographics – by age range, gender, language, relationship status
Education and work – by level of education or workplace
Likes, interests – allowing you to target users by either pre-defined broad interests (e.g. Dancing) or by precise interests in form of specific keywords that you think best represent your key market (e.g. Ballet)
4. Choose A Pricing Option & Budget
As a last step, you are required to select payment type and budget for your Facebook Ads campaign.
You can either run the campaign continuously with a daily budget (e.g. $10 a day) or set a lifetime budget for the duration of your specific campaign.
To select a pricing type for your new ad, you first need to select the objective:
'like my page'

If you select this objective, Facebook will show your ad to people that are most likely to 'Like' your Facebook page and you will be charged for impressions (CPM). This means you will be charged a specific amount each time somebody sees your ad, even if nobody clicks on the ad.

It is not recommended to use CPM pricing as a starting option for your ads because there is a danger of spending the whole budget without attracting any clicks. It's better to test the CPM option on ads that have already been tested and have performed well in the past (i.e. ads that had high click-through-rate, CTR)

'click on my ad or sponsored story'

Under this pricing option, you will be charged every time someone clicks on your ad (CPC). You can set the maximum amount you are willing to pay for one click. Facebook will come up with a suggested bid range to help you set your bid. It's advised to start between the suggested bid range to ensure your ads are displayed.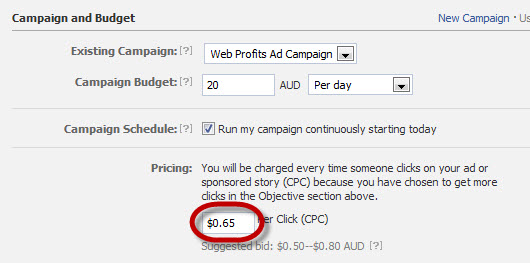 The amount you pay for a click depends on how many people are competing to show their ads to the same target audience as you are. Another important factor influencing the cost per click is CTR (click through rate) of your ad. The higher the CTR the lower the amount you need to pay for a click.
Once you've selected the payment option, you're ready to finalise the ad. Simply click on 'Place Order' button to get started.
Make sure you create different ads to test various types of copy, images and targeting. This will allow you to determine which advertisement works best for your audience.