With nearly 50% of Australians using Facebook, many business owners are seriously considering taking the step of investing in a Facebook Marketing strategy. However, before taking that step it's essential to understand the various elements of a Facebook Marketing strategy because the combined use of all elements is where success is achieved. So, let's break it down…
1. Facebook Business Page
When setting up a presence on Facebook for your business you must setup a Facebook Business Page, which is different to a Personal Profile. Setting up a Facebook Business Page will provide you with the following benefits:
Anyone can view your Facebook Business Page
Facebook users can become a Fan of your business page
You can view statistics about your business page through Facebook Insights
You can run Facebook Ads directly to your business page
You can send an update to all of your Facebook Fans
You can stream your Facebook page directly through your website
Facebook users can become Fans directly from your website
You can get more than 5,000 Fans (personal profiles only allow up to 5,000 friends)
It's against Facebook's terms to setup a personal profile for a business, and Facebook can take it down.
2. Facebook Fans
A Facebook Fan is somebody who has 'Liked' your Facebook Page. A Facebook Fan is similar to an email subscriber except that they have 'subscribed' to receive updates through Facebook rather by email. You can see all your fans by referring to the side navigation of your Facebook Business Page.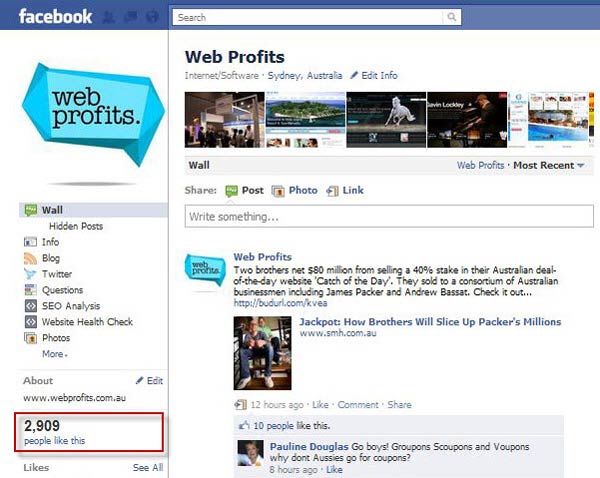 3. Facebook 'Like'
The Facebook 'Like' is used throughout Facebook. It allows users to give a 'thumbs up' (ie a positive recommendation) to messages they receive within Facebook and, through the Facebook 'Like' website button, directly on your website as well.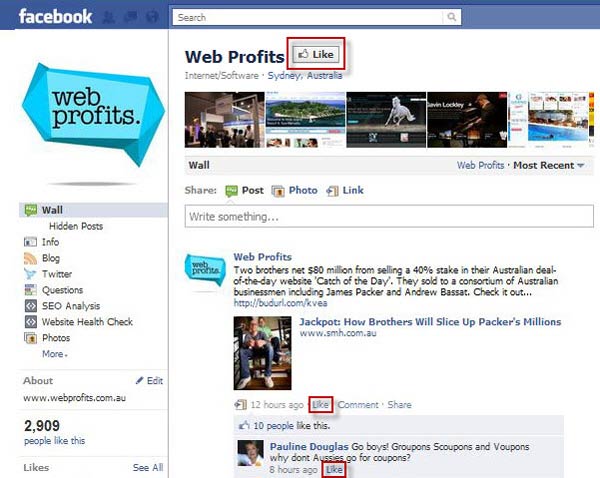 You can 'Like' the following…
Facebook Status Updates
Facebook Comments
Facebook Business Pages
Websites
Web pages
Importantly, when somebody 'Likes' your Facebook Business Page, they become your Fan.
4. Facebook Wall
All Facebook Pages, including your Facebook Business Page, have what is referred to as a 'Wall'. The Wall is the page that your Fans land on every time they visit your Business Page and can also be navigated to via the side navigation. Your Wall is used to share information with your Facebook Fans.
Your Wall is where you build the relationship with your Fans by posting interesting, relevant and informative updates, referred to as 'Status Updates'. Of note, a Facebook Page only has one wall.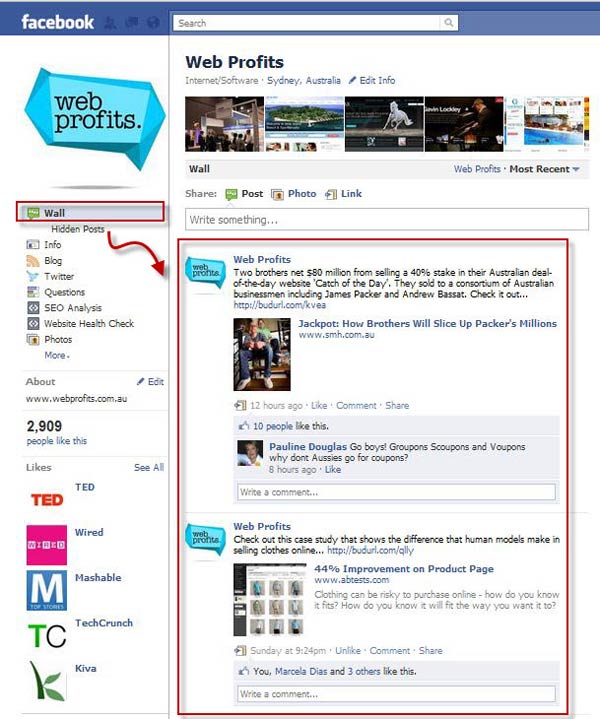 5. Status Updates
A 'Status Update' is the information you share on your Wall. At the top of your Facebook Wall is a content box with the words 'Write something…' This is where you post your Status Update (ie the information you want to share with your Fans) on Facebook. To post a Status Update, simply write what you want to share and then click on the 'Share' button to add your Status Update to your Wall.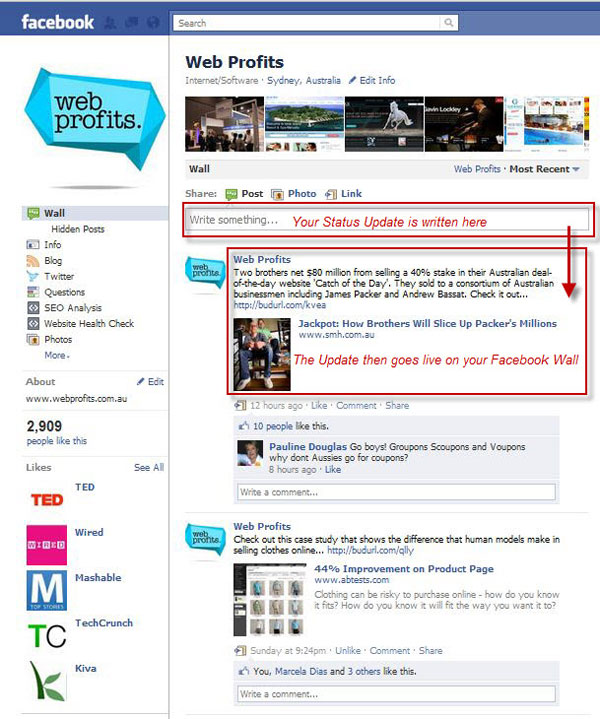 Here are some quick tips you can follow to ensure you are posting the right type of Status Updates for your business on Facebook…
Status Update Tips:
Your Status Updates should add value to the people reading them… they should enrich their lives. Share industry news, articles, videos, photos and anything else that adds value.
It is important to not sell or push your business, services or products through Status Updates because Facebook users are not ready to be sold to (yet).
The goal of your Status Updates is to build engagement with your Fans. This is achieved by receiving 'Likes' or 'Comments' on the information you've shared.
You can include links, videos and images in your status updates… and this is definitely something you should do because it builds and increases engagement.
When you post a link on Facebook it automatically generates a preview of the link. With that in mind, sharing web pages and online articles that have enticing images can increase the level of engagement.
Take your time constructing the wording of your status update. It's important to structure your message correctly in order to build engagement and drive conversation with your Fans.
IMPORTANT NOTE: Always make sure to check that you are posting as your business (rather than you) before posting your Status Update on your Wall. You can do this by clicking on 'Use Facebook as (Business Name)' in the right-hand panel underneath the Administrator information.
6. Facebook News Feed
The News Feed is the first page that is seen when people login to their Facebook accounts. The News Feed displays Status Updates from people they are connected to and business pages they are fans of. When you post a Status Update on your Wall the update is visible within the News Feed of all your Fans. And because there are no spam filters, your updates get straight through.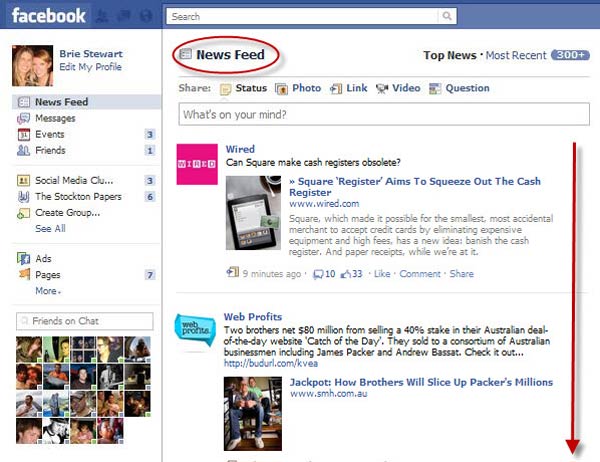 7. Facebook Comments
A Facebook Comment is when a Facebook user adds a comment on a Status Update you have posted on your Wall. When this happens, you can continue the conversation by adding a reply comment. Any Facebook user can make or reply to a comment on your Wall.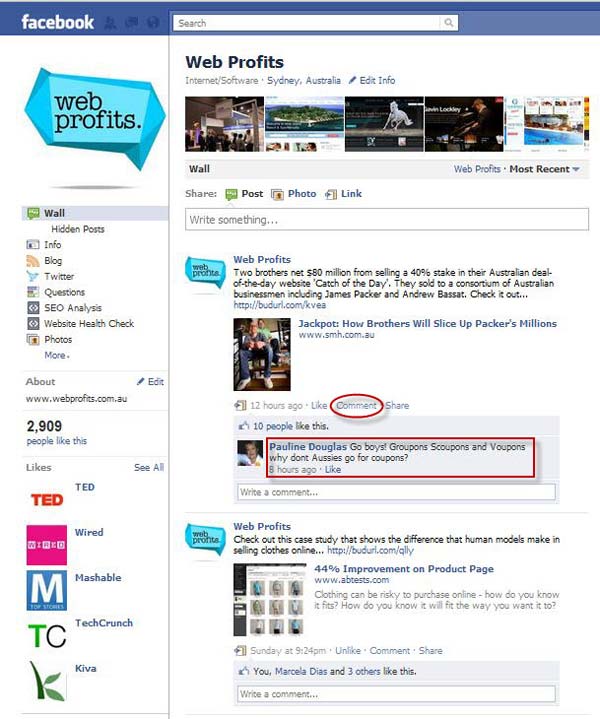 8. Facebook Share
The Facebook Share button allows your Fans to share the information posted on your Wall. Underneath your Status Update, next to the options 'Like' and 'Comment', your Fans can also choose to 'Share'. When choosing this option it opens up a Share box where your Fans can post their own opinion or comment on your Status Update and then post it on their own personal Facebook wall, visible to all of their connections. Importantly, when a Fan shares your Status Update it includes a link back to your Facebook Business Page.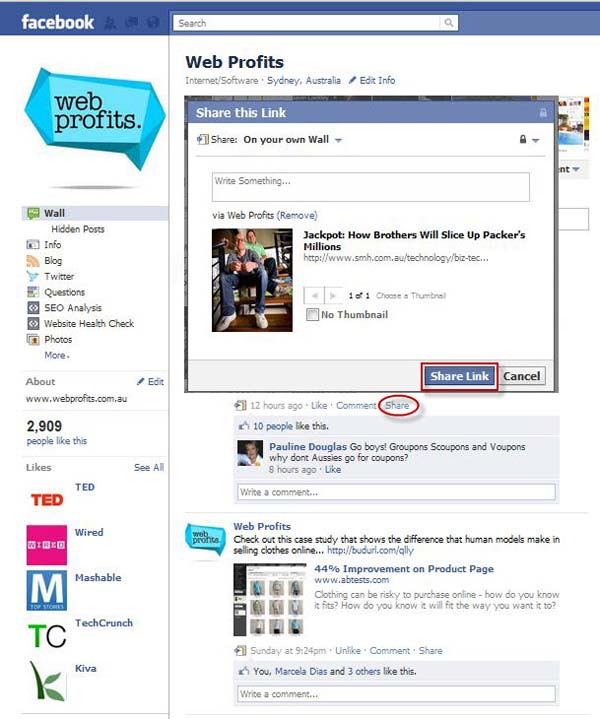 Now that you have a better understanding of Facebook Marketing, you can go and establish a presence on Facebook for your business. And as with any area of social media, it's important to have fun and experiment… just make sure that you are adding value and enriching the lives of your Facebook Fans.
Quick Fact: As of 2011, Australians are now the largest users (per capita) of social media, overtaking the U.S.
Is your business on Facebook? If not, why not?