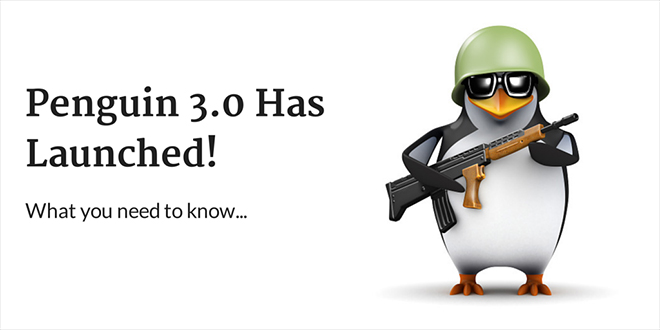 The third major update to Google's Spam-fighting Penguin algorithm has just been released and promises to once again upend the digital marketing arena.
With the value of top rankings in Google increasing exponentially each year, billions of dollars in search marketing are on the line – with webmasters, marketing agencies and businesses across the world actively monitoring the effects of today's major update.
Long anticipated, this change is set to either validate countless hours of work from digital marketers or disappoint an entire industry of 'white hat' professionals that have spent much of the last year cleaning up backlinks in anticipation of this day.
Check back here ongoing for the latest updates.
Google Releases First Penguin Update In Over A Year by @rustybrick http://t.co/GotznABUkr

— Search Engine Land (@sengineland) October 19, 2014
What is Google Penguin?
Google's Penguin algorithm targets specifically negative quality backlinks to websites, such as low quality directories, article exchanges, forum posts, purchased links and other types of links that Google deems 'unnatural'. Additionally, the last update targeted specifically what's known as commercial anchor text – which are links that have commercial terms as opposed to the brand name – for example shoes instead of Nike.
The last update to the Penguin algorithm came in October of last year and upended the first page of Google search results across many industries. Previous to October, major updates were released in May of 2013 and April 2012. Given the amount of work that has been done over the past year to remove the negative links that the Penguin algorithm targets, today's update is likely to have equally dramatic results.
Google's Penguin algorithm is unique in that Google has confirmed that it requires a full update in order for websites to recover from any previous penalties or to be penalised for link schemes. Most of Google's other algorithms refresh regularly, allowing websites to recover in rankings relatively quickly if they fix issues that are specifically targeted. It's this reason that so many businesses across the world will be absorbed in Google rankings over the next couple days as the full effects become clear.
Recent history of major Google updates
In the last few years, Google's search algorithm has undergone several major shifts that have dramatically changed the strategies required to obtain top rankings. For Google, it's all about building an algorithm that presents the most relevant search results possible for end users. This has led to Google providing more local search results, including social media in results, including more news and content heavy results, and focusing heavily on branding factors. Not all of this has happened at once though:
Panda – Google Panda was originally launched in February 2011 and targeted low quality onsite content. Behind Penguin, this algorithm update has had the greatest effect on search marketing over the past three years. Panda now refreshes on a monthly basis.
Hummingbird – Google Hummingbird is actually not an algorithm update but a new version of search technologies that allows Google to more effectively interpret users' conversational searches and question based searches, in particular voice searches which are becoming increasingly common. Google launched this new platform in September 2013.
Payday Loans – Google launched its Payday Loans algorithm update to specifically target the most spammy types of websites on the Internet, in particular payday loans, gambling and the sex industry. As these industries had so much more 'blackhat' SEO, starting in June 2013 Google targeted them specifically with a more aggressive approach.
Pigeon – The Google Pigeon update focused on providing more local search results for users. Launching in July 2014, this update increased the emphasis on a user's location in determining the results that Google presents.
Top Heavy – The Top Heavy algorithm update launched in January 2012 with the aim of providing search results with a better user experience by devaluing websites with a lot of ads in view when a visitor first lands on the site.
Knowledge Graph – The Knowledge Graph update in May of 2012 added new features to search results pages – in Google's words 'things not strings'. This introduced new features where search results pages included information relevant to the search directly, as opposed to simply links to pages with the information.
Penguin – Arguably the update with the greatest impact across businesses around the world, Google's Penguin algorithm first updated in April 2012, targeting spammy backlinks that had been ubiquitous to SEO for over a decade. Increasingly, this update is the bar by which websites measure their success in search.
Check back here for regular updates on the effects of this major algorithm update.
Update 20 October 2014 – Early reports are that the algorithm appears to be having varying effects across the world. As the update launched on Friday, it is still very early to see what the full effects may be. The next two weeks are likely to tell the full story.
Update 21 October 2014  – Google's Webmaster Trends Analyst John Mueller has stated that the algorithm has completed updating.
Update 21 October 2014 – John Mueller has stated that he spoke to early and that the algorithm is still updating:

Update 22 October 2014 – Google has confirmed that Penguin 3.0 will roll out over the next few weeks. In addition, they said the update affects 1% of Google searches (for perspective, Google processes 40,000 searches a second) and that sites who have cleaned up their backlink profiles are likely to see some recovery in rankings.
Update 27 October 2014 – It is increasingly clear that Penguin 3.0 is being rolled out slowly across the world, with webmasters around the world reporting waves of changes periodically over the past week. In the meantime, Google hasn't wasted any time moving forward with other changes, updating its Pirate algorithm, which targets online piracy, for the first time in over two years.
Update 29 October 2014 – This helpful post from Cognitive SEO provides an in depth analysis of Penguin-related algorithmic penalties, the work done to recover over the last year and the effects of the Penguin 3.0 update on website traffic.
Update 5 November – Google's John Mueller confirmed in his Webmaster Central Office Hours that Penguin 3.0 continues to roll out on the 18th day of the update – meaning rankings can be expected to continue to fluctuate.