Google's Penguin Algorithm Update Finally Announced
Get the strategies and tactics your competitors are using for their SEO, as well as insights into how to beat them at Google Search. Click here for a free competitor SEO analysis.
There are few things that get as much widespread buzz in the digital marketing industry as an algorithm from Google, and a Penguin update gets even more. Like a close AFL grand final, an extra time Rugby match, a World Cup penalty shootout or Steph Curry heating up, there was a massive influx of tweets, emails and text messages on Saturday, September 24th, spreading word like wildfire as Google announced the long-awaited update to their Penguin algorithm.
But what has actually happened? How strong was the impact? And what does this mean for the future?
Penguin is now real-time, more granular & part of the core algorithm
The short version is that this is great news for everyone. But let's take a look at the long explanation…
"Real-time" really means every month or so
For anyone that's been on top of Google's announcements for the past two years, they have always indicated that the next Penguin update would be a "real-time" one. But what does actually that mean?
Historically, Penguin algorithm updates have been built up over a period of time and refreshes released at random, often excruciatingly long, intervals. Originally, they happened once or twice a year but this latest update has been two years in waiting and has been pushed back since late 2015.
This latest announcement confirms that we will no longer need to endure such long waits. If and when a site is affected, we can act on backlink disavows and spam removals and expect these efforts to take effect after the next crawl and refresh.
Penguin will now affect the specific over-optimised ranking factor
An over-optimised backlink profile often received a site-wide devaluing penalty with previous Penguin algorithms. According to Google's announcement, this latest update suggests that only the affected ranking factors will be impacted.
For example, theoretically:
if you have an anchor text over-optimisation penalty (too many links with the same high-value anchor text) but the rest of your backlink profile is fine, you should only lose rankings for that keyword and related phrases.
if your ratio of non-relevant links is too high, the pages those links are pointing to and the anchor text used would be devalued but the rest of your site and keyword rankings should be fine.
if the ratio of "dofollow" vs "nofollow" is too high for specific pages, again theoretically only those pages would be affected.
It will be interesting to see the extent to which this granularisation of Penguin will be in place in the near future.

No more Penguin announcements as it becomes part of the core algorithm
There are several hundred ranking factors in Google's core algorithm. Needless to say, it's complicated, and they are very tight-lipped about the details of these factors, speaking only generically when they speak at all. So when Google makes an update to this core algorithm, it can often mean any number of things has changed.
Penguin is now rolled into this core algorithm and, as happened when Panda was absorbed, there will likely be no further announcements specific to Penguin updates in the future. Google may suggest a spam-related update or speak to specific examples, but expect that they will no longer mention Penguin in any future updates.
The impact of Penguin "4.0" thus far
As word of mouth spread, we all jumped into our ranking reports like giddy children, or even jumped straight onto Google to search for keywords we know are affected by a related algorithmic penalty, to see if they had recovered. Unfortunately, we saw very little on the day of the announcement.
Looking at the industry ranking fluctuation tools, we can see that compared to the core algorithm update in early September, there was  very little movement to date – just your standard daily flux: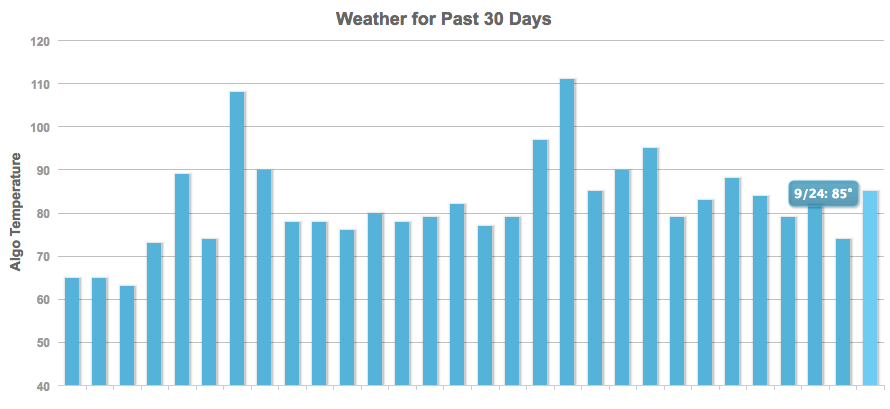 Source: MozCast


Source: Advanced Web Rankings


Source: AccuRanker


Source: SERPmetrics


Source: Algoroo


Source: RankRanger
I do note that some of these are updated a little slower, so we will continue to monitor over the coming days. Even manually checking search results and ranking reports, though, we can see that not much has happened so far and for anyone currently affected by Penguin this can be deflating.
But before you despair, this is to be expected.
In Google's announcement, the terminology is quite clear if you know what you're looking for. They've told us they "are now rolling out" the update and they provide a list of "key changes you'll see". This suggests that while the update is now part of the monthly refresh of their core algorithm and search index, the refresh of Penguin has not yet happened but will be part of the next refresh.
With the clear ranking fluctuations noted in early September, the core algorithm update and refresh has already happened over the first two weeks of this month, so it's fair to suggest that the real impact of this will be seen in early-to-mid October as the next refresh rolls out globally over one to two weeks.
We will continue to monitor rankings and fluctuations and will update as more data becomes available.
UPDATE (Sep 28):

Gary Illyes has now announced that recoveries are underway for the Penguin penalties imposed in the last refresh 2 years ago. This means that disavow files (likely crawled 2-3 weeks ago) are now being or will over the next few days be taken into consideration.
Need help with SEO? Click here to find out how Webprofits can help.
What to do now: Update your Disavow File
And do it ASAP.
Whether or not you've been hit with a Penguin penalty in the past, you should be all over your backlink profile. You should know every link that's pointing to your site is natural and disavow anything that could be seen as unnatural.
If you've been hit, you should start to see a recovery. If you haven't, you want to make sure you won't be in the future.
The reality is that we will never really know exactly when a ratio of anchor text or link relevancy becomes unnatural enough to cause a penalty until we see a ranking drop. But if you regularly check all of the links pointing to your site and keep your backlink profile clean, then you shouldn't come across any issues.
Here are some free and paid tools to help with analysing your site's backlink profile:
If you don't have the time, if you need help, or if you think you've been hit with a penalty, get in touch.