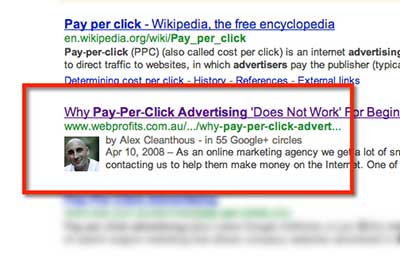 Google Authorship was introduced in late 2011 to verify original authors of content published online. Authorship has really taken off in 2013 with the recent introduction of Author Rank, a Google algorithm update (still in its infancy) that places greater value on content (and links within content) from authors with a higher Author Rank than other authors.
What are the benefits of Google Authorship
Aside from the SEO benefits you'll receive from an improved Author Rank, setting up your Google Authorship will provide the following benefits:
Your content will include your Google+ profile image in the search results
You can generate more traffic from your existing SEO rankings because your Google+ profile image increases your SEO click-through-rate
Your content can rank higher in search results
You can build more Google+ followers directly from search results
You ensure your content appears higher in the rankings than content scrapers (which are sites that automatically copy your content to drive SEO traffic)
Your content is seen as more credible because a real person's photo is attached to it
And most important, setting up Google Authorship is the first step in optimising your Google Author Rank (which I'll cover in another article).
The fastest way to setup Google Authorship
It took some trial and error to figure out the fastest way of setting up Google Authorship because there are a number of different methods and it can be very confusing trying to figure it out. So here's how I did it…
Step 1 – Setup a Google+ profile
Google Authorship requires a Google+ profile (and yes, it's another push by Google to get you using their social network) so make sure to set one up and enter as much information about yourself as you can.
Step 2 – Add the website to Google+
Add the URL of the website or blog you're writing for in the 'Contributor to' section. You can add your own websites here as well as any other websites you write for.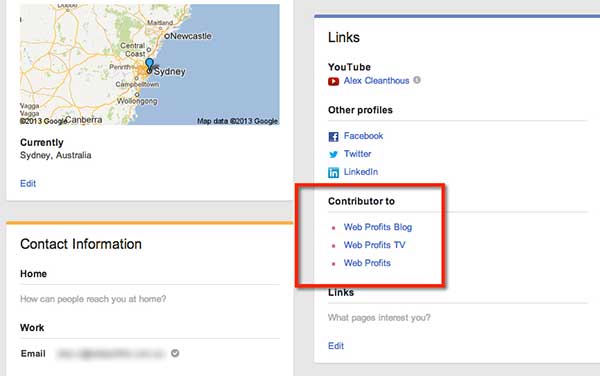 Step 3 – Add a meta tag to the page you've authored
Add the following meta tag between your header tags on the pages you've published content to (make sure to replace the Google+ profile link with your one):
<link rel="author" href="https://plus.google.com/111377002225429168292" />
WordPress tip: if you have a WordPress blog you can install the All In One SEO plugin and enter your Google+ profile in the plugin settings. And if your blog has multiple authors you can add each of their Google+ profiles in their user profile.
Step 4 – Test you've set it up correctly
You can test if you've set up everything correctly by using Google's Structured Testing Tool. If everything's setup correctly it will show you a preview of your content with your Google+ profile image next to it.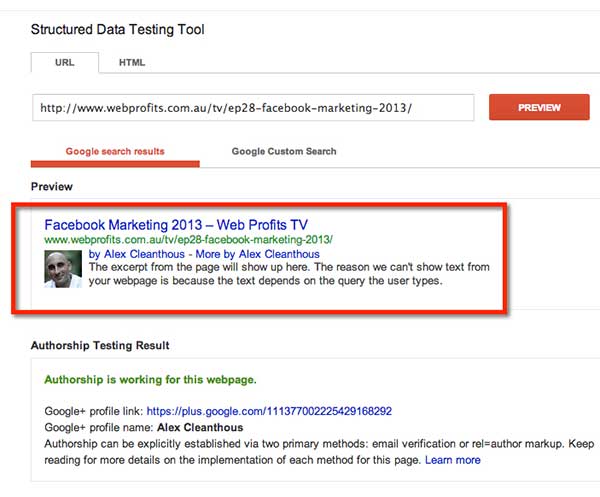 From there it takes Google 2-5 days to start displaying your Google+ profile image next to your content in search results.
If you need help ranking your website at the top of Google then find out more about our SEO services. Otherwise feel free to share your thoughts in the comments section below.