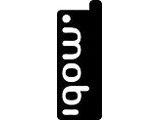 A new type of domain is currently available for registration… the DOT-MOBI, and many companies that profit from online marketing are rushing to secure their domain for the new advertising medium… the mobile phone.
This unique type of domain has been created for sites catering to mobile phones and other wireless devices.
So rather than seeing a condensed version of a particular website on your phone you can visit websites specifically built for mobile content devices.

Since the launch in August this year there has been a huge rush to secure dot-mobi domain names… registrations are now open to everybody.
Here are some interesting facts about the mobile content space…
– There are 4 times as many mobile phone users in the world as there are internet users
– There are more people in the world that own a mobile phone than there are TV and PC owners combined
Some players in the industry predict that the dot-mobi domain revolution will be similar to the dotcom revolution, with huge profits being made by owning popular domain names…
But, in my opinion, the real money will be made by developing dot-mobi websites which deliver digital content to users around the world.
This is probably a long way off, but it's a new medium every business should be thinking about marketing through…
You can register your own dot-mobi domain name at: