11 ways to pay for traffic besides Facebook or Google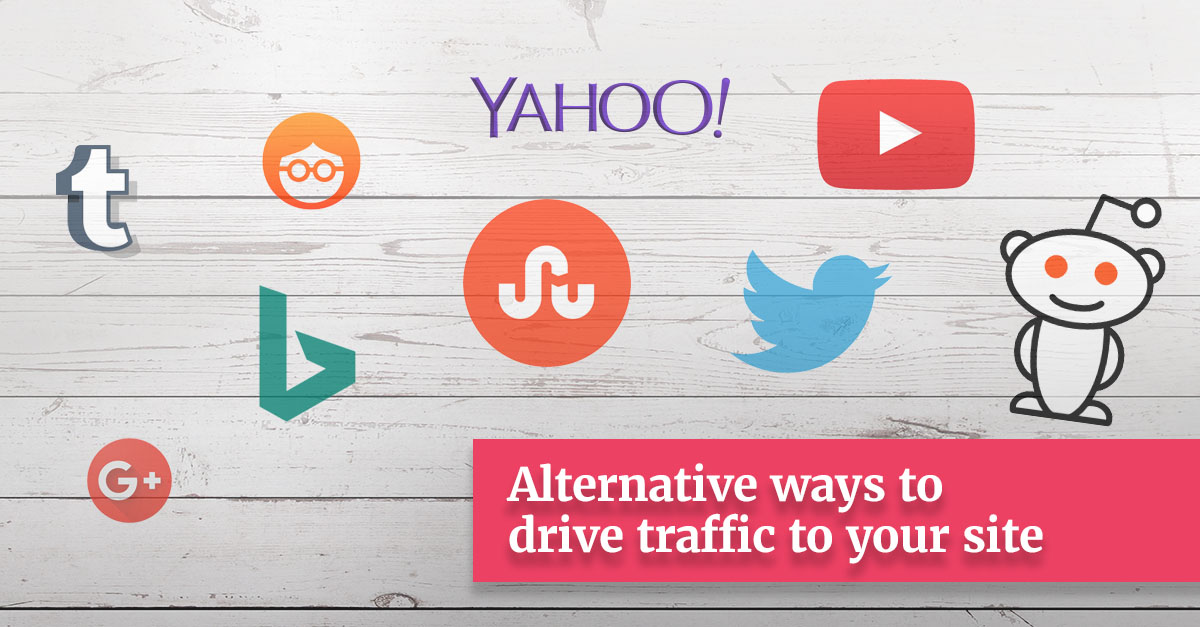 If you are running a business that relies on web traffic to generate leads and drive revenue, then paid traffic is ultimately going to make it into your budget.
Of course paying for traffic is not a new thing… But the industry continues to evolve, and unique alternatives create an opportunity to improve your return on investment and diversify your traffic strategy.
Google AdWords, and to a lesser extent Facebook ads, are the first place most people look for paid traffic. They are the proven, tested and highly optimised options for seasoned advertisers.
But they certainly aren't perfect…
The problem with Google Adwords and Facebook ads
Even though Adwords is still the most used advertising platform on the internet, it's not for everyone. The cost of Google AdWords is as high as it's ever been, and a lot of businesses struggle to get an ROI.
In 2015, Google made an astounding USD$67.3 billion in advertising revenue, and it is the core driver of it's stock price. That's why optimising ad revenue is on their strategic agenda. So it's no surprise that they want more money from you, and the best way for them to do that is to raise the cost per click of ads.
As well as being expensive, Adwords can also be super-competitive. With Google controlling 66% of global search volume, there are lots of advertisers fighting for the same clicks.
According to Wired, the search term categories "insurance", "loans", "mortgage" and "lawyer" are the most expensive categories. Also making the top 20 were "software", "classes" and "treatment".
If you are targeting keywords in these categories, you might be paying more than you need to for traffic.
Here is a breakdown of the top 20 keyword categories and their average cost per click;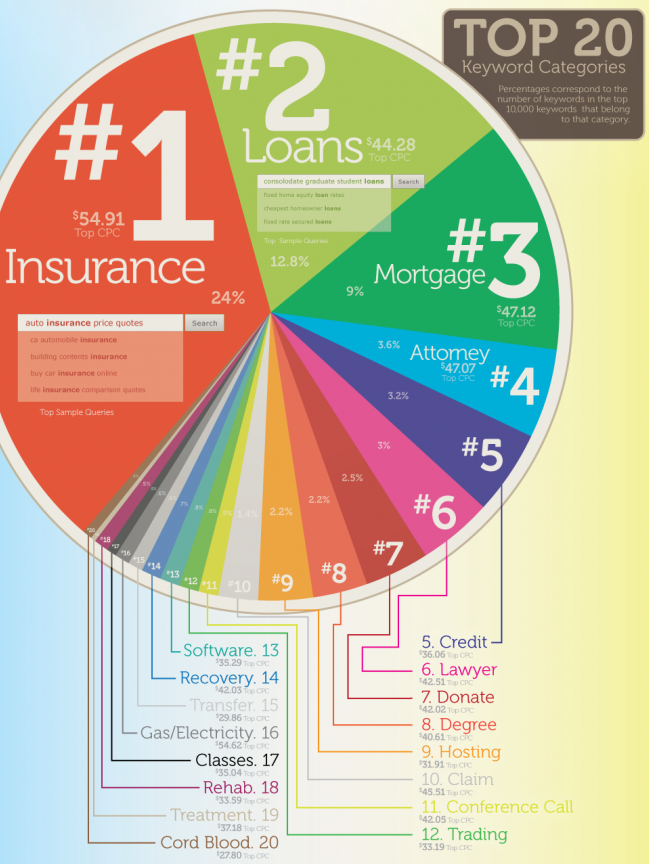 Image Source: Wired
On the other hand, Facebook ads haven't been around as long, but they're showing similar trends.
Between 2014 and 2015, businesses started paying 122% more for ads on Facebook, and subsequently their stock price has soared.
Just like with Adwords, the platform is becoming increasingly competitive, with over 90% of social marketers using Facebook for advertising.
Whether it's Adwords or the Facebook ad platform, both seem to be on a path to saturation.
What are your options then?
I'm not suggesting that you should switch off your Adwords account and de-bunk your Facebook strategy…
They are still very good platforms for driving targeted traffic, and their maturity gives you the benefit of knowing what needs to be done.
But they aren't perfect, and the better online marketers are seeking a diverse traffic strategy, rather than relying on the things that have worked in the past. Diversity decreases your risk and helps find the best platforms for your unique situation.
So if Facebook and Google aren't the only options, what else is there?
Here are 11 alternative ways to pay for traffic that isn't from Google Adwords or Facebook.
1. Bing Ads
When someone thinks about search advertising they automatically think about Google and the Adwords platform. But it goes beyond that. Anywhere someone is searching for an answer to a question, or a topic of interest, ads can be delivered that are contextual to that search.
Bing Ads are an under-utilised resource with a lot of reach. They claim to have 56 million searchers that AREN'T reached on Google…
Image Source: Bing
Here are some more interesting stats;
Image Source: Bing
And if you're already using Adwords, you can import your campaigns straight into the Bing platform.
Here's how…
Go to Bing Ads and register if you don't have an account.
Once you are logged in, at the top of the menu go to 'Import Campaigns' and then 'Import from Google AdWords';


Image Source: Bing
Next, sign in with your Google username and password, select the AdWords campaigns you want to import, fill in some other bits and pieces and click import. It's that easy.
Of course you can also create your Bing Ads from scratch, but if you have already been running AdWords for a while and have optimised them for a good ROI, then this option saves you a bunch of time.
Within minutes you could be accessing a whole new group of potential buyers.
2. Instagram
Social media advertising is rapidly growing as a medium for marketers to reach more people and attract traffic to their websites, and that's why it takes up a big chunk of this article.
Typically social media advertising has a distinct advantage to other platforms, because advertisers can take advantage of the in-depth user information and demographic data available to effectively target their ads.
Instagram is the first social network we are going to look at.
Instagram is now the "most important" social network for teens and young adults, ahead of Twitter and Facebook.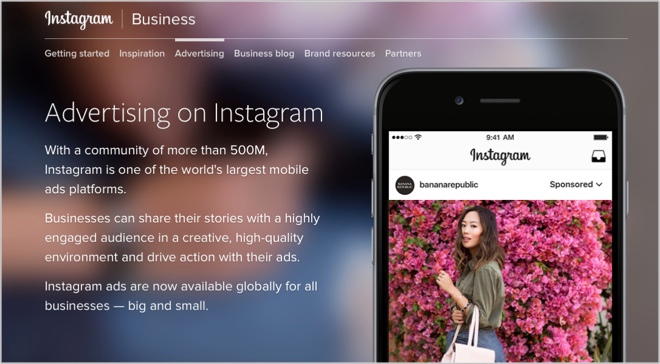 They offer three advertising options:
Photo ads (exactly as they sound)
Video ads that can be up to 60 seconds long
Carousel Ads, where people swipe to see additional images
Image Source: Instagram
All these ad types can be used for a targeted website traffic campaign.
To get started, visit their Ads Guide (in partnership with Facebook) to see ad best practices for your objectives;
Image Source: Instagram
You can also setup Instagram ads from within the Facebook ads platform, so if you're already familiar with that it may be be a good option.
If you'd like some more tactics, other than paid advertising, for growing your Instagram engagement, read this post: The definitive guide to Instagram engagement
3. Twitter Ads

Twitter offers several advertising options for driving traffic to your website;
Promoted Tweets: These are just regular tweets, but you can pay for their placement to get more reach. Promoted Tweets have shown an average engagement level ranging between 1-3%, which is much higher than traditional banner ads.
Promoted Accounts: These help get your Twitter account seen by a wider audience by featuring it in the "Suggested Accounts" area of Twitter.
Promoted Trends: These appear at the top of the "Trending Topics" list on Twitter.
Just like most of the social media advertising alternatives, all these ad options are clearly marked as "Promoted".
You can also create a Twitter ad campaign to specifically drive website traffic by using what is called a "Website Card".
Users can preview an image and related text, then click back to your website;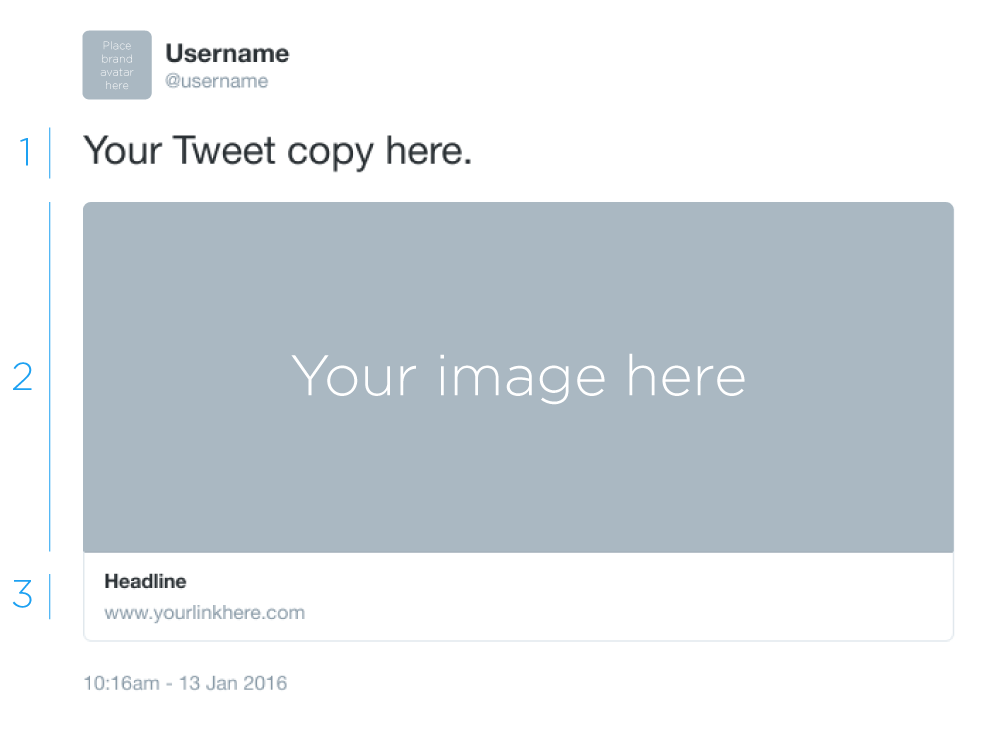 Image Source: Twitter
One cool thing about Twitter ads is their advanced targeting options that help you reach the right audience.
Here are some of the targeting options you have available as an advertiser;
Target by followers
Target by keywords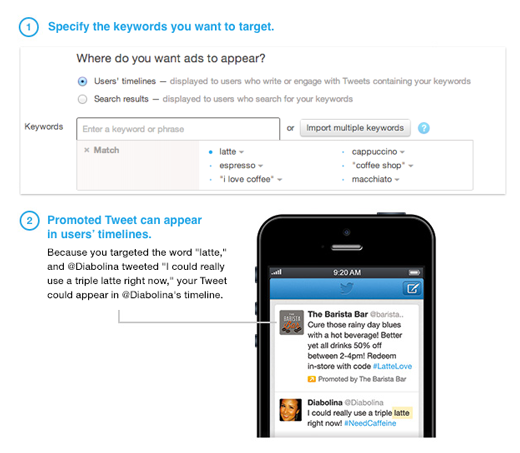 Image Source: Twitter
Tailor audiences by creating your own personas or avatars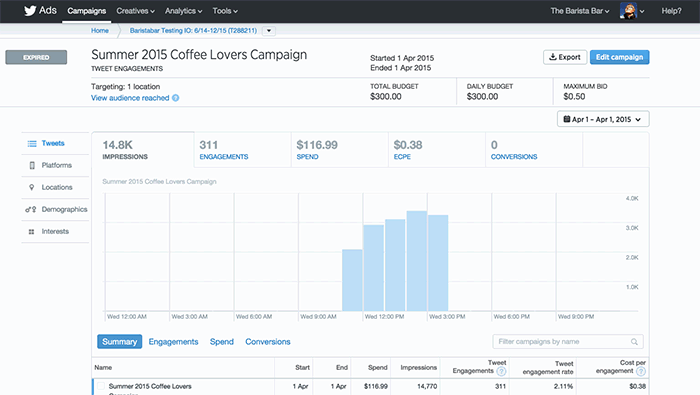 Image Source: Twitter
Target remarketing audiences
And more…
If you're ready to get started with Twitter ads go here.
4. LinkedIn Ads
LinkedIn advertising is one of the more expensive options when it comes to social media advertising, but it can be great for B2B marketers.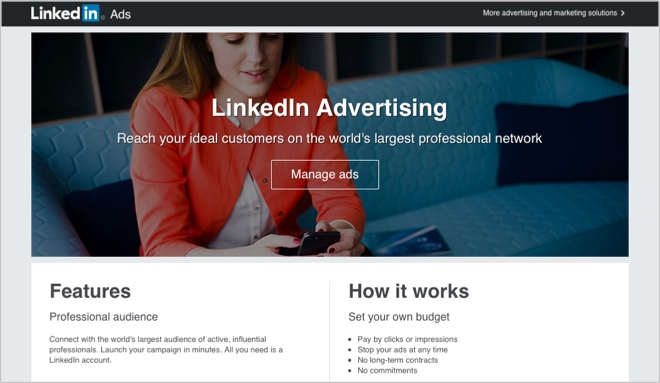 Image Source: LinkedIn
Some research suggests that LinkedIn drives more customers to B2B businesses than company blogs, Facebook, or Twitter.
With LinkedIn advertising you have two options;
Sponsored content
Text ads
To get started all you need to do is set up a LinkedIn advertising account and login into the Campaign Manager.
Once you're inside you can easily setup a campaign using the prompts and track your ad performance.
5. StumbleUpon
StumbleUpon drives more traffic than Reddit, Google+, LinkedIn and YouTube – that's pretty crazy right?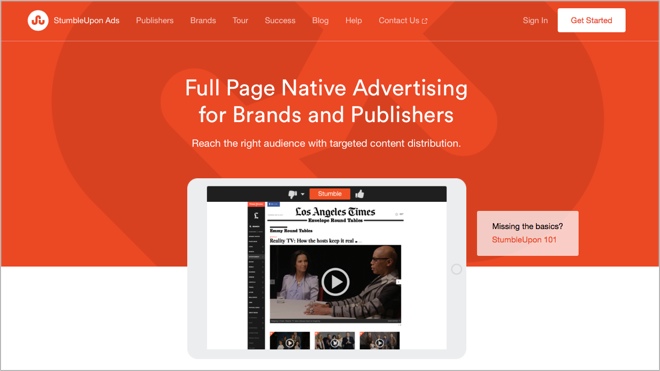 Image Source: StumbleUpon
The platform offers full page native advertising for brands, where you can choose your audience and maximise your relevancy by selecting from 500+ interest categories;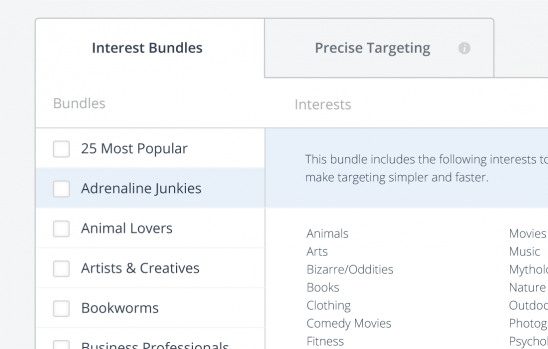 Images Source: StumbleUpon
One unique feature with StumbleUpon ads is that your sponsored ad can also get free visits. The more people engage with your content, the more free visits you'll get;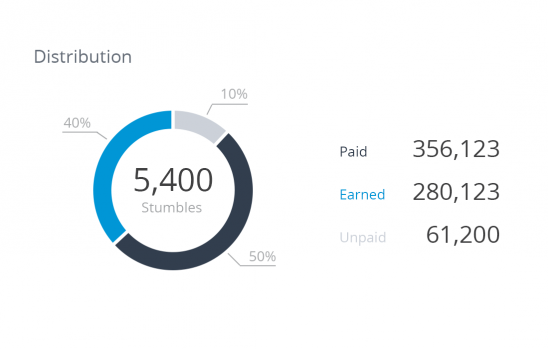 Images Source: StumbleUpon
6. Reddit
Reddit has 234 million engaged users who can help drive traffic to your website.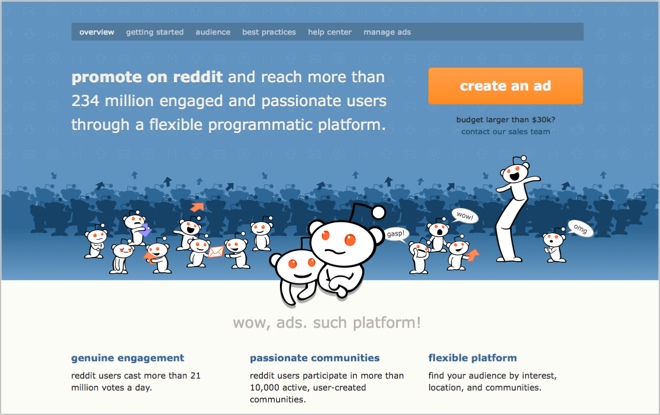 The platform offers sponsored ads, such as these:

Image Source: Reddit
All you'll need to get started is a Reddit account, ad copy, URL or text to promote, and a 70 x 70 thumbnail image.
Go to reddit.com/advertising and click "Create an Ad" to get started.
You'll be redirected to your campaign dashboard to select your targeting, budget, scheduling and pricing;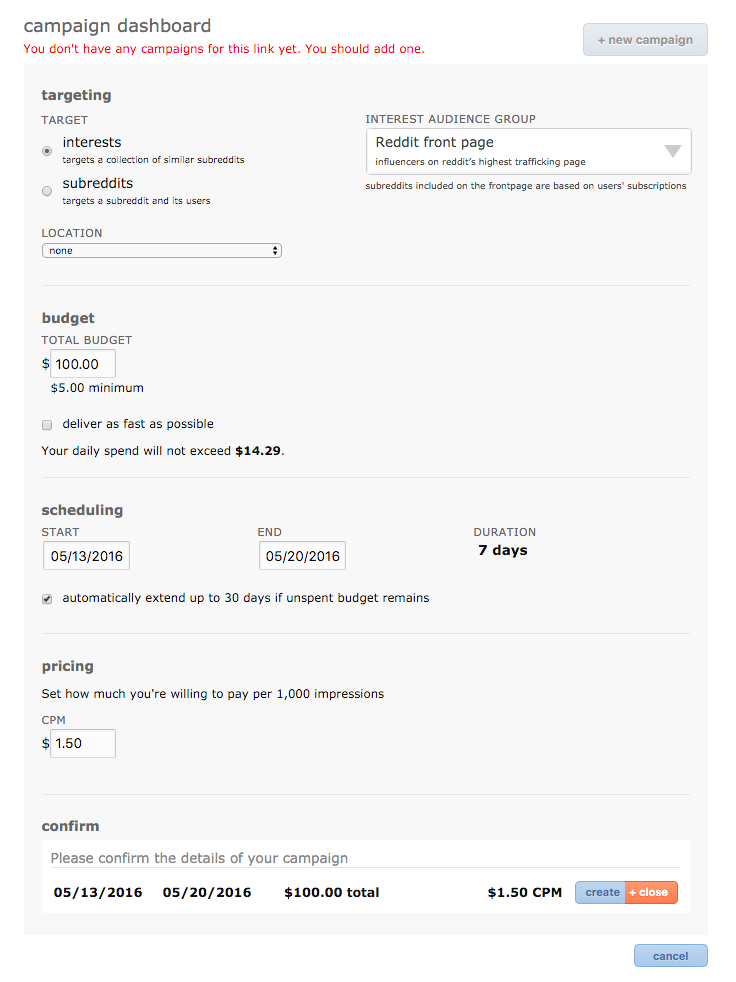 Image Source: Reddit
You can even target specific subreddits to hone down your audience and reach the right people;

Image Source: Reddit
7. Pinterest
As of November 2014, 93% of Pinterest users shopped online, making it an extremely valuable advertising platform for eCommerce companies.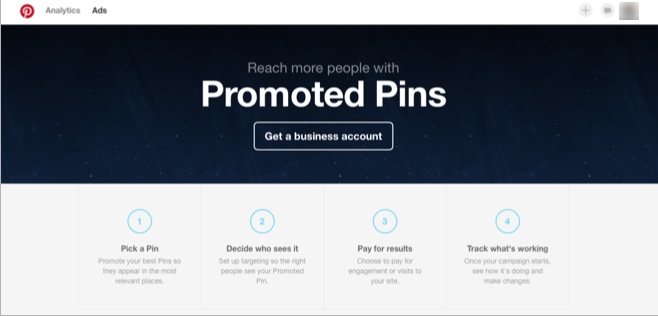 Image Source: Pinterest
The platform offers "Promoted Pins" (similar to "Promoted Tweets" on Twitter), which are repinned an average of 11 times per ad (a 30% improvement on earned media).
You'll need a business account to get started, but it's really easy to convert your existing account across.
Once you have that setup, click the (+) button and then "Create ad". You'll be prompted to select a campaign goal such as "Boost engagement" or "Get traffic to your website";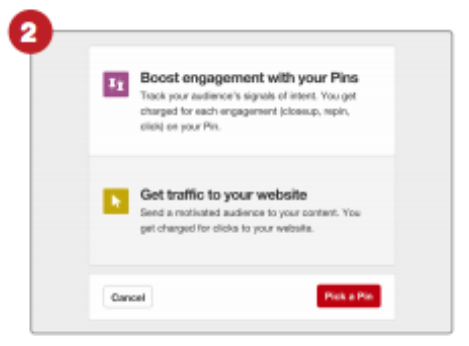 Image Source: Pinterest
Once you've entered all your campaign details, you just need to select a pre-existing pin to promote and you're off;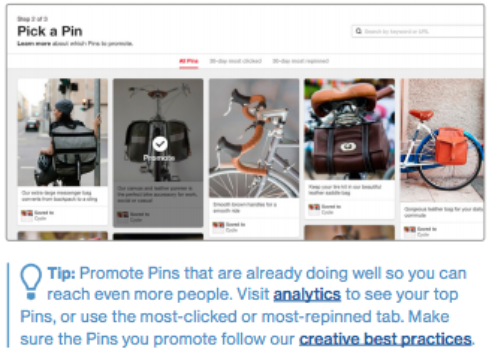 Image Source: Pinterest
8. Tumblr
Tumblr is a vastly under-utilised paid social option, which is crazy seeing it has over 550 million active monthly users.

Image Source: Tumblr
They offer some pretty unique ad options:
Sponsored posts: These are regular sponsored Tumblr posts targeted by gender, location and interest. They can also be syndicated with Yahoo.
Sponsored video posts: This is like native video with additional analytics on views, looping and engagement.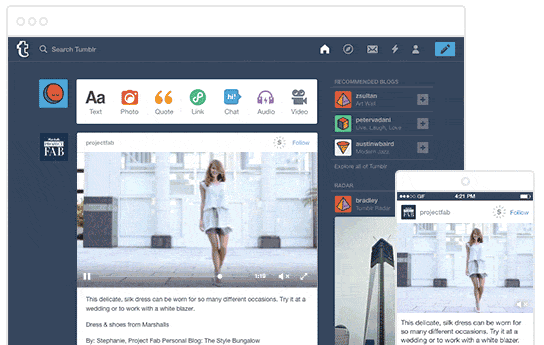 Image Source: Tumblr
Sponsored day: You can pin your logo and tagline on the explorer page for 24 hours. Promote your own posts, reblog, or do both.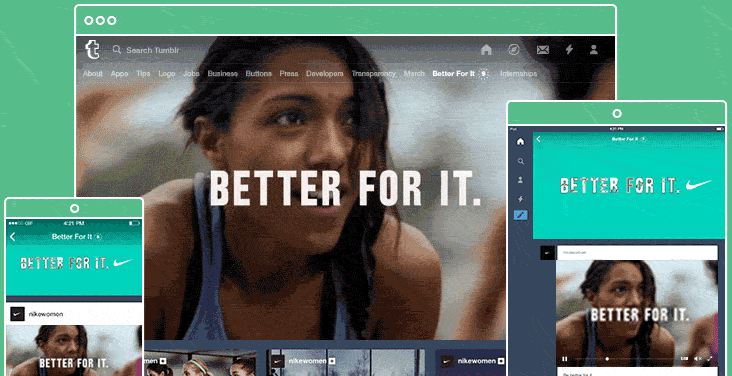 Image Source: Tumblr
9. YouTube
Technically YouTube ads are still implemented using the Adwords platform, but they can help you reach a very different audience than Google search.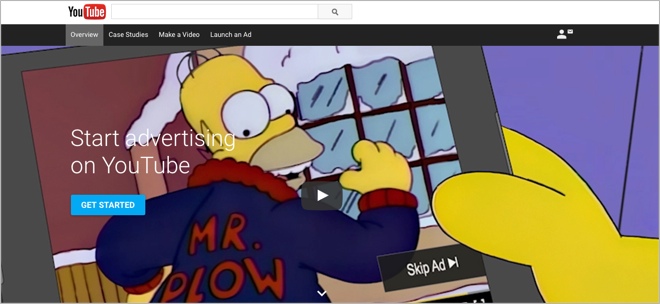 Image Source: YouTube
They offer several different ad formats;
Display ads: These ads are above the video suggestion list and to the right of the feature video;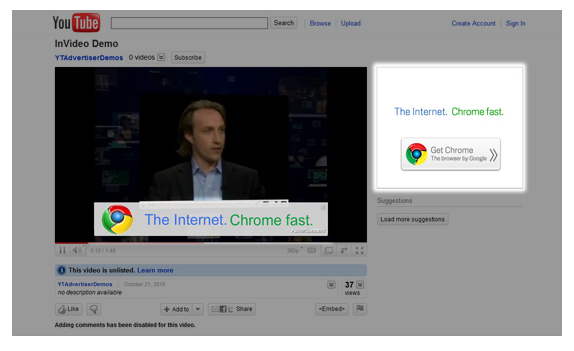 Image Source: Wordstream
Overlay ads: Ads that are semi-transparent and overlay the lower 20% of a video.
Skippable video ads: These are inserted before, during or after the main video and are skippable after 5 seconds.
Non-skippable video ads: These must be watched before a user can start a video and can be up to 30 seconds long.
Sponsored cards: This is for getting exposure for related content;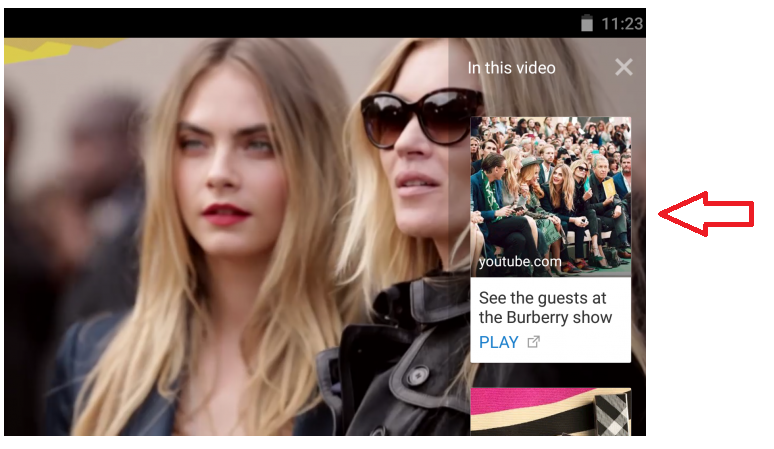 Image Source: Wordstream
10. Outbrain
Content distribution networks help marketers get more exposure for their content by displaying it on high-traffic publishing sites. They aren't for running "ads" specifically for your business, but to get your blog posts or other content seen by a bigger audience.
Outbrain works with a worldwide publisher network where they distribute your content on websites such as CNN, Slate and ESPN.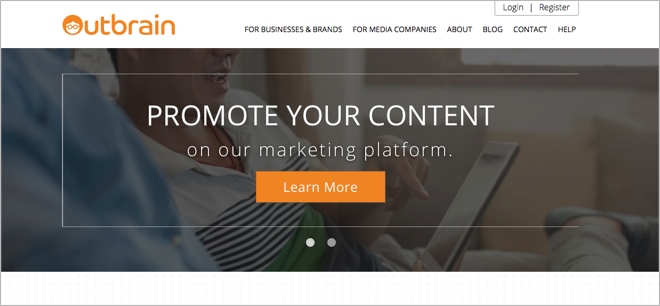 Image Source: Outbrain
The difference is that you're not paying for ads, but paying for your content to appear as "suggested content" like this;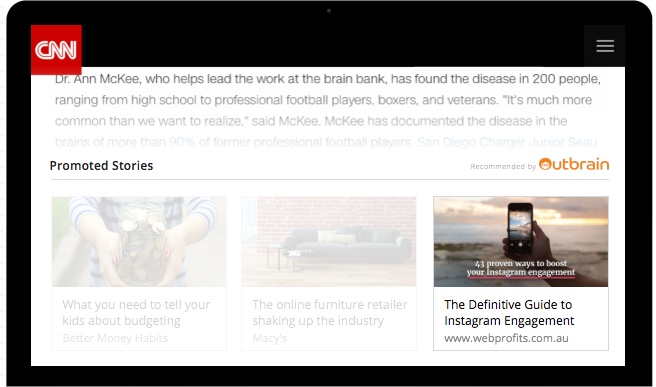 Image Source: Outbrain
Outbrain's network reaches a global audience of 557 million people, so it presents a huge traffic generation opportunity.
There's a daily minimum of $10 and you pay at a "Cost-Per-Click" bidding rate until you reach your budget.
Their system allows you to create targeted campaigns to reach the right audience, as well as test different headlines and images to improve your results.
In your campaign dashboard, just click "add multiple content URLs and Titles" and follow the instructions;

Image Source: Outbrain
You can add up to 3 or 4 different headlines if you want.
11. Paid Email Campaigns
The last tactic for driving paid traffic to your website is one that a lot of businesses don't immediately think about, but it can be very effective.
Paid email campaigns are when you partner with an individual, organisation or other complimentary business that already has a database of subscribers, and pay for access to that list.
There are two main types of paid email campaigns;
Solus campaigns
Affiliate or joint venture campaigns
A solus email campaign is essentially an email advertisement to a list of subscribers that have opted in to receive emails from another organisation. The email will appear like it is coming from your organisation, in terms of the look and feel.
Here is an example of a solus email campaign from Food Lovers in New Zealand, for the cheese brand Kapiti.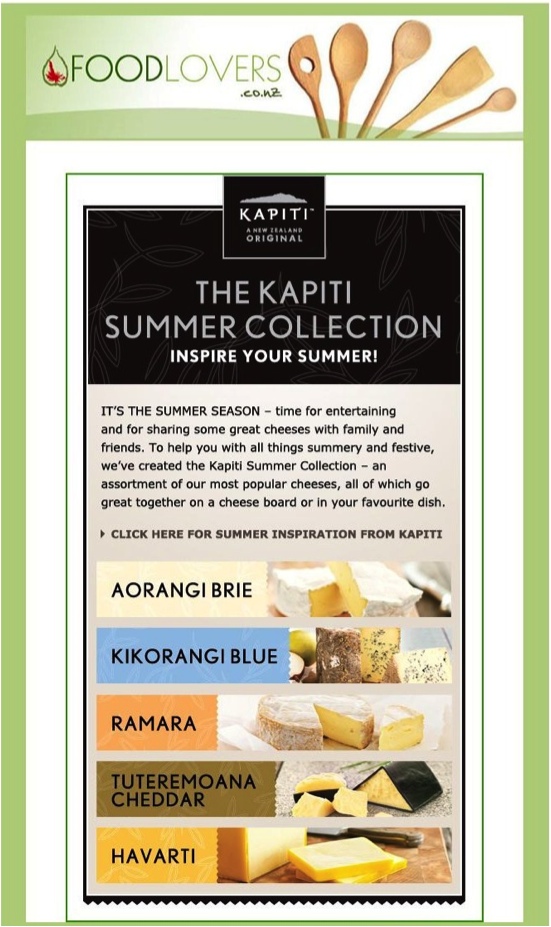 Image Source: Ad Hub NZ
So what makes for a good solus email?
If you are considering using solus campaigns to drive paid traffic to your website, here are some things to consider:
Is the list of subscribers the right audience for your business? Think about the demographics, tastes, interests, hobbies and preferences of your ideal customers.
Does the email distributor have a similar tone and style to your brand? Do your brands align?
What is it going to cost, and can you expect a return on your investment (ROI)? Ask the email distributor for things such as the average click-through-rates, open rates and ROI of previous solus campaigns they have conducted.
What is the best offer you can send to this list of people? Typically lead magnets are a great way to get the most out of solus campaigns because they allow you to quickly capture the contact information of a bunch of people on that list. Special offers and discounts work well too, these people don't know you yet so they need a bit of an extra push to convert.
To find solus email campaign opportunities the best place to start is with industry websites, associations and trade magazines in your niche.
An affiliate email campaign is slightly different to a solus campaign, but it's cut from the same cloth. Basically you are liaising with a 3rd party who has an already engaged list of subscribers in your industry, but instead of trading money for the chance to email their database, you are agreeing on a percentage cut of sales.
With an affiliate campaign you are only paying for the sales you make, so this reduces your risk. For example, with an affiliate campaign you may offer the database owner a 20% commission on any sales that come directly from their email campaign.
Affiliate campaigns are usually run more so with individuals, rather than organisations or industry publications. Think about influencers in your industry or popular bloggers, these are the people who are most likely open to running an affiliate campaign for you.
The downside to affiliate campaigns in comparison to solus emails is usually the scope. Individuals are unlikely to have the "one hit" reach of a trade magazine or industry association. So it depends on what the focus is of your paid traffic campaign.
Conclusion
What does your paid traffic strategy look like? Are you heavily reliant on Facebook or Adwords traffic?
While I'm not suggesting you drop everything and start spending money on all of these advertising platforms, there is some merit in testing some alternatives out.
There is a huge chance that some of these strategies could get you a leg up on your competitors. Do you think they have even thought about tapping into all of these traffic sources?
As the advertising industry continues to evolve, the winning businesses are the ones that are willing to take a few risks, test out new platforms and stick to the winners. If you sit dormant with the same strategies for too long they'll get stale, your cost per acquisition will increase and someone more innovative will come in and steal your market share.
Which one of these 11 ways to pay for traffic are you going to test out first?
Unsure about where to start? Get in touch with us.