100 days of Snapchat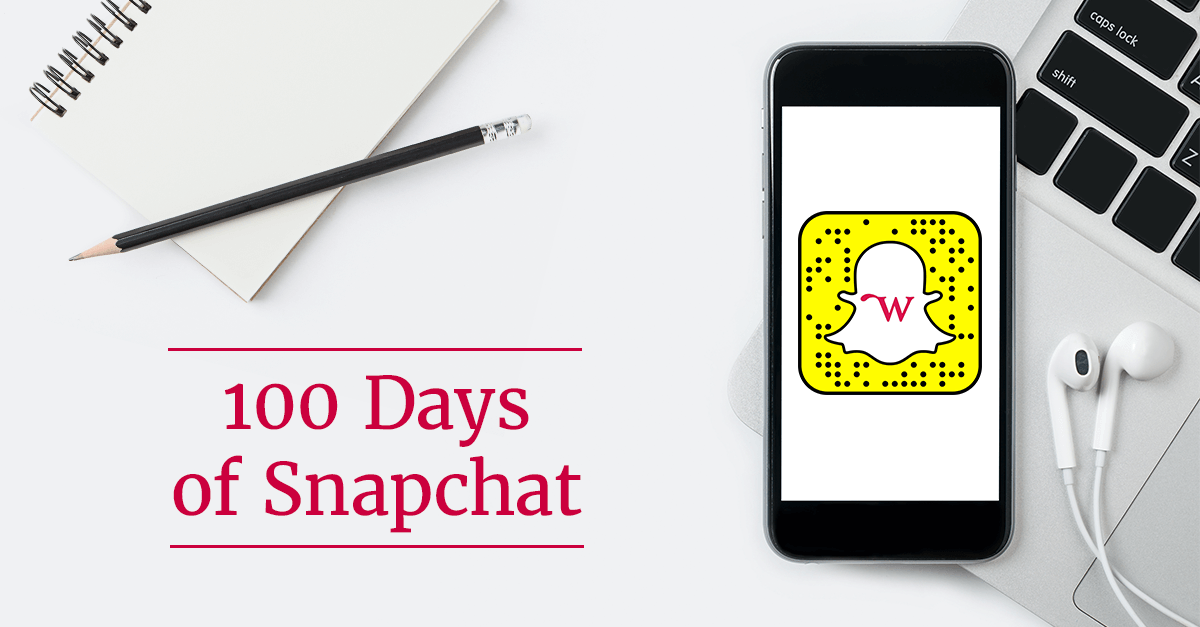 We're about to start using Snapchat as a marketing tool for our business, and I'm keeping this diary along the way so you can see exactly how we're doing it. I'll be documenting some of the important days and milestones to keep you updated on what we think about it.
Why we're testing Snapchat
Snapchat is the fastest growing social media platform in the world today. Currently worth an estimated $20 billion and with 150 million daily active users, it's come a long way from the "fad" that was just for teenagers and sending nude pics. These days, it's almost impossible to avoid a post/tweet/article from an "influencer" who tells you that your business "has to get on Snapchat".
As much as I put these words and phrases in "quotation marks", I agree. Some of the businesses that are doing the best on Facebook right now are the early adopters – the ones that jumped on board when brands first did, and really established an engaged audience that is now paying dividends (and has been for some time).
Snapchat certainly has the same feel around. When Facebook first started becoming a real tool for marketers years ago, I was a marketing manager for a company that generated most of their leads through search engine marketing, in a really boring niche. I dismissed social media outright as a marketing strategy.
I was obviously wrong.
With hindsight, there are dozens of ways we could have used it, but didn't… C'est la vie.
Getting into Snapchat
Fast forward to today and I'm at an innovative digital marketing agency, doing some really cool things at the forefront of marketing technology. And now we're going to start Snapchat.
Our team have read a lot about Snapchat on all of the marketing blogs but until you really get stuck into a platform, it's hard to know what you're doing. We're going to be using it to market ourselves and get a much better understanding of how it can work. Once we're confident it's working for us, we'll make it available as a service we sell to our clients.
I was persuaded to download Snapchat by a friend I made while I was hiking in the Himalayas (#Humblebrag) almost 2 years ago. Since then I've been using it more and more and have amassed an incredible 30-something followers.
I'm not very active on it. I use it to take snaps of nights out with friends, or to take pictures of the Sydney weather/landscape to send home to sunny London town.
100 days of Snapchat
Note: 100 days covers the 3-month test we'll be running on Snapchat (including 10 days of planning). I will usually write about the days when something major happens.
Update 1: Click here to skip to day 15 – the day we launched Snapchat
Update 2: Click here to skip to day 52 and beyond
Day 0
A few days ago I received a meeting request from Alex, our Chief Innovation Officer, to discuss a strategy for using Snapchat. He and Kath, our Head of Social, had been discussing it while on a trip to Melbourne and want to see us start to use it. Luckily, I agree, so I'm keen to get started.
Kath shared some great articles to help me catch up, including this one on brands to follow, another on Snapchat "hacks" and another on how to use Snapchat for business.
Day 1
Today is the day of our first meeting.
Since he's used it to grow his personal brand, we're getting the advice of Sujan Patel, our General Manager in the US, via a Skype call. We had an interesting discussion covering a lot of the topics I'd been wondering about: frequency of posting, types of content, other businesses to follow, who his audience was, how they engaged with him, and plenty more.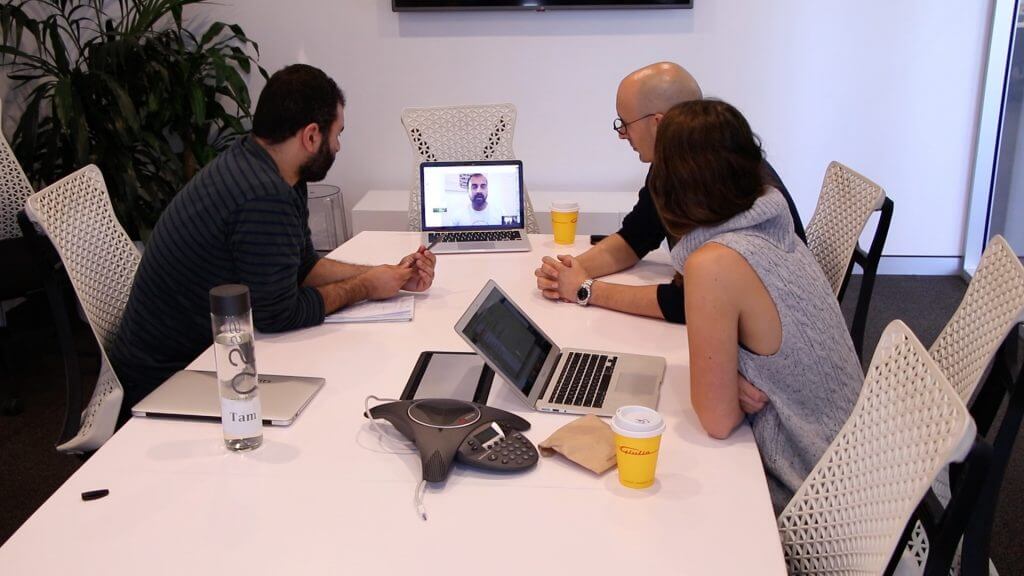 He found it to be a very useful platform for engaging with his audience but lacked the time to fully commit to using it as a growth channel. Like most channels, he felt that if you can't do it properly, then it's not worth doing at all.
Though many of his stories were work-related, he shared a lot of stuff that was more personal. Walks with his dog, travelling the US, stuff that just showed who he was as a human being rather than as a brand.
A major assumption everyone continues to make about Snapchat is how young the user base is. Sujan partly debunked this myth by informing us that plenty of his followers were older than 30. We also discussed that all 4 of us are on Snapchat and our ages range from mid-twenties to late 30's, a demographic we share with the majority of our target audience. It therefore stands to reason that we should be able to reach our target audience via Snapchat.
Total Followers: 0
Snaps posted in story: 0
Story viewed by: 0
Day 2
Alex, Kath and I met to formalise our thoughts following our chat with Sujan. Kath had already liaised with our social media team to put together a document that outlines a strategy. It was agreed that the document is still not set in stone and we'll be learning more about what we should be doing, and how we should be doing it, along the way.
We discussed the strategy at great length, elaborating further on our target audience personas, they type of content we'll be producing, how we strike the balance between informative and fun. But most importantly, we discussed the metrics we'll be tracking to make sure we're on the right path.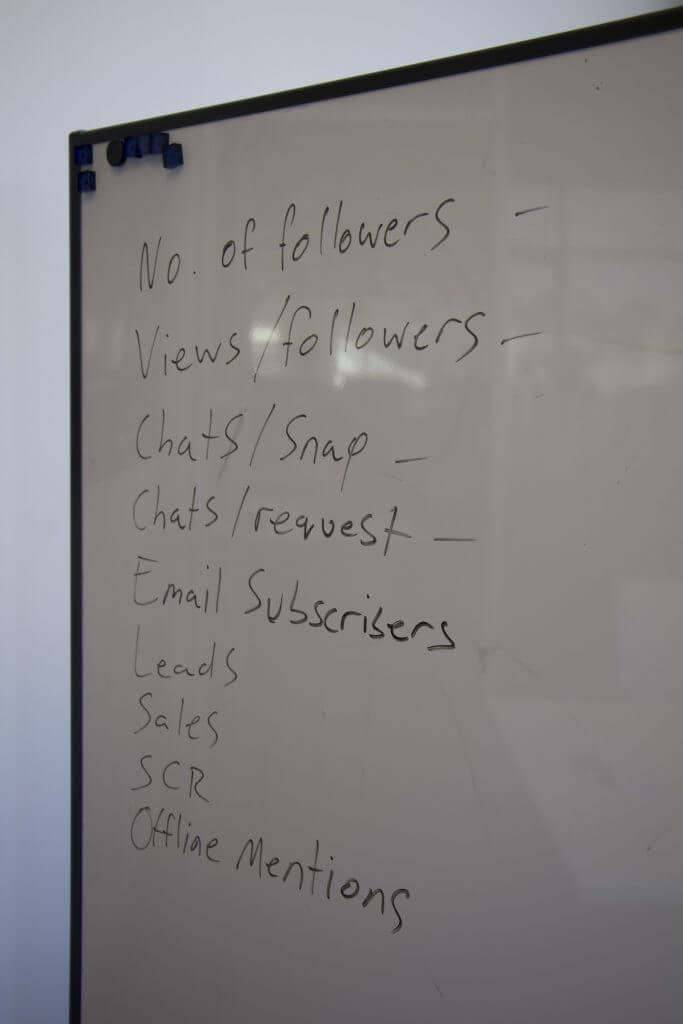 Note: don't judge my handwriting… I work in online marketing after all 🙂
We decided that the key ones to track within the app would be:
the number of followers we have
the number of snaps that have been watched
the % of snaps in a story that are watched (we coined it the Story Completion Rate or SCR for short – although we're still debating )
the number of screenshots
the number of messages
We're also hoping to track a few metrics that will happen offline. These secondary metrics are:
mentions in sales conversations
leads
sales
We're still not sure that our Snapchat activity will translate into offline conversations/sales but without any at all, it becomes difficult to justify investing a significant portion of resources into producing the content for it.
Though the 3 of us will be involved from a strategy perspective, only one person will be responsible for the actual creation and execution of the content and that's social media producer Connor Chmielewski (although we need to find a way to systemise this in case Connor is sick or on leave), partly because he's used it for business in a previous role.
Mostly though, it's because Connor's personal Snapchat is amazing. He's really mastered the different functions and I don't mean just using a filter to put a crown of flowers on his head. He can draw all sorts of moving creatures and images which then move in time around his mouth while he sings. Anyway, he's good.
But I was a little concerned that he may be too creative. Snapchat is a fantastic platform to be eccentric, wacky and fun, but I feel that it's important that we don't overdo it. We still need to be informative and professional as well as fun, so the balance is going to be an interesting challenge for us to keep while we roll this out.
We also agreed a "soft" rollout of our Snapchat channel. Next week we would start posting snaps but we would only release the code the to our team internally. We would take their feedback and use it to inform how we use it.
Total Followers: 0
Snaps posted in story: 0
Story viewed by: 0
Day 3
Kath and I met in the morning to finalise some details about the target audience. Kath identified 3 key specific personas who should find our Snapchat channel interesting. We went back and forth a bit on how many people are in the companies they own/work for, what kind of car they drive and how they came across us. These details might seem like overkill but we've found that the more we can visualise a potential target, the better we can tailor the content to them.
We then presented the strategy to the social media team. They use Snapchat to varying degrees but have read more about it than any other team in the company. They're the most creative too, so it's important that we include them as much as possible.
The purpose of the meeting was to get some ideas from the team about the different content they think our target audience would find interesting. The content itself is one thing, but we also wanted to get an idea about how to deliver that content. Snapchat has a lot of interesting and creative ways to amend images and videos and we all agreed that leveraging that creativity is a key to making it a success.
Though I'm keen to get all of the team's' input, I was particularly keen to hear from Connor. It turns out I needn't have worried about Connor's eccentricity. In our discussions, it became clear that all of Connor's ideas for content, as well as delivery, had the end user in mind. So while being entertaining, they still upheld our brand.
Meeting at 4pm on a Friday, with a couple of beers and ciders, is the perfect time to get the creative juices flowing. As we went around the table, with each member (including me, Alex and Kath) coming up with ideas for content, it was clear that they were as excited about seeing how it pans out as I was.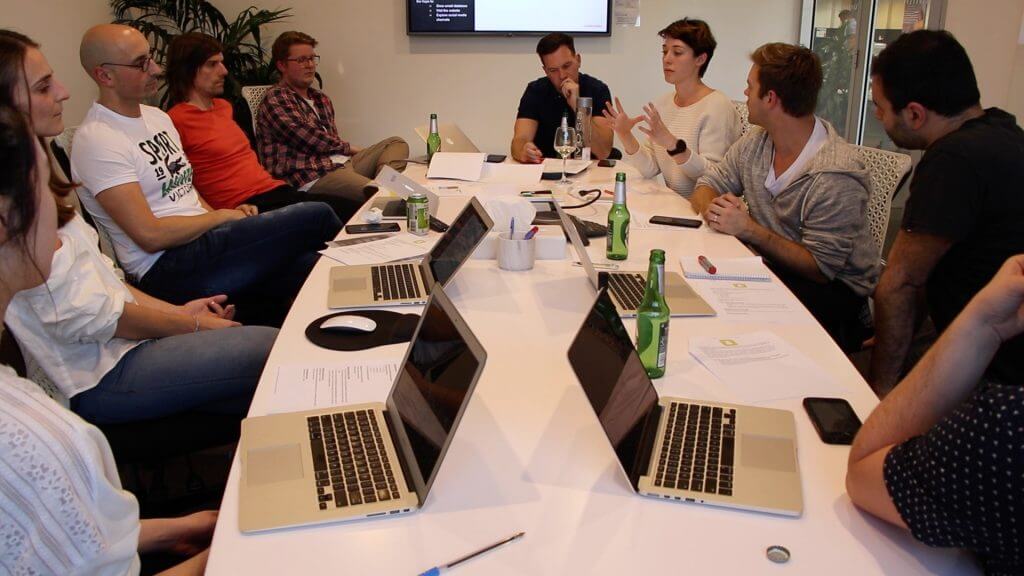 There were a range of ideas, from interesting filters we can use to deliver tips and tricks, to what some viewers would find interesting about the different roles that we have in the company. We'll be using some of them straight away, but a few probably need to be fleshed out a little more before we put them out to the public.
During the meeting, we realised that the metric we'd coined the previous day, the 'story completion rate', will never be accurate. The nature of the 24-hour story means that stories can and will overlap. That means that some people may only start viewing a story a snap or two into it.
We're a data-driven agency, so I find the lack of analytics available in Snapchat to be a real nuisance. We'll be relying on more qualitative data to inform our progress for the time being, as it doesn't look like Snapchat is in a hurry to provide data.
We came away with even more information for our strategy, as well as a load of great ideas for things to film.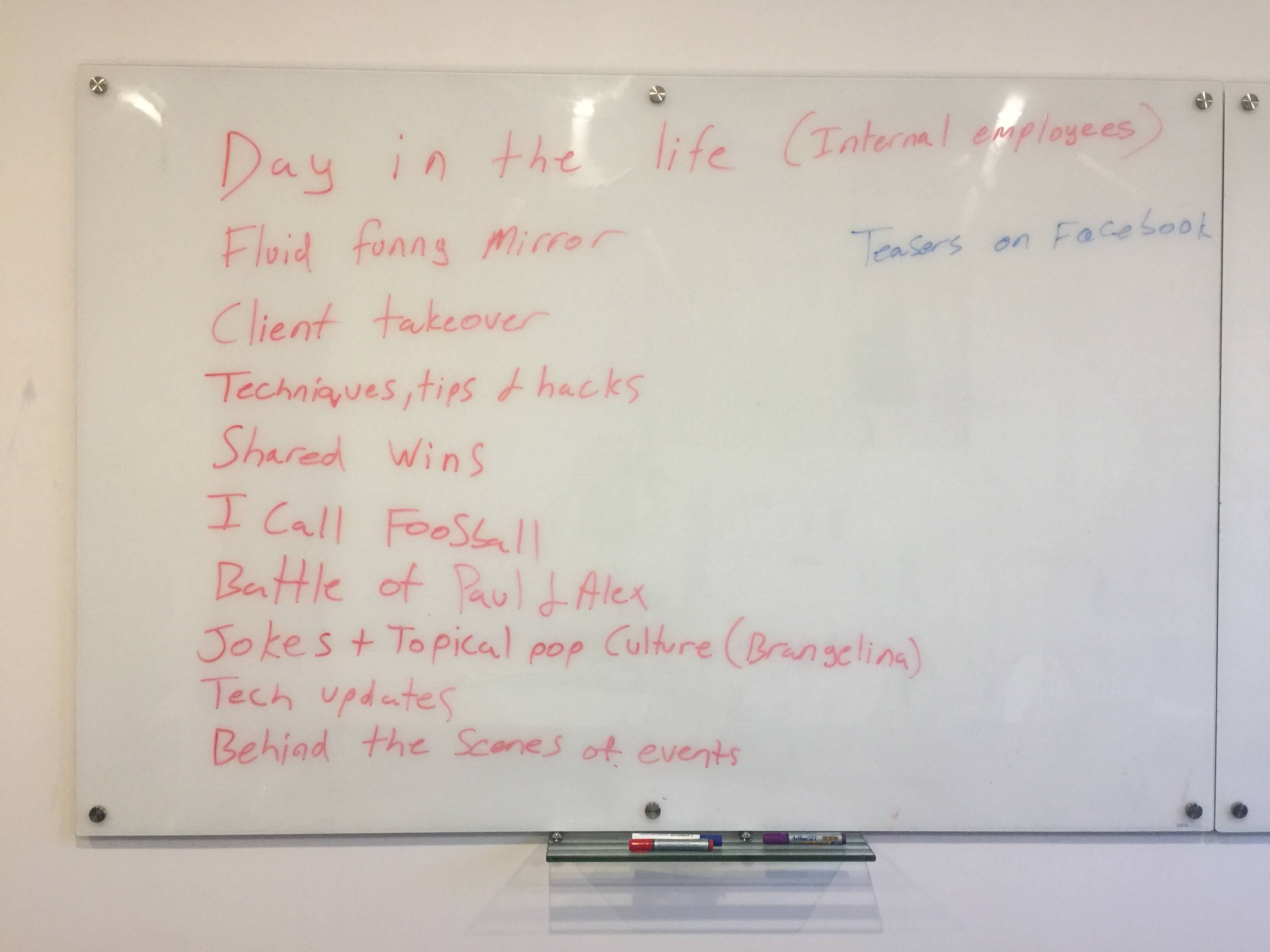 Total Followers: 0
Snaps posted in story: 0
Story viewed by: 0
Days 4 & 5
Over the weekend I decided it would be a good idea for me to use Snapchat more in order to understand its limitations as well as make sure I'm acquainted with it so that I'm prepared when we come to launch. I documented a weekend away at the Central Coast. I experimented with different filters, drawings, emojis and stickers. I actually got quite a bit of engagement from my followers so I think I'm getting the hang of it.
What I found interesting is that a lot of the engagement I got happened offline. When I met up with friends or colleagues over the next few days they mentioned to me how funny or entertaining my story was. Needless to say, it spurred me on to do even more.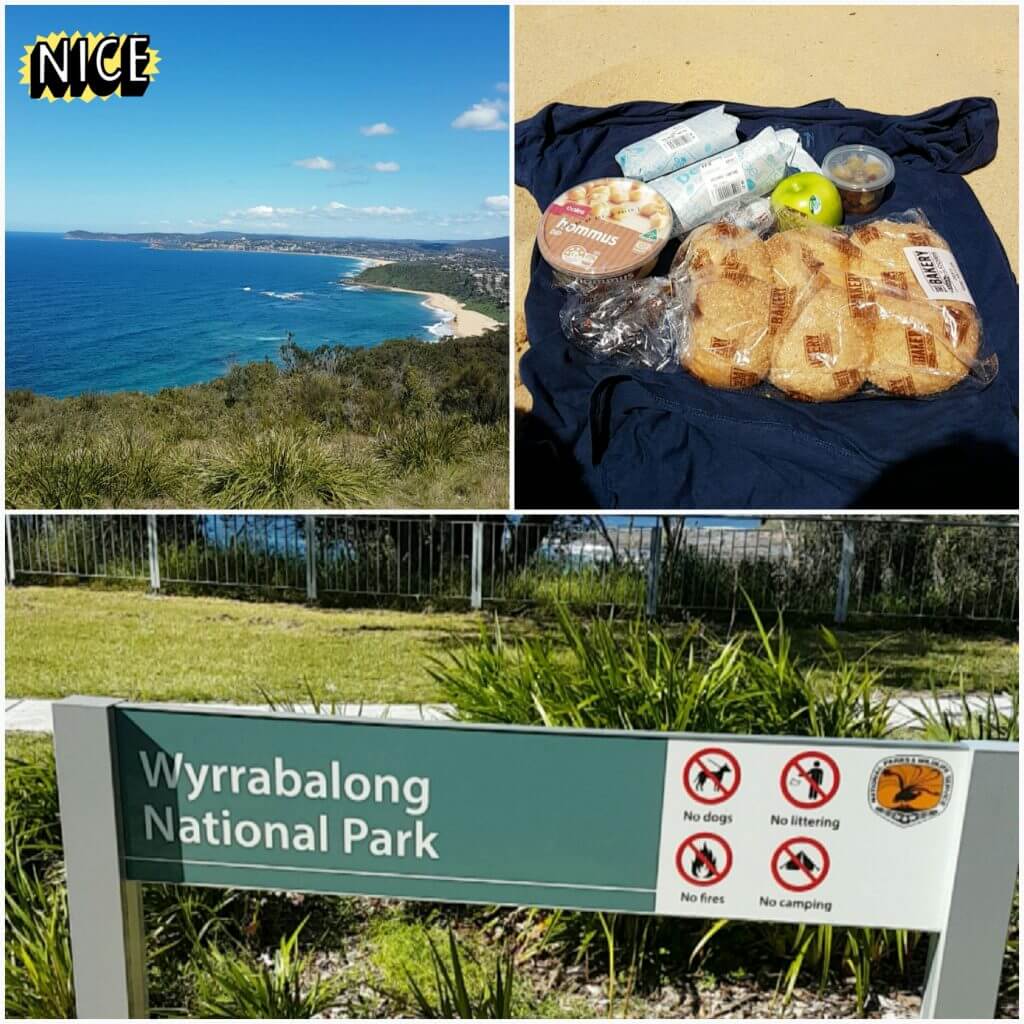 Day 6
Come Monday morning, Connor and I met to discuss a plan for the week. We laid out a number of different ideas to post in our first week. Despite the fact that we were only sharing our Snapcode with people at Webprofits, we decided it was important to keep the content aimed at our target audience.
The instant and fleeting nature of the platform was put to use immediately. Google's algorithm had been updated over the weekend and so we had George Cleanthous, one of our SEO strategists, give us a 5-snap story explaining what the Penguin algorithm meant. The snaps were accompanied by a drawing of a penguin and some cool frames.
We used the company iPad to take and post the snaps on the first day. The idea was that the larger surface screen would give Connor more ability to draw around the videos and images but a couple of issues were quickly apparent.
The aspect ratio of the screen is different on an iPad and so when we viewed the snaps on our phones (as most people would), there were some black edges. We really need our snaps to be full screen.
More importantly, the camera quality is nowhere near as good as a regular smart phone so the videos came out very grainy. There is no chance we'll be using an iPad to put out content to the public.
Total Followers: 16
Snaps posted in story: 7
Story viewed by: 16
Day 7
The next day saw us taking Snaps of the social media team giving tips on how to make the most of Facebook ads. Connor's creativity really shone through today as each tip had an accompanying theme.  For example, we played foosball while discussing goals and stuck a post-it on someone walking to denote tracking.
More importantly, each tip was actually very informative and useful. This story, for me at least, is the epitome of how we should be using the content.
Outside of the content, we discussed how Snapchat currently has no way to tell you how many people are your friends on Snapchat. It is possible to manually count them all, and while that's feasible when we're keeping it internal, it won't make sense to do when we soon have hundreds of friends (hopefully). We therefore won't be tracking it any more.
Total followers: 18

Snaps posted in story: 10
Story viewed by: 18
Day 8
Today, Alex and I have been disagreeing about the design of our Snapchat code. Every Snapchat account has unique image which works in the exact same way as QR codes (remember those?). Companies often get theirs designed so that the ghost is wearing their brand colours, or contains their logo in the middle of it.
After chatting with our in-house design team, we came up with a design that replaces the recognisable Snapchat yellow with the magenta that we use in our logo, and has our logo inside the ghost. But Alex thinks that we are better off using something recognisable in the early stages. I protest, but struggle to find examples of other brands using a different colour, other than Coca Cola. After some discussion, we decide it's not worth the time we're spending looking into it, and keep the logo yellow.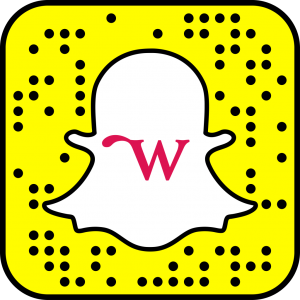 VS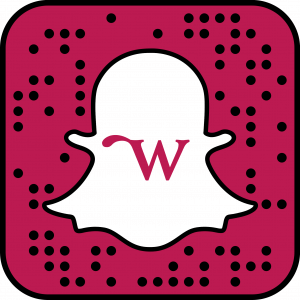 The snaps Connor produced today centre on the changes to Snapchat as a company. They recently rebranded as Snap INC and define themselves as a camera company.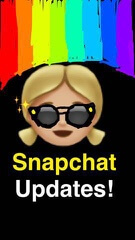 Interestingly, we didn't tell the team that we posted a Snapchat story and the number of people who viewed our story dropped. It confirms what we thought, that even though many of our team are on Snapchat, they aren't active every day and so won't always see our story. We expect the same from our future user base.
Snaps posted in story: 8
Story viewed by: 10
Day 9
I'm excited about the content we'll be posting today. It will show "a day in the life" of a Webprofits employee. I think this will be one of the types of content that will be most interesting to our viewers.
Unfortunately, the content felt a little flat. There could have been some good insights but questions weren't asked in the right way, and we perhaps did too many non-work-related snaps.
Feedback hasn't been very forthcoming so we notified the team of the new story and asked for more critical feedback – fortunately it came through the next day.
Snaps posted in story: 16
Story viewed by: 12
Day 10
Connor and I met this morning to debrief. We had a great discussion about what worked and what didn't.
Feedback from the team was great. Like me, they loved Tuesday's posts with tips on Facebook Ads and weren't so sure about the day in the life of. We were told that although the update about Snapchat (or Snap INC as they're now known) was informative, some information on how it affects users and businesses would have made it a lot more useful.
Overall we think it's been a successful week in that we've understood a lot more about what works and what doesn't. One of the main things we need to consider is how long each story will take Connor to put together. Simple is always quicker but to get engagement will sometimes take time. Again, there's a fine line to toe in order to make sure we don't spend an inordinate amount of time creating something only slightly more engaging.
We came to the (obvious) conclusion that the better pieces of content are the ones that were planned out. So we planned out the next week of content in more detail. We're excited to launch and think we can strike the balance well between interesting and informative.
The snaps we take that day are of our team outing to a local bar to play a ping pong tournament. We think casual posts on a Friday could be the way forward, but it all depends on what else is happening in the news that day, and if we need to be reactive at all.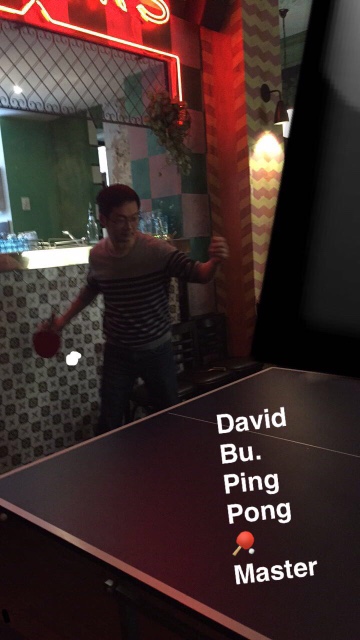 Snaps posted in story: 6
Story viewed by: 14
Day 13
Today is launch day. Unfortunately, we've hit a couple of snags. Connor came down with a bug over the weekend and will be working from home. Despite it coming up, we didn't sort out a contingency plan for situations like this.
I try to rope Kath in to shoot today's story but she's just got back from a business trip to Singapore and has a tonne to be catching up with. Alex is on annual leave, and I suddenly get pulled into some urgent work on getting a piece of content done. Ultimately, we decided that we're better off waiting to launch it properly when Connor returns, rather than make a poor attempt at it for the sake of launching. These things happen.
To be honest, it's worked out okay. It's given me a chance to get this diary edited properly and a chance to speak to Ales about how to best market our Snapcode through social media channels.
Snaps posted in story: 0
Story viewed by: 0
Day 15
Connor is back in today! He and I met with Kath to finalise the content for the next 7 days and she's really happy with what we've put together.
I'm putting the final touches to this diary while Ales sets up some campaigns to get our Snapcode out to the general public. Speaking of which, here it is!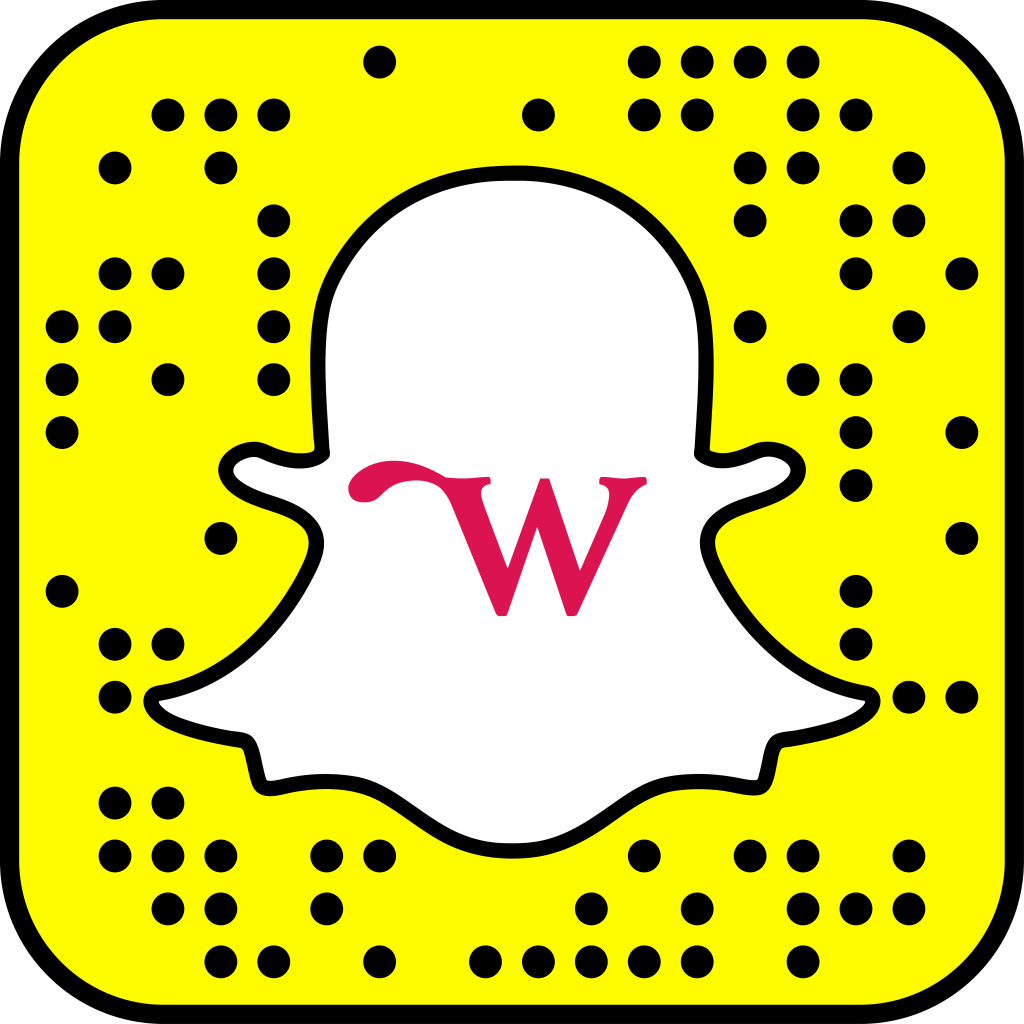 Scan here using Snapchat to add Webprofits as a friend.
I'm going to continue updating this diary but I'm posting it now so you can see how we've got to where we are now. The updates to our progress will come over the next 90 days as we post more and understand how best to use it, so keep an eye on our blog for updates.
In the meantime, Connor and I have filmed a story just introducing what our Snapchat channel is going to be about. Be sure to watch and it and let me know what you think in the comments below!
Snaps posted in story: TBC
Story viewed by: TBC
Day 15 continued…
So we finally launched our Snapchat channel!
Connor and I shot a short video introing what we're going to be doing, but most of our time actually went into promoting the channel.
I changed our profile picture on Facebook to our Snapchat code, and put up a post notifying our fans that we are on Snapchat and the code can be scanned to follow us.
We also put up a post on Instagram that had our snapcode and promoted it to our remarketing audience, so that people who have engaged with our content/website previously know that there's a new platform we'll be sharing content on.
The biggest promotion though was of this blog post and it went really well. I'm very happy with the amount of likes, shares and comments that you have all been leaving on the Facebook post promoting this article. It seems like a lot of you are considering using Snapchat for your own businesses, so it would be great to know:
What's stopping you?

How has this article helped?

What would you like to know more about?
Snaps posted in story: 5
Story viewed by: 31
Quick note: I've decided to stop tracking the snaps posted in the story as we've seen no correlation between the length of the story and how many people drop off. As with all the content we put out, we're taking the approach that quality is more important than length.
Day 16
Our office is split almost 50/50 between people who use Snapchat, and people who don't. The latter half gained significant interest in it when I announced to them that we would soon have a Webprofits Channel, and have since downloaded it. I assumed that some of our email subscribers and social media followers would be in a similar situation so we decided to make our first post-launch story a quick "how-to guide" for Snapchat.
Rather than stage it all, we held a training session in our office late in the afternoon and openly invited everyone in the company to join us. Connor ran the training session while I recorded parts of it for our Snapchat story.
The training itself went well – a few people signed up, everyone started adding each other, and even the people who use Snapchat frequently learned a few things. Including me: Did you know that if you select a filter and then press down on the screen while scrolling, you can add a second filter? Pretty cool.
Although the training went well, I wasn't happy with our story that day. It was pretty difficult for me to capture the moments that were the most educational/insightful/entertaining given I didn't know what Connor was going to say at any given moment. I asked him to repeat a couple of things as I thought they were going to be particularly good for the story, but it came across as feeling pretty forced and so lost some of the authenticity that I was hoping for in shooting something live.
Story viewed by: 19
Day 19
We had initially planned to share the same story we did with Jason and Ales on day 7 (my favourite story so far). Unfortunately we didn't book a time in with either of them and so finding the time proved difficult. We can always film it again another day.
I was rather annoyed at this; we had the time to plan it and get it right, but didn't use it wisely. Instead, we were left wondering what to post that day, which is a situation I really didn't want to find us in.
Connor salvaged the situation by posting a great educational piece. He had previously looked through our blog posts and found a recent one that had 7 tips on how to find proven content ideas. He came up with 7 different ways to show these, leveraging a number of Snapchat's features.
The content of the snap was great but it did take a while for him to put it all together. It wouldn't be the kind of style he'll be able to scale and do often.
Story viewed by: 20
Day 20 – 22
I found myself frustrated with our Snaps over the next few days. Though we had planned the week out, we weren't able to see those plans through. This was a result of lack of planning but also a few hiccups, unexpected absences, and various other hurdles. Though we expected this to happen, we didn't expect to have so many back to back and so found ourselves without enough good content to post.
One "behind the scenes" story of Alex and I filming an episode of Webprofits TV; a few snaps from a meeting we had discussing how it had been going; another that had our social media team in a brainstorming session … They each came out OK, but I felt that the lack of planning was clear and we weren't producing the best stuff that we could.
The meeting we had was interesting though. We discussed a lot of the struggles we were having, including finding content worth posting every day and finding time in everyone else's calendar to film it. We had a pretty passionate discussion about the type of content that we should be posting.
I continued to push for us to use Snapchat as a place where we could repurpose some of the good content we publish elsewhere. It showcases both our knowledge but also our ability to tailor content to a different platform.
Alex, Kath and Connor want it to be more of a branding tool. They said there isn't much point in someone following us on Snapchat if they're just going to see the same stuff that we put out on other social channels, but with a cool filter/drawing over it. I can understand that point but, as someone who is driven by ROI and performance based marketing, I dislike the idea of doing something simply for branding. I think we need to be adding value in some form with everything we do.
It's a difficult balance to keep and the discussion got quite heated, but we did make a lot of progress and decided to change our approach and the content we publish. We decided to dedicate a theme to each week so that we knew what we were going to post about. We also agreed to reduce the amount of posting we do, and we're no longer going to try to post every day. With our Snapchat profile being new I wasn't massively enthused by this decision, but time is a limited resource and we had to compromise. More quality, less quantity.
Another interesting discussion point was geo filters. Snaphat has a number of filters based on your geographic location which you can overlay over your images or videos. You are able to create a geo filter yourself and pay Snapchat to have that filter appear in a certain location at a specific time. We decided to try it out and use it for our story on Friday.
Day 23
The social team had earned themselves a team outing and were going go-karting in the afternoon. Connor enlisted the help of one of our very talented designers, Rohan Brown, and had him create a filter that they could use for the day.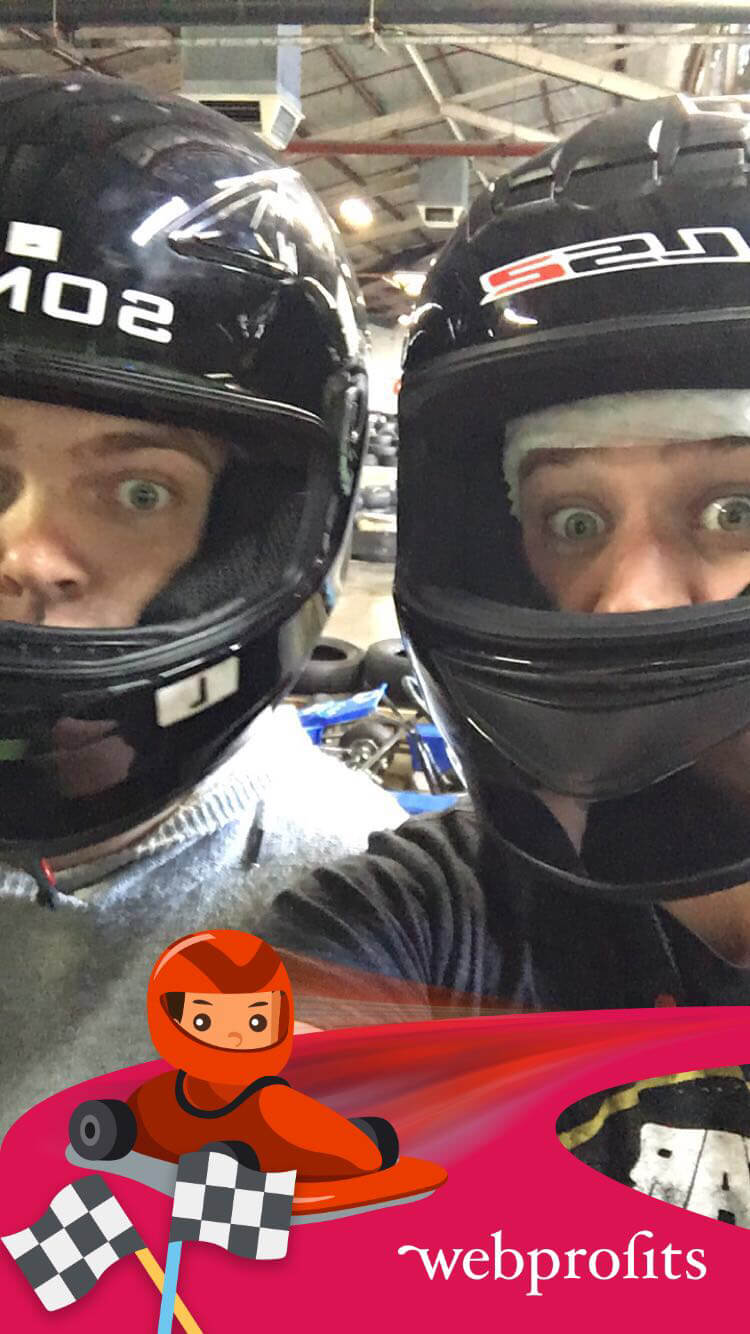 Not only did we use it in our story, but the whole team got involved and used it to post in their own personal stories. It was a great experiment to see how the process works and what we can get out of it.
One of the things I like about it is that Snapchat will actually give you stats on how many people used your filter, and how many people saw the snaps that were sent with the filter on!

It's fairly cheap. We paid $11.50 (USD) to have the filter for 3 hours over 92,000 sq feet where the go-kart track was.
Story viewed by: (We forgot to check the numbers on Saturday and so we're unsure)
Day 25 – 28
We launched Content Marketing Bootcamp this week. It's an online course that shares how to make the most of content marketing over 10 in-depth weekly sessions. I was responsible for marketing it and registration was only open for a week, so it took up a significant portion of my time.
It's also a brilliant product for our business so we made it our theme for the week – we thought there would be a lot of good content that we could share on Snapchat.
The first story of the week showed our Content Marketing team taking one of the lessons themselves, just to re-familiarise with the material. It had them sitting around a meeting room table watching the lesson on a large TV. It also had a couple of written snaps explaining what Content marketing is.
The following day was a far more interesting story. I took a couple of videos introducing the course (and myself), and explained what content marketing is while using a Sydney geo filter. It was actually harder than I thought to keep a straight face and say what I wanted to say, but I got there after a few (read: many) takes. I then liaised with Sujan, based in Texas, who explained more about the course and what students would learn by enrolling in it while displaying a Texas geo filter. It then passed back to me to close off and show a link to the course itself.
As great as we thought it was, it still received no engagement. We didn't have anyone message us back, and nobody clicked through the link. We did think it better represented who we are and what we're doing though. It was a more engaging way to share information about the bootcamp rather than just have it displayed, and it showed the joint effort of the US and Australia combining to deliver a service.
We had previously discussed using prior snaps in new stories and decided mostly against it. When you upload from memories or from camera roll it shows a white border around the snap and it's clear that you haven't taken it in the moment. We thought it went against the nature of the platform and wanted to avoid it. However, as we're working with themes, I wanted to use Connor's title slide from the previous day and so uploaded it but, to my surprise, there was no white border around it.
Connor was pretty shocked by this and insisted I must have used some kind of hack. On further investigation, it turned out that if you share a memory from within the last 24 hours it will not have a border around it. This was actually a bit of a revelation as it means that we can take a number of snaps and save them to memories, then come back to add filters, drawings and stickers without wasting the time of the person or people we're filming!
With the course explained, we struggled to find more to talk about. We had previously agreed that if we didn't have anything worth posting, then we shouldn't post. And so we actually went a few days without posting anything. Needless to say, we ended the week feeling pretty disappointed.
Snaps in Story
Story viewed by: 35
Day 29
Despite it being a Saturday, Alex called me up to discuss our Snapchat that week (I swear, the man never switches off). Although he liked the story of Sujan and I co-presenting about the bootcamp, he was also disappointed with the week as a whole.
He wanted to take over the channel for a while and film the content himself, sharing his own thoughts and behind the scenes footage from the meetings he attends, saying that is what other successful Snapchatters are doing. After talking it over for a while, we decided that style of content works very well for people who have a personal brand but that no companies are using that kind of style. I urged him to give our theme initiative another week of Connor and I working on it, and he agreed. I did say that I'd take the feedback on board though.
Day 31 – 35
We were determined not to have a repeat of the previous week and so Connor and I sat down on Monday morning to plan out the week's snaps in detail. The theme of the week was a new training initiative we have called Paired Learning (more on that shortly). After brainstorming the theme for a few minutes, it was clear that we wouldn't have several stories worth of content about pairing, so we changed the theme of the week to "Innovations".
I also gave him feedback from Alex saying that stories where we've had people actually talking (like me and Sujan the previous week) were the most interesting so we agreed we'd incorporate that wherever possible.
Paired learning (or simply, "pairing") was our first topic in the week of innovations. We brought in Ollie and Jason to explain the initiative, how we're doing it and what we've learned from doing it  so far.
Story viewed by: 31
Innovation story number 2 was some behind the scenes footage of Alex and I experimenting with a new content type. We had a discussion on camera (not on Snapchat) for 20 minutes or so about specific marketing topics. Connor captured a little bit of what we were saying but it was mainly shots of our setup, which had 3 cameras filming. He used our new-found feature of saving the snaps and editing them later.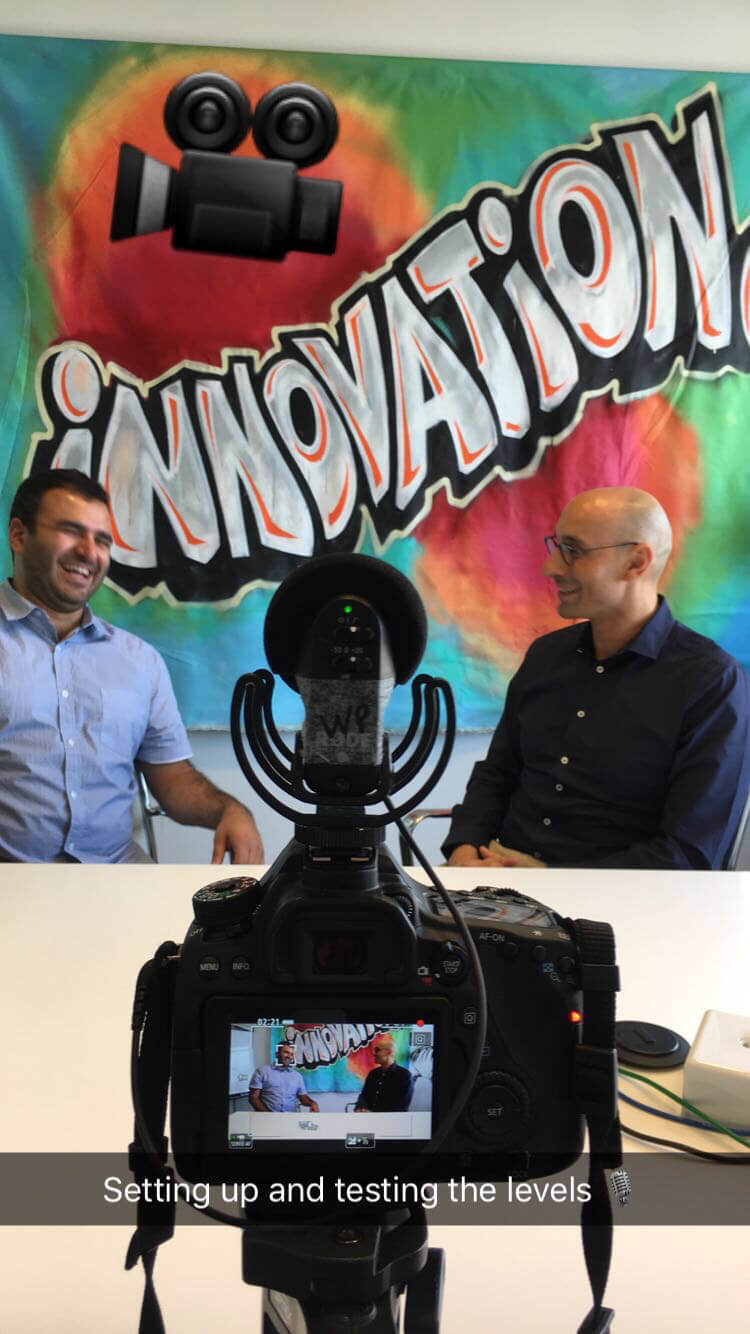 Our final innovation for the week was a brief interview with George (from Snapchat day 6 fame) about a new service that we offer: Google Analytics training. Though it was a story with someone actually talking, it felt too staged to be engaging. Still pretty informative and a good way to announce a new service that we offer.
Story viewed by: 28
Day 38
Connor happened to be visiting our Melbourne office so we thought it would be good to introduce some of the team from there. He did an MTV Cribs-style story that walked through the Melbourne office, showing the viewer around the different rooms as well as the rooftop. The team we have in Melbourne are a brilliant, eclectic bunch so I was expecting to capture some of that on camera. Instead we used the fast forward and slow motion features to walk around the office and so nothing was actually said until we got a video of them dancing on the rooftop.
Although the concept was a really interesting one, we fell short in the delivery and the end result wasn't what I was hoping for.
Day 40
We met today to discuss how things had been progressing. We elaborated on the conversation Alex and I had the previous weekend and it was agreed that we need to try a more personal approach to our content. Kath was heading to Melbourne the next day so she would take over for a few days and see how we go. Connor was also going to put together a document outlining how to save/upload from memories and how and when to check the stats.
You'll have noticed that the number of people viewing our story hasn't really changed much in the weeks since we launched. With no discovery platform and a lack of promotion, we haven't had many people adding us as friends. We are in a bit of a chicken and egg situation as we don't want to spend too much time, effort and money promoting the channel until we are happy with the content. But we also don't have enough followers to get feedback or insight into whether they're actually enjoying our content or not.
None of us enjoyed seeing the low numbers, so we agreed to put some more effort into promoting the channel over the next few days.
Day 41 – 42
Kath took over our Snapchat channel for her trip to Melbourne. Her first couple of snaps were off the mark and off brand, so I spoke with Connor to elaborate on the document and outline exactly what we want people to do when they takeover the Snapchat channel. It included adding an intro at the start of each story which outlines who you are, what your role is and what you're going to be sharing. Kath deleted the snaps and posted some new ones of her with the team at the office, and then later at the races.
The next day was the perfect example of why we wanted people to takeover the channel. She shared insights from meetings she was in, introduced other team members, and showed some stuff from around the office.
Story viewed by: 37
Day 44
We got back to promoting our Snapchat channel during the last couple of days, and it shows (check the results). With no tracking how and where people found your code, we used different promotion strategies on different days. First we posted the code on Instagram again and, despite having more than 150 likes and several comments, we didn't see much in the way of results.
After posting it on Facebook and emailing our database, however, we saw a spike in the number of people following us and viewing our story.
Alex has now taken over our Snapchat Channel as he visits the States to meet up with Sujan and attend a conference hosted by Google. He was pretty active with the account and took more snaps than I expected. He also experimented with asking the audience questions in order to force some engagement
Story viewed by: 40
Day 46
I had a skype call with Alex today (you might have seen it if you're on our Snapchat) and part of it was quickly going over how Snapchat has been doing. He said that he's actually had a few people snap him back to either answer the questions he's asking or to say they liked what he was snapping.
As much as I resisted this approach to begin with, it seems as though he was right to say it was more engaging. The total number of followers we have is still quite low so I'm hesitant to take too much away from it, but we are going to continue with this approach for the time being.
Next week, I'll be taking over our Snapchat account and showing you a week in the life of a Full Stack Marketer. If you want to know what that means you'll have to add us and find out…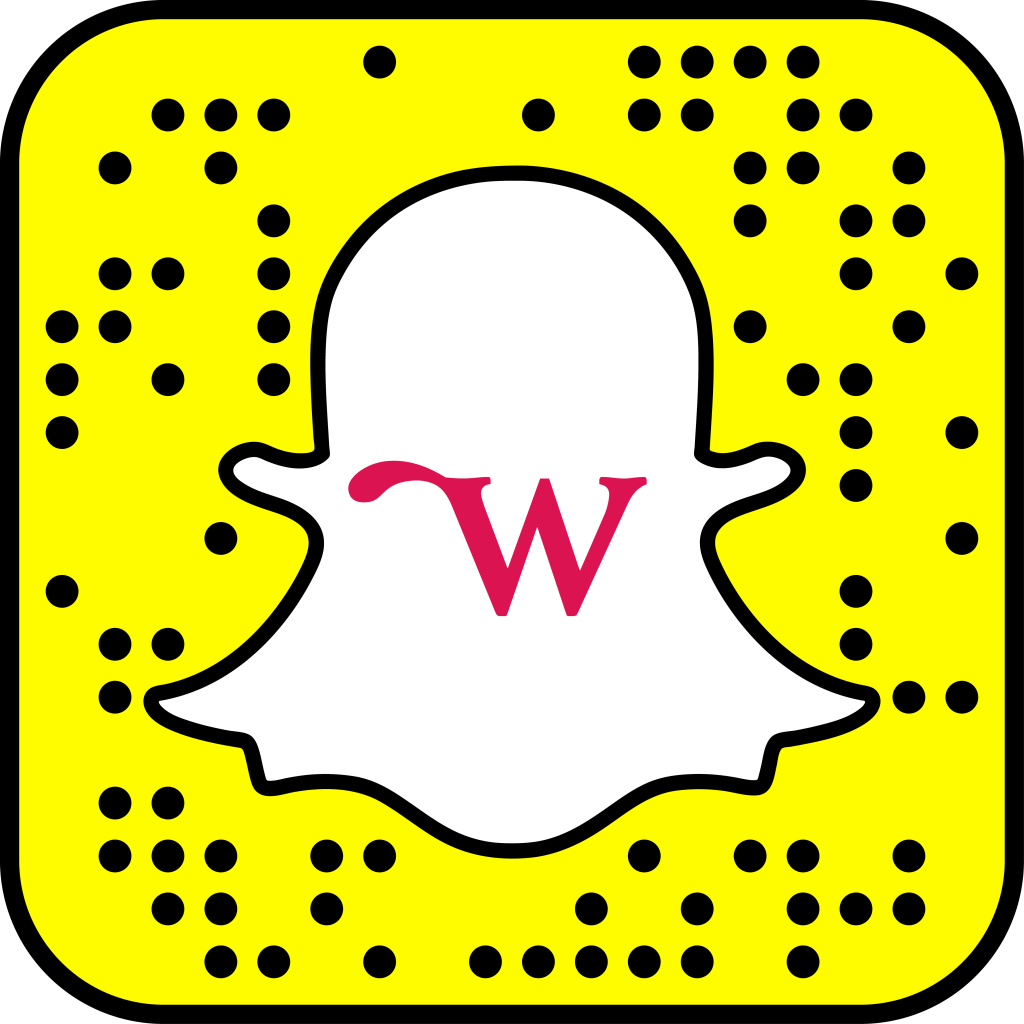 Days 52 – 56
My turn arrived to take over our Snapchat channel and I've got to admit, I was pretty excited. I have been using it more and more since we first decided to use it for Webprofits and I've found it a great way to engage with my friends. I do wish I didn't have it in the middle of Movember though…
I started off the week by introducing myself, and explaining what my actual role is. Given I work across a variety of marketing channels, I invited our followers to ask questions about any aspect of marketing that they would like help with.
The response was OK – I was sent 2 questions. This was the first time we'd had any real responses to our snaps so it was quite exciting. I referenced some of our content, as well as external sources with links in my snapchats and they got a lot of screen shots. It seems we're finally finding our stride when it comes to engagement, but the numbers are still fairly low.
As well as sharing marketing knowledge and answering questions, I also gave some general tips and shared some tools for productivity. These also received screenshots which was a bit of a surprise. The biggest surprise was screenshots on the name of a Spotify playlist I was listening to that helps me to concentrate.
My experience of using Snapchat personally definitely helped with using it for work. It was easy to think about what I would snap as I had become accustomed to just snapping my day-to-day life. I've recently come across this article/video from Gary Vee which explains it perfectly: Document, don't create. While I don't agree with this for all content, I think it sums up the best way to create interesting, engaging content in Snapchat.
Story viewed by: 60
Days 59 – 63
Sujan was in town this week so we handed over the Snapchat channel to him. As I mentioned when we first started planning to launch the channel, Sujan has used Snapchat to grow his personal brand in the past.
We also met to get his thoughts on what we've been doing so far and he was a fan of the change to the more 'person-centric' approach. He also clarified some of his original advice of snapping 3-5 things per day – it's not 3-5 snaps/clips, but 3-5 mini stories.
His content was a little different to the stuff we had been putting out. He shared more about what he was working on, his methods and processes, as well as sneak peeks at some of the things he's doing. Given he's an influencer, this insight into how he works is more interesting/engaging to our audience than what I'd been doing. Again, it was clear that he was a frequent user of Snapchat and understood what/when to snap.
Story viewed by: Unrecorded
Days 66 – 70
Connor took over this week with an interesting new approach.
Firstly, he combined more creativity with the straight-to-camera approach we'd been using (with some success) in the last few weeks. As a result, it was a bit more time consuming which means he didn't have the time to post every day. But when he did post, he got a good response.
The reason for that, I think, is more down to the second aspect of his new approach. Whereas Alex and I had all asked for questions in the past, Connor was more direct in his questioning. We had asked for questions across all aspects of online marketing but Connor offered to come up with content ideas for anyone who submitted the industry that their business was in.
He received 4 replies to the offer, 2 more than I had previously. Sure, the numbers are still small – so it's hard to take away too much – but I don't think it's a coincidence that there was an increase in how many people responded to him.
Story viewed by: 60
Days 73 – 77
Despite the increase in engagement, we were finding that the number of followers was still pretty stagnant so we decided it was time for a change in approach.
Our advertising of the channel to date has been to the same audience that much of our other content is targeted at. That is to say, marketing professionals and business owners. When we started, we also identified marketing students as a demographic who could be interested in our channel for future job opportunities, so the decision was made to explore this market further.
It was timed well as we had an upcoming event with a local university to be held at our offices. We had recent graduates visiting to attend a talk about marketing, and what it's like to work in an agency. We decided to share snippets of the presentations on Snapchat and so in the days leading up to the event, we advertised our snapcode on Facebook to students at all of the universities in Sydney with an interest in marketing and/or business.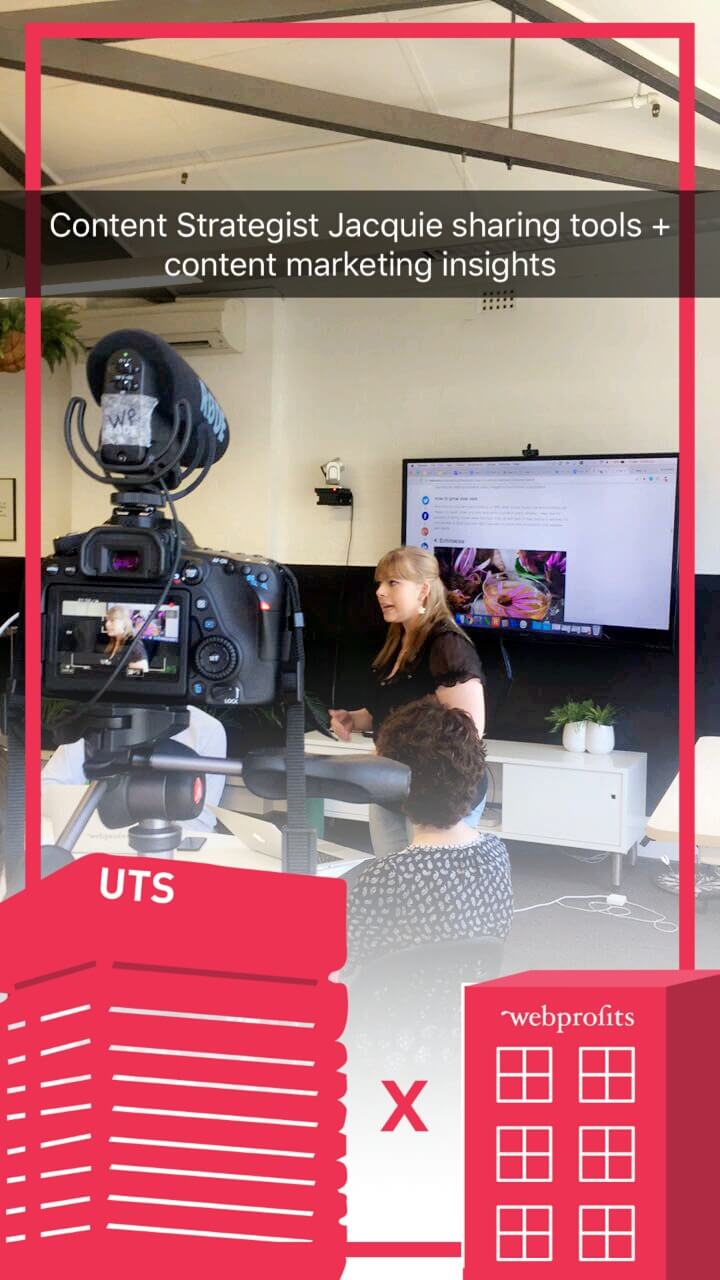 We tested out advertising the snapcode in its usual static form, as well as in a GIF of rotating portraits of the members of our social media team (and me). We can't tell which one was scanned more but we used a URL shortener to create different links to our snapchat page. By doing this, we were able to see which image generated more clicks. Despite my reservations about doing it, the GIF generated 3 times as many clicks (albeit from a relatively small base).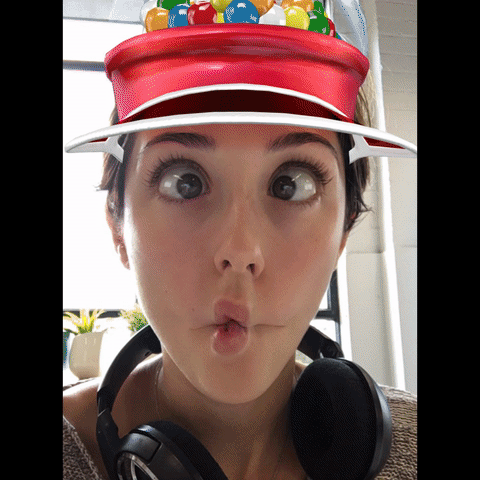 Day 80
The following week, we met to discuss the performance of this new approach. Our Facebook posts aimed at increasing the new student audience had grown our followers by a similar number to our previous posts to marketing professionals and entrepreneurs. Our Facebook posts had directly mentioned upcoming content that would be relevant to students, so I was expecting a much higher return and was disappointed with the outcome.
There was no engagement on the snaps of the event and so we considered the short experiment to be unsuccessful. However, it was agreed that targeting students can still be effective as part of our overall Snapchat strategy and should be incorporated in the long term.
We still had the problem of wanting to increase our followers. We decided to pursue an influencer strategy, as you might when trying to grown an Instagram account. The premise is fairly simple: you find popular accounts on the platform you want to grow (in this case, Snapchat) that align with your brand. You then ask them to promote your page/profile/channel to their audience for a small fee. If you're able to find the right influencers and they have a big enough audience that's really connected to their brand, you should all be able to benefit from it.
So we agreed to find 20 influencers in the marketing space with prominent, active, social media profiles and reach out to see if they'd be willing to promote us.
Day 81 – 84
I took back control of our Snapchat account and resumed with the same kind of content I was putting out before. I was seeing a similar level of engagement that I'd seen previously, but also had an interesting internal conflict arise.
On one of the days that I had control of the account, we had a power outage in the office. In fact, most of the local area was affected. The lack of electricity put a serious dent in our productivity for the day given we could no longer connect to the internet. Though we wanted to our Snapchat to show "raw", "behind the scenes" footage of our company, I worried that sharing the situation would reflect badly on us.
Obviously, there was nothing we could do to prevent a power outage that affects a few blocks in the local area, but I was still worried what our clients would think about our down time. In the end, I decided to Snapchat what was going on and I was glad I did. The team mobilised quickly and either went home to work, or to the local shopping mall (which had free Wi-Fi and power outlets) to continue working while the electricity providers fixed the problem. Though the initial situation was briefly chaotic, we were able to turn it around to show that we work quickly to find solutions to problems that are out of our hands. It doesn't get more "real" or "raw" than that.
Story viewed by: 64
Once we decided on 20 influencers, Alex started following them to see the kind of content they snapped about. As it was so close to the Christmas holidays, we agreed to keep an eye on their accounts and reconvene in January to decide which ones we wanted to reach out to. Alex took over the account over the holidays but we weren't planning on posting a lot.
Day 91
It was the morning of our staff Christmas party, and I received a message from Alex asking me to create a geofilter for the event.
He'd seen a filter I created for my personal Snapchat for an event I hosted, and wanted something similar. We'd had a few designed by one of our designers in the past but they were unavailable, and I thought another colleague had already created one for our staff party but it turned out Snapchat had rejected it for containing faces of people. So it was left to me to create one using the Snapchat design tool.
It's fantastic that Snapchat have a tool that allows you to create geofilters without the help of a professional – but it needs some serious improvements.
Firstly, you can't choose colours based on their hex code (or any other numbers). There is only a colour palette with 24 colours to choose from. That's very unhelpful if your brand colours don't fit (but fortunately there was one that was pretty close to our magenta).
Similarly, although there's a very large selection of fonts to choose from, they aren't named. I don't have the greatest eye for spotting differences in fonts so it took a lot of trial and error to find the right brand font.
Also, the drag and drop is very temperamental and the cursor doesn't change to a "move" icon when you hover over the border of an object to move it.
My final gripe with the tool is that when I had finally finished creating it, I couldn't save it as an image file or re-use it. Our party had two locations (one for lunch, one for drinks afterwards)… so I had to create it from scratch a second time!
Those things aside, it is a great tool. They give you a number of templates based on the type of event you're creating it for, all of which are editable. They also provide you with a number of background images, so you can see what the colours you've chosen will look like on the pictures people will take. For example, I had to make sure that the text would show up both on a blue sky and in a dark bar, and I used the background images Snapchat provided to check that it would.
The ability to draw a fence around the location on Google Maps is awesome. There's a minimum of 20,000 sq feet which is actually quite a large area, but it's also very cheap so it doesn't matter if you draw a wider border to make sure that you capture it (I never quite trust the accuracy of mobile GPS, given how often my Uber drivers take ages to find me!).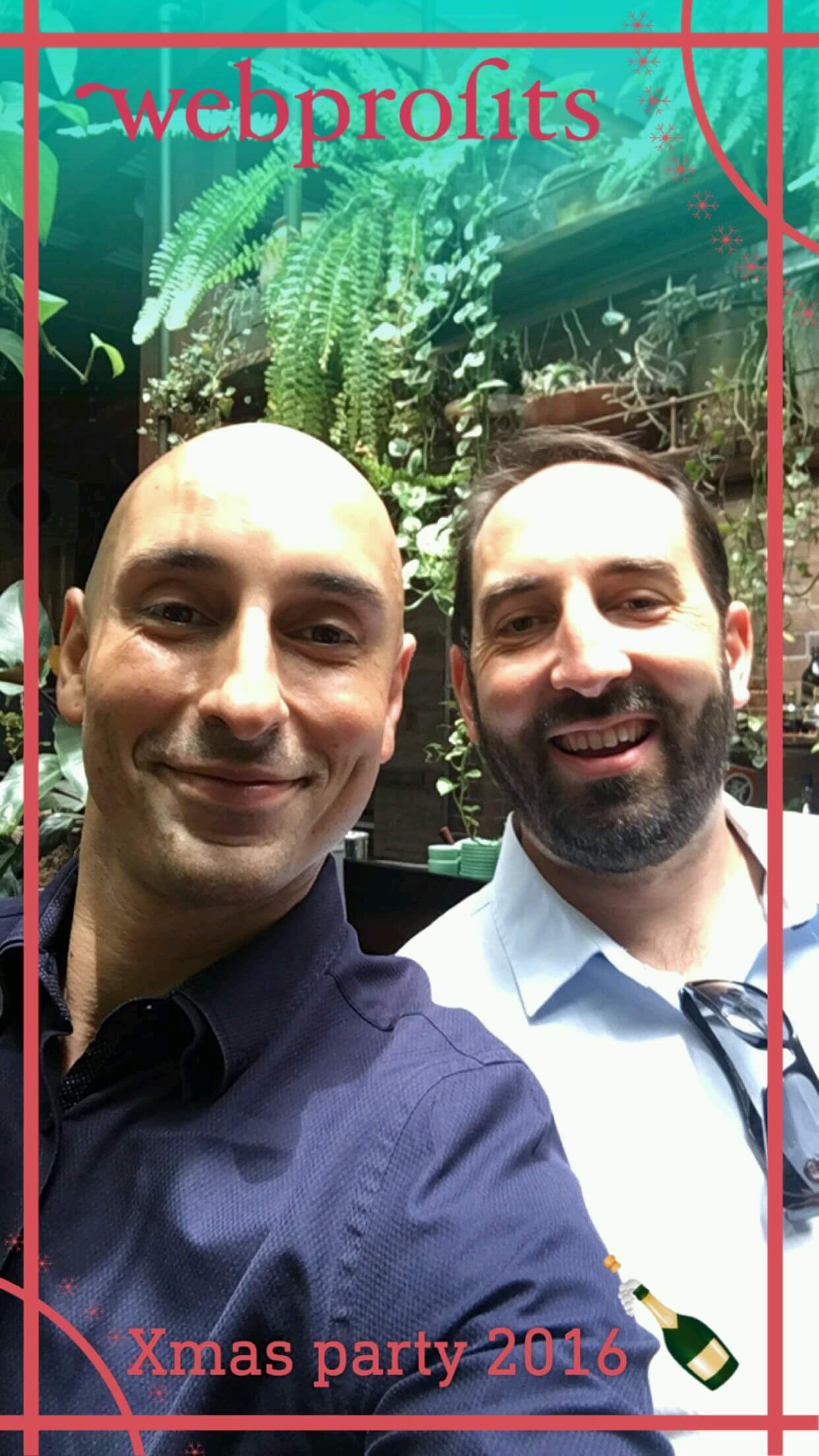 Day 100 (technically day 105)
Alex and I talked when we were both back in the office in January. Unfortunately, the accounts he followed didn't share much relevant content over the holidays so it was hard to judge if they would actually be relevant enough to promote us.
Experiment 'conclusion'
Though 100 days is up, the results of the experiment are inconclusive.
On one hand, we've seen some results on engagement which make us think Snapchat could be a great tool to showcase our brand and who we are.
Unfortunately, the lack of a discovery platform makes it quite difficult to grow your follower base. It's quite disheartening to share content knowing that it will only be viewed by 70 or so people and so we're taking a bit of a back seat with Snapchat for a while. We'll keep posting periodically while we figure out a new strategy for growing our followers.
Interestingly, Instagram Stories has really taken off in the meantime. I recently noticed that you can post a link in an Instagram story, saving the need to screenshot a URL (though your account needs to be verified to do this). An article I read shows that there will now be adverts in between Instagram stories (which is also a feature in Snapchat). But even more interestingly, it now has 150 million active users! That puts it on par with last reported number from Snapchat. They also have a discovery platform for new profiles, and the analytics is significantly better.
Techcrunch have also reported that Snapchat celebrities are claiming to have lost up to 40% of their daily views since Instagram Stories launched.
The platforms still have their differences and there's no doubt that Snapchat has a loyal user base, but when it comes to long-term expansion, Snapchat has some work to do in order to get brands (read: advertisers) on board and spending money.
Key learnings
Every experiment, regardless of success, should teach you at least one thing and this experiment with Snapchat was definitely a lesson. I've outlined a few things we learnt below, but if you're going to give it a go, I would strongly suggest testing everything. For one thing, our sample size is relatively small, but more importantly, audiences can react very differently depending on business, industry, location, demographics, time, seasonality… the list goes on.
Here's a summary of our learnings:
You need to find a way to increase your followers or you'll lose interest.
Other social media platforms can only help you increase followers if your followers are already on Snapchat (in my opinion, this was an expensive method and not worth it).
Finding an active, relevant influencer is probably your best bet.
Face-to-face, real-life content is far more engaging than just trying to be cool and creative with your content.
Be authentic. If you're not funny, don't try to be. If you're a lively person, show some energy.
If you're going to ask questions, be very narrow and direct with them.
Using an iPad to take snaps is great for drawing, but terrible for image quality.
Don't be afraid to try different approaches – people seldom stop following you.
Creating filters can be fiddly if you don't have access to designers.
For the time being, we're not focussing on Snapchat as a marketing channel for ourselves but we will keep an eye on developments with the platform and re-visit both of these objectives when something changes (which I'm sure won't be far away).
By the way – we also documented a lot of the journey on video in one of our behind the scenes episodes. Check it out.