8 Great Examples of Using Chatbots for Growth
Maybe you consider them a fad. Or a cheap gimmick. Or something better suited for tweens and teens.
Look closer. And don't be fooled by the first part of their name.
Chatbots are more than just another way for Millennials to chat and shoot the breeze online. Businesses both large and small are using them in very exciting ways – leads, conversions, e-commerce, customer service, engagement, and more.
Governed by programmed rules and/or artificial intelligence, a chatbot allows someone to interact and converse with it via a platform like Facebook Messenger. They don't – and should not – aim to replace humans.
They are a complement to humans. With them, you can connect, collect, and engage with your customers, fans, and users 24 hours a day, 7 days a week. Imagine a customer service rep that never sleeps, never misses a call or social media mention, and responds instantly.
That's a chatbot. They can answer your most frequently asked questions, collect survey responses or customer feedback, schedule appointments, and fill in the gaps when a real-live human isn't available.
Are you using one with your business?
And they do a lot more than just chat. They can be used for everything from setting reminders – like Jarvis on Messenger – to tracking and discussing your caloric intake – such as Fitmeal. They can offer legal advice on parking tickets and flight delays – DoNotPay (which has won 160,000+ cases since its launch) – or create a virtual avatar to live long past your physical demise – Eterni.me.
They can be the product, or they can work with and for your product. Give people what they want and where they want it.
"~90% of our time on mobile is spent on email and messaging platforms. I would love to back teams that build stuff for places where the consumers hang out!"  ~Niko Bonatsos, Managing Director at General Catalyst
A recent report from BI Intelligence revealed that people are officially spending more time on the major messaging apps than they do in social media apps. That's a huge opportunity for those willing to jump onboard. Peter Rojas – co-founder of Gizmodo and Engadget, as well as a partner at Betaworks Ventures – calls messaging apps the "platforms of the future." Be there. And chatbots are the method through which consumers will access info and services. Include them.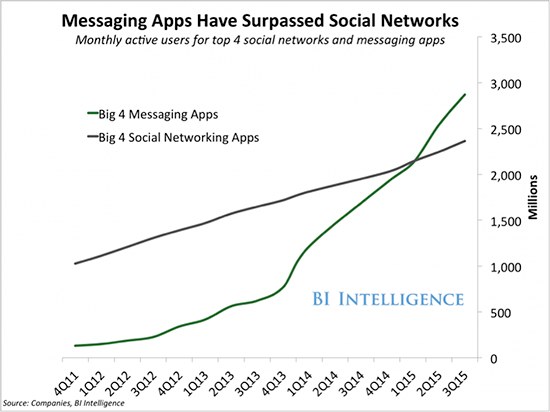 Image Source: BI Intelligence
Beyond that, an Oracle survey of 800 major decision makers found that 80% either already use or plan to implement chatbots into their customer experience (CX) strategy by 2020. That's eight out of ten within the next three years.
Chatbots are not just the future, they are the here and now. Your customers want them today, and you need them too.
The rise of the chabot has been dazzling. Don't be left behind.
The Chatbot Domain
A chatbot is built upon and within an existing platform.
Facebook is leading the charge with the launch of their chatbot-friendly Messenger (with 1.2 billion monthly users) in mid-2016, but chatbots also integrate with services like Telegram (check out these 10 useful ones), Slack (GrowthBot is an excellent example, and the platform boasts 4 million daily users), Twitter, Kik (its Bot Shop launched about a year ago), your website, WeChat, and even SMS messaging…to name a few.
And no matter your comfort level or experience with programming, there's a platform or service that'll work for you, novice to expert, beginner to advanced. A few of the best include:
This list should be enough to get you started, but it's in no way exhaustive. If you don't find what you're looking for here, keep searching. Do some research. Explore the available options.
Once you find something you can work with, check out one of the many tutorials for major platforms like Messenger, Telegram, and FlowXO, as well as guides on strategy, promotion, and design. Help is out there.
So, why use a chatbot?
Because people are spending more time online and want always-available channels to connect with you. They prefer chat over all other avenues.
Because a chatbot can better your business: increased efficiency, immediate response times, and more conversions, which leads to more sales and higher revenue.
Because you need to diversify your communication and marketing channels to take advantage of what's hot, and what's working – today and tomorrow.
"Every marketing channel suffers from fatigue at one stage." ~Matthew Barby, Global Head of Growth & SEO at Hubspot
Because your competition is already doing it, or plans to do it very soon.
And ultimately, because a chatbot can be used to help in virtually every conceivable way and metric to grow your business.
Need proof? Consider these great examples your crash course.
In E-commerce
Let's just state what everyone already knows: e-commerce is huge. E-commerce is growing. And e-commerce is here to stay.
So, yes. E-commerce is alive and well, and it's the perfect arena for chatbots.
eBay
Online auction and sales platform eBay knows a thing or two about e-commerce in the modern world. The total value of goods sold via the site in 2016 was $83.76 billion worldwide.
But they're not resting on their laurels. They recognize that growth means innovation and adaptation. Founded in 1995, eBay understands that things have changed in the past 20+ years.
Take social media, for example. It's ubiquitous today, and eBay is leveraging that popularity to reach an even bigger audience. Combining social with the rise of messaging apps pushes that potential reach even further. Add the crowd-pleasing chatbot to the mix, and it's a mighty powerful recipe.
The eBay Shopbot integrates with the industry-leading Facebook Messenger and allows users to shop from within the messenger app itself. They can browse suggested items based on the conversation they have with the chatbot. Tell it what you're looking for, it'll ask a few qualifying questions, and then present some suggestions based on your answers and preferences.
Remarkably, you can even upload and share a photo and ask the Shopbot for similar items.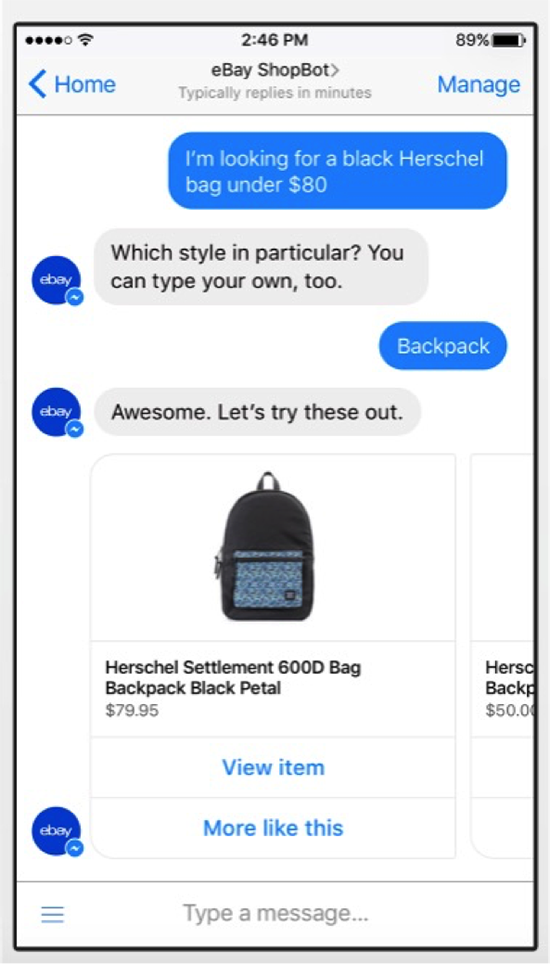 Shopbot is still in beta, but is getting better and smarter with each passing day…introducing eBay to an entire new generation of customers.
Kip
Kip touts itself as "social shopping." It collects requests and needs from a group for office lunch orders, supplies, gifts, or whatever else you can throw at it. All together, and all in one place.
But that's not all that makes Kip different. It's also emoji-based commerce: you enter an emoji or series of emojis to describe what it is you're looking for (dog + ball, for example, would deliver some dog toy options available for purchase).
At the time of writing, Kip worked for 500+ businesses and 60,000+ users, so the community is already rather extensive. The chatbot itself integrates with Slack, FB Messenger, Kik, and Telegram.
Use Kip with colleagues, classmates, friends, family, co-workers, committee members, customers, and more.

For Increasing Conversions
Traffic is good, but conversions are better. A visitor who leaves your site, app, or chat without converting is worth nothing.
Therefore, anything you can do to increase conversions is good for you, your business, and your bottom line. It's so important, there's an entire field – conversion rate optimization, or CRO – devoted to it.
One of the newest tools in your CRO bag of tricks? Chatbots. We've already discussed both the popularity of messaging apps, and consumers' preference of messaging over all other communication channels, so it stands to reason that people would respond positively to chatbots on their buyer journey.
Positive feelings + reduced friction = more conversions.
Pizza Hut
It feels like Pizza Hut has been around forever. Founded by two brothers in 1958, it's grown to become the largest pizza chain in the world with 14,000+ locations around the world.
But even the king of the castle needs to actively work to grow. If not, you don't remain at the top for long. And modern consumers want multiple options and channels for everything.
To that end, Pizza Hut allows its customers to order via telephone, their website, and their app.
And as of late last summer, they've added a chatbot to that list. Working from within both FB Messenger and Twitter, the bot allows pizza aficionados to place orders, ask questions about current promotions, dietary information, store hours, delivery options, and even FAQs.
Once an order is placed, the bot will confirm it has been sent and received.
It's your own personal pizza concierge. Other fast food chains like Taco Bell, Domino's Pizza, and Burger King also provide chatbot-assisted ordering.
Uber
Uber is everyone's private driver.
Whether you've ever actually used the service or not, you've no doubt heard about it. Order a driver via their app, follow their progress in getting to you, and pay with the tap of a button. It's fast, simple, and convenient.
And with gross bookings of $20 billion and net revenue of $6.5 billion in 2016, it's obviously a popular product. But popular doesn't mean perfect. Even Uber has to reimagine itself from time to time.
Enter the Uber chatbot.
The company has created a chatbot within FB Messenger, Slack, and Telegram to allow users to sign up, order a car, get an estimate, find driver info, and more.
And all without having to download the official app or leave the messenger platform itself.
"We're in the business of being where people are, so it's not sufficient to say, well you guys need to come to where we are and what we think is comfortable for us. We need to get out there and be present where people are spending their time and are comfortable." ~Chris Messina, Developer Experience Lead at Uber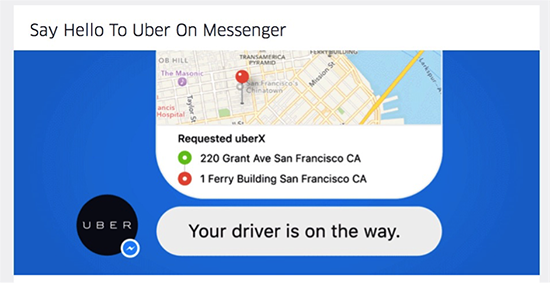 Uber was actually present on FB Messenger a full five months before the big announcement at F8 that bots were coming to the platform. How's that for staying ahead of the curve?!
With the Uber chatbot, users can not only request a ride, but the bot can anticipate that you will need a ride based on conversations with others, and offer to get you one. The bot can answer questions you might have, share your ride details with friends and family (where you are, when you'll arrive, etc), share addresses (others can then request their own Uber simply by clicking) and help you get where you're going while talking about it with Uber or the group you're meeting at the event/restaurant/bar.
Uber: the best way to get wherever you're going. Or so they say. Their chatbot certainly helps that claim.
For Engagement and Customer Service
Engage and serve. There's perhaps nothing more important when it comes to retention and keeping your customers loyal, happy, and devoted to you and your brand.
When it comes to engaging with and serving your customers online, fast is the order of the day. They expect quick answers and resolutions:
Staying on top of it all can be difficult for businesses big and small, but many are discovering that a chatbot can help here, too.
KLM
Dutch airline KLM, like most airlines, was quick to embrace social media for sharing updates and handling complaints. Their 235-person social media team handles 15,000+ online conversations in an average week.
They're also one of the first to explore adding a chatbot to that mix. But instead of delegating service and engagement completely to a bot, KLM is taking a slightly more human approach, opting for a chatbot assisted by a real-live agent for quality control. The bot handles the bulk – collecting the relevant information and then suggesting appropriate responses – but an agent is always available to jump into the conversation if and when necessary.
"[It gives] the best of both worlds – a timely answer, a correct answer, and a personal answer. The best of humans and the best of tech". ~Karlijn Vogel-Meijer, KLM Social Media Manager
The KLM Messenger bot can handle questions about delays and checking-in, as well as provide a digital copy of a boarding pass, without any assistance, and the program's AI actually learns and improves with every interaction.
The airline gets an average of five questions a minute via FB Messenger – and 13 messages a minute during peak times – and they've increased the speed of their responses by 20% using this unique chatbot-human hybrid.
HealthTap
HealthTap is similar to the more widely-known WebMD, but with one major difference: rather than just presenting possible diagnoses based on symptoms, HealthTap connects you via video, voice, or text with a real doctor to answer questions, get prescriptions, referrals, second opinions, and more.
Virtual consults like this are a growing industry, and 27% of Americans have said they would use one if it was offered and available. HealthTap has already answered 6.1 billion questions, is covered by most health insurance, and has 107,000+ doctors in its network.
In order to serve more people faster, HealthTap recently launched Dr. A.I., its new website chatbot.
Using a combination of machine learning, your personal medical history profile, millions of doctor diagnoses and answers, as well as recent research, studies, and data, Dr. A.I. can ask you follow-up questions, and guide you to relevant articles, suggest a diagnosis, connect you with a doctor in the HealthTap network as necessity dictates, or schedule an appointment with a specialist near you in the real world.
"With an average of twenty years of experience per doctor in the HealthTap Medical Expert Network, the knowledge in the network equates to hundreds of thousands of years of medical school training and more than a million years of collective medical practice experience. Applying Bayesian thinking and advanced techniques of Machine Learning and Artificial Intelligence to the rich data we've collected from billions of transactions between tens of thousands of doctors and hundreds of millions of patients on HealthTap, we've built an expert system that can help triage people to the care they need when they need it most." ~Geoff Rutledge MD, PhD, Chief Medical Officer at HealthTap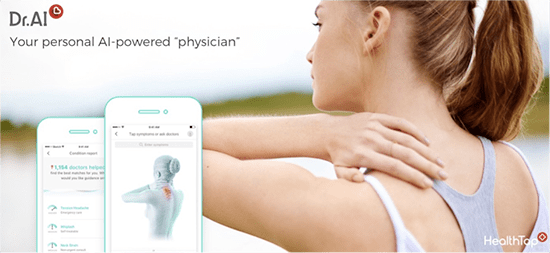 Dr. A.I. even demonstrates empathy, compassion, politeness, and patience in its interactions with you, just like the best real doctors. It's a bot with a fantastic bedside manner.
For Generating Leads
If you're not growing, you're dying. If no one knows about your product, service, cause, or charity, then it's not going to accomplish much. A steady stream of leads in the top of the funnel means a decent number will convert and purchase/donate at the bottom.
That's how the system works. No leads = no conversions, revenue or funds.
The modern solution for lead gen? Chatbots. They can collect information, offer relevant and timely content, and instant and ongoing engagement. Win, win, win.
Yeshi
Meet Yeshi. She's a young Ethiopian girl who has to walk 2.5 hours every day to reach the nearest clean water source.
She also happens to be a chatbot on FB Messenger.
Created by a partnership between Lokai and Charity:Water, the chatbot lets users understand the daily struggle of millions of people just to get something many of us take for granted: clean drinking water. Less than 50% of Ethiopians, for example, have access to it.
Yeshi can answer questions, share video, audio clips, and maps that show her progress across the countryside in her daily quest for water.
"We thought about how we could connect people with a girl in Ethiopia and her struggles, so we thought about how we could take that mindset and put it into something that you really feel like you're getting to know someone and standing by them and experiencing it eye-to-eye." ~Steven Izen, CEO of Lokai
Charity:Water is even able to accept donations directly through FB Messenger, the chatbot, and Assist, making the journey from awareness to conversion – in this case, making a donation – that much easier and faster.
Through initiatives like Yeshi, the organization has built 33 wells in Ethiopia, and hopes to build at least another 100.
Automabots
This service works with real estate companies and realtors to create, train, monitor, and implement highly-skilled chatbots for Facebook Messenger, Twitter, websites, listing signage, and so on.

Automabots can even tie in with your paid Facebook Ads instead of linking to a static landing page, instantly answering questions and providing additional details whenever someone clicks on the ad in their feed.
The chatbot can interact, take messages, search MLS listings and provide results, transfer to a live agent, record conversations, capture contact details, estimate home values, and more.
It's an always-on, 24/7 virtual assistant engaging with prospects wherever and whenever they come around, generating leads for realtors around the clock.
Recent studies have found that 37% are willing to make a purchase via a chatbot, and that number is climbing. So go with it. There are already 30,000+ bots on FB Messenger. Get in on that.
Just remember that the idea is not to trick or fool people into thinking they're talking to a human. In fact, 75% of people want to know when they're talking to a chatbot, and nearly half (48%) believe it's creepy and disturbing – to say nothing of dishonest – when a bot pretends to be a human being. Don't hide it. 60% can identify a chatbot correctly after interacting with it for a while anyway. Embrace your chatbot. Don't conceal it.
Modern chatbots plateau at about 85% accuracy and efficiency, which is very good, but there are limits to AI and machine learning in 2017. It's not a set-it-and-forget it scenario. They need human overlords keeping an eye on things. They need monitoring.
Chatbots can and do fail, and if you're not paying attention, that can quickly spiral into a PR nightmare.
"Where 10 years ago every company needed a website and five years ago every company needed an app, now every company needs to embrace messaging with AI and chatbots." ~Murray Newlands, Online Marketing & Chatbot Expert
Find a great turnkey chatbot solution like IPsoft's Amelia, Acebot (manage your expenses, keep track of your to-do list, quickly poll your colleagues and handle a range of other digital office tasks), or Driftbot (qualify leads, book meetings, get the right message to the right person at the right time).
Or build your own using a creation platform or kit, and write killer bot conversations to give it a voice.
Experts predict 1.75 billion people will be using messaging apps by 2019, up from 1.4 billion in 2016. Whether your target is Millennials, Gen Xers, Baby Boomers, or everyone, messaging apps and chatbots will get through to them where they are hanging out online.
Truthfully, the list of things you can't do with chatbots is shorter than the list of things you can do. They can help with everything listed here, as well as increase awareness and traffic, educate visitors on topics, foster goodwill, and on and on and on.
National Geographic Kids, for example, created Tina the T-rex for children to interact with and learn about dinosaurs.
Unilever created a chatbot to assist children with brushing their teeth, complete with reminders, games, a timer, and badges.
What will you create?
Is your business using chatbots? What benefits have you seen as a result? If you're not using them, do you plan to in the near future? Share your thoughts with me in the comments below: