How these 11 brands are dominating Facebook Live video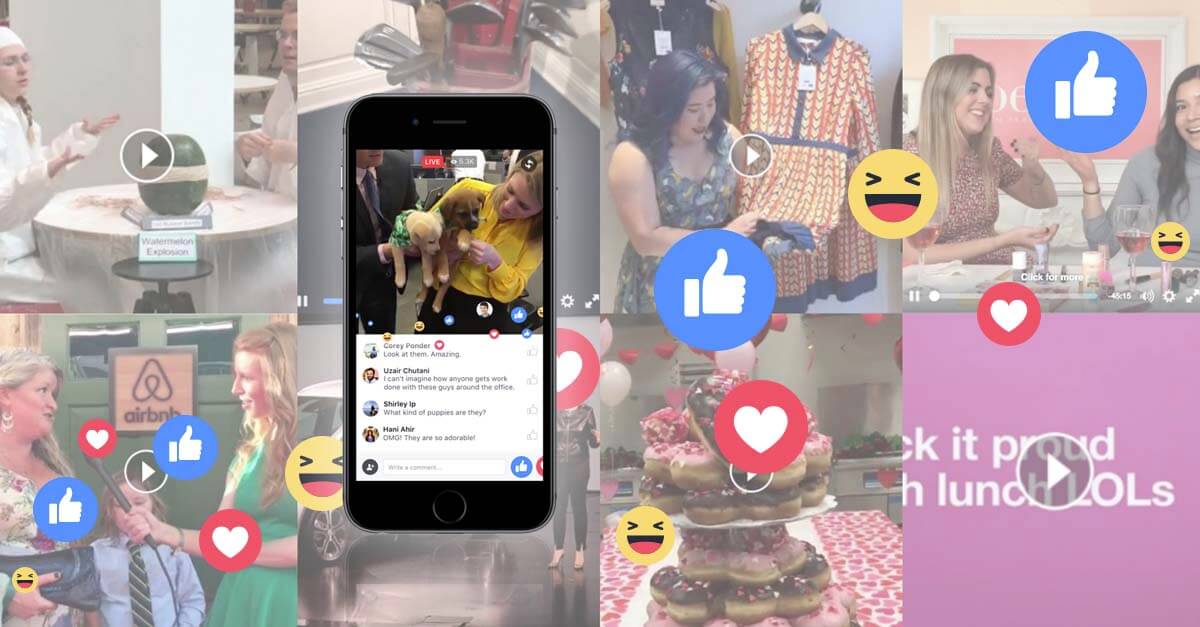 Social media is a great tool for increasing brand visibility, but it's becoming more and more saturated. This makes it harder for you to stand out.
The only way to continue growing your brand and leveraging the power of social media is to be right on the edge of current trends. Ready to apply new tactics when they are prime for the picking.
Facebook Live video streaming is without a doubt one of the most exciting social media tactics available to brands today, and is what we will talk about in this article.
Facebook Live was only introduced in December 2015 but a lot of companies have explored it since then, streaming everything from store tours and live events to special announcements and product introductions.
Live video is extremely good for Facebook engagement. According to Facebook, people comment 10 times more on Facebook Live videos than on regular videos. Live video is also more likely to show up in people's timelines, with recent updates to Facebook's algorithm giving it priority.
So, to help you get started with Facebook Live or make your live streaming even better, here are 11 compelling examples of Facebook Live videos from top brands.
1. BuzzFeed
BuzzFeed describes itself as a "social news and entertainment company". But in the eyes of the public, they are just a ridiculously popular online magazine that has a knack for sending content viral.
And when I say viral, I mean viral. According to BuzzSumo, the most successful content on the BuzzStream website is getting over a million social media shares, and even an average post is cracking 20,000.
Their Facebook strategy is a nice accompaniment to the insane engagement they get on their website, with over 8.3 million people liking their page.
A big part of BuzzFeed's Facebook strategy is live video streaming, which is why they are on this list. Their Facebook Live streams range from cat massages, to dance competitions, and all the way to ridiculous experiments like the one below.
Back in April this year, two BuzzFeed employees got dressed up like mad scientists and periodically added rubber bands to a watermelon until it exploded.
45 minutes, 10 million views, 320,000 comments, and 50,000 likes later and it's hard not to take notice of this piece of video content…
Video Source: Buzzfeed Facebook
What does this mean for your Facebook Live strategy?
Live video needs to be entertaining, it needs to build suspense, and it needs to involve real people.
I'm not sure I ever thought I would say this, but I just waited for 45 minutes to see a watermelon explode on a table.
What will entice your audience to stare at their screen in anticipation, waiting for your next move?
2. ModCloth
ModCloth is a "vintage-style fashion, clothing and décor e-retailer" for women, and more than 1.4 million people like their Facebook page.
ModCloth's Facebook Live strategy is about inspiring people to dress and decorate in their own personal style and helping them feel good about themselves. In their videos, you'll learn how to make yourself and your home look more fashionable and stylish.
A couple of months ago, ModCloth took viewers for a tour of one its pop-up stores to have a look at some of their favourite clothes and décor from the latest collection. They also showed an area where people can sit down next to a painted wall of art and take photos, making the store an inviting place.
The video, which you can watch below, is 15 minutes long, with 82,000 views, 383 comments and 2,500 likes.
Video Source: Modcloth Facebook
What can you learn from this?
If you own a store, taking a tour of the place and giving tips on what to buy will not only help you to sell your products, it will also help consumers decide on what they should purchase. It's a win-win!
People will know what to expect from your store when they drop by and with a friendly staff and atmosphere, they'll keep coming back for more.
3. Target
Target, as we all know, is one of the largest retailers in the world, selling discounted items such as clothes, toys, homewares, and many more. Plus, over 23.3 million people like their Facebook page.
Target's Facebook video strategy involves engaging with their fans and for fans to engage with other fans. Target's videos aren't just there to promote their products but also to let people know why they should buy them and how they can be used in entertaining ways.
They even have videos of music celebrities who help promote the Target brand, like Gwen Stefani and Carrie Underwood.
In an effort to promote their "Cat & Jack" collection, they went live earlier this year in New York City with senior fashion editor, industry influencer and E! reporter Zanna Roberts Rassi.
This 40-minute long video has captured the attention of over 1.2 million viewers…
Video Source: Target Facebook
What makes this video unique?
This was a smart strategic move for Target, aligning themselves alongside a respected industry figure and getting significant exposure for their new clothing collection.
By creating a unique hashtag for this promotion as well, "#catandjack", the reach of this video and any supporting marketing collateral was multiplied.
4. Dunkin' Donuts
Dunkin' Donuts is your one-stop shop for cool coffee and delicious donuts, making it a family favorite. It's proven by the fact that their Facebook page is liked by more than 13.9 million people around the world.
Dunkin' Donuts Facebook Live strategy is all about showing the range of coffees and donuts available at their store, as well as company events.
Back in February this year, the team from Dunkin' Donuts posted their first live tour video of the company's test kitchen, where you get to see new drinks and the making of a donut wedding cake.
They also included a Valentine's Day announcement in which engaged people can post their Valentine's Day story and the winner gets $10,000 for their wedding. Isn't that cool?
With a 14-minute video (see below), the announcement is good for keeping the audience engaged. It received 39,000 views, 1,400 comments and 4,100 likes.
Video Source: Dunkin Donuts Facebook
How can you apply this strategy to your own?
Taking a tour of the company seems to be a popular technique brands are using, but this time if you own a food store you could also show your audience how certain food and drinks are made. This'll be sure to keep them glued to the screen.
Plus, making a surprise announcement near the end of the video will make your audience keep on watching and eager to find out more. People love competitions, so give them that and you'll reap the rewards.
5. Chevrolet
Chevrolet describes itself as "one of the biggest automotive brands in the world". The company sells millions of cars and trucks a year and over 16 million people like their page on Facebook.
Chevrolet's Facebook Live strategy includes sharing ideas and tips on cars, promoting their new car models, and even celebrating special days like Mother's Day, birthdays and car anniversaries.
In January 2016, Chevrolet introduced their latest model, the electric 2017 Bolt EV, at the CES 2016 tradeshow. The video was live, which means people could watch the show in real time and see the unveiling of Chevrolet's new car at the same time as those at the tradeshow.
The show was 25 minutes long and got a massive 56,000 views and 845 comments. Plus, 1,700 people liked the video. Watch it now…
Video Source: Chevrolet Facebook
What makes this video different from other videos out there?
The video was shown in real time, so both the audience at the tradeshow and those elsewhere get to wait in anticipation and feel the excitement together, no matter where they are in the world.
Being able to create a sense of unity and community through live events, as well as making them entertaining and suspenseful can enrich the customer experience and keep your company top-of-mind.
6. AirBnB/Disney
AirBnB and Disney has worked together to create an AirBnB Treehouse, hosting the cast of The Jungle Book, which has more than 1.2 million likes on its Facebook page.
With AirBnB being a popular online marketplace and homestay network that lets people rent accommodation and Disney being a famous producer of children's movies, the collaboration between the two is a first that no AirBnB and Disney fan will ever forget.
AirBnB/Disney's Facebook Live strategy is about taking fans behind the scenes of the movie so they can see how it was made, as well as making fans wait in anticipation by showing them short clips from the movie. You also get to see movie trailers and cast auditions.
In April of this year, the World Premiere of the new Jungle Book movie was held at the AirBnB Treehouse. Both fans and photographers got to see the cast on the red carpet and the host interviewed them as they arrived at the treehouse.
The Facebook Live stream from the treehouse is 1 hour and 23 minutes long. Despite that, 112,000 people have watched the video, 1,600 commented and 1,700 liked it. See it for yourself…
Video Source: Disney Jungle Book Facebook
What does this mean for your Facebook Live strategy?
Everybody loves the rich and famous, so consider posting videos of celebrity interviews (particularly those who endorse your brand), red-carpet sneak peeks, or the making of a movie, commercial or song.
To increase brand awareness, make sure the content reflects your brand. If you do this, people will associate your brand with the celebrities/shows and vice versa.
7. Tastemade
Tastemade connects people around the world through great food and travel videos, and over 20.4 million people like their Facebook page.
The company's Facebook Live strategy is to connect the world through video. Food lovers can post videos where you get to see them make the food they love best, from cakes and brownies to burgers and donuts.
Several months ago, Tastemade created a video showing a variety of latte art. On the coffee's surface you get to see hand-drawn images of cute animals such as cats and dogs, as well as popular characters like Homer Simpson and Sailor Moon.
Tastemade let its viewers know that steaming milk was used to create the latte and they wrote on another sticky note that they're "taking requests in comments".
The 51-minute video was entertaining throughout, so it's no wonder it got a massive 1.6 million views, 91,000 comments and 29,000 likes from people across the globe. Check out the video below…
Video Source: Tastemade Facebook
What can you learn from this?
When creating videos for Facebook Live, make sure they're entertaining, creative and leave people wanting to see more. Also make it engaging for your audience by taking requests in the comments section.
It's fun when you and your audience can interact with each other, and when requests are honoured it shows that your company truly cares about your customers. Moreover, people will be sure to tune in next time you post a video.
8. Benefit Cosmetics
Benefit Cosmetics is an online store selling makeup products that deliver instant beauty fixes. It's every woman's dream.
Their Facebook page has more than 5.6 million likes, and their Facebook Live strategy involves giving beauty advice, tips and tricks and showing women how to put on makeup the right way, whether you're heading to work or to a party.
In April 2016, two Benefit Cosmetics employees gave beauty tips and tricks on how to get ready to hit the town with your friends after work on a Thursday night.
Just like putting on makeup, the video takes 45 minutes to watch. But with all the beauty tips and tricks it offers, the video earned 59,000 views, 322 comments and 492 likes.
Video Source: Benefit Cosmetics Facebook
What makes this video unique?
The video is posted on the company's Facebook Live stream every Thursday at 4pm so people know exactly when to tune in.
The hosts give different beauty tips and tricks each time too, making you want to watch their next video to see what else they've got to offer.
They also ask people what they should do the following week, which is great for consumer engagement.
9. Callaway Golf
Callaway Golf creates golf products for one purpose: "to make every golfer a better golfer". Because of that, over 524,000 people like their page on Facebook.
Callaway Golf's Facebook Live strategy includes sharing videos to promote their products, to offer golf instruction and tips, and to invite viewers into the homes and minds of professional golfers, golf course architects, and much more.
Back in June this year, Callaway Golf took an exclusive sneak peek inside Arnold Palmer's office in Latrobe, Pennsylvania. Just like a museum, the audience were shown Masters and US Open pins and medals, old golf clubs and golf balls, golf accessories, and old photos on the walls.
The live tour was 45 minutes long, and 240,000 people tuned in, with 738 commenting and 4,000 liking the video.
Video Source: Callaway Facebook
How can you apply this strategy to your own?
Like I said before, everybody loves famous people. So whatever your company is selling, getting a well-known person to appear in your videos can increase your number of views and brand visibility.
If you sell swimming products, for example, try interviewing a professional swimmer live and, if you're lucky, you could take a tour of their home too and capture on video all the medals or trophies they've won.
Also ask your audience want they want to see or if they have any questions they want answered to keep them entertained and engaged throughout the video.
10. BarkBox
BarkBox is a monthly subscription service in which high-quality dog products are delivered to subscribers each month. With BarkBox, every dog owner can keep their dogs happy and healthy. It's no wonder that more than 2.2 million people like their Facebook page.
The company's Facebook video strategy is all about showcasing people's pet dogs, dogs that need a better home, as well as rescued dogs in their new family home.
BarkBox use Facebook Live to make the most of their real-time events, such as BarkFest. An event they claim to be the "world's biggest dog party".
Below is an example of one of the many videos from the 2016 event that has hundreds of comments, thousands of likes and over 35,000 views…
Video Source: BarkBox Facebook
What makes this video different from other videos out there?
It's not your typical pet video – BarkBox have leveraged the human connection of real employees, combined with loveable pets and live video all in one.
It not only shows off what the business has to offer, but strikes an emotional chord with their ideal audience.
11. New York Times
At the New York Times, you'll find breaking news, reviews, opinions and multimedia on a variety of topics, including entertainment, sports, travel, business and real estate. What's more, the company's Facebook page has a massive 12 million likes.
Their Facebook Live strategy is about showing people what's happening around the world on video, including what's popular and trending right now. From the news and live interactive journalism, to recipes and movies and TV shows, there's a lot of things you can watch and you also get to learn new stuff too.
Back in August, the New York Times' featured video of the world's best gymnast, Simone Biles, has caught the world by storm. Not only is she young, she's also very skilled and talented. She can do things no athlete has ever done before.
This 9 minute video has been viewed over 200,000 times, has 5,000+ likes and 700+ comments. Check it out below…
Video Source: NY Times Facebook
What does this mean for your Facebook Live strategy?
Live video needs to be inspiring, entertaining and worth watching. Also keep your audience engaged by adding pieces of new and surprising information as the video goes on. You can even add short interview clips with a celebrity or expert.
Finally, your videos don't all have to be about your products or services to be successful. At the end of the day, you want people to be able to remember the experience you gave them, which will help keep your brand at the top of their minds.
Getting started with Facebook Live
Now that you've seen how other brands use Facebook Live successfully, it's time to try it out yourself.
You can use Facebook Live to engage your audience in exciting and personal new ways, from celebrity interviews and behind-the-scenes glimpses, to Q&As and conversations with your audience.
When it comes to marketing your brand, streaming video is a powerful tool. Not only will it allow you to connect with people on a personal level, it'll also allow you to enhance the customer experience.
Plus, with Facebook Live's full-scale reach, you can connect with just about anyone around the world. Now how's that for increasing your social following and brand awareness?