9 Real World Examples of Advanced Link Building Tactics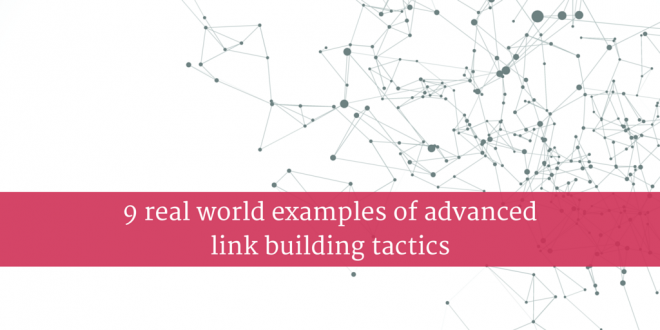 We know that backlinks are essential to generating rankings and traffic from search engines.
They indicate authority and help build brand signals, to rank for both high value and long-tail keywords.
But most of us in the industry know that building links is not so straightforward as well as getting backlinks indexed.
We recently released a guide to SEO & Link Building in 2016, which included summaries of 30 white-hat link building tactics to help your business succeed. But summaries don't always show the full picture.
By analysing thousands of web pages every month looking for opportunities, we found all kinds of link building strategies being implemented by companies. The best link building focuses on getting your brand in front of people, influencers and websites that are relevant to your business – when you're doing this, the SEO benefit is almost secondary, but it's substantial!
Here are 8 link building tactics and 9 case studies that you can emulate for your own business.
Tactic #1: Embedded Widgets
Tactic #2: Partner Programs
Tactic #3: In-The-Media Egobait
Tactic #4: Business Awards
Tactic #5: Blogger Awards
Tactic #6: Linkable Content Outreach
Tactic #7: Resource Lists
Tactic #8: Sponsorships
Tactic #1: Embedded Widgets
In most industries, there are key resources and information that customers want access to. This may be information about a company, collated research and statistics, or a tool that simplifies processes.
If you can create a unique widget that provides this information to consumers, and then enable webmasters to embed the widget's code on their website with a source link (eg. "Powered by"), you unlock huge backlink opportunities.
Importantly, if you are in a field where someone already dominates a particular widget type, think of another widget that you can offer – there are plenty.
Note: While Google's Link Schemes guidelines mention embedded widgets as a violation, they are very clear that they are referring to 'keyword rich' and 'low-quality' widgets distributed across various websites. However, if you can provide a quality tool to consumers in your specific field of expertise that offers real and legitimate value to the industry, this becomes a great white-hat branding tool showing your authority in the field, making life simpler for customers and website owners, and providing the additional benefit of SEO performance.
Potential Implementations
Reviews/Aggregated ratings – Is there an opportunity in your field to create a resource where consumers can rate and review products or businesses on your website? If so, create an aggregated rating (a score out of 5 or 10) and supply a tool for the product/business owners to create their own widget around these ratings and reviews.
Calculators – In some industries, there are quoting systems, value algorithms, mathematical or spreadsheet formulae, scientific calculations, etc, that your average person would need time to complete. You may already have a tool that you use internally to complete these complex calculations – why not make a public version to help simplify the lives of your peers or consumers?
Booking/Availability forms (eg. accommodation, venues, rentals, charters, events, etc)
Search tools – If there is no current central location to source certain businesses in your industry, you have the opportunity to research and consolidate these into a search tool for consumers to use.
Case Study: TripAdvisor's User Reviews & Ratings
Overview
In the accommodation niche, ratings and user reviews are a huge factor in consumer buying behaviour. Most property managers realise this and push for reviews from their customers, but they also want a way to show these reviews on their website. Previously, properties would need to create their own reviewing platform or rely on one of several third party options, but the value was minimal. This is where TripAdvisor stepped in.
Over the years, TripAdvisor has established themselves as the single biggest platform for reviewing properties in the travel industry. By building these user-generated reviews and creating an aggregated rating, the value to consumers has grown exponentially. On top of this, instead of simply leaving the reviews and ratings on their website, they created widgets for property managers to embed the rating and number of reviews for the property on their website as a selling point.
While some websites link back to TripAdvisor, others host a duplicate review section which is powered by TripAdvisor and shows all TripAdvisor reviews. Ultimately, not every embedded widget is going to maintain the link to your website, but considering the volume of potential links, it's still worthwhile, and the duplicated review sections still send value to TripAdvisor anyway.
Examples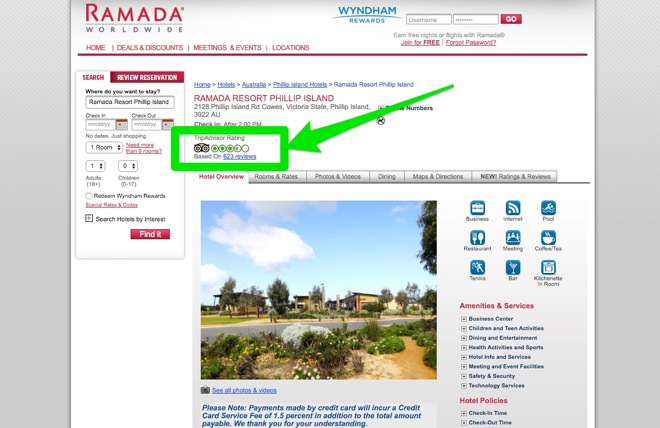 Source: Ramada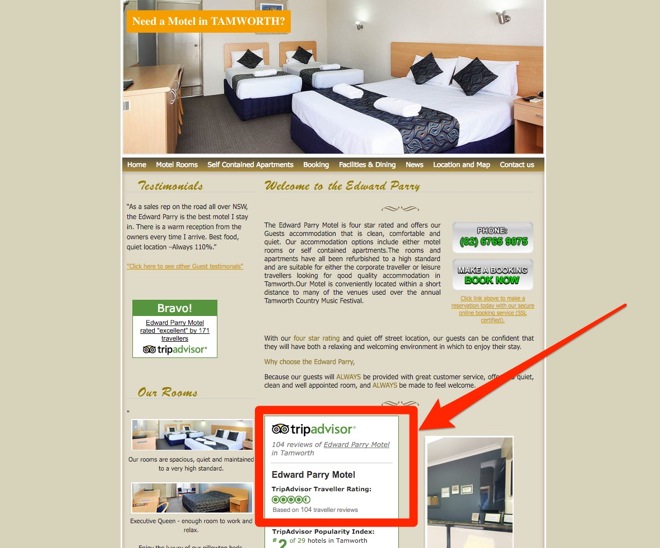 Source: Edward Parry Motel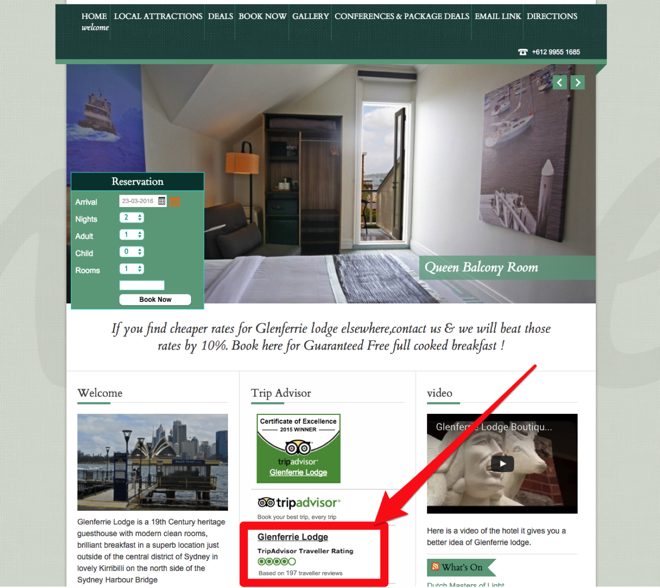 Source: Glenferrie Lodge
Case Study: InfoChoice's Mortgage Calculators
Overview
While there are many mortgage, investment and repayment calculators available at almost every home loan website, very few are mobile friendly.
InfoChoice created a mobile-friendly series of calculators and provided the code for mortgage brokers, lenders and banks to embed these on their website.
While most have the source as InfoChoice, even those that have white-labeled the calculators into their own websites still link back to the blank widget hosted on the InfoChoice.com.au website.
Examples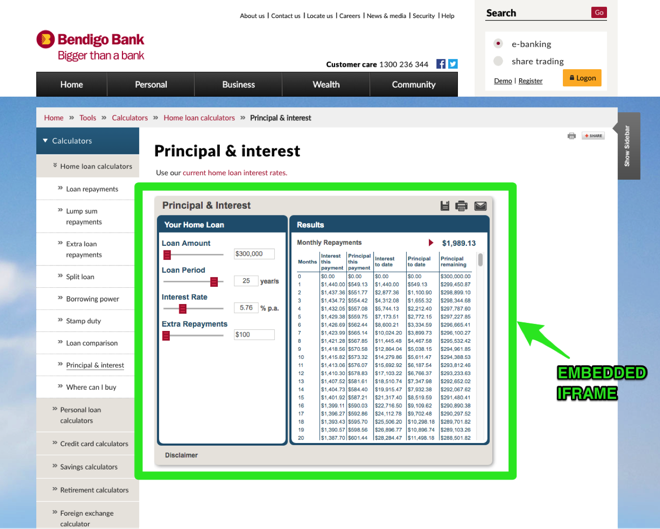 Source: Bendigo Bank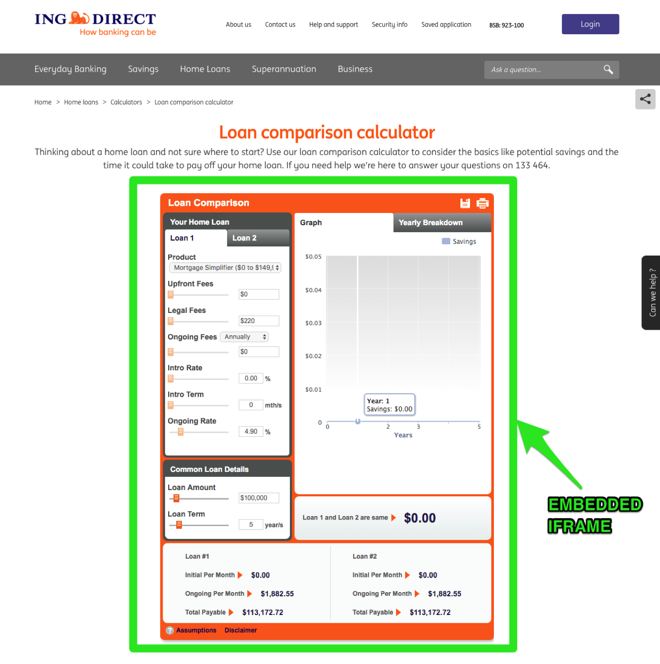 Source: ING Direct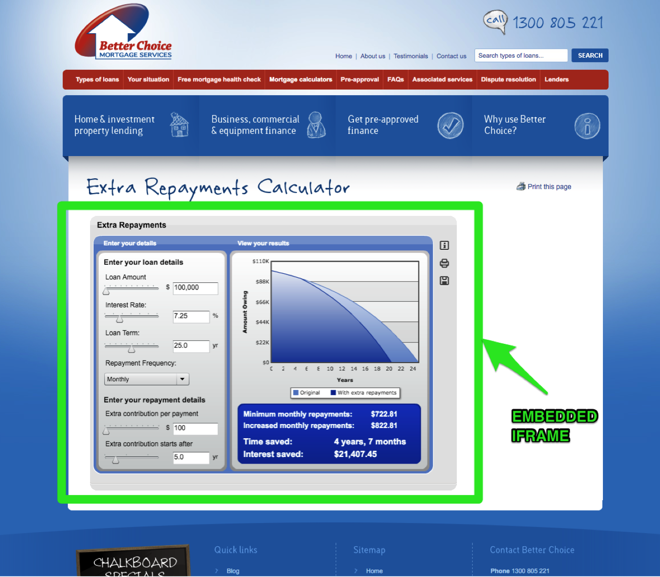 Source: Better Choice Mortgage Services
Tactic #2: Partner Programs
Whether your industry is B2B or B2C, there are still working relationships with other businesses. Since most businesses have websites, these relationships can be leveraged to generate links.
If you are in a field where there is a large group of a specific business type, then it is a prime opportunity to create an exclusive program around those businesses and allow them to use your logo as a partnership badge embedded on their website.
These partnerships work best when there is a partner program section of your website, where the partners are listed or can be found by searchers – this official listing then becomes something offered to the partner businesses in addition to the badge.
The key for a strategy like this is to have a group of the same type of businesses in your industry, related to but not the same as your business, and figure out the best way to consolidate them to be useful for your customers.
Potential Implementations
Accepted Partners – If your products can only be found or used at specific businesses or vice versa, create a resource on your website to find these partners and offer the businesses a corresponding badge around being an accepted venue or business.
Quality Approval – If there are questions around the quality of work from this group of businesses, you could provide peace of mind to their consumers by verifying quality, and providing a recognised approval program. Importantly, for people to trust this type of network there must be criteria that the businesses meet in order to qualify for your approval, and this criteria should be clear to the consumers.
Simple Partner Network – To avoid the legal risks and the workload involved with screening businesses to approve, an alternative is to have a simple partner badge that lists all of the businesses on a partner network information page on your website. The badges can link back to this page and you can have a disclaimer making it clear that this partnership program does not indicate approval – advising consumers to do their due diligence.
Examples of business groups:
Service providers for insurance
Venues to use a gift card
Venues to redeem a rewards program
Tourist attractions in a specific area
Local businesses in a regional area
Hotels around an event, venue or business
Case Study: NRMA Approved Repairers
Overview
Perhaps the most successful partnership program in Australia from a branding perspective is led my NRMA. NRMA positioned themselves as the authority for the automotive industry even before the Internet went mainstream.
As an insurance company, the NRMA has always needed to review quotes from mechanics, and smash repairers after accidents to approve work. Plus, their customers typically want to know where they can take their cars when they need to. Since they were already putting in the work, they figured why not leverage this to their advantage by pre-approving repairers even before they were needed. Now, as an approved repairer, they offer the NRMA Approved Repairer badge (as you would see posted outside their physical location) to proudly display on their website.
Examples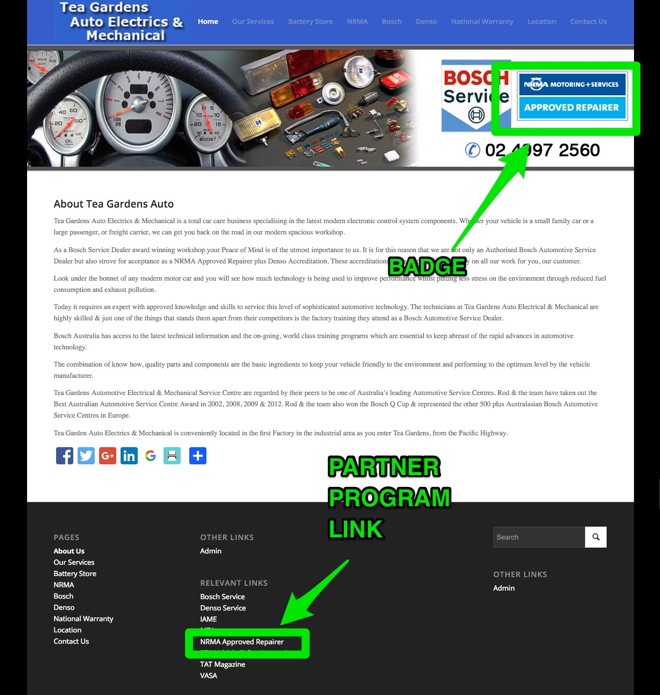 Source: Tea Gardens Auto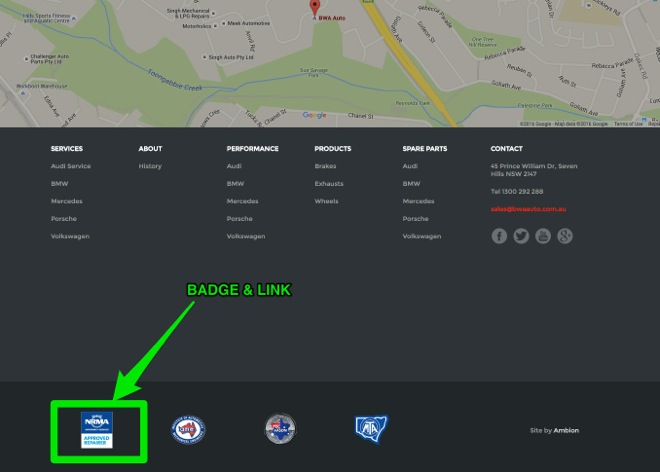 Source: BWA Auto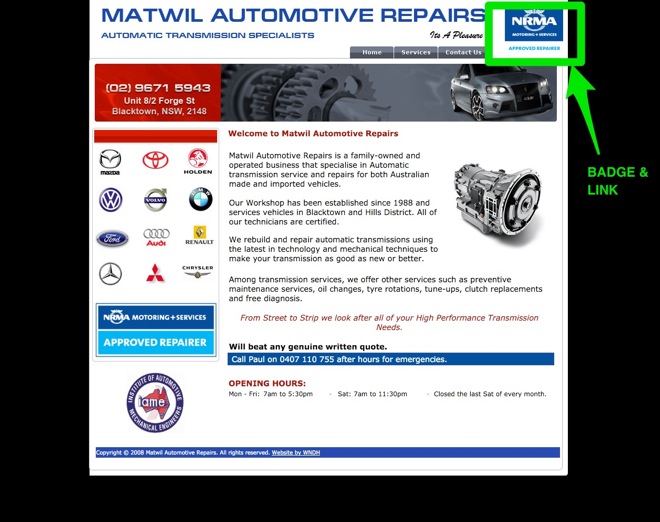 Source: Matwil Automotive
Tactic #3: In-The-Media Egobait
All businesses love good press and most like to brag about it. So if you can write a piece of content and feature a company in some way, they will usually share it via social media and may link to it from their website.
The main challenge is finding the businesses that like to brag about it on their website. The easiest way to recognise a company that is likely to do this, is to see if they have a page on their website called In The Media, In The News or something similar, where they list the news stories in which they were featured. Picking these companies gives your content the highest likelihood of getting a link.
Potential Implementations
A news story, referencing the brand by name
An informational piece, referencing the company or their content as a source
An interview with one of their staff
A quote from one of their industry specialists
Case Study: Insurance News
Overview
This strategy is very ad hoc and should be used in conjunction with other link building tactics. It is most useful when a company with a high-value website in your industry has an In The Media section and can be targeted specifically.
Below are some examples of In The Media and In The News sections for insurance news resources, showing websites that link to the branded mentions within their content.
Examples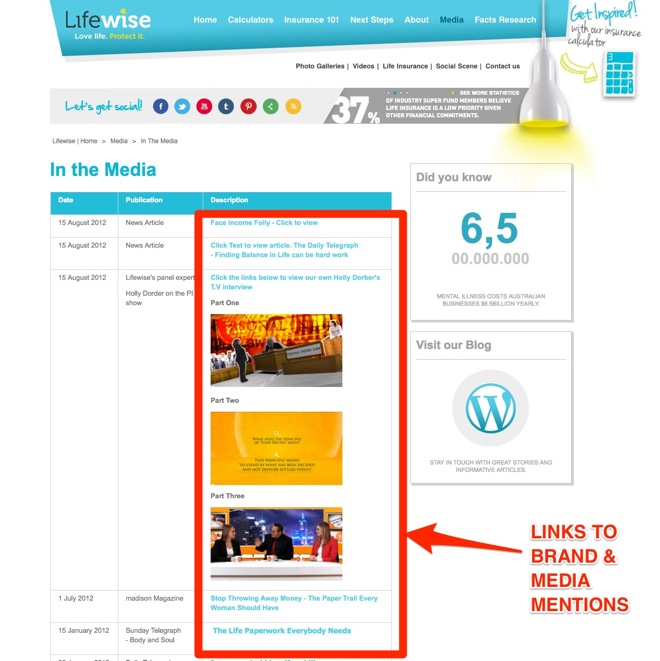 Source: Lifewise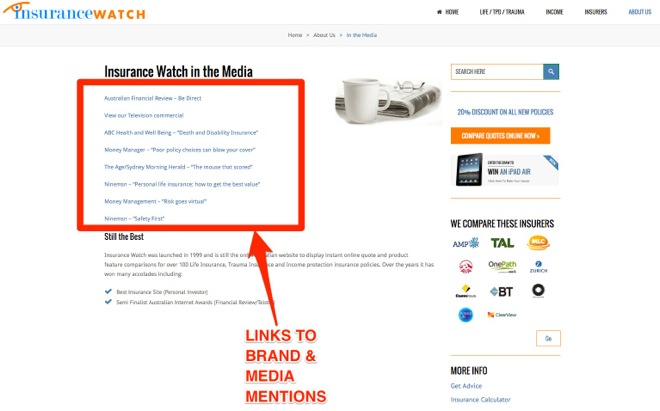 Source: Insurance Watch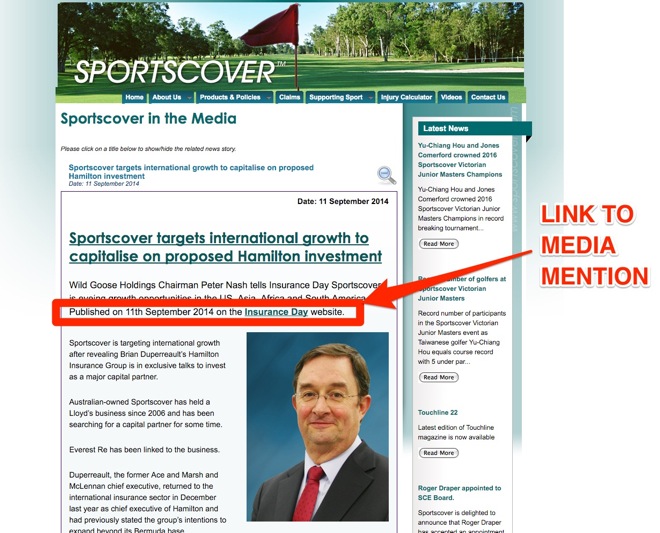 Source: Sportscover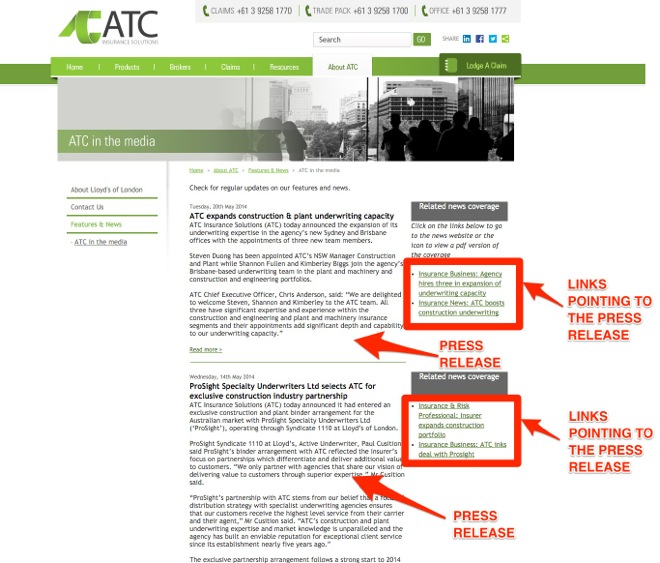 Source: ATC Insurance
Tactic #4: Business Awards
If a business doesn't have an In The Media section (and most won't), there are other ways to engage them based on an egobait strategy.
You can organise an awards program for businesses that you have a relationship with, or closely relate to your business in some way. Get creative and think of ways to leverage the businesses that you currently, or would like to, engage with.
Once the awards are in place and published on your website, make sure you have an official award winner badge with your logo. Offer it to the winners with the embed code so they can upload it to their website and give you a backlink.
In this embed code make sure that you have a link back to your awards page, which should be hosted on your domain. The biggest benefit with awards is that there can be as many, or as few, categories as you like, and the same goes for how many winners you have.
Potential Implementations
Best ABC Business – this is a generic award for achievements by a particular type of business or product in their given field. It can be based on data pulled from your website or using your own criteria/processes for the selection process.
Most Popular XYZ – as above, this is for businesses or products in a particular field but should be based around metrics of some kind (traffic, customers, sales, pageviews, poll results, etc).
Local Business acknowledgements – If your business type is location-specific, why not recognise all or some of the businesses near you for their contribution to the local population, economy, tourism or community in general. You may have one or multiple locations that you can target but either way local businesses are usually proud of supporting their local community.
Case Study: TripAdvisor's Certificate of Excellence
Overview
Using the multitude of ratings and reviews submitted to their website, TripAdvisor is easily able to identify the best performing properties for a particular time-frame, location or property type. Using these awards, they reach out to the winners and offer an Award-Winner badge that they can embed on their website with the recognisable TripAdvisor logo and the company's achievement.
The bigger businesses usually only care about awards from recognisable brands, like TripAdvisor, but smaller and medium sized businesses will love any award they can display.
Examples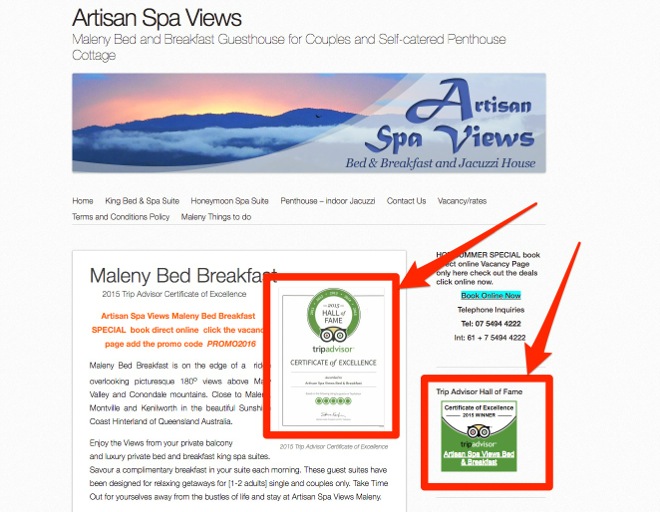 Source: Artisan Spa Views
Source: Shiba Park Hotel
Source: Glenferrie Lodge
Tactic #5: Blogger Awards
Every industry has blogs these days. They may not be dedicated to your specific niche, but there are always blogs related to what you do.
This link building tactic is all about selecting one or more areas of interest, finding a list of relevant blogs and creating a blogger award program.
Once the awards are in place and published on your website, make sure you have an official award winner badge with your logo, and offer it to the winners with an embed code for their website – just like you did for the business awards.
Since some blogs offer advice, if your company has a compliance team it may offer some obstacles to publishing awards pointing to these blogs, or having a branded badge appear on their website. In this instance, look for award names that don't imply support of the advice provided, or have a disclaimer on the awards page explaining how the winners were selected and how their advice is their own.
Potential Implementations
Top X Bloggers – Create a list of the top bloggers in a specific category or niche. This list could be the top 5 or the top 100, or it could simply be as many as you can find, be it 16 or 197. Try to sort in order of brand strength so that the smaller players can see the biggest sites on the list first; this will increase the impact of being included in the list, among such well-known content sites.
Most Popular Bloggers – as with business awards, this is for blogs in a particular field based around metrics of some kind (traffic, social fans, pageviews, links, etc).
Featured Bloggers – You could look at doing a featured article or blogger of the month. Reach out to the featured blogger with a Featured Blogger badge or allow them to use your logo under the banner "As Featured On".
Recognised Bloggers – To avoid the perception of supporting the content and opinions provided by bloggers, you could simply recognise a blogger as a resource in a given industry. While less effective, they will often still be happy to include a branded badge on their website and you won't have as much difficulty dealing with a compliance team.
Case Study: Bupa
Overview
Bupa previously created an annual Blog Awards for family and health blogs. The criteria and selection process is unclear, but the winners of these awards were all contacted and provided with the award badge that they could embed on their website. They even created a badge for Nominees and reached out to them.
The awards page on their site has since been removed, but the badges are live and the links redirect to Bupa's new content area.
Examples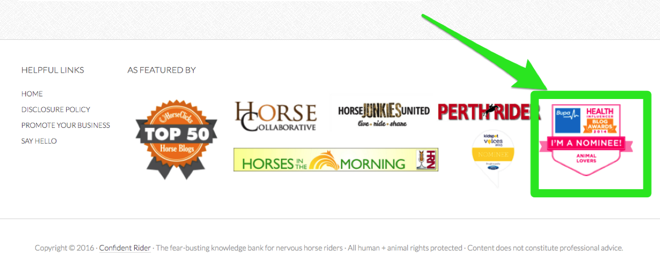 Source: Confident Rider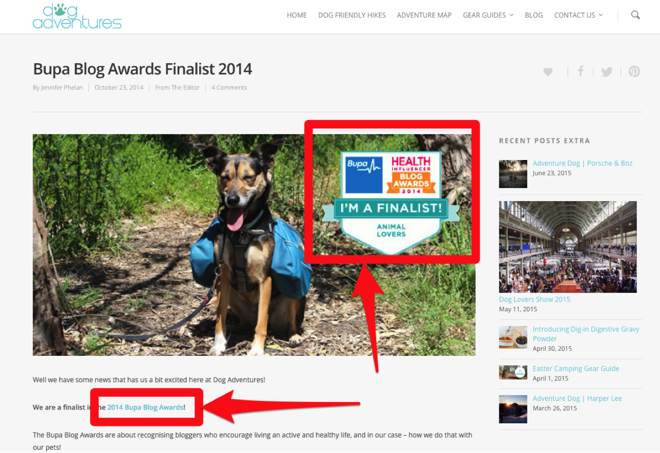 Source: Dog Adventures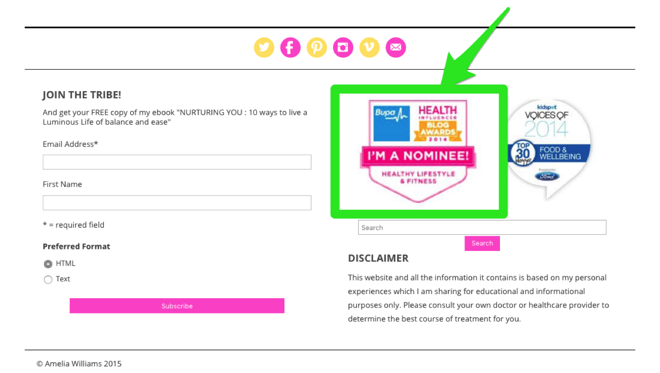 Source: Amelia Williams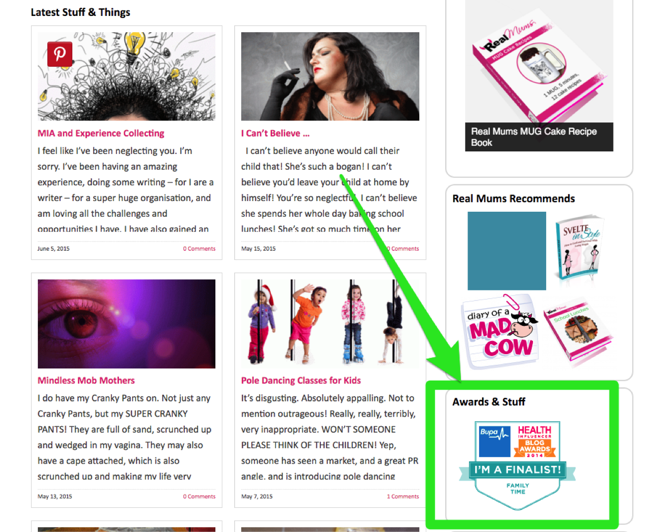 Source: Real Mums
Tactic #6: Linkable Content Outreach
High quality content generates links naturally, but there are two ways you can speed up the process.
The first is to make a list of all your linkable resources, ensure they are online, and then look for pages and sites on the web that would be interested in what you're offering. Then you can reach out to them and point them to that resource to add to their site or page.
The alternative, and perhaps more effective method, is to find opportunities for sites and pages you want to get listed, then create targeted content specifically for these opportunities. This way, you know what they are looking for, what they have linked to previously, and you can create the content to meet and exceed those requirements. Then when you reach out, there is a higher likelihood of acquiring a link.
With the latter method, you already know that there are link opportunities prior to spending resources on creating high quality content.
Potential Implementations
Content-First Approach – As mentioned, this is where you already have a piece of content or a high value resource that is live or easily published on your website. Look for relevant lists, blogs or pages on which this would be a relevant addition and reach out to the site to add it.
Link-First Approach – Research and identify link opportunities around a specific topic. Once you find a topic you feel will get some links, look for more links similar to those. Then look for sources of information that you can cite on the page, and reach out to them afterwards. Before creating the content piece, make sure that you can do a better job than what is already out there on this topic. For more information, see the Skyscraper Technique article from Brian Dean.
Case Study: Budget Direct
Overview
Budget Direct published a cyber safety article that is relevant for children and families. They then reached out to schools, government websites and other family organisations with resource pages in an attempt to get this article listed or featured.
At this stage, it's unclear whether Budget Direct created the content piece first or identified the resources first. Either way, the result is that dozens of EDU, GOV and ORG domains are pointing to the article on BudgetDirect.com.au.
Examples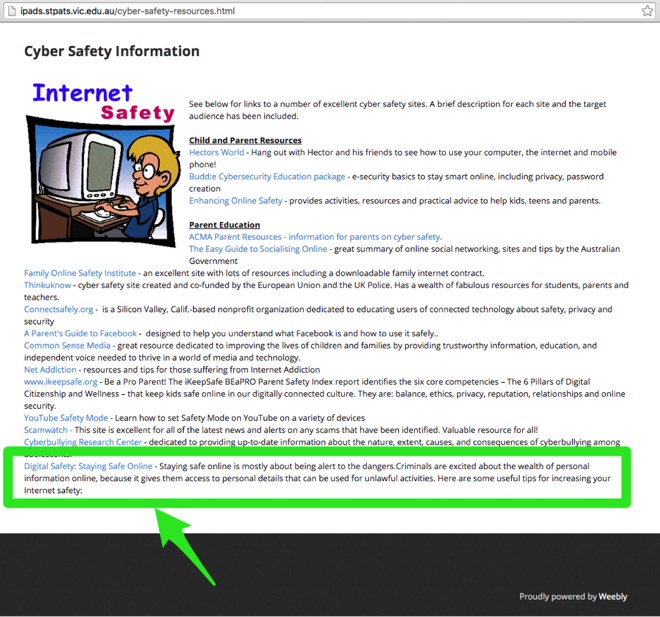 Source: iPads at St Pats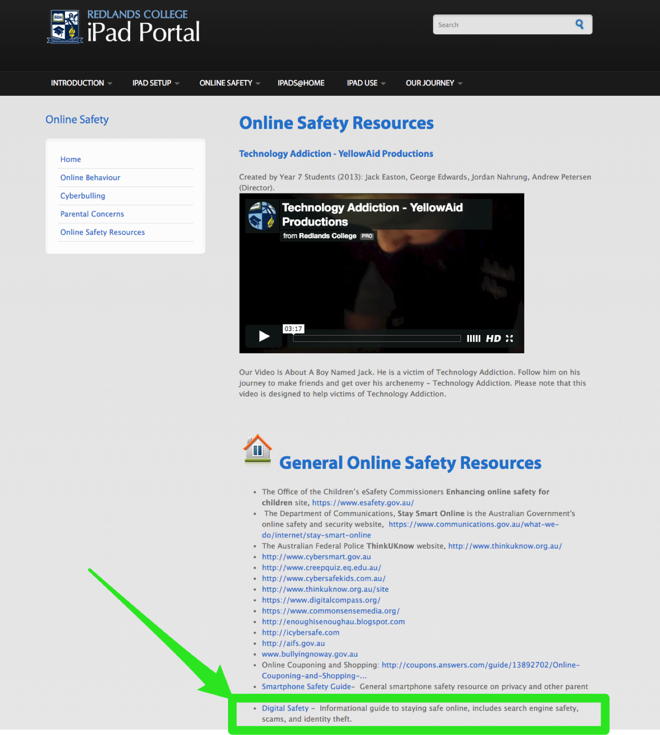 Source: Redlands College iPad Portal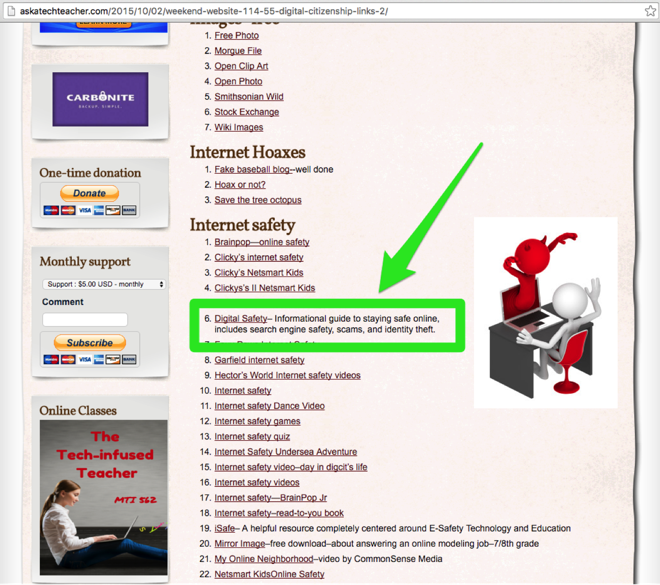 Source: Ask a Tech Teacher
Tactic #7: Resource Lists
Some of the more experienced search engine optimisers will recall the old link exchange pages from 10+ years ago. These are obvious to spot and should be avoided at all costs. However, you may be surprised at how many legitimate, relevant, curated "Links" and "Resources" pages exist today in a wide variety of fields.
In general, these pages will be on websites in shoulder niches, related verticals, parent categories or sub-niches in the same industry, and the pages will list websites and tools that are useful and relevant to their target market. Sites will never list competitors, so skip those altogether, and look for opportunities on related websites that list some or all of your competitors. Reach out and ask them to include you as well.
If they already list a number of websites that offer the same products, services or information that you do, why wouldn't they add you as well? Especially if they are trying to offer a complete list of all the providers.
Potential Implementations
Provider lists – There are tons of lists of providers for specific products or services. These can be in blogs, dedicated resource pages or just a section on a page with other resources listed as well.
Useful links/resources – These pages will tend to list a broader but still relevant range of related websites on a single page.
General tools & resources – Similar to the useful links/resources option, these are pages with a broad range of websites listed, but generally focus on informational or government sites rather than commercial websites. In order to get listed on this page, you will need to have a tool or information resource that appeals to the site you are contacting, and is relevant for their target market. Interestingly, many of the contextual links for the Budget Direct case study above are this type of page.
Case Study: Health Insurance
Note: Rather than include a specific brand's example here, I wanted to show a specific product provider list because a lot of these lists were created naturally to include the biggest players in the industry.
Overview
Medical websites, health professionals and health related bloggers often have a page or an article around health insurance. On these pages, the majority will list some or all of the available health insurance providers in their country. If you were a health insurance provider, it would be easy enough to reach out to all of these websites and ask to be included within the provider list. Be sure to provide the website owners with any information they require, and you can even offer to help get it live if they are unsure.
Examples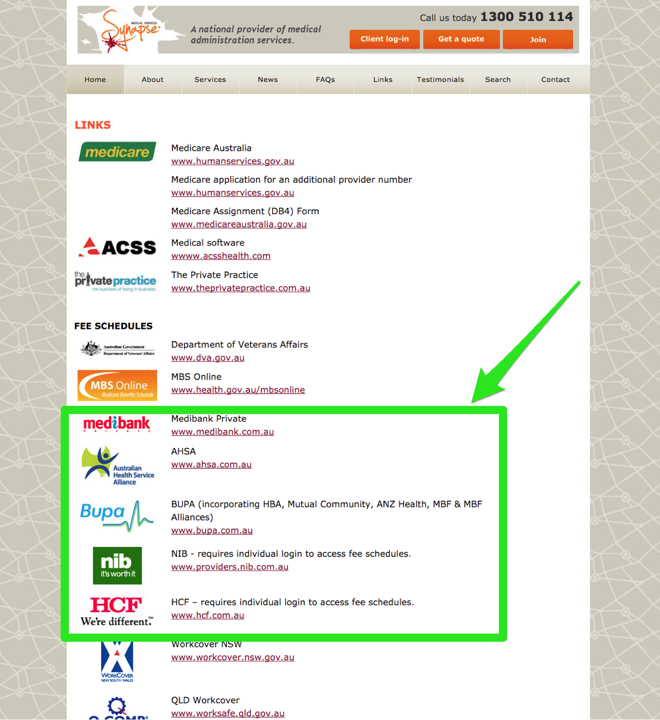 Source: Synapse Medical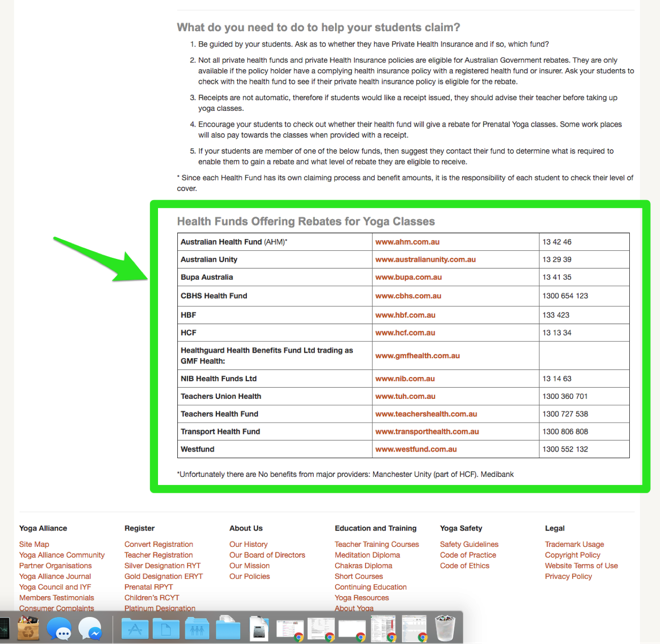 Source: Yoga Alliance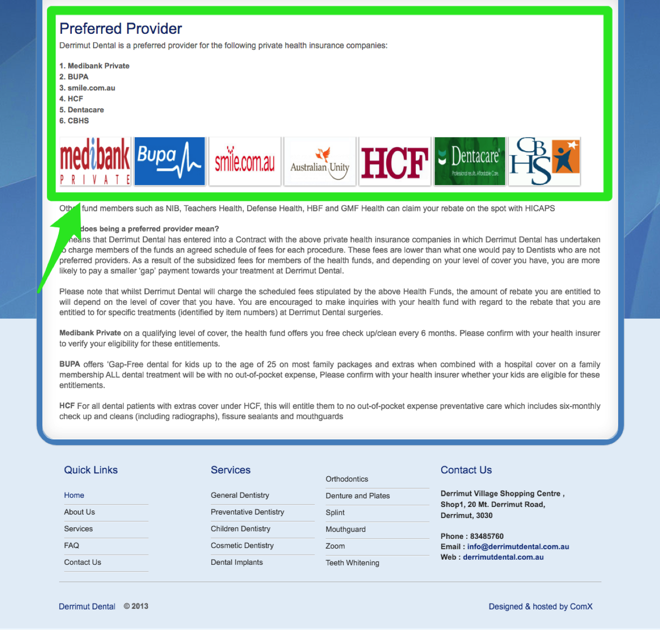 Source: Derrimut Dental
Things to avoid:
Pages with far too many links than is reasonable
Link exchange schemes
Lists that include random irrelevant sites from a variety of industries
When optimised anchor text has been used for a number of the links on the page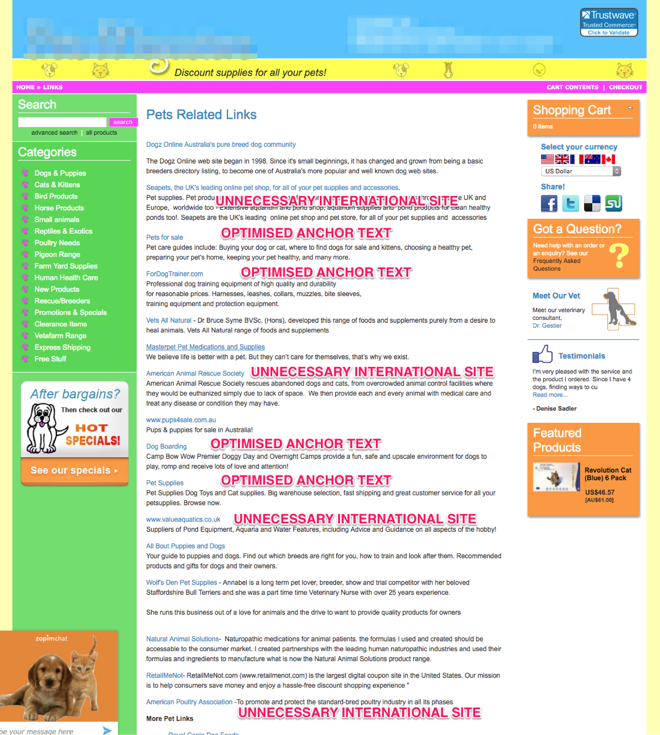 Source: Confidential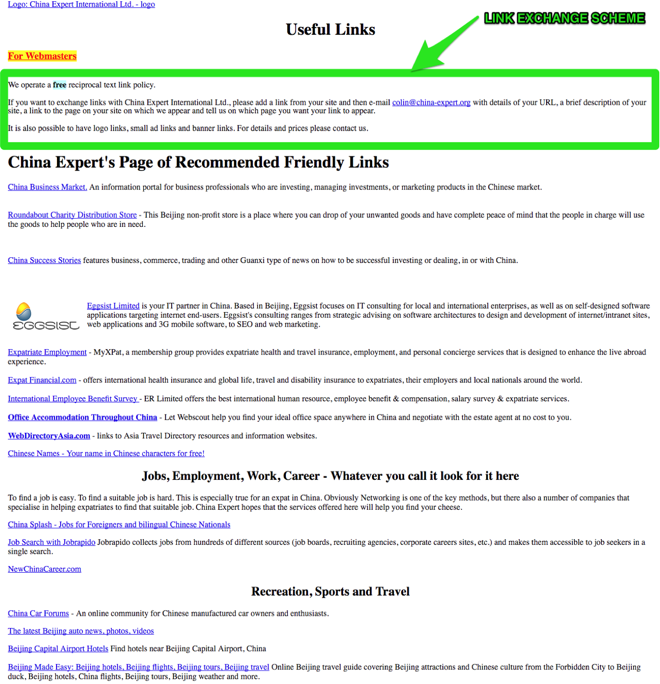 Source: China Expert International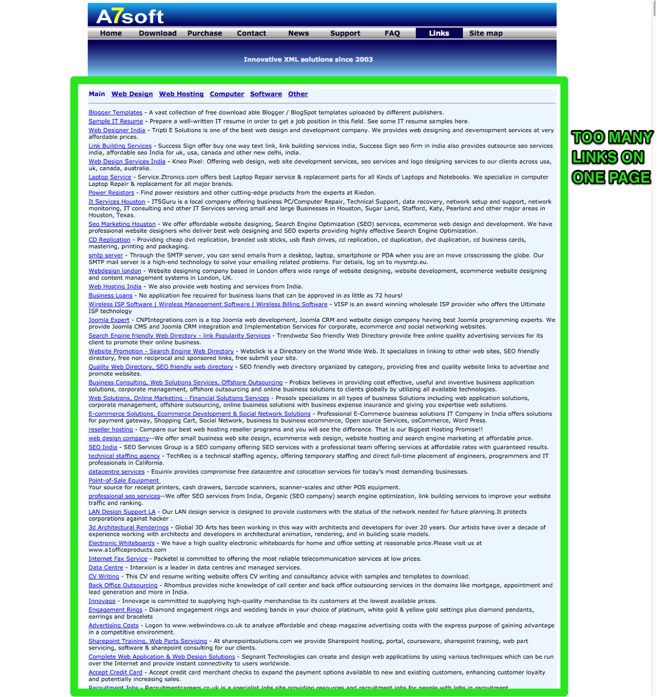 Source: A7Soft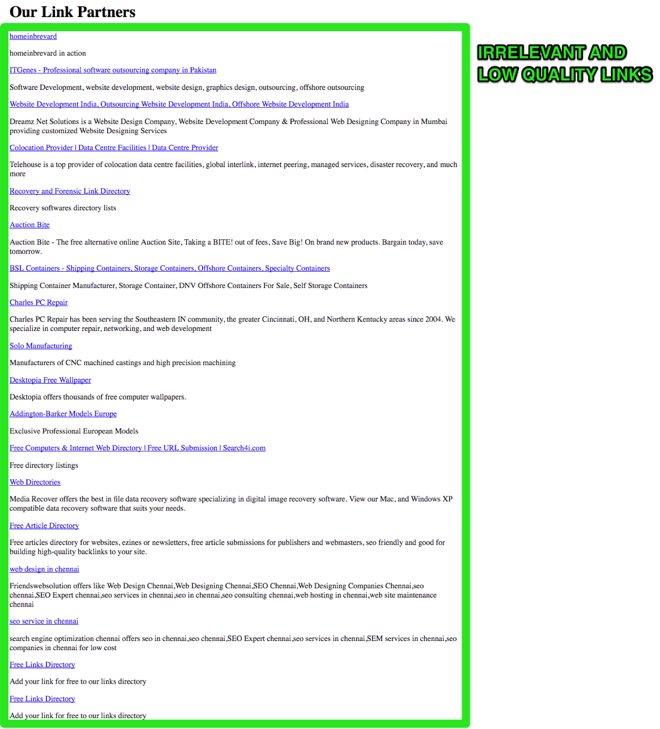 Source: Confidential
Tactic #8: Sponsorships
Google is very clear that you cannot pay for a link. And yet, the vast majority of high-ranking, well-known large brands have a fair volume of branded sponsorships.
How is this possible?
You would expect by reading the Google Quality Guidelines that these large brands would have been penalised by now, but they haven't. Why?
The biggest distinction to be made here is that a branded sponsorship usually has nothing to do with SEO rankings. Branding teams at large companies and corporate social responsibility teams are always looking for ways to build brand awareness and engage with communities.
Usually (though not always) these teams will make sure that any sponsorship includes a brand logo and link on the recipient's website, because it stands to reason that a large volume of their fans and followers will visit the website. As you can imagine, these branding links have the supplementary benefit of building authority to the company's domain.
Certainly if you are following Google's guidelines for any links where payment is involved, then the majority of these links should have rel="nofollow" attribution. But you cannot control someone else's website so there will always be a percentage that don't have the nofollow tag.
Within their algorithm, Google will have an allowable ratio of dofollow to nofollow links in a backlink profile to account for this. But even if every link had the nofollow tag, you are still at the very least getting a brand citation and reference on a quality website, and we know that Google favours brands using a set of brand signals in their ranking algorithm.
Potential Implementations
Depending on your budget and business type, you can look at any relevant sponsorship including:
Mainstream Sports Teams
Local Sports Teams
Industry Associations
Events
Venues
Community Organisations
Local Businesses
Charities
Not-For-Profits
Case Study: Bendigo Bank
Overview
Bendigo Bank started out as a local bank in rural Australia, but has expanded nationwide to become one of the most well-known banks outside of the big four.
By far the largest percentage of their backlink profile is sponsorships. They sponsor just about anything you can imagine, from the smallest local community centres to the largest of sporting teams in Australia. There are literally hundreds of sponsorships, including at least a few in every one of the above potential options.
But let me be clear, this is not an SEO strategy – this is a brand strategy. The SEO benefit of a brand strategy like this is huge, but that comes second to their primary goals of brand awareness, public relations and corporate social responsibility.
They are providing communities and organisations with much-needed funding, and promoting themselves among companies and brands that are popular with their target market (all of Australia). And by sponsoring so many different entities in so many locations and industries, they have (whether inadvertently or intentionally) created a ton of high-quality branded links pointing back to their website and are ranking for the most competitive of banking keywords as a result.
Examples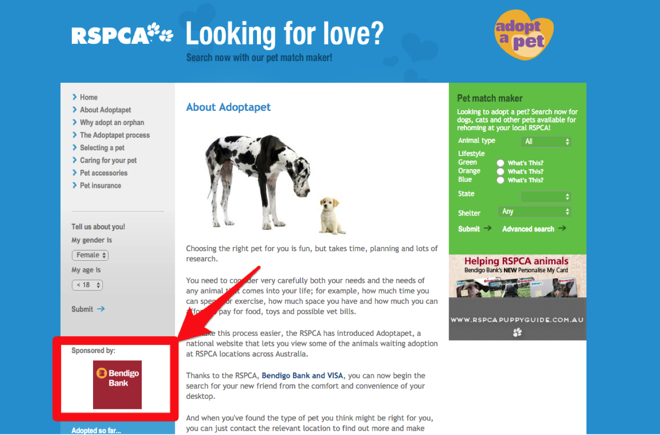 Source: Adopt A Pet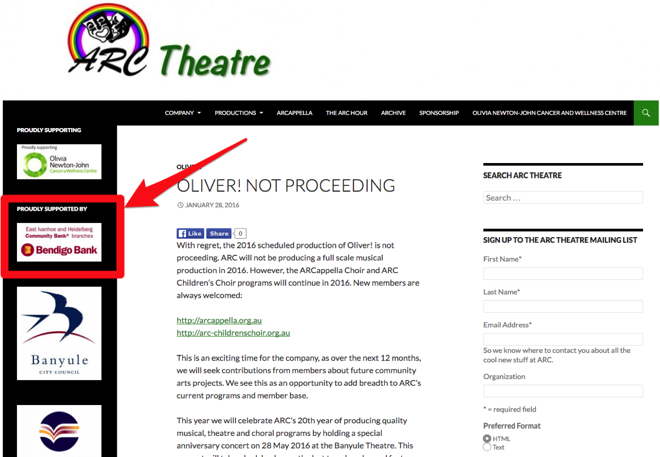 Source: Arc Theatre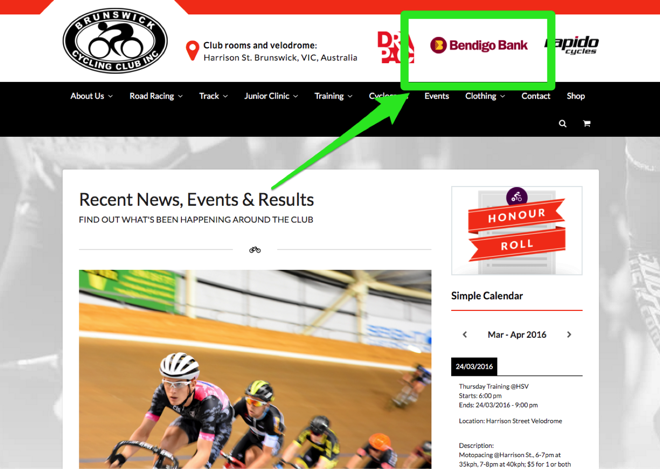 Source: Brunswick Cycling Club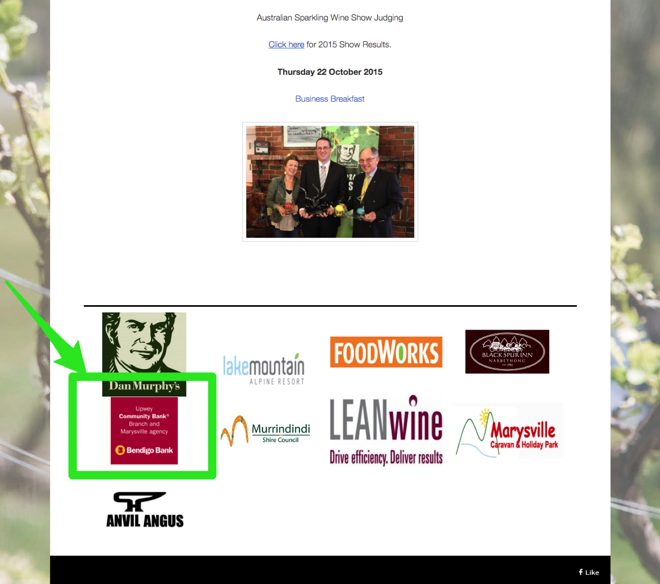 Source: Australian Sparkling Wine Show
Important Note
There are right ways to do this that will increase your brand awareness and authority, and there are wrong ways that might help briefly, but can do more harm than good in the long run. The best link building focuses on getting your brand in front of people, influencers and websites that are relevant to your business – when you're doing this, the SEO benefit can be substantial!
Do yourself a favour and spend the time doing this right. Create resources that the sites you're targeting will want to link to, build strategies into your business processes, leverage the work you're already doing, avoid sending spammy emails, and don't build links that are so obviously for SEO purposes alone.
The trick to all of this is recognising the opportunities within your own situation, industry and niche. While this is a great list of link building tactics, there is no website in the world that lists every possible option. Each industry is going to have its own unique opportunities to be discovered. If you're struggling to find them, get in touch – we can help.